Secretary of Agriculture Ann M.Veneman at a press conference on November 30, 2001, announced that the U.S. Dept. of Agriculture has released a comprehensive study by Harvard University that claims that the risk of bovine spongiform encephalopathy (BSE) occurring in the United States is extremely low.
BSE is a chronic, degenerative neurological disorder of cattle that belongs to a family of diseases known as transmissible spongiform encephalopathies. Also included in that family of illnesses is vCJD, which is believed to be caused by eating neural tissue, such as brain and spinal cord, from BSE-affected cattle.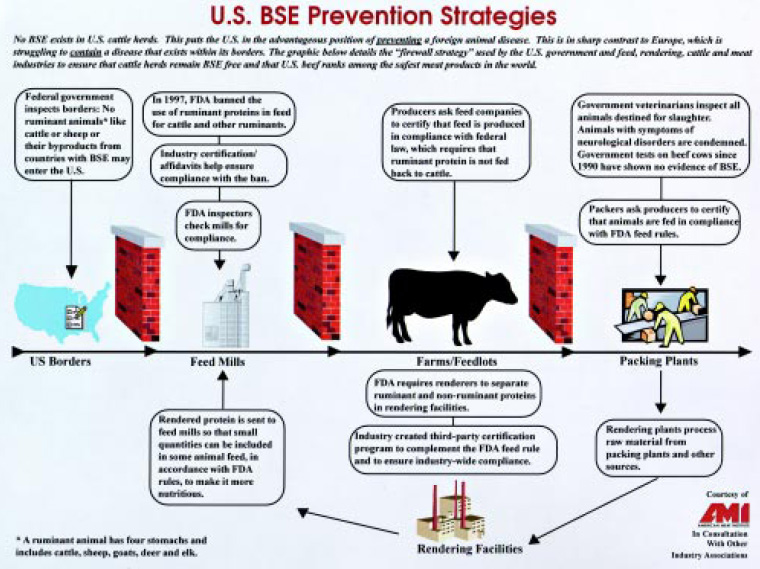 The study report showed that early protection systems put into place by USDA and the U.S. Dept. of Health and Human Services (HHS) have been largely responsible for keeping BSE out of the U.S. and would prevent it from spreading if it ever did enter the country.
The risk assessment, commissioned by USDA and conducted by the Harvard Center for Risk Analysis, evaluates the ways BSE could spread if it were to ever enter the U.S. The report's purpose, Veneman said, is to give agencies a scientific analysis to evaluate preventive measures already in place and identify additional actions that should be taken to minimize the risk of BSE.
"The study released today clearly shows that the years of early actions taken by the federal government to safeguard consumers have helped keep BSE from entering the United States," she said. "Even if BSE were to ever be introduced, it would be contained according to the study. However, we cannot let down our guard or reduce our vigilance. We must continue to strengthen these critical programs and today we are announcing a series of actions to bolster our protection systems."
She said that to reduce BSE risk USDA will:
• Have the risk assessment peer reviewed by a team of outside experts to ensure its scientific integrity.
• More than double the number of BSE tests it will conduct this fiscal year, with more than 12,500 cattle samples targeted in 2002, which is up from 5,000 during 2001.
• Publish a policy options paper outlining additional regulatory actions that may be taken to reduce the potential risk of exposure and ensure potential infectious materials remain out of the U.S food supply.
George Gray, Deputy Director of the Harvard Center for Risk Analysis and the director of the assessment, presented details of the report. Also present at the press conference were Bobby Acord, Administrator of USDA's Animal and Plant Health Inspection Service; Maggie Glavin, Acting Administrator of USDA's Food Safety Inspection Service; Steve Sundlof, Director of the Food and Drug Administration's Center for Veterinary Medicine; Linda Detwiler, Senior Staff Veterinarian at APHIS; and Elsa Murano, USDA's Under Secretary for Food Safety.
"Based on three years of thorough study, we are firmly confident that BSE will not become an animal or public health problem in America, " Gray said. "We found that even if BSE were ever introduced, it would not become established. With the government programs already in place, even accounting for imperfect compliance, the disease in the cattle herd would quickly die out, and the potential for people to be exposed to infected cattle parts that could transmit the disease is very low."
To ensure that USDA's decisions are science-based, options will be tested using the computer model developed through the risk assessment to determine the potential impact they would have on animal and public health. The options will include prohibiting the use of brain and spinal cord from specified categories of animals in human food; prohibiting the use of central nervous system tissue in boneless beef products, including meat from advanced meat recovery (AMR) systems; and prohibiting the use of vertebral column from certain categories of cattle, including downed animals, in the production of meat from advanced meat recovery systems.
USDA plans to invite public comment on the options and then proceed with appropriate regulatory actions, including issuing a proposed rule to prohibit the use of certain stunning devices used to immobilize cattle during slaughter; and publishing an Advance Notice of Proposed Rulemaking to consider additional regulatory options for the disposal of dead stock on farms and ranches—such cattle are considered an important potential pathway for the spread of BSE in the animal chain.
BSE has never been detected in U.S. cattle, nor has there been a case of the human form of the disease, variant Creutzfeldt-Jakob Disease (vCJD), detected in the U.S. Since 1989, USDA has banned the import of live ruminants, such as cattle, sheep and goats, and most ruminant products from the United Kingdom and other countries having BSE. The ban was extended to Europe in 1997. To stop the way the disease is thought to spread, HHS prohibited the use of most mammalian protein in the manufacture of animal feed intended for cows and other ruminants. If a case of BSE is ever detected in the U.S., an emergency response plan has been developed to immediately control suspect animals and prevent them from entering the food supply.
Last summer, HHS Secretary Tommy Thompson announced an action plan outlining new steps to improve scientific understanding of BSE that incorporates a comprehensive approach to further strengthen surveillance, increase research resources, and expand existing inspection efforts.
The National Cattlemen's Beef Association said that "the Harvard report will be a valuable resource for industry, government, and the scientific community as they work together to continually strengthen their defenses and maintain the safety of America's beef supply." It added that the beef industry has worked with government using the best available science for more than 15 years to establish a triple firewall system that has protected the safety of America's cattle herds. The "BSE Prevention Strategies" figure shown below graphically illustrates this approach. It was prepared by the American Meat Institute in consultation with other meat industry associations. It states that "No BSE exists in U.S. cattle herds. This puts the U.S. in the advantageous position of preventing a foreign animal disease. This is in sharp contrast to Europe, which is struggling to contain a disease that exists within its borders." The graphic "details the 'firewall strategy' used by the U.S. government and feed, rendering, cattle and meat industries to ensure that cattle herds remain BSE free and that U.S. beef ranks among the safest meat products in the world."
The complete Harvard report is available on the APHIS Web site (www.aphis.usda.gov/oa/bse/) and USDA's Web site (www.usda.gov). More information about BSE and efforts being taken to prevent its entry and spread into the U.S. is available on the USDAWeb site and the HHS Web site (www.hhs.gov). The U.S. beef industry also provides information at www.BSEinfo.org; this Web site is updated regularly and contains comprehensive information about BSE and steps taken by American ranchers and the government to prevent it.
PRODUCTS & LITERATURE
Balston Nitrogen Generator produces up to 9600SCFH of high purity compressed nitrogen at a dewpoint of less than -40°F from any compressed air supply regardless of its quality. This eliminates the need for cylinders, Dewars, and bulk nitrogen supplies. The generator continuously transforms standard compressed air into 99.95% pure nitrogen at safe, regulated pressures, without operator attention. For more information, contact Parker Hannifin Corp., 100 Ames Pond Dr., P.O. Box 1262, Tewksbury, MA 01876-0962 (phone 978-858-0505, fax 978-858-0625).
by NEIL H. MERMELSTEIN
Editor