1. Marketing a New Generation of Foods to Women
Breakfast cereals are among the most recent products specifically addressing women's health issues, and we can expect the number and types of products targeted to women to increase.
Ever since Eve picked that first fateful fruit and served it to Adam, women have been the main family menu planners. While the woman does the shopping, few if any food products have been designed for her. It may have taken a few thousand years, but foods designed specifically for Eve are beginning to appear in the marketplace, this time emphasizing positive health benefits. These foods not only have labels and advertising messages targeting women but also contain ingredients associated with women's health.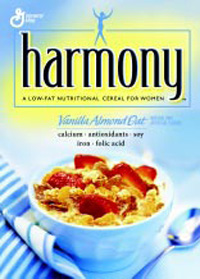 The operative term is "designed." To date, most foods marketed to women were just that—standard products targeted to the female population through portion size, package design, promotion, and advertising. Foods such as Kellogg's Special K, Coca-Cola's Tab, Stouffers' Lean Cuisine, and General Foods' International Coffees, all have focused their marketing efforts on women. But none of these major brands was designed or formulated to address women's health issues. That was left to supplement manufacturers and health food entrepreneurs.
"Women are still the primary consumers of food products for the home, and they're still the primary food preparers," states Cindy Moore, a Registered Dietitian and spokesperson for the American Dietetic Association and director of the Dept. of Nutrition Therapy for the Cleveland Clinic Foundation in Cleveland, Ohio. "But when surveyed, they show stronger feelings about being able to control their health than men." Her assessment: "Women will adopt these kinds of foods if they taste good and if it means that they can eat more healthfully without changing their overall eating habits."
Last year, foods for women became a bona fide trend when two major brands launched national campaigns for their female-specific breakfast foods. The Quaker Oats Co. formally launched its Nutrition for Women oatmeal in the fall, while General Mills has been in the market with its Harmony breakfast cereal since last January.
Both brands represent products that are based on core product and brand expertise, but specifically formulated to address women's health concerns. The timing correlates to several trends that have been converging for nearly two decades. "Three things are coming together right now that are causing this trend to happen," explains Tim Straus, a partner in Turover-Straus, a food development consulting firm based in suburban Chicago. These include the wide dispersion of women's health information and the effects of ingredients such as soy, calcium, folic acid, and iron on specific conditions. In addition, recent government approvals for nutrition claims and a willingness by food manufacturers to address differentiated, target markets have converged to create a new marketing stage for such products. "All three of those roads are intersecting right now and making it possible for a manufacturer not only to produce these foods, but to actually make the claims in their advertising and on their packaging," Straus says.
--- PAGE BREAK ---
Meeting Women's Needs
While the jury is out on the success of these new products, the nutritional needs among women are well established. More than 74 million women today are over 35 years of age. Half of the women over 20 fail to consume the recommended daily allowance for six vital nutrients and calcium. And 41 million Baby Boomers will enter menopause by 2010. These statistics are based on government studies, and they reflect a large, aging population with a growing susceptibility to gender-specific ailments such as heart disease, breast and other types of cancer, osteoporosis, and the side effects of menopause.
"We've known about women's nutritional needs for many years, but science is learning that the one-size-fits-all approach may not be the best way to address health and nutritional needs," asserts Cathy Kapica, R.D., Director of Nutrition Education for Quaker. "Women get heart disease at a peak 10 years after men, but it's still the number one cause of death among women."
This philosophy formed the basis for the Nutrition for Women line and a line of foods called WIN, Women's Individual Nutrition from Altus Food, the joint venture between Novartis Consumer Health and Quaker. The WIN line includes cereals, snack bars, fruit juices, and fruit smoothies.
Quaker oatmeal already is positioned as a heart-healthy, cholesterol-reducing food that is popular with women. "You add to this more of the nutrients that women need, and that we know women aren't getting, and what you have is a familiar food that's convenient, great tasting and that women already love," Kapica stresses. Good for you isn't good enough. The product must have a great taste, and to that end Quaker specifically tested women to develop its flavor varieties. Vanilla Cinnamon, for instance, is unique to the line.
The same is true for General Mills' Harmony, which features crunchy vanilla almond clusters in its mix. "Getting the nutrients they need without sacrificing taste is the number one reason they keep coming back," states Liv Lane, General Mills spokesperson.
Convenience also is important. Nearly three-quarters of American households identify a woman as the primary household shopper, according to the Food Marketing Institute. Among these shoppers, about half of the women working full-time regularly purchase convenience foods. Hectic schedules can lead to bad eating habits. "One of the main things we found in our research was that women are looking for convenience in trying to address their health needs," stresses Lane.
Much of this research was based on focus groups to determine first that women want a product of their own and then exactly what that product should comprise. This information drove not only the product formulation but also the design of the box—pale yellow with a light blue female figure superimposed—and ancillary marketing efforts.
--- PAGE BREAK ---
Neither Quaker nor General Mills started the trend, but the marketing efforts behind their parallel launches have generated considerable interest in the category from other manufacturers, large and small. In 2000, 29 new women's health foods were launched in the United States, according to Mintel International, a Chicago-based research firm. That's nearly triple the number from the previous year. Figures for 2001 have not been compiled, but the firm projects nearly 50 new health foods targeted to women, despite a sagging economy.
Most introductions to date have been snack bars and beverages. Balance Bar, a Kraft, Inc. brand, recently launched Oasis, a soy-laced fortified energy bar. This follows the introduction of Kellogg's Krave™ bar. Meanwhile Clif Bar's Luna nutrition bar for women, one of the first such products in the market, continues to expand with such flavors as Orange Bliss and Key Lime Pie.
Among the proliferation of new women's beverages, California juice processor Odwalla introduced Femme Vitale, while Chicago-based Fantasia launched Athena. Both are refrigerated, fresh, fortified juice blends.
In the midst of the broader trend, one company has gone a step further. Menopositive (the name says it all) is a ready-to-drink supplement from Los Angeles-based Natural Vitality. The brand is in no risk of incurring crossover sales to male shoppers.
Pharmaceutical companies are getting into the act as well. Mead Johnson Nutritionals, Evansville, Ind., a division of the pharmaceutical giant, launched a line of Viactiv products aimed at women, which are built around the popularity of its chocolate-flavored calcium chews, introduced in 1999. Energy bars, fruit smoothies, and what the company called "energy spritzers" added to the line in 2000. However, Mead Johnson last July sold the calcium chews to Mc-Neil Nutritionals, Fort Washington, Pa., and discontinued marketing the bars and beverages.
Promoting the Brands
Product introductions from the major marketers such as Kellogg, Quaker, and General Mills are accompanied by high-profile, highly targeted, so-called viral marketing campaigns designed to create awareness and relationships at the grass-roots level. Heavy sampling at women's events and trade shows, special in-store demonstrations, and special sponsored events in key regions all are part of the mix.
General Mills, for instance, has a roving event called the Wisdom Wall, a 70-foot-long, eight-foot-tall interactive exhibit covered with favorite quotes, song lyrics, and motherly advice from and for women. It toured 11 U.S. cities and now is a permanent exhibit at The Women's Museum in Dallas.
--- PAGE BREAK ---
The challenge is to craft relationships that unify a women's market that itself is highly segmented—from Generations X and Y to aging Boomers and their parents. "That is a challenge," General Mills' Lane says. "We try to reflect a variety of age groups in our advertising, and we're exploring creative ways to reach women, such as sampling at health clubs."
Other companies are donating money to women's organizations, establishing self-help programs and contributing to women's health research.
Regional companies are taking advantage of the publicity and awareness generated by these national brands, as well. In the Minneapolis area, for instance, French Meadow Bakery is marketing Woman's Bread, which features an abundance of soy isoflavones and dried cranberries.
One common thread in marketing these foods for women is simplicity. Marketers have learned from earlier failed attempts at targeted functional food lines such as Campbell Soup Co.'s Intelligent Quisine and Kellogg's Ensemble. Complicated serving calculations, expensive offerings, and limited availability all contributed to consumer resistance.
"No one food is going to be a magic bullet for everything," says Quaker's Kapica. "It's all part of a healthy eating style, as well as a lifestyle that includes exercise and a diet rich in fruit, vegetables, and whole grains."
It's too early to tell whether the growing proliferation of foods for women can revitalize interest in functional foods, but early indications are favorable according to the major players.
"The response to Nutrition for Women has been fabulous," Kapica says. "Women love the product. Oatmeal is familiar, it's a comfort food." As for General Mills' Harmony, Lane says, "I work on a lot of brands, and this one is just amazing."
What's Ahead
In the coming months, look for brand extensions, although neither company would confirm such plans. In addition, expect new products to expand the range of convenient, familiar foods and beverages targeting women. Women's bottled water, soups, salty snacks, and more health bars and sports drinks all are in the works. In addition, prepared foods, such as frozen entrees with special nutritional profiles adapted to women, may also be on the horizon.
Part of the impetus is coming from ingredient manufacturers that have developed custom products for the functional foods market. Foods for women represents a major new frontier for companies such as Archer Daniels Midland (ADM) in marketing its NutraSoy high-protein formulation. "These companies by themselves will move the market forward," Straus asserts.
--- PAGE BREAK ---
In addition, product lines may begin to segment, with specific products for demographic targets within the female population. "I think we're going to see more products and activities geared toward fulfilling those needs," Kapica says. She cites the need of adolescent bone health, as well as the special needs of women during their child-bearing years, women who are into motherhood and family raising, and pre- and post-menopausal women. "Success depends on marrying good, sound science with a food product that is considered acceptable and will fit into the lifestyle of a woman at a particular lifestage," Kapica says.
Ultimately, women will decide. According to futurist Faith Popcorn, the voting is all but over, even though the market is new. She writes in her new book, EVEolution: "Things are about to change. It will become safe (safer, anyway) to identify, analyze and celebrate the distinctions between women and men. And to develop products and programs that women will need and want and relate to and own."
by Pierce Hollingsworth,
Contributing Editor
The author is President, The Hollingsworth Group, P.O. Box 300, Wheaton, IL 60189.
2. Developing Foods to Meet the Needs of Women
How four food products targeted specifically to meet women's nutritional needs were developed.
A relatively new marketing approach has been to target foods specifically toward women and their special nutritional needs. This article discusses some of the technical aspects of the development of these four products, starting with the most recent.
Hot Cereal: Nutrition for Women
Quaker Oats, Barrington, Ill., began marketing Quaker® Instant Oatmeal Nutrition for Women in two flavors nationally and a third in regional test market in August 2001 after 2.5 years of development and testing. The product differs from Quaker's regular instant oatmeal in that it is formulated to provide "bundles" of nutrients for specific aspects of women's health. The package states:
"For Healthy Bones: Calcium, Vitamin D and magnesium help form strong bone tissue. Recent studies show that soy works with calcium to maintain bone strength. Nutrition for Women provides all of these critical nutrients to help you maintain healthy bones."
"For Energy. B vitamins work together to help convert the complex carbohydrates found in Nutrition for Women into lasting energy your body can use. Each serving  supplies about 19 grams of complex carbohydrates."
"For a Healthy Heart. The nutrients in Nutrition for Women impact heart disease risk factors such as high cholesterol. The soluble fiber from oats, a proven cholesterol reducer, along with soy protein, Vitamin E, folic acid and B vitamins actively promote heart health. Also, emerging science indicates that soluble fiber, calcium and magnesium may help maintain healthy blood pressure levels."
"For Balance. The soy in Nutrition for Women works with the calcium, magnesium and Vitamins E and B6 to smooth out your body's changing metabolism. Soy may also help you maintain healthy estrogen levels as your body's needs change."
--- PAGE BREAK ---
Lynne Jones, Senior Development Scientist, said Marketing was looking for a new hot cereal that would appeal to women. A development team was set up with representatives from Marketing, Nutrition, Product Development, Engineering, and Sensory departments. They first determined what makes sense to include in a women's cereal, what they wanted the product to provide nutritionally. Once they decided that they wanted to include 35% of a women's daily need for calcium, they then had to determine how best to include it in the product, how many grams would be needed per pouch, and so on.
The Nutrition group came up with recommendations for fortification targeting women's specific health needs, then the team mocked up a product with the fortification they wanted and found texture, flavor, and appearance problems caused by the higher fortification levels and the soy ingredients. They did intensive bench work on masking agents, looking for different ways to get rid of the soy and fortification taste, Jones said. They got help from all major flavor houses, which provided screening agents and masking agents. They also screened a lot of different powdered soy proteins uniquely designed for specific purposes (some for beverages, some for meat products, etc.) to find one that would rehydrate in boiling water and work in a microwave, since different soy proteins have different water-absorbing characteristics. When the user rehydrates the contents in boiling water, the product should have the look and texture of oatmeal, she said. It should rehydrate well and have a good mouthfeel.
After finding a soy protein that worked well in both boiling water and in the microwave, the team started looking at flavors. They had 10 in mind, did focus group interviews and consumer testing, and whittled it down to five flavors, then took them to in-home consumer tests. In between, they did a lot of work to make the products taste good. They also added a proprietary ingredient to help the flavor.
They then tested prototypes with an internal taste panel, then among a bigger, cross-functional group of employees, including Marketing and Product Development. Then they went on to outside testing, using central location tests. They did a minimum of three months of screening, then went into test market and national. All during test marketing, they kept working on the product, constantly trying to improve it, Jones said. Between the test market and national, they found a better soy protein and changed to it.
The product is available in three flavors—Brown Sugar Cinnamon, Vanilla Cinnamon, and Apple Spice—all containing the same level of fortification. The product is packaged in single-serving pouches in cartons containing eight pouches. The rehydration directions are the same as for the regular instant oatmeal.
Jones said the pouches contain a little more than the regular oatmeal does because they contain the calcium carbonate (enough to give 35% of the DV of calcium), soy, and other fortification ingredients. Since it's a bulkier and heavier pouch, it had somewhat different handling characteristics, and it took a little more work to get it to run, with some machine modifications. The product required no change in packaging and no special distribution conditions.
--- PAGE BREAK ---
Ready-to-Eat Cereal: Harmony
General Mills, Inc., Minneapolis, Minn., launched Harmony Cereal, a ready-to-eat cereal specifically formulated for women, in the northeast in fall 2000 and nationally in January 2001. The cereal is a combination of whole grains and calcium, soy protein, and various vitamins and minerals important to women.
According to R&D Manager Terry Kirihara, Harmony differs from other ready-to-eat cereals in that it contains soy protein and a "cocktail of nutrients" important for women's health. "The product addresses overall women's nutrition for the benefit of wellness rather than specific health issues such as cholesterol or blood pressure reduction," he said.
General Mills conducted extensive consumer research with women to better understand their issues, Kirihara said. Conceptual work took 1.5 years, and product development work took another year before the product was launched.
An ongoing joint venture between General Mills and Nestlé overseas had been successfully marketing cereal products designed for women in Europe since the mid-1990s. General Mills wanted to see if the product would translate well to the U.S. market. However, Kirihara said, since U.S. tastes are different from European tastes, the company had to do a certain amount of development work to "domesticize" the product. The U.S. product differs from the European product primarily in that it has a cluster of particulates and a blend of flakes, while the European version consists a single type of flake.
Many health experts recommend that women eat more soy. The formulation challenge was to incorporate soy protein at a significant level (2 g/serving), without affecting taste and texture. To do this, the development team evaluated various soy protein sources and chose one that minimizes the texture and odor impact of the soy protein.
Another technical challenge, Kirihara said, was to develop a flake-type cereal that would appeal to people who like more texture and complexity in their foods. Instead of a homogeneous wheat flake, he said, the development team decided on a blend of particulates and grainy, rustic-looking flakes that convey more natural and healthy cues. It took a lot of formulation and process manipulation to provide this look and texture using the same processes and extrusion equipment used to produce some of the company's other cereals.
The product uses the same packaging materials as the company's other cereal products and the same distribution conditions.
Calcium Supplement: Viactiv Chews
Mead Johnson Nutritionals, Evansville, Ind., introduced Viactiv™ Soft Calcium Chews—chewy candy–like supplements—in the United States in 1999 and in Canada in 2000. The product was rated among the "Best New Products of the Year" by Business Week magazine. The "chews," marketed in four flavors—Milk Chocolate, Orange Cream, Mochaccino, and Caramel—were followed by in April 2000 by a line of Viactiv energy bars and beverages—Hearty Energy Bars, Energy Fruit Crispy Bars, Energy Fruit Smoothies, and Energy Fruit Spritzers.
--- PAGE BREAK ---
The first calcium supplement of its type available in stores, the chews contain a unique combination of calcium with vitamins D and K, which are included to enhance calcium absorption. Antacids and many other calcium supplements do not contain these other nutrients. Each chew provides 500 mg of calcium carbonate (50% of the DV for calcium); 100 IU of vitamin D (25%); and 40 g of vitamin K (50%). Clinical studies showed that the calcium in the chew is as absorbable as the calcium in an 8-oz glass of skim milk. Each chew contains only 20 kcal and 0.5 g of fat.
Calcium plays a critical role in building and maintaining strong bones, and may reduce the risk of osteoporosis, the company says. Especially for teen and young adult women, adequate calcium in a healthful diet may reduce the risk of osteoporosis later in life, especially among Caucasian and Asian women. Adequate calcium intake helps reduce the rate of bone loss for post-menopausal women. Bones lose calcium every day, regardless of whether it is included in the diet, and must be replaced to help keep bones at their strongest and healthiest. Increased calcium intake helps in the repair of bones by providing calcium for deposit into bone tissue, and it also helps to prevent further bone loss.
According to the company, 75% of women get less than the DV of calcium and 29% get less than half the DV. Most women need 1,000–1,300 mg of calcium daily, depending on age. Two to three chews per day provide recommended levels of calcium for adult women.
The calcium chews jump-started the brand, said Pete Paradossi, Mead Johnson's Director of Public Affairs and Communication. The company recognized that there was little innovation in the calcium supplement category, even though women saw calcium as very important to their health. Studies showed potential positive effects of calcium on osteoporosis, cancer, hypertension, and other health problems, he said, but women only had the options of chewing a chalky tablet, swallowing a fairly large pill, or eating dairy products. However, a large segment of the population are lactose intolerant or don't want the calories that come with dairy products. The company saw a real opportunity to introduce a calcium supplement that would give a pleasurable taste and mouthfeel, as well as calcium absorbability.
The Product Development group came up with the idea of a chewy candy–like supplement and worked on a delivery vehicle for a long time, using candy technology in creating the formulation. Testing showed that consumers liked it a lot. The product melted in the mouth like a caramel, whereas competitive products that came on the market after Viactiv tended to break apart and have a rough texture in the mouth.
The product was not only unique, Paradossi said, but was developed in a very innovative way within the company. Many businesses operate in silos within functions, but Mead Johnson put together an integrated team of representatives from such functions as Product Development, R&D (including Sensory Evaluation), Marketing, Medical, Supply Chain, and Manufacturing. 
The company conducted focus groups and in-house testing, as well as tests among consumer and health care professionals. In launching the product, the company took a two-pronged approach, educating consumers and educating health care professionals such as doctors and nurses about the product attributes, so they could recommend the product to their patients. This approach had just as much of an impact on consumers as advertising did, he said.
--- PAGE BREAK ---
Susan Waltman, then Mead Johnson's R&D Product Development Director and now Director of Science and Technology Policy, said that there were challenges involved in formulation, manufacturing, and packaging of the calcium chews. The key challenge, she said, was how to get 500 mg of calcium into such a small chew (6 g). They tested different sources of raw materials and decided that they didn't want to have the gritty, chalky texture that can appear after consuming the chew, as is the case with other calcium supplements. They worked very hard to eliminate that aftertaste/aftertexture, she said, eventually choosing calcium carbonate as the calcium source.
Another challenge was to deal with the emerging nutritional science to understand what else besides calcium should be included in the product. They enlisted an advisory board of experts and their own nutrition scientists to review intake panel data provided by the National Institutes of Health and other studies and evaluated the nutrition science behind the reason for putting vitamins D and K into the product to assure that the amount absorbed would be equal to that absorbed from milk. The company wanted to make sure the product was as good as science would allow, she said.
A related challenge was to determine how to get enough flavor and other components into the chew, not only to give a nice caramel, orange, or chocolate taste, for example, but also to meet the consumer's taste expectations so she would buy the product again.
Another challenge related to primary and secondary packaging for the product. The company decided to offer the product as individually wrapped chews packaged in a 60-chew oval canister and a purse pack of 12 individually wrapped chews so women could easily reach for a calcium chew any time of the day. The primary wrapper had to provide shelf stability for 12–18 months, be machinable for form/fill/seal equipment, yet be easy to open by the consumer. This took much trial and error, since the easier it is to get into the package, Waltman said, the easier it is for oxygen and moisture to get in, too. The company also wanted a distinctive bulk package and chose a rounded-corner canister. This took some work, too, since containers with rounded corners are not nearly as easy to form, fill, and seal as a round can.
In July 2001, McNeil Nutritionals, Fort Washington, Pa., acquired the Viactiv Soft Calcium Chews business from Mead Johnson Nutritionals. "Viactiv is an outstanding fit with our expanding portfolio of nutritional brands," said Michael Sneed, McNeil's president. "The Viactiv  brand not only gives us an established entry in the $500 million calcium supplement category, it is also a strong brand name for new nutritional products for women."
Paradossi said that the cornerstone for the whole Viactiv franchise was the calcium chews. Although the product was and still is successful, Mead Johnson decided to sell the brand so it could refocus its growth efforts on its core infant formula business. Since McNeil was not interested in the bars and beverages and Mead Johnson decided not to pursue marketing those products alone, the bars and beverages have been discontinued.
Ivy Brown, McNeil's Marketing Manager, said that the Viactiv chews were introduced because of a true health need for calcium supplementation and that calcium supplements have been growing at a phenomenal rate in the marketplace for 6–7 years, driven by doctor recommendations for women to increase their calcium intake.
"Mead Johnson did a wonderful job in creating and positioning the product," she said. "They really were pioneers, and McNeil Nutritionals is focused on continuing to grow the Viactiv brand."
--- PAGE BREAK ---
Nutrition Bar: Luna
In March 1999, Clif Bar Inc., Berkeley, Calif., introduced Luna™, The Whole Nutrition Bar for Women™. The company had been marketing its Clif Bar® energy bars since 1992 but, inspired by requests from women, including those in the company, decided to make a nutritional bar that had less than 200 kcal but was full of the nutrients that women need daily.
According to the company, 80% of American women fail to get even two-thirds of one or more of the vitamins and minerals they need on a daily basis. Consequently, the Luna bar was formulated to provide 23 vitamins, minerals, and other nutrients that address women's nutritional needs, including soy protein, calcium, folic acid, zinc, iron, and antioxidants. The product is made with whole grains and other all-natural ingredients that include many of the vitamins and minerals women need for a healthy lifestyle. For instance, Luna bars contain soy protein, folic acid, calcium,  and iron, which candy bars either don't contain at all or have in very small amounts. In addition, unlike a candy bar, each bar is relatively low in calories (170–180 kcal) and fat (3–4.5 g). A unique blend of proprietary ingredients called LunaPro™ contributes 9 g of soy protein. The bar is also contains non-dairy and non-wheat ingredients and uses no preservatives or highly processed sugars.
Each bar is high in calcium, providing 35% of the recommended daily intake (RDI), equivalent to an 8-oz glass of milk, for healthy bones and teeth; 9 g of non-GMO soy protein, equivalent to one-third cup of soy milk, for breast health and a healthy heart and bones; 400 mg of folic acid (100% of the RDA), for a healthy heart and healthy babies; 35% of the RDA for iron, which helps the many pre-menopausal women who need more iron but is safe for post-menopausal women as well; plus significant levels of antioxidants (vitamins A, C, and E, plus selenium) for overall wellness, and zinc, which promotes proper immune function.The product is available in ten 10 flavors: Orange Bliss™, Key Lime Pie, LemonZest™, Tropical Crisp, Toasted Nuts 'n Cranberry, Chai Tea, S'Mores, Sesame Raisin Crunch, Nutz Over Chocolate™, and Chocolate Pecan Pie.
Luna's development was a team effort involving the entire company in different steps of the process. The company's female employees helped with flavor conception, tasting, and naming of the new flavors.
According to Erika Tompanis, Clif Bar's R&D Food Scientist, achieving and attaining the correct nutritional profile for Luna presented a challenge. Every ingredient plays a key role, and balancing the fat/protein ratio is important, especially when it comes to processing. And maintaining the ideal amount of coating is extremely important to the fat content of the bar. This means having good control of the equipment and process. Protein quality and functionality also play a big role in ensuring that the nutritional expectations are met.
There are also flavor issues when working with soy protein and vitamins. Soy protein has a distinct flavor that most consumers do not like, she said, and choosing proteins with a more subtle or bland flavor profile was a big factor in reducing the presence of this flavor. Also, using flavorings that work well with functional ingredients can have a tremendous impact in overcoming the "beany" soy flavor.
--- PAGE BREAK ---
Also, certain vitamins have a very strong and distinct flavor. Since the product contains 23 different vitamins and minerals, the team worked with vitamin and mineral suppliers to determine the best ways to help mask any unpleasant vitamin flavor. The suppliers also provided insight on how the vitamins might interact with each other and with the other ingredients in the bar. Shelf-life studies were conducted to ensure that the vitamins and minerals remain viable and active over the shelf life of the product and that flavor changes do not occur over time.
Control of manufacturing is extremely important to ensure proper mixing of ingredients and application of the chocolate coatings, she added. If the process is not well monitored and controlled, the nutritional profile could be skewed.
Texture is one of the distinguishing characteristics of the bar, and functional protein ingredients play a huge role in determining it. Understanding how the protein interacts with other ingredients and which protein works best was critical to creating the ideal bar.
Processing variables also play a big role in achieving the optimum texture. It is important to have a good understanding of how the bar reacts to different processing environments, Tompanis said. Temperature and speed controls have a big impact on attributes such as texture, and some ingredients are more delicate and need special handling and in some cases special equipment.
Variations among the different flavors of the bar was another important consideration. There are unique ingredients for each flavor that may react differently in processing. Evaluating each flavor separately and understanding how these ingredient differences might affect the processing, texture, overall moisture, and shelf stability was a key part of creating new flavors for the product.
The energy and nutrition bar category is very competitive, and convincing sales channels to put another bar on the shelf was another challenge, she added. Luna was the first bar being marketed to women, and that in itself helped the company overcome this hurdle—as well as the favorable reactions of the distributors and retailers when they actually tasted the product.
In late November 2001, the company announced that Luna is now the top-selling brand in the energy/nutrition bar category in grocery stores—the first time a brand other than Nestle's PowerBar has topped energy/nutrition bar sales in the grocery channel. Luna continues to be the best-selling bar in natural food stores.
by Neil H. Mermelstein,
Editor