Two recent studies add fuel to an already-piping-hot tea market that includes foodservice sales, loose tea and bags, and ready-to-drink bottled tea.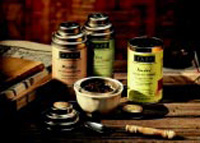 The first study, published in Archives of Internal Medicine in May, found that habitual tea drinking over several years preserves bone density in both men and women. "The protective effect of tea on bone mineral density of the total body, lumbar spine and hip regions was clearly demonstrated," wrote Chih-Hsing Wu and Chih-Jen Chang of National Cheng Kung University Hospital in Tainan, Taiwan.
The researchers speculated that the high fluoride content in tea, particularly green tea, as well as flavonoids and phytoestrogen, may contribute to the increase in bone density over time. They also stressed that the duration of habitual tea drinking, not the amount consumed, caused the greatest benefit.
The second study, published in Circulation in May, indicated that tea consumption increases the rate of survival following a heart attack. "Flavonoids are probably the best guess for the apparent benefits of tea in this study," stated Kenneth Mukamal, Assistant Professor of Medicine at Harvard Medical School. "We found that tea drinkers generally had lower death rates regardless of age, gender, smoking status, obesity, hypertension, diabetes, or previous heart attack."
These reports are the latest in a growing body of research connecting tea of all varieties to positive health benefits. Mukamal pointed to a recent randomized trial that found that black tea consumption improved endothelial function—the blood vessels' ability to relax—in people with coronary heart disease. "Flavonoids also inhibit the oxidation of low-density lipoprotein," he said. "Oxidized LDL may promote arteriosclerosis, so this property of tea may help prevent additional heart attacks, at least in some patients." In addition, flavonoids may have an anti-clotting effect, keeping platelets from clumping together.
All this good health news is a big contributor to tea's steady ascendancy as a drink of choice among U.S. consumers. For the past half-decade, tea consumption has been growing by about 8% per year, according to the Food and Drug Administration.
On the demand side, the trend is fueled by aging Baby Boomers seeking healthy alternatives to coffee and soda pop, according to Brian Keating of the Seattle-based market research company Sage Group International, publisher of the Tea is Hot Report. "Increasing numbers of the 76 million middle-age Baby Boomers are switching to tea as indications tying tea consumption to healthier lifestyles are clinically validated," he said. "Physicians routinely recommend tea to patients needing coffee, soda, and juice alternatives." In addition, Generation X and Y are attracted to the many alternative flavors and varieties, as well tea's healthful, natural, cross-cultural image.
On the supply side, both foodservice chains and retailers are promoting more tea offerings. In 1999, the Seattle-based Starbucks coffeehouse chain acquired the Portland, Ore.-based tea company Tazo. While the brand represents only a 3% blip in Starbucks' more than $3-billion annual sales, it has become a significant contributor.
Americans' interest in tea is growing, too. About 30% of U.S. adults drink tea every day, according to the U.S. Dept. of Agriculture. Annual adult per-capita consumption is just over 7 gallons, which drives a $4.75-billion industry in the U.S. with sales growing 125% over the past decade, according to the Tea Council of the USA, Inc. And that's just the beginning of a long-term trend, according to council president Joe Simrany. "Worldwide, tea is the most popular drink outside of water, so tea has a lot of catching up to do," he said. It's even more popular than water among U.S. families when dining at home, according to the NPD Group trend-tracking firm. Lipton tea is the top beverage brand served in America at home during dinner, according to NPD's most recent Eating Trends in America report.
Clearly, the fascination with tea is driving greater consumption of all varieties, from ready-to-drink to gourmet loose teas and from traditional black tea to exotic green teas. All teas contain phytochemical antioxidants and nutrients that are seeing considerable research focus resulting in positive reports.
Look for more specialty tea shops, more marketing behind brands like Lipton and Snapple, and introduction of a growing number of gourmet and specialty teas.
by PIERCE HOLLINGSWORTH
Contributing Editor
President, The Hollingsworth Group, Inc.
Wheaton, Ill.