Alexander the Great reportedly enjoyed snow and ice flavored with honey and nectar. And Nero, when he wasn't fiddling, was said to like snow flavored with fruits and juices. Which only goes to show you how far the quality of frozen desserts have evolved over the years. If those personages had lived today, they most certainly would have been treating themselves to products such as Haagen-Dazs or Ben & Jerry's.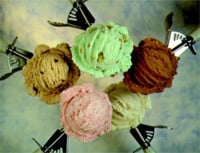 And, of course, frozen desserts continue to evolve, moving farther and farther away from the soft, icy products once made by hand-cranked freezers. At the 2002 IFT Annual Meeting, an entire symposium, "The Changing Landscape of Ice Cream," looked at the advancements in the development and manufacture of ice cream." Papers addressed advancements in the functionality of specialized milk protein ingredients; the use of natural ice-modifying proteins; the addition of health-promoting ingredients such as vitamins or probiotic cultures; and frozen desserts made with a novel technology, an ultra-low-temperature ice cream extrusion system.
Today, nearly 9% of all the milk produced by U.S. dairy farmers is reportedly used to make ice cream. Total U.S. production of ice cream and related frozen desserts amounted to more than 1.6 billion gallons (or 23 quarts per person), which according to the USDA, makes this country the world leader in annual production.
Total U.S. sales of ice cream and related frozen desserts reached more than $20 billion.
Regular-fat ice cream accounted for more than 87% of the ice cream volume sales, with lower-fat versions making up the rest: light (7%), reduced fat (0.7%), low-fat (3%), and nonfat (2%). Of the regular-fat ice creams, superpremium accounted for about 4% of the total volume, with premium and regular versions making up the majority of the sales. Volume sales for frozen desserts, such as ice creams, sherbets, sorbets, frozen yogurts, and individual frozen novelties can be found on the web site of the International Dairy Foods Association (www.idfa.org).
The International Ice Cream Association, a trade association for manufacturers and distributors of ice cream and other frozen dessert products, lists the most popular ice cream flavors as Vanilla (29%), Chocolate (8.9%), Butter Pecan (5.3%), Strawberry (5.3%), Neopolitan (4.2%), Chocolate Chip (3.9%), French Vanilla (3.8%), Cookies and Cream (3.6%), Vanilla Fudge Ripple (2.6%), Praline Pecan (1.7%), Cherry (1.6%), Chocolate Almond (1.6%), Coffee (1.6%), Rocky Road (1.5%), and Chocolate Marshmallow (1.3%).
And while you won't find snow flavored with nectar in the supermarket freezer section, you will find that the number of frozen dessert choices is almost numbing. Varieties might include a wide range of innovative flavor combinations; mix-ins such as cookies, brownies, candies, and cake; an increasing number of co-branded desserts; new lines of "no sugar added" products, lower-fat frozen desserts, and frozen yogurts; combinations of ice cream and sherbet; novelty products in a variety of flavors, shapes, and colors; and many others too numerous to mention.
--- PAGE BREAK ---
So welcome to IFT's Ye Olde Ice Cream Shoppe. (For sake of argument, try to imagine that there is such a facility.) My name is Scoops and I will be taking you on a tour of 31 ingredient developments for frozen desserts. We'll be looking at some of the latest developments in ice creams, frozen yogurt, sherbets, and ice confections. (See side bar on this page for a definition of each of each of these frozen desserts.)
The functionality of ingredients such as specialized milk proteins, new starches and gum systems for texturizing benefits, the potential healthy benefits of ingredients such as flaxseed; an array of flavors ranging from spicy to alcoholic; rice-based dessert bases; soy ingredients; and new processes for the manufacture of frozen desserts are all helping to change the landscape of these traditional products.
And in addition to promoting their indulgence qualities, manufacturers are looking at fortifying these products and adding other health benefits to them as well. So, without further wait, here are our "ingredients" for today:
1. Stabilizer system. A new stabilizer, a blend of food starch and maltodextrin designed to provide ice cream and frozen desserts with an improved texture and slower melt rate, has been developed under the name N-Surance™ by National Starch and Chemical Co., One Matrix Dr., Monroe, NJ 08831 (phone 800-797-4992; fax 609-409-5699).
Ice creams and frozen desserts presents manufacturers with certain problems that food scientists have been investigating for a long time.
One is in the area of texture. Temperature fluctuations during storage and distribution can lead to excessive coarseness and iciness in ice cream and other frozen desserts. Heat shock also leads to shorter shelf life and loss of flavor and creaminess.
A second problem is fast melt rate which can result in a messy experience for the consumer as well as taking away from the slow savoring of the product. How many times have we heard the phrase, "hurry up, it's dripping." Or "do you have a napkin—I'm getting this all over me."
To address these problems, the company developed a stabilizer which can be incorporated into the ice cream at 1.5% of weight. The sensory attributes of the product were then measured by an independent firm, Sensory Spectrum, Inc., Chatham, N.J.
A comparison of an ice cream made with the stabilizer vs a control ice cream found that the product made with the stabilizer had less surface crystallinity (1.0 vs 2.0), higher first compression semisolid firmness (7.5 vs 6.2), less grittiness between the teeth (0.0 vs 2.0), and increased creaminess (7.8 vs 6.5).
Tests also found that after four hours at 19°C (66.2°F) the percentage of ice cream that melted decreased by 31% with the addition of the starch blend. Reportedly, it took 32 minutes for the control ice cream to shed its first drop. After the blend was added, it took 45 minutes before the first drop formed and fell.
More technical information and complete study results can be obtained from the company's technical service, as well as samples.
--- PAGE BREAK ---
2. Dairy proteins. Dairy ingredients, especially proteins, can provide manufacturers with a variety of functional, nutritional, and economical options for the development of frozen desserts that have a creamy texture and rich flavor.
Dairy proteins help stabilize a frozen product's body, texture, and resistance to changes induced by heat shock. Also, they help improve visual appeal by adding opacity, especially in low-fat ice creams and frozen yogurts. Proper selection of nonfat dry milk or whey can improve mix performance, help manage freezing point, and contribute to a smooth creamy texture. Other benefits can include the addition of flavor, nutritional properties, and cost effectiveness.
Because of the potential value of dairy proteins, researchers are looking at their further development. For example, researchers at the Southeast Dairy Foods Research Center are working with a whey-based thickener that could contribute hydrocolloid-like functionality in ice cream products. Through a patent-pending process, whey protein has been polymerized to create viscosity up to 80 times higher than that of a similar native whey protein dispersion. The new ingredient is expected to deliver improved water binding, increased aeration, and gelation capability—functions critical to the production of a quality ice cream product.
Also, in a recent study, researchers at the University of Minnesota demonstrated that higher concentrations of the whey protein beta-lactoglobulin, when used in combination with higher processing temperatures, reduced initial ice crystal growth and enhanced storage stability. These properties are particularly important in producing lower-fat ice cream varieties.
Researchers at Wisconsin Center for Dairy Research introduced a new dulce de leche formula incorporating whey protein as a substitute for other milk solids. Whey protein concentrate has a mild flavor which blends well in the formula without detracting from the overall taste, aids in gelation, and adds readily available milk solids. Dulce de leche is rapidly becoming one of the most popular flavors, and has potential for use in ice creams and other frozen desserts.
In addition to proteins, other dairy components can play an important role, such as lactose which can be used as a filler or calcium and other milk minerals for adding nutritional value.
For more information about these studies, write to Dairy Management, Inc., 10255 W. Higgins Rd., Rosemont, IL 60018 (phone 847-803-2000; fax 847-803-2077; www.doitwithdairy.com).
3. New ice cream concepts using stabilizers. Ice cream concepts highlighting stabilizer/emulsifier systems have been developed by Danisco USA, Inc., P.O. Box 26, New Century, KS 66031-0026 (phone 913-764-8100; fax 913-764-8100; www.danisco.com).
A chocolate-coated ice cream bar flavored with cinnamon hazelnut coffee may be formulated using a stabilizer/emulsifier system called Elevations 700. The system used in this concept is said to provide maximum heat shock, minimize ice crystal formation, and slow dripping. The addition of the emulsifier polyglycerol polyricinoleate in the chocolate coating provides moisture absorption and helps the coating to adhere extremely well to the ice cream bar. Regarding flavor addition, the coffee concentrate and the cinnamon hazelnut flavoring can be added together into the ice cream flavor tank.
An indulgent frozen dessert with no sugar added may be formulated with Elevations 800, a system combining polydextrose (Litesse®), a stabilizer/emulsifier blend, and two artificial sweeteners. The bulking agent, polydextrose, imparts a clean flavor profile, provides 1 kcal/g, and is considered 90% dietary fiber. The emulsifier/stabilizer blend, designed for high-fat applications, provides a creamy texture and warm mouthfeel, as well as guards against heat shock. A combination of two artificial sweeteners, aspartame and acesulfame potassium, gives a rounded profile. The system also features natural and artificial vanilla flavoring, which provides a sweet creamy note to the application.
Suggested formulations for these two innovative ice cream concepts are available.
The Elevations line is a program which showcases the company's innovation in the frozen dairy market. Other products in the line allow dairy manufacturers to create a standard 10% butterfat ice cream which feels and tastes like 14% butterfat product without the added butterfat; indulgent low-fat ice creams; homemade-style ice cream with excellent flavor release and distribution tolerance; indulgent mousse that can be served frozen or refrigerated; and slow melting ice cream for families on the go.
--- PAGE BREAK ---
4. Gum combinations. Gum combinations for use in ice creams, ice cream mixes, frozen yogurts, soy-based desserts, and other products can be tested at a new dairy pilot plant opened by TIC Gums, P.O. Box 369, Belcamp, MD 21017 (phone 410-273-7300; fax 410-273-6469; www.ticgums.com). Researchers and food developers can study various hydrocolloid applications in a plant environment and then perfect formulations for frozen desserts.
The pilot plant offers ultrahigh-temperature/high-temperature short-time (UHT/HTST) capabilities and includes a Microthermics UHT/HTST unit, a continuous freezer, a homogenizer, and other state-of-the-art features. The pilot plant can duplicate emerging technologies to help manufacturers of frozen desserts and other products to devise the appropriate gum system for their product and operation.
The dairy pilot plant's continuous ice cream freezer is a type of equipment that is said to be rarely offered by laboratory and testing services, which usually use batch freezers instead. According to the pilot plant manager, "this allows us to manufacture ice cream with consistent overrun. And for experimental purposes, you must have precision."
One ice cream manufacturer who toured the facility noted that the ability to customize gum systems will benefit many companies who rely on accurate testing and services in the research and development phase. "This is a better copy of what goes on," the manufacturer said. "This is as close as you can get in a lab to actual conditions."
5. Flaxseed. Flaxseed ingredients may be used in a variety of applications such as bakery products, cereals, snacks, nutrition bars, nutritional beverages, supplements, and pet foods.
Flax also has potential value in ice cream and frozen desserts. Researchers from North Dakota State University, Fargo, N.D., have studied the functionality of flaxseed in frozen desserts, particularly its use as a partial replacer for milkfat, and have developed prototypes using the ingredient. Flaxseed lipids could serve as a source of omega-3 fatty acids in dairy products, specifically ice cream, due, in part, to the storage of these products at low temperatures.
Vanilla frozen desserts were produced using a bench scale freezer and 10–25% of the milkfat was replaced with flaxseed oil. Also, vanilla and chocolate frozen desserts were produced using a household freezer and 25% of the milkfat was replaced with flaxseed oil. These desserts were compared to control products.
According to the researchers, the addition of 10% flaxseed oil gave a product having a texture similar to the control which contained 12% milkfat. The 25% flaxseed oil product made using the bench scale freezer did have an oil-like mouthfeel which was not detected in the frozen dessert produced using the household freezer. However, flavor characteristics were similar for products made using either freezing method.
The researchers concluded that additional research is needed to identify maximum levels of milkfat replacement by flaxseed oil, evaluate different flavor systems, and complete pilot scale research. The evaluation of oxidative stability and sensory analysis are needed to determine the overall acceptability of the products. Furthermore, an extract containing high lignan levels will also be evaluated to assess the functionality of this extract on frozen dessert quality.
In addition to its functionality, flaxseed is rich in nutraceutical ingredients. For example, it has a high polyunsaturated fatty acid content (30%), most of which is omega-3 fatty acid. It is rich in soluble dietary fiber, and contains up to 800 times more lignans than do other plant sources. Consumption of these ingredients has been linked to improved heart health, a more robust immune system, and protection against cancer. Flaxseed also provides other phytonutrients (phenolic acids, flavonoids, and phytic acid) which can lead to improved health, and is a rich source of vitamin E and potassium.
Ice creams, which have been associated with indulgence, may become healthier through their use of flaxseed ingredients. For more information about these studies and the functionality and healthy-promoting benefits of flax, write to Pizzey Milling, Box 132, Angusville, Manitoba R0J 0A0, Canada (phone 204-773-2575; fax 204-773-2317; www.pizzeys.com).
--- PAGE BREAK ---
6. Dairy and nondairy creamers. A new category of products encompassing dairy bases, dairy and nondairy creamers, and creaming agents and powders has been introduced under the name Dairy Solutions™ by Wild Flavors, Inc., 1261 Pacific Ave., Erlanger, KY 41018 (phone 859-342-3600; fax 859-342-3610).
Several formulations are available which highlight the company's ingredients for use in frozen desserts.
For example, Horchata Granita is a frozen dessert made with a non-dairy creamer and Natural & Artificial Horchata Flavor. Horchata, a traditional Mexican dessert-like beverage consisting of rice, cinnamon, and sugar, can be enhanced with almonds and lime/lemon zest and served in a tall glass over ice.
Also, Mocchiata Carbonated Dairy, a frozen dessert that offers the benefits of soy, is made with a non-dairy creamer and Natural Mocchiata Flavor. The dessert, promoted as indulgent but healthy, is said to deliver 6.25 g of soy protein per serving.
The company offers a wide range of ingredients that are suitable for use in ice creams and other frozen desserts. These include flavors and flavor systems, colors, dairy powders, fruit preparations and purees, chocolate and caramel sauces, toppings, and other products.
7. Rice-based frozen dessert base. A rice-based frozen dessert base called Nutriz-IC has been developed by A&B Ingredients, Inc., 24 Spielman Rd., Fairfield, NJ 07004 (phone 973-227-1390; fax 973-227-0172; www.abingredients.com). The ready-to-use dry mix is designed to produce a white, creamy dessert that is free of lactose and cholesterol.
According to the manufacturer, color, flavor, sugar, fat, and a stabilizing emulsification system can be added according to customer preference. Also, the mix is compatible with vitamin and calcium enrichments.
"Ice cream is one of America's best loved treats, but its high dairy and cholesterol content makes it something that not everyone can enjoy," noted Gil Bakal, Managing Director for the company. "This new mix can be used to create a creamy, non-dairy ice cream alternative that lactose intolerant or cholesterol-conscious individuals can savor without guilt."
A&B Ingredients, a leading supplier of rice-based food starches for the food industry, recently formed a strategic alliance with Nutriz, a new joint venture with Remy Industries, for marketing and distribution of its rice drinks and dessert food system blends in North America.
8. Vanilla. Americans annually consume a reported 15 quarts of ice cream per person. Although vanilla is the leading flavor, there are a variety of vanilla products available for use in formulating ice creams and other frozen desserts. Suggestions for selecting an appropriate vanilla are available from a manufacturer of pure vanilla extracts, vanilla bean paste, and vanilla powder, Nielsen-Massey Vanillas, 1550 Shields Dr., Waukegan, IL 60085-8307 (phone 847-578-1550; fax 847-578-1570; www.nielsenmassey.com).
For example, Madagascar Bourbon Pure Vanilla has a sweet, creamy character which can enhance chocolate ice cream centers or rich chocolate coatings. Furthermore, when it is blended with Indonesian Pure Vanilla, the sweet creamy flavor compliments ice creams high in butterfat.
--- PAGE BREAK ---
The addition of fruit and berry components to a premium ice cream formula offers the opportunity to further customize the frozen dessert with specialized vanilla blends. While tart berries may benefit by the addition of sweet, spicy Mexican vanilla, a fruity Madagascar Bourbon-Tahitian blend is especially suitable to set off the flavors of black cherry.
For ice creams that require a distinctive appearance, a manufacturer can use Madagascar Bourbon Vanilla Bean Paste that adds distinctive flecks of real vanilla seeds to products. Or if you require an organic product, a 100% Certified Organic Madagascar Bourbon Pure Vanilla Extract is available.
More than 300 flavor components contribute to the complexity and diversity of vanillas. However, these flavors are volatile and easily destroyed by heat and chemicals associated with vanilla production. The company uses a proprietary cold extraction process which slowly and gently extracts the maximum flavor from each vanilla bean without heat damaging the delicate flavor.
9. Chocolate. For the past 50 years, chocolate and cocoa has remained the second most popular flavor for ice cream. According to the Washington D.C.-based International Ice Cream Association, chocolate captures 9% of the consumer's preference vs. 29% for vanilla. My guess is that vanilla's versatility as a base, accommodating a wide range of flavor combinations, helps explains some of this popularity.
In recent years, there have been several interesting developments for chocolate that may have impact in the area of ice cream.
• For example, in 2000, a chocolate institute for teaching the many applications and uses of cocoa and chocolate products was opened in North America by Barry Callebaut Canada, Inc., P.O. Box 398, Saint-Hyacinthe, Quebec, Canada J25 1Y7 (phone 450-774-9131; fax 450-774-8335; www.barry-callebaut.com).
The multi-disciplinary center, located adjacent to the company's North American headquarters on the outskirts of Montreal, features a fully equipped chocolate kitchen, pilot plant, and modern lecture theater. Each student has their own fully equipped workspace, specifically designed for chocolate applications. The company also has a chocolate library and technical reference center, also for use by clients. Chocolate courses offered to professionals in the food industry include dairy applications emphasizing chocolate coatings and inclusions.
Barry Callebaut is a manufacturer of a number of chocolate ingredients for ice cream and dairy products. These include dips (cones, ice lollies), wraps (ice cream bars and ice cream cakes), coverings (chocolate layers in ice cream cones, thin chocolate coatings on ice cream layers), decorations (pieces in different sizes and shapes, and powders), and inclusions (pieces, chunks, chips).
• Chocolate powders which have reduced fat have been developed by Natra USA, Inc., 1059 Tierra del Rey, Suite H, Chula Vista, CA 91910 (phone 619-397-4121; fax 619-397-4120; www.natra.us. The usage of these powders can be extended to dairy products such as ice creams and yogurts.
--- PAGE BREAK ---
According to the manufacturer, reduced-fat and low-fat chocolate powders are made from full-fat, conched milk or plain chocolate from which some or virtually all of the fat is removed. These products enable the development of novel reduced-fat (typically 10–20%) and low-fat chocolate foods with authentic chocolate tastes and flavors. For both products, fat is physically removed from chocolate by a proprietary process. The particle size of these chocolate powders is less than 20 microns, thus imparting a smooth taste and flavor without any grittiness.
• A variety of cocoa powders appropriate for ice cream manufacture are available from ADM Cocoa, 12500 W. Carmen Ave., Milwaukee, WI 53225 (phone 414-358-5700; fax 414-358-5755; www.admworld.com). The high-quality ingredients are marketed under Ambrosia, De Zaan, and Merckens brands.
A 32-p booklet, "Cocoa Powders and Ice Cream" is offered by the company which discusses the use of cocoa solids in frozen desserts. They can be used homogeneously as a constituent of the mix, or as a ripple in variegated ice cream. They may be used as a flavoring or decoration in the form of chocolate drops or chopped chocolate. Cocoa solids influence the structure of the mix and some properties of the end product. This has to be taken into account both in the production process and in the recipes.
The booklet provides a review of the physical background of ice cream manufacture and the ingredients (dairy, nondairy fats, sweeteners, stabilizers, emulsifiers, flavor characterizing ingredients, cocoa powders and chocolate liquor, and other flavors) that are used in formulating frozen desserts. Technology (mixing, pasteurization, homogenization, aging, freezing, and packaging) are discussed. Legislation issues are covered and frozen dessert recipes are provided.
• As was discussed in last month's ingredients section on confections, chocolate has been promoted for its functionality and indulgence aspects. But in recent months, its potential health benefits are increasingly being explored. For example, chocolate is a rich source of polyphenol antioxidants that may help guard against cancer and heart disease.
10. Fiber and other health-promoting ingredients. Frozen dairy dessert formulations containing health-promoting ingredients are available from Blue Pacific Flavors & Fragrances, Inc., 1354 S. Marion Ct., City of Industry, CA 91745-2418 (phone 626-934-0099; fax 626-934-0089; www.bluepacificflavors.com).
For example, a chocolate ice cream shake called Fortishake™ features the company's chocolate flavor fortified with soluble rice bran (fiber/protein), a vitamin blend, and antioxidants derived from cocoa polyphenols, the water-soluble food constituents that are extracted, concentrated, and purified from cocoa beans.
A fruit carbohydrate extract consisting of fruit sugars, starches, pectin, cellulose, minerals, and lignin can provide frozen desserts with soluble and insoluble fibers. Called Nutripec™, the ingredient is available as a concentrated paste. In formulations where it is combined with a percentage of other types of seedless fruit puree, it can aid in the production fruit juice smoothie beverages, creamy frozen fruit desserts, sorbet-type products, and other frozen dessert applications.
The company has also recently introduced a variety of new ice cream flavors, including White Chocolate, Key Lime Pie, Creme Brule, and Cassis.
--- PAGE BREAK ---
11. Sweet Inclusions. Sweet ingredients for use in ice creams and other frozen desserts are available from Kerry Sweet Ingredients, 400 Prairie Village Dr., New Century, KS 66031 (phone 913-780-1212; fax 913-780-1720; www.kerryingredients.com).
According to the supplier, these ingredients may include pure or compound chips developed with custom flavor profiles for bulk ice cream; variegates which add a swirl of flavor and color and are available in a water-based or a new fat-based format delivering a richer body and flavor; and particulates which deliver flavor, color, and texture.
Five new flavors introduced by the company at the 2002 IFT Annual Meeting included tart Granny Smith apples paired with sweet caramel (Apple Dunking at the State Fair), crunchy almond caramel blended with a caramel popcorn swirl (Let's Go the Movies), watermelon swirled with chocolate chip "seeds" (Watermelon Burst), tart lime bits and a cool key lime variegate paired with sweet graham (Key Lime Cooler); and oil-coated graham swirled with a gingerbread variegate (You Can't Catch Me, I'm the Gingerbread Man).
12. Almonds. A prototype formulation demonstrating the effectiveness of almonds in a frozen dessert was developed by the Almond Board of California, 1150 9th St., Ste. 1500, Modesta, CA 95354 (phone 209-343-3218; fax 209-549-8267; www.AlmondsAreIn.com).
Almond Sundaes are described as dark chocolate coated ice cream bites containing a whole almond. Ingredients in the formulation include cream, sugar, vanilla extract, cocoa, corn syrup, and, of course, the almond.
are described as dark chocolate coated ice cream bites containing a whole almond. Ingredients in the formulation include cream, sugar, vanilla extract, cocoa, corn syrup, and, of course, the almond.
Such a formulation demonstrates the possibilities of several trends. First, in last month's ingredients section on confections, I mentioned that consumers are increasingly preferring bite-sized candies, and this trend is a crossover to the frozen dessert area. Second, the product typifies indulgence, having a rich, buttery flavor, but in a small portion size. (The Board promotes the formulation as "decadence in a nutshell.") And third, studies have shown that almonds have potential health benefits, including lowering cholesterol and improving overall health.
13. Hot sauces. Hot ice cream? No, this is not some strange paradox. A number of recipes for frozen desserts using Tabasco® hot sauces are available on the Web site of McIlhenny Co., Industrial Ingredients Div., Avery Island, LA 70513 (phone 337-373-6109; fax 337-367-8678; www.tabasco.com).
Recipes include Easy Guacamole Ice Cream (avocados, sweetened condensed milk, lemon juice, Tabasco green pepper sauce, and whipped topping); Virgin Bloody Mary Sorbet (sugar, water, tomato juice, fresh lemon juice, white horseradish, Tabasco Pepper Sauce, and Worcestershire Sauce); and Fire and Ice Cream (milk, cinnamon stick, orange peel, whole cloves, vanilla extract, sweetened condensed milk, Tabasco Pepper Sauce, whipped heavy cream, and garnish).
Also, on the web site is an interview with Chef Lionel Robin (Robin's Restaurant, Henderson, La.), who prepares a vanilla ice cream flavored with hot sauce. A two-ounce bottle Tabasco is said to be suitable for a one-gallon batch. If prepared correctly, the flavor provided by the hot sauce remains constant, does not affect the flavor of the ice cream, and does not get hotter.
--- PAGE BREAK ---
14. Artificial sweetener. Food science researchers at the University of Missouri have developed lower-calorie vanilla-flavored ice creams using the artificial sweetener sucralose in place of sugar. Sucralose is 600 times sweeter than sucrose but cannot be metabolized by the human body.
According to the lead researcher, "We are looking at developing ice creams that keep their richness intact by reducing the sugar content without reducing the amount of fat, which provides the ice cream with its richness and smoothness. The market for such ice creams would include diabetics and health-conscious consumers who want to reduce calorie intake."
The study reportedly found that the taste of ice creams formulated with up to half of the sucrose replaced by sucralose was comparable to ice creams containing none of the artificial sweetener.
A panel of 10 judges said ice creams having more than 50% sucralose had a bitter, artificial sweetener taste. Also, the judges noted that ice creams with higher than 50% sucrose replacement were also perceived as dry and chewy. These ice creams contain a higher amount of maltodextrin, a bulking agent, to compensate for the loss of bulk caused by removing the sugar. Sugar normally accounts for about 15% of the bulk in ice cream.
Both regular 10% fat ice cream and reduced-fat ice cream (7.5%) were tested with zero, 25, 50, 75, and 100% sucrose replacements.
More information about this study can be obtained from University of Missouri-Columbia, MU Extension, College of Agriculture, Food and Natural Resources, 4 Whitten Hall, Columbia, MO 65211 (phone 573-882-3296; fax 573-882-5415; http://AgEbb.missouri.edu/news).
15. Lactic acid bacteria. A frozen dessert containing lactic acid bacteria was the subject of U.S. patent #6,399,124, assigned to Nestec SA.
The patent describes the combined use of lactic acid bacteria and prebiotic fibers, for the preparation of a frozen composition in which the lactic acid bacteria and the fibers are not substantially in contact. The surface of the ice cream product is coated with "an edible support" that is free of lactic acid bacteria and that consists of fermentable fibers specifically promoting the growth, in the intestinal tract, of the lactic acid bacteria contained initially in the ice cream.
The ice cream product is designed for the treatment or prevention of gastrointestinal disorders, for strengthening the human immune system, or for increasing the absorption of minerals.
16. Soy powder. A uniform soy powder for use in formulating frozen desserts has been developed by Specialized Protein Products, 34052 La Plaza, Ste. 204, Dana Point, CA 92629 (phone 949-488-8828; fax 949-443-2459; www.sppintl.com).
Called SPP Multibase®, the powder has a minimum of 40% protein content. When reconstituted with water, it forms the basis for high-quality soy milk with a smooth creamy mouthfeel, and may be used for producing soy-based frozen desserts, yogurt, and other cultured products.
According to the manufacturer, the 100% whole bean product retains the healthy benefits of soy but does not have a beany taste. It is extracted by a natural water process.
--- PAGE BREAK ---
17. Fruit and vegetable extracts. An ice cream formulated with fruit and vegetable extracts that provide standardized levels of phytochemicals was highlighted at the 2002 IFT Food Expo by GNT USA, Inc., 660 White Plains Rd., Tarrytown, NY 10591 (phone 914-524-0600; fax 914-524-0681). Called Nutrifood®, the extracts are said to contain a wide spectrum of carotenoids, anthocyanins, and polyphenols, as they are found in fresh fruits and vegetables. They are standardized to deliver consistent levels of phytochemicals without the variations associated with nature.
18. Kiwi flavor. The flavor of kiwi has been used in beverages, such as juice drinks; yogurt blends and other dairy products; dressings; confections; and other formulations. I'm not sure if it has been successfully used in ice creams or sorbets, but I don't see why not. Its fruity, green flavor may add a refreshing, novel taste to frozen desserts, and its character might complement a wide variety of fruit and non-fruit inclusions. It might also appeal to adults or children.
Another reason I was thinking of the potential of kiwi as a flavor is that there are products in the supermarket that combine ice cream with sherbet. You might develop a kiwi or kiwi-lemonade flavor in the sherbet and a vanilla flavor for the ice cream. Or maybe a kiwi-chocolate ice cream sherbet could be created.
For those interested in kiwi flavors, a couple of companies have come out with new products. For example, a flavor capturing kiwi has been developed by Ottens Flavors, 7800 Holstein Ave., Philadelphia, PA 19153 (phone 215-365-7800; fax 215-365-7801). The flavor is said to have a fresh, green character and nuances of strawberry, pineapple, and even possibly nectarine. Originally referred to as the "Chinese Gooseberry," the kiwifruit has become one of the world's most popular fruits and has expanded into many areas other than the fresh fruit market.
A new kiwifruit distillate which imparts a fruity, green flavor to many food systems is available from Florida Treatt, Inc., 3100 U.S. Highway 17-92 West, Haines City, FL 33845 (phone 863-421-4708; fax 863-422-5930; www.treatt.com). Called Kiwifruit Treattarome™ 9770, the flavor is distilled from fresh fruit and has been successfully used in dairy products. According to the company, the distillate achieves a balance between the fresh, green "bean-like" components and the sweet, ripe esters.
19. Dessert sauces. For some consumers, especially those who like to customize their own particular dessert, the sauce or topping makes the ice cream. And, of course, you have your traditional favorites, such as strawberry, chocolate, butterscotch, and, of course, caramel. However, as the flavors for ice cream keep expanding, so are the possibilities for sauces.
For example, Margetts, a Kerry Foodservice subsidiary, recently launched an Orange Dessert Sauce, which is said to be suitable for ice cream and desserts, as well as in savory recipes such as duck. (What does ice cream and duck have in common? Why, the orange sauce, of course!) The sauce is said to have fruit bits and a tangy orange flavor.
Think about the other creative possibilities. Earlier, I mentioned that kiwi might make for a good flavor in ice cream. How about lemon or cranberry or raspberry sauce on your ice cream? And, of course, where there's chocolate sauce, there's possibilities for blends like chocolate cherry or mint chocolate or chocolate fudge.
The future of sauces for ice cream could be endless.
--- PAGE BREAK ---
20. Holiday flavors and colors. Available for a limited time, seasonal or holiday ice cream flavors are popular. These flavors, usually additions to an established line, may include gingerbread, peppermint, or apple caramel. Spicier flavors such as cinnamon or pumpkin have particular potential in this area.
Furthermore, along with these festive flavors come potential for colors. Try to imagine a pumpkin (orange) licorice (black) ice cream. Red, white, and blue colors have especially become popular around holidays such as Fourth of July but also they suggest a patriotic spirit. For example, at the 2002 IFT Food Expo, a red, white, and blue frozen dessert was highlighted under the theme, "Sweet Land of Liberty," by David Michael & Co., 10801 Decatur Rd., Philadelphia, PA 19154 (phone 215-632-3100; fax 215-637-3920). The frozen dessert was a combination of strawberry sorbet, vanilla ice cream, and blueberry sorbet. Also, formulated was the Liberty Pop™, a novelty popsicle featuring strawberry, lemon/lime, and blueberry flavors.
21. Wearing your stripes and swirls. Striped or swirled desserts may also see a growing popularity. With red, white, and blue colors, stripes seem especially appropriate, reminiscent of the American flag. However, stripes and swirls are also playing a part in frozen dessert concepts that, in my opinion, put a novel twist on products such as Neopolitan ice creams and rainbow sherbets.
For example, I saw in the marketplace a striped ice cream made with several different chocolates, each one representing a slightly different colored stripe. The effect was a very tasty (yes, I tried it) monochromatic dessert.
Also, a few months back, David Michael & Co. created a concept, Phoni Spumoni Ice Cream, which was described as a Neopolitan ice cream with a combination of chocolate chip, maraschino cherry, and pistachio ice creams.
The same company also formulated Camper's Delight Ice Cream, described as a campfire-roasted marshmallow-flavored ice cream smoldering with a gooey marshmallow swirl, or Cran-Ade Sherbet, a combination of lemonade and cranberry sherbet.
22. Confectionery ingredients. Candy-flavored ice cream reportedly saw the highest rate of individual flavor growth in 2001, with a 1.3% volume increase. In the 2002 September issue of Food Technology, we discussed confectionery ingredients and many of these could easily be added as ingredients or inclusions to ice creams and other frozen desserts.
The growth of candy-flavored ice creams is fueled, in part, by the continuing popularity of co-branding. A visit to the supermarket freezer easily demonstrates this trend, as the number of new ice cream products using ingredients from well-known manufacturers of candy, cookie, fruit, and flavorings keeps increasing.
A second trend that may help explain the growth of frozen desserts formulated with confectionery ingredients is that consumers look for innovative flavor or ingredient combinations. And since confectionery ingredients already appeal to their needs for indulgence, it is only natural that many of these ingredients find their way to another indulgence product—ice cream. Ice cream manufacturers today are offering a full selection of products (low-fat, premium, and super-premium versions) in innovative flavors and with such mix-ins as candies, cookies, brownies, cookies, and cake.
Several ice cream formulations containing confectionery ingredients are available from Guernsey Bel, Inc., 4300 S. Morgan St., Chicago, IL 60609 (phone 773-927-4000; fax 773-247-4945). Examples include Gooey Chewy Turtle Brownie, a vanilla ice cream having the taste of chocolate-covered, pecan-studded caramel candies (known as "turtles), and Colossal Crunch, a vanilla ice cream with a caramel peanut butter sauce and peanut brittle mixed in.
--- PAGE BREAK ---
23. Bakery ingredients. Like confectionery, bakery ingredients are popular in ice creams and frozen desserts, fueled by co-branding opportunities as well as consumers' desires for indulgence and innovative ingredient combinations.
Suppliers, of course, are increasingly aware of these trends and some are adjusting their portfolios and overall focus to meet these needs. In fact, one can say that some companies are indeed finding that the cookie crumbles well in ice creams.
For example, one company, Ellison Bakery, Inc., 4108 W. Ferguson Rd., Ft. Wayne, IN 46809 (phone 260-747-6136; fax 260-747-1954; www.ellisonbakery.com) produces inclusion pieces, toppings, cookie wafers, and other cookie-derived ingredients for ice cream sandwiches and other dairy products. The company recently completed a $1.2 million expansion to its bakery, giving it new equipment and capabilities to meet the demands of the dairy industry. In light of the growth of innovative ice cream flavors and the popularity of novelties among children, the company looks forward to new growth opportunities for its expanded facility and its line of cookie "crunch" products.
Guernsey Bel, Inc. has been mixing baked goods into ice creams for many years. These ingredients may include chocolate chip cookie dough, brownies, real cheesecake pieces, truffles, and many other varieties. One recent formulation the company created was the Ultimate Peanut Butter Brownie, dark chocolate ice cream laden with chunks of peanut butter brownie and a swirl of peanut butter. Other formulations that the company developed included Almond Crunch Cake, French Vanilla Fudge Pie, Chocolate Dipped Macaroon, Raspberry Chocolate Cheesecake, Double Chocolate S'mores, Cinnamon Caramel Cakes, and countless others.
24. Functional dairy ingredient. A functional dairy ingredient providing a number of important properties in frozen desserts is available from Parmalat Ingredients, 405 The West Mall, Toronto, Ontario, Canada M9C 5J1 (phone 416-620-3132; fax 416-620-3605; www.parmalat-ingredients.com).
Called Dairy-Lo®, the ingredient is characterized by its protein particle size distribution. In the manufacturing process, the unfolding of globular whey proteins and subsequent aggregation during controlled heating creates larger, more reactive protein particles. This gives the ingredient is special water-binding capabilities.
The ingredient helps create better mouthfeel and overall textural properties similar to a system containing a much higher level of fat. The insoluble protein fractions contained in the ingredient have a higher affinity to water. In addition, the unfolded proteins and open structure can hold much more water than native soluble whey proteins. The functionality, when combined effectively with optimum processing conditions, is further enhanced through interactions with other ingredients in the food system.
In frozen dairy desserts, the ingredient is said to provide superior benefits, including expansion, suppression of ice crystal formation, and shrinkage control. According to the manufacturer, the natural stabilizing effect of the ingredient in ice cream strengthens the serum lamella between air cells and ice crystals making them more resilient to collapse and subsequent shrinkage. The added viscosity built into the serum phase also reduces the detection of iciness.
--- PAGE BREAK ---
25. Alcohol. In the January 2000 ingredients section, I discussed the use of liquor in frozen desserts. (I would use the words "ice cream" but the Bureau of Alcohol, Tobacco, and Firearms and the Food and Drug Administration have determined that those words cannot be used to label the product as it is intoxicating.)
Two years ago, researchers at the University of Minnesota had created formulations and manufacturing methods that stabilized the alcohol molecules, preventing them from interacting with the ice crystals and milk proteins found in the ice cream. The frozen-solid product reportedly could remain stable for up to a year, maintaining a desirable taste and texture during that time.
The potential for alcohol in a frozen dessert still remains interesting, as its addition can enhance flavor, extend shelf life, and help create a value-added frozen dessert for adults only. Of course, developing alcoholic products isn't always easy—for instance, the addition of alcohol can undesirably alter the characteristics and structure of the product. And, in addition to formulation problems, there are regulatory issues as well.
However, I still mention alcohol here because its presents interesting possibilities for future development. I have not personally seen alcoholic frozen desserts in my local marketplace, but I know interest is still there, especially in Europe where international publications are covering their development.
I should also point out that until then, there a variety of flavors that can provide the taste of alcohol without the alcohol. For example, a line of Adults Only Flavors are available from David Michael & Co. that can include Champagne, Amaretto, Kahlua, Margarita, Cherries Jubilee, Banana's Foster, Strawberry Daiquiri, Pina Colada, Egg Nog, Irish Cream, and many others.
26. Marine ingredients. Earlier in this article, I discussed the use of flaxseed ingredients in prototype ice creams. Fish oil, a source of omega-3 fatty acids, has also been incorporated in prototype ice creams. For example, about 18 months ago, Arthur D. Little researchers worked to create an orange creamsicle-flavored ice cream that was fortified with fish oils. About 250 mg of fish oil was put into a 100-g serving.
Omega Tech, a producer of docosahexaenoic acid (DHA) derived from marine microalgae, has also worked on developing ice cream prototypes incorporating healthy fatty acids. Recently, the company was acquired by Martek Biosciences Corp., an innovator in the research and development of DHA for use in functional foods, infant formula, early childhood nutritional products, dietary supplements, and animal health products. The company has changed its name to Martek Biosciences Boulder Corp. and will focus primarily on the food industry. So who knows? Possibly we may yet see ice cream fortified with marine ingredients on the supermarket shelf.
27. Vitamin and mineral premixes. A new premix used to fortify ice cream with calcium, magnesium, phosphorus, vitamin D, and soy isoflavones are available from Watson Foods Co., Inc., 301 Heffernan Dr., West Haven, CT 06516 (phone 203-932-3000; fax 203-932-8266). Use of such a premix would make possible label claims identifying these nutrients as excellent sources.
Such a fortified ice cream product would meet consumers' desires for indulgence and health. Furthermore, being a dairy product, it would already have a built-in association with bone health.
--- PAGE BREAK ---
28. Flavored raisins. Raisins made with different flavors may be suitable as an ingredient or inclusion for use in ice creams and other frozen desserts. Flavors can include lemon, cinnamon, peppermint, cherry, strawberry, licorice, and jalapeno pepper. In today's spicy world, even a jalapeno-flavored raisin might find application in a frozen dessert.
Raisins may also be colored to resemble a range of different fruits.
In addition to its visual appearance and functionality benefits, the fruit could be promoted as a healthy ingredient in ice cream. It is cholesterol free, low in sodium, virtually fat free, and rich with vitamins and minerals, including iron and potassium.
For more information about raisins and their potential applications, write to California Raisin Marketing Board, c/o Thomas J. Payne Market Development, 865 Woodside Way, San Mateo, CA 94401-1611 (phone 650-340-8311; fax 650-340-8568).
29. Dessert-type flavors. New dessert-type flavors have been developed for use in soft-serve ice creams and soft-serve frozen custard by Virginia Dare, 882 Third Ave., Brooklyn, NY 11232 (phone 718-788-1776; fax 718-768-3978; www.virginiadare.com).
For example, the flavor of Dulce Frapp, a trendy drink, may be incorporated into ice cream. Flavors include Natural Coffee Flavor WONF, Pure Indonesian Vanilla Extract 2X, and Natural Flavor for Dulce de Leche.
Frozen custard may taste like cinnamon buns, a popular bakery dessert, by using Natural Cinnamon Flavor in the formulation. Or a frozen custard can be created with a berry flavor by using All Natural Black Raspberry Flavor and Natural Flavor for Vanilla Custard.
And how about an ice cream having the flavor of key lime pie? Incorporating Superfreeze Natural Flavor for Key Lime, and Natural Flavor for Whipped Cream into an ice cream formulation can produce the taste of the popular bakery product.
These prototypes suggest the novel possibilities that flavors can have in the development of frozen desserts, and how they can meet or anticipate consumer trends.
30. Oat-derived fat replacer. According to researchers at USDA-ARSNational Center for Agricultural Utilization Research, an oat beta-glucan hydrocolloidal composition may be used as a replacement for fat in ice cream and other products. Also, as a nutraceutical product, it can be used for elevating beta-glucan levels for a health claim label.
Furthermore, a composition produced by coprocessing soy flour with oat bran can be created with hydrocolloidal properties suitable for partial replacement for coconut cream in Asian dishes such as desserts, tofu, and soymilk.
In a related development, researchers at Thailand-based Institute of Food Research & Product Development have studied hydrocolloidal functional fibers containing soluble beta-glucan fiber that could be used to improve the nutritional quality of some Asian foods. The hydrocolloidal fiber was found to be useful in replacing saturated fat in the preparation of eight coconut milk-containing Thai desserts, including coconut-cantaloup ice cream. It was possible in all the formulas to replace 50% or more coconut milk with the ingredient.
--- PAGE BREAK ---
31. Ice cream for women? A line of flavors with floral profiles that are suitable for designing products with female appeal have been developed by Robertet Flavors, Inc., 10 Colonial Dr., Piscataway, NJ 08854 (phone 732-981-8300; fax 732-981-1717). Called Spa Floral ™ Flavors, these products may be used in beverages, yogurts, and other applications. Possibly ice cream applications?
Think about it for a second. An ice cream for women? A frozen dessert capturing a rich floral abundance? The flavors, which reportedly blend well with fruit flavors and lend an aura of calm, restful rejuvenation, include Boronia, Cassie, Geranium, Jasmine, Lavender, Linden, Mimosa, Orange Blossom, Rose, and Violet.
Next time you're looking for something with a definite air about it, try a scoop of Rose Vanilla or Vanilla Mimosa.
Making just the right ice cream can be complicated, and the ingredients discussed above can help solve functionality problems, providing desirable texture, flavor, melt properties, and other suitable qualities. And although words like "vanilla" or "chocolate" immediately come to mind when thinking about ice cream, there are a wide range of other ingredients that play a critical role, such as stabilizers, sweeteners, milk proteins, and colors.
Furthermore, particularly as ice cream continues to evolve, meeting changing consumer trends, some of these ingredients may be surprising. For example, flaxseed, hot sauces, vitamin and mineral premixes, marine ingredients, and oat-derived products are just some examples of a changing landscape for ice cream.
And even though vanilla and chocolate may be your first choices, the ice cream market abounds in a wide range of flavor combinations (some traditional and some not so traditional). 
There are also a wide range of flavor inclusions, some of them familiar such as nuts, fruits, candy pieces, bakery flavors, raisins, marshmallows, and so on. The landscape may be changing, but there are still some familiar signposts along the way. And, on the other hand, some of them may not be so familiar, such as colored raisins, decorative glitter, or whole almonds in bite-size ice cream pieces.
We've also discussed some of the exciting co-branding opportunities that are occurring, especially in the area of confectionery and bakery inclusions. A visit to your supermarket can verify the number of products in the freezer that are the result of either co-branding or marketing related to the promotion of movies, cartoons, or recent commercial events. Furthermore, these ingredients are not limited to confectionery or bakery areas. They may include ingredients derived from branded fruits, snacks, flavorings, and other areas. In recent years, ice cream manufacturers have engaged in cooperative efforts with popular coffee and chocolate brands to create superpremium products. Based upon the proliferation of these products in the freezer section, one can only assume that this trend will continue in the future.
And finally, with all these different ingredient possibilities, the bridge between indulgence and health continues to be created.
So getting back to IFT's Ye Olde Ice Cream Shoppe, I have one last question: Will that be one scoop or two?
--- PAGE BREAK ---
Frozen Desserts Defined
Various terms for frozen desserts are used in this ingredients section. For clarity, this sidebar defines what some of these products are, according to federal regulations, or what they mean from a marketing standpoint. To learn more about ice cream labeling, visit www.idfa.org.
•Frozen dessert is a general term to include ice cream, frozen yogurt, frozen custard, sherbet, sorbet, quiescently frozen confections, and novelties such as ice cream sandwiches, fudge sticks, and juice bars that may or may not contain dairy ingredients.
• Ice cream is a frozen food made from a mixture of dairy ingredients containing at least 10% milkfat, before the addition of bulky ingredients, and must weigh a minimum of 4.5 pounds to the gallon.
• Reduced fat ice cream contains at least 25% less total fat than the referenced product.
• Light ice cream contains at least 50% less total fat or 33% fewer calories than the referenced product.
• Lowfat ice cream contains a maximum of 3 grams of total fat per serving (½ cup).
• Nonfat ice cream contains less than 0.5 grams of total fat per serving.
• Superpremium ice cream, a marketing term, tends to have very low overrun and high fat content (at least 12% milkfat and usually more), and the manufacturer uses the best-quality ingredients.
• Premium ice cream, a marketing term, tends to have low overrun and higher fat content than regular ice cream, and the manufacturer uses higher-quality ingredients.
• Regular ice cream, a marketing term, meets the overrun required for the federal ice cream standard.
• Economy ice cream, a marketing term, meets required overrun and generally sells for a lower price than regular ice cream.
• Frozen custard or French ice cream must contain a minimum of 10% milkfat, as well as 1.4% egg yolk solids.
• Sherbets have a milkfat content of between 1-2%, and a slightly higher sweetener content than ice cream. Sherbet weighs a minimum of 6 pounds to the gallon and is flavored either with fruit or other characterizing ingredients.
• Gelato is characterized by an intense flavor and is served in a semi-frozen state. It contains sweeteners, milk, cream, egg yolks, and flavoring.
• Sorbet and water ices are similar to sherbets, but contain no dairy ingredients.
• Quiescently frozen confection is a frozen novelty such as a water ice novelty on a stick.
• Frozen yogurt consists of a mixture of dairy ingredients such as milk and nonfat milk which have been cultured, as well as ingredients for sweetening and flavoring.
• Novelties are separately packaged single servings of a frozen dessert that may or may not contain dairy ingredients.
---
Penn State Holds Ice Cream Short Course
A nine-day Ice Cream Short Course will be held by Penn State, January 6–16, 2003, at The Nittany Lion Inn, University Park, Pa. The course, initiated in 1892, is believed to be the oldest and largest educational program in the science and technology of ice cream, and may be the first continuing education course in the United States.
The program instructs professionals in all aspects of commercial ice cream manufacture, including ingredients and flavors, freezing and hardening, and storage and distribution. The course also covers systems for making better quality frozen desserts, discussing microbiology and quality testing, nutrition and additives, and hazard analysis at critical control points techniques. Laboratory demonstrations are provided on ice cream freezing, use of vanilla, common defects in ice cream, evaluation of market samples, and computer-assisted formulations.
Also, a tour of the University Creamery operations will be included. Current annual production of ice cream is up to 180,000 gallons a year, and offers more than 70 flavors to its customers. New varieties of frozen desserts such as low-fat ice cream and frozen yogurt, an increase in flavors, new prototype equipments, and improvements in the managing of the production line will all be demonstrated.
The course is designed for a very diverse audience, including personnel from production and quality control, research and development, companies providing goods and services to the ice cream industry, and sales and general management of large and small manufacturing companies.
For those interested in learning more about the course, contact The Pennsylvania State University, 306 Agriculture Administration Building, University Park, PA 16802-2601 (phone 814-865-8301; fax 814-865-7050).
Next month's Ingredients section will highlight new ingredient developments that can contribute either color or texture in the formulating of food products.
by DONALD E. PSZCZOLA
Associate Editor