Yesterday, I slipped a crisp dollar bill into a vending machine, and down the chute came a 12-oz can of cola and a quarter and a dime change. The night before last, I ate a yummy shrimp and fruit plate aboard my airline flight. At lunch that day, my hosts provided an array of cut lettuce, unit-portion-packaged salad dressing in three flavors, a large bowl of rice and something, and several cans of carbonated beverage. At my hotel that morning, a "chef " had prepared an omelet to my order while I selected some "bagel-y" adjuncts from the buffet. In my hotel room, I brewed Colombian coffee from a pouch. And along about midnight the previous night, I purchased microwave popcorn from the hotel front desk and popped the product in the microwave oven in my room.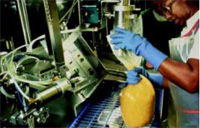 So how did your week go? How many meals or dining experiences did you enjoy at your home? And how many at a hotel, restaurant, or institution, on an airplane, in a hospital waiting room, or wherever?
If you are not unlike 270 million fellow Americans, nearly half of your "share of stomach" this year is an away-from-home experience. And more than half the value derives from this category. According to some consultants, the total growth of the food industry for the next five years will come from the hotel/restaurant/institutional (HRI) industry, sometimes called the foodservice industry. In fact, assert the experts, the food industry will double in size in this decade—all stemming from away-from-home eating.
All of the dazzling predictions were generated prior to the 2001–02 economic situation which influences the present and future. So far, the predictions have not been totally inaccurate—but, of course, any simple linear extrapolation of the food industry for the past 30 years would have shown the same pattern. The main confounding input is the emergence of the home meal replacement category in which consumers acquire ready-to-eat or ready-to-heat-and-eat foods from their retail grocery outlet and take them home, nibbling en route. Should this 15+% of retail grocery sales category be classified as in-home or away-from-home eating? And would definitely defining this category provide us with markedly greater insights into the wondrous world of packaging for foodservice, which means that the overture has ended and we must begin the show?
In the good old days, when HRI was a mere and steady 20% of food value, HRI foods were a secondary bulk outlet for off-quality product the food manufacturer dared not offer to retail consumers. With the compelling force of quick-service restaurant (QSR) chains, professional chefs and buyers, and oversight by microbiologists, the use of foodservice as a dumping ground for seconds has virtually ended. Although the No. 10 can still dominates for low- and high-acid foods, its replacement—the pouch—is rapidly replacing the old-line three-piece steel can, at least for high-acid foods.
Both evolution and revolution have characterized the recent history of foodservice packaging and will underlie its continued growth. One might believe that product/packaging drives the food service, but the reverse is more probable. As the HRI industry has grown from "mom and pops," mess halls, and stuffing the trapped passengers/students/prisoners, a marketing orientation has unfolded. More consumers, more time-pressed consumers, more quality consciousness, more nutrition/calorie awareness, greater economic power (in cycles), more movement and travel, farther commutes, and so much greater ethnic diversity and patching—have all been drivers.
Consumers demand uniformity, safety, a lot of quality, interest, convenience, service, speed, and more. Those who cook, manage, organize, create, engineer, and compete are challenged by the need to deliver the food effectively, efficiently, and, today, economically. Space, labor, time, and costs must be controlled—to delight the target consumers.
For more than 40 years, HRI operators and professionals have been developing systems to meet the incredibly complex requirements of their target consumers who they want to be their repeat target consumers. Equipment to receive and store goods; to cut, mix, and blend; and to heat and cool has been engineered to function with minimum labor, with minimum conscious involvement, with almost automatic repetitive action.
But the operation of the equipment and the labor, whether preparation, serving, or cleanup, depends today on the product input—which today reads packaged product.
• Portion Packaging. To the surprise of hardly anyone of the overwhelming majority of Americans who frequent quick-service (read fast-food) outlets, consumers are asked to make decisions and perform their own complementing—using unit-portion packages of ketchup, mustard, salt, pepper, honey, salsa, jam, peanut butter, salad dressing, and coffee lightener. Tens of billions of flexible pouches of condiments and mini-cups of coffee lighteners and pancake syrup are dispensed to consumers to limit the quantities, reduce labor, keep the premises a bit cleaner, and reduce the problems of sanitation.
Unit-portion sizes in front of the outlet is but one example of portion control. In the kitchen, even in the top white-tablecloth restaurants, unit portions of frozen French-fried potatoes, steaks, ground beef patties, pizza sauce, and cheese are one means to control labor, time, space, and sanitation—but aren't these the rationales for front-of-the-store unit portions?
• Center-of-the-Plate. Starting with the main-course/center-of-the-plate, primal cuts of beef and pork are delivered in vacuum barrier bags for cutting into steaks. Hamburger patties, sized and shaped to the buns/plates, are delivered frozen, with interleaving papers for rapid transfer to the grill. Portion-packed poultry in barrier pouches distributed in reduced temperatures revolutionized the industry and helped drive chicken to its leadership position among meats. Seafood remains one of the contradictions, with many operators demanding fresh, i.e., unfrozen, seafood in bulk containers using polystyrene for thermal insulation.
• Frozen French-Fried Potatoes. Side dishes such as pasta and rice may arrive in pre-measured, small or large bulk portions. The tale has been often written of frozen, par-fried French-fried potatoes provided in precisely measured quantities for rapid reconstitution in deep-fat fryers in quick-service restaurants (QSRs) and other restaurants. These products are packaged in basic polyolefin extrusion-coated paper pouches that are quite satisfactory to retard moisture loss through the vagaries of even the HRI frozen food distribution system. Some day perhaps, the finished quality of QSR-prepared French-fried potatoes may be translated into domestic product.
• Sous Vide and Cook/Chill. Among the more interesting packaged food categories just touching into the retail food market is cook/chill. Some may recollect the vocal mid-1980s discussions on "sous vide" packaging of low-acid entrees, side dishes, sauces, and soups. Developed in France, sous vide translates literally into vacuum packaging. In his book on the subject, inventor Georges Pralus established an objective of integrating the total thermal input of preparation, post-fill pasteurization, packaging in barrier pouches under vacuum, cooking plus reheating in water bath just prior to serving as exactly the same as if a three-fork Michelin chef were cooking from scratch for the consumer. Sous vide was intended to provide an alternative to cook-to-order preparation, permitting the restaurant to prepare high-quality product during slack hours early in the week or the day and reheat it upon receiving the diner's order. And it worked—in France, even at Maxim's. Pralus had correctly reckoned that rapid cooling coupled with reduced oxygen would retard both aerobic spoilage microorganisms and oxidative biochemical reactions.
When several companies and package material supplier Cryovac (now Cryovac Sealed Air) introduced the concept into the United States, a firestorm of misinformation roared over a brilliant concept. The basic concern was that the thermal process would destroy spoilage microorganisms that might otherwise compete against any pathogenic anaerobic spore formers occasionally present. If the packaged product passed through distribution channels with poor refrigerated temperature control for prolonged periods, spores could vegetate, grow, and produce toxins. The furor led to a virtual removal from the marketplace.
Enter cook/chill: The fluid-based food product (soup, sauce, stew, etc.) is cooked and filled hot into oxygen-barrier pouches sealed so that a partial vacuum is formed within the package. The hermetically sealed package is immediately plunged into circulating ice water to reduce the temperature of the contents to 31–32°F within about 30 min. Channels for these products were in the 31–32°F range, with time control exercised because the major sources are commissaries, and the outlets are nearby restaurants and institutions.
Alert food and food packaging technologists will note that, from quality/microbiological food safety perspectives, sous vide and cook/chill are virtually identical—which might in part, account for Cryovac Sealed Air's remarkable success in introducing cook/chill into the HRI market in the U.S.
And the success in the HRI market might suggest rationales for the recent introductions of the cook/chill analog into the retail food market: barbecued meat, stews, roast beef, and even meatloaf. To compensate for the possibility of microbiological safety problems in the less-controlled retail channels, products usually are formulated to contain natural antimicrobials.
Cryovac Sealed Air's packaging systems for HRI markets range well beyond cook/chill to salad dressings, cold sauces, toppings, etc., all packaged in tough flexible pouches on their vertical form/fill/seal machines, sometimes with dispensing valves incorporated into the pouch walls to facilitate HRI operations.
• No. 10 Can Replacements. Although hardly the dominant package form for fluid products previously in metal cans and glass jars, No. 10 can replacement flexible pouches are growing for high-acid fluid products such as tomato/pizza/pasta sauces. Usually filled hot into aluminum foil lamination pouches on vertical form/fill/seal machines such as Winpak Lane, ProdoPak, and General, the product in sealed pouches is rapidly cooled in water sprays for ambient-temperature distribution. The move away from metal cans has hardly been retarded by many QSR owners dictating "no metal cans" in backrooms to open, cut fingers, empty, and discard.
• Bag-in-Box. Included in the genre are bag-in-box, the slightly higher-volume flexible pouches with affixed dispenser valves for dairy mixes, condiments, and tomato- and fruit-based fluids. Offered by Scholle, DuPont Canada (formerly LiquiBox), and other companies, pouches are often barrier by virtue of metallization and duplexing.
If the HRI industry is moving away from rigid metal and glass and toward flexible pouches, can retail be far behind? Before passing judgment on the immediate future for flexible packaging for fluid foods, it should be noted that little low-acid food in retort
by AARON L. BRODY
Contributing Editor
President and CEO, Packaging/Brody, Inc.
Duluth, Ga.