The Food and Drug Administration is responsible under the Federal Food, Drug, and Cosmetic Act for enforcing tolerances by the Environmental Protection Agency for amounts of pesticide residues that may legally remain on food (including animal feed). FDA collects and analyzes food from commercial channels of trade for determining compliance with EPA tolerances. Residue data gathered under this regulatory monitoring program are also used for evaluating the extent and significance of pesticide residues in the food supply.
The analytical methods used by EPA and FDA to determine pesticide residues on foods is found in the Pesticide Analytical Manual, or PAM. PAM is published by FDA as a repository of the analytical methods used in FDA laboratories to examine food for pesticide residues for regulatory purposes. (For more information on these analytical methods, see the Code of Federal Regulations, Title 40, Part180.101(c)).The newest edition of the manual can be found online at http://vm.cfsan.fda.gov/~frf/pami1.html.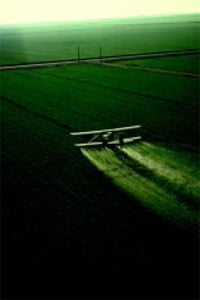 Most pesticide analysis involves the detection of organophosphates-chlorinated hydrocarbons. Residues of carbamates are another important area of analysis, as growers begin to employ these pesticides as alternatives to organophosphates. 
A large number of pesticides can be determined by the various multi-residue screens. These analytical procedures were developed by scientists at state and federal government agencies to detect many compounds of specific chemical classes. The general procedure involves extraction of the pesticides from the matrix into acetonitrile, followed by solvent exchange, sample cleanup, and analysis. In general, the compounds tested for fall into the classes of organochlorines, organophosphates, organonitrogens, and carbamates. Specific detectors are used to get to low detection limits. 
Electron-capture detectors are sensitive to chlorine- and fluorine-containing pesticides for organochlorines, such as DDT, Captan and Dicofol. Organophosphate and organonitrogens, such as Malathion, Diazinon, and Simazine, are determined using nitrogen/phosphorus detectors and flame photometric detectors. Carbamates, such as Sevin and Aldicarb, are determined by high-performance liquid chromatography (HPLC) using post-column derivatization, since they are not stable at temperatures used in gas chromatography. 
There are some screening methods available for pesticides. The Charm Pesticide Assay (Charm Sciences, Inc.) can screen fresh fruits and vegetables for pesticides in 20 min. The Agri-Screen® Ticket (Neogen Corp.) can detect all major organophosphates, thiophosphates, and carbamates in air, water, soil, produce, food, spills, surfaces, and custom applications. Samples can be tested wet, dry, or with solvents. The Agri-Screen test uses a litmus-type ticket as its main component and is based on a fairly simple biochemical principle. One side of the ticket contains a disc which is saturated with cholinesterase—an enzyme present in most living organisms, except plants—and whose main function is to control muscle performance. If the enzyme is altered or dies, so does the organism. Insecticides can inhibit an organism's ability to produce cholinesterase and therefore kill the organism. If enough insecticide is present in the tested sample, it will inactivate the cholinesterase that is chemically bonded to the ticket and prevent a chemical reaction which, when insecticides are absent, turns the disc blue. A white color indicates a positive result for the presence of insecticides. 
--- PAGE BREAK ---
FSIS Sets New Procedures for Salmonella Tests
In August 2002, the U.S. Dept. of Agriculture's Food Safety and Inspection Service issued new procedures for responding to establishments that fail Salmonella performance standard testing for raw meat and poultry products. According to FSIS, the new procedures constitute a more scientific and systematic approach to food safety and to the enforcement of current regulations. In July 1996, the Pathogen Reduction/Hazard Analysis and Critical Control Point (HACCP) rule required all meat and poultry slaughter and processing plants to adopt a system of process controls to prevent food safety hazards. The rule has four components: standard operating procedures (SOPs) for sanitation, HACCP plans, generic Escherichia coli testing, and Salmonella performance standards. 
Under the HACCP rule, each establishment is required to develop sanitation SOPs to demonstrate whether it is meeting all basic sanitation requirements on a daily basis. There is a direct, and substantial, link between insanitary practices in meat and poultry plants and the likelihood of product contamination by pathogenic bacteria. Meat and poultry plants document and maintain daily records of completed sanitation procedures and corrective and preventive actions and make their records available to FSIS inspectors for review and verification. 
Establishments are required to implement and maintain extensive records of their HACCP plans. A plant must analyze its processes to determine critical control points (CCPs) where food safety hazards might occur. Plants must produce records to verify that control measures have worked and that their products are safe and wholesome. In addition, establishments must conduct generic E. coli testing to verify that their process control systems are working as intended to prevent fecal contamination. Such testing helps establishments determine how effective slaughter and sanitary dressing procedures are at preventing and removing microbial contamination. Finally, FSIS set Salmonella performance standards to verify whether HACCP systems are effective in controlling contamination by this pathogenic microorganism. Salmonella was selected because it is a pathogen of concern and is present on virtually all classes of raw food products in numbers large enough to detect. 
The four components of the Pathogen Reduction/HACCP final rule complement one another and embody a systems approach to food safety. 
In December 2001, the U.S. Court of Appeals for the Fifth Circuit handed down a decision (Supreme Beef Processors Inc. v. USDA) prohibiting USDA from suspending inspection services based solely on failure of the Salmonella performance standard. Despite the ruling, USDA maintains the ability to initiate a withholding, suspensions, or withdrawal action based on sanitation or HACCP violations, including failure to collect and analyze samples for the presence of generic E. coli; failure to develop or implement sanitation SOPs; or failure to develop or implement a required HACCP plan.
USDA may also initiate a withholding, suspensions, or withdrawal action for other violations, such as inhumane slaughter or unsanitary conditions. The court's ruling did not impact USDA's ability to use the Salmonella testing results to trigger an immediate review of an establishment's entire food safety system. FSIS's new procedures emphasize using the Salmonella testing in this manner. 
--- PAGE BREAK ---
To determine the safety and wholesomeness of meat and poultry in federal plants, FSIS conducts Salmonella testing. Enough samples are collected to make up a "set." The number of samples in a set, as well as the number of positive samples permitted, varies depending on the product. 
For example, in steers and heifers, 82 samples make up a set and only one sample is permitted to test positive for Salmonella. For broilers, 51 samples make up a set and 12 samples are permitted to test positive. FSIS conducts testing on carcasses of cattle, swine, and broilers as well as ground beef, ground chicken, and ground turkey. The prevalence of Salmonella, therefore, is not determined by the number of organisms found in a sample but by the number of set failures. 
The new measures for plants that fail Salmonella testing accelerate the review of a plant's HACCP plan and involve higher-level supervisors at an earlier stage than previous procedures. After the first set of samples indicate that Salmonella is being found at a frequency higher than the federal standard, the district manager will document the failure in a notification letter to the establishment, instructing it to take actions necessary for compliance. The circuit supervisor and inspection personnel will conduct an assessment of the establishment's HACCP plan and sanitation SOPs, as well as generic E. coli testing data, focusing on the establishment's planned corrective actions. The circuit supervisor and inspection personnel will develop a plan to verify corrective actions implemented by the plant. If necessary, enforcement actions, such as issuing a Notice of Intended Enforcement or suspending inspection, will be taken. 
If the establishment fails a second set of Salmonella tests, the district manager will document the failure in a notification letter to the establishment, communicating that FSIS expects the establishment to reassess its HACCP plan and take corrective and preventive actions. After the plant has reassessed its HACCP plan and implemented any appropriate changes, an FSIS team that includes a consumer safety officer will conduct an in-depth verification review. If the review identifies that a problem still exists, FSIS will either allow the plant to reassess its HACCP plan again within 30 days to ensure that changes are effective, schedule a third set of Salmonella tests, or initiate enforcement action. The Consumer Safety Officer will develop a plan to verify any modifications made by the establishment in response to the second set failure. 
Failure of a third Salmonella test set will require the district manager to again document the failure in a notification letter. The district manager will inform the company that a Consumer Safety Officer and a compliance officer will conduct a comprehensive assessment of the establishment's food safety systems to determine if the systems have failed to prevent, eliminate, or reduce to an acceptable level the occurrence of food safety hazards. If the comprehensive assessment identifies that a problem still exists, FSIS will either allow the plant to reassess its HACCP plan again within 30 days, schedule a fourth set of Salmonella tests, or initiate enforcement action. The consumer safety officer will develop a plan to verify and address the actions taken by the establishment in response to the third set failure. 
Additionally, FSIS may conduct reviews at some or all suppliers of a grinding plant that repeatedly fails the performance standard. 
According to FSIS, the new procedures for responding to the failure of the Salmonella performance standard ensures a scientific approach to food safety while increasing consistency and uniformity. 
--- PAGE BREAK ---
New Multi-Variable Plant Sanitation Testing System Developed
BioControl Systems, Inc., a Bellevue, Wash.–based manufacturer of food safety testing systems, has announced the development of the first testing platform to integrate multiple quality parameters in one instrument. The Lightning MVP® System is a portable instrument suitable for use in both plant and laboratory environments for the measurement of ATP bioluminescence, pH, and temperature. This one instrument captures all test results into one integrated database. This allows recordkeeping and analysis previously unavailable to optimize quality and HACCP programs. 
"We have created a next-generation instrument that will revolutionize the way HACCP monitoring is conducted in the food industry," said Phil Feldsine, President and CEO of BioControl. "The new instrument will allow QA managers to validate their cleaning procedures and monitor their critical process control points with one instrument. Test results from each testing parameter are stored in the same database, so cause/effect interrelationships can easily be identified and corrective actions can quickly be taken." 
The instrument features a one-step, one-hand swab-insertion mechanism that allows ATP swabs to be read quickly and easily while protecting the device from exposure to light, moisture, and debris. Temperature and pH are measured with rugged, non-glass probes that are safe to use in all environments. 
Results from all parameters are stored in the instrument and can be downloaded to a personal computer for analysis with the company's software. Since the results from all parameters are captured within the same device, they can be analyzed as an interrelated set of data points. This capability of overlaying several types of data allows for the identification of potential cause/effect relationships of quality measurements that would otherwise be difficult to determine. As a result, corrective action can be implemented much faster. 
---
More Laboratory Developments at 2002 IFT FOOD EXPO®
Rheometer, called the YR-1, was introduced by Brookfield Engineering. The new instrument is said to be a low-cost alternative to more complicated laboratory rheometers. It may be used for measuring the yield stress behavior of food products. Test results are displayed as a single yield stress number. Test data, torque vs time and stress vs strain, can be displayed in both tabular and graphical formats. Test parameters include test number and name, spindle number, immersion mark, pre-shear (rpm), wait time before test startup, run time, run speed (rpm), and low and high yield control limits (Pa). The instrument is available in a variety of torque ranges for various applications, such as measuring pastes, spreads, soups, gravies, and sauces. The company also exhibited a new compact refrigerated circulating water bath for use with its rheometers. It also offers viscosity testing services, practical training in viscosity measurement and control, and seminars. Brookfield Engineering Laboratories, Inc., 11 Commerce Blvd., Middleboro, MA 02346-1031 (phone 508-946-6200; fax 508-946-6262; www.brookfieldengineering.com).
Digital hand-held refractometer, the Leica AR200, performs as well as most laboratory-grade automatic Abbe refractometers with the ease-of-use of a hand-held. It is designed to automatically detect and interpret the shadow-line with precision comparable to high-end automatic refractometers. Operator interpretation or unclear shadow-lines of traditional hand-held models are removed. It is said to be ideal for a wide variety of industries, including food and beverage. It can be used for checking fruit ripeness, solids levels, quality standards, raw material and solvent purity, concentration/mix ratios, and other applications. The instrument digitally measures critical angle, reflected light refractive index, or % solids as Brix over a broad range (0–95% Brix) with accuracy to +/-0.0001 (0.1% Brix). The instrument features computer interface ability, custom channel programming, and automatic temperature compensation. Leica Microsystems, Inc., P.O. Box 123, Buffalo, NY 14240-0123 (phone 716-686-3000; fax 716-686-3085; www.analytical-refractometers.com).
--- PAGE BREAK ---
Staphylococcus aureus may be detected in foods with the use of the 3M Petrifilm Staph Express Count Plate. By identifying S. aureus in food and environmental samples, the plates are said to give food processors an indication and risk assessment of food quality and sanitation effectiveness. Distinctive red-violet colonies appear in as little as 22 hr and make interpretation easy. The test requires only one incubation temperature and is equivalent to the BAM three-plate Baird-Parker agar and tube coagulase method. 3M Microbiology Products, 3M Center Bldg. 275-5W-05, St. Paul, MN 55144-1000 (phone 800-228-3957; fax 800-241-5496). 
Headspace analyzer, the Chem-Sensor System 4440, consists of a headspace autosampler (Agilent 7694) and a GC/MS system (Agilent 6890/Agilent 5973N). This system is said to be highly flexible and can be used for both GC/MS and sensor applications. The system may be used for developing quality assurance methods. When "out-of-spec" samples are encountered, the combination of the sensor with a GC allows fast troubleshooting, since the system can be easily switched between ChemSensor and GC/MS modes. Gerstel Inc., Caton Research Center, 1510 Caton Center Dr., Ste. H, Baltimore, MD 21227 (phone 410-247-5885; fax 410-247-5887; e-mail [email protected]; www.gerstelus.com).
Chemometrics package, Pirouette 3.02, is claimed to be a comprehensive chemometrics software tool designed specifically for Windows NT/2000 and Windows 95/98. Prediction, classification, data exploration, and pattern recognition methods are implemented in a single program. The software interface facilitates interacting with raw and processed data. Support for many common instrument and data-exchange file formats allows importation of data. Thousands of subsets can be created from a single data file, allowing the user to exercise many different what-if scenarios without having to collect additional data. All calculated products are saved in a single file and can be retrieved and manipulated via the Object Manager. Transfer of calibration options allow spectra to be adjusted appropriately for prediction with a model from another source. Infometrix, Inc., P.O. Box 1528, Woodinville, WA 98072-1528 (phone 425-402-1450). 
Moisture analyzer, the Mark 4, has a uni-balance mechanism. The mechanism is monolithic and is milled from a solid block of a proprietary alloyed aluminum. There are no fixtures, screws or incompatible metals that constitute this balance and no differing stresses to the balance or thermal variations characteristic of different metals. The design is claim to be more accurate and stable. Coupled with its ceramic heater, the analyzer provides fast and accurate moisture results. Omnimark Instrument Corp., 1320 S. Priest Dr., Ste. 104, Tempe, AZ 85281(phone 480-784-2200; 800-835-3211; fax 480-784-4738).
New flavor and fragrance products have been introduced by Sigma-Aldrich Fine Chemicals. The 20 new flavor and fragrance products are approved by the Flavor and Extract Manufacturers Association (FEMA) of the United States. These products have to be used in the formulation of food flavorings or perfume formulations. The company's naming convention includes the FEMA number in the first 4 digits of the catalog number. Any catalog item starting with a W2, W3, or W4 and an additional five digits is considered FEMA. Each year the company initiates new product listings for the new FEMA materials as soon as the new FEMA list is made available. Customers perform sensory panels on these products in order to place the raw material into their library for use in their new products and formulas. FEMA performs toxicological and usage level studies for each submission from flavor and fragrance producers. Once the testing is completed, the raw material is assigned a four-digit FEMA number. This approval status indicates that the chemical compound is said to be GRAS, or Generally Recognized as Safe for food. Sigma-Aldrich Fine Chemicals Corp., 3050 Spruce St., St. Louis, MO 63103 (phone 800-521-8956; 314-771-5765; www.sigmaaldrich.com).
by JAMES GIESE
Internet Editor