Drying or dehydration of foods may be one of the oldest preservation methods known. Research has been performed on it for many years, and, surprisingly, it is still an active topic, according to Martin Okos of Purdue University (phone 765-494-1211). Martin holds appointments in Agricultural Engineering, Food Science, and Chemical Engineering. His research on drying is focused on combining heat and mass transfer, the traditional concerns, with fluid dynamics and rheology of the material being dried.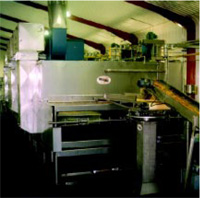 As Okos explains, sometimes during drying it is desirable to have shrinkage, as in pasta, where a dense texture is sought. In other foods, expansion to give a porous structure is the objective, as with crisp rice and crackers. Under identical conditions of temperature, air flow, and humidity, different rheological properties will lead to different results, as illustrated by pasta made from durum wheat flour or bread flour, which have different protein contents. Given an understanding of the raw material properties, process conditions can be modified to adjust the end properties. Likewise, raw materials might be modified, by enzymes, for instance, to tailor the physical properties to achieve the desired final product.
Okos also mentioned an interesting concept some students developed in the course of a senior design project. They freeze-dried beer, producing a flavorful powder which could be reconstituted to a flat, nonalcoholic beverage, but which had more promise as a flavor and ingredient.
Osmotic drying is a popular topic of academic study but is only used in a minor way commercially. Probably the best known product is Ocean Spray's Craisins, which are dried cranberries in which the infused sugar from osmotic drying is a valued ingredient.
For commercial success, osmotic drying depends on reuse of a strong syrup, which draws water from the raw material. A. Valdez Fragoseo and coworkers from Mexico and France, publishing in the May 2002 issue of Journal of Food Process Engineering, described the reuse of sucrose syrup up to 20 times in dehydration of apple cubes. The syrup was re-concentrated by evaporation, and, while it picked up some reducing sugars and a little color, it appeared to stabilize, suggesting that further reuse is probably justified. Other fruits, such as cherries and blueberries, are osmotically dried. Since osmotic drying only removes some water, such products are normally finish-dried with air. The added sugar not only reduces water activity, but also adds to the taste and texture.
Conventional dehydration of fruits and vegetables is a mature business in the United States, but is growing in other parts of the world. For example, in Egypt, as many as six modern conveyor dryers for onions are being considered. U.S. suppliers such as National Drying Machinery Co., Philadelphia, Pa., and Wolverine Proctor & Schwartz, Merrimac, Mass., are competing for these opportunities. Jim Plant (phone 215-464-6070), product specialist at National Drying Machinery Co., confirmed his company's interest in helping Egypt modernize its food dehydration industry (see sidebar on p. 98).
In the U.S., Breedlove Dehydrated Foods, Lubbock, Tex., is an interesting not-for-profit food dehydration business. It was founded about nine years ago by the South Plains Food Bank as a way to preserve surplus food donations for use in feeding hungry people. Local summer crops such as potatoes, onions, peppers, and squash are donated by farmers when they are not fresh-market quality but still edible. They are dehydrated and sold to food banks for use in soup kitchens and for donations.
Many food banks could not afford to pay enough to cover the costs of operating the plant, so the mission has shifted to providing a proprietary vegetable mix to national and international relief agencies, according to plant manager Robert Taylor (phone 806-741-0404). Breedlove has found that their mix has appeal across cultural boundaries because most cultures will eat potatoes, carrots, and rice. Local ingredients add tastes to suit. Now Breedlove receives donations of potatoes but buys some other crops as necessary. The dryer is a three-stage Proctor & Schwartz conveyor tunnel. Taylor said that they have produced more than 100 million 8-oz (wet equivalent) servings since their founding. Their first shipment went in relief to Oklahoma City after the bombing of the federal building there.
In addition to National and Wolverine Proctor, other vendors of dryers were visible at the 2002 IFT Food Expo. Littleford Day, Florence, Ky. (phone 859-525-7600), is best known for its high-intensity agitated mixer, but the same basic machine can become a vacuum or atmospheric dryer with heated walls and solvent recovery, where appropriate. The high degree of agitation is especially useful with sticky and granular material.
Wenger, Sabetha, Kans. (785-284-2133) is best known for single- and twin-screw extruders but also makes horizontal and vertical continuous dryers. These dryers are often found in pet food manufacture, where extrusion is common as well. The vertical dryer, or cascade, operates by transferring product down a series of decks while heated air passes in the opposite direction. Such a machine takes up less floor space than a horizontal dryer of similar capacity.
Wyssmont, Ft. Lee, N.J. (201-947-4600) also offers a vertical dryer, especially suitable for fragile powders, such as sugars and other food ingredients. The company's standard turbo-dryer consists of a stack of rotating trays with a hole that permits product to fall to the next level after one rotation. Air moves upward in the opposite direction. Wyssmont now offers a self-contained, transportable design suitable for pilot testing, manufacture of small quantities, and use at multiple locations, according to Joe Bevacqua, Vice President of Sales. He also mentioned that their unit can be equipped with nitrogen flushing so that alcohol and water extracts can be dried with no risk of explosion or of oxidation of the extracts.
The EPRI Food Technology Alliance, Toledo, Ohio (419-534-3713), described the use of computational fluid dynamics to model flow in a cereal-toasting oven as an approach to reducing costs. Airflow Sciences Corp., oration, Livonia, Mich., developed the actual computer program. An example described in a brief technical application publication claimed capital savings of about $10 million for a combined rice-and-corn cereal line.
In spite of the extensive research on modeling, when one considers a new dryer, it is helpful to have a practical guide to design. Such a guide has been provided by Guillermo H. Crapiste and Enrique Rotstein in their chapter, "Design and Performance Evaluation of Dryers" in the 1997 Handbook of Food Engineering Practice edited by K.J. Valentas, E. Rotstein, and R.P. Singh (CRC Press). Some experimental data are almost always needed, but this chapter gives adequate mathematical equations with which to correlate data and calculate drying times.
In practical terms, dryers differ in their quality of construction, uniformity of air flow, ease of cleaning, ease of control, flexibility and ease of changing loading, temperatures, and air flow, and cost. For food use, they are normally made of stainless steel, but some may be welded, while others are bolted together. Large dryers may be built in modules or as one unit. Even the amount and quality of insulation may vary. It is common to recycle large volumes of air to save energy and to adjust humidity, and the precision with which this is done can vary from one design to another.
As Crapiste and Rotstein point out, drying rates may depend on internal or external heat or mass transfer. It is usually relatively easy to maximize external heat transfer by raising temperature and air velocity. The limit is that temperature at which scorching of the surface occurs. Internal resistances are functions of the physical properties and size of the raw material. More porous materials offer low resistance to moisture removal but are also good thermal insulators. Reducing pressure lowers the temperature at which water vaporizes and may reduce mass transfer resistance while increasing heat transfer resistance. Raising pressure can have the opposite effect. In fact, raising the pressure in freeze drying, which usually occurs under very high vacuum, especially with either helium or air, can improve drying rates for some materials.
Drying remains an important preservation method for many foods, especially in developing areas of the world, where stability at ambient conditions is particularly valuable. Seasonal crops like potatoes and onions can be kept in a convenient and lightweight form for use in a variety of foods.
---
Vegetable Drying in Egypt
Onions have been dried in Egypt for centuries. Traditionally, the means was sun drying, but batch and tray style dryers have been used for increased capacities for more than 100 years. Today, the export economy in Egypt thrives on onions and a mixture of leafy herbs and vegetables. With dehydration of onions and other vegetables, one obvious step in improving the economy is to modernize the process.
The USAID program in Egypt has been active in improving the industry as a whole, providing technical and commercial consultation, seminars, study tours, and marketing assistance. National Drying Machinery Co. has been involved in drying and dehydration seminars presented to the industry and is providing equipment to those who chose to pursue the export market. Although the dryer is the largest single piece of equipment in the process, it is only one step in the process, and every high-quality processor will confirm that strict control of every area is critical to their success.
The process begins with seed selection, planting, irrigation, harvesting, transportation, and storage—and training of the growers in each of these techniques. For example, proper spacing and depth of planting affects the onion size and is critical to control of irrigation and timing of the harvest. Another example is the selection of the onion variety for solids content, which has a significant impact on yield and dryer capacity.
The preparation of the onion for drying is also critical. Proper peeling, washing, cutting, timing, etc., all have an effect on quality. For example, the root is highest in bacteria, and how it is handled has a direct impact on the total plate count. The sharpness of the blade for slicing also has a direct impact on final color and the potential capacity of dehydration.
Milling, packaging, and storage of the dried onion are also critical. Specific needs include prevention of reabsorption of moisture by the dried onions, proper sorting for discolored pieces, size reduction and sorting to fill specific client needs, and proper packaging to increase shelf life and transportation needs.
Control of the dehydration is very important. Timely water removal arrests bacteria growth and improves efficiency of the process. Continuous production increases overall yield, minimizes downtime, and amortizes the capital investment. In addition to achieving the final moisture content, dehydration is one of the key areas for control of total plate count and final color.
Dryers are available as tray systems used in batch or indexed systems, multiple conveyors mounted above each other, and multiple conveyors in a linear fashion. National's design utilizes the last approach for several reasons. The capacities needed tend to range from 2 to 4 metric tons/hr. Very fast removal of water to decrease the water activity quickly and efficiently is important for control of bacteria. This requires very high air flows and elevated temperature where evaporative cooling keeps the onion from toasting. Where water removal cannot be sped by elevated air flow and temperature, conditions become gentler and residence time is increased. Transfer sections between stages, or belts, mix the onion, exposing new surface area to the process air, and provide the most homogeneous product at the discharge.
The equipment is designed with multiple zones and stages, each with individual control of time, temperature, and exhaust. This allows the dehydrator to be used according to individual preferences to comply with the desired final product demands. That is, the equipment allows the experienced operator to adjust the "recipe" for his needs.
—Scott Vallette, National Drying Machinery Co., Philadelphia, Pa.
---
More Processing Exhibits from 2002 IFT FOOD EXPO®
Extruding different colors and shapes. Curt Strahm, Technical Sales Engineer for Wenger in Kansas City, Mo. (816-891-9272) showed samples of pet foods extruded in at least two colors. Some pieces were solid colors, while others had both colors in one piece. In the never-ending race for novelty and eye appeal in pet foods and snacks, producing multiple colors and shapes in one machine has been a challenging goal. Existing products with various colors and shapes typically are made on multiple machines, which complicates manufacturing, as each machine must run at the same time. Wenger's new technology, which involves injecting dye near the exit of the machine will be a welcome option for the extruded products industries. Wenger Manufacturing, Inc., 714 Main St., Sabetha, KS 66534 (phone 785-284-2133, fax 785-284-3861).
In-line viscometry. Brookfield (800-628-8139) has long provided a number of laboratory viscometers that use rotating spindles to measure torque as a function of rotational speed. By use of calibration fluids, useful values of Newtonian and non-Newtonian viscosity can be determined. Robert McGregor, Sales and Marketing Manager, said that Brookfield now offers an in-line rotational instrument to monitor viscosity of flowing fluids. The instrument is designed to 3-A standards and can be cleaned in place. Typically, it is mounted in a by-pass line, measuring a continuous sample from the main flow. Brookfield Engineering, 11 Commerce Blvd., Middleboro, MA 02346 (phone 800-628-8139 or 508-946-6200, fax 508-946-6262, www.brookfieldengineering.com).
High hydrostatic pressure. A few years ago, few people had heard of high hydrostatic pressure as a preservation technique, but this year the largest manufacturer of such equipment, Avure Technologies (formerly Flow International), Kent, Wash. (800-610-1790) won the IFT Food Technology Industrial Achievement Award. Avure had a large booth at Food Expo, where they displayed batch and semi-continuous equipment. The largest current application is guacamole, but fruit juice is also being treated to comply with the Food and Drug Administration regulation for juice without using excessive heat. Avure Technologies, 26500 64th Ave. S., Kent, WA 98032 (phone 800-610-1798, fax 253-813-3285, www.avure.com).
Microwave processing. MicroThermics, Raleigh, NC (919-878-8076) manufactures miniature equipment for universities and industrial pilot plants. The company's latest product, according to David Miles, Vice-President, is a unit that uses focused microwave energy to heat temperature-sensitive products very quickly without fouling. The microwave heater will raise the temperature by 171ºF in about 1 sec. Hold times can be varied as necessary, and preheaters, coolers, and homogenizers can be arranged as desired. The technology is licensed and has not yet been scaled to commercial size. MicroThermics, Inc., 3216-B Wellington Ct., Raleigh, NC 27615 (phone 919-878-8045, fax 919-878-8032).
Flavor essence extraction. Flavourtech, based in Australia with a sales office in Graton, Calif (707-829-6216) has developed the spinning cone column for concentration of heat-sensitive materials such as flavor essences. They offer the spinning cone column in combination with other equipment in an Integrated Extraction System to recover flavors from coffee, tea, and other botanicals. Flavourtech Americas Inc., 1458 Industrial Ave., Sebastopol, CA 95472 (phone 707-829-6216, fax 707-829-6211, www.flavourtech.com).
Freeze concentration. GEA Specialty Products Div. of Niro Process Technology, 's-Hertogenbosch, The Netherlands) (31-736-390-390) offers an integrated freeze concentration system which uses scraped-surface heat exchangers and a wash column in which melted ice water is used to wash ice free of concentrate. Freeze concentration uses less energy than evaporation but has suffered from loss of solids with the water. The same process can be used to purify wastewater streams. GEA probably sells more to chemicals and waste treatment than to food industries, but the system is used for fruit juices and coffee extracts. GEA Specialty Products Div., Niro Process Technology, 's-Hertogenbosch, The Netherlands (phone 011-31-736-390-390). Niro Inc., 1600 O'Keefe Rd., Hudson, WI 54016 (phone 715-386-9371, fax 715-386-9376, www.niroinc.com).
Extrusion. Buhler, Uzwil, Switzerland, (41-71-955-3797) and Clextral, Tampa, Fla. (813-854-4434) offer competing twin-screw extruders for pet foods, cereal, and snacks. Benoit Delaval, President, explained that Clextral has always used electrical induction heating for its barrels. Albert Lucia, Sales Manager–Pasta, says that Buhler is currently promoting a pasta press, the Polymatik, which is a low-pressure extruder that mixes and forms but does not cook. Buhler, Uzwil, Switzerland (phone 011-41-71-955-3797). Buhler Inc., P.O. Box 9497, Minneapolis, MN 55440-9497 (phone 763-847-9900, fax 763-847-9911). Clextral Inc., 14450 Carlson Cl., Tampa, FL 33625 (phone 813-854-4434, fax 813-855-2269, www.clextral.com).
Extraction. Littleford Day, Florence, NY (859-525-7600) uses its agitated mixer in combination with vacuum and solvent condensers to contact and extract various materials. This equipment is good at size reduction and exposure of biomaterials that might be otherwise difficult to contact with solvent. Littleford Day Inc., 7451 Empire Dr., Florence, KY 41042 (phone 859-525-7600, fax 859-525-1446, www.littleford.com).
Irradiation. As with high-pressure processing, a few years ago irradiation was not to be found on the floor of the Food Expo. But now IBA/Sterigenics, Tustin, Calif. (901-681-9006) offers commercial equipment which can treat whole pallet loads of food, according to Pauline Pastore, Director of Irradiation Processing (908-647-0401). Pauline is based in Liberty Corner, N.J. and represents a joint venture of Ecolab and IBA offering a complete food safety program including irradiation. IBA/Sterigenics, 1401 Morgan Cl., Tustin, CA 92780 (phone 901-681-9006, fax 901-681-9007).
Breading. Bettcher Industries, Vermilion, Oh (800-321-8763) displayed a small-scale batter and breading application system suitable for foodservice. The concept is to offer savings from preparing such items in a kitchen rather than purchasing pre-breaded foods from others. The systems are also appropriate for pilot plant or laboratory use. Bettcher Industries, Inc., 6801 State Rte. 60, Birmingham, OH 44816 (phone 800-321-8763 or 440-965-4422, fax 440-965-4900, www.bettcher.com).
Compounding, extrusion, and material handling. Coperion, Ramsey, NJ (201-327-6300) combines three formerly separate firms—Buss, Waeschle, and Werner & Pfleiderer—into one source for compounding, extrusion, and bulk material handling. These functions are often found in various combinations in cereal, pet foods, and snack manufacturing. Coperion Corp., 663 E. Crescent Ave., Ramsey, NJ 07446 (201-825-6412, fax 201-825-6491, www.coperion.com).
Software. Best Software, (800-854-3415), providers of Platinum for Windows by Best, an accounting and business management software package, presented BatchMasterPFW, a set of modules to help with manufacturing. The modules include Materials/Inventory, Purchasing, Production, Order Entry, Formula, Laboratory, Costing, MSDS, and Materials Requirements Planning (MRP). These modules all integrate with Platinum to provide a complete data management system. Best Software, 56 Technology Dr., Irvine, CA 92618 (phone 800-854-3415, fax 949-753-0374 www.bestsoftware.com).
Shipping. SLX International, San Luis Obispo, Cal., (800-883-9121) offers a reusable plastic shipping container for produce that can maintain a modified atmosphere, vacuum or pressure. The containers stack when full and nest for empty return. An innovative feature is an embedded computer chip that enables tracking of the container. Savings are realized from extended shelf life and improved yield of the produce and from reuse of the container. SLX International, Inc., 3453 Empresa Dr., Suite A., San Luis Obispo, CA 93401 (phone 800-883-9121 or 805-541-8356, fax 805-541-8320, www.slxinc.com).
Air sterilization. Sterile conditioner for sugar tanks is said to reduce mold and spore counts from the outside air by nearly 100%. The Model 2002 PAS System injects hot air at 90–140ºF into the sweetener tank to reduce condensation and thereby reduce the potential for microorganisms to grow. The stainless-steel unit is completely sealed, with no wires exposed to ultraviolet light. The outside air travels through a 10-μ prefilter with a surface area of 820 in2 and then is forced through a 0.3-μ HEPA filter before it enters the sterile UV light chamber. The UV lamps are contained in quartz sleeves, allowing for lamp replacement from outside the sterile chamber to reduce the potential for contamination. The air is then heat treated before entering the tank. Tank Supply Co., 24752 Via San Anselmo, Mission Viejo, CA 92692 (phone 949-581-5738, fax 949-454-0982).
Continuous cheese processing. Stephan, Hameln, Germany (51-51/58 3-0) makers of mixers and choppers, showed a modular system for ultra-high-temperature processing of cheese and other sensitive products. The equipment installs quickly and comes with its own controls. The pilot system has rates of 20–150 kg/hr, and production systems can produce as much as 3,000 kg/hr. Stephan Machinery Co., 7200 Alum Creek, Suite 1, Columbus, OH 43217 (phone 614-497-8951, fax 614-497-9123).
---
Combined IFT Annual Meeting & FOOD EXPO® Coverage Available Online
For more information on the products and services that were exhibited at this year's IFT Food Expo, as well as all the editorial coverage of the IFT Annual Meeting, check out IFT's new online IFT Food Expo Highlights and Buyer's Guide at www.ift.org/buyersguide
by J. PETER CLARK
Contributing Editor
Consultant to the Process Industries
Oak Park, Ill.