In the last two years alone, Kerry Ingredients North America, headquartered in Beloit, Wis., acquired and integrated several new acquisitions, including Creative Seasonings, Ringger Foods, the cereal agglomeration business of Roskam Baking Co., and IDSA. Blending the new businesses with its existing operations has opened up new opportunities for the company. Senior Vice President Randy McIntyre recently shared some insight into the company, its different business units, its new acquisitions, and its research and development activities with Food Technology. Here's what he said.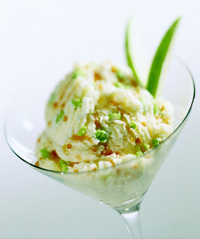 Acquisitions
In discussing acquisitions, it's important to look at the major technologies of Kerry Ingredients North America and the way it organizes these technologies. The companies that make up Kerry Ingredients North America develop and manufacture Application Specific Ingredients (ASIs) that are typically multi-ingredient food components that provide a customized combination of taste, appearance, texture, and functional characteristics. This is in direct contrast to food additives and commodities, which are single-ingredient components with little or no added value. ASIs are ingredients, for instance, to convert plain vanilla ice cream into indulgent products with flavor chunks or to convert a regular chicken breast to a marinated ready-to-cook entree.
Kerry Ingredients North America is not one single company, but several independent businesses with their own R&D, operations, sales, quality assurance, etc., each structured around focused ASI categories. These independent technology-based divisions are Sweet Ingredients, Specialty Ingredients (dairy and lipids), Seasonings & Foodservice, and Coatings. Our distinct businesses are supported by a small number of centralized support functions in a corporate group, such as information systems, marketing communications, and corporate quality systems, with a number of experts providing support in these disciplines.
Our acquisitions have been an integral part of our ASI-focused strategy, strengthening each of these categories in recent years. Examples include:
• Ringger Foods, which manufactures specialty extruded food ingredients for use in cereals, nutrition bars, and candy bars. This acquisition expanded our extruded ingredients manufacturing capabilities, and is now part of our Sweet Ingredients business.
• Creative Seasonings, which manufactures meat and poultry seasonings, marinades, and rubs. Creative's expertise in meat seasonings complemented our existing Seasonings business.
.• The Roskam cereal agglomerate operation, which manufactures granola and agglomerates for use in cereals and snack foods. This acquisition added capacity and strengthened the market position of our Sweet Ingredients business.
--- PAGE BREAK ---
• IDSA, a specialty ingredient manufacturer in Mexico. IDSA provides manufacturing capacity with particular expertise and technology around spray drying of delicate ingredients, such as fruits, while maintaining flavor characteristics. IDSA was merged with our existing Mexican business.
Kerry Group, our parent company, has also entered two new ingredient technology areas in the past few years through acquisitions. The first is Flavors, which is a global business unit managed separately from Kerry Ingredients. The Flavor business has been built from numerous acquisitions of established flavor companies with capabilities in both primary flavor manufacturing and flavor application and compounding expertise. Initial businesses included San Giorgio Flavors in Europe, Geneva Flavors, and Hickory Specialties in the U.S., combined with the Mastertaste business in Europe and former Burns Philp flavors business in Australia. Growth in the division has accelerated with the acquisition in the last three months of Meterom, St. Louis Flavors, and SunPure. All flavor businesses were recently combined under the Mastertaste name, with the objective of becoming a premier global food flavor supplier. Mastertaste is being managed as a sister company to Kerry Ingredients.
The second new technology area is Nutritional Ingredients. Kerry recently created a new company called Nutriant, whose mission is to develop and market ingredients that provide a specific nutritional benefit. Nutriant's initial focus is to provide great-tasting unique soy products, including the only organically certified soy concentrates and soy isolates, as well as Solnuts, the world's leading brand of all-natural soy nuts.
Another strategic area for Kerry is foodservice, which today represents over 50% of food dollar expenditures. The foodservice market has distinctly different drivers than the retail packaged food industry, and Kerry's application specific ingredient technology areas have a broad spectrum of use in the foodservice market. While Kerry has been servicing the foodservice market for many years, we recently acquired long-time foodservice suppliers (Stearns & Lehman, IFI) and strengthened our marketing, sensory, and culinary development capabilities. We are also instilling a foodservice culture throughout the Kerry businesses that serve this market.
Combining Operations
Kerry is a strategic buyer. Each acquisition is considered on its own merits, but typically acquisitions are driven by access to high-growth markets and new technology areas, providing scale and the ability to accelerate our customers' growth and, by extension, our own growth.
Kerry makes significant investments in people, quality programs, technologies, information systems, and manufacturing facilities of the companies we buy. Our customers benefit from our investments through improved quality and service. An example is our Sturtevant Manufacturing Center in Sturtevant, Wis., which Kerry acquired in the Creative Seasonings purchase. Based on customer feedback and Kerry's quality initiatives, the Sturtevant facility was completely renovated and upgraded, with a large investment in improvements designed to make the facility a world-class manufacturing site with identity-preserved processing capability. Customers familiar with the former facility that have seen the improved facility and quality systems can't believe it's the same place.
We also have found unexpected synergies across business units in terms of technology, quality, and manufacturing techniques that provide unique advantages to our customers. For example, by applying dairy processing technology to other food manufacturing processes, we have realized some unique and proprietary operational gains.
From an employee standpoint, the culture of the Kerry organization is one of new development, adapting quickly to change, and an exciting work environment that offers opportunities for personal career growth. Many employees receive new assignments every few years as a direct result of opportunities that arise from acquisitions. Because all Kerry employees play an integral part in our growth, even those who don't change assignments still sense a positive change and new challenges in their work opportunities. Our mission includes providing employees opportunities for personal growth and meaningful careers. The growth in our business, both organically and through acquisitions, is the fuel for these opportunities.
--- PAGE BREAK ---
Impact on R&D
R&D staff operate from their specific business units, supplemented by corporate support teams. Because of our ASI position in the food industry supply chain, the majority of Kerry's 300-plus scientists around the world work in product development on customer-specific projects on a proprietary basis. Trained chefs, sensory experts, analytical scientists, and other specialists providing in-depth research into raw materials and processes all help support these development scientists.
We also have a number of experts in new ventures and long-term new technology development, as well as dedicated processing specialists to ensure that our products run smoothly in our customers' plants.
R&D is an integral component of our business units, responsible for new product development for the customers and markets of their particular business unit. Kerry Seasonings' R&D group, for instance, is responsible for product development of seasonings for snacks and meat and poultry products. Key to R&D success is response time and relationships with R&D counterparts at our customers.
Even though the R&D groups are segmented by technology area, scientists from two business units will often work together to develop a system that uses multiple technologies. Kerry Coatings may work with Kerry Specialty Ingredients to create a filling for a coextruded product, for instance. There's also a significant amount of interaction between R&D and our operations group, particularly as novel ingredients and processes are introduced.
Many of our senior managers and sales people started their careers on the R&D side. We sell technology, not products, so the emphasis on our R&D experience and our ability to develop unique and cost-effective ingredients has been the backbone of our organic growth.
Staying on the Cutting Edge
For the most part, we're not an off-the-shelf technology company. Our business units don't emphasize standard product lines, but instead develop Application Specific Ingredients on a customer-by-customer basis.
Each business unit continually rolls out new developments in anticipation of customer needs. One example of a new technology is the FlavorCore™ technology within Kerry Coatings. FlavorCore is based on a patented equipment design and requires ingredients to work with that specific manufacturing process. FlavorCore is an extension of our highly efficient cold form extrusion process, whereby a filling can be formed through the center of the extruded product in a single process. At least three of our businesses have been involved with Flavor-Core: Kerry Coatings, Kerry Specialty Ingredients, and Kerry Seasonings.
Innovation is not always about a new mousetrap. Sometimes it's making the mousetrap work more efficiently (value) or more effectively (functionality, taste, appearance, texture). It's often about what can be done differently—new approaches via raw materials or processes—that is the basis of new product development.
As an ASI provider, a lot of our technology is utilized in these ways. At the same time, our underlying knowledge base in research on raw materials and processes allows us to stay on the cutting edge of technological development that may impact the future of the food industry.
--- PAGE BREAK ---
Steady Progress, Sustained Growth
Since Kerry purchased Beatreme in 1988, we have acquired 21 ingredient companies in North America and expanded our technology base from dairy specialty ingredients to seasonings, coatings, sweet ingredients, extruded ingredients, and nutritional ingredients. Our parent company, Kerry Group, has also made food flavor acquisitions to create and strengthen Mastertaste. We're always looking for opportunities to bolster and grow our business. The result, we believe, is an unparalleled portfolio of technologies and technical resources that bring significant, measurable value to our customers and their products.
Editor's note: At press time, Kerry Ingredients North America had announced the purchase of Guernsey Bel, a Chicago-based producer of inclusions for the ice cream industry, and Pacific Seasonings, a Kent, Wash.-based producer of meat seasonings. The two companies were purchased from Oryx Capital, a venture capital group.
Guernsey Bel will become part of the Kerry Sweet Ingredients business, with operations in Chicago and Hayward, Calif. The company services major producers of premium and super-premium ice cream within the U.S. Guernsey Bel has had recent successes with snack, hot cereal, and bakery markets, which complements industry sectors currently served by Kerry Sweet Ingredients.
Pacific Seasonings will join the Kerry Seasonings business, with operations in Kent, Wash., and Detroit. The company produces seasonings and spices for food manufacturers and foodservice chain restaurants and distributors. It is a certified supplier of organic seasonings—a high growth market in the U.S. This acquisition allows Kerry Seasonings to expand its presence in the West, while increasing market penetration in the industrial and foodservice sectors.
---
Kerry Group Corporate Structure
The parent company to Kerry Ingredients North America is Kerry Group plc, based in Tralee, Ireland.
Kerry Group operates four businesses: Kerry Foods, Kerry Agribusiness, Mastertaste, and Kerry Ingredients. Kerry Foods is the United Kingdom- and Ireland-based operation that manufactures branded and own-label foods and beverages. Kerry Agribusiness is a small business serving the farming community in Ireland. Mastertaste, which was launched at IFT's 2002 Annual Meeting & Food Expo, is the flavors division of Kerry, with a mission to become a premier global food flavor supplier.
Kerry Ingredients is a global division that has more than 70 manufacturing operations across five continents and sells into more than 80 countries.
Kerry Ingredients North America, one of six global Ingredients divisions, has six business units including Kerry Coatings, Kerry Seasonings & Foodservice, Kerry Specialty Ingredients, Kerry Sweet Ingredients, Nutriant, and Kerry Ingredients Mexico and Central America. Kerry Ingredients North America is based in Beloit, Wis.
Kerry Group had record sales of 3.8 billion euro last year. In its 2002 results statement issued in February 2003, the company stated that it "maintained momentum in providing a strong platform for future growth by successfully completing and integrating a range of acquisitions in flavour, culinary, and nutritional growth sectors and in convenience lifestyle chilled food market segments." Acquisitions have been a recent trend throughout the group, not just in its Ingredients sector, with expenditures on acquisitions amounting to 273.4 million euro in 2002. Investing in research and development is also an important goal for the company, which spent 78.5 million euro on R&D programs last year.
--- PAGE BREAK ---
Kerry Group plc
Kerry Foods
Mastertaste
Kerry Agribusiness
Kerry Ingredients
Kerry Ingredients North America Divisions
Kerry Coatings
Kerry Seasonings & Foodservice
Kerry Specialty Ingredients
Kerry Sweet Ingredients
Nutriant
Kerry Ingredients Mexico and Central America
Kerry Ingredients Core Technologies
Breaders and batters
Cheese and dairy flavorings
Functional lipid powders
Sweet flavored particulates
Extruded crisps
Snack and meat seasonings
Profile: Randy McIntyre
Randy McIntyre received a Bachelor of Science degree in Food Science from the University of Massachusetts in 1977, then held R&D and marketing positions with two ingredients companies prior to joining Beatrice Food Ingredients in 1985 as a sales account manager. After Kerry purchased the then-named Beatreme in 1988, his career path paralleled the growth of the company, including responsibility for a number of sales, marketing, and R&D groups within Kerry. He is currently Senior Vice President of Kerry Ingredients North America with its four technology-based business units, Kerry Ingredients Mexico and Central America, and Nutriant.
A Professional Member of the Institute of Food Technologists, McIntyre said that "Involvement with IFT has kept me apprised of on-going technical developments relating to our business and has been integral to my ability to network with other industry professionals," he said. "IFT allows our technical staff to network with other professionals and to stay current on industry issues. The science and communication efforts are an important element within IFT, providing a sound, scientific voice to consumers and decision makers on issues that affect the growth and vitality of the entire food industry."