The Latest Scoop on Soy
Twenty-eight percent of Americans consume soyfoods or soy beverages once a week or more, according to the United Soybean Board's 2003–04 annual study, "Consumer Attitudes about Nutrition." According to the survey, soymilk, tofu, and soy veggie burgers are the top soy products regularly consumed (see table on page 88).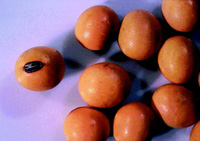 The USB study found that significantly more consumers are aware of soymilk, soy ice cream or cheese, miso, and tempeh compared to 2002. In addition to becoming more aware of soy products, consumers are also learning more about soy's health benefits. The study found that 74% of U.S. consumers perceive soy as healthy. Heart health is the main benefit that consumers associate with soy. Other areas of awareness include menopause relief, obesity prevention/weight loss, cancer prevention, and protein source.
As awareness grows and as research accumulates, so do the soy ingredients that companies offer. Ingredients such as soy protein isolates, soy protein concentrates, soy isoflavones, soy flour, and soy nuggets have evolved through the years to become more functional for manufacturers' needs. Solubility and flavor of soy ingredients are two areas that have vastly improved.
Here's a brief update on some of the latest soy news related to health and ingredient offerings.
The Healthy Side of Soy
Soy is most commonly known for its cardiovascular benefits, particularly soy protein. This is evident in the Food and Drug Administration's approved soy protein health claim linking it to a reduced risk for heart disease. The health claim is based on clinical trials showing that consumption of soy protein can lower total and low-density-lipoprotein (LDL) cholesterol levels.
Additional research and clinical trials are pointing to other potential health benefits of soy protein and soy isoflavones. Bone health, prostate cancer, and menopause are three main areas where consumers may soon be learning more about soy's benefits.
--- PAGE BREAK ---
• Bone Health. "In my view, there is probably the most support for the skeletal benefits of soy protein and isoflavones," said Mark Messina, Adjunct Associate Professor at California's Loma Linda University and co-owner of Nutrition Matters Inc. "When soy protein is substituted for milk protein, several studies have found that urinary calcium excretion is decreased. The metabolism of the sulfur amino acids in protein leads to the production of acid, which requires buffering. The skeletal system is the largest source of buffering agent in the body. In response to acid, the bones are broken down, which leads to an increase in urinary calcium. Since soy protein contains lower amounts of sulfur amino acids than milk protein, it causes less calcium excretion."
In addition to soy protein, isoflavones may have possible skeletal benefits. Messina discussed two studies that have drawn attention to this. "A recent one-year trial found that genistein, the main isoflavone in soybeans, was even more effective than conventional hormone replacement therapy (HRT) at reducing bone loss at the hip in postmenopausal women and was only slightly less effective than HRT at the spine," he said. "Another recently presented two-year trial found that isoflavone-rich soymilk reduced bone loss at the hip and spine in comparison to soymilk low in isoflavones."
He added that long-term studies are currently underway to firmly conclude that isoflavones have the same effect as HRT in reducing fracture risk. "Nevertheless, because soy protein is high quality, the current data justify recommending that isoflavone-rich soyfoods be part of an overall bone-healthy diet. When using soy in place of dairy products, calcium-fortified soy products should be used."
• Breast and Prostate Cancer. "There is a large body of literature on the cancer prevention actions of a diet that includes soy. These data support a beneficial effect especially on breast cancer and prostate cancer risk," stated Debra Miller, Director, Nutrition Science Communications, The Solae Co., St. Louis, Mo.
For example, a recent Japanese study suggested that eating foods rich in isoflavones reduced the risk of breast cancer, especially in postmenopausal women. Frequent consumption of soy-rich miso soup was found to be particularly effective (Yamamoto et al., 2003).
Researchers from the National Cancer Center Research Institute in Japan evaluated the relationship between isoflavone consumption and breast cancer risk among women as part of the Japan Public Health Center–based prospective study on cancer and cardiovascular diseases.
The JPHC study began in 1990, when nearly 22,000 Japanese female residents age 40–59 years from four public health center areas completed a questionnaire which included items about the frequency of soy consumption. Ten years later, 179 of these women had been diagnosed with breast cancer.
--- PAGE BREAK ---
Researchers found that while soyfoods alone did not have a significant effect, both consumption of miso soup and overall isoflavone intake reduced the risk of breast cancer. In addition, the researchers reported that the association was found to be stronger in postmenopausal women.

Because of increasing evidence of the benefits of isoflavones, a European Union–funded project, called the Isoheart project, has recently been established to explore the physiological effects from eating foods with added soy-derived isoflavones. One of the project's aims is to establish the presumed health benefits of phytoestrogens in reducing the risk of heart disease in postmenopausal women, as well as to study the consumer acceptability of foods enriched with isoflavones.
In men, soy isoflavones are believed to help in preventing prostate cancer. "Personally, I am most excited about the role that soy may have in preventing and even treating prostate cancer," said Messina. "One key to preventing prostate cancer mortality is preventing the latent (small, clinically irrelevant) tumors from progressing to the larger tumors that can metastasize and which are life threatening," he said. "The International Prostate Health Council concluded that isoflavones stop this progression. Animal studies are very supportive of this hypothesis, and a recent pilot study found that isoflavones were of benefit to prostate cancer patients resistant to conventional medical treatment. Still, all this remains speculative, although I strongly recommend that men consume soy."
Research presented at a recent American Urological Association meeting in Chicago showed that genistein reduced prostate-specific antigen (PSA) levels in men with untreated cancer, in some cases by almost two thirds.
PSA is a protein produced by the cells of the prostate gland. PSA levels tend to rise if the prostate gland is enlarged due to cancer. The researchers from the University of California Davis Cancer Center said their study suggested that genistein could help men at risk of developing prostate cancer.
The researchers studied 62 men known to have prostate cancer and elevated PSA levels. The men were given 5 g of a dietary supplement containing genistein every day for six months. Sixteen of the men had untreated prostate cancer—they were in the "watchful waiting" group, where the cancer is slow-growing and causing no symptoms. In this group, three had to stop the therapy because they suffered from diarrhea, but eight saw their PSA level fall between 3 and 61%. The remaining five (38%) saw their PSA levels rise, but the researchers say this is a far smaller proportion than in the remaining 46 men who had been treated for prostate cancer, 98% of whom saw a rise.
Ralph de Vere White, Director of the UC-Davis Cancer Center, said, "It must be interpreted cautiously because the numbers of men enrolled are small. He added, however, that "patients on watchful waiting may do better due to grade of disease or distribution and concentration of genistein within the prostate."
--- PAGE BREAK ---
• Menopausal Symptoms. A number of studies have shown that consuming both soy protein and soy isoflavone extracts can help reduce the severity and frequency of hot flashes, said Miller. "It should be noted, however, that consuming soyfoods or supplements will not result in the powerful and quick results that HRT provides. However HRT has recently been associated with a number of long-term health risks such as heart attack, stroke, breast cancer, and Alzheimer's disease. In light of these risks, many women find consuming soyfoods a healthy option."
In an article in the Journal of Medicinal Food, Messina and Hughes (2003) reviewed the evidence to date on the impact of soyfoods and soy isoflavones on hot flush symptoms in women. They found a statistically significant relationship between initial hot flush frequency and treatment efficacy.
"Initial hot flush frequency explained about 46 percent of the treatment effects, and hot flush frequency decreased by about 5 percent (above placebo or control effects) for every additional initial hot flush per day in women whose initial hot flush frequency was five or more per day," the authors reported.
Soy has received attention as an alternative to HRT largely because it is a unique dietary source of isoflavones. However, there have been conflicting results from trials measuring the ability of isoflavones to reduce menopausal symptoms. In their review, Messina and Hughes eliminated trials on breast cancer patients. They also eliminated non-blinded trials.
Out of 11 studies on soyfoods, only one found that women showed a significant decrease in hot flush frequency. The researchers noted, however, that "the large placebo effect makes most of these trials underpowered to detect modest effects." In four out of six studies on isoflavone supplements, there was a positive link to reduced menopausal symptoms. But the baseline level of hot flush frequency was higher on average among participants in the supplement trials.
This led the authors to the theory that efficacy increased with hot flush frequency, so that those women having around 10 hot flushes each day saw this frequency halved, while those experiencing only seven daily only saw a reduction of around three flushes, after taking isoflavones.
The researchers wrote that although conclusions based on the analysis should be considered tentative, "the available data justify the recommendation that patients with frequent hot flushes consider trying soyfoods or isoflavone supplements for the alleviation of their symptoms."
They added that future trials involving soyfoods and isoflavone supplements are warranted, "but should focus on women who have frequent hot flushes." The correlation between initial hot flush frequency and the extent of reduction of symptoms should also be studied, they said.
--- PAGE BREAK ---
• Weight Management/Diabetes Control. "Given the enormous problem with obesity and its secondary effects, such as type 2 diabetes in the Western world, many people are looking at alterations in diet. Many have opted for high protein/lower carbohydrate diets and found success with such diets," said Miller. "However, health professionals are concerned with long-term high animal protein consumption. Eating large amounts of meat, cheese, and eggs can cause calcium loss from bones and cause the kidneys to work harder than usual (a big risk factor for those who have type 2 diabetes already). Interestingly, soy protein, as a vegetable protein, does not cause calcium loss and is actually the protein recommended to many patients on dialysis to prevent protein malnutrition because even patients with impaired renal function can tolerate soy protein."
Soy protein and its constituents have also been linked to enhancements in glucose tolerance and reductions in insulin resistance, added Miller. "This research is encouraging. Certainly adding soy protein to food in place of carbohydrates can help reduce the glycemic index of foods."
• Cognitive Ability. "One of the most exciting areas of research regarding soy foods is the association with better recognition and recall ability in memory testing when people eat a diet high in soy compared to those on a low-soy diet," said Miller. Research is ongoing in this area.
Improvements in Soy Ingredients
"Who thought that soy protein would be used in cold cereal four or five years ago?" said Mian Riaz, Head of the Extrusion Technology Program and Research Scientist at the Food Protein Research and Development Center at Texas A&M University, College Station. "With improved ingredients, we will see more soy-cultured products with improved flavor and taste, real soy cheese and ice cream, which taste just like traditional cheese and ice cream products, soy water, soy tea, and soy candy."
He added that there is a lot of research going on to process a soy meat analog that is very close to real meat. "This meat texture will resemble fresh meat and have the same composition as real meat you buy from the butcher (with 70% moisture content)."
Novel soy products such as these would not have been possible if not for the continuous improvement of soy ingredients. From the following information from three soy suppliers, we can see that the ingredients are becoming more refined and tailored for specific food product applications. Both soy proteins and isoflavones are becoming more versatile and functional for various products.
• New Soy Ingredient Developments. "What's happened overall with soy ingredients is that companies have figured out how to create better-tasting ingredients for different applications. That now has allowed us to put together food systems with better taste and texture," said Tony DeLio, Vice President, Marketing and External Affairs, Archer Daniels Midland Co., Natural Health and Nutrition Division, Decatur, Ill.
The company offers a range of soy products, from flours, to soy protein concentrates and isolates, to soy isoflavones. "It all depends on what your end product is. Our soy flours enable us to work in bread applications, for example. Utilizing our baking expertise, we can easily get 6.25 g of soy protein into two slices of sandwich bread without compromising texture and flavor," said DeLio.
--- PAGE BREAK ---
A new addition to the company's NutriSoy line is Wholebean Soy Powder, an organic ingredient for soymilk and other dairy-like products. It offers the superior nutrition of whole soybeans—fiber and isoflavones—in a form that can be easily incorporated into virtually any dairy or dairy analog product, he said.
"We can also incorporate soy into chocolate coating systems and have worked with a number of companies to create soy rice crispies for nutrition bars," DeLio added. "On the meat analog side, we tend to use soy concentrates and isolates to get a higher level of protein. We are currently developing technology to simulate whole-muscle meat products. We hope to have this revolutionary new product on the market within the next six months."
Regarding isoflavones, approximately 125 different retail product labels carry the NovaSoy brand name. "Isoflavones have gone from being primarily in dietary supplements to functional foods such as beverages and snack bars," he said. "We provide all different concentration levels of isoflavones. We have recently licensed technology that allows the time release of isoflavones. For example, you could have a time-released steady stream of isoflavones in a product."
DeLio concluded that with the innovation in soy ingredients, there is no reason why the food industry can't have a line of branded soy products that cut across all food segments. This would be similar to the line of Healthy Choice products that cater to low salt and low fat demand. "The consumer interest is there and the time is right for somebody."
• Concept Beverage with Soy Isoflavones. A ready-to-drink raspberry tea that supports bone health was unveiled by Cargill Health & Food Technologies, Minneapolis, Minn., at the Institute of Food Technologists' Annual Meeting + Food Expo® last month. The prototype beverage, named Bone Appetit, contains Cargill's AdvantaSoy™ Clear isoflavones, Oliggo-Fiber™ inulin, and calcium. Proprietary processing technology results in beverages that retain their traditional flavor, color, and consistency. "AdvantaSoy Clear isoflavones allow us to meet the challenge of creating new functional beverages that promote health and retain the delicious flavor and aroma which made them popular in the first place," said Steve Snyder, Cargill's Director of Sales and Marketing, Nutraceuticals.
"What we try to do is look at the retail market and create a product solution based on consumer input," said Lee Knudson, Advantasoy Product Manager. "This will help our customers be more successful in key product launches. The ready-to-drink tea is one example."
The AdvantaSoy line is available in three different forms depending on the application, he explained. Produced using proprietary technology and available in isoflavone concentrations of up to 50%, AdvantaSoy Clear has improved solubility, a whiter appearance, and reduced undesirable taste and odor, ideal for beverages and more-attractive food product applications. The product is GRAS for beverages, nutrition bars, yogurt, meal replacement, and confections. AdvantaSoy Complete Isoflavones are created using a natural, solvent-free processing technique. The ingredient is a combination of soy protein and isoflavones, ideal for breads, cereals, and meal replacements. AdvantaSoy Compress, available in isoflavone concentrations of up to 50%, is formulated for dietary supplements.
--- PAGE BREAK ---
"Our soy isoflavones are really next-generation ingredients in the sense that we concentrate ours in a proprietary process from the soy germ," said Snyder. "The first generation of isoflavones was concentrated from the soy protein isolate manufacturing process."
In the future, said Snyder, we'll see soy ingredients that are easier to formulate, with better taste attributes. "Ingredients will be tailored to individual food products."
• Improved Flavor and Functional Performance. New soy developments center on improving the flavor and functional performance and developing new ingredient forms to allow use in a wider array of food products. "We have also focused on innovations that contribute unique textures in food products," said Jim Holbrook, Vice President, Food Science Research and Development, The Solae Co. For example, the company's Supro® XT proteins, based on soy isolate technology, provide flavor and functional improvements in beverages. The Alpha® proteins, based on a revolutionary new manufacturing process, provide improved flavor performance in beverages and a range of dairy alternative products.
Other new offerings include extruded soy nuggets, now delivering protein contents up to 80% protein and providing unique texture and crunch in nutritional food bars and other grain-based foods. "For meat alternatives, we have introduced a range of high-moisture extruded ingredients for use in this application, which provide consumers a more meat-like eating experience," Holbrook said. "We have also introduced a number of products that offer enhanced nutritional attributes, such as soy proteins co-processed with other ingredients, such as calcium phosphate, carbohydrates, and fibers to enhance the nutritional value and functional performance of our ingredients in various food products. We also offer products with guaranteed levels of isoflavones, important health-promoting components found in soy."
Applications that will benefit from Solae's innovations include beverages, nutrition bars, and meat alternatives. "We have recently introduced new technology that makes soy protein more functional in acidic beverages, a big growth area for soy protein today," Holbrook said. "We are looking at both powdered isolate and extruded soy nuggets as technologies we can employ to positively affect shelf life in bars. We are also continuing to innovate with new extruded products and forms for meat alternatives. Additionally, we are very excited about our new Alpha technology, based on an innovative new process that delivers very bland-flavored soy proteins. We believe this technology has tremendous potential for future development across a spectrum of new applications."
Better Soy Ingredients
So, in the future, we can expect soy ingredients with improved flavor, texture, color, and mouthfeel. "The food industry will be able to find soy ingredients with very specific functionality, like foaming, whipping, emulsification, solubility, and texturization for specific food applications," said Riaz. "Improved soy ingredients will be available for soy beverages without the chalky flavor. There will be improvement in soybean oil for taste, flavor, and overall quality without the hydrogenation. The food industry will also find soy flour with higher protein levels, through breeding and improved processing techniques."
Expect more great things to come from soy!
by LINDA MILO OHR
Contributing Editor
Chicago, Ill.