The subject of "emerging ingredients" has always been one of my favorites because it's exciting, stirring the imagination and the cauldron of creativity. And, of course, the longer you write about the food industry, the more likely you'll be able to see what fruits these developments will eventually bear.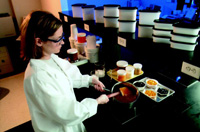 For the past five years, I've been doing an annual Ingredients section on emerging ingredients. As I've defined them previously, these novel cutting-edge developments may shape parameters for future developments, helping us to rethink what they are, what technologies are used in their production, and what roles they play in health, functionality, and convenience.
Every year I try to put a little bit of a different spin on this section. For those readers who keep their issues of Food Technology (hopefully as a reference tool in product development laboratories), they might remember that the first couple of emerging ingredient sections were patterned after that old show, "Ripley's Believe It or Not." Using such an approach, I collected ingredients that I thought were innovative, unique, even unusual. Last year, I took more of an awards ceremony approach celebrating ingredients by specific categories.
This year, I thought I might take more of a crystal ball approach (now where's that bottle of Windex when you need it). Based on the functionality or specific purpose of the ingredient, I will try to determine which ingredient developments might play an increasingly important role in the near future of product development.
For example, there's more interesting work being done in the area of taste—either in terms of enhancing or masking. Two of the developments I'm highlighting are ingredients that reduce or eliminate bitterness and ingredients that enhance cooling or mouthfeel. I think we'll be seeing a lot more innovative approaches being adopted in this area.
Also, keep in mind that the August issue of Food Technology will have a feature which describes new breakthroughs in the fundamental research of taste sensation. These breakthroughs are making possible a better understanding of the relationship between taste and metabolism, leading potentially to the development of products with specific health and nutritional benefits.
Here are some other examples to keep your eye on:
With implementation of trans fatty acid labeling in the imminent future, many companies will continue to work on developing trans fatty acid alternatives. This renewed energy, I suspect, will also give more impetus to the overall creation of healthier oils based on a number of sources, including soy, flax, corn, and marine, just to name a few.
--- PAGE BREAK ---
Creating a desirable appearance, texture, and flavor will always play a major part in product formulation. This is especially true in relation to health-promoting foods and beverages, which must have desirable attributes—in addition to the potential health benefits they provide—if they are to succeed in the marketplace. Consequently, expect to see a number of developments or new approaches being taken to achieve this end. This Ingredients section will be focusing on new color or color-related developments as well as new texturizers and flavors.
Flavors and other ingredients are being developed which can provide specific solutions to culinary challenges. This is becoming increasingly important as more and more cultures are bringing their distinctive flavors, textures, colors, nutritional benefits, and cooking styles to the mainstream. The emphasis of these ingredient developments is still on convenience, giving the customer an economical shortcut in product development, but at the same time we'll also be seeing higher-quality products that encompass the above attributes that different cultures and combinations of culture bring to the market.
In terms of health, we'll be seeing ingredient blends being developed that represent a complexity far removed from the days when a single vitamin or mineral fortified an application. In the same arena of health-promoting ingredients, expect to find more development of ingredients having a low glycemic index and other ingredients, including flavors, colors, and texturizers that will have a functionality value in what has been termed "low-carb foods." And still in that same health arena, new products will continue to be created that will attempt to bridge health with indulgence. Chocolate, of course, immediately comes to mind.
And, no matter what approach we take, when talking about emerging ingredients, there will always be a few interesting surprises along the way. In particular, novel processes and technologies are being employed for the development of many emerging ingredients. A honey for infants? A way for deepening the red color of apples? Blockers for inhibiting the bitter taste response? A new method for processing grain for flavor and health improvements? All of these are possible. Believe it or not! (Sorry, I couldn't resist.)
Furthermore, along with these new technologies, we'll be seeing some of their end results—products coming from all around the world that may eventually reach the mainstream. A frozen confection that doesn't melt. A way of administering your own dose of probiotics into a yogurt. A wide range of grilling sauces as an alternative to ketchup and other condiments. Low-carb bars that bridge health and indulgence. And these are only some of the many innovative examples that we'll be seeing in this article.
With that brief preface, let's now look at some of these exciting ingredient developments that are or will be soon emerging onto the scene. The following developments, by the way, are not arranged in any special order.
--- PAGE BREAK ---
1. Ending the Bitter End
In recent years, there have a number of flavor-masking ingredient systems developed. One area, the reduction of bitterness, may be gaining a particular attention in future months—the ensuing ingredient developments fueled by a number of factors.
Foremost, of course, is the promotion of nutraceutical products which may have off-notes caused by or associated with vitamins, minerals, and other such components. Also, some foods don't necessarily have to be fortified to be bitter. Some come by it naturally. For example, potentially cancer-fighting vegetables such as broccoli, cauliflower, and brussels sprouts may have a taste which certain individuals find somewhat objectionable. Likewise, green tea, which has healthy properties, also may have a bitter taste, as well as foods and beverages that have been sweetened by sucrose alternatives. And there are many other possible candidates for bitterness, ranging from coffee to canned ingredients.
Some food manufacturers, particularly those that are future-oriented, are reasoning that if bitterness can be reduced or even eliminated, then mainstream consumers would be more likely to purchase a wider range of nutraceutical products, eat more vegetables or other healthy foods which they might have avoided in the past because of a personal bias toward their taste, and more readily switch over to products that have been formulated with high-intensity sweeteners. And, of course, that would only be the beginning, as any number of foods, ranging from coffee to canned products to international culinary dishes might benefit from ending the bitter end.
Realizing the potential opportunities that could result, researchers are increasingly taking different approaches to the problem of reducing bitterness in foods and beverages.
For example, the Linguagen Corp., 2005 Eastpark Blvd., Cranbury, NJ 08512-3515 (phone 609-860-1500; fax 609-860-5900; www.linguagen.com), a privately held biotechnology company and a leader in the development of ingredients used to improve the taste of food, beverages, oral pharmaceuticals, and healthcare products, has developed bitter taste blockers—food additives that reportedly inhibit the bitter taste response. In the development of these products, the company uses a molecular biology approach to identify compounds that decrease the perception of bitterness caused by bitter-tasting molecules.
A discovery by researchers at the Mount Sinai School of Medicine had a major impact on the development of these compounds. The researchers identified a protein called Trpm5 in taste cells that plays a key role in the delivery of bitter taste messages to the brain. This protein in taste cells responds to bitter flavors by converting taste information into signals that are then transmitted to taste nerve cells. The signals are then sent to and activate the bitter detection center of the brain, leading the brain to perceive a bitter taste.
According to a representative from the Linguagen Corp., "this is an important discovery in the world of taste technology because the identified channel protein—Trpm5—has been shown to be present in taste cells and in the gut. Knowing that this protein is selectively expressed in taste buds enables scientists to specifically target their efforts to find compounds that block bitter tastes."
--- PAGE BREAK ---
The company is formatting these proteins into high-throughput assays and using them to screen compound libraries to determine which will elicit bitter blocking responses. Currently, researchers have discovered more than 20 bitter blockers—all of them natural substances found in foods such as meat, fish, and milk. One of them, adenosine mono-phosphate (AMP), will soon be receiving GRAS status. Its effectiveness as a bitterness reducer has been looked at a number of applications ranging from coffee to grapefruit juice.
The Linguagen Corp. recently received formal allowance from the U.S. Patent and Trademark Office for its patent on compounds that inhibit the bitter taste response, and is working with companies to incorporate these compounds into various bitter-tasting compositions to improve their taste. Use of these bitter blockers in processed foods will result in decreases in the quantity of sodium and sugar added to mask bitter flavors. Plans are also underway to continue screening libraries of compounds to identify further high-potency bitter taste blockers.
The Procter & Gamble Co., Procter & Gamble Plaza, Cincinnati, OH 45201 (phone 513-983-1100; www.pg.com) is using a proprietary processing technology to produce green tea extracts that are less bitter than other extracts. The solvent-free extracts are said to contain high polyphenol concentrations and, because they are not bitter, require fewer sweetening agents.
The use of such technology can create a green tea extract that provides the health benefits of a traditional green tea product, but provide a taste that more consumers will find appealing. Furthermore, such a development can help create a market for green tea extract as a flavor or ingredient in a variety of foods, beverages, and nutraceutical products.
Procter & Gamble licensed the technology in 2002 to Wuxi Green Power Bio-Product Ltd., the largest green tea extract manufacturer in China, which appointed Amax Nutritional, Inc., City of Industry, Calif., as its exclusive North American distributor.
Expect to see a number of bitterness-reducing ingredients on the horizon. However, keep in mind that the trail can still be an arduous, time-consuming one.
The search for bitter blockers has gone on for a number of years, and tasting bitter substances can be a complicated matter, as humans have at least 25 kinds of bitter receptors, each sensitive to a slightly different array of bitter substances. Nonetheless, the results so far look very promising, as we continue to make efforts to better the bitter.
--- PAGE BREAK ---
2. Enhancing Cooling, Mouthfeel Sensations
At the recent All Candy Expo 2003, I saw a number of breath-freshening candies and gums, especially mint-flavored products, in a variety of shapes, forms, and sizes. Clearly, "cool" has become a hot trend. Not surprisingly, there are a number of developments appearing that will continue to heat up the flavor market, as well as help to extend this quality to a number of applications, both traditional and not-so traditional.
Let's look at a few of these developments.
A high-intensity cooling technology, marketed under the name CoolTek™, has been introduced by International Flavors & Fragrances, Inc., 521 W. 57th St., New York, NY 10019 (phone 212-765-5500; fax 212-708-7132; www.iff.com). Using proprietary molecules developed through extensive research into human cold perception, the technology is said to impart a clean, refreshing, energizing taste and feel that invigorate flavor in a variety of foods, beverages, confections, chewing gum, and pharmaceutical products.
Historically, the only way to achieve a cooling sensation was with the use of mint or menthol. This technology is not mint-derived, although it enhances mint flavor systems. It is also suitable for non-mint flavor systems, such as fruit, dairy, indulgent, and savory flavors. The cooling sensation reportedly lasts and builds without a menthol "burn," aroma, or flavor and without impacting other flavors in the system.
The technology has the ability to control the release of cooling—both the amount and when it is experienced, depending on the end product. This ability to provide measurable results regarding the cooling is said to have a major positive impact on consumer sales.
According to a representative from the company, these cooling compounds have not only proven successful in confectionery products and chewing gum, but also have helped to generate new product lines such as breath films, which are becoming more and more popular in today's market. Also, the system can be tailored for use in several types of product concepts—fortified flavored water, iced tea, juices for children, and energy drinks.
A line of flavor systems designed specifically to enhance menthol and mint flavors and mouthfeel in a variety of foods and beverages are available from Foote and Jenks, 1420 Crestmont Ave., Camden, NJ 08103 (phone 856-966-0700). The enhancers are said to impart a superior flavor and mouthfeel sensation in confections and chewing gum while maintaining excellent total flavor profiles.
According to the manufacturer, product development technologists can now readily create products with enhanced mint and menthol flavors without any of the potential harshness. The products are available in liquid and powder form and are kosher certified.
A delivery system for intense mint flavors, sour fruit flavors, or sweet confectionery flavors can be provided by rapidly dissolving flavored film strips, available from Watson Foods Co., Inc., 301 Heffernan Dr., West Haven, CT 06516 (phone 203-932-3000; fax 203-932-8266). These increasingly popular flavored film strips, which will be highlighted at the 2003 IFT Annual Meeting (see Ingredients Preview in the June issue), can be customized so that their dimensions, flavoring, solubility rate, and coloring can meet specific customer requirements.
--- PAGE BREAK ---
What is especially interesting about this development is that they can deliver any number of active ingredients (imagine the possibilities, for example, of working with mint enhancers or cooling agents) incorporated directly into the solution prior to the film's being cast. These active ingredients, which can also include nutraceutical or health-promoting ingredients, can constitute up to 30% of the film by weight, become locked into the film matrix, and remain stable until consumption. Examples of active ingredients used in film strips include ingredients for oral hygiene, caffeine for alertness, nutrients, and botanicals.
Although I'm guessing here, these flavored film strips may provide a novel system for delivering cooling flavors in combination with other ingredients as well. For example, a cooling flavor combined with a sour or sweet ingredient can be combined for children or novelty seekers. A cooling flavor combined with a tea flavor, especially some exotic one, could have refreshing possibilities, especially on a hot summer day. Or a cooling flavor, combined with a nutraceutical ingredient, could provide potential health benefits as well as refreshing flavor and texture properties.
Finally, in the case of all of these cooling or mouthfeel-enhancing products, I think the tip of the iceberg is only being perceived when it comes to product development. And icebergs, if nothing else, are certainly cool.
3. Creating A New Generation of Enhanced Colors
The June Ingredients Preview showcased a wide number of exhibitors that will be highlighting natural or synthetic color developments at the 2003 IFT Annual Meeting & Food Expo. Since the event is a good barometer of current trends and the future directions they can potentially take in product development, it is not too surprising that we may be seeing a wider variety of colorants that offer new improvements and other functional advantages.
• For example, a new form of natural colors has been patented by Chr. Hansen, Inc., 9015 W. Maple St., Milwaukee, WI 53214 (phone 414-607-5700; fax 414-607-5959; www.chr-hansen.com). The stable colorant is made using the company's "cap" technology, which is based on capturing or capping fine-particle-size pigments in a matrix of sugar-beet-derived pectin and other food ingredients.
According to a company representative, capping the color particles offers several advantages. The use of specific types of pectin improves the pigments' ability to disperse in water-based systems. For example, the color particles will distribute evenly in a fizzy drink instead of clotting together. Also, the coloring power of the particles is enhanced, and they have a greater stability to light, acid, temperature, and oxidation. Consequently, unlike traditional natural colors, they will not fade when exposed to sunlight, will not bleed, and will not migrate into the food product. Moreover, the new type of color is easier to use, is kosher certified, and offers consumers who prefer foods and beverages formulated with natural colors a more stable color option.
--- PAGE BREAK ---
At the 2003 IFT Food Expo, the advantages of the colorant will be demonstrated in a beverage application.
• A new low-flavor specialty caramel color, SC105, has been developed by Sethness Caramel Color, 3422 W. Touhy Ave., Chicago, IL 60645-2717 (phone 888-772-1880; www.sethness.com). Duplicating specialty oriental "sugar caramels," the color features a bland flavor profile, has a rich golden tone, and is soluble in salt solutions of up to 25% saline concentration.
Until now, this specialty caramel color was primarily made in the Far East, using traditional slow, labor-intensive techniques. The company has developed proprietary manufacturing technology to commercialize this process, resulting in volume production of this special color. SC105 is described as a Class I (Plain) Caramel Color, with no ammonium or sulfite compounds used in its manufacture.
The liquid caramel color is suitable for use in applications where plain caramel color, mild flavor profile, rich golden color, and high salt solubility are desirable.
• The next development, while itself not a colorant, may play an important role in improving the uniformity of the apple's red color. Researchers at USDA's Agricultural Research Service have found that spraying apples with the aromatic compound methyl jasmonate before harvest may offer a new way to deepen the red coloring in apples.
In jasmine and some other plants, the aromatic compound has many functions, including mobilizing antimicrobial proteins. A sweet, flowery aroma also makes it a popular cosmetics ingredient, and it is classified by the Food and Drug Administration as a Generally Recognized As Safe substance. Research studies show that when apples are exposed to light, the aromatic compound activates biochemical processes in the peel that produce anthocyanin pigments. A water-based emulsion containing 2% or less of the compound and a surfactant can be sprayed directly onto unpicked fruit.
Other efforts are also being made to find new ways to improve the quality and marketability of apples, pears, and other fruit grown in the Pacific Northwest.
More information about this development can be obtained at www.ars.usda.gov/is/pr/2003/030430.htm.
--- PAGE BREAK ---
4. Developing Low-Trans Alternatives
In the near future, the Food and Drug Administration will implement additional labeling of trans fatty acid on all food nutrition panels. Consequently, many companies are assembling a portfolio of low-trans alternatives. A growing emphasis on trans-free oils may also fuel the development of other "healthy" oils, such as fish oils and other products rich in omega-3s. Furthermore, the decision by companies such as McDonald's and Frito-Lay to change food preparation methods to reduce trans fat will have a major impact on the development of healthy oils.
Several examples of these innovative oils will be highlighted at the 2003 IFT Food Expo. For instance, at the ADM booth, themed "Diner of the Future," a variety of ingredients, including NovaLipids™ low-trans fats, will be highlighted in food applications such as doughnuts, cakes, and French fries. More information about oils highlighted by exhibitors can be found in the Nutraceuticals Preview of the June issue.
Here are a few other examples that I saw featured at other food shows and press conferences over the past few months:
•A trans-fat-free cooking oil for foodservice use has been introduced under the name Nextra™ by Source Food Technology, Inc., 2530 Meridian Pkwy., Ste. 200, Research Triangle Park, Durham, NC 27713 (phone 919-806-4545; fax 919-806-4770; www.nextraoil.com). A blend of natural oils, the nonhydrogenated product is said to provide longer fry shelf life and superior food taste and appearance.
The cooking oil was developed using a patented purification process which eliminates cholesterol and other naturally occurring impurities and a special formulation created as a healthier alternative to partially hydrogenated vegetable oil.
• A soybean-based, trans-fat-free cooking oil for foodservice application was developed by Endura Products LLC, P.O. Box 3483, Springfield, IL 62703 (phone 217-391-0091; fax 217-391-0096; www.enduraoils.com).
Marketed under the name Endura, the product is manufactured using a new process that is said to deliver exceptional durability without hydrogenation. Unlike other frying oils that are derived from a solvent-based extraction process, these soybean oils are expeller pressed and physically refined without the use of chemical solvents.
Because of the special refining method, the oils have high levels of naturally occurring vitamin E which provides stability and requires no additional additives to preserve freshness. Reported benefits of the oil include improvement in the color, flavor, and appearance of fried foods.
--- PAGE BREAK ---
• An independent study conducted through the Dept. of Food Science at North Carolina State University has shown that foods par fried in cooking oils that contain trans fatty acids will have significantly lower trans fatty acid counts after being fried a second time in a cooking oil marketed under the name Whole Harvest® Smart Fry. Foods that were tested by the researchers included French fries, chicken nuggets, and tortillas.
Using French fries as one example, the study measured trans fat content before the potatoes were cooked, after they were par fried in a commercial cooking oil containing trans fat, and again after they were finish-fried in Whole Harvest. Uncooked, the fries contained no trans fats. After being par-fried in commercial cooking oil, the trans content was 2.60%. When the potatoes were finished fried in Whole Harvest, the trans fat content decreased to 0.52%.
The results of the study are potentially significant because many fried foods sold in restaurants are par fried in oil by the manufacturer before being finished-fried at the restaurant to serve to consumers. This is especially true for the billions of pounds of French fries sold each year through the nation's fast-food chains.
Whole Harvest is a trans-fat-free product of Carolina Soy Products, Warsaw, N.C. (phone 800-849-2118; www.wholeharvest.com). The soybean-derived cooking oil is produced by a new process which is free of solvent extraction. The process developed by the company leaves in many of the naturally occurring healthy components of soybean oil, including vitamin E and the omega-3 fatty acids which have been associated with improved cardiovascular health.
5. Adding New Textures
Previously, we discussed several innovative color developments, which when combined with the wide array of colors being shown at the 2003 IFT Food Expo, provides a pretty colorful (pun intended) picture of the different ways that the appearance of foods is being enhanced. Of course, the other side of the coin is texture, and not surprisingly, there are a number of innovative developments emerging that will have an increasing impact in this area.
Here are some examples:
• A rapidly gelling starch for creating new textures in cold systems has been introduced under the name Advanta-Gel™ P75 by National Starch, Information Center, One Matrix Dr., Monroe, NJ 08831 (phone 800-797-4992; fax 609-409-5699; www.nationalstarch.com). The specially processed potato starch is said to form a firm gel in less than 2 hr and delivers full strength in under 10 hr. Potential applications include dips, instant frostings, instant sour creams, baked goods, no-cook pie fillings and cheesecake, instant custards, cup-set yogurts, flans, and mousses.
The texture modifier can deliver a range of set characteristics depending on the use level. While gelling applications typically require 3–7% usage levels, this potato-based starch will provide moderate to high viscosity and short, creamy textures at 1–3% usage levels. In baked goods, the benefits include maintaining moisture content and managing cookie spread.
--- PAGE BREAK ---
According to the manufacturer, the starch's functionality does not depend on pH. This starch gels stronger and faster in neutral and refrigerated applications. It may also be used as a partial egg replacement in structured products such as cheesecakes and similar items.
Furthermore, because of its bland base and special processing, the starch has a very clean flavor profile, permitting brighter flavor release. It also carries a native starch label.
"This product further extends the possibilities for structurizing and texturizing a wide range of food products," said a company representative. "This will allow our customers to develop products that deliver new ranges of flavors and textural sensations for the consumer."
• Rice-based ingredients may be playing an increasingly important role in improving the texture of food products. In addition to their functionality properties, they can offer nutritional value, reduce fat content, aid in digestion, and increase the safety aspect by being hypoallergenic—benefits which might also positively influence their penetration into different markets.
In the June preview of the 2003 IFT Food Expo, we discussed the use of rice-derived starches in cream-filled pastries. The starch is said to improve flavor, produce a glossy sheen, and eliminate grittiness in pastry creams with a light and creamy texture. The rice starch was demonstrated in the application by A&B Ingredients, Inc., 24 Spielman Rd., Fairfield, NJ 07004 (phone 973-227-1390; www.abingredients.com).
The company has also introduced a waxy rice starch (Remyline XS) for use in fruit preparations. The starch improves color and sheen, while providing a creamier texture and protecting the natural fruit flavor. Fruit preparations are often used in pies, yogurt with fruit, bakery products, baby food, dairy desserts, and tart fillings.
Because of the many stress factors common to fruit preparations, such as high acid pH, shear, and freezing and thawing, many starches need to be chemically modified to maintain stability under such harsh conditions. The rice starch, however, is natural, offering excellent stability under multiple stress conditions. It is said to be exceptionally resistant to high temperatures, which are used to increase the shelf life of acidic food products such as fruit preparations.
--- PAGE BREAK ---
6. Providing Solutions to Culinary Challenges
More and more, companies are providing their customers with innovative technological solutions to culinary challenges they face every day in product development. Recently, Food Technology initiated a Culinary Concepts column which will discuss some of these developments and how they will address specific problems that food formulators face. Furthermore, one can expect to find a wide array of solutions demonstrated in culinary prototypes at Food Expo. And, of course one can expect to find even more solutions on the horizon for a couple of reasons. First, there is an increasing demand by the consumer for authentic international dishes. Second, more and more cultures (or, for that matter, subcultures or cultural fusions) are emerging, bringing their distinctive flavors, textures, colors, nutritional benefits, and cooking styles to the mainstream. This may pose greater challenges to the formulator, but hopefully greater rewards as well.
Let's look at some of these possible developments:
•At the 2003 IFT Food Expo, a variety of ingredient solutions will be demonstrated in the preparation of authentic Mexican cuisine by Kraft Food Ingredients, 8000 Horizon Center Blvd., Memphis, TN 38133 (phone 901-381-6500; fax 901-381-6628). Featured products include Mexican CharGrill-style Flavor and Restricted Melt Cheese Sauce with Jalapeño Peppers that will be presented in Carnita-style pork with pan juices and a Mexican egg roll filled with chicken, jalapeño-jack cheese, and chilies. Beef burritos with roasted jalapeño queso will also be served. All these applications are designed to demonstrate the versatility and functionality of culinary flavors and pasteurized specialty and modified cheese products in Mexican dishes.
• A line of flavors designed to replace or reinforce fonds or stocks in any application has been developed by Flavor Dynamics, Inc., 640 S. Montrose Ave., South Amboy, NJ 07080 (phone 908-822-8855; www.flavordynamics.com). For those unfamiliar with the term, fond can be defined in the following ways: (1) French for stock; and (2) French for bottom; used to describe the concentrated juices, drippings, and bits of food left in pans and after foods are roasted or sauteed; used to flavor sauces made directly in the pans in which the foods were cooked.
Called Fond-ations™, the line includes four light fond flavors—lamb, beef, poultry, and vegetable—which are said to simulate fonds created with minimal pre-roasting time. They can be used in any application where the flavor of a fond is desirable—from consomme to dark glazes. In practice, the generally accepted usage level starts at about 2%, but can vary depending upon specific flavoring needs.
Also available are Natural Fond-ations Flavor Builders, which can work in conjunction with the above four flavors in applications which require caramelized or dark notes created during moderate or heavy roasting. According to a representative from Flavor Dynamics, rather than dictating a specific amount of caramelized flavor for each fond, the company built flexibility into this product line by allowing the chef or food technologist creating the application to determine exactly how much "virtual caramelization" (sounds a little like a sci-fi term, doesn't it?) the product has undergone. When used as a supplement to the other flavors, the flavor builders open up the entire spectrum of roasted and dark notes that are normally created in the physical roasting process.
--- PAGE BREAK ---
The newly introduced flavors and flavor builders are designed to allow food technologists to standardize their products and eliminate batch-to-batch inconsistencies often created in the cooking process.
• A line of grilling sauces which provide the robust flavor of a marinade with the ease of a brush-on barbecue sauce has been developed by McCormick & Co., Inc., 211 Schilling Circle, Hunt Valley, MD 21031 (phone 410-527-8753; www.mccormick.com). The sauces are used on foods during the last minutes of grilling or as a dipping sauce for added taste.
The sauces are available in five varieties: Montreal Steak (a blend of coarsely ground peppers, garlic, and spices to enhance the flavor of steak, hamburgers, or ribs); Teriyaki (a rich, savory blend of soy sauce, toasted sesame seeds, ginger, and garlic for complementing chicken, pork, beef, seafood, or vegetables); Mesquite (a smoky sweet blend with a hint of fiery chipotle chile peppers that gives a rich flavor to chicken, ribs, pork, or steak); Honey Mustard (a touch of red pepper and citrus in a blend of sweet honey and zesty mustard for chicken or pork); and Roasted Garlic and Herb (a blend of garlic and savor herbs for pork, chicken, hamburgers, seafood, or vegetables).
• A line of meat flavors marketed under the name Robust are available from Innova, a Griffith Laboratories Co., 2021 Swift Dr., Oak Brook, IL 60523 (phone 800-246-9223; www.innovaflavors.com). Flavors can be created based on customer specifications, process, application, and cost requirements. A variety of technologies, including spray or pan drying and reaction processes, enable the company to produce a wide variety of products in water- or oil-soluble form; in powder, paste, and liquid versions; or using all natural or natural/artificial ingredients.
Product line includes Robust Replica™ (flavors are designed to provide the meaty taste of beef, poultry, pork, or other meat types, without the use of real meat products; Robust Ultima™ (flavors are based on meat and autolyzed yeast extract and offer a full meat flavor); and Robust Optima™ (flavors are based on meat and hydrolyzed vegetable protein, and offer the broadest range of high-impact flavor options).
The line of complex flavors offer a wide range of culinary applications. New products can be created, such as Latin American-inspired soup, Asian-flavored chicken, grilled veggie burgers, and savory snacks. Other applications include marinades, gravies, sauces, potatoes, noodles, rice, and many others.
According to a company representative, "the flavors give manufacturers flexibility in developing exciting new products. The line offers variety in meat type, including pork, poultry, sausage, and beef, and specialization in the cooking process, such as roasted, grilled, baked, rotisserie, smoked, broiled, and carmelized notes."
7. Formulating Blends that Provide Multiple Solutions
When you think of synergy, usually you think of functionality. Sweetener combinations are one of the best examples. However, a variety of nutraceutical ingredients are emerging whose combination of components working together, reportedly provides a greater health value than any one component can offer. These ingredients—or at least the approach that marketers are using to demonstrate their increased value—suggest a complexity far removed from the days when a single vitamin or mineral fortified an application.
Here are some examples:
--- PAGE BREAK ---
• A product combining several antioxidants for potential heart health, OxyPhyte™ Heart Blend™, has been introduced by RFI Ingredient, 300 Corporate Dr., Ste. 14, Blauvelt, NY 10913 (phone 845-358-8000; fax 845-358-9003). As polyphenols and flavonoids have been documented to significantly lower the risk of heart disease, the new product was formulated to combine four potent polyphenolic ingredients—green tea, apple, pomegranate, and red wine. In addition, the blend can offer a high Oxygen Radical Absorption Capacity (ORAC) value and can provide the antioxidant equivalent of several servings of fruits and vegetables in supplement or functional food/beverage form. These antioxidant benefits have been concentrated by selectively extracting the phytonutrients responsible for the antioxidant activity and combining them to complement each other and provide maximum antioxidant activity.
• Phosphatidylserine-based nutraceuticals offering benefits for both mind and body have been launched by Enzymotec, Hatassia 5 St., P.O. Box 6, Migdal HaEmeq 23106 Israel (phone 972-4-6545112; fax 972-4-6443799; www.enzymotec.com). The innovative formulations are incorporating phospha-tidylserine (PS), which may reduce the risk of cognitive dysfunction as well as the risk of dementia in the elderly, with other healthy components such as omega-3s fatty acids for reducing the risk of cardiovascular disease.
HeartPS delivers the benefits of PS together with the cholesterol-reducing benefit of MultOil, a combination of phytosterol-esters and DAG. OmegaPS combines PS with omega-3-based MultOil, which reduces the bad cholesterol and works with PS in providing potential brain health benefits. Both products are available in either fluid or waxy forms for utilization in dietary supplements and functional foods.
According to a representative from the company, "We believe that the multipurpose combination approach of HeartPS and OmegaPS will set a new standard in today's competitive marketplace. These multi-health products are answering the consumers' desire for convenience, efficiency, and simplicity, especially when targeting health and fitness-oriented populations."
• A natural blend of polyphenols extracted from apples has been introduced by A.M. Todd Co., 1717 Douglas Ave., P.O. Box 50711, Kalamazoo, MI 49005 (phone 269-216-2603; fax 269-343-3399). Marketed under the name Applephenon, the product contains a concentrated blend of procyanidins as the primary constituents. In addition, it offers a wide range of health benefits as well as antioxidant effects.
According to company representative, studies have shown that the product may relieve seasonal allergy symptoms, works to whiten skin by limiting the formation of melanin, and reduce the causes of bad breath and dental plaque.
Its chemistry and composition result in the product's having excellent solubility and decreased bitterness. In addition, it is readily metabolized by the body, potentially increasing bioavailability. The product is available as a light brown, spray-dried powder with a slight apple aroma. It is shelf stable and has excellent stability to heat and acid.
• A Wild Blueberry Extract called VitaBlue has been introduced by FutureCeuticals, 300 W. 6th St., Momence, IL 60954-0009 (phone 888-472-3545).
The product is a concentrated form of wild blueberry that can provide a full day's recommended allowance of fruit and vegetable servings in one capsule. One gram of the product can typically deliver the antioxidant equivalent of 2½ cups of fresh, wild blueberries. The product is sold as a free-flowing powder that is suitable for encapsulation.
--- PAGE BREAK ---
8. Developing Ingredients for Low-GI Foods
The Glycemic Index was developed more than 20 years ago as a way of determining how much (low, intermediate, or high) a food will raise blood sugar levels. Today, more and more, researchers are suggesting that low-GI foods may offer a number of health benefits, including controlling established diabetes, helping people lose weight, improving the body's sensitivity to insulin, and possibly helping reduce the risk of heart disease.
Although there is still debate among researchers regarding low-GI diets, it is becoming increasingly clear that a variety of new market possibilities are opening up. Food formulators will, of course, be looking for ingredients that will have value in such diets.
For example, specialty carbohydrates which have a low GI are available from Danisco Sweeteners, 440 Saw Mill River Rd., Ardsley, NY 10502-2605 (phone 800-255-6837; fax 914-674-6542; www.danisco.com/sweeteners).
The sugar-free and reduced-calorie ingredients are suitable for developing products for consumers who desire "low-carb" foods.
These ingredients, which include polydextrose (Litesse®), lactitol, and xylitol, are said to have a minimal impact on blood glucose levels and insulin demand and can be used to replace high-glycemic carbohydrates such as sugars, starches, and maltodextrins. In addition, they are well tolerated and can be used in a variety of applications to improve the nutritional profile.
Recently, Hershey Foods launched nationally a line of sugar-free chocolate candies made with lactitol supplied by Danisco Sweeteners. The confections—Reese's® Sugar-Free Peanut Butter Cup Miniatures, Hershey's® Sugar-Free Chocolate with Almonds, and Hershey's® Sugar-Free Dark Chocolate—are intended primarily for the estimated 17 million people in the U.S. with diabetes, or those on a restricted carbohydrate diet.
An information panel on each Hershey's Sugar-Free label features lactitol, and describes the ingredients as follows: "Lactitol (a sugar substitute) is a slowly metabolized carbohydrate that generally causes only a small rise in blood glucose levels." The candies are also about 19% lower in calories than regular chocolate.
Lactitol is a sugar alcohol that has a clean, sugarlike taste with no aftertaste. It is lower in calories than sugar, containing 2.0 kcal/g vs 4.0 kcal/g for sugar, and it provides the body with only about 50% of the carbohydrate effect of sugar. Used in moderation, lactitol generally has no, or minimal, digestive side effects.
--- PAGE BREAK ---
9. Using Novel Processes to Create Ingredients
Many of the emerging ingredients discussed in this article are the result of new processes or technologies that have improved their functionality; their nutritional benefits; and their flavor, mouthfeel, and aroma qualities. By doing so, they have provided solutions to ongoing problems, have helped to expand the market for their application; and have created the potential for new and exciting opportunities in the future.
We have already seen several examples of these ingredients produced by novel technologies: healthy oils, cooling compounds, flavor-masking agents, and new forms of colors, just to name a few. Here are a few more that have interesting possibilities.
•A new sterilization process for making honey safe for infants has been created by researchers at the University of Georgia College of Agricultural and Environmental Sciences (UGA).
Traditionally, honey isn't recommended for babies because their immune systems are not developed. While eating honey poses no risk to adults with normal immune systems, Clostridium botulinum spores found at very low levels in 5–10% of commercial honey samples can be deadly to infants. For this reason, manufacturers of children's medicines, such as cough syrups, normally use sugar and corn syrup instead of honey as sweeteners.
According to lead researcher Romeo Toledo, killing dormant spores that can form harmful bacteria creates difficult challenges for processors of honey products. To kill the spores, processors must heat a product to at least 250°F, under pressure, and hold it at this temperature for at least 3 minutes. However, this is not possible with honey. "You can't heat honey to very high temperatures because it burns, the flavor changes, and some of the components that have healthy benefits are destroyed," said Toledo. "The industry pasteurizes honey by heating it to 170°F and holding it there for 4–5 minutes, then hot-filling it into bottles and cooling it. This is adequate to destroy molds and common yeasts and prevents fermentation during storage. But spores can survive this process."
With funding from the National Honey Board, Toledo developed a sterilization process called high-pressure throttling which kills spores in honey without affecting the honey. "The process we developed produces honey that is free of Clostridium botulinum spores, so it can be used safely in pharmaceutical products and foods designed for infants," said Toledo. "Our process uses a combination of heat and high pressure to instantaneously kill the spores. Therefore, the flavor and other physical properties of the honey remain the same as in raw honey.
The process pasteurizes the honey to about 35,000 psi and passes it very fast through a heat exchanger to raise its temperature to 180°F within a few seconds. When the pressure is dropped, the temperature instantly spikes to about 275°F. The honey is then cooled within seconds.
--- PAGE BREAK ---
"We instantaneously raise the temperature to kill the spores," Toledo said. "Exposure time at the high temperature is just a few seconds. We produce a sterile product with all the natural nutrients retained."
The honey industry is said to be very interested in the process, which was patented by UGA. The next step is to develop the prototype machines for use in processing plants.
More information about this development can be obtained from the National Honey Board, 390 Lashey St., Longmont, CO 80501 (phone 303-776-2337; fax 303-776-1177; www.nhb.org).
• A new method of processing grains, seeds, and brans has been developed by researchers at the Texas Engineering Station's Food Protein Research and Development Center. The new process is said to efficiently and cost-effectively produce ingredients that are more nutritious and easier to digest for use in a wide range of drinks, including nutrition products for the elderly, infants, people with digestive disorders, or people allergic to wheat gluten.
Liquids resulting from this process have a mild or neutral flavor and can be added to other drinks or foods without needing to be masked. The researchers have created milk replacements from amaranth seed (a gluten-free grain) that they said tastes better than rice or soy milk and a flaxseed drink without the oily quality of conventional flaxseed oil.
More information about this development can be obtained from the Food Protein Research and Development Center (www.tamu.edu/food-protein/).
• New savory flavor ingredients, wholly distilled from fresh fruits and vegetables, have been introduced by Treatt USA, a subsidiary of Treatt plc, 4900 Lakeland Commerce Pkwy., Lakeland, FL 33805 (phone 863-668-9500; fax 863-422-5930; www.treatt.com).
These aqueous distillates are said to be ideal for flavorists searching for new ingredients to provide an authentic taste. Roasted pepper, watercress, and celery are the newest additions to a line which includes tomato, cucumber, and green bell pepper. These products impart a high-impact flavor without increasing acidity levels and have been successfully used in vegetable blends and beverages, as well as soups, sauces, and dressings.
According to the manufacturer, the celery distillate has a powerful celery odor and flavor with some walnut-like notes. It contains enhanced levels of phthalides compared with traditional celery seed oil.
Also, a new natural specialty flavor ingredient, marketed under the name Treattazine™, has been developed which can reportedly offer fresh opportunities for creativity in many savory applications, including vegetable formulations and some novel beverage applications. The ingredient has a characteristic green bell pepper taste with potato, green bean, and earthy notes. Its high levels of linalool enhance and sweeten savory flavors. Additionally, it contains a variety of other natural odoriferous molecules and methoxy pyrazines. Colorless to pale yellow, the product is both oil and ethanol soluble, and free from solvents or additives.
--- PAGE BREAK ---
• A process for extraction, purification, and enrichment of polyphenolic substances from whole grapes, grape seeds, and grape pomace was the subject of U.S. Patent 6,544,581, assigned to Canandaigua Wine Co., Inc., Madera, Calif. The process reportedly gives the grape seed extract (marketed under the name MegaNatural™ Gold) a much lower-average molecular weight than other grape seed extracts on the market and increases its heart-healthy benefits. The lower molecular weight makes the extract easier for the body to absorb, and improves its bioactivity and its ability to prevent LDL oxidation.
The patented process isolates and concentrates the bioactive phenolic and flavonoid substances in the rubired and white varietal grape seeds used in the process. This powdered extract contains phenols at a concentration several times that found in commercial concord grape juice.
According to the patent, the process produces a highly concentrated polyphenolic product by maximizing extraction of monomeric and oligomeric procyanidins and minimizing extraction of polymeric procyanidins. The process does not require solvent extraction of the source materials, membrane filtration, or solvent-solvent partitioning. As such, the process is safer, simpler, and higher-yielding than those previously known. Products manufactured by the process may be used in foods, beverages, and nutraceuticals as an antioxidant and to help lower the incidence of cardiovascular disease.
• A lunasin-enriched soy extract called LunaSoy has been developed by Lunasin Labs, Inc., a subsidiary of FilGen BioSciences, Inc., 2333 Courage Dr., Ste. C, Fairfield, CA 94533 (phone 707-435-0425; fax 707-426-6211).
Lunasin is described as a small protein found in soybean seed that appears to be a general chemopreventive agent with a novel mechanism of action. Using novel processes for extraction and purification of naturally occurring lunasin from soy protein, the company has developed a proprietary method for the commercial production of lunasin-enriched soy extract. Quantitative analysis by immuno-staining with lunasin antibody shows that the extract contains 600-fold more lunasin than the average amount of lunasin found in soy flour. The proprietary process allows the company to commercially produce the extract at a reduced cost while not sacrificing product quality. The extract holds potential in functional foods, nutraceuticals, and other health and nutrition products.
10. Emerging Products in the World Marketplace
The world has become a smaller place, and products that have been marketed in other countries may find their way into the mainstream. Let's look at a few of these products and the functionality or nutraceutical benefits they offer.
• A new novelty concept, a frozen jelly on a stick, has been created by Denmark-based Danisco. The treat—called Ice Dreams—may be consumed frozen as an "ice lolly" or thawed as a fruity jelly, and has unusual eating properties.
According to the manufacturer, the new type of ice lolly does not melt, but turns into a fruity jelly due to a combination of locust bean gum and another stabilizer. The blend of ingredients secures an excellent gel and body. The product is available in lemon and cola flavors, and multivitamin variations.
--- PAGE BREAK ---
The new non-drip ice lolly was launched by an Iceland supermarket chain and was well received by customers. It will also be sold in Germany, Italy, France, the Netherlands, and the United Kingdom. A marketing plan for other countries is currently in progress.
More information can be obtained from Danisco USA, 440 Saw Mill River Rd., Ardsley, NY 10502 (phone 800-255-6837; fax 914-674-6542; www.danisco.com).
• Farm Produce Marketing, the British dairy that produces Orchard Maid organic yogurt beverages for the United Kingdom market, is the first company to use the LifeTop Straw, developed by BioGaia Biologics of Sweden. The straw, attached to the carton, dispenses measured doses of probiotic culture with each sip.
The telescoping straw contains an oil droplet of suspended Lactobacillus reuteri culture, which is said to boost the immune system and to improve gut health and nutrient absorption. Each straw contains active cultures, which maintain their viability because they're packaged separately from the drink. The straw is now co-marketed with the COE Nutritionals unit of Tetra Pak International.
• A low-carb chocolate bar called Z-Carb has been introduced in the U.S. by HVC Liquid Chocolate LLC, 13 Marshall St., Norwalk, CT 06854 (phone 203-899-3060; fax 203-899-3061; www.sobechocolate.com). The premium chocolate of the product has been combined with sugar-free technology to create a gourmet carbohydrate-free bar with increased antioxidants, calcium, magnesium, and protein.
The bar is available in four varieties—milk chocolate with almonds, dark chocolate crisp, milk chocolate with peanut butter, and dark chocolate with macadamia nuts. Each bar contains 70–85% sugar-free/zero-carb real milk or dark chocolate with added health-enhancing ingredients, such as antioxidants to fight radicals, increased protein to support active lifestyles, and probiotics to aid digestion and assist the body in absorbing essential minerals.
According to a company representative, "It took us nine months to incorporate into our chocolate a sweetener with zero carbs, no impact on the glycemic scale, great taste, and no digestive side effects." The launch of the product is said to further advance the company's mission of leading consumers toward a healthier, indulgent chocolate.
Well, I can see that my old crystal ball needs polishing again, but I can still make out one more image clearly. And that is opportunity.
For instance, can you imagine a vending machine of the future containing products made with these emerging ingredients? Vending machines at schools or workplaces or physical fitness centers that make available products that are both healthy and indulgent? Products that combine unique flavors and textures with novel delivery systems?
Or how about fast-food establishments serving foods made with these emerging ingredients? Some restaurants today are modifying their menus, but what about the next-generation restaurants making possible a wide variety of products offering taste and health benefits provided by these emerging ingredients? Hospitals, too, could benefit by adopting such an approach.
It's possible that someday you may walk down any aisle of a food store and see these ingredients in products on the shelves.
Even in a fading crystal ball, one can still see that the opportunities are endless.
by DONALD E. PSZCZOLA
Senior Associate Editor