Aging Americans are a powerful demographic, and food is the ultimate health delivery system in terms of convenience, economy, and efficiency, especially for a generation that has a hard time adjusting to age.
"If you remember Woodstock, you weren't really there," the saying goes. Today, that probably has less to do with what you were doing at the concert, than with the eons of time that have passed since the "youth generation" trashed Max Yasger's Upstate New York farm for "three days of peace and music" back in 1969.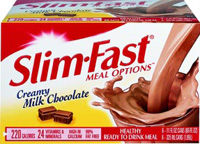 Today, if they're not reliving old memories by attending overpriced reunion concerts, these aging Baby Boomers are taking their grandkids to see Justin Timberlake or some other teenage heartthrob. Recreational drugs? Starbucks iced nonfat latte and a couple of Tylenols to get through the ordeal.
They may be gray, but the not-so-youthful generation still wields considerable economic power, a growing amount of which is being spent in a frantic effort to fight the relentless march of time.
One of the prime battlefields is food. Food marketers recognize the prodigious spending power of consumers born between 1946 and 1964, and their desire for foods that support a healthy, age-defying lifestyle. Simple goal, tough challenge. While these Boomers might benefit from age-specific, geriatric products, they don't like the identification. Unlike foods for kids, teens, and women, products that present themselves as targeting old folks don't resonate with the 50 and older crowd. While this generational swell of some 76 million adults may be facing their 60s, they will forever view geriatric products as targeting their parents.
Subtlety is the key. "As the boomers move into their 50s, they are redefining the mature market and creating new opportunities for health and nutrition products," states HealthFocus International president Linda Gilbert. This research and marketing company places older age group opportunities into four basic categories, or "benefit platforms": prevention, wellness, cosmetics (appearance), and performance. Food-as-medicine is a primary development theme. Clients include Nestlé, Kraft, Quaker, and Tropicana—all of which are formulating new products for aging Americans. In many cases, these products are cross-overs that have broad consumer appeal, with individual attributes of interest to those over 50.
Net result: If you fill your shopping cart with every food product trumpeting itself to consumers in the 45- to 60-year-old segment, you would have Ensure nutritional shakes from Ross Div. of Abbott Laboratories or Boost from Mead Johnson Nutritionals, a division of Bristol-Myers, and not much else. Ensure is there because it started its brand life as a hospital product primarily for tube feeding and elder care. Abbott has worked hard to repackage, reformulate, and market the brand to the broader consumer market, including the introduction of Ensure brand nutrition bars. Boost has followed a similar strategy.
--- PAGE BREAK ---
Nutritional shakes and smoothies, however, have a solid appeal to the 50+ generation. They're quick, portable, and tasty, and they can easily be packed with a variety of supplements.
"The challenge for marketers and retailers is to make sure baby boomers take their shopping habits with them when they age," stated Candace Corbett, President of WSL Strategic Retail's 50+ Marketing Directions unit, in a Brandweek interview. "For some categories, targeting young people is a marketing strategy that makes sense, but others need to step back and reassess their obsession with youth in order to stay alive. The trick has got to be, How do you be ageless," she asserted.
Shakes and smoothies provide some insight. Ensure marketing stresses themes like, "Complete, balanced nutrition" and "Nutrition for a healthy lifestyle." Graphics feature active, healthy older Americans, often in combination with other age groups. In addition, line extensions target specific health issues, such as diabetes, rather than age segments.
Slim•Fast, a subsidiary of Unilever United States, Inc., has taken a different road to arrive at the same destination. Slim•Fast started its brand life as a weight-loss product. It benefits from the 50+ generation's increasingly tough battle of the bulge. In fact, it has grown up with Boomers while maintaining a broad appeal to all generations seeking a weapon against the national epidemic of obesity. The line now features frozen novelties, powders, ready-to-drink shakes and nutrition bars. Like Ensure, Slim•Fast started with a narrow focus, although in a different segment, and has broadened considerably into a healthy lifestyle brand. Each, however, carries with it the memory of its original identity. This helps to maintain core support for the brand, but can hinder entry into new segments.
This is less of an issue for smoothie newcomer Snapple Beverage Corp., a subsidiary of Cadbury Schweppes PLC. It recently announced that it is rolling out Snapple-A-Day, a fruit-flavored, soy-based drink that will compete directly against both Ensure and Slim-Fast. Yet with a brand lineage tied to naturally brewed iced tea and fruit juices, it has a unique advantage. While Snapple is not specifically targeting the 50+ consumer, Snapple-A-Day has many of the attributes of convenience and bills itself as a "meal replacement." And because the brand was engineered from the ground up, it packs a wide range of nutritional benefits into one bottle: no fat, high protein (soy protein isolate), low sodium, high complex carbohydrates, calcium, vitamins, and minerals. In fact, Snapple-A-Day's graphics-intensive Web site presents direct comparisons to Slim•Fast and the "leading smoothie."
In addition to nutritional benefits, Snapple-A-Day touts a resealable wide-mouth plastic bottle and natural flavors.
In many respects, Snapple-A-Day appears to target females, with soy protein, folic acid, and calcium. But with this target, the product also takes aim at a very large slice of the 50+ market.
More competition is on the way. Coca-Cola Co.'s Minute Maid division recently completed test marketing a whey-based juice drink called BeginIt in Dallas convenience stores. BeginIt has an array of vitamin and mineral fortification, but the use of whey, considered by many advocates to be a superior protein source, is a key competitive difference. The company calls it "fruit-on-the-go." Some trade reports claim that PepsiCo also is working on a protein-based meal replacement.
--- PAGE BREAK ---
Boost has added a fruit-juice product, Boost Breeze, described as "a light and refreshing nutritional energy juice drink." It features 30% fruit juice from concentrate and 8 g of protein. It is fat free, gluten free, and lactose free.
Overall, sales for the liquid weight-control and nutritional products category grew at a brisk 8.2% from 2001 to 2002, according to Information Resources, Inc., the Chicago-based retail market research firm. Total category sales, according to Snapple, top $2.3 billion.
Snapple-a-Day points the way for a new generation of products highly adapted to the 50+ market, but not specific to that generation. And that's what Boomers want.
The 50+ influence goes well beyond meal replacements. This generation has buying power and a long tradition of innovation. Organic and natural foods, cross-cultural cuisine, speed, and convenience—all these trends were ignited and sustained by the Boomers. Today, these aging innovators want the same things, with a larger print on the label, a wider mouth on the bottle, an easier grip, and a greater emphasis on the nutritional attributes that enhance weight control, heart health, cancer prevention, bone density, and blood sugar levels. Wrinkle-free skin, more energy, clearer eye sight, and stronger teeth are also a plus. And this generation is looking more to food to get the job done.
This doesn't mean instant success, even for the big players. Quaker introduced its Take Heart line of cereals, juices, and snack bars in 2001, through a joint venture with Swiss pharmaceutical giant Novartis AG, aiming squarely at the Boomer market. "We need to address their health concerns, and we're excited about the impact we can make," stated Quaker spokesperson Eve Watson at the introduction. While the line contained the cholesterol-busting ingredient Reducol, it was unable to gain traction in the marketplace. The venture was quietly dissolved last year. No specific reasons were offered, but similar healthy lines have failed for the very reason that they're too targeted, and often too costly.
Boomers also demand taste and superior food quality. Health and convenience don't work if the product isn't pleasing. Nowhere is this more evident than in foodservice. Quick-casual chains are a magnet for graying Boomers looking for tasty, innovative, cheap, fast eats. Chipotle Mexican Grill, Noodles & Co., Baja Fresh, and venerable Boston Market are just a few of the chains that have successfully captured a significant slice of the 50+ dining dollar. On the menu is such fare as free-range pork carnitas burritos, spicy pad Thai noodles with shrimp, and veggie-topped wood-fired pizza. Just the antidote for burger fatigue, especially for a generation that grew up with the Golden Arches and raised their kids on Happy Meals. Not surprisingly, McDonald's Corp. has acquired an 89% share of Chipotle.
Many of these chains are adding heart-healthy and diabetic-friendly items to their menu, too.
Clearly the 50+ generation of aging Baby Boomers is once again redefining the marketplace. In many respects, these consumers are providing much of the focus for a quantum change in the way food is perceived. This is a generation that coined the term "instant gratification." As it gets older, it wants not just longevity, but also the same quality of life it has enjoyed throughout its heady lifespan. Food is a key component in delivering the nutritional components of this lifestyle.
--- PAGE BREAK ---
According to Linda Netterville, President of Meals on Wheels Association of America, in testimony to the Senate's Special Aging Committee, "There is no question that scientific evidence supports the relationship between good nutrition, health and functionality among older adults."
Among the key connections:
• Calcium and vitamin D are linked to bone health and mobility.
• Vitamins B-6, B-12, and folic acid help to keep the mind alert and the nervous system performing at its best. These nutrients are also linked to reducing the risk of coronary artery disease.
• Vitamin E, beta-carotene and other carotenoids, and ascorbic acid help to prevent the damaging effects of oxidation in the body, one of which may induce cataracts or macular degeneration.
• Vitamins E and B-6 and the mineral zinc will help to strengthen the body's ability to combat infection and chronic disease.
• Fiber helps to ensure that the digestive system stays healthy and reduces the risk of colon cancer.
• And the reduction of excess fat, particularly saturated fat, and sugar is essential to proper weight maintenance and prevention of Type 2 diabetes.
While the burgeoning supplement industry has attempted to meet these needs, food is the ultimate delivery system in terms of convenience, economy, and efficiency. Especially for a generation that has a hard time adjusting to age.
"Members of America's largest generation are uneasy about aging because they fear losing attractiveness and contracting a debilitating disease. They also aren't very confident about their ability to manage their own health concerns as they age," stated Daniel Perry, Executive Director of Alliance for Aging Research. His group conducted a comprehensive study of the Boomer generation last year through an educational grant from Quaker Oats.
Among the findings: 89% say they've done something to fight getting older, and 86% say they've made dietary changes in the last year. Two-thirds report they've eaten "healthier food"—fruits and vegetables and more foods with fiber, such as oatmeal and whole-grain bread. In the quest for vitality, 57% say they've taken vitamins, minerals, and dietary supplements to look or feel younger. Almost half have dieted. Most, however, indicate that they either haven't done enough or haven't sustained a healthy diet.
This represents a growing opportunity for food manufacturers. When healthy attributes are introduced into conventional and popular foods, sustaining a healthy diet becomes easier. Unlike the era of removing unhealthy attributes from food, which resulted in disappointing taste, mouthfeel, and product sales, the current focus is on the addition of healthy ingredients, as with meal replacements, fortified cereals, bakery products, juices, and reformulated entrees and side dishes like those in Nestlé's Lean Cuisine, ConAgra Brands' Healthy Choice, and H.J. Heinz Co.'s Weight Watchers lines.
As Kirk Dolan and Elankovan Ponnampalam of Michigan State University said in their 2001 white paper, "Let Food Be Thy Medicine," "Americans are expanding their view of health care from 'corrective' medicine to include 'preventive medicine' and self-care through eating and exercise." The impact of this trend will be felt throughout the entire consumer marketplace.
by Pierce Hollingsworth,
Contributing Editor
The author is President, The Hollingsworth Group,
P.O. Box 300, Wheaton, IL 60189.