To help the Institute of Food Technologists attain the five-year goals of its new Strategic Plan and deliver on its new brand—indispensable, leading-edge products, services, and experiences for our members—the Executive Committee on March 30, 2003, voted to restructure IFT's volunteer committees.
In this article, I will summarize the Executive Committee's philosophy and describe the new structure. This restructuring was not undertaken in a vacuum with no input from members, but rather has been accomplished with strong input from task forces set up to guide IFT in its new alignment of volunteer committees.
These new committees have been set up and will first meet during the IFT Annual Meeting this month. All previous committees will have closed out operations and completed service projects needed for the Annual Meeting. All Strategic Plan Task Force Reports will be completed this month, and the Executive Committee will then continue further action to address restructuring issues.
The new committee structure follows a "management committee" philosophy that pushes management of committee operations down into the committee level. This approach also brings committee leadership from similar committees to the same table for discussion and implementation of changes needed to achieve the five-year goals of the new Strategic Plan.
This process empowers committee leadership and should deliver a fuller inter-committee communication. It will also allow the Executive Committee to operate at a more strategic planning level and less at a tactical, or "micromanagement," level.
Each management committee consists of the chairs of the reporting committees, other membership representatives, and the management committee leadership (past chair, chair, and chair-designate).
Life-Long Learning & Careers
The Management Committee on Life-Long Learning & Careers comprises the Career Development Skills Committee, Continuing Technical Education Committee, Degree & Certificate Programs Committee, and K-12 Programs Committee. This group of committees will focus on our efforts in career outreach, expressing our belief that we need career development support and continuing education throughout our years.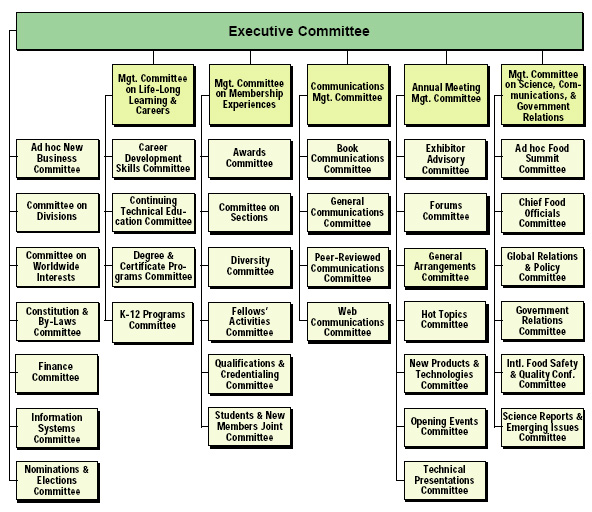 The K-12 Programs Committee starts at the early years and introduces career opportunities in the food sciences and related disciplines. The Degree & Certificate Programs Committee will manage our curriculum development efforts. We also hope to implement a life-long-learning model and include in that model both technical education efforts and "soft skills" that support the "whole" person and our learning needs. The entire effort is to be driven with a commitment to each member across his or her career from student to retiree. The model depends on our belief that learning needs never stop.
We are looking for strong coordination of our learning messages and an integration of partners (IFT cannot do all of this alone). The Management Committee on Life-Long Learning & Careers will be responsible for coordinating all efforts and driving the total vision and plan. I think this is an exciting set of committees that can really deliver value to our members.
--- PAGE BREAK ---
Management Committee on Membership Experiences
The Management Committee on Membership Experiences comprises the Awards Committee, Committee on Sections, Diversity Committee, Fellows' Activities Committee, Qualifications & Credentialing Committee, and Students & New Members Joint Committee. This group of committees reflects our growing appreciation of IFT as a community. We are a community with multiple families, each having both unique and common needs.
The Qualifications & Credentialing Committee will focus on our individual members and how we differentiate and credential membership. The Committee on Sections will focus on our family units of the community that are geographically based. It will serve to strengthen those units and support their operations. A part of any community is its recognition of those who do well, and the Awards Committee will serve this function. A core value of IFT is appreciation of the importance of our diversity and the strength it affords IFT, and this appreciation is the focus of our Diversity Committee. Involvement and recognition of those members of the IFT community who bring wisdom with experience and time are the responsibility of our Fellows' Activities Committee. Finally, making sure that we start and end our excitement with a commitment to our youth is the focus of our new joint committee of IFT and the Student Association, the Students & New Members Joint Committee.
The Management Committee on Membership Experiences will be responsible for coordinating all these efforts and driving the total vision and plan for this block of committees. In a strong amalgamation of partners, these committees will oversee the recruitment, rewards, and service of IFT membership.
Communications
The Communications Management Committee comprises the Book Communications Committee, General Communications Committee, Peer-Reviewed Communications Committee, and Web Communications Committee.
This group of committees was essentially our first test of the waters and came from original recommendations of the Publications Task Force. Those recommendations were then revised by the Task Force on Sound Science Advocacy and implemented last year by the Executive Committee. We are still learning from that model, but we are convinced that it is an effective process.
The Communications Management Committee and its associated committees are brought together with the belief that our communications across all of IFT must not be haphazard. We must coordinate communications and speak with a common message. This structure appreciates that the form of the message can make a difference in function of the message. We believe that this structure will open opportunities to enhance and expand IFT's voice.
--- PAGE BREAK ---
Annual Meeting Management Committee
The former subcommittees of the Annual Meeting Committee have now been made full committees reporting to the Annual Meeting Management Committee. They include the Exhibitor Advisory Committee, Forums Committee, General Arrangements Committee, Hot Topics Committee, New Products & Technologies Committee, Opening Events Committee, and Technical Presentations Committee. Their charge will remain the same as before.
Science, Communications, & Government Relations
The Management Committee on Science, Communications, & Government Relations comprises the Ad hoc Food Summit Committee, Chief Food Officials Committee, Global Relations & Policy Committee, Government Relations Committee, International Food Safety & Quality Conference Committee, and Science Reports & Emerging Issues Committee. There will also be a Congressional Science Fellow and Congressional Science Fellow Award (CSF/CSA) Subcommittee (not shown on chart).
IFT is a scientific society, first and last. That commitment to who we are sets up some special responsibilities locally, regionally, and globally. This committee structure was designed to ensure that we coordinate our science message, that we deliver science information so that a big-picture mosaic can be seen while not missing the focus on details. As a scientific society, we must avail ourselves of our responsibility to communicate science across different forums, using different methods as appropriate, and tailoring the message for the audience while keeping true to the science.
Other Committees
Not every committee will operate inside the "management committee" model. The following committees will report directly to the Executive Committee:
• Ad hoc New Business Committee. This new committee will keep us focused on new business developments. It reflects a commitment to continually search for new IFT "products," services, and experiences and strengthen our current products. The structure of this committee will link our IFT leadership to this commitment intimately. The approach will be business oriented and market driven and will take precedence on specific issues.
This committee will make use of a new supporting structure in IFT called the "project team." Each team will consist of 3–4 members, be of very short duration (e.g., 3 months), and be responsible to a specific committee. In this case, project teams will be utilized to explore and flesh out new IFT business concepts for the committee to study.
Project teams are ad hoc in nature, may not have significant membership representation, and normally report as a resource to a committee. In contrast, IFT task forces report to the IFT Executive Committee and normally exist for one year or less. Project teams are commissioned by the IFT President on behalf of a committee. At this time, the Executive Committee envisions the use of this new structure by the Ad hoc New Business Committee only.
--- PAGE BREAK ---
• Committee on Divisions. The Executive Committee chose to make this a direct reporting committee in part because we believe that IFT must significantly strengthen its Divisions. IFT needs a stronger organization of our science to fulfill our Strategic Plan. This committee will focus on development of our Divisions as the foundations of our science. The committee will also seek ways to integrate Division-based science into IFT programs, IFT communications, and the IFT organization. Finally, this committee will also seek to strengthen the Divisions.
• Committee on Worldwide Interests. We are a global community of science, and we will integrate a global perspective to all that we do. The principle of this approach is that IFT will, as a community, be more welcoming, be less prescriptive on relationships, and seek ways to help all IFT members wherever they reside. This committee will help other committees appreciate global changes, challenges, and opportunities. It will seek to deformalize IFT's approach to food scientists globally and will find ways to reach out to members physically distant from IFT's core locations. This committee will function inside the IFT committee structure as a resource of the Executive Committee and will be effective by encouraging change through IFT committees, Divisions, Sections, and other structures of IFT in the form of recommendations.
• Constitution & By-Laws Committee, Finance Committee, Information Systems Committee, and Nominations & Elections Committee. The charges for these committees will remain the same as before.
Task Forces
Although our Strategic Plan task forces have done an incredible job with their efforts, there will still remain a need for a number of issues, challenges, and opportunities to be explored before we take action on them. Examples include employment, credentialing, the AAAS Congressional Fellows program, utilization of science expertise, leadership development, mentoring, public relations, communicating to policy makers, and enhanced science communications.
We will likely address these issues by use of task forces or combinations of task forces. Where these issues cross over with IFT committees, membership will be drawn from committees as well as members in general.
Your Input Is Welcome
I hope this helps to draw a picture of the thinking behind the new structural changes being implemented. We still have a fair amount of work ahead for us, and we invite your suggestions, ideas, and recommendations. All input is welcome and will be considered. With your help, we should make our new brand, indispensable, leading-edge products, services, and experiences for our members, come alive!
by Mark R. McLellan, 2002–03 President,
Institute of Food Technologists
The author, a Fellow and Professional Member of IFT, is Director, Institute of Food Science & Engineering, Texas A&M University, 1500 Research Pkwy., Suite A220, College Station, TX 77845.