This year's IFT FOOD EXPO® theme is "Navigating Change . . . Sound Science, Common Sense and a Spark of Innovation." In preparing this preview, it struck me how fitting this theme is regarding nutraceutical ingredients.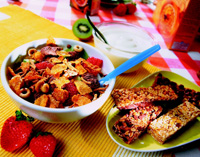 Times have definitely changed in the food industry, and this is reflected in the fact that the number of suppliers offering nutritional ingredients at the show continues to grow. Ten to fifteen years ago, you would not see botanical ingredients, soy isolates, or healthy fats. And now look how things have changed. In this year's preview, we have pulled the exhibitors who offer nutritional ingredients and placed them in their own separate preview. The companies have been separated into nine categories: Antioxidants, Botanicals, Dairy-Based Ingredients, Dietary Fiber, Grains, Nutritional Fats, Proteins, Soy, and Vitamins and Minerals.
Sound Science, Common Sense. This certainly rings true in the food industry when it comes to nutraceuticals. Numerous studies and trials indicate the nutritional potential of many extracts, food components, and isolates. There are many claims of preventing disease, increasing stamina (both athletic and sexual), losing weight, and slowing down aging. However, within the conventional, mainstream food industry, it is always wise to look at these new wonder nutraceuticals with an eye of caution. Not to say that some of these new ingredients don't hold merit. It is just that much research is still in its infancy.
So, at this year's Food Expo in Chicago, you will find conventional yet beneficial ingredients such as soy protein, phytosterols, whole grains, vitamins, and minerals. Many of these ingredients come with the advantage of Food and Drug Administration–approved health claims for their use in food products. They are safe, backed by sound science, and make sense to consumers.
Finally, a spark of innovation. This is quite evident in some of the offerings from our suppliers this year. In the Antioxidants section, you will find a supplier who holds two recent cardiovascular patents for grape seed extract. A botanical supplier will be showcasing soft drinks with antioxidative characteristics from green tea, hibiscus, grape seed, rooibios, and other plant extracts. In the Dietary Fiber section, you will find a company who will be unveiling a new functional ingredient for bone health. Many beverages will be on hand, showcasing both dietary fiber and grains such as flaxseed.
Healthy fats will abound at the show. There are oils that help maintain a healthy weight and phytosterols that help reduce the risk of heart disease. And we can't overlook the soy category. You'll find beverages, bars, ice cream, and yogurt fortified with soy protein. And finally, although vitamins and minerals are the most conventional fortifiers, you will still find innovation when it comes to these nutrients. One supplier will be showcasing edible film strips that yield vitamin B-12 and folic acid.
Throughout this preview, you will also see sidebars on various technical sessions related to nutrition. You won't want to miss these. It is at both the universities and industry where many innovative ideas come about. So, as this year's nutritional ingredients preview shows, the IFT Food Expo is the place to be this July if you want to stay informed about trends, ingredients, and more. We hope to see you there.
--- PAGE BREAK ---
ANTIOXIDANTS
• Nature-identical synthetic beta-carotene. Launched in 2000 to the food and dietary supplement industries in Asia, Europe, and Americas, the beta-carotene can be used in functional foods, according to Allied Biotech Corp., No. 76, Tun Hua S. Rd. Sec. 2, 12th Floor, Taipei, Taiwan (phone 886 2 2703 0209; fax 886 2 2703 0289).
Altratene is manufactured in a new large-scale state-of-the-art facility in Taiwan, which holds a German-issued ISO9001:2000 certificate. It is offered as powders, emulsions, and oily formulations. The products have kosher status (Circle U), and they are all non-GMO.
The company has a global sales and marketing network comprising offices in Germany, Denmark, U.S., Brazil, China, and Taiwan, and cooperations with partners specialized in distribution of food additives and ingredients. Allied Biotech Corp., Booth 2927.
• New berry ingredients create products with a high antioxidant capacity. These are new additions to the product line for Artemis International Inc., 9318 Airport Dr., Fort Wayne, IN 46809 (phone 260-436-6899; fax 260-436-1733).
Berries For Life™ Berry Bites, BerrySelect™, and HarvestSelect™ are new additions. Both BerrySelect and HarvestSelect are an integral part of the company's PhytoSolutions group, which serves as effective ingredients in the development of finished goods with a high antioxidant capacity. Artemis' own finished product, Berry Bites, are an example of the quality that results from implementing the company's ingredients.
Artemis International utilizes its PhytoSolutions™ line of proprietary formulas to design specific antioxidant fruit and vegetable blends that address consumer healthcare concern. The company's upcoming custom formulations will focus on the following targeted health areas: athletic performance, chronic disease, and brain function.
The company specializes in standardized extracts, natural colors, and juice concentrates made from fruits and vegetables. It utilizes technologically advanced separation and concentration processes to obtain phytonutrients from high-anthocyanin berries such as elderberry, bilberry, and chokeberry. The products are used in the food, dietary supplement, pharmaceutical, and cosmetic industries for their antioxidant, anti-inflammatory, antiviral, and antimutagenic properties. A key part of Artemis is the utilization of research that explores the mechanisms and pathological indications of these properties. Artemis International Inc., Booth 4172.
• Nutritional antioxidant ingredients add health to the global functional food market. In addition to specializing in natural food colors (see Ingredients Preview on page 46), nutritional antioxidants are offered by Cybercolors Ltd., Unit 8, Airport East Business Park, Farmer's Cross, Ballygarvan, Co. Cork, Ireland (phone 353-21-4375755; fax 353-21-4375756; www.naturalfoodcolors.com).
Founded in 2000, the company offers natural beta-carotene 1% cws powder for beverage and dairy products. Cybercolors Ltd., Booth 5525.
--- PAGE BREAK ---
• First-time exhibitor identifies potential health benefits in various natural compounds and nutraceutical products. The benefits are identified through the use of in-vitro assays, in-vivo models, and/or clinical trials, says KGK Synergize Inc., Suite 1030, One London Pl., 255 Queens Ave., London, Ontario N6A 5R8 (phone 519-438-9374; 519-438-8314; www.kgksynergize.com).
Past achievements of the company include discovering that certain minor components of citrus fruit (flavonoids) and/or their combinations have anti-cancer and cholesterol-lowering properties. The company has also formed strategic alliances with U.S. Dept. of Agriculture resulting in a new U.S. patent application for the use of synthetic citrus analogues for prevention and/or treatment of cancer.
There are two divisions at KGK. Contract Research Services offers a wide range of research services to the client from preclinical to clinical trials, data analysis, and consultation. It can assist the client with protocol development and direct them as to the most beneficial studies to help them meet their objectives. The Product Development Division experiments with new natural compounds for their therapeutic values. It implements various screening techniques to develop nutraceutical and functional food products to the point where they are ready to manufacture and market. This division currently holds two patents and has eight pending in the areas of anticancer, cardiovascular, diabetes, and anti-inflammatory. These patents are available for licensing. KGK Synergize Inc., Booth 5514.
• Standardized tomato oleoresin contains a high concentration of lycopene. The oleoresin is used as a source of lycopene in functional foods. Additionally, lycopene is a truly natural food colorant, whose coloring ability depends on its concentration, the method of dispersion, and formulation used, says LycoRed BioDar USA, 551 Fifth Ave., Suite 1100, New York,NY 10176 (phone 212-896-4927). See Ingredients Preview on page 46 for more information on lycopene as a coloring.
Lyc-O-Mato® consists of tomato lipids. It contains high concentrations of lycopene, partially dissolved and mostly dispersed in tomato oil, as well as several other important phytonutrients. Several Lyc-OMato products are available. Lyc-O-Mato Fibers 0.8-1.3% are an additive-free, dehydrated, fibrous tomato pulp concentrate produced from selected non-GMO ripe tomatoes. The fibers contain 0.8-1.3% lycopene as well as the whole range of tomato phytonutrients. Lyc-O-Mato 3-5% is a natural tomato extract rich in lycopene, phytoene, phytofluene, beta-carotene, tocopherols, and other important bioactive phytochemicals. Lyc-O-Mato Beads 5% are a microencapsulated product of natural lycopene-rich tomato oleoresin. The beads are standardized to contain 5% lycopene in addition to the other naturally present bioactive phytonutrients. LycoRed BioDar USA, Booth 5305.
• Two new grape seed extracts will be highlighted. A highly dispersible grape seed extract and a high-potency grape seed extract will be introduced by San Joaquin Valley Concentrates, 5631 E. Olive Ave., Fresno, CA 93727-2708 (phone 800-557-0220; fax 559-458-2564; www.activin.com).
Activin GSE-2000-RD is a highly dispersible grape seed extract aimed at beverage applications. Activin GSE-2000-85 is a high-potency grape seed extract containing more than 85% proanthocyanidins (standardized to Gallic Acid Equivalence).
--- PAGE BREAK ---
In addition to these new products, the company will also discuss two recent cardiovascular patents issued for Activin grape seed extract. Patent 6,495,593, "Preventing or Treating Physiological Effects of Cardiac Disease," describes the use of grape seed extract for alleviating adverse physiological effects associated with cardiac disease, including decreased cardiac pressure, decreased aortic flow, and decreased systolic aortic pressure.
Patent 6,500,469, "Reducing Cholesterol Levels," provides for methods of reducing cholesterol levels in hypercholesterolemic people by administering a combination of Activin grape seed extract and niacin-bound chromium.
According to Steve Anderson, Vice President at San Joaquin Valley Concentrates, "these important cardiovascular patents support the further expansion of Activin into functional foods and beverages. They add further scientific credibility to the over 80 published research studies on Activin grape seed extract."
The polyphenol antioxidants found in grape seed extract have long been known to contribute to cardiovascular health. The basis of the French paradox, or why the French have lower incidence of cardiovascular disease despite a diet rich in fats, has been attributed in part to the polyphenols found in red wine. These compounds are extracted from grape seeds during fermentation of red wine. Grape seed extract represents a highly concentrated form of these potent antioxidants. The company produces grape-derived products, including white and red grape concentrate, all-natural red and purple colors, grape skin extract, and grape seed extract. San Joaquin Valley Concentrates, Booth 5533.
• Unique cold spray dry process produces a superior tomato powder. Cold Spray Dried 707 Tomato Powder is 100% tomato and is less hygroscopic than standard Nyro type powders and eliminates the need for flow agents, says Spreda USAObiPektin, P.O. Box 378, Prospect, KY 40059 (phone 502-426-9411; fax 502-423-7531; www.spredausa.com). The tomato powder has better color and flavor due to the lower process temperatures required for this process. The company employs process conditions that conserves almost all the natural lycopene content that has been identified as a strong cancer inhibitor and an aid in preventing cardiovascular disease.
Spreda Tomato Powder is used for dry food preparations such as soups, sauces, ready-to-eat meals, snacks, spice mixtures, as well as for all other products usually containing tomatoes as juice, concentrate, or puree. Spreda USA - ObiPektin, Booth 2222.
BOTANICALS
• A green extract and luo han guo concentrate are new for beverages. Green tea and luo han guo, which add benefits to beverages and foods, are offered by Amax NutraSource Inc., 14291 E. Don Julian Rd., City of Industry, CA 91746 (phone 626-961-6600; fax 626-961-2890; www.amaxnutrasource.com).
Green Power SynerTea™, a green tea patented by Procter & Gamble, is designed for functional beverage and food applications. The extract is water soluble, solvent free, light colored, and flavorless. Luo Han Guo is a P&G–patented fruit concentrate that can be used in beverage and food applications for reduced-calorie benefits and flavor enhancement, and for the diabetic community.
The company is an herbal extractor and cultivator of botanical products. Its manufacturing and operational facilities are GMP compliant and span three continents. It maintains farming operations in seven different countries to guarantee product efficacy and safety. Other new products include USP-tested chondroitin sulfate, magnolia bark extract, jujube extract, custom green tea extracts, and water soluble milk thistle. Amax NutraSource Inc., Booth 1104.
--- PAGE BREAK ---
• Variety of ingredients including botanicals will be featured. Natural botanical powdered extracts, bioflavonoids, and isolated flavonoids for the nutraceutical, wellness, food, pharmaceutical, and cosmetic industries will by showcased by the Arnhem Group's Flavonoid Technology division. Its protein division, Flavex Protein Ingredients, will feature a "Low-Cholesterol Fat" for healthy food systems, and natural antimicrobial and antioxidant compounds for the food and beverage industries. The Arnhem Group, Booth 4604
• New sales literature kit is available for the food and beverage industries. The kit describes products, manufacturing, and R&D capabilities and broad-range services such as custom formulating, manufacturing, filling and packaging offered by Bio-Botanica Inc., 75 Commerce Dr., Hauppauge, NY 11788-3943 (phone 800-645-5720; fax 631-231-7332; www.bio-botanica.com).
Also included is information on the company's extracting, blending, spraydrying, and milling capabilities. The company includes a comprehensive guide on "Common Uses for Botanicals," which serves as a convenient reference tool when formulating food and beverages with botanicals.
Bio-Botanica is a developer and manufacturer of botanical extracts, servicing the food/beverage industries with the highest quality of extracts since 1972. The company offers more than 300 botanical extracts, responsibly wildcrafted and cultivated, in powdered, solid, and liquid forms. Manufacturing is conducted in its kosher-inspected, 140,000-sq-ft state-of-the-art facility, FDA registered, pharmaceutically licensed, and cGMP, GLP, SOP compliant. In-house Quality Control, R&D, and Microbiological Labs ensure proper identification and validation of quality, integrity, and potency of its products. The company is celebrating 30 years of servicing the food and beverage industries. Bio-Botanica Inc., Booth 423.
• Natural extracts are among many company offerings. Natural extracts such as aloe vera, catuaba, guarana, and passion fruit are offered by Duas Rodas International, 755 Rua Rodolfo, Hufen ssler, Jaraguá do Sul, Santa Catarina, Brazil, 8951-901 (phone 55 47 372 9000; fax 55 47 372 9010; www.duasrodas.com).
Duas Rodas Industrial is a manufacturer of extracts and flavors with more than 75 years of a successful history. The company begins the 21st century as one of the largest Latin American manufacturers of raw materials for the food industry. Its product range encompasses many market segments and includes flavors, natural extracts, ice cream ingredients, dehydrated fruits, banana puree, seasonings, and meat additives, among many others. Its commitment to the quality of its products and its concern for nature, has led it to adopt these total quality programs: ISO 9001 and ISO 14001, HACCP System. Duas Rodas Industrial, Booth 2573.
• Japanese trading company brings together suppliers of novel botanicals. Kohki tea and licorice extract from Maruzen Pharmaceuticals Co. Ltd., and garcinia extract and morus leaves extract from Nippon Shinyaku Co. Ltd., will be featured at the booth of Mitsubishi International Corp., 520 Madison Ave., New York, NY 10022 (phone 212-605-2425; fax 212-605-1810; www.micusa.com).
Kohki tea is sold over the counter in Japan as a sweet tea shown to confer many beneficial effects on general health and well-being. It contains strong antioxidants. Several studies have been published indicating the tea's beneficial effects on weight and bladder function, says the company. Licorice extract from Maruzen is thought to have anticaries effect.
--- PAGE BREAK ---
Garcinia extract from Nipon Shinyaku Co. Ltd. contains hydroxycitric acid (HCA), which is thought to inhibit the metabolic pathway from glucose to body fat. According the company, morus leaves extract has been found to inhibit alphaamylase and alpha-glucosidase activity. It is popular in Japan as an herb impeding absorption of carbohydrates. Mitsubishi International Corp., Booth 3352.
• New beverage will feature innovative functional extracts. The company's product designers will introduce a new generation of drinks. Their focus is on soft drinks with antioxidative characteristics from green tea, hibiscus, grape seed, rooibios, and other plant extracts, according to Plantextrakt Inc., 2 Sylvan Way, Parsippany, NJ 07054 (phone 973-683-1411; fax 973-683-0177; www.plantextrakt.com).
As part of the Martin Bauer Group, the company produces tea extracts, instant teas, herbal extracts, plus green and black decaffeinated teas for the food and beverage industry. It has a nationwide network of warehouses for expedient service to customers. It has sources of raw materials from 95 worldwide cultivation areas with more than 400 plant species. Agricultural areas are closely supervised and follow Good Agricultural Practices. All products are GMO-free. Plantextrakt Inc., Booth 3074.
DAIRY-BASED INGREDIENTS
• A variety of dairy ingredients are among highlighted ingredients. Acid and rennet casein, sodium, calcium and potassium caseinates (extruded, roller, and spray dried), WPC 80-85, and MPC 42-85 are offered by Austrade Inc., 2875 S. Ocean Blvd., Palm Beach, FL 33480 (phone 561-586-7145; fax 561-585-7164; www.austradeinc.com).
Austrade, Inc. is the appointed North and Latin American representative for Agrana AG from Austria and Dairyfood GmbH from Germany. Upon demand, the company also provides specialty dairy and milk protein blends from Europe. In addition, the company provides imports and markets primarily certified non-GMO potato, corn, and waxy maize starches, corn syrups, corn syrup solids, maltodextrins, and dextrose monohydrate manufactured by Agrana in Austria (see Ingredients Preview on page 46). Austrade Inc., Booth 2582.
• Dairy ingredients offered by Irelandbased company. The ingredients include casein and caseinates, a variety of whey derivatives, milk powders, and the "Gaelac" range of customized dairy blends, which are offered by Dairygold Food Ingredients, West End, Co Cork, Ireland (phone 353 22 21592; fax 353 22 21279; www.dairygold.ie).
New product offerings include rennet casein, acid casein, sodium caseinate, milk protein concentrates, demineralized whey powders, and high-gelling whey protein concentrates (35–45% protein). Dairygold Food Ingredients, Booth 5525.
--- PAGE BREAK ---
• Whey protein isolates, alpha-lactalbumin, and glycomacropeptides are offered. The company's whey protein isolate, BioZate has been shown to reduce hypertension, according to Davisco, 11000 W. 78th St., Ste. 210, Eden Prairie, MN 55344 (phone 952-914-0400; fax 952-914-0887; www.daviscofoods.com).
BiPro® is a high-quality whey protein isolate produced through a selective ion exchange process. BiPro has the highest reported Protein Digestibility Corrected Amino Acid Score of 1.14. The fat and lactose levels are less than 1%. BioPure-Alpha-lactalbumin™ is a homogeneous, free-flowing, semi-hygroscopic light cream colored powder. BioPure-GMP® (glycomacropeptide) is a casein-derived whey peptide. Davisco, Booth 940.
• Dairy proteins include caseinates, whey proteins, and dairy powders. Farbest-Tallman Foods Corp., 160 Summit Ave., Montvale, NJ 07645 (phone 201-573-4900; fax 201-573-0404) offers vitamins, carotenoids, nutritional premixes, soy proteins, crystalline fructose, specialty sweeteners, and liquid systems. The company also provides custom manufacturing services, which include milling, dry blending, and liquid blending. Farbest-Tallman Foods Corp., Booth 2117.
• A whey protein isolate extends shelf life of nutritional bars. A continuing challenge with nutrition bars has been reduced shelf life due to the hardening of the bars. The addition of Barflex as a sole protein or as part of a blend, significantly improves the texture, allowing increased shelf stability and improved consumer acceptability, says Glanbia, 523 6th St., Monroe, WI 53566 (phone 608-329-2800; fax 608-329-2828; www.glanbianutritionals.com).
Salibra 700 is a bioactive whey fraction produced using a unique selective membrane transfer system. It is a 100% whey product targeted at the Health and Wellness market due to its unique protein and fat composition. Salibra contains a number of components that work together to promote a healthy intestine as well as provide support to the immune system. These components are immunoglobulins, lactoferrin, and growth factors.
Glanbia Nutritionals offers an extensive range of nutritional solutions. Glanbia develops key nutritional and condition specific solutions that address today's major health concerns, such as weight management, bone health, intestinal health, cardiovascular health, performance, and immune enhancement. Product range includes Provon whey protein isolate, TruCal milk minerals, Bioferrin lactoferrin and Salibra bioactive concentrate. Glanbia, Booth 1562.
• Ingredients offer protein fortification. Natural whey proteins and dairy-derived ingredients from fresh, white, pure Italian cheese whey are offered by Grande Custom Ingredients Group, 301 E. Main St., Lomira, WI 53048 (phone 920-269-7188; fax 920-269-1445; www.grandecig.com). Applications for these include protein fortification of beverages, bars, and meal replacement products in the sports, nutrition, and weight-management industries.
New product offerings at the show include Grande Ultra nutritional whey proteins, which include grade A, agglomerated, hydrolyzed, and low-lactose products. New applications include nutritional fortification, flavor enhancement, and quality improvement. Grande Custom Ingredients Group, Booth 2765.
--- PAGE BREAK ---
• Dairy-based food ingredients display diverse functional and nutritional properties. These properties, which can be manipulated to meet specific customer needs, permit the ingredients to improve texture, flavor, and nutritional balance in a wide variety of food systems, says Irish Dairy Board, 825 Green Bay Rd., Suite 200, Wilmette, IL 60091 (phone 847-256-8289; fax 847-256-8299; www.idb.ie; www.idbusa.com).
The company is an international exporter of Irish dairy products, servicing the needs and quality demands of customers worldwide. The product range includes casein/caseinates, milk powders, whey products, specialty milk protein products, and specialty food ingredient blends. Irish Dairy Board, Booth 2925.
• Whey protein isolate is added to new nutritional line of milk protein products. Prolacta 90 Whey Protein Isolate will be introduced by Lactalis Industrie USA Inc., 2376 S. Park Ave., Buffalo, NY 14220 (phone 888-LACTALIS; fax 716-827-9728; www.liusa.com).
The company, a division of Sorrento Lactalis Inc., is the exclusive representative for BBA, Scerma, and Sorrento Lactalis milk protein products. From its European "Lactalis Industrie" factories, the company offers quality milk protein and mineral products. The Scerma trading division offers products from a number of other suppliers to meet a wide range of price and quality requirements in both food and industrial applications. The U.S.-based Sorrento Lactalis factories offer Sweet Whey Powder and Whey Protein Concentrate 80%. Lactalis Industrie USA Inc., Booth 2877.
• Caseinates and milk protein compounds will be showcased. Specific caseinates for a variety of applications are produced by using state-of-the-art technology by Lactoprot USA Inc., P.O. Box 7, Blue Mound, WI 53517 (phone 608-437-5598; fax 608-437-8850). Modern blending facilities are available, enabling the company to produce tailor-made products with a characteristic functionality. Technical and commercial support are also available. Lactoprot USA Inc., Booth 332.
• Whey protein isolates and whey protein concentrates are offered. Whey Protein Isolate, Hydrolyzed 80% WPC, and Deproteinized Whey will be featured by Land O'Lakes Inc., 4001 Lexington Ave, St. Paul, MN 55112 (phone 651-481-2061; fax 651-481-2525; www.landolakesfid.com). Other functional dairy ingredients will be featured in the Ingredients Preview, page 46.
The company is an international supplier of dairy ingredients to food processors and snack food manufacturers. It will demonstrate how its dedicated dairy supply stream and extensive experience in dairy research allows it to meet the strictest customer demands, while offering innovative product development capabilities to today's food industry. Land O'Lakes Inc., Booth 4541.
• New whey proteins will be showcased. In addition to new whey proteins, new foodservice products will also be introduced by Lakeland Dairies, Main St., Co Cavan, Ireland (phone 353 49 4364200; fax 353 49 4364219; www.lakeland.ie). The company specializes in milk proteins, milk powders, butter, and UHT products. Lakeland Dairies, Booth 5525.
--- PAGE BREAK ---
• Probiotics will be featured. Shelf-stable, fully documented, turn key probiotic solutions with a global service for gastric comfort, digestion, intestinal flora balance, regularity, and natural defense stimulation will be featured by Lallemand's Human Nutrition and Health Group, 5494 Notre Dame est, Montreal, QC, H1N 2C4, Canada (phone 800-840-4047; 514-251-3606; fax 514-255-6861; www.lallemand.com
In addition to the probiotic strains Rosell-51 and Rosell-11, the company will showcase mineral-enriched yeast (selenium, zinc, iron, chromium), not only a mineral but a source of natural nutrients that no other carrier can provide. The new Bio-Ingredients line will showcase nutritional yeast for vegetarian applications. Lallemand, Booth 467.
• Probiotics available from Japanese trading company. Bifidobacterium longum BB536 is available from Japanese-based Morinaga Milk Industry Co. Ltd., through Mitsubishi International Corp., 520 Madison Ave., New York, NY 10022 (phone 212-605-2425; fax 212-605-1810; www.micusa.com).
The probiotic is used in Japan in many functional foods such as yogurt, chocolates, nutrition bars, infant formulas, and candy. BB536 has beneficial effects on the intestinal environment, diarrhea, cancer, and the immune system, according to the company. The probiotic is also sold in Japan in tablet form for consumer use. Mitsubishi International Corp., Booth 3352.
• Dehydrated dairy products from Mexico. The line of dehydrated dairy ingredients offered by Nutrical S.A. de C.V., Av. Nuevo Leon 108/501, Col. Hipodromo Condesa, Mexico D.F. 06100 (phone 52-555-286-7755; fax 52-555-256-0407), includes skim milk, whole milk, and cream powders, as well as a complete line of highly functional ingredients for specificapplications. Technical assistance and service are also offered. Nutrical S.A. de C.V., Booth 5537.
DIETARY FIBER
• Fiber from chicory root and yellow peas are available. Inulin, oligofructose, and fructose from chicory root, and proteins, starches, and dietary fibers from yellow peas are offered by COSUCRA, Chaussee de la sucrerie 1, Fontenoy, 7643 Belgium (phone 069 446600; fax 069 446622; www.cosucra.com).
COSUCRA is a group of independent, Belgian companies producing natural ingredients, offers claim-related solutions for the healthy food market, technical solutions for meat and vegetarian industries, and solutions for the sweeteners market. COSUCRA, Booth 3752.
• Bamboo-derived fiber expands applications. A 100% all-natural, pure vegetable fiber, which is derived from the fiber-rich components of the bamboo plant, will be showcased by CreaFill Fibers Corp., 10200 Worton Rd., Chestertown, MD 21620 (410-810-0779; fax 410-810-0793; www.creafill.com)
CreaFibe QC is a 100% all-natural, pure vegetable fiber derived from the bamboo plant. According to the company, it is odorless, tasteless, flavorless, completely inert, yet extremely versatile. Combine these features with 99% pure insoluble dietary fiber and you have a noncaloric ingredient that improves the way foods are made. In addition to a new grade of QC Bamboo Fiber, the company will discuss expanded end-use food applications such as cheesecakes, soy milk products, nutritional bars, and more. CreaFill Fibers Corp., Booth 4817
--- PAGE BREAK ---
• Soy fiber offers both health and functional benefits. Soy fiber that contains 92.5% Total Dietary Fiber will be featured by Fibred-Maryland Inc., P.O. Box 3349, LaVale, MD 21504-3349 (phone 301-724-6050; fax 301-722-7131; www.fibred.com).
FI-1 Soy Fiber, a versatile and multifunctional food ingredient, offers enhanced moisture retention and control, shelf life extension, and calorie reduction. Fibred-Maryland Inc., Booth 3716.
• New applications for short-chain fructooligosaccharides and a new functional ingredient for bone health will be unveiled. The new ingredient will complement NutraFlora® short-chain fructooligosaccharides (scFOS) in providing improved mineral absorption, says GTC Nutrition Co., 600 Corporate Cl., Suite H, Golden, CO 80401 (phone 303-216-2489; fax 303-216-2477; www.gtcnutrition.com).
A press conference will be held during Food Expo to provide complete details; however, GTC believes the ingenuity of the blend makes it well worth the wait. The ingredient will be of special interest when formulating for bone health and will include the valuable benefits of NutraFlora, the purest form of scFOS available.
In addition to the exclusive new ingredient, the company will highlight several new applications for NutraFlora: its use to improve the absorption of soy isoflavones, and its use in sports nutrition formulations.
The product has recently been shown to increase the uptake and conjugation of soy isoflavones. This is of particular importance to those eating soy for health benefits, as research has shown that there is a wide variation in individual absorption rates based on gut microflora. Further, the combination of soy isoflavones and NutraFlora was found to increase bone mineral density more than soy isoflavones alone. This new discovery coupled with NutraFlora's ability to increase calcium uptake makes it a strategic ingredient when formulating for bone health.
Another exciting new application is its use in sports nutrition. Its rapid bifidogenic and trophic effects on the colon have valuable kidney-sparing benefits. A significant proportion of urea, a protein metabolism waste product, is diverted to the colon when an effective prebiotic, like NutraFlora, is made a regular part of the diet. The implications for individuals on high-protein diets are tremendous.
GTC will highlight these new applications with prototype samples in their booth. These creative formulations have been developed with the assistance of GTC's award-winning food applications manager, Marcelo Borges de Campos.
Several scientific publications and studies support that as little as 1–3 g of NutraFlora daily will dramatically boost the body's ability to absorb calcium, making it a choice ingredient when formulating for bone health. Because of its composition and positive technical attributes, such as low viscosity, limited Maillard reaction, and low inclusion rates, NutraFlora is a versatile ingredient, elegantly fortifying milk, yogurt, powdered drinks, drink boxes, bottled water, shakes, candy, cereal, baked goods, nutrition bars, ice cream, soup, jams and jellies, baby food, and much more. GTC Nutrition Co., Booth 4922.
• All-natural sugar beet fiber is FDA-approved for all nonstandardized meats. Fibrex sugar beet fiber is used in nutraceutical applications such as cereals and pharmaceutical remedies and for the lowering of blood glucose levels in diabetics, as well as providing all the benefits of a soluble/insoluble fiber, according to International Fiber Corp., 2496 Summeroak Dr., Tucker, GA 30084 (phone 770-492-0360; fax 770-492-0809).
The company is a manufacturer of dietary fibers under the brand names of Solka-Floc functional cellulose fibers and JustFiber vegetable fibers, and custom blends. Organic varieties of Fibrex are also available. International Fiber Corp., Booth 3952.
--- PAGE BREAK ---
• Custom dietary fibers contribute functional and nutritional benefits to a variety of foods. Applications include breads, cheese, pasta, cereals, and pet food, according to J. Rettenmaier USA, 16369 U.S. 131 Hwy., Schoolcraft, MI 49087 (phone 616-679-2340; fax 616-679-2364; www.jrs.de).
Ingredient offerings include Vitacel® Powdered Cellulose, Wheat, Tomato, Oat, Bamboo, Apple, and Orange Fiber, and fiber blends. J. Rettenmaier USA, Booth 758.
• Fiber produced from cornstarch is readily dispersible, tasteless, and a source of high-fiber (90% min DSB). Fibersol-2 is ideal for beverages, including sports drinks and fortified waters, processed foods, baked goods, dietetic foods, fiber supplements, and functional foods, says Matsutani America Inc., 951 Bunker Ln., Decatur, IL 62526 (phone 217-875-9819; fax 217-875-9821; www.matsutaniamerica.com). When it comes to functionality, Fibersol-2 has some very impressive characteristics, including acid and heat stability, low viscosity, clear solution, prebiotic, and high solubility. Matsutani America Inc., Booth 5432
• A soluble dietary fiber enables fiber addition without changing color, texture, or flavor. Benefiber from Novartis Nutrition Corp., 5320 W. 23rd St., St. Louis Park, MN 55416 (phone 952-848-6164; fax 952-848-6169), delivers 80% dietary fiber and works well in beverages, yogurt, cereals, confections, frozen shakes, and numerous other products. Novartis Nutrition Corp., Booth 1122.
• Nutrition bar features insoluble dietary fiber derived from carob pulp. With high levels of polyphenols and a total dietary fiber content of 80%, Caromax™ offers opportunities for increasing fiber content in food products such as nutrition bars, other nutrition products, cereals, dairy, and bakery, according to Nutrinova Inc, 285 Davidson Ave., Suite 102, Somerset, NJ 08873 (phone 732-271-7221; fax 732-271-7235; www.nutrinova.com).
A fruit-and-nut nutrition bar containing 2.5 g of Caromax will be available for visitors to sample the taste and texture of this potentially cholesterol-lowering ingredient. Health studies also point to its cholesterol-lowering potential by reducing LDL cholesterol levels as well as improving the LDL/HDL ratio. Carob fiber can have a positive impact on cholesterol levels. With an excellent water-binding capacity and anti-caking properties, it can prolong a product's shelf life. Other benefits include texture improvement, increased flowability, and enhanced coloring, quality, and freshness. Nutrinova Inc., Booth 1753.
• Inulin and oligofructose provide fiber enrichment, improved digestive health via prebiotics, sugar reduction, and enhanced calcium absorption. A variety of foods such as beverages and baked goods will be on display by Orafti Active Food Ingredients, 101 Lindenwood Dr., Malvern, PA 19355 (phone 610-889-9828; fax 610-889-9821).
Patented Raftilose Synergy 1 has been clinically proven to boost calcium absorption by 20%. Opportunities exist to improve the calcium absorption in dairy and other beverages, calcium containing cereals, nutrition bars, and other foods. The company will have samples of Stonyfield Farm yogurt containing Synergy 1 to show how easily this invisible fiber can be incorporated into cultured products.
Other highlights of the display will include sugar-free chocolate manufactured with Raftiline HP, an inulin product that contains no residual sugars. It improves the flavor, masks bitterness, reduces the cooling effect of polyols, and reduces the laxation effect of polyols. See the Ingredients Preview on page 46 for more information on the functional properties of these ingredients. Orafti Active Food Ingredients, Booth 4118.
--- PAGE BREAK ---
• Drinkable soluble fiber is produced from pure apple pomace. Obipektin Ultra Low Viscosity Pectin (ULV) provides a natural source of drinkable soluble fiber. It is offered through Spreda USA, P.O. Box 378, Prospect, KY 40059 (phone 502-426-9411; fax 502-423-7531; www.spredausa.com).
Pectin ULV offers a unique method of incorporating soluble fiber at high dosage levels in beverages and increases smoothness without a noticeable viscosity increase. The soluble fiber helps maintain health circulatory systems by decreasing blood cholesterol levels and reduces blood glucose levels. Spreda USAObiPektin, Booth 2222.
GRAINS
• Sample a nutrition bar made with brown rice flour, crunchy brown rice, and barley flakes. The all-natural, value-added grain ingredients enhance the wholesome goodness of foods and beverages, says Briess Ingredients Co, 625 S. Irish Rd.,Chilton, WI 53014-0229 (phone 920-849-7711; fax 920-849-4277; www.briess.com).
Grain ingredients improve the flavor, color, texture, eye appeal, shelf life, and nutritional value of health and nutrition bars, granola, baked goods, bagels, cereals, snack foods, crackers, confectionery, ice cream, sauces, gravies, breadings, and batters. Product lines include BriesSweet™ Brown Rice Syrups, liquid and dry malt extracts, malted milk powder, diastatic malted barley flours, nondiastatic malted barley flours, Insta Grains® value-added flakes, flours and grits, and Briess™ toasted grains. All manufacturing plants are approved to produce certified organic malts and ingredients. The ingredients are kosher certified. Briess Ingredients Co., Booth 4417.
• Custom-designed granola bases for cereal, confectionery, and dairy add flavor, texture, and appearance. Other new ingredients include low micro flour for microbiological sensitive food systems and pregelatinized corn flours to enhance piece integrity and strength in cereal and snack applications, says ConAgra Food Ingredients, 8180 Arroyo Cl., Gilroy, CA 95020-7305 (phone 408-846-3341; fax 408-846-3531).
The company's Grain Processing Group provides a complete line of multiuse dry-milled grains, including wheat, oats, corn, rye, and barley products, that are well suited for a variety of food, beverage, and nutraceutical applications. Products are backed by a commitment to outstanding customer and technical support. By focusing on consistency, versatility, quality, and reliability in its products, the company helps customers deliver total value and exceptional. ConAgra Food Ingredients, Booth 1522.
• Wheat, oats, flax, and barley are among many grain ingredient offerings. Consistent quality, quick response, identity preserved and organic grains and grain products that match your specifications are offered by Hesco Inc., 500 19th St. SW, Watertown, SD 57201 (phone 605-884-1100; fax 605-884-1133; www.hescoinc.com). Hesco Inc., Booth 3830.
• New oat flour and organic oat flakes will be introduced. With continued emphasis on health, convenience, and flavor, oats are a popular choice in a variety of food applications. Oat flakes, flour, and bran continue to be formulated into new food applications in a number of categories, including baked goods, ready to eat cereals, health bars, convenience meals, sports and energy drinks, and a variety of organic products, according to La Crosse Milling Co., 105 Hwy 35, Cochrane, WI 54622 (phone 800-441-5411; fax 608-248-2221; www.lacrossemilling.com).
The company is a conventional and organic manufacturer of milled grain ingredients, including oats, wheat, and barley. It offers a full line of oat products, including baby oat flakes, quick rolled oats, regular rolled oats, old fashioned rolled oats, thick rolled oats, whole oat flour, steel-cut oats, whole oat groats, oat flour, coarse and fine oat bran, white wheat flakes, and pearled barley. La Crosse Milling Co., Booth 5506.
--- PAGE BREAK ---
• Rolled oat with 50% soy protein will be introduced. Proti-Oats can be used in energy bars, cereals, baked goods, or any other food product that contains rolled oats, according to Nuvex Ingredients, P.O. Box 158, Blue Earth, MN 56013 (phone 507-526-4341; fax 507-526-2838).
The company is a supplier for extruded inclusions. Whether it's as simple as crisp rice or as advanced as protein or nutraceutical inclusions, it has the manufacturing ability and the R&D prowess to make your new food concept become reality. Nuvex Ingredients, Booth 4513.
• Crisp rice, extruded particulates, rice flours and blends, and soy protein crisp rice will be showcased. Specialized functional grain-based ingredients are also offered by PGP International, div., ACH Food Co., Inc., 351 Hanson Way, Woodland, CA 95776 (phone 530-662-5056; fax 530-662-6074; www.pacgrain.com).
The company's products and services are offered to the baking, confectionery, energy/nutrition bar, ready-to-eat cereal, and prepared food sectors. By using a broad range of technical and manufacturing expertise, it is able to produce high-quality customized products. The facility is also AIB Superior, HACCP accredited, Circle U kosher certified, NFPA-SAFE listed, and QAI Organic Certified. PGP International, Booth 4348.
• Sample exciting new flavors of granola such as chai, green tea, ginger apricot, mocha blast, carrot muffin crunch, and more. These new flavors may also be formatted for use as bar bases and as toppings for a variety of desserts, according to Sovex Foods, 9104 Apison Pike, Collegedale, TN 37315 (phone 877-396-3145 ext. 68550; fax 423-396-3402; www.sovex.com).
The company provides the food industry with granola clusters, toasted oats and grains, and dessert toppings that, when used as cereal, snack inlays, or toppings, create exciting blends and varieties in textures. It specializes in industrial cereal ingredients, granola clusters, private-label cereals, contract manufacturing, customized product creations, flavored toasted grains, Graham pie shells, and research and development assistance. Sovex Foods, Booth 629.
• Flax beverages leverage nutritional benefits. Flaxseed will be showcased in two beverage applications, Tropical Fruit & Flax and VeryBerry Flax & Soy Smoothie, by Pizzey's Milling, Box 132, Main St. S., Angusville, MB, R0J0A0 (phone 204-773-2575; fax 204-773-2317; www.pizzeys.com).
Pizzey's heat-pasteurized BevGrad™ flaxseed integrates easily into liquids and imparts a smooth, silky texture. Containing only 2.2% BevGrad, VeryBerry Flax & Soy Smoothie offers 3.0 g of soy protein, 1.0 g of fiber, 1.2 g of omega-3 fatty acid, and 86 mg of phytoestrogens per 8-oz serving. The company will also introduce its new Flaxseed Beverage formulation manual for product developers.
Flaxseed is one of nature's richest sources of natural omega-3 fatty acids, containing 22% omega-3 fatty acid in the form of alpha-linolenic acid (ALA). Human metabolism converts ALA into the long-chain fatty acids DHA and EPA, as needed. Flaxseed also contains high concentrations of lignan phytoestrogens (1%), dietary fiber (28%), and antioxidants (8,000 Trolox Equivalents/100g).
Health-aware consumers use flaxseed in a wide variety of ways: many purchase whole flaxseed grains, grind them in a coffee grinder, and store the milled flaxseed in their refrigerator. The ground flaxseed is then stirred into juices, yogurts, and hot or cold cereals. Some consumers blend it into smoothies, made with other nutritional ingredients like fruit juices or soy milk. Typical flaxseed applications in product formulations range from 1.0 to 10% by weight.
Pizzey's Milling supplies a variety of stabilized flaxseed ingredients for food, beverage, nutritional product, and supplement applications. It has developed a patent-protected flaxseed milling technology that preserves the integrity and shelf stability of the flaxseed's fiber/lignan matrix. The technology enables the company to guarantee a minimum one-year shelf life for its flaxseed ingredients, with no refrigeration necessary. Pizzey's Milling, Booth 1215.
--- PAGE BREAK ---
NUTRITIONAL FATS
• Innovations in filling fats and zero-trans, non-hydrogenated alternatives will be highlighted. These along with the Cebes, Silko, and Neutresca product lines that fill many of today's new applications, including the fast-growing functional foods and nutritional categories, will be available for sampling and discussion by Aarhus Inc., 131 Marsh St., Port Newark, NJ 07114 (phone 973-344-1300; fax 973-344-9049; www.aarhususa.com).
The company supplies specialty vegetable fats for the food industry. The primary product groups include cocoa butter alternatives, filling fats, bakery fats, margarine fats, zero-trans and non-hydrogenated fats, and frying fats. Aarhus Inc., Booth 3283.
• Innovative oil helps maintain healthy weight. Through a patented process, soy and canola are converted into Enova™ oil, a cooking oil so unique that much of it is burned as energy, not stored as fat. Clinical studies have shown that it can help maintain a healthy weight as part of a sensible diet, says ADM, 4666 Faries Parkway, Decatur, IL 62526 (phone 217-424-5200; fax 217-424-5580; www.admworld.com).
ADM will be showcasing its "Diner of the Future" at this year's Food Expo. The company will be serving a variety of healthy, great-tasting products that feature ADM ingredients, ranging from stirfry, zucchini, and carrot cake featuring Enova oil, to French fries, cakes, and donuts featuring NovaLipids™ low-trans fats, to a lemonade icy featuring Vitamin E 230 Clear™. These products, together with many others, will demonstrate ADM's ability to provide food and beverage manufacturers with great-tasting ingredients that are healthy for consumers. Visitors will also have the opportunity to learn about ADM's extensive line of food ingredients, product research and formulation capabilities, and worldwide transportation network.
The company is one of the world's largest processors of soybeans, corn, wheat, and cocoa. It is also a leader in soy meal and oil, high-fructose corn syrup, and flour. In addition, it is building a position in such value-added products as specialty food ingredients and nutraceuticals. As a leading developer and supplier of ingredients to food and beverage manufacturers. The company is continually looking for ways to improve its processes and products to better serve its customers, now and into the future. ADM, Booth 348.
• Egg yolk phospholipids are used in infant food in Europe. The egg yolk phospholipids were introduced in baby food formula and supported by the FAOWHO's report on "Fats and Oils in Human Nutrition," says Belovo S.A., Zoning Industriel 31, 6600 Bastogne, Belgium (phone 061 240540; fax 061 240541; www.belovo.com). In addition, the company launched its Columbus® eggs endorsed by BNF for its genuine contribution to the fulfillment of COMA's Day Recommended Intake of omega-3 long chain polyunsaturated fatty acids. Belovo S.A., Booth 3752.  
• Phytosterol products include phytosterol esters and free phystosterols. The CoroWise™ line of phytosterol products is derived from all-natural plant sources and is suitable for use in foods, beverages, and dietary supplements, says Cargill Health & Food Technologies, P.O. Box 9300, Minneapolis, MN 55440 (phone 866-456-8873; fax 952-742-7573; www.cargillhft.com).
Phytosterols, when part of a diet low in saturated fat and cholesterol, may help reduce the risk of heart disease by lower ing cholesterol levels. FDA has allowed food companies to make this health claim for phytosterol esters when they are used in certain foods. Phytosterols and phytosterol esters also have been added to a number of other products, such as yogurt and milk. Cargill Health & Food Technologies, Booth 1748. 
--- PAGE BREAK ---
• Organic palm oil has naturally occurring antioxidants and other beneficial phytonutrients. The Palmfruit™ Organic Palm Oil family of products will be introduced by Ciranda-Organic Food Ingredients, 221 Vine St., Hudson, WI 54016 (phone 715-386-1737; fax 715-386-3277; www.ciranda.com).
The naturally derived, neutral flavored oils, certified organic and kosher, offer benefits for organic food manufacturers who want to enhance their product shelf life, nutritional profile, and reduce input costs. Palmfruit Shortening is naturally solid at room temperature without hydrogenation or trans-fatty acids. Ciranda Inc., Booth 4178.
• Medium-chain triglycerides, phytosterols, and phytosterol esters are among many company offerings. Innovative specialty chemicals and nutritional ingredients are supplied by Cognis Nutrition & Heath Group, 5325 S. 9th Ave., La Grange, IL 60525 (phone 708-579-6150; fax 708-579-6152; www.cognis.com).
The company offers top-quality environmentally friendly products extracted from natural raw materials. Cognis Nutrition and Health, a business unit of the Cognis Group, is a global supplier of natural-source ingredients and services for enhanced nutrition and wellness. Science-based ingredients such as vitamin E, carotenoids, phytosterols, alpha-lipoic acid, conjugated linoleic acid, medium-chain triglycerides, and botanicals are provided across five market segments: dietary supplements, functional foods and medical nutrition, pharmaceuticals and healthcare, food technology, and animal nutrition. Cognis Nutrition & Health Group, Booth 4953.
• Cholesterol-lowering plant sterol is applicable for water-based and oil-based foods. The ingredient blocks cholesterol absorption in the intestine and can be formulated in various beverages, cooking oils, salad dressings, and margarines, according to Eugene Science Inc., LG Palace Bldg., 8th Fl, 165-8 Donggyo-Dong, Mapo-Gu, Seoul, Korea 121-754 (phone 82-2-338-9454; fax 82-2-338-6096; www.eugene21.com).
The company focuses on EuChol, the cholesterol-lowering food ingredient, biospecialty chemicals, and nutragenomics, all produced with the help of special biotechnology. It is devoted to putting applied science to good use for health and an affluent life. Eugene Science Inc., Booth 3222.
• Conjugated linoleic acid, phytosterol esters, and policosanol are among ingredients that will be highlighted. The policosanol is extracted from sugar cane waxes, and the company owns two Chinese patents for it, says Guangdong Food Industry Institute, 146 Xin-gang Dong Rd., Guangzhou GD, China 510308 (phone 86-20-84216865; 84215975; fax 86-20-84215839; www.gdfii.com).
The company consists of production plants, a quality department, three R&D departments, productive forces, a quality supervision and inspection station, a key laboratory, and a marketing department. It manufactures a large variety of food ingredients and additives, including sweeteners, dietary fiber, antioxidants, flour conditioners, emulsifiers, nutrients/supplements, and other functional ingredients. Guangdong Food Industry Institute, Booth 3673.
• Soy lecithin phosphatidylserine is thought to improve brain function in both children and adults. It is used as an ingredient for snack bars, biscuits, breakfast cereals, and infant formulation, according to Lipogen Ltd., P.O. Box 7687, Haifa, Israel 31078 (phone 011-972-54-522355; fax 011-972-35-480149; www.lipogen.co.il).
Lipogen phosphatidylserine (PS) is a non-bacterial and non-GMO soy product. Clinical research has shown its importance in brain functions such as cognition, memory, and learning. New data show that it also improves the ability to perform under physical and mental stress. Lipogen Ltd., Booth 3177.
--- PAGE BREAK ---
• Omega-3 marine-based fish oil concentrates are beneficial for cardiovascular, brain, and eye development and health. Marinol C-38 Oil, Marinol Powder, Marinol D-40, and Marinol DHA Powder will be featured by Lipid Nutrition, div. of Loders Croklaan, 24708 W. Durkee Rd., Channahon, IL 60410 (phone 815-730-5208; fax 815-730-5202; www.lipidnutrition.com).
New applications for omega-3 fish oils include crackers, cookies, UHT milk, and nutrition bars. The company is a supplier of lipid-based health ingredients (nutritionally active components of oils and fats). Lipid Nutrition, div. of Loders Croklaan, Booth 2059.
• Japanese trading company offers healthy oils. Four oils from Japanese-based Nisshin Oil Mills Ltd. are available through Mitsubishi International Corp., 520 Madison Ave., New York, NY 10022 (phone 212-605-2425; fax 212-605-1810; www.micusa.com).
Nisshin Diet Oil contains natural medium-chain fatty acids, which are known for their ability to quickly turn into energy after intake. It is based on rapeseed oil. Nisshin Choleste, a blend of rice germ oil and rapeseed oil, contains generous amounts of natural elements found in vegetable germ. Nisshin Vitamin E Up contains generous amounts of natural vitamin E. One tablespoon contains 10 mg of natural vitamin E. The oil also includes lignan, which is found in sesame seed and acts a as a natural antioxidant. Nisshin Shibousan Balance, which has a corn oil and rapeseed oil base, contains a balance of natural fatty acids required by the body. Mitsubishi International Corp., Booth 3352.
• Sunflower oil has a healthful fat profile. It offers great taste, superior performance without hydrogenation, low saturates, and no trans fat, all in a natural, non-biotech product, according to National Sunflower Association, 4023 State St., Bismarck, ND 58503 (phone 701-328-5105; fax 701-328-5101; www.sunflowernsa.com). Initial results will be available from a Penn State study on a NuSun sunflower oil diet. Information will also be available on nutritious sunflower kernels loaded with vitamin E, other important nutrients, and phytochemicals. National Sunflower Association, Booth 2972
• Omega-3-rich oil will be featured in a beverage and nutrition bar. A vegetarian source of omega-3 polyunsaturated fatty acid (docosahexaenoic acid, DHA), DHActive™ will be showcased by Nutrinova Inc., 285 Davidson Ave., Suite 102, Somerset, NJ 08873 (phone 732-271-7221; fax 732-271-7235; www.nutrinova.com).
The DHActive nutrition bar contains 220 mg of DHA. Containing a higher percentage of DHA, without the environmental contaminants found in some fish oils, this health ingredient offers significant sensory advantages over DHA extracted from coldwater fish, says the company. A number of scientific and clinical studies have proven the potential of dietary DHA to protect against cardiovascular diseases, as well as attenuate associated risk factors. Furthermore, there are several indications that DHA may promote the development of the brain, heart, and retina. The company will also be featuring its Sunett® sweetener (see the Ingredients Preview on page 46) and Caromax™ dietary fiber (see the Dietary Fiber section on page 106). Nutrinova Inc., Booth 1753.
--- PAGE BREAK ---
• Fish oil source of omega-3 longchain essential fatty acids has direct FDA GRAS approval. The American Heart Association recommends regular consumption of omega-3 essential fatty acids in daily diets. OmegaPure™ is easily incorporated in current formulations and offers simple, clean labeling opportunities, says Omega Protein Inc., 1717 St. James Pl., Suite 550, Houston, TX 77056 (phone 877-866-3423; fax 713-940-6122; www.omegapure.com).
OmegaPure is a tasteless, odorless, organic, and kosher product developed specifically for use as a direct food ingredient to add omega-3 fatty acids to a variety of products. It provides excellent performance in applications such as baked goods, beverages, candy and gum, cereals, condiments, dairy products, desserts, fish and meat products, fats and oils, pasta, snack foods, soups and sauces, and sugar and sugar substitutes.
Omega Protein is the largest U.S. processor and manufacturer of heart-healthy fish oil and fish meal products derived from menhaden, a non-food species of fish abundantly available in the U.S. Gulf of Mexico and along the mid-Atlantic Coast. Omega Protein Inc., Booth 3963.
• Plant sterol and plant stanol esters will be featured. Raisio Life Sciences, 325 Deming Way, Summerville, SC 29483 (phone 843-873-3007; fax 843-873-3545) is a pioneer in the functional food industry, and its plant stanol ester is the cholesterol-lowering ingredient in Benecol foods.
The company continues to be an innovator in the development of new and improved heart-healthy products and specializes in the production of high-quality plant stanol ester and plant sterol ester. It is expanding into the food diagnostics sector and will soon be able to offer analytical systems, diagnostic equipment, and reagents for monitoring the quality and safety of food and animal feeds. Raisio Life Sciences, Booth 2213.
• Company forms Food & Health Specialties business group to enhance its services. The new group features dedicated sales, marketing, and technical resources, and offers an expanded product line of emulsifiers, solvents, release agents, and healthy lipids, says Stepan Co., 100 W. Hunter Ave., Maywood, NJ 07607 (phone 201-712-7642; fax 201-712-7648; www.stepan.com).
The company features Neobee® medium-chain triglycerides and structured lipids that provide a readily absorbed, low-calorie fat source for use in foods designed to promote quick energy and other nutritional benefits. Also offered is a versatile line of emulsifiers that includes Drewmulse® mono- and diglycerides, Stepan® fatty acid esters, Drewpol® polyglyceryl esters, and Wecobee® triglycerides. Stepan Co., Booth 3342.
• Sunflower butter offers healthy alternative to peanut butter. SunButter™ has 68% of vitamin E needs in one serving, according to Sungold Foods, 501 42nd St. NW, Fargo, ND 58102 (phone 701-492-4392; fax 701-282-5325; www.sunbutter.com).
The product is produced in a peanutfree facility and contains no peanuts or tree nuts. The company is a subsidiary of Red River Commodities, Inc., which has been a processor of raw and roasted sunflower for more than 20 years. Sungold Foods, Booth 3077
--- PAGE BREAK ---
• Information will be available on a new soybean oil. The new mid-oleic soybean oil, Qualisoy™, is being tested in a number of commercial applications, and preliminary results will be discussed by the United Soybean Board (USB), 16640 Chesterfield Grove Rd., Suite 130, Chesterfield, MO 63005-1429 (phone 800-989-8721; fax 636-530-1560; www.talksoy.com).
USB will introduce its Qualisoy brand of enhanced soybean varieties by sharing the testing results from one of the first products resulting from its Better Bean Initiative. This new soybean variety is the first step toward providing value-added soybean varieties to the food and feed industries, which is the primary goal of the initiative. United Soybean Board, Booth 2526.
PROTEINS
• Gelatins and hydrolyzed proteins offer protein fortification and joint and bone support. The functional benefits—binding, taste and texture enhancement, and sugar reduction—will also be highlighted by Gelita, the Gelatine Group, PO Box 927, Sioux City, IA 51102 (phone 712-943-1636, fax 712-943-1644). Gelita, the Gelatine Group, Booth 4738.
• Gelatin, flavors, and fragrances will be highlighted. The ingredients are offered for the food, pharmaceutical, and nutraceutical industries by GMI Products Inc., 1301 Sawgrass Corporate Pkwy., Sunrise, FL 33323 (phone 954-233-2500; fax 954-233-1681; www.gmi-originates.com). Distribution includes domestic, international, and import/export services. GMI Products Inc., Booth 1973.
• New nutritional technologies for the functional bar market. Kerry Xbars, the new energy bar initiative, will showcase several unique technologies for functional bar markets. The bars will be showcased by Kerry Proteins, 100 E. Grand Ave., Beloit, WI 53511 (phone 608-363-1332; fax 608-363-1670). Feature products include protein-enhanced chocolates, extruded crisp grains with omega-3 fortification, and nutritionally enhanced, no-sugar-added chocolate bites. Kerry Proteins, Booth 2348.
• Hydrolyzed collagen can be easily absorbed and digested within the human body. GCP-1000 is mainly used as an ingredient for nutritional supplements such as protein bars and drinks, and products for weight loss, beauty, and overall body health, says Nitta Gelatin NA Inc., 201 W. Passaic St., Rochelle Park, NJ 07662 (phone 201-368-0071; fax 201-368-0282; www.nitta-gelatin.com). The product is easily soluble in hot and cold liquids and perfect where traditional gelling ability is not required.
The company is a manufacturer of natural edible gelatins for the food, pharmaceutical, and photographic industries, as well as hydrolyzed collagen. It also manufactures natural collagen casings for various sausage and meat snack applications. Nitta Gelatin NA Inc., Booth 2473.
--- PAGE BREAK ---
• Applications will highlight emulsification properties and nutritional benefits of pea protein. Parrheim's non-GMO natural pea ingredients include protein, fibers, and starches, according to Norben Co., 38052 Euclid Ave., Willoughby, OH 44094 (440-951-2715; fax 440-951-1366; www.norbencompany.com). The company will also showcase PTX Food Corp's line of flavor enhancers and natural preservatives. Norben Co., Booth 5940.
• A complete range of protein hydrolysates include collagen, wheat, and gelatin. Other products such as proteolytic enzymes, caseinates, soya isolate and concentrate (GMO-free) preparations are supplied by Pangaea, 2962 Saint Malo Cl., Mississauga, ON L5N 1S9, Canada (phone 905-814-0798; fax 905-814-0858; www.pangaeasciences.com). New ingredients that will be highlighted are GMO-free soybean isolate for the meat and nutritional markets, water-soluble shellac, watersoluble menthol, rice protein, and cysteine.
The company is an intercontinental supplier of natural-based and functional bulk ingredients used in the manufacture of cosmetics, food products, and pharmaceutical preparations. It represents a number of companies, including C.E. Roeper GmbH (gums and waxes), Stroever GmbH (shellacs), She Li Food (konjac), and Noveon India (cysteine). Pangaea, Booth 2722.
• Cold-soluble gelatins and collagen hydrolyzates provide protein and functional benefits. The range of Cryogel® and Instagel® cold-soluble gelatins and Solugel® and Polypro® collagen hydrolysates will be featured by PB Leiner, 366 N. Broadway, Suite 307, Jericho, NY 11753 (phone 516-822-4040; fax 516-822-4044; www.gelatin.com).
The cold-soluble gelatins do not require heat to dissolve or activate the gelatin. Thus, combined with excellent flavor release and great mouthfeel, they are ideal for dessert, mousse, and other dairy applications. The collagen hydrolysates are available as cold-soluble spray-dried powder or clear amber liquid and are well suited to the development and formulation of protein beverages and energy bars. Multifunctional, they provide a source of high-quality purified protein in addition to providing a soft texture and extending the shelf life of nutrition bars. The collagen hydrolysates are also an excellent source of protein for dietary supplements.
PB Leiner, the result of the strategic acquisition of Leiner Davis Gelatin by PB Gelatins, is a manufacturer of pork skin, beef hide, and bone gelatins for use in the food and other industries. The combination of technical resources and customer support enables the company to provide high-quality specialty products such as cold-soluble gelatins and collagen hydrolysates in addition to its traditional gelatin products. Products are manufactured from high-quality raw materials to strict quality standards at ISO 9000 certified facilities. PB Leiner, Booth 1928.
• Fish collagen hydrolysate is designed for applications where a non-mammalian protein is preferred. Peptan F can be used for food, cosmetic, and nutraceutical applications, according to Protein Products Inc., 76 Carlton Ln., North Andover, MA 01845 (phone 978-689-9083; fax 978-975-4325).
The company produces and markets high-quality collagen hydrolysates for use in food, cosmetic, and nutraceutical applications. Good solubility and flavor characteristics are important for high-protein formulations like bars and diet drinks. Protein Products Inc., Booth 3570.
--- PAGE BREAK ---
• New hydrolyzed gelatin is tasteless, odorless, and of exceptional clarity. It will be featured in a protein nutritional drink. Rousselot™ Hydrolyzed Gelatin APC is agglomerated to provide rapid dispersal and dissolution even in cold water, says Rousselot Inc., P.O. Box 0234, Waukesha, WI 53187 (phone 888-455-3556; fax 262-650-8456; www.rousselot.com). Suggested applications for the gelatin include sports drinks for increasing viscosity and added protein, nutrition bars for both binding and added protein, and as a binder for tabletting operations. Rousselot Inc., Booth 3913.
• Gelatin information and technical support are drawn from 75 years of service. All types and grades of edible and pharmaceutical gelatin are available from Vyse Gelatin Co., 5010 N. Rose St., Schiller Park, IL 60176-1023 (phone 847-678-4780; fax 847-678-0329; www.vyse.com). The company also supplies pork skin, beef skin, beef bone, and fish hydrolysates. Vyse Gelatin Co., Booth 1963.
SOY
• More than soy, fenugreek, and flax is offered. Natural and synthetic antioxidant solutions, release agents, lubricants, bakery dough improvers, vitamin/mineral enrichment blends, additives and processing aids, stabilizers, gelling agents and emulsifiers, SoyLife, LinumLife, FenuLife, and other organic and non-GMO certified ingredients are supplied by Acatris Inc., 3300 Edinborough Way, Minneapolis, MN 55435 (phone 952-920-7700; fax 952-920-7704; www.acatris.com).
Acatris is a new name for a company with more than a century of experience developing solutions for the food and dietary supplement industries. Four sister companies, all part of the Royal Schouten Group, joined their strengths and missions under the Acatris name. Acatris, Booth 2165.
• New enzymatically enhanced instant soy powder has increased bioavailability of the nutrients inherent in soy. A new organic soy isolate type of protein has a very clean and bland taste that solubilizes and blends great with virtually every application whether liquid or dry. These two new products will be introduced by American Health & Nutrition, 3990 Varsity Dr., Ann Arbor, MI 48108-2226 (phone 734-677-5570; fax 734-677-5570).
The enzymatically enhanced instant soy powder, SoyQuick® Nutraceutical is available in both non-GMO and organic versions, and is a quick and easy ingredient addition for virtually all soy nutrition supplement applications. According to Dennis Singsank, company president, "The enzyme hydrolysis technology used to create SoyQuick not only causes the release of nutrients and nutraceuticals for greater bioavailability, but the same process results in a superior taste, mouthfeel, and functionality." He adds, "Just like with all of the powders in the SoyQuick line, SoyQuick Nutraceutical is made from the entire soybean and retains all of the soy nutrition matrix. The company states that many unique factors give SoyQuick its silky smooth and pleasant taste, without the need for any masking agents or flavorings. For making soy beverages, it is simply stirred into water for an instantly dispersible, crisp and clean-tasting, nutritious soy drink with virtually no sedimentation.
SoyQuick ISO 85 is a 100% certified organic soy isolate type protein. It blends in well, has bland flavor, and is high in solubility. A unique, environmentally friendly processing method, developed through years of research by Oleanergie Co. of Quebec, results in the world's highest-protein soy product made without the use of chemicals. The ingredient has a very clean and bland taste that solubilizes and blends great with virtually every application whether liquid or dry," states Singsank. "This new organic isolated soy protein has been in demand for years. We're excited to finally make it available to manufacturers to help them meet all the new USDA organic rules. Under the new FDA health claim for soy protein, SoyQuick ISO 85 will allow organic food manufacturers to use the soy health claim just like their conventional counterparts."
The company also offers an entire line of both non-organic, non-GMO, and certified organic SoyQuick whole soymilk powders. In addition, the company supplies organic and non-GMO non-organic raw soybeans, toasted soy bits and nuts, flour, RBD Soy Oil, SoyTSP™, lowfat soy meal, and soy flakes. American Health & Nutrition, Booth 1961.
--- PAGE BREAK ---
• Soy concentrates and spray-dried soy powders from whole bean are new ingredients to be showcased. Technical support with product application is also offered by Berner Foods Inc., 11824 Main St., Roscoe, IL 61073 (phone 815-623-1722; fax 815-623-1622).
The company is a supplier of foodgrade, whole-bean, full-fiber soy solids. It offers several product formats, including 16% concentrates in tankers, spray-dried soy powders, shelf-stable bottled soy beverage, and gas-flushed dry beverage in 16-oz canisters. The facilities are state of the art, USDA approved, and certified organic. Berner Foods Inc. Booth 3522.
• More than one dozen prototypes will be available for sampling. A wide variety of functional foods will be featured by Cargill Health & Food Technologies, P.O. Box 9300, Minneapolis, MN 55440 (phone 866-456-8873; fax 952-742-7573; www.cargillhft.com). Attendees will be able to taste functional foods from seven application areas:
Bakery/Cereal: Healthful Cookies and Breakfast Cereals. Two cookies and two breakfast cereals will be shown. A low-fat, "better-for-you" oatmeal and raisin cookie and a sugar-free, trans-fat free chocolate-coated cookie that features Wilbur Chocolate's new generation of sugar-free chocolate and TransEND® will be sampled. A low-fat women's flaked cereal that may improve calcium absorption and a heart-healthy corn-based cereal also will be featured.
Beverages: Drinks That Are Soy Tasty. Two beverages will be shown. A refreshing, creamy and cool iced dulce de latte drink will feature Cargill's Prol sse™ soy protein isolate. A woman's bone-health drink will feature Cargill's AdvantaSoy™Clear as a source of concentrated soy isoflavones and Oliggo-Fiber™ inulin.
Bars: For Men, Women, and Children. Three healthy bars will be highlighted. Chocolate chip cookie dough bites with Cargill's Prolísse™ soy protein isolate and calcium offer a nutritious snack for on-the-go children. Key lime pie bars will show how refreshing women's health products can be with a combination of reduced sugar and calories from Wilbur Chocolate's new sugar-free coating and CoroWise™ phytosterols. A men's health bar offers a tasty combination of sweet and savory in a unique trail mix.
Confection: The Shapes of Good Health. An exciting sugar-free coated turtle confection from Wilbur Chocolate that uses Wilbur's new generation of sugar-free chocolate will be featured, along with heart-shaped pudding snacks and a jelly-candy called the Blue Wedgie.
Dairy: Healthy Ice Cream, Yogurt, and Chocolate Children's Drink. A single-serving, women's-health, chocolate ice cream will draw people's attention with a duo-nugget that combines folic acid, Prolísse soy protein isolate, and Oliggo-Fiber inulin. A women's-health, fortified yogurt will feature Cargill's starch, Oliggo-Fiber inulin, Prolísse soy protein isolate, CoroWise™ phytosterols, and calcium. A children's healthy milk chocolate drink also will be shown.
Prepared Meals: Soup and Tacos. A soy-enhanced Thai noodle soup that is ideal for a light meal will be sampled. Mini hard-shell corn tacos with seasoned meat and cheese also will be featured.
Salty Snacks: Pretzels and Chips. A chocolate-filled soft pretzel will feature Prolísse soy protein isolate and TransEND, Cargill's trans-fat free, high-stability canola oil. Samples of a wheat, rye, and soy-based chip and a trans-fat free toasted-corn flavored tortilla chip that contains soy protein isolate will be shared as well.
The following ingredients will be featured in these innovative prototypes. AdvantaSoy isoflavones may promote bone health and reduce the severity of hot flashes during menopause. Ascend trehalose is a unique energy source for the active lifestyle. CoroWise phytosterols reduce the risk of heart disease by lowering cholesterol when part of a diet low in fat and cholesterol. Oliggo-Fiber inulin may help promote a healthy digestive system and help boost calcium absorption. OptaFlex chondroitin may help promote healthy joints.
The company is a developer, processor, and marketer of science-based, health-promoting ingredients for food and dietary supplement industries worldwide. It utilizes consumer insight, regulatory, and scientific expertise to bring customers ingredients that add value to food and beverage products. Cargill Health & Food Technologies, Booth 1748.
--- PAGE BREAK ---
• Reduced-flavor soymilk concentrates and soy fiber are new ingredients that will be featured. Potential applications for these are soy yogurts, soy soft-serve frozen desserts, soy juice beverages, adult nutritional beverages, and dairy and soy combinations, says Devansoy, P.O. Box 885, Carroll, IA 51401 (phone 712-792-9665; fax 712-792-2712).
The company specializes in allnatural, non-GMO, soy ingredients for applications including soymilk, powdered soy beverages, frozen desserts, soy yogurts, smoothies, and many others. Key products include soymilk concentrates, soymilk powders, and soy flours with technical support and product formulations available. Devansoy, Booth 4862.
• A line of textured soy snacks, cereals, and meat replacement pieces feature significant amounts of protein, fiber, and beneficial isoflavones, all from soy. These new ingredients will be highlighted by a wholly owned subsidiary of Zumbro River Brand, Getmor Soybites Inc., 138 W. Front St., Owatonna, MN 55060 (phone 507-446-9097; fax 507-451-3732).
Getmor SoyBites™ Snacks provide 14 g of soy protein/28-g serving. This is 50% of the level of soy protein recommended by the American Heart Association for a heart-healthy diet. The product is high in fiber and low in sugar/starch carbohydrates. It also provides desirable soy fiber and soy isoflavones, including genistein, daidzein, and glycitein. One serving of the snack provides 28 mg of isoflavones. They are available in a variety of flavors, including Herb Garlic, Soy Sauce, and Jalapeño.
Getmor SoyBites Cereal is an excellent source of soy protein, providing up to the recommended level of 25 g/day in a 2-oz serving. It contains the soy isoflavones genistein, daidzein, and glycitein and provides a significant level of the daily recommended amount of isoflavones in a typical 1- to 2-oz. serving. It satisfies today's consumer demand for low-carbohydrate foods containing only 1–2 g of digestible sugar per serving. The cereal is available plain or apple/cinnamon flavored and sweetened.
Getmor SoyBites entree pieces have the bite and chew of meat and easily take on flavoring and seasonings. They are available in a variety of shapes and can be used in stir-fry, Stroganoff, and other noodle dishes, rice bowls, seafood-like pasta entrees, pizza, and stews. The entree pieces rehydrate in minutes, are stable to all cooking methods, and even maintain texture when held hot on steam tables. They contain 59% soy protein, 17% dietary fiber, and an excellent isoflavone content. Getmor Soybites, Booth 2060.
• Company features a new development in soy protein technology. Unique soy creations made from all-natural ingredients will be showcased by JSL Foods Inc., 3550 Pasadena Ave., Los Angeles, CA 90031 (phone 323-223-2484; fax 323-223-9882). These will include vegetarian grilled chicken and grilled salmon. In addition, the company will feature a wide variety of fully precooked long and short pasta. JSL Foods Inc., Booth 900.
• Non-GMO soy protein isolate will be introduced. Because of its bland flavor and excellent solubility, Isopro® Soy Protein Isolate is perfect for liquid and dry beverage applications, supplements, nutrition bars, meat analogs, and extruded and baked products, according to Nexsoy by Spectrum Foods Inc., P.O. Box 3483, Springfield, IL 62703 (phone 217-391-0091; fax 217-391-0096; www.nexsoy.com).
Nexsoy® is a complete line of non-GMO and/or organic soy ingredients uniquely made without the use of chemical solvents typically used in soy processing. The line includes Expeller Pressed Soybean Oil, Low-Fat Soy Flour, Textured Soy Protein, Soy Grits, and Soy/Rice Inclusions. The chemical-free process eliminates the usual "beany" soy flavor, which reduces or eliminates expensive masking agents. The Non-GMO and Organic soybean oils are naturally trans-fat free, and, according to the company, are perfect for products being developed or reformulated to minimize trans-fats. Because they are expeller-pressed without chemical solvents, they are naturally stable. The Non-GMO and Organic dry soy ingredients are perfect for applications seeking higher protein claims without the corresponding "soy taste." Nexsoy, Booth 4515.
--- PAGE BREAK ---
• Soy ingredients offer clean taste. Five product concepts featuring clean-tasting technologies will be showcased by Nutriant, 100 E Grand Ave., Beloit, WI 53511 (phone 608-751-216; fax 608-363-1670; www.kerryingredients.com). A yogurt drink will feature a high-protein soy powder, while a vegetarian chili will feature a textured soy concentrate meat analog. Other concepts will include nutritious sweet snacks with a textured soy protein and Solnuts® soy nuts, healthy snack chips featuring a soy concentrate and low-fat flour, and a tasty sour cream dip using a high-protein soy powder. Nutriant, Booth 3148.
• Soy manufacturer changes name. PMS Foods LP has changed its name to Legacy Foods LLC, P.O. Box 1099, Hutchinson, KS 67504 (phone 620-663-5711; fax 620-663-7195).
The company is a producer of soy-based textured vegetable protein products, both flavored and unflavored. The flavored analogs imitate, replace, or extend different types of bacon bits as well as all meats. The unflavored textured vegetable protein, Ultra-Soy, is commonly used throughout the industry. It delivers high-quality protein to a variety of food applications. PMS Foods LP, Booth 558.
• Soybeans are selected for sprout, natto, soymilk, and tofu. Non-GMO, food-grade-quality commodities are supplied by SB&B Foods Inc., 15681 35th St. SE, Casselton, ND 58012 (phone 701-347-4900; fax 701-347-4462; www.sb-b.com). The company also offers wheat selected for milling and baking quality. SB&B Foods Inc., Booth 5408.
• Soy protein concentrate, steam-textured soy protein, and soluble soy isoflavones will be featured. Potential applications include meat systems, ethnic foods, and beverages, according to Solbar Hatzor Ltd. and Solbar Plant Extr., P.O. Box 2230, Ashdod, 77121 (phone 972 8 8632111; fax 972 8 8561455; www.solbar.com).
Solcon S fermented soy protein concentrates are designed for industrial meat processes with important yield, gel, and emulsification benefits. Other tested functional properties include stability in stressed conditions, improved yields, enhanced texture, and sliceability.
Bontex steam-textured soy proteins offer a new range of colors and flavors, designed for ethnic food applications, primarily in Thailand. Solgen 10/S soy isoflavones are designed for beverages because of their bland flavor and color profile and are highly soluble.
The company is a manufacturer of soy protein concentrates, functional and textured soy isolates, crude lecithin, and soy isoflavones. The soy proteins are available vitamin-fortified, complying with USDA/FNS requirements for school and other nutritional programs. Solbar Hatzor Ltd. and Solbar Plant Extr., Booth 963.
• New company offers soy protein and lecithin as it focuses on significantly growing the global business in plantbased specialty food ingredients. An innovation formed by DuPont and Bunge Ltd. will debut at the Expo. The Solae Co., P.O. Box 88940, St. Louis, MO 63188-1940 (phone 800-325-7108; fax 314-982-112; www.solae.com) is a developer and marketer of branded, plant-based, specialty food ingredients. With manufacturing operations in four major regions and six technical centers, it offers knowledgeable staff, customer support, and technical capabilities around the world, combining local market insights with global expertise and experience to create customized solutions for the food industry.
At Food Expo, the company will host a symposium focused on soy protein and its role in the emerging weight management opportunity. This symposium includes presentations from industry, consumer, and academic experts on the topic and is scheduled for Tuesday morning, July 15 (see the Soy sidebar on page 120). Company representatives are also scheduled to speak at the New Products and Technologies Session on Monday morning, July 14, about the use of extruded soy nuggets as a technology to enhance shelf life and texture in bar applications.
--- PAGE BREAK ---
At its booth, the company will demonstrate its innovative ingredient technology, market insights, application know-how and nutrition science. Several demonstration products will feature the company's technologies in diverse applications, such as beverages, bars, baked goods, meat, and meatless products and specifically showcase how those technologies can be applied to meet the interests of today's health conscious consumers. The company will also highlights its Solae™ ingredient branding initiative, a consumer trust mark signifying great-taste and nutritional benefits in mainstream, healthful foods.
Initially, global revenues of The Solae Co. are expected to exceed $800 million annually, serving more than 3,000 customers worldwide. The company will focus on significantly growing the global business in plant-based specialty food ingredients, initially addressing soy protein and lecithin, and expanded offerings of products and services that help customers compete and prosper. The company's long-term aim is to incorporate great-tasting, value-added specialty food ingredients into the world's menu in everyday meat products, beverages, cereals, and a wide range of processed foods.
In the new venture, The Solae Co. inherits more than 30 years of scientific expertise and leadership, as its soy proteins are the proteins of choice used in approximately 400 completed or ongoing medical studies centered on proving the health benefits of soy protein. Current areas of study the company is supporting include heart health, women's health, cancer, weight management, and blood pressure management. The Solae Co., Booth 4848.
• Concentrated textured soy protein yields 6:1 upon rehydration. The product, T1 Texture Improver, is non-GMO and is ideal for vegan steak burgers and chicken cutlets or patties, says Soy Tex Inc., 609-615 Eagle Rock Ave., West Orange, NJ 07052 (phone 888-soytex1, 973-243-0800; www.soytex.com). Other applications include soy steak and chicken (strips, cutlets and nuggets), soya gummies, and soy chocolate.
The company is the exclusive distributor of the non-GMO concentrated Textured Soya Protein from Europe. It has 70% soy protein, and is extruded in different shapes of soy buttons, strips, cutlets, nuggets, flakes, and drops. The products are sold under the heading of major food companies in most of the supermarkets across the U.S. and Canada. The company is certified kosher under the B.D.Z. of Jerusalem. Soy Tex Inc., Booth 1859.
• 1,000-mesh soy powders and liquid soy concentrates are new ingredients. A spray-dried alternative is also available from Soylink, A Farm Connect Co., 4301 World Food Ave., Oskaloosa, IA 52577 (phone 641-672-2080; fax 641-672-2180).
The company offers a full line of customized whole-bean, full-fiber soy powders that enhance the quality, performance, and nutritional value of finished food products. Also available are liquid soy base concentrates and spray-dried alternatives. Products are available in fine grind (1,000 mesh) and in organic and non-GMO grades. Soylink, Booth 2965.
• A soy–fruit juice blend, soy–apple will be featured. As part of the hottest category for growth in the soymilk market, soy–apple has the fresh, vibrant flavor of apples along with the beneficial properties of soy, says SunRich Inc., P.O. Box 128, Hope, MN 56046 (phone 507-451-6030; fax 507-451-8201; www.sunrich.com).
The company is a processor and supplier of ingredients including whole grains, soymilk, milled grain products, maltodextrins and sweeteners, and vegetable oils. Vertical integration allows it to monitor the growth of identity-preserved crops used in its organic and non-GMO ingredients. SunRich Inc., Booth 5129.
• Soy-based ingredients range from raw whole soybeans to further-processed soy ingredients such as soy flours, soy oil, and roasted soy nuts. The company's variety-identity-preserved system provides non-GMO verification from seed to finished product, says US Soy, 2808 Thomason Dr., Matoon, IL 61938 (phone 217-235-1020; fax 217-235-1006; www.ussoy.com). It is a complete non-GMO, food grade soybean operation. US Soy, Booth 3522.
--- PAGE BREAK ---
VITAMINS AND MINERALS
• Vitamin and mineral offerings include ascorbic acid, biotin, and calcium carbonate. Hundreds of products from highly qualified manufacturers around the globe are inventoried by Aceto Corp., One Hollow Ln., Lake Success, NY 11042 (phone 516-627-6000; fax 516-627-6093; www.aceto.com).
The company is a premier distributor for nutritional and food and beverage products. Other ingredients offered include amino acids and standardized botanical extracts. The company offers more than 50 years of experience selling chemicals into a variety of markets. Products are stocked in strategically located warehouses, bringing its worldwide supplier base closer to its customers. Aceto Corp., Booth 417.
• Mineral-chelated form of vitamin C does not impart a tart or astringent taste. The ingredient is formulated for beverages and sports nutrition type products, says AnMar Nutrition, P.O. Box 2343, Bridgeport, CT 06608 (phone 203-336-8330; fax 203-336-5508; www.anmarinternational.com).
Because the vitamin C is chelated, Mineralis C™ does not react with other materials in the formulation that would lead to off-flavors or changes in color in the final formulation. It consists of approximately 38% ascorbic acid, 100 mg of calcium, 100 mg of magnesium, 2 mg of manganese, and 100 mg of potassium. It is a white flowable product.
Glucuronolactone is another ingredient that will be featured. According to the company, it is a naturally derived material that is used in sports nutrition drinks, as it eliminates the toxic buildup of products in the body as a result of exercise and thus serves as a detoxifier. It is also known to aid in the metabolism of amino acids, resulting in better utilization of amino acids.
Blending capabilities will also be promoted at the show, including the manufacture of pre-vitamin blends, drink blends (sports, energy, and diet/slimming), flour-enrichment blends, and herbal as well as herbal/multivitamin blends for beverages and functional food products. AnMar Nutrition, Booth 4663.
• Consumers are learning how choline stimulates brain development and enhances memory, improves athletic performance, speeds recovery from exercise, reduces risk of liver disease, and more. Now products that meet FDA requirements can be labeled a "good source" or "excellent source of choline," says Balchem Encapsulates, P.O. Box 600, New Hampton, NY 10958 (phone 845-326-5600; fax 845-326-5717; www.balchem.com).
Vitashure Choline solves choline's taste, odor, and instability problems to cost-effectively fortify virtually any product—infant formulas, yogurt, nutritional drinks, cereals, breads, frozen foods, nutrient bars, supplements, etc.—in higher quantities than ever before. For simple applications, Balchem offers non-encapsulated raw choline.
The Vitashure line is an extensive range of encapsulated vitamins, amino acids, bioactive substances, including probiotics, and other nutraceuticals engineered to deliver maximum potency and uncompromised taste to the wellness industry. From great-tasting chewables to precision dosing, from moisture-resistant nutrients to candy that heals, Vitashure provides unprecedented control over the interactions, flavors, potency, and potential of active wellness ingredients.
Through the protection of encapsulation, Vitashure unlocks the possibilities of virtually any nutraceutical, to help answer the increasing demand for great-tasting and effective functional foods. The company's patented precision release systems offer a new level of consistency, quality, and innovation across your product line. Balchem Encapsulates, Booth 5348.
--- PAGE BREAK ---
• Calcium fumarate has enhanced functional properties. The ingredient is used in calcium-fortified products, as well as in fruits and vegetables, to improve texture, says Bartek Ingredients Inc., 421 Seaman St., Stoney Creek, ON L8E 3J4, Canada (phone 905-662-3292; fax 905-662-8849; www.bartek.on.ca). Sol-U-Cal is the company's proprietary form of calcium fumarate. FDA classifies calcium fumarate as a dietary and nutritional additive. Bartek Ingredients Inc., Booth 2941.
• Vitamin E powder offers faster dispersion without stirring, shaking. Vitamin E Acetate 500 provides beverage producers with rapid and complete dispersion without the need for stirring or shaking, says BASF Corp., 3000 Continental Dr. N., Mount Olive, NJ 07828-1234 (phone 800-527-9881; fax 973-426-5399; www.humannutrition.basf-corp.com).
The new product also has important advantages for food fortification applications, providing outstanding stability and retaining its free-flowing characteristic even in humid conditions.
Laboratory tests have demonstrated the rapid dispersion of the beverage-grade vitamin E product.
"The advantages of faster, complete dispersion are particularly important to instant and ready-to-drink beverage formulations. Faster dispersion saves processing time and cost, and complete dispersion assures beverage consistency and quality," said Barry D. Kaufman, Product Manager, Human Nutrition, BASF Corp.
Food applications, especially dry premixes and wherever water dispersability is necessary, also benefit from the rapid, complete dispersion of Vitamin E Acetate 500 powder. Additionally, the vitamin E powder offers excellent stability in a variety of food applications, and clumping is not a concern because it is less susceptible to humidity. Where other vitamin E powders contain 15% active ingredient, Vitamin E Acetate contains 50% active ingredient. For wider acceptance in the global market, the product is GMO-free and hypoallergenic. BASF Corp., Booth 4152.
• Natural beta-carotene products and probiotics will be highlighted. These innovative ingredients add value in a wide variety of application areas including infant nutrition, sports nutritionals, beverages, dietary supplements, functional and fortified foods, bakery, and dairy, according to DSM Food Specialties USA Inc.-Nutritional Ingredients, 4790 Caughlin Pkwy., #126, Reno, NV 89509 (phone 775-329-2261; www.dsm-foodspecialties.com; www.infantvision.com).
The company has developed a highly-advanced fermentation process for the production of beta-carotene. CaroCare® Natural Beta Carotene products are suited to numerous applications. LAFTI® second-generation probiotics will also be highlighted. DSM Food Specialties USA, Booth 3132.
--- PAGE BREAK ---
• Nutritional systems bring added value to applications. Various vitamins and minerals will be showcased in a number of prototypes by Fortitech Inc., 2105 Technology Dr., Schenectady, NY 12308 (phone 518-372-5155; fax 518-372-5599; www.fortitech.com).
Fortified non-fat blueberry and raspberry yogurt will feature calcium, iron, and vitamins A, C, D, and E. Gumballs in grape, watermelon, cherry, and bubble gum flavors deliver 100% of 11 essential vitamins within only minutes of chewing. Nutrition bars will be packed with a host of ingredients, including calcium, riboflavin, pantothenic acid, zinc, and vitamins A, D, K, B-6, and B-12. A protein drink will be fortified with calcium, iron, and vitamins A, E, B-12, and C.
Fortitech has experienced significant growth around the globe within the last year that has enabled the company to provide a new level of partnership with customers. The worldwide joint venture with BASF provided Fortitech with a critical endorsement of its leadership position within the premix industry and resulted in new facilities and customers in key markets. In July of last year, BASF transferred its customers in South America to Fortitech South America. In September, Fortitech Europe was launched, and Fortitech Asia was recently opened.
Fortitech is also enhancing its free, online nutrition database, FortiSource, at www.fortitech.com to allow for greater product development assistance. The tool allows users to access information on vitamin, mineral, and nutraceutical monographs, health condition and disease states, and nutrient interactions and depletions.
Fortitech is a developer of custom nutrient systems for the food, beverage, and pharmaceutical industries. Premixes allow manufacturers to develop products with a comprehensive selection of vitamins, minerals, amino acids, nucleotides, nutraceuticals, and other specialty ingredients. Fortitech's custom nutrient systems offer process efficiencies and unsurpassed quality and consistency, while assisting manufacturers in differentiating products and meeting desired label specifications. Fortitech, Booth 4351.
• Highly bioavailable enriched mineral products make it easy to boost the nutritional value of foods and beverages. The products answer the demand for innovative and differentiated products that provide consumers with convenient, highly bioavailable supplements for foods, beverages, and dietary supplements, says Gadot Biochemical Industries Ltd., 1440 Hicks Rd., Rolling Meadows, IL 60008 (phone 847-259-1809; fax 847-259-6984; www.gadotbio.com).
Calcium citrate, magnesium citrate, and zinc citrate, as well as highly soluble forms of these minerals (Gadocal+, Gadomag+ and Gadozinc+), are available in various granulations for the easiest and most effective incorporation into your product. All products are GMO-free and can be kosher certified for Passover upon request. Applications include juices, baby foods, dairy products, soy milk, soups, health foods, energy bars, cereals, pet foods, and nutraceuticals. Gadot Biochemical Industries Ltd., Booth 522.
--- PAGE BREAK ---
• Food and confection products will illustrate the functionality and health benefits of a mixed tocopherols antioxidant system, beta-carotene, choline, pea fiber, pea starch, pea protein, and nutrients. A comprehensive line of antioxidants, food additives, functional food ingredients, and nutritional/healthy ingredients is provided by Helm New York Inc., 1110 Centennial Ave., Piscataway, NJ 08854 (phone 732-981-1160; fax 732-981-0965; www.helmnewyork.com).
Mixed tocopherol systems are unique systems of base products, concentrates, and blends with other antioxidants. Betacarotene is provitamin A and a color source for food and beverages. The powder form is in a non-gelatin carrier. Choline bitartrate and choline chloride are sources of choline. Pea fibers not only provide a source of dietary fiber but also offer excellent water-holding capacity, freeze-thaw stability, and functions to retain moisture and prevent staling in baked goods. Pea proteins are an excellent source of protein and do not contain antinutritional factors, gluten, lactose, and cholesterol. Helm New York Inc., Booth 4528.
• Ground calcium carbonate is a cost-effective mineral supplement for functional foods. A naturally pure source of calcium, HuberCAL® can be used in food, beverage, and nutraceutical products, says J.M. Huber Corp., 907 Revolution Corporation, Havre De Grace, MD 21078 (phone 410-939-7343; fax 410-939-7313; www.hubermaterials.com/Consumer/Consumer.asp).
Food products supplemented with calcium include cereals, chocolates and chews, beverages such as soy milk and sport drinks, energy bars, nutritional shakes and beverage mixes, smoothies, beverage meal replacers, and baked goods such as cookies, crackers, muffins.
Huber Engineered Materials, a business unit of J.M. Huber Corp., is global manufacturer of high-performance fortification ingredients and processing agents for use in a variety of food and nutraceutical applications. The company's Controlled Function TechnologySM product modification services include surface and rheology control processes. JM Huber Corp., Booth 4160.
• Calcium lactate gluconate has neutral taste and clarity for calcium enrichment. It is available with a 10 or 13% calcium level, according to Jungbunzlauer Inc., 7 Wells Ave., Newton Center, MA 02459 (phone 617-965-9486; 617-964-2921; www.jungbunzlauer.com). The company is a supplier of citric acid and citric salts as well as calcium and potassium special salts. Additional products include both xanthan gum and glucono delta lactone. Jungbunzlauer Inc., Booth 925.
• Natural seaweed mineral source is harvested from Atlantic coastline of Ireland. The organic calcified seaweed is rich in marine calcium and marine magnesium as well as a range of other natural marine minerals, according to Marigot, Strand Farm, Carrigaline Co. Cork, Ireland (phone 353 21 4378727; fax 353 21 4378588; www.marigot.ie).
Aquamin® has unique functional properties in terms of taste and texture, allowing the manufacturer to use it in a wide range of food and beverage applications while maintaining the integrity of the final product and, more important, the consumer experience of it. The ingredient is also offered to the supplement industry as a natural, vegetarian, and renewable source of marine calcium and other minerals.
According to the company, 2002/2003 has seen Aquamin establish itself strongly in the US supplement industry under the category of "Marine Minerals," as it is 100% natural seaweed-derived minerals. It has also been introduced into chewing gum, bakery and soy milk applications with strong success. The combination of strong consumer awareness and the quality of the final products make it an ideal choice to deliver bone essential minerals to customers. Marigot, Booth 5525.
--- PAGE BREAK ---
• First-time exhibitor will showcase trace-mineral ingredients for the functional food, beverage, and dietary supplement industries. The ingredients have been widely incorporated into more than 1,000 products distributed throughout the U.S., according to Nutrition 21 Inc., 4 Manhattanville Rd., Suite 202, Purchase, NY 10577-2197 (phone 800-343-3082; fax 914-701-0860).
The company's key ingredients and ingredient systems are Chromax® chromium picolinate (GRAS-affirmed), Selenomax® selenium yeast, SelenoPure™ L-selenomethionine (yeast-free), Zinmax® zinc picolinate, Magnemax® manganese picolinate, Zenergen™ chromium picolinate and CLA.
Formulators can make use of Chromax-based ingredient applications to target the 95 million Americans who are insulin resistant, the 108.3 million who are overweight, the 102.3 million at risk for cardiovascular disease, and the 17 million with diabetes, populations in which clinical research has proven Chromax's health benefits.
Chromax chromium picolinate is the dominant ingredient in chromium supplements and quality multi-ingredient formulations. Clinically substantiated as the most efficacious form of chromium, it is backed by more than 35 clinical studies and may hold the key to insulin resistance, a metabolic problem that contributes to obesity, abnormal cardiovascular function, and diabetes.
The ingredient was recently affirmed as Generally Recognized as Safe (GRAS) for use in functional foods and beverages, the sole nutritional chromium form to secure this status at clinically effective doses. Key patented nutritional uses provide regulatory validation for its inclusion in the following food-and-beverage applications: weight loss/body composition, cholesterol control, and blood sugar and carbohydrate metabolism.
The company holds patents covering the uses of chromium picolinate for reducing hyperglycemia and stabilizing blood glucose, increasing lean body mass and reducing body fat, and maintaining healthy cholesterol (lipid) levels. It also has patent protection covering chromium in combination with other nutritional compounds. Nutrition 21 Inc., Booth 5949.
• Food-grade mineral gluconates are among a variety of ingredients offered. Other nutraceutical ingredient offerings include GRAS botanical extracts and GliSODin™, the first orally bioactive superoxide dismutase (SOD), from PL Thomas & Co., 119 Headquarters Plaza, Morristown, NJ 07960 (phone 973-984-0900; fax 973-984-5666; www.plthomas.com). The company offers 50 years of innovation securing reliable, high-quality raw materials for the food/functional food and nutrition industries. It specializes in water-soluble gums and clinically supported botanical extracts and is a onestop resource for application ideas, current industry information, and technical service. PL Thomas & Co., Booth 4066.
• Beta-carotene, mixed tocopherols, lycopene, lutein, and zeaxanthin will be featured. Beta Carotene 10% Yellow Emulsion can be added directly to food ingredients, while mixed tocopherols 95 and 70% liquid and 30% dry are used for protection of food ingredients, according to Roche Vitamins Inc., 45 Waterview Blvd., Parsippany, NJ 07054 (phone 973-257-8185; fax 973-257-8675; www.nutraaccess.com).
The vitamin supplier's product portfolio includes vitamins A, B, C, D, E, K, biotin (vitamin H), and folic acid, carotenoid colors, beta-carotene, apo-carotenal, canthaxanthin and other carotenoid nutrients such as lycopene, lutein, and zeaxanthin. Additionally, the company supplies LC-Poly Unsaturated Fatty Acids and acidulants and have state-of-the-art nutrient blend facilities. Roche Vitamins Inc., Booth 1548
--- PAGE BREAK ---
• Precipitated calcium carbonate has very small particle size. According to Specialty Minerals Inc., 35 Highland Ave., Bethlehem, PA 18017 (phone 610-882-8705; fax 610-882-9846; www.mineralstech.com), the small size (0.7 micron) yields smooth-textured opaque beverages, soy and dairy products, liquid meals, and frozen dairy items. Once in the formulation, ViCALity Albafil exhibits good suspendability, minimizing the settling often inherent in fortified beverages. Applications for ViCALity precipitated calcium carbonate products include nutritional supplements, beverages (powdered, liquid, dairy, or soy), baked goods, snack foods, vitamin/mineral premixes, antacids, and chewable or swallowable tablets.
The company is a global supplier of precipitated and ground calcium carbonate to the food, nutritional, and other industries. The products are high-purity, 40% elemental calcium, and organic. Many particle shapes and sizes meet a formulator's needs. At its booth, the company will offer complimentary bone density screenings. Specialty Minerals Inc., Booth 3877
• Innovative ingredient offers iron fortification of beverages and dairy products. SunActive Fe disperses insoluble iron (ferric pyrophosphate) in liquid formulations without precipitation, iron flavor, or change in color, says Taiyo International Inc., 4700 W. 77th St., Ste. 175, Edina, MN 55435 (phone 952-832-5273; fax 952-832-9897; www.taiyokagaku.com).
SunActive Fe is stable against heat, salt, pH, and oxidation. It is mild on the gastrointestinal system, providing a non-irritating iron fortification with superior absorption properties and bioavailability. It received the Most Innovative Food Ingredient Award at the 1999 Food Ingredients Europe (FIE), the 2002 Industrial Technology Award by the Industrial Research Association, Osaka, Japan, and the NutrAward for Best New Product at Nutracon 2003.
The company will also showcase a new green tea extract, Camellia Ex™ (extract of Camellia sinensis). It is a green tea powder made from high-quality green tea leaves, rich in the characteristic flavor and "umami" effect of the amino acid Ltheanine. Camellia Ex imparts a freshly brewed green tea flavor with a decreased bitterness to ready-to-drink and chilled green tea beverages. Umami, or "fifth taste," is not particularly strong, but conveys a mouthfeel significantly influencing taste perception. It is a signal to the brain of the presence of essential nutrients. Camellia Ex is used in beverages, dairy products, confections, and foods seeking an authentic Japanese green tea flavor. Taiyo International Inc., Booth 1222
• Calcium citrate will be introduced. The addition of calcium citrate provides food and beverage processors another mineral fortification option from Tate & Lyle (A.E. Staley), 2200 E. Eldorado St., Decatur, IL 62525 (phone 800-526-5728; fax 217-421-3167; www.tlna.com). The company's citrate portfolio includes potassium and sodium. Applications for the new calcium citrate include nutritional drinks, yogurts, bakery products, and calcium citrate supplement tablets. See the Ingredients Preview on page 46 for more information on the company's lines of sweeteners and food starches. Tate & Lyle, Booth 142
• Vitamin B-1 market need appears to be increasing. Tianjin Zhongjin Pharmaceutical Co., Ltd., a manufacturer of vitamin B-1 (thiamine hydrochloride and thiamine mononitrate), joined with Premium Ingredients Ltd. to form a new joint venture company called Tianjin Zhongjin USA, LLC, 285 E. Fullerton Ave., Carol Stream, IL 60188 (phone 630-868-0359; fax 630-868-0324; www.zhongjinusa.com). The company's product, VB-1, is a vitamin for the maintenance of normal sugar metabolism and nerve conduction. It is also indicated for food and feed additive and nutritional supplements. Tianjin Zhongjin USA, LLC, Booth 2322
--- PAGE BREAK ---
• Take your vitamins and freshen your breath. B-Quick is a quick-dissolving edible film strip with 600 micrograms of vitamin B-12 and 200 micrograms of folic acid. These fast-dissolving film strips dissolve cleanly on the tongue. There is no need for water to swallow, as there is with pills, according to Watson Foods Co. Inc., 301 Heffernan Dr., West Haven, CT 06516 (phone 203-932-3000; fax 203-932-8266). The company also adds flavors such as mint flavors or candy flavors to the film to freshen breath and provide a pleasant taste. A second film, called PEPPYmint, is a quick-dissolving breath strip that delivers 16 mg of caffeine per strip. The strips are mint flavored and provide a delicious and refreshing energy boost.
Watson manufactures nutrient systems to improve the nutritional value of foods and beverages. Custom vitamin/mineral premixes eliminate the need to scale each ingredient and assures potency. Watson also microencapsulates vitamins, minerals, botanicals, and amino acids to mask odors and flavors while preventing ingredient interactions and increasing stability of the nutrient. The company also produces functional bakery ingredients, ingredients for dietary supplements, betacarotene, and edible films. See the Ingredients Preview on page 46 for more information on the company's edible glitter and natural colors. Watson Foods Co. Inc., Booth 1361
 • DL-panthenol 50% water solution is new ingredient from Chinese company. Granted with ISO9002 and ISO14001, the company has more than 6 years of exporting experience worldwide, says Zhejiang Xinfu Biochemical Co. Ltd., Linglong Economic Area, Linan, Hangzhou, China 311301 (phone 86-571-63759259; fax 86-571-63759260; www.xinfubiochem.com). The company is a manufacturer of panthenol (provitamin B-5) and D-calcium pantothenate (vitamin B-5) in China. Its annual production capacity is 2,500 tons for vitamin B-5 and 500 tons for provitamin B-5. Zhejiang Xinfu Biochemical Co. Ltd., Booth 2876
---
Product Development and Functional Foods
The technical sessions provide the opportunity for both academia and industry to showcase nutritional ingredients in unique prototypes. Several examples will be presented throughout the technical sessions. On Monday afternoon, G.C. Pareja Lobo (paper 60D-1) will discuss a yogurt-based, low-acid, nutraceutical beverage targeted to adults and elderly persons. It contains probiotic bacteria and maca, a natural product thought to have invigorating properties and the ability to treat impotence and overcome fatigue.
On Sunday morning, E.I. Yaseen (paper 14F-11) will present work on the development of a citrus-flavored beverage with at least 4% wheat protein. A consumer panel comparing it to a citrus-flavored soy protein beverage for physical and sensory qualities rated the soy beverage higher in mouthfeel, flavor, and overall liking. Overall liking of the wheat protein beverage was acceptable.
Y.H. The (paper 14F-12) will high-light the development of a wild blueberry soy frozen dessert. The authors created a frozen dessert formulation with soy protein isolate and 8.6% blueberry concentrate with 10% fat content and found that 88% of the consumers in a pilot test indicated that they would like to see this product in the market, suggesting that acceptable blueberry soy frozen desserts could be produced commercially.
A.M. Stark (paper 14F-26) will present work on developing pasta products that would enabling the use of the Food and Drug Administration's heart-healthy claim, using varying inclusions of soy flour and/or soy isolate. The finished product was compared to wheat pasta as a reference.
B.J. Rodriguez-Terrazas (paper 14F-13) will discuss work done to develop an extruded high-dietary-fiber breakfast cereal using oats, wheat bran, and dried nopal cactus leaves. The authors created various formulations and selected the best product based on sensory analysis. Semi-trained panelists selected the product pre-moistened at 22% and with 52.5% of oats and 7.5% of nopal. The reuslts showed that it is possible to include cactus leaves on breakfast cereals to increase the dietary fiber content.
--- PAGE BREAK ---
Regulations
The technical sessions at this year's Food Expo promise to keep attendees up to date on regulations related to functional foods and dietary supplements.
Forum F5 on Sunday morning will focus on the proposed current good manufacturing practices (CGMP) for the dietary supplement industry. On March 7, 2003, FDA issued its 540-page document on CGMP for the dietary supplement industry. The proposed rulings identify some of the issues associated with dietary supplements, such as over- or under-assay of active components, adulteration, and product contamination.
This forum will present the proposed CGMP rulings the industry was asked to respond to. The moderator will present FDA's nine comprehensive questions. For example, FDA may require specific defect action levels of all nutraceuticals. In addition, FDA wants manufacturers of functional foods to document procedures not currently required of food manufacturers. A natural products attorney will discuss the legal aspects of the CGMP proposal and review the possible penalties that IFT members will become subjected to. Furthermore, the attorney will differentiate between the CGMP rules for the dietary supplement industry and the food industry.
Firms most affected by the CGMP proposals include ingredient manufacturers for the functional food and nutraceutical fields. Some of these manufacturers will be on hand to provide their view on the new regulations. To complete the panel, a marketing consultant will present his views on expected market reaction to these proposed rules by retailers and the public in general. R.H. Meer, Engineering & Management Consultants, will moderate this timely forum. Panelists will include R.M. Amin, J.F. Cassens, D.F. Wilkes, and R. Kapoor.
---
Safety of Nutrients and Dietary Supplements
A symposium on Monday afternoon will have several discussions related to acceptable levels of nutrients and the safety of fortifying foods.
C.M. Weaver (paper 55-3) will address the concern related to the narrow gap between requirements and recommended Upper Levels for some micronutrients. It would appear that fortification, in an attempt to eliminate nutrient deficiencies, leads to the possibility of exceeding Upper Levels set by the Food and Nutrition Board. This is relevant for calcium, zinc, niacin, folic acid, and vitamin D. For some nutrients, the Upper Levels for children are below the Daily Value used for labeling. More research is needed to understand the impact of fortification on nutrient intakes.
B.O. Schneeman (paper 55-4) will detail a proposed framework for evaluating the safety of dietary supplement ingredients. This proposal is available from the National Academy Press website at www.napageedu. It includes criteria for use of four factors—data from humans, animals, in-vitro tests, and taxonomy and structure—to categorize and prioritize dietary supplement ingredients with regard to safety issues. The framework was released for comment in July 2002 and is being used to develop prototype evaluations for chaparral, chromium picolinate, glucosamine, melatonin, saw palmetto, and shark cartilage.
--- PAGE BREAK ---
Whey Proteins
When it comes to dairy-based nutraceuticals, whey proteins currently stand in the limelight. Popular in the sports nutrition arena, they add highquality protein to bars and beverages. Whey proteins can even be found in cookies, snacks, and as meat replacers.
A symposium on Wednesday morning will address texturized whey proteins, their applications and functional properties.
C.I. Onwulata (paper 100-3) will discuss product applications for texturized whey proteins. Texturizing whey protein concentrates (WPC), whey protein isolates (WPI), and whey albumin (WA) is believed to increase their utilization, making new ingredients with new functionalities. Extrusion processing texturizes globular proteins by shearing and stretching them into aligned or entangled fibrous bundles. Onwulata will discuss his work creating texturized WPC, WPI, and WA.
M. Niehues (paper 100-6) will further explore extruded textured whey proteins (TWP) and their suitability for use as meat extenders and replacers. TWP allows reduction of fat while maintaining the texture and mouthfeel of a higher fat content. TWP has little or no aftertaste, making it easy to flavor in a formulation, and is a great source of protein for the human body because of its branched-chain amino acids.
C.R. Daubert (paper 100-5) will discuss work on creating modified whey proteins that deliver a thickening performance similar to pregelatinized starch, the functional ingredient in medical thickeners. The work revealed that the thermal gelation of a low-pH whey protein solution could yield a dried powder with starch-like characteristics. The similar rheological properties and stability of the derivatized whey ingredient with those of pregelatinized starches may prove to open the possibility of a protein thickener use in lieu of modified starches in a range of food applications.
---
Whole Grains
Whole grains have been shown to be beneficial for cardiovascular disease, cancer, and obesity. A symposium on Tuesday morning will focus on the nutraceutical properties of whole grains and their incorporation into functional foods.
J.L. Slavin (paper 70-1) will detail potential mechanisms of protection from whole grains. They are concentrated sources of dietary fiber, resistant starch, and oligosaccharides; they are rich in antioxidants, including trace minerals and phenolic compounds, which have been linked to disease prevention; they mediate insulin and glucose response; and they contain many other compounds that may protect against chronic disease, including phytate, phytoestrogens such as lignan, plant stanols and sterols, and vitamins and minerals.
S.J. Bartholmey (paper 70-5) will address health attributes of specific grains, including oats, barley, and wheat. Oats reduce heart disease risk by affecting several risk factors: reduced blood cholesterol, lowered blood pressure, increased satiety, and maintenance of healthy blood flow. Bartholmey speculates that barley is likely to be the next single grain to be approved for lowering the risk for heart disease. Barley also contains high amounts of beta-glucans and is expected to confer health benefits similar to oats. Whole wheat contains >1% soluble fiber and does not have heart-health benefits, but it is an excellent source of insoluble fiber that protects against some cancers.
H. Ward (paper 70-3) will outline challenges that formulators face in incorporating whole grains into food products, ranging from ingredient selection and formulation to changes in processing parameters. For example, whole grains, for the most part, contribute little to the structure of a baked good. As a result, other ingredients must provide adequate structure. Also, the use of whole-grain ingredients typically results in an increased need for water in a dough system. Processing parameters may differ substantially for bakery products produced using wholegrain ingredients.
--- PAGE BREAK ---
Nutritional Fats
Nutritional fats, including plant sterols and stanols, phospholipids, omega-3 fatty acids, and healthful oils, will be addressed throughout the week.
On Monday morning, D.M. Sikorski (paper 44-5) will describe an edible oil containing increased level of diacylglycerols. Differences in metabolic pathways between 1,3 diacylglycerol and either 1,2-diacylglycerol or triglycerides allow a greater portion of fatty acids from 1,3-diacylglycerol to be burned as energy rather than stored as fat. Clinical studies have shown that regular consumption of diacylglycerol oil as part of a sensible diet can help individuals manage their body weight and body fat.
On Tuesday afternoon, PAGE Salo (paper 88-3) will discuss the use of plant stanol esters in lowfat foods. Plant stanols help to reduce serum total and low-density-lipoprotein (LDL) cholesterol levels by partly inhibiting the absorption of both dietary and biliary cholesterol from the digestive tract. The authors attempted to determine the cholesterol-lowering effects of plant stanol esters when added in food products with a low fat content. They found that stanol esters delivered in ready-prepared meal products decreased both serum total cholesterol and LDL cholesterol in subjects with normal to elevated cholesterol values.
Several papers on Wednesday morning will discuss the benefits of structured lipids in functional foods. For example, H.T. Osborn (paper 98-4) will discuss using a structured lipid containing medium- and long-chain fatty acids on the same glycerol backbone as a delivery mechanism for essential fatty acids to improve absorption in nutritional beverages. They will show that a structured lipid synthesized from canola oil and caprylic acid may be suitable for use in nutritional beverages. M. O'Shea (paper 98-6 ) will discuss the use of Betapol, a structured triglyceride in which palmitic acid is predominantly esterified at the sn-2 position. The authors found that Betapol improved the absorption of dietary fat and calcium in infants and will make a case for the substitution of infant formula fat with Betapol.
---
Nuts
A symposium on Wednesday morning will focus on the nutritional aspect of nuts. In the past, attention was placed on the high fat content of nuts, but focus has now shifted to the benefits of nuts related to the nutritional fat content and other nutrients they supply.
N.T. Dunford (paper 97-1) will discuss the association between peanuts and their protective effect against cardiovascular disease. The beneficial effects can be attributed to the lipid-related bioactive compounds naturally present in nuts. For example, most fats in peanuts are mono- and polyunsaturated fats that lower the low-density-lipoprotein cholesterol level. In addition to bioactive fatty acids, peanut oil contains lipid-soluble compounds such as tocopherols, phytosterols, resveratrol, and squalene, which have a number of health benefits for humans.
C. T. Ho (paper 97-2) will focus on the anti-cancer activities of almonds. The researchers will discuss a sphingolipid they have isolated and identified in addition to other phytochemicals in almonds with potential nutraceutical properties. K.G. Lapsley (paper 97-4) will focus on the general nutritional properties of almonds. Research to date has focused on the relationship between almond consumption and cardiovascular disease, diabetes, weight control, allergenicity, and cancer prevention. Lapsley will discuss current research funded by the Almond Board.
F. Shahidi (paper 97-3) will cover the compositional characteristics of hazelnuts. They have a special composition of fatty acids (mainly oleic acid), fat-soluble bioactives (tocopherols and phytosterols), vitamins (vitamin E), minerals, amino acids, antioxidant phenolics, and dietary fiber. Evidence supporting hazelnut's use as a supplement for daily diet planning to reduce the risk of coronary heart disease will be presented.
G.H. Johnson (paper 97-7) will conclude the symposium with information on a proposed health claim for nuts. The author will provide specific information about the health claim, including the amount of nuts that must be consumed to significantly lower serum cholesterol and LDL.
--- PAGE BREAK ---
Soy
The technical sessions would not be complete without any discussions related to soy. And this year promises many soy-related topics, such as soy protein and weight management, soy in product development, and soy isoflavones.
Technical session 68 on Tuesday morning will focus on soy protein and its role in weight management. Recent studies have demonstrated that increased protein intake during weight loss has been associated with increased loss of body fat, sparing of lean body tissue, and reduced blood levels of triglycerides.
D.K. Layman (paper 68-3) will review the current research centered on the benefits of dietary protein in weight-loss diets and will also discuss the potential mechanisms by which increased dietary protein might exert its effect during weight loss, including effects on satiety and other metabolic effects.
J.W. Anderson (paper 68-4) will provide an overview on the research supporting the use of soy protein in weight-management diets. Soy protein has been shown to effectively promote weight loss in individuals on energy-restricted diets. In addition, evidence suggests that a soy-based diet may be beneficial to bone health, particularly for women during the peri-menopausal and menopausal years. During weight loss, individuals are often at a greater risk for bone loss and soy protein may provide a protective effect.
D.J.A. Jenkins (paper 68-5) will discuss soy protein's importance in body weight reduction. Data indicate that protein is a satiating nutrient. Preliminary data suggest that soy protein may have value in increasing the time over which protein exerts its satiating effect.
Soy isoflavones also have potential health benefits, such as anti-cancer and cholesterol-lowering properties. Isoflavones will be addressed in several sessions throughout the week. On Monday afternoon, Y.C. Zhang (paper 60D-26) will discuss work with isoflavones in soy bread crumb and crust, discussing the results of looking at the structural conversion of isoflavones during baking and the biological activity of extracts from soy bread crumb and crust. Zhang and coworkers speculate that heat treatment and yeast fermentation may result in the structural conversion of isoflavones during baking.
On Sunday morning, D. Tsangalis (paper 14E-13) will discuss work on preparing an isoflavone aglycone–enriched soymilk using soy germ, soy protein isolate, and bifidobacteria. The level of isoflavones in soymilk was increased by supplementing with soy germ and then transforming the isoflavone glucosides to bioactive aglycones using Bifidobacterium animalis.
---
Tea
Tea consumption has steadily increased as research reveals certain health benefits of tea drinking.
On Sunday morning D. Rehrah (paper 14E-14) will discuss green tea's ability to lower serum cholesterol and triglycerides. The authors assessed the hypolipidemic effects of a special variety of green tea and determined the mechanisms by which it alters serum lipid profile in male Wister rats. Green tea consumption improved serum lipid profile through reduction in total cholesterol, LDL cholesterol, and trans fats. The coronary heart disease risk ratio was lowered by two-thirds in rats fed high cholesterol and green tea levels. Higher levels of excreted cholesterol and total lipids were observed in rats that consumed tea. This suggests that phytochemicals in green tea may interfere with adsorption/metabolism of dietary fat and therefore could be further investigated as a safe means of improving cardiovascular health.
On Monday morning, D.B. Haytowitz (paper 45I-9 ) will delve into the flavonoid content of black and green tea. The prominent flavonoids in the tea are the flavanols catechin, epicatechin, epicatechin gallate, epigallocatechin, and epigallocatechin gallate and their fermentation products, derived tannins theaflavins and thearubigins.
The researchers will discuss their development of a database on the flavonoid content of teas that will aid researchers in assessing the dietary intake of these compounds. They will also discuss some of the results from their data analysis: Green and black teas contain comparable amounts of total flavonoids, but green tea contains mostly catechins, about 4.5 times that of black tea. As tea leaves are fermented, theaflavins and thearubigins increase, while catechins decrease. Black tea has 95 times more theaflavins and 45 times more thearubigins compared to green tea. Decaffeination reduces total catechins in both black and green tea by about 14 times and 5 times, respectively. All ready-to-drink teas, black, green, or made from powder have approximately a fifth to a tenth of the flavonoids compared to similar teas brewed from leaves or tea bags.
--- PAGE BREAK ---
Functional Foods from Abroad
Europe, Japan, and the United States constitute the biggest markets for functional foods. Sales in the global market are estimated to be reaching $50 billion. While products that promote gastrointestinal health are popular in Japan and Europe, the U.S. has been slow to catch on. U.S. consumers have remained pretty mainstream with vitamins and minerals, soy, weight-loss products, and sports nutrition products.
A symposium on Tuesday afternoon will focus on the Asian functional food market. Y.W. Huang (paper 81-1) will highlight the fact that only Japan, China, and Taiwan have laws to define and regulate functional foods. For example, the Ministry of Health and Welfare in Japan defines a functional food as "a food, not a capsule, tablet, or powder, derived from naturally occurring ingredients; it has a particular function when digested, serving to regulate a particular body process." The law sets eight categories of official functions: maintaining good gastrointestinal function, reducing high blood cholesterol levels, reducing neutral fats, lowering hypertension, reducing blood glucose, improving mineral absorption, cavity prevention, and reducing hyperglycemia. According to K. Shinohara (paper 81-4), those markets now account for more than $4 billion in Japan. Among them, prebiotics and probiotics, peptides, and teas are in the most demand.
The Ministry of Health in China defines "Health (Functional) Food" as "any food possessing the general nature of food, being able to regulate functions of human body and suitable for specific consumer groups, but without any intention for therapeutic purpose." According to X.C. Wang (paper 81-2), more than 4,000 kinds of functional foods are permitted by the Ministry of Health; 60 percent of the commercialized products focus on three physiological functions: immunological regulation, regulating blood pressure, and anti-tiredness.
The Dept. of Health in Taiwan defines "Health Food" as "food with specific nutrient or specific health care effects as specially labeled or advertised, no food aimed at treating or remedying human disease." According to G.C. Yen (paper 81-3), a recent survey indicated that potential products for development in Taiwan include products that reduce weight, delay aging, prevent cancer and osteoporosis, enhance immunity, antioxidant, and modulate blood lipid and cholesterol levels.
In addition to functional foods in Asia, work is being done in Mexico with nutraceuticals such as quince fruit, nopal (cactus leaves), and amaranth. On Monday morning, G. Villegas Ibarra (paper 45J-1) will showcase a quince-flavored ice cream. Quince is a fruit with a high vitamin C content and a large amount of fiber. The ice cream will offer another choice for the consumption of the fruit.
A.G. Villalba (paper 45J-3) will highlight development of a no-pal-based dip created to increase consumption of this fibrous cactus leaf in the Mexican state of Sonora. Of panelists tasting the dip, 83.4% found it to be acceptable in flavor, indicating that the dip may be a means of increasing nopal consumption.
On Tuesday morning, S. Cisneros-Quintero (paper 73-9) will present information on a breakfast cereal made from amaranth-wheat blends. Amaranth grain contains higher levels of proteins (12–18%) than other grains such as wheat, corn, and rice. It also has a higher level of lysine and linolenic acid. Unfortunately, amaranth flour does not contain any gluten, or just traces, so it is necessary to mix it with wheat flour, to produce high-quality foods. Researchers created seven experimental blends with amaranth, wheat flour, and sucrose at different concentrations and combinations.
--- PAGE BREAK ---
First-Time Exhibitors
American Health and Nutrition, Booth 1961.
3990 Varsity Dr., Ann Arbor, MI 48108-2226 (phone 734-677-5570, fax 734-677-5570). See the Soy section on page 118.
Berner Foods Inc., Booth 3522.
11824 Main St., Roscoe, IL 61073 (phone 815-623-1722, fax 815-623-1622). See the Soy section on page 118.
Earthrise Nutritionals, Inc., Booth 1959.
28488 Tollhouse Rd., Tollhouse, CA 93667 (phone 559-855-3804, fax 559-855-3979).
Future-Ceuticals, Booth 2316.
11341 E. Rte 114, Momence, IL 60954 (phone 815-472-3545, fax 815-472-3542).
JSL Foods, Inc., Booth 900.
3550 Pasadena Ave., Los Angeles, CA 90031 (phone 323-223-2484, fax 323-223-9882). See the Soy section on page 118.
KGK Synergize, Inc., Booth 5514.
255 Queens Ave., Suite 1030, London ON N6A 5R8, Canada (phone 519-438-9374, fax 519-438-8314, www.kgksynergize.com). See the Antioxidants section on page 97.
Lipogen Ltd., Booth 3177.
PAGEO. Box 7687, Haifa, Israel 31078 (hone 011-972-54-522355, fax 011-972-35-480149, www.lipogen.co.il). See the Nutritional Fats section on page 112.
LycoRed BioDar, Booth 5305.
551 5th Ave., New York, NY 10176 (phone 212-896-4927, fax 212-896-4927). See the Antioxidants section on page 97.
Maruo Calcium Co., Booth 1977.
6-29 Fukushima 5-Chome Fukushimaku, Osaka 6553-0003, Japan (phone 81-6-6458-9863, fax 81-6-6458-9864, www.maruocal.co.jp).
NSI Leaders Nutrition, Booth 5006.
100 Menlo Park, Suite 306, Edison, NJ 08837 (fax 732-452-1431).
Nutrition 21, Booth 5949.
4 Manhattanville Rd., Suite 202, Purchase, NY 10577-2197 (phone 800-343-3082, fax 914-701-0860). See the Vitamins and Minerals section on page 124.
Soy Tex Inc., Booth 1859.
609-615 Eagle Rock Ave., West Orange, NJ 07052 (phone 888-soytex1, fax 973-243-0800, www.soytex.com). See the Soy section on page 118.
U.S. Soy, Booth 3522.
2808 Thomason Dr., Matoon, IL 61938 (phone 217-235-1020, fax 217-235-1006, www.ussoy.com). See the Soy section on page 118.
Editor's note: See the July issue of Food Technology for additional coverage of Food Expo exhibitors whose information arrived too late for inclusion in this issue.
by LINDA MILO OHR
Contributing Editor
Chicago, Ill.