Athens™ Foods introduced processor-friendly, custom-cut Ready-To-Go Fillo Dough™ in March. The fillo dough sheets are thinly coated with vegetable shortening, then multi-layered and cut into processor-ready sets that are quick and easy to incorporate into automated production lines. The product has a light and flaky texture, is low in fat, and is available in a range of custom flavors. The company also introduced Ready-To-Go Fillo Dough™ Mini Fillo Shells. The pre-baked dough is thinly coated with vegetable shortening and then shaped into mini shells. They come fully baked or par-baked and can also be re-baked. Athens Foods is based in Cleveland, Ohio.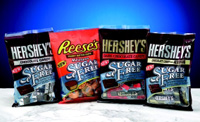 For the first time in its 109-year history, Hershey Foods launched sugar-free versions of its Hershey's® and Reese's® chocolate candies in April. The line featuresReese's Sugar Free Peanut Butter Cup Miniatures, Hershey's Sugar Free Chocolate Candy, Hershey's Sugar Free Chocolate Candy with Almonds, and Hershey's Sugar Free Dark Chocolate Candy. Hershey's Sugar Free brands contain a sugar substitute (lactitol), which is said to be preferable for many people with diabetes whose diet takes the carbohydrate value of products into consideration. Hershey hopes to offer the estimated 17 million people in the U.S. who have diabetes, and those on a restricted carbohydrate diet, an alternative to regular Hershey's chocolate. The products also have about 19% fewer calories. The sugar free products are available in 3.3-oz bags. Hershey Foods is based in Hershey, Pa.
IceBrand Foods Inc. introduced Lobster Splitz™ to its seafood line of products in February. The product features fully cooked Maine lobster stuffed with fresh shrimp and crabmeat. Each case is packed with 15 servings. IceBrand Foods is based in Portland, Maine.
Swift & Co. reintroduced its Swift Premium® line of beef and pork products in March. The products were once sold under the Armour brand label. The new packaging prominently features the bright red Swift "ball" logo and bold Swift Premium name. Swift & Co. became an independent company with a new ownership structure in September 2002. The new Swift Premium portfolio of products includes Guaranteed Tender Pork®, Guaranteed Tender Pork and Beef®–Seasoned and Marinated, Classic™ Beef, and Black Angus Beef®. The company, based in Greeley, Colo., also has plans to introduce a variety of new pork and beef products under the Swift Premium brand over the next year.