Concern about obesity and the high cost of diet pills, supplements, and, ultimately, health care have a growing number of consumers looking for foods that offer a combination of healthy attributes and good taste. The food industry is responding with a wave of new product introductions, particularly in the frozen dessert aisle.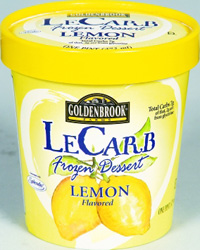 It used to be that when the Baby Boomer generation flexed its marketing muscle, whole new industries were created overnight. Fashion, entertainment, travel, food, and even politics changed with the generation. Ben & Jerry and every other company that markets a super-premium ice cream, for instance, owe a lot to the Boomers. Now a bit older and grayer, the near-retirement-age Boomers still have clout, but it may be more appropriate to say that markets move when they throw their weight around . . . their considerable weight.
It's not fair to lay the blame for America's obesity epidemic—58 million Americans over 20 years old are obese—entirely on the Baby Boomer generation, but its demographic profile and influence on the dietary choices of its offspring make it a good target. Moreover, the epidemic is afflicting this generation more than any other with a staggeringly high rate of Type II diabetes.
The two-edged sword of obesity and its related health problems has goaded an increasingly heated national debate on who and what is to blame—culture, food marketing, affluence, education (or lack thereof), and a technology-based sedentary lifestyle are among the favorite targets. But debates aside, the generation that has always wanted it all, still wants it. Perhaps that's why diet programs and products represent the fastest-growing industry in America today, and one of the least effective in history.
Americans annually spend $33 billion on weight-reduction products and services, including diet foods, products, and programs. As spending on these products expands, so does America's waistline. Most professionals say that what keeps the weight off is a fundamental and permanent change in eating habits and regular, realistic exercise. And Americans may finally be getting the message, which is being hammered in the major media to the tune of some 2,000 stories a month, according to media statistics tabulated by the Grocery Manufacturers of America, Inc. (GMA).
This unprecedented media attention and the high cost of diet pills, supplements, and, ultimately, health care have a growing number of consumers looking for foods that offer a combination of healthy attributes and good taste. Emphasis goes on good taste. And the food industry is responding with a wave of new product introductions, particularly in the frozen dessert aisle.
Increased Emphasis on Fat Reduction
After languishing for more than a decade—sales of reduced-fat frozen desserts were in decline as recently as 2001—processors are now betting on a major resurgence due to better-tasting, reformulated products and better-educated consumers, according to Information Resources, Inc. (IRI), a Chicago-based market research firm.
--- PAGE BREAK ---
This resurgence in reduced-fat frozen desserts is the confluence of two primary factors, according to Gene Grabowski, GMA's Vice President for Communications and Marketing. "First, processors went back to the drawing board and reformulated for taste, and second, we've had an awful lot of attention paid to obesity issues over the last year and you're going to see more of it," he said. "People are looking for a way to indulge without adding extra calories."
This wish isn't new. Back in the late 1980s and early '90s, a new crop of fat and sugar replacers led to a major burst of new, "healthier" frozen desserts, particularly ice cream. Sales spiked and then plummeted because the products just didn't taste, look, or roll around the mouth like the real thing. Many processors were reluctant to tarnish their brand image with inferior products.
Among them was the Good Humor–Breyers Ice Cream Co. "For a long time, sales of fat-free and reduced-fat ice cream were just going down, down, down," explained company spokesperson Lisa Piasecki. "People were just not buying them for the simple reason that they were not living up to what consumers expect from ice cream."
While Breyers has marketed a low-fat Natural Light line for a number of years, it didn't place its brand name on an ultra-low-fat product until the fourth quarter of last year, when the timing of product formulation, consumer interest, and competitive opportunity intersected. Breyers 98% Fat Free vanilla (or chocolate) ice cream has met with considerable success since its introduction, according to Piasecki, and may soon see additional flavors. She attributes strong consumer acceptance to the small amount of butterfat that remains in the formulation. "We left enough cream in the formulation to give it what we call a clean fresh dairy flavor."
Strategically, Breyers determined that the better taste offset the marketing benefits of an entirely no-fat product. In fact, Breyers' ice cream sales, helped by these new products, surged nearly 20% during the 52-week selling period that ended February 23, according to data compiled for Food Technology by IRI. This, while the total retail ice cream market increased a respectable 2.3%, to more than $4.4 billion.
Breyers' proliferation of reduced-fat ice cream continued with the introduction of 2% Milk Light vanilla ice cream last month. Now in national distribution, the product, in one variety, has 4.5 g of fat per serving compared to 1.5 g in the 98% Fat Free product, 3 g in All Natural Light, and 9 g in regular All Natural Vanilla. This gives Breyers four fat levels, at least in vanilla. But the company is banking on consumers to know what they want, and Piasecki sees consumers comfortable with the attributes of a 2%-milk product. In fluid milk, 2% milk is the leading segment and represents 37% of category volume and $3.5 billion/year in retail sales, according to AC Nielsen. Many products now promote formulas based on 2% milk, such as 2%-milk American cheese slices and 2%-milk cottage cheese.
But Fat Is Not the Only Target
Piasecki is quick to stress that fat reduction is not the only objective in Breyers' expanding line of healthy ice cream varieties. It also offers no-sugar-added yogurt and fruit bars, lactose-free vanilla ice cream, and a calcium-enriched vanilla ice cream.
The no-sugar-added products are well positioned for the burgeoning number of persons with diabetes. In addition to relatively low sugar and carbohydrate content, the products also are reduced in fat content. And all ice cream variations are packed in half-gallon containers selling for the same suggested retail price.
--- PAGE BREAK ---
Breyers is not alone, however. Most major frozen dessert producers have introduced new reduced-calorie, -fat, and -sugar products during the past six months, including ConAgra's Healthy Choice ice cream, the segment's pioneering brand. It racked up a robust 5% sales increase for the same 52-week period mentioned above. In fact, Healthy Choice introduced its first line of frozen novelties earlier this year. "Now more than ever, consumers are demanding great taste and nutrition from their favorite foods," stated Healthy Choice Vice President Joe Ennen. The low-fat line includes Strawberry & Cream Bars, and several premium ice cream sandwiches. All products have no more than 3 g of fat.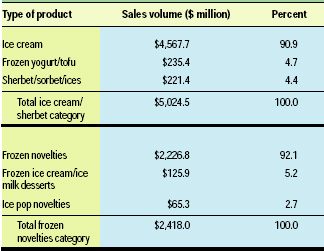 The timing of the Healthy Choice introductions coincides with a torrid frozen novelty market. The $2.34-billion market surged 7.7% for the aforementioned 52-week period, with ice cream novelties accounting for most of the increase.
While new healthy variants account for some of the success, most of the action is due to co-branding. From popular cookie and candy brands to television cartoon characters, branding has elevated consumer interest in frozen novelties. So, too, have new flavors and candy ingredients. Fudge brownie bits, for instance, are currently among the most popular new ingredients.
As this market grows, however, it is colliding with a growing number of Americans who simply cannot eat these products—diabetics. For this reason, no-sugar and no-added-sugar products may be poised to become the next hot category.
Banking on this is Texas-based Berkshire Grocery Co. Its Goldenbrook Farms dairy brand introduced LeCarb frozen dessert nearly two years ago to specifically target diabetics and persons on low-carbohydrate diets. Just don't call it ice cream. While LeCarb is a dairy product and could be labeled ice cream, consumer research indicated that most diabetics avoid any product bearing the name, no matter what the rest of the label says. The line consists of seven varieties, with total carbohydrates of no more than 7 g/serving. Fat content ranges from 6 to 9 g/serving.
While some products are born of market studies, this one was a labor of love and need, according to Fred Calvert, Senior Vice President for Manufacturing and member of the Baby Boomer generation. "My sales manager and I went on a low-carb diet, and we couldn't find anything to eat," he recalled. "So we decided to develop it ourselves.
"LeCarb took about a year to develop because Calvert wanted a premium-tasting product. The key was sucralose. "It would not be possible to make this product with another sweetener," he stressed. "It's the best sweetener that I've come across for processing."
Currently, LeCarb is carried in selected supermarkets and Super Wal-Marts throughout the U.S. in pint containers. In addition, the company sponsors numerous regional charity events targeting diabetics, handing out samples and promotional literature.
The biggest marketing challenge for this mid-sized company is gaining retail exposure. Retailers have been slow to recognize the trend. However, Calvert claims that sales are brisk because consumers are catching on. "There are 16–17 million diabetics, and at any given time there are 60 million people on diets," he said.
Later this year, Calvert plans to introduce additional LeCarb products for which he has applied for two patents, but he declined to tip his hand.
--- PAGE BREAK ---
The market will be even more crowded when he does. Just since the start of the year, the other half of Good Humor–Breyers introduced Klondike Slim-a-bear 98% Fat Free Ice Cream Sandwiches. They're packaged in 4-oz squares like the other popular members of the brand family, but feature only 1.5 g of fat/sandwich. And in March, Carvel Corp. introduced a 98%-fat-free ice cream Flying Saucer sandwich into its 400 retail stores and some 6,000 supermarkets. It competes directly with H.J. Heinz's Weight Watchers Smart Ones, a line of low-fat frozen desserts, and Silhouette Skinny Cow, a low-fat ice cream sandwich that Edy's/Dreyers Ice Cream now distributes to more than 150 supermarket chains in all 50 states.
Combining low fat and no sugar added, Cleveland-based Pierre's French Ice Cream Co. introduced Pierre's Slender Reduced Fat Ice Cream in February. Like LeCarb, Pierre's selected sucralose to sweeten the product, and promotes the Splenda® brand on its packaging. Perhaps the most current introduction comes from Mister Cookie Face, Lakewood, N.J., which introduced Atkins [as in Atkins Diet] Endulge low-carb ice cream in March. It is carried by Safeway stores and features just 4 g of carbohydrates/serving.
Innovations on the Way
Ice cream alternatives such as sherbet, frozen yogurt, and gelato have their following, but don't nearly approach the popularity of the real thing. Total sales for these products for the recent 52-week period were a bit less than $500 million combined. Hence, the incentive to create the ultimate healthy ice cream is compelling.
As the resurgent market for these products gains momentum, look for frozen desserts that incorporate nutraceuticals. While Breyers and several other brands market added-calcium products, research at both Penn State University and the University of Massachusetts is aimed at adding omega-3 fatty acids into ice cream formulations, according to the online journal Icecream zone.com. This, along with reduced fat, no added sugar, and a great taste could take Baby Boomers blissfully into retirement.
There's more innovation on the way, however. In March, Unilever, parent to Good Humor–Breyers and the world's largest processor and distributor of ice cream, unveiled plans to shake up the ice cream market and strengthen its global leadership by boosting its $5.39-billion global ice cream business. The company committed to investing up to an additional 20% in global marketing and development over the next three years, corresponding to a figure of around $108 million. Unilever intends to change the way consumers view ice cream as part of its "Path to Growth" strategy.
Unilever's Joint Chairman Antony Burgmans said, "We are starting from a position of significant strength, having grown our ice cream business by 4% last year. As the global market leader, we identified huge potential for growth within the ice cream industry. With a market share of 17%, there is plenty of room for profitable growth. We have the ambition, imagination, and the confidence to back our plans with significant investment."
One such investment is soft-serve ice cream for the home, something the company calls, "a breakthrough innovation made possible thanks to new Unilever technology." In addition, Unilever is looking into the development of savory ice cream, like curry or cheese. This may play well in some of the world's markets, but don't look for pizza-flavored Breyers any time soon.
More likely will be products catering to specialized niches such as gluten-free products, and soy-based lactose-free frozen desserts.
Taste Is Key
Whether this hot new healthy frozen dessert trend will gain traction or flame out like the last one largely depends on one thing—taste. Getting the fat and sugar out is relatively simple. Removing lactose, gluten, and carbs or adding calcium and other nutraceuticals is possible and economical. But getting the final product to taste like rich, creamy old-fashioned iced cream—that's the challenge.
More than 90% of all U.S. households consume ice cream, and more than 1.6 billion gallons of it—all varieties—were produced in 2001. Combine these facts with the vexing epidemic of obesity and Type II diabetes, and it's no wonder that processors are scrambling to come up with the winning formula.
by Pierce Hollingsworth,
Contributing Editor
The author is President, The Hollingsworth Group, P.O. Box 300, Wheaton, IL 60189.