Last month's Nutraceuticals & Functional Foods section addressed some of the main health issues that affect women, such as breast cancer, osteoporosis, and menopause. A considerable amount of research has focused on women's health, while men's health has seemingly taken a back seat. For example, the Office of Women's Health was established within the U.S. Dept. of Health and Human Services in 1999 to help improve the quality of life for women. In contrast, it was only this year that the Men's Health Act of 2003 proposed to establish an Office of Men's Health within HHS.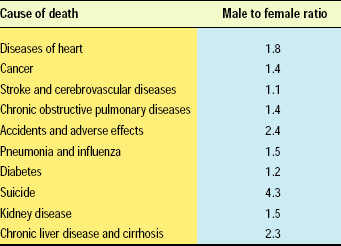 In 1920, the life expectance difference between men and women was one year. Now, on average, men die almost six years earlier than women. In addition, men develop chronic disease earlier in life and have a higher death rate for each of the top 10 leading causes of death (Table 1).
Another interesting fact is that more research dollars have been spent on women's health than on men's health. According to the National Prostate Cancer Coalition, prostate cancer accounts for approximately 30% of all cancer cases in the United States and 11% of male cancer deaths. Yet, on average, only about 5% of federal cancer research dollars have been devoted to beat the disease. Additionally, in 2000, the National cancer Institute spent $424,900,000 on breast cancer research, compared to $190,000,000 for prostate cancer.
HHS and NCI are currently making the effort to reach men and let them know that they need to consume more fruits and vegetables. The two agencies are urging men to "Shoot for 9"—consume nine servings of fruits and vegetables a day. On average, men eat only one-third of the recommended servings. According to a recent national survey conducted for NCI, only 3% of men know they should eat nine servings of fruits and vegetables a day. In this new campaign, HHS and NCI aim to increase men's awareness of this recommendation to help reduce the risk of several diseases, including many cancers, diabetes, high blood pressure, and heart disease.
"Men get heart disease and other major diseases earlier in life than women and do not live as long," said Lorelei DiSogra, director of the NCI program. "If we really want to close the gender gap and help men live longer, healthier lives, we need to let them know about the recommendation to eat nine servings of fruits and vegetables a day."
Fruits and vegetables provide a number of phytochemicals, such as anthocyanins and carotenoids, that are believed to aid in a healthier lifestyle. This article will focus on some specific nutritional ingredients that may play a role in advancing men's health as well. These include flaxseed, soy, lycopene, omega-3 fatty acids, folic acid, and calcium.
Flexing the Flax
Flaxseed is a rich source of lignans, which are phytoestrogens and may thus play a role in influencing both estrogen and testosterone metabolism. Since testosterone may be important in the progression of prostate cancer, lignans could help inhibit the growth and development of the disease. Flaxseed is also a source of omega-3 fatty acids.
--- PAGE BREAK ---
Researchers at Duke University Medical Center have conducted several studies centering on flaxseed supplementation and prostate cancer, using cancer cell lines, transgenic mice, and humans. In the cell line studies, flaxseed lignans inhibited the growth of three distinct human prostate cancer cell lines through hormonally dependent and independent mechanisms. In mice genetically programmed to develop prostate cancer, flaxseed supplementation suppressed growth and development of prostate carcinoma. And prostate cancer patients who adhered to a low-fat (<20% fat) diet supplemented with 30 g of flaxseed/day prior to prostatectomy experienced significant decreases in serum cholesterol and total free testosterone. Furthermore, when their prostate tissue was compared against historic control patients, lower rates of tumor proliferation and higher rates of apoptosis (cell death) were seen.
According to Wendy Demark-Wahnefried, one of the senior researchers, planned clinical trials must be completed before it can be concluded that dietary flaxseed is a useful protective against prostate cancer in humans. Her group is currently conducting an ongoing pilot study examining the effects of a flaxseed-supplemented, low-fat diet on men who have a premalignant condition called High Grade Prostatic Intraepithelial Neoplasia. Future research will be aimed at testing the comparative and potential synergistic effects of flaxseed supplementation (or purified lignans) and dietary fat modification within both cell culture and animal models. They are also seeking additional funding to conduct a larger, randomized controlled trial of flaxseed supplementation and/or dietary fat restriction among prostate cancer patients who elect surgery.
Functional food manufacturers can use flaxseed in beverages, nutrition bars, bakery products, snacks, and cereal. Ingredient forms include whole or milled flaxseed. In addition, lignans can be extracted from flaxseed and used as a high-lignan concentrated powder. Flax oil that touts its omega-3 fatty acid content is also available.
Soy
Soy has also been linked to prostate health. Research presented at this year's American Urological Association meeting suggested that genistein, a soy isoflavone, could reduce prostate-specific antigen (PSA) levels in men with untreated cancer. PSA is a protein produced by the cells of the prostate gland. The levels rise if the gland is enlarged to due to cancer.
Ralph deVere White, professor at the University of California Davis Cancer Center, discussed one of his studies with men afflicted with prostate cancer. His group studied 62 men known to have prostate cancer and elevated PSA levels. They were given 5 g of a dietary supplement containing genistein every day for six months. Sixteen of the men had untreated prostate cancer; they were in the "watchful waiting" group, where the cancer is slow-growing and causing no symptoms. Three had to stop the therapy because they suffered from diarrhea, but eight saw their PSA level fall by 3–61%. The remaining five (38%) saw their PSA levels rise, but de Vere White said that this is a far smaller proportion than in the remaining 46 men who had been treated for prostate cancer, 98% of whom saw a rise.
"It must be interpreted cautiously because the numbers of men enrolled are small." However, he added, "Patients on watchful waiting may do better due to grade of disease or distribution and concentration of genistein within the prostate." The study suggests that genistein could help men at risk of developing prostate cancer, but more studies need to be carried out.
Lycopene
Numerous studies have suggested a reduced risk of prostate cancer from the consumption of processed tomato products. According to the American Dietetic Association, packaged, heat-processed tomato products, such as spaghetti sauce, can deliver over six times more lycopene than the equivalent amount of fresh tomatoes. Lycopene, a carotenoid found in tomatoes, watermelon, papaya, and pink grapefruit, has antioxidant and possible anticarcinogenic activity.
--- PAGE BREAK ---
This past June, natural health products supplier American Longevity, Chula Vista, Calif., filed a petition with the Food and Drug Administration for the use of certain dietary supplement health claims for the relationship of lycopene, tomatoes, and tomato-based products to reduction of cancer risk.
The proposed claims include: "Lycopene may reduce the risk of certain forms of cancer," "Lycopene may reduce the risk of prostate cancer," "Lycopene may reduce the risk of lung cancer," "Tomatoes and tomato-based products may reduce the risk of certain forms of cancer," "Tomatoes and tomato-based products may reduce the risk of prostate cancer," and "Tomatoes and tomato-based products may reduce the risk of lung cancer."
The petition presented to FDA through the Virginia-based law firm of Emord & Associates, presents an evaluation of the scientific studies and clinical trials concerning lycopene's effect on reduction in the risk of certain cancers, prostate cancer, and lung cancer. In the event that the science provided does not satisfy FDA requirements, the company is asking that the claims be permitted with a suitable disclaimer.
In addition to prostate cancer, lycopene has been shown to be a potential male infertility treatment. In April 2003, international scientists gathered to discuss the growing body of research on lycopene at the International Ceres Forum on "Examining the Health Benefits of Lycopene from Tomatoes." The conference was organized by the Center for Food and Nutrition Policy at Virginia Tech and sponsored by the H.J. Heinz Co., Pittsburgh, Pa.
Narmada Gupta, head of the Urology Dept. at the All India Institute of Medical Sciences in New Delhi, India, presented his work showing that a diet rich in lycopene can promote fertility in men struggling with infertility. In his study, 2,000 µg of lycopene was administered twice daily for three months to men with oligo-asthenospermia (severely depressed sperm count). Results showed an improvement in sperm concentration, motility, and morphology. "In part we can conclude that men who have poor quality sperm can benefit from lycopene, and should consider a balanced diet as part of their strategy to reproduce, especially a diet including tomatoes," he said.
This past June, LycoRed Natural Products Industries, Israel, announced that its lycopene ingredient, Lyc-O-Mato®, was self-affirmed as Generally Recognized as Safe (GRAS). This opens the door for unique lycopene-fortified functional foods, such as breads, cereals, beverages, and processed meats. Lyc-O-Mato tomato oleoresin contains lycopene and other beneficial phytonutrients, including carotenoids and tocopherols.
The company has also submitted to FDA a color additive petition for the ingredient and is expecting to receive approval for the use of Lyc-O-Mato as a food colorant before the end of the year, expanding the ingredient's marketing opportunities.
Omega-3 Fatty Acids
A study by Albert et al. (2002) showed that the omega-3 fatty acids found in fish are strongly associated with a reduced risk of sudden death among men without evidence of prior cardiovascular disease The National Institutes of Health and the National Heart, Lung and Blood Institute supported the study.
Christine Albert, a cardiologist at Massachusetts General Hospital and an epidemiologist at Brigham and Women's Hospital, led the 17-year study, which involved 94 men. They found that those with the highest blood levels of omega-3 fatty acids were more than 80% less likely to die suddenly from heart disease.
The authors concluded, "If the observed association is causal, increasing the intake of n-3 fatty acids by eating more fish or by taking supplements is an intervention that could be applied to this segment of the population at low cost and little risk."
--- PAGE BREAK ---
The American Heart Association recommends that people eat at least 2–3 meals of fish/week for its heart-health benefits. In addition to reducing risk of sudden death, the nutrients in fish, specifically fatty acids and fish oil, may play a beneficial role in lowering blood pressure and cholesterol.
Folic Acid
Folic acid is best known for its role in preventing certain birth defects in infants. Women of childbearing age are urged to take 400 µg/day. Folic acid is essential in men's diet as well, but many are not getting enough. According to the Centers for Disease Control and Prevention, most American men consume less than the 400 µg daily recommended intake of folate.
According to AHA, plasma homocysteine levels are strongly influenced by diet, as well as by genetic factors. The dietary components with the greatest effects are folic acid and vitamins B-6 and B-12. Folic acid and other B vitamins help break down homocysteine in the body. Several studies have found that higher blood levels of B vitamins are related, at least partly, to lower concentrations of homocysteine. Other recent evidence shows that low blood levels of folic acid are linked with a higher risk of fatal coronary heart disease and stroke.
Calcium
Osteoporosis is often thought of as a woman's health issue, but the debilitating bone disease affects men as well. NIH says that the problem of osteoporosis in men has recently been recognized as an important public health issue.
Today, more than 2 million American men have osteoporosis, and another 3 million are at risk for the disease, according to the National Osteoporosis Foundation. Each year, men suffer one-third of all hip fractures, and one-third of these men will not survive more than one year. In addition to hip fractures, men most often experience fractures of the spine and wrist due to osteoporosis.
In their 50s, men do not experience the rapid loss of bone mass that women do in the years following menopause. "But some men do have a hormonal drop-off in testosterone, with skeletal consequences that are similar to those seen in women following reduction of estrogen," explains Bruce Schneider, a medical officer in FDA's Div. of Metabolic and Endocrine Drug Products. Testosterone may diminish as a result of hypogonadism, a condition marked by decreased function of the testicles. Testosterone levels also may decrease naturally as a man ages. This loss of sex hormone eventually can result in accelerated bone loss. Whether bone loss at this point translates into osteoporosis, however, depends on how much bone a man has when the loss begins, and how quickly he loses it (Lewis, 2002).
By age 65 or 70, men and women lose bone mass at similar rates, and the absorption of calcium decreases in both sexes.
Calcium may also have an effect on a certain type of colorectal cancer. For example, Wu et al. (2002) evaluated the diet and colon cancer history of 135,000 men and women in two large health surveys. They found that those who consumed 700–800 mg of calcium daily significantly reduced their risk of left-side colon cancer by 40–50%.
The authors identified 626 colon cancer cases among the 88,000 women enrolled in the Nurses Health Study, and 399 men with colon cancer among the 47,000 in the Health Professionals Follow-up Study. Both of the studies monitored the health habits and diet of the men and women over many years, starting in the 1980s.
By evaluating diets of those who developed colon cancer and those who did not, the researchers found that adequate levels of calcium in the diet significantly reduced the risk of cancer on the left side of the colon, but had no statistically significant protection for other types of colon cancer.
"We did not study high levels of calcium, so we do not know what to recommend for higher doses," said Kana Wu, a researcher at the Harvard School of Public Health and the first author of the study.
She said that the results of the study need to be confirmed by other research before a recommendation can be made regarding dietary calcium and colon cancer, but that it is clear that "It is good to avoid very low calcium intake."
--- PAGE BREAK ---
Alcohol
On a lighter side, there's good news for the alcohol-loving male. Daily or near-daily servings of beer, wine, or spirits may help protect men from heart attacks, according to the results of a large, long-term study by researchers at BethIsrael Deaconess Medical Center and the Harvard School of Public Health (Mukamal et al., 2003). The findings showed that men who drank moderate amounts of alcoholic beverages three or more times a week had a risk of myocardial infarction 30–35% lower than that of nondrinkers.
The observational study, which tracked the drinking habits of nearly 40,000 men over a 12-year period, provides an important clue as to how alcohol helps guard against coronary heart disease and suggests that routine consumption of alcoholic beverages is key. Of course, the study does not condone drinking in excess. But what a great way to end an article, with the go-ahead for men to routinely tie one on for good health.
---
Men's health statistics
The life expectancy gap between men and women has increased from one year in 1920 to almost six years in 2001.
Prostate cancer is the most frequently diagnosed cancer in the U.S. among men, accounting for 30% of all cancer cases in men.
An estimated 180,000 men will be newly diagnosed with prostate cancer this year alone, and more than 30,000 will die.
Prostate cancer rates increase sharply with age, and more than 70% of such cases are diagnosed in men age 65 and older.
An estimated 7,500 men age 15–40 will be diagnosed this year with testicular cancer, and 400 of them will die of this disease in 2003.
From Men's Health Act of 2003. www.theorator.com/bills108/s1028.html.
---
Formulating for fertility
A plant extract,
Pycnogenol
®, originating from French Maritime pine bark has recently been linked to improving the plight of men with fertility problems. Natural Health Science, Hillside, N.J., announced that
Pycnogenol
is now self-affirmed as GRAS. Some potential food categories for the extract include baked goods, breakfast cereals, breakfast bars, soft candy, chewing gum, and sauces.
A study at the West Essex Center for Advanced Reproductive Endocrinology (W.E.C.A.R.E.), West Orange, N.J., showed that the antioxidant Pycnogenol improved the quality and function of sperm in men with fertility problems by a mean of 38% and 19%, respectively, after 90 days of use (Roseff, 2002). Nineteen subfertile men participated in the study and orally took 200 mg of Pycnogenol daily.
The seminal fluid surrounding the sperm is normally rich in antioxidants and protects the sperm from oxidative damage, according to Scott Roseff, author of the study and Director of W.E. C.A.R.E., "but in sub-fertile men the seminal fluid, for unknown reasons, may not be protected by these antioxidants." According to Roseff, the study showed that taking daily doses of Pycnogenol resulted in improved sperm quality and function because the natural antioxidant protection was supplemented.
by LINDA MILO OHR
Contributing Editor
Chicago, Ill.
E-mail: [email protected]