Choices! Choices! Choices! As my mother used to say, or perhaps it was Mr. Spock on Star Trek, there are always alternatives in life. And, especially in recent years, ingredient suppliers are demonstrating this fact with a wide array of alternative ingredients, some of which can even be described as alternatives to alternative ingredients.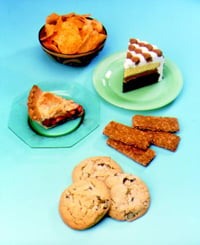 These ingredients, which replace more traditional types, may be used by food manufacturers to develop new products or reformulate existing ones. They may be chosen for a number of reasons, including cost effectiveness, comparable or improved functionality, promotion of health benefits, a more desirable source from which the ingredient is derived, labeling advantages, ready availability, ease of use, or overall marketability.
Last month's Ingredients section, "How Functionality Helps Address the Health Initiative," discussed the number of innovative ways that ingredient suppliers are reformulating foods, making them healthier by either adding or replacing ingredients, as well as improving their taste, texture, and appearance. When you take that article into consideration, this month's topic seems to make for a most timely and logical chapter in the ongoing ingredients saga.
This month's Ingredients section will look at a number of areas where ingredients have potential for replacing other ingredients. These will include alternatives to soy-based ingredients, alternatives to gelatin, sweetener alternatives, fat alternatives, source alternatives, alternatives to egg replacers, alternatives to vanilla, carrier/delivery system alternatives, gum/starch alternatives, and culinary ingredient alternatives.
Obviously, there are many other categories as well—after all, when considering the number of ingredients and ingredient combinations that are available, and the number of ways that they can be used to replace other ingredients and ingredient combinations, it would require writing a massive tome to get this particular job done. In fact, to anyone who is interested in writing a book someday, I can heartily recommend this subject and the impact it will have on tomorrow's food formulating.
For now, though, the selection of the following categories did make me rethink what ingredient alternatives are and the role they play in food formulation. For instance, it made me realize that what was considered an alternative ingredient yesterday may become more recognized or mainstream today, and in all likelihood be replaced by some other ingredient tomorrow. Furthermore, it provided a renewed focus on the fact that there are many factors involved in selecting a particular ingredient for a formulation. Some of these factors may even provide impetus for the development of additional alternative ingredients, which in turn, can fuel another generation of possibilities, and so on. And, of course, hopefully all this will have a positive impact on making our foods even better, tastier, and more healthy.
Let's now look closer at these categories, keeping in mind what possible trends they might be reflecting, as well as future directions they might be moving toward:
--- PAGE BREAK ---
Alternatives to Soy
When thinking about ingredient alternatives, soy probably immediately comes to mind. As foods are reformulated to make them healthier, soy plays an increasingly important role because of its health-promoting components and its functionality. Furthermore, developments such as new technologies, growing practices, flavor-masking systems, flavors representing different cuisines of the world, and culinary practices have all but negated problems traditionally associated with soy, such as a beany flavor or flatulence.
Over the years, soy has been positioned as an alternative to other ingredients, especially dairy, meat and poultry, and conventional oils. However, as soy becomes more mainstream, it will probably lose its "alternative" mantel and become regarded as simply a healthy ingredient in a variety of reformulated foods, including, ideally, formulations where it works or coexists with ingredients that it was once designed to replace.
For that reason, I'm not going to include soy as an alternative ingredient in this article. But rather, in the spirit of looking ahead, I'm going to focus on some ingredients that may be positioned as possible alternatives to soy-based ingredients.
Here are a few examples:
• Rice protein offers a vegan alternative to soy and is utilized more efficiently by the body. With rice protein, after 4 hr, more than 80% of the protein has been digested, compared to about 57% for soy. The ingredient is a naturally derived complete protein and contains all essential and nonessential amino acids. The amino acid profile of rice is reportedly closer to mother's milk than that of any other protein. The ingredient is suitable for use by those with food allergies and has been used for tube feeding of infants, the elderly, and seriously health-compromised individuals. It has a mild flavor, making it suitable for a variety of applications.
An all-natural rice protein concentrate that contains a minimum of 70% rice protein has been recently introduced under the name Remypro N70+ by A&B Ingredients, Inc., 24 Spielman Rd., Fairfield, NJ 07004 (phone 973-227-1390; fax 973-227-0172; www.abingredients.com). Several years in development, the ingredient is said to offer improved flavor, consistent color, reduced grittiness, and superior quality. It can be used to increase the nutritional content of energy bars, meal replacement systems, nutritional supplements, extruded products, and baked goods.
According to a representative from the company, the ingredient "has all the advantages of other proteins, without the digestibility problems and potential allergic reactions. For manufacturers of protein products, rice protein is ideal and fulfills a long-overdue need in the market."
• An unflavored, textured, dry wheat protein called Wheatex™, which may be used as an alternative to soy, is available from MGP Ingredients, Inc. (formerly Midwest Grain Products, Inc.), 1300 Main St., Atchison, KS 66002-0130 (phone 913-367-1480; fax 913-367-0192; www.mgpingredients.com). Produced in different sizes and colors, the wheat-derived ingredient is said have better texture, firmness, and mouthfeel than soy, as well as a neutral flavor profile that does not need to be masked.
--- PAGE BREAK ---
The ingredient can be used as an extender for a variety of applications including shredded beef, chicken, fish, turkey, pork, seafood, and barbecued products, and is suitable as a meat replacer in vegetarian products. Among its functionality benefits are a fibrous structure that mimics the look and texture of meat; a low flavor profile with no aftertaste; and an excellent water- and fat-binding capacity for increased yields and reduced formulation costs.
• As I noted in the August 2003 Ingredients section, extruded textured whey proteins are suitable as meat extenders and replacers, allowing reduction of fat while maintaining the texture and mouthfeel of a higher-fat content. Over the past few years, researchers have been studying the functionality properties of whey-based ingredients in a number of fat-reduced meat products, such as breakfast sausage patties, smoked link sausages, hamburgers, and hot dogs. The ingredient may also be used in such nontraditional applications as snack chips, crisp inclusions, and chewy bits—all applications that soy, interestingly enough, has found inclusion in. Information about the use of dairy proteins as an ingredient can be obtained from Dairy Management, Inc., 10255 W. Higgins, Rosemont, IL 60018 (phone 847-803-2000; fax 847-803-2077; www.doitwithdairy.com).
There are, of course, certain market limitations to consider. The kosher market, for example, will not use dairy in its meat products. Also, soy is much more likely to have a greater influence in the vegetarian market. Nonetheless, as studies have shown over the past few years, whey protein concentrates are capable of forming gels with textures similar to those of meat proteins, and, as such, could be used as extenders or partial fat replacers. If so, then dairy proteins could be positioned as a potential alternative to soy, which, of course, one cannot help finding a little bit ironic.
Furthermore, it is not out of the question that combinations of dairy and soy proteins could provide future alternatives in the formulation of healthier foods. For example, at the 2003 IFT Food Expo, a prototype, Mint Chocolate Blast Bar, was highlighted by Kerry Ingredients North America, 100 E. Grand Ave., Beloit, WI 53511 (phone 608-363-1200; fax 608-363-1670; www.kerryingredients.com). The bar was enhanced with a blend of milk and soy proteins, which reportedly provided an excellent flavor profile with no aftertaste, allowing higher inclusion rates in foods.
Sweetener Alternatives
Next month, I'll be doing an Ingredients section on sweetener developments, so I don't want to go into too much detail here on the newest developments in this area. However, when talking about alternative ingredients, I would be terribly remiss if this article did not include some mention of them as possible alternatives not only to sucrose, but to different types of high-intensity sweeteners as well.
--- PAGE BREAK ---
A few years ago, the Sunett® multisweetener concept was developed by Hoechst Celanese Corp., now Nutrinova Inc., 285 Davidson Ave., Ste. 102, Somerset, NJ 08873 (phone 732-271-7220; fax 732-271-7235; www.nutrinova.com). This concept highlighted how the high-intensity sweetener acesulfame K (Sunett) can be combined with other nutritive and non-nutritive sweeteners, delivering improved taste and reduced calorie consumption to consumers and economic advantages to food and beverage manufacturers. Blending these different sweeteners took advantage of distinctive qualitative synergies produced—both in diet or light products and in full-sugared products.
This concept proved to be a very smart marketing strategy, promoting the benefits of acesulfame K as an individual sweetener and in combination with other sweeteners. However, this concept also laid a cornerstone in product development, suggesting that multiple sweeteners could be used to replace part of the sugar content in products without consumers detecting a change in taste. The fact that a number of sweeteners are emerging in the marketplace today, making possible new combinations of sweeteners, is only strengthening this concept and creating additional opportunities for a number of alternatives in the sweetener market.
Next month's Ingredients section will focus on neotame, tagatose, trehalose, isomalt, erythritol, lactitol, inulin, and a number of other sweeteners. But for now, it is important to note that these sweeteners, either by themselves or in combination, provide a number of functionality benefits that can positively impact the sweetness, texture, flavor, and shelf life of the finished formulation.
For example, to cool or not to cool can be an important question, as can be seen by the following three prototype formulations demonstrated at Food Expo.
Mentioned earlier in this article, a no-sugar-added mint chocolate bar prototype available from Kerry Ingredients North America was sweetened with erythritol. The noncaloric bulk sweetener produced from starch by fermentation has a cooling effect which is said to go well with mint.
On the other hand, Isomalt LM (a sugar replacer derived from beet sugar) is said to not have a cooling effect—only a naturally sweet taste that allows cocoa flavors to come through in chocolates. The replacer, developed specifically for sugarfree chocolate, was developed by Palatinit of America, Inc., 101 Gibraltar Dr., Ste. 2-B, Morris Plains, NJ 07950 (phone 973-539-6644; fax 973-326-9508; www.isomaltusa.com).
In a sugar-free chocolate, an inulin/polyol system can provide improved flavor, reduced cooling, synergy with other sweeteners, and a smooth texture. The prototype was highlighted by Orafti Active Food Ingredients, 101 Lindenwood Dr., Malvern, PA 19355 (phone 610-889-9828; fax 610-889-9821; www.orafti-us.com).
In addition to functionality considerations, another factor is prompting the development of alternative sweeteners: the growing emphasis on formulating with ingredients that have a low-glycemic inspedex suitable for diabetics.
--- PAGE BREAK ---
Recently Hershey Foods introduced nationally its first sugar-free line of chocolate candies (Reese's® Sugar-Free Peanut Butter Cup Miniatures, Hershey's® Chocolate Candy, Hershey's Sugar-Free Chocolate Candy with Almonds, and Hershey's Sugar-Free Dark Chocolate Candy). These confections, intended primarily for consumers with diabetes or those on a restricted carbohydrate diet, were formulated with a sugar substitute, lactitol, available from Danisco Sweeteners, 440 Saw Mill River Rd., Ardsley, NY 10502-2605 (phone 800-255-6837; fax 914-674-6542; www.danisco.com/sweeteners). Lactitol is described as a slowly metabolized carbohydrate that generally causes only a small rise in blood glucose levels.
A new line of sugar-free coatings designed for consumers with sugar-restricted diets was recently introduced by Wilbur Chocolates, an affiliate of Cargill, 15407 McGinty Rd. W., MS 96, Wayzata, MN 55391 (phone 952-742-5976; fax 952-742-2185; www.cargillfoods.com). The coatings are said to be made with ingredients which contain fewer calories, more fiber, and more calcium than ingredients in traditional sugar-free coatings At the Food Expo, the coatings were highlighted in a number of prototype applications, such as chocolate chip cookies, key lime pie bars, and a peanut butter cup
A number of sweeteners which may have impact in the area of health, especially in the development of coated confections, are available from Cargill's Food and Pharma Specialty Business Unit. These include Eridex™ brand erythritol, which is said to diminish problems with digestive tolerance sometimes experienced with other polyols, and Ascend™ trehalose, a multifunctional carbohydrate that provides energy with the functional benefits of sucrose but half the sweetness.
From a health standpoint, it is interesting to observe how the potential benefits of sweeteners have evolved over the years—from an emphasis on prevention of tooth decay to developing low-glycemic-index foods for diabetics to weight-management issues. Perhaps most important, however, may be their increasing role in reformulating foods in general, creating healthier as well as better-tasting, better-textured products for the mainstream consumer.
Alternatives to Gelatin
Gelatin, a protein that functions as a gelling agent, is obtained from collagen derived from beef bones and calf skin or pork skin. It has been used in such applications as desserts, yogurt, meat coatings, confections, and capsules. In addition to its gelling properties, gelatin is noted for its clean flavor release, its ability to manage water, and the special texture it provides.
However, some food manufacturers are seeking alternatives to gelatin for a number of reasons. They may be looking for an ingredient not derived from an animal source, which can provide their product with labeling advantages. Or they are interested in an alternative that offers cost benefits, ease of use, and supply availability. Securing kosher or halal certification might be another consideration. And from a performance standpoint, they would be looking for an ingredient that offers either improved or at least comparable functionality qualities compared to those of traditional gelatin.
The following are some ingredients which may perform as alternatives to gelatin:
--- PAGE BREAK ---
•A specialty starch which enables yogurt manufacturers to replace gelatin in stirred and cup-set yogurt is available from National Starch, 10 Finderne Ave., Bridgewater, NJ 08807 (phone 800-797-4992; fax 609-409-5699; www.foodstarch.com). Called Impression™, the modified corn starch reportedly can help achieve similar textural properties, creating a yogurt that has an excellent and satisfying mouthfeel.
According to the manufacturer, the ingredient replaces existing stabilizers when used at a level of 1.5–2.25%, and allows a further 1% reduction in milk solids without any loss of textural properties. Customers can simply add the starch to the milk and sweetener before heating, without changes to processing and equipment.
The starch, which is easy and economical to use, is also said to resist the temperatures and pressures associated with standard pasteurization. It resists shear from blending and mixing, and is not affected by acids from fruits.
• Carrageenan or carrageenan blends are available which may used to produce gelatin-free applications.
For example, improved carrageenan extracts with higher gelling power and low syneresis have been developed by the Spain-based company Ceamsa (phone 34986344089; fax 34 986336621; www.ceamsa.com). They are said to offer cost-effective, high-performance stabilizers and gelling agents suitable for especially meat and water-based dessert applications.
M-9010 is described as a carrageenan blend produced by combining iota carrageenan with new gel-pressing technology for kappa carrageenan. It is designed for use in a gelatin-free water-based jelly-type dessert which has a gelatin-like texture. With a use level of 0.5–1%, the product provides a number of benefits, including additional quick setting, good demolding, low syneresis, increased heat stability, and an extended shelf life.
The ingredient also functions as a stabilizer in the formulation of a gelatin-free, low-fat margarine. Benefits include cost competitiveness compared to traditional stabilizer systems such as gelatin/milk protein, easy processing, excellent spreadability and flavor release, and improved shelf life and heat resistance.
Carrageenan Co., 3830 S. Teakwood St., Santa Ana, CA 92707 (phone 714-751-1521; fax 714-850-9865; www.CarrageenanCo.com), features a carrageenan product, CarraJell 27, which may be used as an alternative for gelatin in marshmallows, confections, and baked goods. It may also be used in meat, poultry, and dairy products.
• A new pectin for providing gelatin replacement in acidified dairy systems is available from Danisco USA, Inc., 201 New Century Pkwy., New Century, KS 66031(phone 913-764-8100; fax 913-764-8239; www.danisco.com). The ingredient, Grindsted™ Pectin SY 200, has been specially developed to secure enhanced viscosity and creaminess. According to the manufacturer, a usage level of 0.1% makes the ingredient a competitive gelatin alternative. In addition to giving yogurt the consistency and mouthfeel required, the pectin is characterized by its powder whiteness and black speck control. These pectin products are also used as special stabilizer systems for yogurt.
--- PAGE BREAK ---
• Edible-grade gelatins from aquatic sources may also provide an alternative to traditional gelatin derived from animal sources. A range of fish gelatins for application in hard- or soft-shell gelatin capsules, microencapsulation, tablet binding and coating, and functional foods are produced by England-based Croda Colloids Ltd., and distributed by The O.C. Lugo Co., Inc., 321 Main St., New York, NY 10956 (phone 845-708-7080; fax 845-708-7081).
Made from naturally occurring collagen present in cold- and warmwater fish skins using an acid extraction process, the products are purified and concentrated sources of protein. According to the manufacturer, the light-colored gels are neutral in taste, have low odor, and offer a range of Bloom gel strengths. A number of new patents are describing nutraceutical products using fish gelatin, suggesting that they be recommended for a number of future pharmaceutical and nutritional applications.
Fat Alternatives
In the 1990s, if you were looking for alternatives to fat, your choices most likely would have included ingredients from the carbohydrate group, such as starches, gums, and cellulose; protein-based ingredients; or ingredients derived from fats that contribute fewer calories and less fat. The challenge, of course, was to develop foods with reduced fat while maintaining taste and texture. Although that challenge frequently could not be met, some of these fat-reduction ingredients have been successful and are still in the spotlight. Z-Trim, a calorie-free gel produced from processed corn hulls, would probably be one prominent example.
Starting in the late 1990s, more and more attention was being paid to ingredients that had nutraceutical or health-promoting properties. Partly because of this, the health focus became broader, looking at a wide range of areas, such as heart disease, cancer, diabetes, bone health, and, of course, weight management. Partly because of this focus, I suspect, more attention was spent on the development and promotion of "heathier" fats—ingredients that could play an important role not only in weight management, but also in the overall formulation of healthier foods.
These ingredients offer food formulators a number of advantages: they frequently provide low- or no-trans- fattyacid alternatives, they impart the functionality properties of fat, they can provide the health benefits of rich levels of omega-3 fatty acids, and they can be tailored for specific applications. As such, at least in my opinion, they act as true alternatives—or perhaps successors would be a better word—to the original fat-replacement ingredients that emerged more than a decade ago and the concept that they first tried, successfully or not, to embody.
Here are some examples:
--- PAGE BREAK ---
• A portfolio of fats an oils providing formulators with zero- and low- transfatty-acid alternatives was launched under the name NovaLipids by Archer Daniels Midland Co., 4666 Faries Pkwy., Decatur, IL 62526 (phone 217-424-5424; fax 217-424-5580; www.admworld.com). The range of oils and shortenings (naturally stable oils, tropical oils, blended oils, and enzyme-interesterified shortenings and margarines) can be used in frying applications, baked goods, confections, snacks, cereals products, margarine, nutraceutical beverages, nutrition bars, and supplements.
A variety of prototypes made with these fats and oils were showcased by ADM at Food Expo. (See the September 2003 issue for post-show coverage.) However, a few months earlier, at the 2003 International Pizza Expo, the company highlighted a variety of its healthy ingredients, including its line of low trans-fat vegetable oils, in one of America's favorite foods, pizza. Toppings included soy "pepperoni" and "Italian sausage." A representative of the company remarked, "We wanted to show that we can take a classic food such as pizza and make it healthier and still taste great."
In addition to its low-trans alternatives, the company also recently launched Enova™, an oil which has increased concentrations of diacylglycerol, a component that is metabolized differently than triglycerides. Because of its chemical structure, more of the oil is said to be burned directly by the body as energy, rather than stored as fat. Compare the potential role of this fat in weight management with the earlier fat replacers we discussed, and I think you see the growing sophistication of "healthy" fats and oils.
Another pioneer of healthy fats and oils has been Stepan Co.,100 W. Hunter Ave., Maywood, NJ 07607 (phone 201-712-7642; fax 201-712-7648; www.stepan.com). The company offers Neobee® MLT-B, a structured lipid based on medium chain triglycerides (MCTs), as a replacement for partially hydrogenated vegetable oil (PHVO). Designed to mimic the solid fat index of PHVO used in baking applications, the ingredient incorporates the dietary and health benefits of MCTs, which are metabolized in 1/8 of the time and deliver fewer calories than typical long-chain fats. Furthermore, MCTs follow a unique metabolic pathway in which they travel directly to the liver (rather than through the lymphatic system) and are therefore not accumulated as fat in body tissues.
Another benefit that the company offers is its ability to tailor specialty structured lipids to replace PHVO in applications including salad oils, coatings, pastry, breads, and margarine. The company works with product formulators to develop custom fats that can modify such characteristics as texture, flavor, viscosity, and stability, to enhance the food product and solve processing problems. Bakery and snack food product formulators can particularly take advantage of these fats, but other applications are developing as well.
--- PAGE BREAK ---
For example, MCTs were recently offered as a substitute for mineral oil in applications such as polishing agents, moisture barriers, viscosity modifiers, mold release agents, plasticizers, and lubricants for food and food processing equipment. These low-viscosity liquids spread easily and present excellent functional characteristics for use as carriers for flavors, vitamins, and colors.
Canola and high-oleic sunflowers oils, both marketed under the name Natreon®, are available as alternatives to trans fatty acids from Dow Agrosciences, LLC, 9330 Zionsville Rd., Indianapolis, IN 46268-1054 (phone 317-337-3768; www.dowagro.com). These oils are said to have virtually no trans fats, are the lowest in saturated fat compared to other vegetable oils, and are at least as stable as the partially hydrogenated vegetable oils used by many food processors.
The oils consist of more than 70% monounsaturated fatty acids and reduced amounts of polyunsaturated fatty acids. According to a company representative, "This change in the fatty acid profile results in an increased oxidative stability when compared to partially hydrogenated vegetable oils." Furthermore, the representative noted, "Dow Agrosciences' affiliate, Mycogen Seeds, also offers several hybrids of mid- and high-oleic sunflowers, which are produced in the Northern and Southern Hemispheres."
Of course, it would be impossible to summarize the large number of healthier fats and oils being promoted today. These can range from SansTrans™, a new line of no- trans, non-hydrogenated fats offered by Loders Croklaan, 24708 W. Durkee Rd., Channahon, IL 60410-5249 (phone 800-621-4710; fax 815-730-5202; www.croklaan.com), to NuSun Sunflower oil, a trans-free alternative available from the National Sunflower Association, 4023 State St., Bismarck, ND 58503 (phone 701-328-5105; fax 701-328-5101; www.sunflowernsa.com).
Among the healthy fats and oils available today are omega-3 polyunsaturated fatty acids. The attention that healthy fats and oils are getting today, largely because of the trans fatty acid issue and its relationship to a higher risk of heart disease, may also give further impetus to the promotion of the health and functionality benefits of omega-3s. During a recent symposium held during the American Heart Association Committee meeting, nationally recognized experts in the field of disease prevention discussed omega-3s vital role in preventing cardiovascular disease.
--- PAGE BREAK ---
Source Alternatives
Earlier, in this article, I had mentioned that fish gelatin was being used as an alternative to the more traditional gelatins derived from animals. The source of an ingredient can play a very important role in a product formulator's decision to go with a particular ingredient.
In the 1990s, the emphasis on what was termed "clean labeling,"—whether it was actually misleading or not—frequently prompted the search for ingredients derived from alternative sources. Today, other considerations, such as politically troubled regions, cost considerations, depletion of sources and other environmental factors, concerns over allergic reactions, undesirable organoleptic properties (perceived or real), and many others, can have an impact on what source a manufacturer wants a particular ingredient derived from.
Here are some examples of how the source for the ingredient can play an important role:
• A traditional source of omega-3 fatty acids is fish oil, but there are other sources as well. For example, an omega-3 fatty acid product, produced by microorganisms, was recently launched under the name DHActive™ by Nutrinova Inc., 285 Davidson Ave., Ste. 102, Somerset, NJ 08873 (phone 732-271-220; fax 732-271-7235; www.nutrinova.com). According to the manufacturer, the product offers significant advantages over omega-3 fatty acids which are extracted from coldwater fish, including a higher percentage of docosahexaenoic acid (DHA), a more desirable taste, and no environmental concerns. An independent panel has granted GRAS status to the ingredient, which may be used in dietary supplements and in traditional foods such as baked goods, cereals, dairy products, fruit juices, and snacks.
Most recently, Nutrinova launched DHActive™ CL, a clear and more liquid form of its highly concentrated omega-3 DHA. The product was developed especially for the dietary supplement industry, and gives the ability to offer clear and high-quality capsules that look even more attractive to consumers. The DHA is extracted from microalgae that are grown via a fermentation process.
Another emerging source of omega-3s, at least in the United States, is flax. As an ingredient derived from a plant, flax-seed may serve as a more attractive alternative to other ingredients that are high in omega-3 fatty acids but whose use in foods has traditionally been limited by such factors as cultural bias, environmental considerations, or practicality. More information about flax can be obtained from Pizzey's Milling, Box 132, Angusville, Manitoba, R0J 0A0 Canada (phone 204-773-2575; fax 204-773-2317; www.pizzeys.com).
--- PAGE BREAK ---
• A couple of years ago, sunflower seeds were used to formulate a spreadable peanut butter like product which was positioned as an alternative to peanut butter. The product was developed in a joint effort between USDA's Agricultural Research Service and Red River Commodities, Inc., 501 42nd St. NW, Fargo, ND 58102 (phone 701-282-2600; fax 701-282-2600; www.redriv.com). Source would play an important part here, as some people are allergic to peanuts and other tree nuts.
• An alternative source of guar gum is available from Southwest Guar Cooperative, 1203 E. Hester St., Brownfield, TX 79316 (phone 806-637-8096; fax 806-637-7091). The product-owned cooperative grows and processes guar beans in the southwestern U.S., providing a safe, secure, traceable sour of guar for the food industry. The company's new Brownfield, Tex. facility was operational this September, and the processing of crops has begun. According to a representative, booth traffic at the Food Expo and participant interest in the plan to create a totally domestic guar gum supply chain exceeded expectations.
• A glucosamine product that is corn based has been developed under the name Regenasure™ by Cargill. A dietary supplement used to promote joint health, glucosamine is traditionally derived from shellfish, which can cause an allergic reaction in some people. Because it is made from corn, the product will enable developers to broaden the scope of potential delivery systems without the current concerns over shellfish-derived material. The product is kosher certified and is currently the only U.S.-produced glucosamine on the market.
Starch/Gum Alternatives
As in the case of sweetener alternatives, I will be writing an Ingredients section on starches and gums in the near future so I don't want to go into too much detail here. Consequently, I'll limit the focus to describing some examples of these carbohydrates being used as replacers to each other.
Starches and gums play an important role as ingredient alternatives, especially in the area of texture and mouthfeel. To achieve these qualities, today's food formulator certainly has a wide range of choices—organic vs traditional starches, potato vs tapioca starches, resistant vs nonresistant starches, and native starches vs modified food starches vs native starches with modified food starch capabilities. And the same hold true for gums—domestic gums vs nondomestic, gum of one species vs a gum of another species, and even a gum type produced by one company vs the same gum type by another company. When talking about starches and gums as alternatives to each other, it's sort of confusing.
--- PAGE BREAK ---
Furthermore, like sweetener blends, there's a wide number of gum blend possibilities, each tailored to fit a certain application, and each designed to deliver certain functional characteristics to that application. I suspect that when talking about alternatives, the answer as to which one to choose probably lies in these custom-designed gum blends.
Furthermore, when a food formulator is developing a product, he or she is looking for certain characteristics, and if a particular starch or gum meets those specifications or at least falls within a certain range, then that ingredient is acceptable. This means that there may be a number of alternatives out there that can do the job.
The following are some alternatives that have been highlighted recently:
• A line of resistant starches, which provide the physiological benefits of fiber without the processing problems associated with typical fiber, earned IFT's 2003 Food Technology Industrial Achievement Award for National Starch, 10 Finderne Ave., Bridgewater, NJ 08807 (phone 800-797-4992; fax 609-409-5699; www.foodstarch.com). Called Novelose, these starches analyze as 40% and 60% fiber when using the AOAC method.
These ingredients offer an innovative alternative, especially in the formulation of healthier foods. They have particular application in baked goods and  intermediate-moisture foods, such as breads, cakes, muffins, ready-to-eat cereals, and pasta, and are said to provide improved eating quality and appearance.
In 1998, the company also won the Food Technology Industrial Achievement Award for Novation, a line of native starches that have the functionality of modified food starches but meet the labeling quality of native starches. Most recent, Novation 9270 is an organic functional native food starch whose properties enable organic food producers to achieve desirable texture, stability, mouthfeel, and appearance previously not attainable with typical native  starches.
• Hydrocolloids also winning the Food Technology Industrial Achievement Award were xanthan gum in 1974 and gellan gum in1993, both developed by Kelco, now CP Kelco, 8355 Aero Dr., San Diego, CA 92123 (phone 858-292-4900; fax 858-292-4901; www.cpkelco.com). Today, these ingredients are available in new forms which offer improvements over traditional versions and which have potential as alternatives to other hydrocolloids.
--- PAGE BREAK ---
Keltrol® 630, Keltrol T630, and Keltrol F630 are new versions of xanthan gum. The functional groups on the side chains of the xanthan gum polymer are controlled during the fermentation process to enhance key functional properties, such as viscosity, acid stability, and galactomannan synergy. These new products are said to achieve higher viscosities than standard Keltrol xanthan gum and also exhibit better acid stability at elevated temperatures.
Kelcogel® HTS, a new high-acyl form of gellan gum is said to create very elastic, rubbery gels. According to the manufacturer, the product offers a new cost-effective alternative to carrageenan/locust bean gum combinations.
• A line of modified starches for encapsulating flavors, colors, and vitamins, and enhancing emulsion stability has been introduced under the name EmCap™ by Cargill, Inc., P.O. Box 5625, Minneapolis, MN 55440 (phone 952-742-6000; fax 952-742-7393; www.cargill.com). The starches are said to be an economical alternative to gum arabic. Available in both standard and instant formulations, the starches deliver excellent emulsion properties in beverage and cloud formulations. Even in high-oil systems, the starches form stable emulsions for enhanced shelf life.
• Custom-developed gum blends which may be used as alternatives for other hydrocolloids have been developed by TIC Gums, P.O. Box 369, Belcamp, MD 21017 (phone 410-273-6469; fax 410-273-6469; www.ticgums.com). For example, TIC Pretested Saladizer 702 powder was designed as an alternative to xanthan gum and xanthan gum/propylene glycol alginate systems. The gum system for use in salad dressings provides acid-stable thickening, stabilizing, and emulsifying
• A guar gum which offers advantages over traditional versions is available from PL Thomas, 119 Headquarters Plaza, Morristown, NJ 07960 (phone 973-984-0900; fax 973-984-5666; www.plthomas.com). Called UltraGuar™, the ingredient is said to provide a faster hydrating time and a higher viscosity. It is suitable for use in beverages, such as instant drinks, and other products.
Carrier/Delivery System Alternatives
Sometimes I think that we as consumers take delivery systems for granted. As long as the flavor, texture, or appearance of the final product meets with our approval, we don't really consider the means to that goal. However, food formulators have to be aware of the most effective means to achieve the desired result, including a wide range of other factors such as cost, functionality, applications, potential health benefits, source, and labeling, to name a few. And, of course, who they're targeting their product to—e.g., is the product organic, or low-carb?—can have a major impact on the ingredients being selected.
--- PAGE BREAK ---
Here are a few ingredients that may be used as alternatives to traditional carrier/ delivery systems:
• The use of barley malt extract as an alternative to maltodextrin as a carrier for a line of powdered organic juice products is currently being explored by Crystals International, Inc., 600 W. M.L. King Blvd., Plant City, FL 33563-5117 (phone 813-359-5128; fax 813-757-6060; www.crystals-inc.com). The company reportedly was able to take advantage of the sugar profiles in barley malt extract, and use the sugars as the actual carrier.
Researchers reportedly found that the barley malt extract helped reduce functionality problems they had encountered with other carriers. Additional benefits included the flavor of malt and the positive connotations associated with malt. The company is also planning to explore the use of barley malt extract as a carrier in conventional juice products.
• A lipid-based delivery system that extends the use of real fruit is available from Loders Croklaan, 24708 W. Durkee Rd., Channahon, IL 60410-5249 (phone 800-621-4710; fax 815-730-5202; www.croklaan.com).
Called Fruit Textured BetrFX, the system is said to mimic the texture and appearance of real fruit with flavor and aroma that are more intense than those of the real food. For example, using the system in a 50/50 ratio with real blueberries can yield a product that has improved taste, appearance, and aroma with lower overall cost and the retaining of a "Made with real fruit" label. The system is suitable for use in dry mixes, baked goods, confections, culinary dishes, and frozen applications.
• An oil-dispersible caramel color blend that provides sticking power for snack and confectionery applications has been introduced by D.D. Williamson & Co., Inc., 1901 Payne St., Louisville, KY 40206 (phone 502-895-2438; fax 502-895-7381; www.caramel.com). The product may be used as an alternative to traditional caramel color which is water soluble or other ingredient systems which can provide adhesion qualities.
Barbecue-flavored seasoning is said to stick better to chips or other snacks with the oil-dispersible caramel color blend. By coating the salt in the seasoning, the new product forms a protective layer to provide better adhesion on the chip. The blend can also enhance cinnamon sugar for toppings and fillings in confections and baked products. By coating the sugar crystals, the new product gives a uniform appearance, as well as better adhesion for the cinnamon.
The blend helps to minimize uneven color distribution in a dry or crystal mixture. It may be used in applications requiring a brown color that is dispersible in oil or fat systems where the final food product is solid.
--- PAGE BREAK ---
Alternatives to Vanilla
Although vanilla remains the world's most popular flavor (sorry, chocolate lovers), it has presented certain challenges for the food formulator in recent years. Natural disasters in the growing regions can have a negative impact on sourcing and cause prices for vanilla beans to escalate. Unfortunately, alternative ingredients frequently cannot capture the traditional vanilla flavor profiles that consumers desire.
When thinking of vanilla, one probably thinks of ice cream or frozen desserts and cookies and other baked goods. But the flavor of vanilla is finding its way in a broad range of other applications, including beverages, dairy products, confections, and culinary applications. Interestingly, about a year ago, Vanilla Coke was introduced, and yesterday (I don't know why I should be surprised) I saw Vanilla Pepsi on the shelf (the latter product promising a very different type of vanilla flavor). Consequently, not only are the applications expanding for vanilla, but also it seems that manufacturers are now interested in trying to duplicate different profiles of vanilla. Also, there is a growing interest in combining vanilla with other flavors, such as strawberry or orange, especially in confections.
In light of these factors, it should not be too surprising that new developments are showing promise to not only reduce costs but also provide effective total or partial replacement of vanilla.
• Two new vanilla flavor systems for high-proof alcoholic beverages have been launched by Danisco USA, Inc., 201 New Century Pkwy., New Century, KS 66031-0026 (phone 913-764-8100; fax 913-764-5407; www.danisco.com). The range of vanilla flavors, developed by the Flavor Creation Group and the Beverage Application Team, are said to extend or eliminate vanilla extract in alcoholic beverages.
According to the manufacturer, the first system, using Natural and Artificial Alcohol Blender, helps to replace the vanilla extract used to tone, blend, and smooth the rough notes of alcohol. The second system, a combination of Natural Vanilla Extender and Natural and Artificial Alcohol Blender, completely replaces Vanilla 3X Pure Bourbon Extract in alcoholic beverages without any flavor compromise. The flavor systems are said to provide clean vanilla flavors that only add the flavor profile desired.
In addition, use of the systems provides cost savings. "When using a vanilla replacer as a toner or smoother to a high-proof spirit, we can show a savings of approximately 50% based on today's price of vanilla three-fold extract," said a representative from the company.
To highlight these new systems, Danisco has created two vanilla-flavored high-proof alcoholic beverage prototypes: Melon Flavored Vodka (featuring Natural and Artificial Alcohol Blender) and Spiced Rum (featuring Natural Vanilla Extender and Natural and Artificial Alcohol Blender).
--- PAGE BREAK ---
The company also notes that vanilla replacements and extensions are available for nearly all food and beverage applications. Systems can be custom produced for any base formula, whether it's a beverage, dairy, or other food product. For example, Elevations 800 features a natural and artificial vanilla flavor that reportedly pulls double duty by both serving as a masking agent of artificial sweeteners and providing a sweet creamy note to the product. "Vanilla is the hardest flavor to develop in a no-sugar-added product because it really doesn't hide anything," said the company representative. "Once you do vanilla, any other flavor is very easy to develop."
• A range of vanilla flavors called Vantasia™ has been introduced by Quest International Flavors & Food Ingredients, 5115 Sedge Blvd., Hoffman Estates, IL 60192 (phone 847-645-7000; fax 847-645-7070; www.questintl.com). These flavors are said to be based on new technology, to replicate or enhance the high quality and sophisticated profiles of vanilla extracts at affordable prices. The flavor ingredients do not use vanilla extracts, but contain alternative ingredients which enhance vanilla flavors and make them taste more like extracts.
The vanilla flavors are available in liquid versions for use in beverages, ice cream, and other dairy applications; powder forms for use in dry mixes for bakery, beverages, culinary, and desserts; and a bake-stable form for high-temperature processing. The flavors are offered in WONF, natural and artificial, and artificial versions.
According to the manufacturer, the flavors include different profiles: Velvet™ (based on the classic bourbon vanilla profile—indulgently creamy and sweet, enhanced by rummy, woody, and vanilla bean sensations); Sweet Dreams™ (intensely cream and sweet, with generous notes of rich vanilla flavor); Eggstacy™ (blend of smooth, creamy vanilla with rich custard); and Carmilla™ (rich creamy vanilla with buttery caramel notes).
The company delivers presentations on its new vanilla flavors, including an educational package designed to help customers understand the different prevalent vanilla profiles around the world and also what different consumers associate with vanilla in various regions. It helps customers recognize the value of a complete vanilla profile other than vanillin. According to these presentations, for very little additional cost, manufacturers can give their products a sophisticated, rounded, extract-like vanilla flavor that is "light years away from vanillin." And the flavors can be further enhanced with complementary profiles such as caramel or custard flavor notes.
Alternatives to Egg Replacers
Over the years, a number of ingredients have been positioned as alternatives to egg replacers, reportedly providing stability to emulsions or other functionality benefits. For example, some starches can be used as a partial egg replacement in cheesecake and other structured baked goods and desserts. Soy lecithin and other soy-derived products such as tofu are also suitable as egg replacers in formulations. Furthermore, in the area of glazes or egg washes, some carbohydrate-based ingredients may be used as a replacement, providing products with a glossy sheen and enhancing visual appeal.
--- PAGE BREAK ---
In recent months, however, a more traditional alternative to egg replacers is being actively promoted—the egg itself. According to the American Egg Board, 1460 Renaissance Dr., Park Ridge, IL 60068 (phone 847-296-7043; fax 847-296-7007; www.aeb.org), food processors find that replacers do not function as well as real eggs. Often a replacer provides one function only. For example, the substitute may act as a foaming agent but exhibit poor coagulation properties. To make up for the lost functionality, other additional ingredients are required in the formulation, which may mean additional costs, undesirable labels, or the use of ingredients unfamiliar to consumers.
Eggs, on the other hand, are said to perform more than 20 distinct functions in the manufacture and processing of food. These include adhesive properties, aeration and structure improvement, binding, browning, clarification, coagulation and gelation, coating, color, crystallization control, emulsification, finish/gloss, flavor, freezability, humectancy, insulation, mouthfeel improvement, pH stability, shelf life extension, tenderization, texture improvement, and thickening.
Because of these properties, eggs are suitable for a wide range of applications. They can thicken custards, puddings, and sauces; emulsify and stabilize mixtures such as mayonnaise and salad dressings; coat or glaze breads and cookies; bind ingredients together in dishes such as meat loaf and lasagna; clarify soups; retard crystallization in boiled candies and frostings; and leaven some types of baked goods such as souffles and sponge cakes. And many of these properties can easily be used in the formulation of health bars and other nutraceutical products.
Of course, the functionality of eggs and the benefits they offer over other egg-replacing ingredients is not really new information. Processors are well familiar with the properties of eggs and some of the drawbacks associated with replacing the egg with some other ingredient or ingredients. However, something has happened over the past few years which makes the use of eggs a more realistic or more likely option in the formulation of foods and, as such, a more feasible alternative to egg replacers.
According to a growing amount of research, eggs are not only not an unhealthy food but they actually have a variety of health-promoting components which give them a positive health impact. This message was clearly illustrated by representatives of the American Egg Board at a press conference held during the 2003 IFT Annual Meeting. During their presentation, they asked the question, "How do you like your eggs?" Some of the traditional answers would be scrambled, poached, sunny-side up, soft boiled, and so on. Today, however, some of the responses could be enriched with omega-3s, vitamin E- fortified, vegetarian, enriched with carotenoids such as lutein or zeaxanthin, organic, GMO-free, and so on.
An in-depth discussion of the nutraceutical components of the egg more appropriately belongs in the Nutraceuticals section of Food Technology. However, two points need to be made here because they have increasing relevance to this article.
--- PAGE BREAK ---
First, ironically (especially in the light of the past 25 years), eggs may actually lower the risk of heart disease. Researchers have postulated that components of eggs other than cholesterol might have beneficial effects on heart disease risk that counterbalance the small adverse effect of the eggs' cholesterol content. Possible candidates for such an effect include antioxidants, folic acid and other B vitamins, and unsaturated fats.
Second, specific components of eggs, especially choline and lutein, are being studied for their potential nutraceutical benefits. Research is still ongoing, but, suffice it to say, these components may play a very important role in a number of areas, including eye health, satiety and weight management, brain development, and overall health.
From a health perspective, the above two points suggest that eggs as a food and food ingredient have evolved from being perceived as unhealthy (largely due to misunderstanding and overreaction) to offering a number of health benefits. A positive health message combined with their unique functionality opens the way for eggs to be used more freely in food formulations and as an "alternative" to those ingredients and ingredient combinations that were being positioned as egg replacers.
Furthermore, eggs, because of their potential health benefits, functionality, and compatibility with other ingredient systems, would be very suitable as an ingredient in the future development, or reformulation, of foods and beverages designed to offer health value without compromising such aspects as flavor, texture, or appearance.
Culinary Ingredient Alternatives
When talking about culinary alternatives, I see them as ingredients which help processed foods achieve a quality level as close as possible to that of dishes prepared by chefs. The term "gold standard" is frequently used to describe the goal that is being strived for. These ingredients can provide a number of advantages for the food formulator. These include developing flavors and other ingredients that can capture the authentic flavors of different regions throughout the world; simulate a wide range of different cooking processes, allowing food manufacturers to control flavor consistency and intensity; and minimize processing steps and ingredients, providing cost savings.
• A number of such alternatives were presented at Food Expo by Kraft Food Ingredients, 8000 Horizon Center Blvd., Memphis, TN 38133 (phone 901-381-6500; fax 901-381-6628; www.kraftfoodingredients.com). These included Lard Style Flavor, which offers the rich fatty character of lard but contains no animal products; Mesquite Grill Chicken Flavor and Mexican Char-Grill-style Flavor which captures complex flavor profiles and authentic cooking processes; Neufchatel Cheez Blend, which acts as a partial replacement for Neufchatel; No Bake Filling Mixes, designed to produce a creamy fluffy texture of a mousse-like filling or topping, with the functionality of a one-step mixing process; and many others.
--- PAGE BREAK ---
• A variety of culinary alternatives—as well as a new facility called the Chef 's Innovation Center—were launched by Quest International, Flavors and Food Ingredients, 5115 Sedge Blvd. Hoffman Estates, IL 60192 (phone 847-645-7000; fax 847-645-7070; www.questintl.com). Flavor development systems called the Meat Designer Wheel™ and the Chicken Designer Wheel™ enable the company to create multiple versions of a flavor in a single afternoon, rather than days or weeks using typical industry methods. Not only can the new approach drastically cut product development time for customers, but also the resulting flavors are all tailored to meet the customer's specific needs.
• A line of flavors designed to replace or reinforce fonds or stocks in any application has been developed by Flavor Dynamics, Inc., 640 S. Montrose Ave., South Amboy, NJ 07080 (phone 908-822-8855; www.flavordynamics.com). Called Fondations ™, the line includes four light fond flavors—lamb, beef, poultry, and vegetable—which are said to simulate fonds created with minimal pre-roasting time. They can be used in any application where the flavor of a fond is desirable—from consomme to dark glazes. Also available are Natural Fond-ations Flavor Builders, which can work in conjunction with the above four flavors in applications requiring caramelized or dark notes. The flavors and flavor builders are designed to allow food technologists to standardize their products and eliminate batch-to-batch inconsistencies often created in the cooking process.
• Chef 's Shortcuts™, the name given to an ingredient/flavor approach which duplicates traditional culinary techniques without compromising the creative signature of the chef, is available from Wild Flavors, Inc., 1261 Pacific Ave., Erlanger, KY 41018 (phone 859-342-3600; fax 859-342-3610; www.wildflavors.com). A variety of flavor and flavor systems, colors, and other ingredients are available to provide the food formulator with a number of benefits. While replicating traditional cooking processes, the approach requires no time-consuming preparation and can help achieve cost savings compared to specialty raw materials that may require special handling and processing). It can extend or replace hard-to-source or exotic ingredients, provide batch-to-batch flavor consistency, and eliminate the need for refrigerated and frozen storage, as most flavors are shelf stable in a dry environment. And it is adaptable to a wide range of processes and applications, including entrees, side dishes, soups, sauces, dressings, marinades, processed meats, and seasonings.
• Dry powders which impart the flavors associated with specific grilling methods are available from Red Arrow Products Co. LLC, P.O. Box 1537, Manitowoc, WI 54221-1537 (phone 920-683-5500; fax 920-683-5524; www.redarrowusa.com). Products include Grillin' 2055 for a charcoal grill taste, Grillin' 2056 for a gas grilling taste, and Grillin' 2057 for a flame-broiled taste.
• Use of wines and other alcoholic spirits can provide flavor in a variety of sauces, especially barbecue, and a wide range of culinary dishes. For those food formulators who want to take advantage of the flavor but not necessarily the alcohol, alternatives are available from Todhunter Foods and Monarch Wine Co., divisions of Todhunter International, 222 Lakeview Ave., Ste. 1500, West Palm Beach, FL 33401 (phone 561-655-8977; fax 561-655-9718; www.todhunter.com).
Natural wine reductions—available in a variety of flavors, such as red port, burgundy, chablis, sweet marsala, and sherry—offer potent, consistent flavors to sauces or entrees without the sharp notes in wine. As a 10-fold natural reduction, they are said to provide 10 times more flavor than regular cooking wine. Other new products offered by the company include Natural Distilled Spirits 10X in the following flavors: French Brandy, Kentucky Straight Bourbon, Scotch Whiskey, and White Tequila
--- PAGE BREAK ---
Earlier in this article, I mentioned that there is a wide range of ingredients available that can replace other ingredients, and new uses are constantly being explored. Right at press time, I became aware of another development that illustrates this further.
A natural alternative to margarine using dairy ingredients was recently introduced by Silver Research Inc., a product development firm, in a cooperative effort with Dairy Management Inc., 10255 W. Higgins, Rosemont, IL 60018 (phone 847-803-2000; fax 847-803-2077; www.doitwithdairy.com). Called Silver Spread, the "buttery-tasting" product was made using a patented process, with the help of DMI's technical support team. It is currently being introduced throughout the Philadelphia area.
According to the manufacturer, the lactose-free spread consists of fresh co-precipitated milk, sweet cream butter, and whey protein. It is said to contain 70% less fat and 60% less calories than margarine. Furthermore, it does not contain hydrogenated oils or trans fatty acids, and is suitable for baking and cooking.
This product, as well as the 10 categories discussed in this article, reflects the innovative ways that ingredients can be used as alternative ingredients or replacers. Moreover, my selection of these ingredients was influenced by a number of current trends, new ingredient developments, the changing perceptions of individual ingredients, as well as the role that possible developments may have in the future.
For example, we have seen that while soy becomes more mainstream as an ingredient, it is possible that a number of other ingredient developments may be positioned as alternatives to it, just as soy was once positioned as an alternative to meat or dairy ingredients. Or that the egg, once vilified by the press, is finding favor again and is becoming a suitable alternative to other ingredients that had been positioned as egg replacers. Or vanilla replacers may present some food formulators with a feasible alternative because of new technological developments, combined with climate and cost considerations.
This does not mean that one alternative ingredient is necessarily better that some other alternative. Or for that matter, that the ingredient being replaced is less desirable than its replacer. Furthermore, because a variety of factors determine the use of a particular ingredient over another, it is sometimes difficult to determine what is the alternative ingredient and what is the traditional ingredient.
It is quite possible for the replaced ingredient to be the new alternative to the ingredient that it had been replaced by. Or for an alternative ingredient to become gradually more mainstream until it is replaced by other emerging ingredients, now described as the newest alternative to the once alternative ingredient.
Amid this potential confusion, a food formulator has to weigh in a number of considerations and then decide which ingredients to use based on those same factors. And all of this has to be done without compromising the end quality of the product.
As Hamlet once said, "To be or not to be. That is the question." We can paraphrase this as: "To use an ingredient or not to use an ingredient. That is the  question." And the answer to that question is determined by a number of factors, ranging from cost to health perceptions. Fortunately there is a wide range of ingredients available to choose from. And that range keeps expanding, so that the finished product hopefully has a better fate than the characters in Shakespearian tragedies.
by DONALD E. PSZCZOLA
Senior Associate Editor