Today's parents are busier than ever. Gone are the days when caregivers used to make their own foods for their infants and toddlers. With many households supported by two breadwinners, consumers don't have time to catch their breath, let alone strain their children's peas and carrots.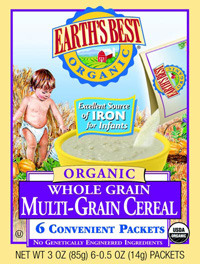 Today's mothers and fathers put a high value on their time, preferring to pay a little more for manufactured baby food products in exchange for convenience. But just providing the product isn't enough; food manufacturers have to respond to the changing tastes and needs of busy families.
Making baby foods more convenient, through packaging and formulation innovations, is one area food companies are exploring. Expanding their traditional "baby" product lines to include foods specifically targeted to toddlers is another trend. This strategy not only allows them to provide busy consumers with more options for quick and easy meals for children transitioning to table food, but also gives companies a larger pool of potential customers by increasing the age limit on their products.
Addressing a variety of health concerns is also a trend. Some manufacturers have responded to consumers' concerns about pesticides and genetically modified organisms by introducing product lines that are advertised as organic and free of genetically modified ingredients. Companies, such as Gerber, are even launching health initiatives to address the United States' alarming juvenile obesity rates, trying to educate parents on proper feeding techniques and stressing that healthy eating habits are learned early.
With birth rates projected to rise in the next few years, companies are poised to benefit from an increasing market. Already, the baby food sections of grocery stores are changing to capture those dollars.
Expanding the Market
Between 1997 and 2002, sales of baby food and snacks increased 12.6%, although that figure is down 0.7% in constant 2002 dollars, according to consumer study The Baby Food and Drink Market, published by market research firm Mintel. The report states that the growth and decline in the market during that time period paralleled the growth and decline in annual birth rates. Although there have been a few successful products during that time, the general growth trend has been slow to flat.
Baby food producers face a unique problem in that the time period during which consumers will buy their products is limited. Most infants transition from formula to baby food or toddler food within two years. According to Mintel's analysis of data from the Simmons National Consumer Survey, 68% of respondents with children under the age of two years use formula, and only slightly more than half use food, cereal, or juice. They also use an average of 10.6 servings of baby food per week, 7.5 of cereal, and 7.9 of juice, suggesting that consumers supplement their children's diets with foods not specifically made for babies, such as table food.
--- PAGE BREAK ---
In an effort to stretch out the finite window of opportunity available to sell their products, many companies are beginning to expand their product lines to include foods specifically targeted to toddlers, who are usually around age two. Gerber has been very successful in this area with its Gerber® Graduates™ line of foods specifically designed for toddlers. The products, which the company launched in 1996, mimic adult foods but are sized for toddler fingers and formulated to meet toddlers' nutritional needs. The grabbable bite-size pieces are made for children learning to self-feed. They are also sized to avoid risk of choking. The Graduates line includes snacks, meals, fruits, vegetables, and juices.
Other companies are also jumping at the opportunity to feed hungry toddlers. Earth's Best Baby Food launched its first toddler product, Earth's Best® Tots Cereal Bars, in May of this year. The individually wrapped bars are made from organic wheat flour, contain no genetically engineered ingredients, and are fortified with calcium, iron, zinc, and six B vitamins. They are sized for toddlers' hands and come in strawberry banana, cherry, and peanut butter strawberry flavors.
For Earth's Best, expanding its product line to include toddler foods was something the company was eager to do in order to meet the needs of its customers, Kim Bremer, brand manager for Earth's Best Baby Food, said.
"We heard a lot from moms that would tell us, 'We love your line—it's the best—but then our children reach 18 months and what do we do?'" she said. "We launched the Tots line in May of 2003, and it's doing really well."
The organic baby food company is launching its second Tots product this month. Earth's Best Tots Crunchin' Blocks are specially formulated for the developing needs of children in a size that fits their fingers. The letter-shaped blocks contain no trans fats, artificial flavors, or preservatives. They come in honey graham, cinnamon graham, and banana flavors.
It's no accident the company's first toddler products are snack foods. Toddlers tend to snack throughout the day, Bremer said. Sometimes, snacks are the only way to get them to eat since they're always on the move. Thus, providing snack options to mothers is imperative.
"You can give your child a snack, and if it doesn't taste good and doesn't have a hint of sweetness, you're not going to get very far; they just aren't going to eat raw vegetables all the time," she said. "They may snack up to seven times a day, and if they're hungry, they're going to want to eat right then, so you have to have snacks ready."
Earth's Best has moved even farther to expand its pool of potential consumers by offering a line for older children called Earth's Best Kidz. The products are designed for ages 3½ and older and are easily thrown into a bag or packed in a lunchbox for children first starting to go to school. The line offers cookies, applesauce, and whole-grain snack bars.
--- PAGE BREAK ---
Convenience
One of the main reasons consumers are responding so well to the new toddler lines is the convenience they afford busy parents. The foods provide good nutritional content in a package that shortens meal preparation time for consumers. Moms and dads may not want to prepare dinner twice, once for themselves and a second meal for their child.
Many of the new lines possess convenience features, such as single-serving sizes, microwavable bowls, and plastic containers for easy packing. Companies are also incorporating these convenience features into some of their other lines for younger babies.
Beechnut offers a Table Time® line of foods for children age 13-18 months that features a number of entrees in microwavable tubs. As children begin moving from purees to foods resembling adult table foods, the Table Time® tubs allow parents to give their children natural products in an easy-to-heat, convenient package, Lisa Lewis, Beechnut manager of consumer services, said.
In addition to microwavable packaging, single-serve sizes are also a big trend. Earth's Best introduced multi-packs of its three whole-grain cereal varieties—rice, multi-grain, and oatmeal. The multi-packs contain six individual serving packets in each box. The product is intended for busy parents who don't have time to deal with the inconvenience or mess of measuring and pouring individual cereal servings. Parents simply don't have the time to waste, Bremer said. The packets make it easy to toss the single serving in a bag and go.
"In today's society, most mothers aren't just working, they're going to the store, going to grandma's house, going to daycare—they're always on the move," she said. "We hear it all the time from moms today. It's a huge issue. There's a big need for convenience and saving time."
Making baby food containers more portable has sparked a number of new packaging innovations, particularly using plastics. Gerber recently introduced 2nd Foods™ 2-Packs for all 15 varieties of its 2nd Foods Fruits. That multi-ingredient line is intended for babies who can eat easily from a spoon and have tried all the single-ingredient varieties. The new 2-Packs come in lightweight plastic containers that are easy to carry, easy to store, and easy to eat.
Organic
Although specifically labeled organic baby food has been available in natural food retail outlets for quite a while, it hadn't gained a hold with major baby food companies until recently. Earth's Best is the largest all-organic company in the baby food market. Gerber, the largest baby food player overall, introduced its own line of organic foods in 2001. Gerber's Tender Harvest products feature a full line of certified organic baby foods with unique flavors and combinations that mirror the three stages of its regular line of baby food.
Both lines are free of genetically modified ingredients, pesticides, and herbicides.
--- PAGE BREAK ---
As more consumers begin to seek out organic products, the debate surrounding the benefits of organic baby food versus regular baby food continues. While most nutritionists don't advocate organic over regular baby food, many say food companies are simply offering consumers an alternative, and it is always good to have more choices available when it comes to feeding children.
"To buy organic is a choice, is an option, which is great for the people who want that option," Rachel Brandeis, registered dietitian and spokesperson for the American Dietetic Association. "However, if you don't want to pay the price, say for fresh produce, as long as you wash the produce correctly and for the right amount of time, that's fine, too," she said. "All baby food has certain requirements it has to meet regarding pesticide levels."
More important than whether the product is organic or not is whether parents are serving their children the proper amounts for each food group, Claudia Gonzalez, also a registered dietitian and spokesperson for the American Dietetic Association, said.
"The point is actually the food itself—the food group—regardless of what kind you buy," she said. "In general, the food industry in the U.S. is one of the best in the world; we have great foods. The point is to make sure the basic nutritional needs are being met."
For companies producing organic foods, the debate over whether they are better isn't their main concern; meeting the needs of consumers who want foods made without use of pesticides or herbicides is what they are about.
"There's a huge desire from mom to feed her baby the very best food she can right from the beginning," Bremer said. "A lot of times, they want to move to something that's a little above the bar, and that's where Earth's Best comes in because that's what our product is all about."
Since babies eat such a large amount of produce, the organic issue is particularly important for that age group, Bremer said.
"Babies eat up to four times the amount of produce that adults eat, and that's a critical point," she said. "A baby is the pure essence of innocence, and it seems appropriate to me that you would look for a first food that is the most healthy, most non-processed, most pure it can be."
--- PAGE BREAK ---
More Babies on the Way
Mintel forecasts that sales of all baby food and drinks are expected to grow 14% at constant prices from 2002 to 2007. Mintel's report states that the increase will be a result of a baby boom that is expected when members of the Echo Boom generation (those born between 1977 and 1994) enter their peak childbearing years and join Generation X-ers (those born between 1965 and 1976), who are already in their prime childbearing years. The report also forecasts that the faster rate of growth among the Hispanic population is also expected to have an impact on the market, since Hispanics have a higher tendency to use baby food and drink products and for longer periods of time relative to blacks and whites.
With so many babies on the way, food companies will have to continue to respond to consumers' needs for convenience in order to thrive in a growing market. Exploring more options to combine convenience with the desire for more varieties of toddler foods could help companies capture more consumer dollars. Offering more products such as the recently introduced Lil' Entrees® from Gerber, which combine a few different bite-sized foods in one "full meal" package, satisfies convenience and variety desires. Manufacturers will need to focus their development strategies on these areas to maximize their earning potential in the coming boom. More babies, meaning more potential consumers, are born each day.
"Four million babies are born each year, one every eight seconds," Bremer said. "Really, when you think about it, that's a lot of new customers to feed."
by Sara Langen,
Assistant Editor