If only people would eat less and exercise more. Politically speaking that sounds good. And from a health standpoint, taking such an approach certainly wouldn't add to the increasing obesity problem. However, realistically, I have serious doubts that it's the sole answer to a very complex problem that not only our nation faces, but much of the already developed world as well.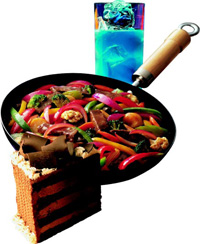 Solutions to the problem of obesity and other weight-related health concerns such as diabetes and heart disease—if they are to be effective in the long run—have to take into serious consideration several important factors.
To start with, one needs to examine (starting at a very early age, if possible) the genetic profile of the individual and, I feel, attempt to rectify the traditional lack of a subsequent health program based on specific individual needs and not guidelines (no matter how well meaning) that are designed for a general populace. A recent commentary, "The Challenge to Customize," in the Journal of the American Dietetic Association, discussed how individualizing dietary recommendations and consuming specific foods to match an individual's specific health needs is within the realm of future nutrition practices. The role of the food industry, and especially ingredient suppliers, in creating and marketing products to meet the needs of various population segments will play an important role here.
Then there are lifestyle styles habits to consider. For instance, the kind of a job a person has, an individual's perception of exercise, the overall health of the individual, the amount of time a person realistically has in a hectic schedule, levels of stress, and the amount of smoking or drinking a person does can all contribute to a sedentary or nonactive existence which means that not enough calories are being burned off.
And then there's the psychological side. While we're faced with a worsening crisis, it is ironic that a large number of individuals are involved in dieting, regardless of how successful they have been. For many overweight individuals, solutions to an increasing weight problem are a deep, personal matter. As a realistic solution, telling these people to eat less and exercise more seems to fall far short of the mark—at least the mark that we should be striving for as a nation. This problem may even be more exacerbated if in the future, as the country tries to deal with obesity, especially its financial repercussions, uninformed legislation or hasty insurance reform is passed based on the difference between a person's actual weight and an ideal one. Such a situation may sound Orwellian, but it's possible. Just as it's possible someday that lawsuits involving obesity and level of responsibility might occur, as they did with cigarette smoking and subsequent lung cancer.
--- PAGE BREAK ---
In the real world we live in, the terms "convenience" and "health" frequently drift apart when they should be forging a closer relationship or even partnership. For example, while fast-food restaurants know that it's good policy to have a healthy menu available, they also know that it's the "big" portions that sell. And we're not talking about big portions of vegetables, either. And the more the big portions sell, the more likely that the healthy menus will diminish in size or possibly disappear altogether, based on the rationale that the public just wasn't interested.
Also, conflicting messages need to be made clearer. For example, on the one hand, we have the currently dominant low-carb trend, where the emphasis is on reducing starches, sugars, and carbohydrates in general. But then you might hear that the emphasis should be on finding ways to reduce fat intake. Or you might hear that it doesn't matter what you eat, as long as you keep within your caloric range. It's no wonder that some people are confused.
And then there are specific products being promoted such as nutrition bars or energy drinks. A great deal of emphasis is sometimes placed on these kinds of products, but keep in mind that man (and woman) does not live by nutrition bar alone. While these products may or may not have health advantages, they cannot by themselves solve the obesity epidemic.
So, amid the consideration of all these factors, what's the solution?
I think one answer lies in the use of healthy, functional, and tasty ingredients to formulate or, to put it more precisely, reformulate the basic foods that individuals eat. This year's IFT Annual Meeting & Food Expo® showed definite signs that ingredient suppliers are making serious efforts to do just that.
More than a decade ago, if you recall, a wide range of fat replacers were developed. These ingredients were designed to mimic the characteristics of fat which had been taken out of the food formulation. Unfortunately, many of the finished products made with these ingredients did not have satisfactory organoleptic qualities, and many of them disappeared or were later improved on. Today, however, foods and beverages are being created with ingredients and ingredient combinations that not only provide the necessary health attributes, but also the functionality qualities that were once missing as well.
--- PAGE BREAK ---
At this year's IFT Food Expo, we saw many examples of this. In fact, most of this article will be discussing these kinds of developments. They may include low-trans oil alternatives, dairy proteins, flavor enhancers or masking agents, encapsulated ingredients, flavors, colors, sweeteners, a wide range of texturizers, and many other ingredients. What's more, many ingredient suppliers are not only supplying the ingredients, but also creating the prototype applications that can help address the obesity problem. Of interesting significance is that these foods are not the kinds of products that were once found in health food stores, which had a limited audience, but rather the kinds of mainstream foods that people are quite familiar with—products such as French fries, chili, meatballs, breads, frozen desserts, juice drinks, culinary dishes, and many others.
At a technical program, "The Politics of Obesity," held during the IFT Annual Meeting, speaker Rhona Applebaum, Executive Vice President and Chief Science Officer at the National Food Processors Association, noted, "In an era where attention to diet and health is at an all time high, the food industry must deliver foods that not only meet consumers' basic nutritional requirements, but also their demands for products that taste good, are safe, nutritious, convenient, and of good value." She also added that "This is no easy task."
When considering how complex the issue of obesity is, it shouldn't be too surprising that solutions to this problem may not be that easy. However, when reviewing the number of innovative products highlighted at the Food Expo, one can see that a great deal of progress has already been made—that ingredient suppliers are taking very important steps, some of them large ones, and will continue, I think, to do so.
Interestingly, during the week of the IFT Annual Meeting, another event was being held in Massachusetts which may have some significance. A leading collaborative product and technology development firm, TIAX LLC (formerly Arthur D. Little's Technology & Innovation business) launched the Center for Food Reformulation. The Center, which is staffed by experts from a range of fields, including chemistry, biology, food science, sensory science, engineering, and manufacturing, will assist food and beverage, foodservice, and food ingredient companies in developing healthier, more consumer-friendly food products.
"Using its sensory-directed product development approach and tapping extensive links to the research community, and food suppliers and manufacturers, TIAX experts will assist companies in achieving healthier formulations, while maintaining a product's flavor, texture, and shelf life, thereby ensuring consumer satisfaction and acceptance," said a representative from the company. "In order to make healthy food choices, it is imperative that consumers have access to healthy product offerings."
--- PAGE BREAK ---
That last sentence is especially important. Many of the reformulated foods shown at the Food Expo are prototypes. Versions of them may or may not reach the marketplace today. But obviously, it's important that they do. Skeptics might say that healthy product offerings are destined to fail in the marketplace, that not enough mainstream consumers will buy them, but I strongly believe that products that have a desirable flavor, texture, appearance, and shelf life will succeed.
And if they do succeed, then problems such as obesity, diabetes, heart disease, and others will be addressed as well. Imagine, for a moment, the possible impact that reformulated foods could have. If you're borderline overweight, they can help get you back to a healthier weight. If you're more seriously overweight, they could at least provide a partial solution, cutting back the amount of calories you consume or providing the nutrients that you might not be getting. Furthermore, as has always been true, cutting back your portion sizes and doing more physical activity, combined with eating healthier foods, can provide a positive contribution and lead to more long-term advantages.
It's true that the food industry's role in the Health Initiative (and I'm using that term more broadly although it's recently been taking on more-specific meanings) can cover several levels, including limiting portion sizes, trying to encourage marketing of healthy products aimed for children and improving school lunch programs, supporting nutrition labeling, and promoting programs aimed at improving fitness and nutrition. I think more and more food companies will be taking such a stance, both for political reasons and out of sincere conviction.
But it seems to me that the most important aspect is the reformulation of traditional foods and, in particular, the potential roles that functionality plays in creating these future foods and beverages.
With that in mind, let's now look at some of the ingredients that were highlighted at the Food Expo, and the ways that their functionality can have a positive impact on the health initiative—and possibly someday—solve the growing obesity epidemic and associated health problems.
Textural properties of starches create new opportunities. Three food industry trends—organic food formulations, functional carbohydrates as a source of nutrition, and new textural properties for a variety of eating experiences—were focused on under the banner, "Innovation Valley," by National Starch, 10 Finderne Ave., Bridgewater, NJ 08807 (phone 800-797-4992; fax 609-409-5699; www.nationalstarch.com).
--- PAGE BREAK ---
The texturizing starches and the organic starches, because their functionality is emphasized, will be discussed in this article, while carbohydrates as a source of nutrition, especially resistant starches, will be described in the Nutraceuticals article following this one.
In the Organic Stadium area of the booth, the company's food technologists demonstrated that commercially prepared organic foods can have the same eating, textural, and shelf-stability qualities as their non-organic counterparts.
Highlighted was an organic Quiche Florentine appetizer, which was prepared with a certified organic starch, Novation 9270. This functional native waxy maize food starch is a high-viscosity product recommended for low-to-moderate temperature and shear food processing systems. The starch is made with proprietary technology that results in properties similar to modified starches while meeting the labeling criteria of native starches.
According to the manufacturer, the special properties of the starch enable organic food producers to achieve appealing texture, stability, mouthfeel, and appearance that are not attainable with typical native starches. The starch performs in food processes where traditional native starches cannot be used because of excessive heat and shear, yielding low viscosity and undesirable texture. The starch can be used in sauces, gravies, and soups; it has a rapid flavor release profile that makes it well suited for dairy foods and delicately flavored sauces; and it and can be used in puddings and other desserts where its high viscosity and smooth short texture are desirable.
Also added to the company's organic food starch line was Purity 9200, a corn starch which can be used wherever an organic thickener with a long texture is acceptable. One example is its use as a fill viscosity aid in canning operations. It provides high-filling viscosity to reduce splashing or slopping in high-speed filling operations. The starch can also be used in cooked snacks to yield an open, expanded texture and good shelf life.
In the Texture Tower area of the booth, the company's food technologists explained how the creative use of starches can produce a wide range of textures to enhance existing food products or stimulate new ideas. Two texturizing starches, in particular, were unveiled, as well as a prototype demonstrating the effectiveness of available starches as texturizers:
1. A specialty starch which permits yogurt producers to replace gelatin in stirred and cup-set yogurts was introduced under the name Impression™. The modified corn starch is said to manage water and provide to yogurt products a structured texture similar to that of gelatin. It also offers a clean flavor profile.
According to the manufacturer, the starch replaces existing stabilizers when used at a level of 1.5–2.25%. It also allows a further 1% reduction in milk solids without any loss of textural properties. Commercial production has successfully demonstrated that the starch requires no changes to processing and equipment. Customers can simply add the starch to the milk and sweetener before heating. Food scientists who created this starch report that it resists the temperatures and pressures associated with standard pasteurization. It resists shear from blending and mixing, and it is not affected by acids from fruits.
--- PAGE BREAK ---
2. A specially processed potato starch, marketed under the name Advanta-Gel™ P75, is said to be able to form a firm gel in 2 hr, while delivering full strength in under 10 hr. It can deliver a full range of textural characteristics, including cuttable textures, excellent structure, and shape maintenance in dips, instant frostings, instant sour cream, baked goods, no-cook pie fillings and cheesecake, instant custards, flans, mousses, and other products. Because of the bland base and special processing, the starch has a very clean flavor profile and carries a native starch label.
While gelling applications typically require 3–7% usage levels, this potato-based starch will provide moderate to high viscosity and short, creamy textures at 1–3% levels. In baked goods, the benefits include maintaining moisture content and managing cookie spread.
Also, the starch's functionality does not depend on pH. This starch is said to gel stronger and faster in neutral and refrigerated applications. It may also be used as a partial egg replacement in structured products such as cheesecakes.
In addition to the above starches, a prototype highlighted Brazilian cheese bread baked fresh in the booth. This bread was formulated with two starches, Crispioca® XLT and Novelose 260, to demonstrate the viability of a gluten free, "good source of fiber" bread.
New leavening system introduced.
A new leavening system was introduced by Astaris LLC, Food Products Div., 622 Emerson Rd., Ste. 500, St. Louis, MO 63141 (phone 314-983-7530; fax 314-983-7636; www.astaris.com) under the name EZ Dough. The new development incorporates Levn-Lite, a heat-activated chemical leavening system which prevents premature leavening prior to baking and which ensures that refrigerated and frozen pizza crusts, pocket sandwiches, muffins, biscuits, cakes, and other bakery goods achieve and maintain peak texture and volume.
--- PAGE BREAK ---
According to the manufacturer, the new system significantly reduces total processing costs and consistently meets high quality specifications for frozen pizza, pastries, rolls, and bread applications. It provides a controlled and process-tolerant leavening system that yields more consistent results than yeast alone. In addition, it reduces the need for fermentation and proofing. With this innovative leavening technology, frozen dough can now gain freezer tolerance, a benefit that reportedly cannot be realized with traditional formulations.
In foodservice applications, the new advancement delivers longer shelf life for prepared doughs, which allows for greater flexibility in timing and handling, and reduced waste.
In addition, the company highlighted its Nutrifos® family of phosphates that improve the taste, texture, and consistency of meat, poulty, and seafood appetizers and entrees. In marinades and spice mixes, the phosphates can enhance taste and consistency when added to meats, poultry, and seafood. Foods prepared without these ingredients can become unnecessarily greasy or watery, creating an undesirable product in appearance, taste, and texture. In frozen applications, the phosphates can reduce the loss of flavor-containing juices during the thawing process.
Diner served up low-trans-fat alternatives and other future ingredients. A portfolio of system-specific oils and fats providing formulators with zero and low-trans-fat alternatives has been launched under the name NovaLipid™ by Archer Daniels Midland Co., 4666 Faries Pkwy., Decatur, IL 62526 (phone 217-424-5424; fax 217-424-5580; www.admworld.com). The range of oils and shortenings can be used in margarine, baked goods, frying applications, confections, snacks, and cereal products, as well as functional beverages/nutrition bars and supplements.
The portfolio includes naturally stable oils, tropical oils, blended oils, and enzyme-interesterified shortenings and margarines. Each product is tailor-made to provide the functionality, flexibility, and convenience required for virtually any food application. At a press conference, representatives from the company described the functionality and nutritional benefits that each product in the portfolio offers.
--- PAGE BREAK ---
For example, in the production of naturally stable oils, traditional oilseeds are bred to enhance oxidative stability without the need for partial hydrogenation. Benefits include better stability compared to traditional oils, favorable flavor profiles, and reduced saturated fats with no trans fats. The naturally stable oils are suitable for a variety of frying applications, spray oil applications, and other formulations where stability is required.
Other products discussed include tropical oils, which are low in trans fats, are naturally stable, and provide a variety of melt profiles; oils blending traditionally processed oils and fats, which offer low-trans-fat alternatives and provide a variety of melt profiles; and shortenings and margarines which have been enzyme interesterified to produce desired melting profiles for functional applications and similar functionality to products traditionally produced with partially hydrogenated vegetable oils while providing low or no trans fatty acids.
The line of NovaLipids were featured in several applications shown at the ADM booth, which was organized as a "Diner of the Future." For example, the low-trans-fat alternatives were used in French fries (after all, what American diner would be complete if it didn't serve this favorite). Each serving of French fries reportedly contained less than ½ g of trans-fatty oils. The oils were also used in such desserts as a chocolate chip cookie and cinnamon Danish or Golden Biscuit.
Although the Diner of the Future was designed to demonstrate the formulation of healthy foods (using ingredients, of course, that are discussed in Nutraceutical sections), it is important to note that these same dishes taste good as well. Consequently, this booth was an excellent example of how functionality helps address the health initiative.
For example, a vegetable chili made with dehydrated whole beans which provided easier portion control and a shorter cook time was served. As a base, Soy 7 Chili Mix provided soy protein and a taste that the company claims would allow the chili to take first place in any chili cookoff.
Furthermore, several of the dishes benefitted by the indulgence of chocolate. A Vanilla Soy Frozen Dessert with Chocolate Waffle Cone was formulated with NutriSoy® Organic Whole Bean Powder and a low-fat cocoa with an ultrafiltered, de-oiled lecithin. The Chocolate Chip Cookie, in addition to being formulated with low-trans-fat-oil, contained Ambrosia-brand bittersweet chocolate baking chips and was naturally sweetened with ADM dry honey. The Mocha Cappuccino Chill contained ADM DeZaan® brand red cocoa powder, noted for its rich color and flavor, as well as vitamin E, dietary fiber, and organic soy protein.
Other products on the menu that demonstrate both functionality and nutritional benefits included a Savory Veggie Meatball Sandwich, Chick'n-less Lo Mein, Quesadilla Roll with Refried Beans, Green Salad with Enova™ Oil Dressing, Zucchini/Carrot Muffin, and a Vitamin E Carbonated Beverage.
--- PAGE BREAK ---
Menu categories highlight Mexican cuisine. Ten menu categories demonstrating the use of innovative ingredients that offer solutions to culinary challenges in product development were highlighted by Kraft Food Ingredients, 8000 Horizon Center Blvd., Memphis, TN 38133 (phone 901-381-6500; fax 901-381-6524). These categories included poultry, beef, and pork, side dishes and vegetables, savory fillings, sauces and gravies, dips and spreads, hand-held meals, soups and kit entrees, sweet fillings, and dessert crusts.
For each category, a variety of dishes were either available for sampling or could be prepared for special customer requests at the Kraft booth, termed Chef's Table. Food Technology staff were invited to sample some of these dishes.
This year's focus included cheese and flavor solutions that deliver the bold flavor profiles and textural qualities found in Hispanic cuisine. Some of these dishes included Mexican Eggroll with Melted Monterey Jack Cheese Sauce with Jalapeño Peppers; Carnita-Style "Char Roastin-the-Bag" Pork with Pan Juices (Mexican CharGrill-Style Flavor, Lard-Style Flavor); Cheesy Mexican Bake with Roasted Chicken, Ziti Pasta, and Poblano Chilies (Mexican-Style Pasteurized Process Cheese Spread, Natural Mesquite Grilled Chicken Flavor, and Malted Cereal Granules); Beef Burritos with Roasted Jalapeño Queso (Hi-Melt Pasteurized Process Monterrey Jack Cheese with Jalapeño Peppers, Restricted Melt Cheddar Cheese Sauce Mix); and Cuban-style Chicken Tenders with Caribbean Spices and Coconut (Cuisine of the Caribbean Flavor, Backyard Grill Flavor, Baker's Light Toasted Fine Coconut).
Among the many ingredients and flavors that were suitable for use in these type of applications included Mesquite Grill Chicken Flavor, a free-flowing powder which lends a distinct south-of-the-border grilled chicken flavor to fajita dry rubs, poultry marinades, glazes, soups, enchiladas, and sauces; Mexican-style Cheese Spread, which contains both Monterey Jack and Cheddar cheese varieties, and provides a piquant, distinctive flavor; Restricted Melt Cheese Sauce with Jalapeno Peppers which is designed for use in applications where pumpability at refrigerated temperatures or melt restriction is desired; Pasteurized Process Monterey Jack with Jalapeño Peppers which gives an authentic Tex-Mex zest to various recipes such as stuffed meat products and pocket sandwiches; Natural and Artificial Mexican CharGrill-style Flavor, a powder which provides a combination of cooked notes and compound flavors that serve as the foundation to Mexican cuisine; and Artificial Lard-style Flavor, a fat-soluble paste which provides the full flavor of pork fat in a concentrated form, but contains no lard or animal products.
A second focus was on the use of a Neufchatel cheese blend, a soft uncured cheese product that was designed to replace Neufchatel on a one-for-one basis in both sweet and savory applications. Called Kraft Neufchatel Cheez Blend, the product offers the flavor and mouthfeel of real Neufchatel and cream cheese, buts contains one-third less cholesterol and saturated fat. Highlighted dishes using the cheese blend included a Creamy Chicken Noodle Soup, Cheese and Tomato Bisque with Parmesan Cheese Crisps, Chicken Lasagna with Garlic-Cream Cheese Filling and Marinara Sauce; and Mocha Tiramisu with Oreo Wafers and Caramel Hard Sauce.
--- PAGE BREAK ---
A third focus was on a wide range of desserts made with Oreo® ingredients, shredded coconut, and Grape-nuts® cereal. These included the already mentioned Mocha Tiramisu, Nilla® Wafer crusted Oreo Mousse with Coconut and Citrus Glaze; Fraisier-style Genoise Cake with Summer Berries and Rum-Coconut Creme Anglaise; Oreo-crusted Raspberry Mousse Pie with Caramel Drizzle; Coconut Macaroon and Mango-Lime Zest Cheesecake; and Grape-nuts-crusted Macadamia Nut Bar with Caramel and Marshmallow Creme.
Other notable highlights of the menu included Peppercorn-Burgundy Char-roasted Beef (A-1 Steak Sauce Style Natural Flavor Dry, ClassicRoast™ LCC Natural CharRoast™ Flavor); Baked Mac and Cheese Nuggets (a hand-held meal made with cheese sauce mixes); Bistro-style Potato Salad with Horseradish and Mustard Sauce (made with Grey Poupon® Bistro sauce, a combination of Dijon mustard, horseradish, and garlic); and Grilled Chicken and Broccoli Tartelette with Sun-Dried Tomato-Mozzarella Cheese Sauce (Pumpable Restricted Melt Cheese Sauce-Mozzarella Flavored, and CharGrill-Style Flavor).
Functional solutions highlighted in energy bars, other categories. A tour of Kerry's Idea Café was given to Food Technology staff by Kerry Ingredients North America, 100 E. Grand Ave., Beloit, WI 53511 (phone 608-363-1200; fax 608-363-1670; www.kerryingredients.com). The booth tour showcased applications in energy bars, organic foods, convenience meals, and appetizers—categories which all are experiencing significant growth in the United States.
Consisting of four booths in a row, each representing a different eating experience, the application-focused café offered a wide selection of value-added ingredient technologies, along with the knowledge and expertise to combine these technologies into customized ingredient systems for highly marketable products. In this article, we will primarily be looking at the functionality benefits that these ingredients and technologies offer.
Kerry Sweet Ingredients, with supporting technologies by Kerry Proteins and Nutriant, highlighted at "café Fuel" several energy-bar prototypes made with a range of ingredients that provided functional solutions. Some of the innovations that were discussed at a press conference held by Kerry to define its energy bar initiative included using dairy proteins to address textural problems as nutrition bars age; stabilizing flax for use as crisps or in coatings; taking advantage of different sweetener alternatives and how they interact with other ingredients; nutritionally enhancing coatings; using indulgent flavors and flavor combinations, especially those related to fruit; creating soy in a novel form such as a crisp; and developing soy-based ingredients that do not affect negatively the taste profiles of the product.
The following prototypes, by addressing many of the functionality problems associated with their manufacture, help meet the needs of consumers who desire such healthy products which can be easily eaten outdoors or in athletic situations, and help bar manufacturers develop innovative, market driven products that make use of the functionality (as well as health) benefits of ingredients.
--- PAGE BREAK ---
• Chocolate Crisp Blast Bar is a soy-enhanced, no-sugar-added chocolate bar featuring high-protein crisp rice and a blend of milk and soy proteins. Reported functional benefits of the bar included milk proteins which added a softer texture to enhance mouthfeel and volume; a no-sugar-added coating which offered indulgent taste with added nutritional content; and crisp rice which provided added volume and crunch along with enhanced texture.
• Mint Chocolate Blast Bar is a no sugar-added mint chocolate bar sweetened with erythritol and enhanced with a blend of milk and soy proteins. The sweetener's cooling effect is said to go well with mint, while the protein blend provides an excellent flavor profile with no aftertaste, allowing higher inclusion rates in foods.
• Citrus Bite is a high-protein, bite-sized product featuring whey and milk proteins, citrus-flavored inclusions, natural soy nut pieces, and a milk-protein-enhanced yogurt coating. Benefits include a softer texture; a high protein level without chalky, dry mouthfeel; and fruit additions.
• Marionberry Bursts are soy crisps with no-sugar-added fruit nuggets, natural soy nut pieces, and marionberry coating, sweetened with tagatose and enhanced with milk and soy protein isolates. The product's clean flavor and special nutty texture works well to promote a product which has several ingredients with a low-glycemic index suitable for diabetics.
• Sour Blue Crunchers are brightly colored, vitamin- and mineral-fortified cereal bites with a soy crisp center and sour blue-raspberry coating. Designed primarily for children (although I have to admit this was my favorite prototype), the product again combines the functionality benefits of flavor, color, and texture, with the health benefits of vitamins and minerals.
Kerry Seasonings featured new product ideas for organic seasonings and marinades at "café Pure." Applications included Tuscan Chicken Wrap, Chile Verde Chicken Wrap, and Organic Potato Chips flavored with Sweet Summer Herb Seasoning and Chipotle Chile Barbecue Seasoning.
Kerry Specialty Ingredients, with contributing technologies by Kerry Seasonings and Kerry de Mexico, showcased convenience meal applications at "café Zap." This booth mimicked the convenience store experience, with several meals served frozen from vending machines and heated in one of several microwaves. Applications included a Caribbean Veggie Patty, a meatless veggie burger with such flavors as mango, smoked pineapple, char-grilled poblano, and Caribbean spices. It was formulated with a meat analog that has a fibrous meat-like texture that holds up in virtually all conditions.
--- PAGE BREAK ---
Kerry Coatings spotlighted appetizer applications made with the latest breader technology at "café Munch." New appetizer ideas included Three Chili Chips-Its, a chip-shaped chicken appetizer coated with a fiery blend of three chilies and other lively spices in a crunchy tortilla coating; French Onion Cheezers, a triangle-shaped Swiss cheese appetizer coated with a gourmet breading system that imparts the flavors of a bowl of French onion soup; and Cheddar Pretzel and Beer Nuggets, a Cheddar bite enrobed in a crunchy pretzel and beer breading for a three-in-one taste sensation.
Kerry Specialty Ingredients, with supporting technologies by Kerry Foodservice, Kerry de Mexico, and Nutriant, focused on beverage solutions at "café Sip." One of the prototypes shown was Banoffee Caliente!, a hot creamy banana toffee beverage currently popular in Brazil.
Nutriant focused on prototypes made with clean-tasting, nutritional soy ingredients. These included vegetarian chili, formulated with a textured soy concentrate meat analog; a peach-flavored soy milk juice drink featuring a high-protein soy-powder that has strong emulsification properties with high-viscosity characteristics and no aftertaste; and indulgent chocolate bars sweetened with cane juice and enhanced with high-protein soy.
Encapsulation improves functionality of fortified products. Microencapsulated ingredient systems for providing solutions across a diverse range of product applications were showcased by Balchem Encapsulates, Balchem Corp., P.O. Box 600, New Hampton, NY 10958 (phone 845-326-5600; fax 845-326-5730; www.balchem.com). The company highlighted several prototypes formulated with microencapsulated ingredients to demonstrate the creative ways that they can improve leavening, preservation, fortification, flavor, and overall quality—characteristics that can lead to more marketable products.
For example, Fizz Foam™ tablets in orange and mixed berry flavors create a foaming sensation in the mouth while providing needed vitamins for children. This product creates a fun and tasty way for children to get their recommended daily intake of vitamins.
The delivery system is described as a mixture of microencapsulated sodium bicarbonate and citric acid that react when both are released. These ingredients have been microencapsulated to protect the ingredients from premature interaction, ensuring release at the appropriate time and achieving a consistent performance and taste. In addition, the microencapsulation technology prevents the tablet from picking up moisture, which can cause the product to prematurely break apart. The coating material created for Fizz Foam can be customized for a particular product application and for a desired time of release, such as for a slow or quick dissolve.
There is a range of applications for the system, including beverages, coffee, candy, or chewable tablets. According to a representative from the company, "This type of nutrient delivery is taking off in Europe. There are a number of product applications for this technology, not just kids' products, but products geared toward the elderly and those with difficulties taking medications."
--- PAGE BREAK ---
In addition to the kids' tablets, other health-promoting products using microencapsulated ingredients were shown. Two products geared for women's health included a caramel chew containing L-arginine, vitamin C, iron, and choline, while an energy chew provides choline, guarana, taurine, and L-arginine. Microencapsulation technology, marketed under the name Vitashure®, can mask undesirable tastes and avoid ingredient interaction and degradation. Furthermore, the company notes that choline can be particularly difficult to use in formulations because the inherent hygroscopicity of this nutrient draws in moisture, causing products to crumble and resulting in processing problems. Through microencapsulation a range of health and wellness ingredients can be combined into a single product, with ease of manufacturing.
Fortified chocolates made with encapsulated ingredients, such as guarana, vitamin C, ferrous sulfate, dipotassium phosphate, and choline were available for sampling. Encapsulation technology allows manufacturers to minimize the effect of variables that impact product quality, while masking taste and ensuring potency of wellness ingredients.
To highlight the benefits of Bakeshure® microencapsulated leavening system in frozen and self rising pizza crusts, a pan pizza was available for sampling. According to the company, microencapsulated ingredients are particularly successful in stabilizing leavening agents in frozen dough applications such as pizza crusts and biscuits. Microencapsulation makes it possible to protect leavening agents during freeze thaw cycles to ensure optimum performance and better product quality. Adding microencapsulated ingredients protects the leavening agents from premature reactions and deterioration, even through freeze-thaw abuse, and controls the exact time the ingredients react and cause the crust to rise. It also results in fluffier, high-rise crusts. Without microencapsulated chemical leavening, pizza crusts may turn out limp and underleavened.
Microencapsulated leavening systems were also showcased in frozen entrees, such as a breakfast muffin and a southern-style biscuit.
Two new lines of tapioca starches introduced. More than a dozen prototype snacks, beverages, desserts, and prepared foods emphasizing potential health benefits were available for sampling at the Media Food Fair held by Cargill, Inc., P.O. Box 5625, Minneapolis, MN 55440 (phone 952-742-6000; fax 952-742-7393; www.cargill.com.) The health-promoting ingredients highlighted in these foods will be discussed in the Nutraceuticals article following this one. However, a number of ingredients introduced by Cargill Food and Pharma Specialties, a business unit of Cargill, have functionality properties that can play a key role in future development of products.
For example, two lines of modified tapioca starches were introduced, making possible a wider variety of process and shelf-stability characteristics. According to the manufacturer, these starches have a blandness which will not mask delicate or savory flavors, while their mouthfeel make them suitable for textures ranging from crunchy to creamy. They are both easy to incorporate and process.
Cream Tex™ starches have a hot viscosity and may be used in such applications as dairy, dry mixes, gravies and sauces, meats, and snacks.
The starches can improve the texture and water-binding properties in emulsion meat products and increase cook yields in precooked products such as meatballs and nuggets. Potential dairy applications include puddings and fillings, dry mix cookups, and cheese and cream sauces.
--- PAGE BREAK ---
HiForm™ starches have the ability to quickly develop viscosity in cold liquids, are readily dispersible, and impart a smooth, creamy texture. They may be used in dairy applications such as puddings and instant desserts.
Also making its debut is a line of modified starches for encapsulating flavors, colors, and vitamins, and enhancing emulsion functionality. Called Em-Cap™, these starches are said to be an economical alternative to gum arabic, may be used as a casein replacement in nondairy coffee creamer, and can replace eggs as an emulsion stabilizer. Available in both standard and instant formulations, the starches deliver excellent emulsion properties in beverage and cloud formulations. Even in high oil systems, the starches form stable emulsions for enhanced shelf life. When used in encapsulating systems, the instant starches are cold water soluble and provide a good film formation.
In addition, a new brochure has been released by Cargill Food and Pharma Specialties which covers its full line of specialty starch products derived from tapioca and common maize. Featured are native food starches, instant and cookup modified food starches, spray dried maltodextrins, corn syrup solids, dextrins, cyclodextrins, and polyols.
Another development highlighted at Food Expo was a strategic alliance formed between Cargill and Riceland Foods, Inc. Under terms of the agreement, which is expected to take effect by September 1, 2003, lecithin produced by Riceland at its Arkansas facility will be marketed and distributed by Cargill. According to the president of Cargill's Food & Pharma Specialties, the alliance will help establish Cargill as a lecithin supplier in North America, and will foster innovation in the production of de-oiled products for food, pharmaceutical, and technical customers worldwide.
Lecithin is derived from soybean processing. In its refined liquid form, it is used as a natural emulsifier. The de-oiling process results in powdered and granular lecithin. Lecithin is used in a variety of foods as a blending agent, dough stabilizer, egg replacer, and instantizing agent. It is also an important ingredient in dietary supplements.
Taking ethnic to new innovative levels. A variety of prototypes demonstrating recent flavor innovations based on a "beyond ordinary ethnic" theme were highlighted by several business units of Mastertaste, 6133 N. River Rd., Ste. 670, Rosemont, IL 60018 (phone 847-823-9300; fax 847-823-9301; www.mastertaste.com).
Among the products available for sampling were a piquant pico de gallo and a Parmesan basil cheese spread from the Savory Business Unit; a creamy raspberry panna cotta from the Sweet Division; and three innovative frozen margaritas—Spicy Hot Passion Fruit, Limoncello Cream, and Kiwi Melon Frozen Slush—from the Beverage Division.
A full range of technologies employed by each unit was featured during product demonstrations, and the company's culinary team was on hand to show its expertise in the development of new product concepts. Specialists in flavor creation, applications, and marketing were present to discuss specific requirements and application needs for those attendees interested in new product development, especially in the ethnic area.
--- PAGE BREAK ---
Mastertaste, a division of the Kerry Group plc, was formed in 1998 by several strategic alliances that offered innovative flavor solutions for the beverage, savory, dairy, bakery, and confectionery sectors. Most recent, the company acquired Sunpure, Ltd., a Florida-based manufacturer of natural citrus flavors and ingredients.
The Beverage Division of Mastertaste was granted a U.S. patent for a flavorful, cholesterol-lowering beverage emulsion that was developed and filed by employees of SunPure Ltd. prior to its acquisition.
Chef's Innovation Center, new ingredients launched. A "Chef's Innovation Center," a customer training and tasting center complete with chef's demonstration kitchen and tasting area, has been officially opened by Quest International, Flavors and Food Ingredients, 5115 Sedge Blvd., Hoffman Estates, IL 60192 (phone 847-645-7000; fax 847-645-7070; www.questintl.com). The Center, which is located at the company's North American Business and Technology Center in Hoffman Estates, was completed by June 30, 2003, in time for its official opening in conjunction with Food Expo.
Inspiration for the Center came after Quest's successful launch in 2003 of a range of new culinary flavors, including the Designer Wheel™ concept of creating meat flavors that emulate chefs' cooking styles. These innovations have reportedly strengthened Quest's leadership in this market and the company expects to welcome more than 200 customers to the Center during the first year.
"It's a broad development process, not confined to flavor alone," said Larry Eisenberg, Culinary Applications Manager. "We must consider texture, appearance, umami, shelf life, stability, manufacturability, and flavor. And the new center will enable us to meet these needs for our customers."
In addition to the unveiling of the center, the company is introducing several new ingredients:
A diverse collection of true-to-the-fruit citrus flavors especially suited to beverage applications has been launched worldwide under the name Citrusense™. The flavors are said to deliver special profiles, maximizing sensory impact without the off-flavors often associated with distillation processes requiring heat. The range of flavors also include Citrustable™, heat-stable flavors and ingredients that improve shelf life, and Citruclear™, water-soluble flavors and ingredients designed for clear applications.
A new flavor development system, the Meat Designer Wheel™, operates as a visual spectrum of flavor profiles, all named in language related to well known cooking styles. It draws flavors from traditional home-style cooking methods, resulting in 10 character-specific profiles, such as roasted or stewed, and four varieties of beef, pork, veal, and lamb. Like its predecessor, the Chicken Designer Wheel introduced in 2002, the system enables the company to create multiple versions of a flavor in a single afternoon, all tailored to meet the customer's needs, rather than days or weeks when using typical industry methods. The new approach will drastically cut product development time for customers.
--- PAGE BREAK ---
A range of vanilla flavors called Vantasia™ has been developed which are said to replicate or enhance the high quality and sophisticated profiles of vanilla extracts. Proprietary technology was used in developing these vanilla type flavors which don't contain vanilla extract. According to the manufacturer, the profiles can all be recreated with the sophistication and complexity that extracts would normally provide, but with cost-effective alternative ingredients. "We see vanilla projects increasingly now in bakery and confectionery applications, and lately even more in non-alcoholic beverages," said a company representative. "Our flavors are valuable for all of these products, and we offer powder forms to use in dry mixes for bakery, beverages, culinary, and desserts, as well as a bake-stable form for high-temperature processing."
Bakery emulsifiers were also highlighted. A newly launched co-chilled emulsifier blend, Myvatex® P-28K, is a combination of a distilled monoglyceride and SSL for use in yeast-raised and other bakery goods. It provides hydration qualities of both the monoglycerides and SSL, even in cold water and with no pre-treatment. In bread making, the powdered blend creates excellent tolerance and stability in the proofed doughs, improving the closed grain structure and volume as well as the symmetry of the loaf. Also introduced was Admul® DATEM 1005K, which satisfies kosher and regulatory requirements and is available for the first time in North America.
Inulin provides functionality in weight management prototypes. Fiber ingredients for low-carb and weight-loss products were showcased by Orafti Active Food Ingredients, 101 Lindenwood Dr., Malvern, PA 19355 (phone 610-889-9828; fax 610-889-9821; www.orafti-us.com). These ingredients extracted from chicory root—including inulin (Raftiline), oligofructose (Raftilose), and an inulin product enriched with oligofructose for increasing calcium absorption (Raftilose Synergy 1)—all offer health promoting properties which will be further discussed in the Nutraceuticals article.
These ingredients, however, also play an important role in the functionality of these products. During a tour of the booth for Food Technology staff, a representative from the company discussed how they can impact such properties as sweetness, texture, flavor, and shelf life in the spotlighted applications, which included nutrition bars, sugar-free chocolate, mandarin orange–flavored water, and a calcium-boosting orange juice.
For example, inulin and oli-gofructose, when formulated in nutrition bars, can help maintain the bar softness, provide a sweet flavor while reducing sugar, and extend shelf life. In a sugar-free chocolate, an inulin/polyol system can provide improved flavor, reduced cooling, synergy with high-intensity sweeteners, and a smooth texture.
In the orange juice, the enriched inulin product can increase calcium absorption without having a negative impact on the taste and texture of the product. The inulin in the weight-loss water provides a good source of fiber for satiety, but does not interfere with the delicate taste of the flavored water.
According to representatives from the company, the prototypes highlighted at the show were designed to show formulators the potential that fiber ingredients can offer, especially in the weight-management area, and how these ingredients can help create desirable products from both functionality and health standpoints—a combination which can help ensure their survival on the supermarket shelf.
--- PAGE BREAK ---
Next-generation weighting agent introduced. A beverage weighting agent combining sucrose acetate isobutyrate and medium-chain triglycerides has been launched under the name Sustane SAIB MCT by Eastman Chemical Co., P.O. Box 431, Kingsport, TN 37662 (phone 423-229-4877; fax 423-229-1525; www.eastman.com).
The enhanced weighting agent is said to prevent the oil-soluble ingredients and water in beverages such as fruit juices, energy drinks, carbonated soft drinks, nutritional tonics, malt beverages, and New Age drinks from separating during storage. It also improves the appearance and stability of beverage "cloud" to help brands achieve the natural look consumers desire.
The new weighting agent can play an especially important functionality role in the development of health-promoting beverages. For example, it can be used in nutraceutical beverages requiring stabilization of oil-soluble vitamins and other such components. In cloudy, citrus-flavored beverages, it prevents essential oils from separating and preserves flavor and cloud stability.
According to the manufacturer, the ready-to-blend weighting agent is odorless and taste-neutral and can be poured at room temperature directly into the oil phase of beverage formulations. Because no heating is required to lower its viscosity, it reduces both preparation and clean up time in beverage formulating.
The product is described as a major development in weighting agent technology. It is FDA-approved for use at the highest levels (330 ppm) of all weighting agents. The new blend is easy to pour and enhances the natural look of "cloud" in beverages, often lost during beverage processing and storage.
Like all Sustane weighting agents, this new product is stable when exposed to air and blended into beverages. It helps formulators obtain an even, lasting blend of ingredients for consistency of flavor and appearance, both critical to the integrity of beverage brands. In fact, these formulations reportedly have the longest shelf life of all weighting agents.
Technical data sheets are available describing the properties and applications of this weighting agent.
Barley malt extract's potential role in organic powders. A line of certified organic, freeze-dried fruit and vegetable powders was highlighted at a press conference by Crystals International, Inc., 600 W. ML King, Jr. Blvd., Plant City, FL 33563-5117 (phone 813-359-5128; fax 813-757-6060; www.crystals-inc.com). Varieties included banana, beet, carrot, orange, and pineapple.
--- PAGE BREAK ---
The nutrient-dense powders are made by a low-heat, continuous-vacuum, freeze-drying process using certified organic fruit or vegetable concentrates. They are said to retain the natural color, taste, and aroma of the concentrates or purees, and may be used in a variety of applications, including dairy, baked goods, confections, baby foods, beverages, sauces, nutraceuticals, and many others.
After the press conference, Steve Phelps, Senior Research and Development Project Leader, spoke with Food Technology about an interesting application using organic barley malt extract and its potential role in the production of future freeze-dried powders, both organic and nonorganic.
According to Phelps, the company is currently exploring the use of barley malt extract as an alternative to maltodextrin as a carrier for a line of powdered organic juice products. The company was able to take advantage of the sugar profiles of barley malt extract and use the sugars as the actual carrier.
Researchers reportedly found that the barley malt extract helped reduce functionality problems they had encountered with other carriers. Additional benefits, included the flavor of malt and the positive connotations associated with malt. The company is also planning to explore the use of barley malt extract as a carrier in conventional juice products as well.
Phelps noted that Crystals International is targeting the nutritional supplement market, meal replacement bars with fruit juice fillings, and other such products, and he feels that the use of barley malt extract and its unique functionality can help enhance products that are being marketed for their potential health benefits. Furthermore, he sees the company doing more work in finding ways to enhance fruit and vegetable juice powders, or, as he put it, "taking advantage of what is inherently there and then adding components that will enhance these products."
Concepts provide ingredient, technology solutions. A variety of innovative concept developments utilizing flavors, colors, and other ingredients were demonstrated by Wild Flavors, 1261 Pacific Ave., Erlanger, KY 41018-1260 (phone 859-342-3600; fax 859-342-3604; www.wildflavors.com). The prototypes shown, ranging from a frozen coffee product to a strawberry guava drink to popcorn flavored with apple cinnamon, were designed to provide ingredient and technology solutions for a number of sectors, including beverages, sweets, bakery, confectionery, culinary, meat, savory, snacks, and health-promoting products.
The "one-stop-shop" philosophy that the company adopts toward its customers was also reflected by the new booth design which was developed to ensure that the food industry understands that Wild is a global food company with worldwide resources and solutions. An international area, for example, emphasized products and concepts from various countries and regions.
--- PAGE BREAK ---
Let's look at some of the prototypes shown at the booth:
• Wild recently formed a partnership with Javo™ Beverage Company, Inc., a manufacturer of liquid coffee concentrates extracts, and beverages to supply coffee flavoring systems to customers who are preparing to introduce coffee flavored beverages, ice creams, or other food products. "Whether in an iced coffee or coffee-flavored dessert, U.S. consumers, like their European counterparts, are demanding the same genuine coffee flavor they have learned to enjoy at specialty coffee houses," said a representative from Wild." Coffee, however, is said to be a highly complex flavor challenging for food and beverage companies to deliver on a commercial scale.
According to the company, the new partnership will provide extracts that are pure and stable enough to work in most food applications. Furthermore, brewing technology is able to capture the best elements of the high-grade coffee bean while leaving behind the bitter overtones found in traditional coffee flavorants. The ingredients can be produced at low acid and oil levels, resulting in a finished consumer product that has exceptional mixability and process stability. (Although I am not a coffee drinker, I had the opportunity to sample a frozen coffee and found that it had a pleasant taste without bitterness.)
• A strawberry guava juice drink prototype, reflecting the growing popularity of Hispanic products, demonstrated the functionality of colors and vitamins. Healthy components such as antioxidants, choline, tea polyphenolics, taurine, and others are finding increasing value in energy drinks made with Hispanic and Asian flavors.
• Brightly colored/flavored pasta, produced in one system, was available for sampling. The colors reportedly did not migrate or bleed, and the product may be served with dressings or sauces such as a Thai vinaigrette.
• Chef 's Shortcuts—flavors and flavor systems designed to duplicate culinary techniques while providing cost savings—were highlighted in culinary dishes. Products shown were a marinated flank steak, a rich demiglace sauce, and seafood broth.
• A microwavable popcorn flavored with apple cinnamon was designed to provide alternatives to butter and other such flavors, while providing an appeal for children or novelty seekers.
BBQ sauces offer a wide range of flavor profiles. A variety of barbecue sauces and snack seasonings were developed by Griffith Laboratories, One Griffith Center, Alsip, IL 60803-3495 (phone 708-239-2402; fax 708-389-4055; www.griffithlabs.com).
--- PAGE BREAK ---
At Food Expo, the company highlighted Hickory Smoked Pulled Pork served on dinner rolls with a choice of Carolina Golden BBQ Sauce (a yellow mustard BBQ sauce flavored with tart apple cider vinegar, blackstrap molasses, zesty red, black, and white peppers, with a touch of brown sugar) or Kansas City-Style BBQ Sauce (a combination of zesty tomato, sweet brown sugar, blackstrap molasses, and a touch of apple cider vinegar).
Also, a side of Chipotle Catsup Seasoned Chips was offered. This seasoning offers the authentic taste of smoky chipotle peppers combined with sweet tomato catsup to offer a spicier profile for snack seasonings.
According to a company brochure, other examples of BBQ sauces that are available include Lone Star Spicy BBQ and Kentucky-Style Bourbon Flavor BBQ. A variety of marinades (Hickory Smoke, Mesquite Smoke, and Hot and Spicy); rubs (Texas BBQ, Caribbean BBQ, Cajun BBQ, and Traditional BBQ Rub); and snack seasonings (Carolina Mustard).
Chips and Hot Dogs With a Twist. At picnics, baseball games, or just indoor meals, we've all probably eaten that great American culinary combination, hot dogs and potato chips. That dish, however, has been given a novel twist through the use of flavors demonstrated by Innova, a Griffith Laboratories Co., 2021 Swift Dr., Oak Brook, IL 60523-1503 (phone 630-928-4800; fax 630-928-4820; www.innovaflavors.com).
For starters, potato chips were seasoned with a rotisserie chicken flavor. Called Robust Ultima Natural Chicken Flavor WONF (Rotisserie), the savory flavor is available in a dry powder form, and can be customized for specific applications, such as in this case, potato chips. The flavor also works well in more-traditional applications such as meats, gravies, and soups.
Beef-flavored hot dogs made with turkey thigh meat and pork trimmings accompanied the chicken-flavored chips. These "beef-less" hot dogs were made with Robust Ultima Natural Beef Flavor WONF (Roasted), also available as a dry powder. This flavor provides savory enhancement to meats and is used to create signature soups, sauces, and gravies.
As the demonstration showed, the newly launched line of savory meat flavors offers customers flexibility and can provide functionality solutions for a wide range of applications—from vegetarian novel savory snacks.
Savory flavor systems help enhance taste and quality of foods. Savory flavors using bone stocks and base products were introduced by Ariake USA, Inc., 1550 Spring Rd., Ste. 105, Oak Brook, IL 60523 (phone 630-617-8850; fax 630-617-9810; www.ariake.com). New line of "Gourmet Royal" bases and stocks included Fond de Cannard (duck stock), Fond de Veau (veal stock), and Fond de Volaille (poultry stock).
According to Corporate Executive Chef Eric A. Lynch, most of the products are prepared by roasting bones from various meats, including beef, poultry, pork, and seafood, that may be accompanied by vegetables. Such an approach, which the company describes as "Back to Basics," is a classic method of achieving the true flavor of foods without the addition of other additives.
--- PAGE BREAK ---
These products enable culinary experts and food technologists to have the basic flavors which can be finished to provide the "Gold Standard" of taste desired. The products are prepared in a state-of-the-art, computer-controlled plant in Harrisonburg, Va., that duplicates the preparation of stocks in the French style in commercial quantities.
At a press conference, the company, in addition to describing the process it uses, described potential applications of these savory flavors, which can range from improving the quality of frozen foods to expanding the ethnic range of prepared foods available to even making the taste and texture of health-promoting foods more desirable. The use of savory flavors in the creation of sauces and bases can play an important part in the development of future foods that target individuals with certain health concerns or those who have age-related problems.
Cooling compounds create new possibilities. To satisfy today's consumers, who desire specific sensory experiences, the need exists for physiological coolants without the minty flavor and high volatility associated with products such as l-menthol. In response, a line of coolants have been developed by Millenium Chemicals, 601 Crestwood St., Jacksonville, FL 32208-4476 (phone 904-768-5800; fax 904-768-2200; www.milleniumchem.com).
WinSense WS-3 (N-ethyl-p-menthane-carboxamide) is a menthol derivative, but unlike menthol, it is virtually nonvolatile, odorless, and tasteless. It also exhibits long-term stability. According to the manufacturer, menthol cools not by volatilization but by eliciting responses at the trigeminal nerve endings that are associated with the sensation of cold. WinSense is said to elicit a similar reaction, even though the response created could be more intense.
In addition to cooling, the compound is observed to enhance the taste and flavor of various systems without interfering with the original flavors. Researchers are also testing the ability of the compound to elicit responses in heat-sensing channels, similar to that produced by capsicum.
WinSense WS-23 (N,2,3-trimethyl-2-isopropylbutanamide) is not derived from menthol. But like WinSense WS-3, this compound exhibits little or no odor or taste and low volatility. It also can act as a non-interfering flavor enhancer.
While both compounds produce a cooling effect orally and topically, the cooling locations in the oral cavity are reported to vary. Some sensory researchers have found WS-3 to cool mainly at the roof the mouth, the back of the mouth, and the back of the tongue. They experienced WS-23 cooling at the front of the tongue and front of the mouth. These observations are subjective, however, and can vary from person to person. The effects could also be dependent on the systems used and on the concentrations of these cooling agents.
A study conducted at Kansas State University indicated that both compounds produced higher-intensity cooling at the onset than did all the other coolant molecules that were on the market in early 2002.
--- PAGE BREAK ---
Applications that can take advantage of the cooling agents include beer and other alcoholic drinks; nonalcoholic beverages, such as iced teas and citrus flavored products; hard candy and other confections; dairy products, including milk, ice cream and yogurt; cake cream toppings; condiments; pharmaceuticals; oral care products; and other potential formulations.
At the Food Expo, an iced tea beverage and a zesty Salsa con Queso showcased the cooling agents.
Flavors demonstrate grilling, roasting notes in condiments. Several applications made with flavors that duplicate grilling or roasting experiences were highlighted by Red Arrow Products Co. LLC., 633 S. 20th St., Manitowoc,WI 54220 (phone 920-683-5500; fax 920-683-5524; www.redarrow.com).
Applications included a Jalapeño Onion Mustard made with Grillin'® 2055, a dry flavor that provides right-off-the-charcoal-grill taste; Buffalo Mayonnaise made with Grillin'® 2056, a dry flavor that imparts the distinctive taste of gas grilling; Mushroom Mayonnaise made with Grillin'® 2057, a dry flavor that adds a rich flame-broiled taste; Sun-Dried Tomato Mayonnaise made with Roastin'® 1013, an oil-based flavor that gives a rich meaty chicken note; and Garden Vegetable Salsa, made with Roastin' ® 2002, a turkey flavor that features a rich meaty turkey note with a subtle roasted turkey skin flavor in an oil base.
Use of hydrocolloids in film strips, fruit juices. Innovative applications for a broad range of hydrocolloids were highlighted by CP Kelco, 8355 Aero Dr., San Diego, CA 92123 (phone 858-292-4900; fax 858-292-4901; www.cpkelco.com).
One type of product that has been gaining in popularity, especially in the confectionery or breath freshener market, is dissolving films or strips. These products, often brightly colored, can deliver flavors, breath refreshment, and even nutraceutical components. While the active ingredient of these products is frequently emphasized, it should not be overlooked that the use of hydrocolloids makes these products possible in the first place.
The company featured an applications brochure that describes how hydrocolloids such as pectin, carrageenan, gellan gum, and xanthan gum are used to form these films.
According to the brochure, formation of the film is usually accomplished by mixing a high-concentration polymer solution (often referred to as "dope"), which then has the active ingredients added along with plasticizing agents and other ingredients. A thin film or shape is cast, and the final product results from drying this film or shape. It is important for the film to have certain key properties to assure good performance. These include proper dissolution rate which is adjustable; good polymer hydration to make casting dope; no off-odors or flavors; availability of consistent starting raw material; controlled release of active material; sufficient strength and flexibility; easy and consistent film formation; no masking of flavors; and compatibility with active ingredients.
--- PAGE BREAK ---
Also introduced at Food Expo was a special hydrocolloid system made with gellan gum and pectin that has been specially designed to allow long-term stabilization of both cloud and pulp in ready-to-drink fruit juices. Fruit juices made with the system (called Kelcogel PS) are said to exhibit a more pseudoplastic rheology, which means excellent suspension properties without adversely impacting mouthfeel. This system is acid stable, with low protein reactivity, which makes it compatible with a wide variety of juices. It is easy to disperse and hydrate and can be used in most juice processing plants without having to add special mixing equipment.
Apple-color, oil-dispersible caramel color highlighted. A caramelized apple juice concentrate product for adding a clean apple juice color has been introduced by D.D. Williamson & Co., Inc., 1901 Payne St., Louisville, KY 40206 (phone 502-895-2438; fax 502-895-7381; www.caramel.com.).
The new product, made from 100% apple juice concentrate, is said to contribute a flavor to beverages and food products, but its primary use is to adjust or add color to drinks, flavors, jellies, and yogurts.
Also highlighted was a new oil-dispersible caramel color blend that provides sticking power for snack and confectionery applications. According to a company representative, barbecue-flavored seasoning sticks better to chips or other snacks with the oil-dispersible caramel blend. By coating the salt in the seasoning, the new product forms a protective layer to provide better adhesion on the chip.
The oil-dispersible caramel color blends can also enhance cinnamon sugar for toppings and fillings in confectionery and baked products. By coating the sugar crystals, the new product gives a uniform appearance, as well as better adhesion for the cinnamon.
The innovative ingredient blend helps to minimize uneven color distribution in a dry or crystal mixture. Because caramel color alone is water soluble, this new blend represents a breakthrough for applications requiring a brown color that is dispersible in oil or fat systems where the final food product is solid.
Prototypes demonstrate functionality of flavors/masking agents. Flavors and masking agents in beverage, frozen dessert, and nutrition bar prototypes were showcased under the theme, "Flavor the Day!" by Virginia Dare, 882 Third Ave., Brooklyn, NY 11232 (phone 718-788-1776; fax 718-768-3978; www.virginiadare.com).
The prototypes demonstrated the functionality of these flavoring ingredients, which included fruit and sweet flavors; vanilla extracts, flavors, and concentrates; tea, coffee, and cocoa extracts; sweetness enhancers; and masking agents which are used to reduce off-notes and bitterness associated with aspartame, herbs, vitamins, and minerals.
--- PAGE BREAK ---
This year's beverage menu included Black Cherry and Ginger Beverage–20% juice (Natural Pale Dry Ginger Ale Flavor, Natural Cherry Flavor WONF); Lime Green Tea (Natural Green Tea Flavor 300X, Natural Green Tea Flavor Powder, Natural Tea Flavor Powder, and Natural Lime Flavor WONF Emulsion); Orchard Twist Ice Tea–2% juice (Natural Tea Flavor 300X, Natural Tea Flavor Powder, Natural Apple Flavor WONF, and Natural Lemon Flavor WONF Emulsion); Orchard Blackberry Tea (Natural Tea Flavor 300X, Natural Tea Flavor Powder, Natural Orange Flavor, and Natural Blackberry Flavor WONF); Strawberry Tea (Natural Tea Flavor 300X, Natural Tea Flavor Powder, and All Natural Strawberry Flavor WONF); and Mandarin Orange Beverage–10% juice (Natural Mandarin Orange Flavor WONF).
Frozen dessert offerings included Strawberry Cheesecake Ice Cream (N&A Strawberry Flavor, Natural Flavor for Cream, and Natural Flavor for Cheesecake); Gingerbread Ice Cream (Natural Flavor for Gingerbread); Cantaloupe Sorbet (N&A Flavor for Cantaloupe); and Mango Sorbet (N&A Mango Flavor).
Nutrition bars available included Chocolate Almond Delight (Natural Flavor for Chocolate Almond Coconut and Prosweet All Natural Flavor Enhancer); Raspberry Cheesecake (Natural Flavor for Cheesecake, N&A Raspberry Flavor; and Prosweet All Natural Flavor Enhancer); and Cannoli Nutritional Bar (Natural Flavor for Cannoli Cream, Natural Flavor for Vanilla Wafer, and Prosweet All Natural Flavor Enhancer.)
Stabilizer systems provide functionality in health-promoting beverages. Several innovative concepts to impart long-term suspension, stability, and body, to whey-, soy-, and dairy-based protein beverages and smoothies were offered by FMC BioPolymer, 1735 Market St., Philadelphia, PA 19103 (phone 215-299-6234; fax 215-299-5809; www.fmcbiopolymer.com).
The stabilizer systems, which include those made with Avicel® cellulose gel, Avicel-plus®, and carrageenan have the capacity to permanently suspend cocoa, vitamins, minerals, and other particulates while providing a creamy body and mouthfeel in soy protein beverages as well as traditional chocolate dairy protein beverages.
The company recommends the use of Protanal® ester BV stabilizer which offers immediate and long-term uniform suspension in whey and juice, and milk and juice beverages. The ester produces low viscosity and has the capacity to suspend solids in beverages while preventing phase/serum separation during prolonged shelf life.
Use of gum systems in culinary applications. How gum systems help stabilize and thicken various recipes was demonstrated by TIC Gums, P.O. Box 369, Belcamp, MD 21017 (phone 410-273-7300; fax 410-273-6469; www.ticgums.com). In particular, Chef Walter Zuromski highlighted the effectiveness of a gum blend, TIC Pretested® Ticaloid® 210-3 Powder, in sauces and soups, such as New England clam chowder.
--- PAGE BREAK ---
The gum blend is said to provide a creamy mouthfeel to foods and beverages and is available as a free-flowing powder. According to the company, the powder is a thickener of choice for products subjected to the abuse of freeze/thaw or cook-chill processes, and is an efficient and effective way to boost texture and appearance.
Also highlighted by the chef was the use of a gum system, TIC Pretested Saladizer 702 Powder, in a raspberry-vinaigrette salad dressing. Designed as an alternative to xanthan gum and xanthan gum/propylene glycol alginate systems, the ingredient may be used as an acidstable thickener, stabilizer, and emulsifier, including for emulsions using 35–40% oil. The manufacturer recommends a maximum usage level of 0.75%.
For reduced-fat mayonnaise applications and reduced-fat rich creamy dressings and sauces, the chef demonstrated a gum/starch system, TIC Pretested Ticaloid No Fat 102 S-Mayo Powder. The ingredient was shown in various recipes, such as Low-Fat Asian Ginger Dressing, where it was used as an effective thickener, stabilizer, emulsifying agent, and fat mimetic, providing the mouthfeel and appearance of a full-fat product.
Antioxidant systems enhance quality of food product. A line of customized antioxidant solutions marketed under the name Dadex® were featured by AcatrisInc., 3300 Edinborough Way, Minneapolis, MN 55435 (phone 952-920-7700; fax 952-920-7704; www.acatris.com). These systems, when added to food products, are said to effectively enhance stability, extend shelf life, and delay the onset of rancidity.
This family of ingredients, available in liquid and dry forms, includes synthetic and natural antioxidant systems customized to meet individual needs.
Also offered to improve functionality is a complete line of release agents, such as a variety of pan oils and greases, emulsions, and special formulations. These ingredients may be used to reduce stickiness in such applications as bakery, meat processing, confectionery, nutrition bars, cereals, and nutraceuticals.
Sugar replacer developed for sugar-free chocolates. A sugar replacer especially designed for sugar-free chocolate manufacturing was highlighted by Palatinit of America, Inc., 101 Gibraltar Dr., Ste. 2-B, Morris Plains, NJ 07950 (phone 973-539-6644; fax 973-326-9508; www.isomaltusa.com).
A new variant in the Isomalt family of 1:1 sugar replacers developed from real sugar, Isomalt LM has very low crystal water content, which allows standard processing and conching temperatures to round off the pure cocoa flavor profile and deliver smooth melting behavior in the mouth. Because of its temperature stability, no agglomeration during conching occurs, and the chocolate mass shows stable flow properties during liquid storage.
According to the manufacturer, Isomalt LM has a very low glycemic response, making it optimal for sugar-free products tailored to the needs of well balanced nutrition diets. It has no cooling effect—only a naturally sweet taste that allows the cocoa flavors to come through in chocolates.
In particular, the natural taste and fine melting behavior provided make it an ideal sugar replacer for sugarless chocolate coatings, bars, chips, fillings, and all other cocoa products.
Isomalt's natural origin is beet sugar. In a two-step process, the sugar components glucose and fructose are used to make the sweetener. In its finished form, it looks like sugar and is a principal ingredient in confectionery and other products. It replaces sugar in a 1:1 ratio, providing both bulk and texture.
--- PAGE BREAK ---
Technology improves digital imaging of foods. A new and improved technology for digital imaging with edible inks on a variety of food substrates is offered by Sensient Colors, Inc., 2526 Baldwin St., St. Louis, MO 63106 (phone 314-889-7600; fax 314-658-7318; www.sensient-tech.com).
The innovation is said to bring all the benefits associated with traditional inkjet printing—full-color imagery, short run customization, and quick image and color changes—to the food industry. Digital decoration produces minimal colorant and product waste, and gives the customer the ability to build brand differentiation products in the market place.
Specially formulated colorants are designed to print on porous baked goods, snacks, and similar dry-based substrates. Colors comply with FDA regulations.
Flavor chemical received FEMA status. A high-impact flavor chemical which recently received generally recognized as safe (GRAS) status by the Flavor and Extract Manufacturers Association expert panel is available from Treatt USA, Inc., 4900 Lakeland Commerce Pkwy., Lakeland, FL 33805 (phone 863-668-9500; fax 863-422-5930; www.treatt.com). The designation was permitted for 3-methyl-2,4-nonanedione, a high-impact, specialty aromatic chemical suitable for use in tea, honey, and parsley formulations.
Flavorists will find many uses for the chemical, including in savory food systems which require the taste of parsley, or in a brewed tea base for beverages, where it adds a tea-like aftertaste. The flavor chemical has also been found to impart pleasant and warm-like hay-cereal-flour-like buttery, green woody-type notes. Recommended usage levels are 0.0003–0.001 ppm in non-alcoholic beverages, 0.001 ppm in instant coffee and tea, 0.025–0.3 ppm in meat products, 0.1 ppm in condiments and relishes, and 0.1–1 ppm in soups.
Treatt is currently working on a number of other newly FEMA GRAS approved ingredients and expects to be able to offer these soon.
Delivery system mimics texture and appearance of fruit. A flavor delivery system which mimics the texture and appearance of real fruit was introduced by Loders Croklaan, 24708 W. Durkee Rd., Channahon, IL 60410-5249 (phone 800-621-4710; fax 815-730-5202; www.croklaan.com).
Called Fruit Textured BetrFX™, the lipid-based delivery system reportedly boosts flavor, color, and aroma; blends evenly and easily into mixes; does not smear the dough; and has multiple uses, including as inclusions, topical applications, or product swirls.
According to the manufacturer, using the blueberry fruit textured system in a 50:50 ratio with real blueberries yields a product that has improved taste, appearance, and aroma with lower overall cost, while retaining the "made with real fruit" label.
The delivery system is suitable for use in dry mixes, bakery products, confections, culinary dishes, and frozen applications. At Food Expo, the system was featured in a low-carbohydrate application as an example of how to improve the appearance and texture of a health-promoting product.
--- PAGE BREAK ---
New confectionery coatings introduced. A new generation of confectionery coatings are available from Mantrose-Haeuser Co., Inc., 1175 Post Rd. E., Westport,CT 06880 (phone 203-454-1800; fax 203-227-0558).
Certicoat® Gummy and Licorice Polishes are said to be free of trans fatty acids and are also available in GMO-free formulations. The coatings reportedly have excellent anti-stick properties, and provide high-gloss translucent finishes that don't leave residue on the packaging.
Crystalac® ORG is formulated with certified organic shellac and organic alcohol, and is GMO-free. Using the coating, manufacturers will be able to register their products as 100% organic. Furthermore, it offers the same performance as traditional products, including fast drying times, low usage rates, gloss retention, and resistance to blocking and scuff marks.
Crystalac Vex® #1 Glaze is a 100% alcohol based glaze that is exempt from Volatile Organic Compounds regulations. The availability of this high-performance system frees manufacturers from regulatory concerns without compromising product quality. The product provides superior gloss retention and unlike water-based glazes, holds the shine, and protects candy while maintaining VOCs at a level exempt from government controls. It is easy to use, is fast drying, and has usage levels similar to current practices.
New name, new ingredients launched. A new name, logo, and tag line were announced by French's Flavor Ingredients, a Division of Reckitt Benckiser, Inc., 4343 E. Mustard Way, Springfield, MO 65803 (phone 800-437-3624; fax 417-837-1801; www.frenchsingredients.com). Formerly known as French's Ingredients, the new name better reflects the company's mission of delivering to its manufacturing customers consumer-approved, market tested products designed for manufacturing applications.
The new logo aligns the Flavor Ingredients division more closely with French's corporate logo without placing too much emphasis on the mustard products, which enjoy 98% consumer recognition. French's Flavor Ingredients is positioned to maintain these positive associations by using the script and angle of the French's name without the trademarked red pennant.
According to a company representative, "Our consumer division's corporate name is also the name of the number one brand of mustard. Since we offer more than mustard, we wanted to use the name without emphasizing one line of products over another."
"Backing you with every bite™" is the new tag line for the company. "It is essentially a promise to all our customers that we are dedicated to providing value-added service and expertise at all points in the manufacturing process–from product development to marketing to after the sale," added the company representative.
At Food Expo, the company introduced a number of products, including a Sweet Onion Mustard which can add a sweet-zesty flavor to marinades, snacks, salad dressings, sandwich sauces, and other products; Frank's Red Hot Chile'n Lime, a hot sauce which blends hot, spicy chiles and tangy zesty flavor of citrus to create a Latin-inspired flavor for chicken tenders, popcorn shrimp, Buffalo wings, marinades, seasonings, alcoholic beverages, and others; and Cattlemen's Honey Barbecue Sauce, which combines sweetness with barbecue flavor.
--- PAGE BREAK ---
Yeast products introduced. New yeast products were introduced by Lallemand/Macco, 5494 Notre Dame est, Montreal, QC H1N 2C4 Canada (phone 800-840-4047; fax 514-251-3606; www.lallemand.com)
LBI Q83 is a primary grown, low-salt yeast extract powder produced by controlled enzymatic solubilization of bakers yeast. It is rich in 5'-GMP, 5'-IMP, and naturally occurring free glutamic acid. It enhances flavors in savory applications such as bouillons, soups, gravies, sauces, seasonings, and flavor reactions.
LYFE Vege Regime is a nutritional yeast, guaranteed to contain vitamin B-12 and zinc, that is tailored specifically for the vegetarian market.
These products were showcased at Food Expo, along with other yeast products designed to enhance flavors of tomatoes, mushrooms, Cheddar cheese, and roasted notes.
Rice-derived ingredients provided improved flavor, texture. Rice protein concentrate called Remypro N70+ was introduced by A&B Ingredients, Inc., 24 Spielman Rd., Fairfield, NJ 07004 (phone 973-227-1390; fax 973-227-0172; www.abingredients.com). Containing a minimum of 70% rice protein, the hypoallergenic ingredient can add both nutritional and functionality benefits to energy bars, meal replacement systems, nutritional supplements, extruded products, and baked goods.
Several years in development, the rice protein concentrate offers improved flavor, consistent color, reduced grittiness, and enhanced quality to meet food and nutritional standards. It has all the advantages of other proteins, without the digestibility problems and potential allergic reactions.
At the IFT Food Expo, rice-derived ingredients were showcased in a number of applications. For example, rice starches were used to improve creaminess and replace fat in ice cream. Cheese sauces made with rice starches had improved sheen, mouthfeel, and smoothness. Also, pastries creams were formulated with rice-derived ingredients which provided a creamy mouthfeel and smooth texture.
Dessert formulations demonstrate dairy functionality. Dairy desserts formulated with ingredients that promote functionality were showcased by Dairy Management, Inc., 10255 W. Higgins Rd., Ste. 900, Rosemont, IL 60018-5616 (phone 847-803-2000; fax 847-803-2077; www.dairyinfo.com).
Empanadas de Mejido, a flaky pastry with a sweet filling of queso fresco cheese, was developed to meet the consumer demand for specialty ethnic products. "We chose a dessert snack that is characterized more by cheese texture than taste," said a dairy representative. "This is a sweet dessert much like tiramisu or cheesecake that leverages cheese as an ingredient while offering a convenience factor as a frozen food and bite-sized snack."
Another formulation highlighted was a brownie enriched with whey protein but with no added sucrose. The dessert was said to demonstrate desirable functional properties including a chocolate, sweet flavor.
--- PAGE BREAK ---
Protein development provides fat replacement. A functional hydrocolloid protein for flavor and fat replacement in meat, poultry, fish, sausage, baked goods, cheese, and confections was developed by Flavex Protein Ingredients, a division of The Arnhem Group, 25 Commerce Dr., Cranford, NJ 07016 (phone 908-709-4045; fax 908-709-9221; www.flavexprotein.com).
Called Flavex 95™, the protein uses a patented technology that encapsulates the core ingredients in a colloid gel that disperses uniformly in foods and prevents oxidation of the flavors. In a new development, the ingredient can now be injected into whole muscle meat, poultry, or fish filets for better dispersion in brine solutions. Previously, according to the manufacturer, it had not been possible to use the ingredient in a brine solution due to its special cold-gelling properties. The ingredient, however, has been instantized to eliminate protein coagulation during the injection process.
The ingredient allows food manufacturers to reduce the fat content in foods by substituting a fat replacement that is composed of protein and water. A highly functional product, it enhances flavor and texture and provides a superior fat mouth feel.
Now that the 2003 IFT Annual Meeting & Food Expo is over and the dust has settled, I think one can see from this article the conscious effort that food ingredient suppliers made in formulating or "reformulating" foods that are both healthy and meet desirable organoleptic or functional properties, such as taste, texture, and appearance.
Interestingly, I think this message was also reflected in many of the themes and booth designs that were present at Food Expo. For example, ADM's "Diner of the Future," which looked like a 1950's diner serving a menu of the future; Kraft's "Chef 's Table," which looked like a modern café or bistro, right down to a bubbling fountain in front; Cargill's "Food Fair," which combined healthy foods with ingredients that exhibited the functionalty that made these foods possible; Kerry's "Idea Café," which stressed prototypes for specific categories, including convenience meals, appetizers, energy bars, and organic foods; National Starch's "Innovation Valley," which focused on new textural properties for a variety of eating experiences; and the "one-stop-philosophy that Wild Flavors expressed under its international globe.
In such a climate, it was certainly appropriate that Quest launched its "Chef 's Innovation Center," a customer training and tasting center complete with chef's demonstration kitchen and tasting area, in conjunction with Food Expo. Furthermore, it was equally appropriate that a number of chefs were present demonstrating the functionality of ingredients in a variety of recipes. Companies such as Ariake, TIC, Mastertaste, Red Arrow, Griffith, Innova, David Michael, and many others too numerous to mention all used these strategies.
Also, several ingredient companies used Food Expo to launch new products that could play a critical functionality role in the development of future foods and beverages. The expanding uses of encapsulation, a beverage weighting agent containing SAIB and mediumchain triglycerides, new ingredient alternatives such as barley malt extract, improved colors that are dispersible in oil or fat systems, sugar replacers, new lines of starches with improved functionality as well as health benefits, and novel cooling agents are only some examples of the innovation that we saw.
And a number of ingredient companies used the IFT event to announce important reorganizational changes, such as the formation of Symrise, the result of a merger between Haarmann & Reimer and Dragoco; the acquisition of Heller Seasonings by Newly Weds Foods, Inc.; the Solae Co., a new innovation by Du-Pont and Bunge; and many others.
--- PAGE BREAK ---
When looking over this year's Food Expo, the word that comes to mind is one that I've used before to describe ingredient suppliers: sophistication, or more precisely, evolving sophistication. You can see this in a number of ways—in the design of the booths; in the finished prototypes which were so complete that they could be sold to the marketplace in the form they're in; and in the new technologies being developed to meet challenges, especially in the area of flavor enhancing and flavor masking. The days of magic acts, casino wheels, golfing competitions, and other such entertaining but irrelevant diversions on the show floor have been replaced by much more sophisticated concepts.
And hopefully this sophistication is only the beginning. Earlier in this article I had mentioned that a development firm had launched a Center for Food Reformulation. Wouldn't it be interesting if ingredient suppliers could take that same concept and express it as a demonstration event on the show floor? Events such as the National Restaurant Show have hosted culinary competitions and other demonstrations on the floor for years now. Think of the possibilities if IFT used the same kind of concept, created a stage, if you will, for ingredient suppliers to demonstrate for an hour or so specific reformulation examples . . . or culinary experts working with food scientists to show how they reach a Gold Standard . . . or foreign ingredient suppliers to showcase new products from their country . . . or companies to show practical, hands-on experience how functionality can help address the health initiative.
The possibilities are endless, of course.
But I'm getting ahead of myself. Those opportunities are for another day, but hopefully they are part of the near future, especially when considering the challenges we all face in this world, ranging from obesity to potential food safety outbreaks, especially in under developed countries, to even possible ingredient or packaging solutions to help address terrorist contamination.
For now, though, there were many positive signs at this year's IFT Food Expo showing how functionality can help address the health initiative.
---
More Ingredient "Moments" from 2003 IFT Food Expo

Here are a few more ingredient developments in capsule form which we rounded up from Food Expo:
Dry Free-Flowing Powder,
Texas Pete
® Dry Flavor, has application in poultry marinade, beef rubs, snack food topical and internal applications, fish fillets, chili or taco seasonings, salad dressings, dips, batters and breadings, and other products. The reddish-orange powder is said to possess the flavor of Texas Pete® Hot Sauce, a registered trademark of the T.W. Garner Co., and has applications in food products where the characteristics of a liquid are not desirable or impractical for incorporation in flavor delivery. For more information, contact McClancy Seasoning Co., One Spice Rd., Fort Mills, SC 29715 (phone 800-843-1968; fax 803-548-6273;
www.mcclancy.com
).
--- PAGE BREAK ---
Chipotle Pepper Sauce, marketed under the Tabasco brand, is the newest version in the line of hot sauce ingredients. Prepared by mixing select smoked red jalapeño peppers with vinegar, spices, flavor, and water, the product is a dark brownish red condiment with a mild taste. For more information, contact McIlhenny Co., Avery Island, LA 70513 (phone 337-373-6105; fax 337-367-8678).
Shelf-Stable Cheese Pieces have the appearance of little cheese crumbs. Called Cheddar Cheese Crumbettes, the ingredient contains the flavor and aroma of toasted cheese, maintains visual identity in the product, and can withstand high bake temperatures. It is suitable for use in baked goods, dips, dressings, sauces, breadings, potatoes, rice, pasta, and snacks. The ingredient is also available in Parmesan cheese. Both varieties are offered in kosher and non kosher forms. For more information, contact Commercial Creamery Co., 159 S. Cedar St., Spokane, WA 99204 (phone 509-747-4131; fax 509-838-2271; www.cheesepowder.com).
Performance Silicas, marketed under the Sipernat® name, are used to improve the flow properties of food, while offering other benefits, including dust and static cling reduction; improvement of spray drying; increased shelf life without caking or lumping; faster processing time; and improved mixing of batters, proteins, and fats in water. For more information, contact Degussa Corp., P.O. Box 677, Parsippany, NJ 07054-0677 (phone 800-334-8772; fax 973-541-8718; www.degussa.com).
Powdered Chicken Broth 3542 is the newest addition to a line of powdered chicken broth products. The new product reportedly provides a roasted savory flavor profile and an agglomerated texture for optimum stability. It has potential application in chicken soups and bases, dry gravy mixes, injection solutions, marinades, and poultry seasonings. For more information, contact International Dehydrated Foods, Inc., P.O. Box 10347, Springfield, MO 65808 (phone 417-881-7820; fax 417-881-7274; www.idf.com).
Enzyme called Crystalzyme® AES Super may be used to enhance the structural integrity of whole fruits and vegetables, slices, pieces, and purees, including tomato sauces and pieces, and fruit preparations for baked goods, canning, fillings, frozen desserts, jams, jellies, yogurt, and other products. In addition to minimizing structural damage and product disintegration and loss due to mechanical and thermal processing, the enzyme is said to enhance the consistency of finished products in food preparations; enhance firmness, texture, and stability; increase piece recovery; and increase the viscosity of sauces and purees. For more information, contact Valley Research, P.O. Box 750, South Bend, IN 46624 (phone 574-232-5000; fax 574-232-2468; www.ValleyEnymes.com).
Flavors for use in savory products, beverages, confections, and dairy applications are available. Several prototypes demonstrating these flavors were highlighted, including dark and white truffles featuring a raspberry chipotle flavor, a dessert made with exotic berry combinations, a chicken drumstick formulated with SavoryPlus Chicken Flavor, mini-cannoli flavored with Dulce de Leche, and a vitamin fortified slushy type beverage featuring a Natural Kiwi Lime. For more information, contact Ottens Flavors, 7800 Holstein Ave.,Philadelphia, PA 19153 (phone 215-365-7800; fax 215-365-7801; www.ottensflavors.com).
--- PAGE BREAK ---
Flavored Almond Slices are available in six flavors, including Original Oven Roasted, Honey Roasted, Roasted Garlic Caesar, Italian Parmesan, Ranch, and Bacon Cheddar. Custom seasoning capabilities are also offered. These sliced flavored almonds are suitable for a variety of applications, including salads, rice dishes, pasta products, confections, cereals, trail mixes, seafood dishes, breads, desserts, and other products. For more information, contact Paramount Farms, 11444 W. Olympic Blvd., Ste. 250, Los Angeles, CA 90064 (phone 310-966-4682; fax 310-966-4678; www.paramountfarms.com).
Flavor Sensations, ranging from sweet to spicy, were highlighted. Prototypes shown included Asian Sesame and Tarragon Mustard Salad Dressings; Clear Peach Ice Tea; Pink Grapefruit Polyphenolic Beverages; cookies made with Chocolate Brownie, which features Cocoa-Mate™ cocoa extending technology; and ice cream flavored with Mexican Spice. For more information, contact David Michael & Co., 10801 Decatur Rd., Philadelphia, PA 19154 (phone 215-632-3100; fax 215-637-3920; www.dmflavors.com).
Reliable Browning Control is achieved by an enzyme called DairyHox™. Browning and blistering in shredded pizza cheese during baking is a major concern for cheese manufacturers. The enzyme is said to provide a cost-effective and reliable alternative to existing methods of browning control while maintaining the functionality of the cheese. For more information, contact Danisco USA, Inc., 201 New Century Pkwy., New Century, KS 66031 (phone 913-764-8100; fax 913-764-8239; www.danisco.com).
Color Solutions are available through a sales and marketing alliance of Chr. Hansen, Inc., Milwaukee, Wis., and Noveon Hilton Davis, Inc., Cincinnati, Ohio. Products available include natural and synthetic colors, primary lakes and dyes, dispersions, blends, liquid colors, and custom-sized packaging. For more information, contact Chr. Hansen, Inc., 9015 W. Maple St., Milwaukee, WI 53214 (phone 800-558-0802; fax 414-607-5959).
A New Range of Cultures improve food shelf life by controlling the growth of alteration and pathogenic flora, particularly enterobacteria and Listeria in meat products. StarGARD™ GN-10 is a biopreservative specially produced to control the development of Gram-negative bacteria during the shelf life of pre-sliced cooked meat under either modifed atmosphere or vacuum packaging. For more information, contact Rhodia Inc., 259 Prospect Plains Rd., Cranbury, NJ 08512-7500 (phone 609-860-4000; fax 609-860-0245; www.Rhodia-food.com).
A One-Step Microwave Cheese Popcorn Flavor was introduced. Other flavors demonstrated in prototypes included Bleu Cheese Potato Balls, Cheese and Horseradish Mini Beef Wellingtons, Sweet Potato Pretzels, and other specially prepared items. For more information, contact Edlong Flavors, 225 Scott St., Elk Grove Village, IL 60007 (phone 888-698-2783; fax 847-439-0053; www.edlong.com).
--- PAGE BREAK ---
Glycerol Ester of Rosin is suitable for use in beverage and flavor applications. Called NovaRes™, the product is a performance alternative to glycerol esters of wood rosin. It is GRAS, kosher, derived from natural sources, and easier to use. When combined with gum acacia, it provides superior beverage emulsions. It is distributed in North America by Importers Service Corp., 233 Suydam Ave., Jersey City, NJ 07304 (phone 201-332-6870; fax 201-332-4152).
Natural Dough Improver called Viva can be easily incorporated into direct bakery systems as well as bakery and ingredient mix processing operations where fine particle size and stability are required. The ingredient is said to satisfy an all-natural label requirement and is effective for use in a wide range of wheat flour–based bread products. For more information, contact Equichem International, Inc., 510 Tower Blvd., Carol Stream, IL 60188 (phone 630-784-0432; fax 630-784-0436; www.equichem.com).
Exotic Range of Flavors were shown in several carbonated and ready-to-drink beverage applications. These tropical fruit flavors included Natural Red and White Guava, Kalamasi Yuzu, Kumquat, Tamarind, Jamaica, and Soursop. Also introduced were confectionery fruit flavors in jelly beans and a proprietary long-lasting cool mint technology for chewing gum and hard candy applications. For more information, contact Blue Pacific Flavors & Fragrances, Inc., 1354 S. Marion Ct., City of Industry, CA 91745 (phone 626-934-0099; fax 626-934-0089).
A Range of Freeze-Thaw-Stable Herbs and Purees called EvaFresh uses a patented technology which combines freshly harvested herbs with common food ingredients to inhibit enzyme action and deliver low water activity without the use of heat. The chopped herbs and purees are stored and handled at frozen temperatures but do not freeze, remaining spoonable at all temperatures. The technology discourages microbial and organoleptic spoilage, resulting in a shelf life measured in years. Applications include salad dressings, sauces, marinades, gravies, soups, frozen foods, spice blends, pasta and rice dishes, salsas,pizza, natural and processed cheese, and other products. For more information, contact Frozen Herbs Ltd., Chestnuts Farm Langton Green, Eye, Suffolk 1P23 7HN United Kingdom (phone 44(0)1379 871117; fax 44(0)1379 871105; www.frozenherbs.co.uk).
by Donald E. Pszczola,
Senior Associate Editor