Processing represented a relative minority of the exhibits at the IFT Food Expo® in Chicago, Ill., July 13–16, 2003, which otherwise primarily emphasized ingredients, but those processing exhibitors that were there illustrate in many cases the cutting edge. Here are some examples. Note that even the most specialized technologies often offer competing sources.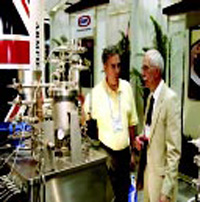 High-hydrostatic-pressure processing was the subject of exhibits by two companies. Avure Technologies Inc., 23500 64th Ave. S., Kent, WA 98032 (phone 253-850-3500 or 800-610-1798, fax 253-813-3285, www.avure.com), displayed samples of the foods being treated in its units. All are refrigerated or chilled, and include such items as deli meats, guacamole, and avocado halves. Low-acid, shelf-stable products are targets for development and probably will require combination treatments using mild heat.
Elmhurst Research, Inc., 60 Loudonville Rd., Albany NY 12204 (phone 800-545-5521, fax 518-462-0415, www.elmhurstresearch.com), is about to ship its first unit, to Rutgers University. High-pressure processing is primarily a batch operation in which automated material handling is important to minimize cost. Elmhurst is relying on the use of surplus cannon barrels to reduce the manufacturing cost of its units. The company offers a unique design in which the vessel tilts to facilitate loading. Vessel volumes are 10, 25 and 100 L, obtained by varying the length. Two 25-L chambers permit near-continuous production.
Computational fluid dynamics is a technique for numerically modeling flow of fluids through equipment and processes. Airflow Sciences Corp., 37501 Schoolcraft Rd., Livonia, MI 48150 (phone 734-464-8900, fax 734-464-5879, www.airflowsciences.com), and Fluent Inc., 10 Cavendish Ct., Lebanon, NH 03766-1442 (phone 603-643-2600, fax 603-643-3967, www.fluent.com), both offer consulting services and packaged programs using this tool. Airflow Sciences showed examples of simulations of a spray dryer, a roaster, and a mixer. Fluent discussed modeling of flow in an extruder, a static mixer, and a gas–liquid contactor. As sophisticated as the models can be, it still requires engineering insight to use the results.
Miniature or small-scale process equipment is often useful for teaching purposes or for product development. It can be difficult to scale up from such equipment for process development. Armfield Ltd., Bridge House, West St., Ringwood, Hampshire BH24 1DY, U.K. (phone +44-1425-478781, fax +44-1425-470916; phone in the U.S. 732-928-3332), offers a wide line of small-scale equipment, including several types of heat exchangers, such as plate, tube, and scraped-surface. The company also has small homogenizers, a small spray dryer, and a small carbonation unit for soft drinks. MicroThermics, Inc., 3216-B Wellington Ct., Raleigh NC 27615 (phone 919-878-8045, fax 919-878-8032, www.microthermics.com), offers several forms of heat exchange in one small unit designed to demonstrate ultra-high-temperature (UHT) or high-temperature, short-time (HTST) processes on a variety of fluids. Flow rates are 300–4,000 mL/min.
--- PAGE BREAK ---
Extrusion continues to be a versatile technique for mixing, cooking, and forming many materials. It is widely applied in the snack, breakfast cereal, and pet food industries. Wenger Manufacturing, Inc., 714 Main St., Sabetha, KS 66534 (phone 785-284-2133, fax 785-284-3861), is a pioneer in the industry and is still innovating. It exhibited a back-pressure valve designed to add another degree of control in extruder operation. The valve allows independent control of pressure in the extruder, which otherwise is tied closely to flow rate. When the die or cutoff knife needs servicing, the back-pressure valve permits by-passing or diverting flow, thus avoiding shutting down the extruder.
American Extrusion International Corp., 498 Prairie Hill Rd., South Beloit, IL 61080, (phone 815-624-6616, www.americanextrusion.com), is a 65-year-old firm focusing on direct-expansion extrusion. The company manufactures ovens, mixers, coaters, and other ancillary equipment for a snack food line. Much of the equipment is exported, so the company is accustomed to satisfying international customers.
Use of ozone to replace chlorine sanitizers is one of the most promising developments in sanitation and produce washing. Chlorine can leave undesirable-tasting residues and may create chlorinated organic compounds. Ozone leaves no taste and does not create undesirable compounds. Novazone, 335 Lindbergh, Livermore, CA 94551 (phone 925-454-0303, www.novazone.net), offers monitoring devices and generators to create gaseous ozone for dissolving in water or for fumigating cold-storage rooms. Small quantities of ozone in the atmosphere can control mold in fresh-produce storage environments, which are usually very humid.
DEL Ozone, 3428 Bullock Ln., San Luis Obispo, CA 93401 (phone 800-676-1335, fax 805-541-8459, www.delozone.com), has National Sanitation Foundation (NSF) registration for its line of mobile ozone generators and contactors. Each unit has a pressure swing adsorption (PSA) concentrator to enrich the oxygen in air before feeding the ozone generator. Units to generate 2–750 g of ozone/hr are available.
Supercritical fluid extraction is another area where competition could be found at the Expo. Thar Instruments, 730 William Pitt Way, Pittsburgh, PA 15238 (phone 412-967-5665, fax 412-967-9446, www.thartech.com), and Uhde High Pressure Technologies, GmbH, Hagen, Germany, both offer equipment for using high-pressure carbon dioxide to selectively extract materials. Examples include caffeine from coffee, essential oils from herbs, and removal of pesticides from raw materials. Supercritical propane works well for many applications but can represent an explosion hazard, which would affect plant location. Supercritical carbon dioxide is much safer and so may be preferred.
Thar offers vessels from 1 to 1,500 L in volume. Uhde is represented in the U.S. by S-X Technologies, 9414 Green-pointe Dr., Tampa, FL 813-920-2649.
A relatively recent focus has been extraction of essence from hops in the northwest United States, where several supercritical plants have been installed. The next big application may be extraction of high-volume oil seeds such as soy if hexane, the current solvent, is banned for some reason.
--- PAGE BREAK ---
The spinning cone column is another extraction technique. Offered by Flavourtech Americas, Inc., 1450 Airport Blvd., Santa Rosa CA 95403 (phone 707-577-7810, fax 707-577-7511, www.flavourtech.com), the spinning cone column operates under high vacuum and uses an inert gas to strip out volatile materials, such as flavors, without damaging them with high temperatures. Examples of applications include coffee, citrus fruits, and various vegetables. Typically, a water extract is processed through the column to produce a highly concentrated essence. Then the extract or original material is dried and the essence added back to reproduce a near-fresh flavor. Alternatively, the concentrated flavor may be used in another product, such as an alcoholic beverage.
A single-vessel approach to extraction was offered by Littleford Day, Inc., 7451 Empire Dr., Florence, KY 41042 (phone 859-525-7600 or 800-365-8555, fax 859-525-1446, www.littleford.com), The key is the Filtorr separator, a liquid–solid separator or filter that fits inside a batch mixer, enabling withdrawal of liquids from the chamber while retaining solids. Thus, mixing, reacting, filtering, washing, and drying can all take place in one machine with no transfers.
The company is best known for its mixing equipment, which often includes both high-shear choppers and plows. The choppers enter a cylindrical vessel through the side walls with air-flushed seals. The plows are driven from a central shaft. The combination enables incorporation of high fractions of fat into dry mixes for such purposes as baking mixes and dry soups.
A microwave development station for laboratories, offered by Fiso Technologies, Inc., 500, Saint-Jean-Baptiste Ave., Office 195, Quebec, QC, Canada G2E 5R9 (phone 418-688-8065, fax 418-688-8067, www.fiso.com), uses fiberoptic sensors to measure temperature and pressure in a microwave chamber with a turntable. This requires an optical slip-ring to make the connection with a moving target.
Direct-steam-injection heaters for foods were shown in operation via a video by Pick Heaters Inc., 730 S. Indiana Ave., West Bend WI 53095 (phone 800-233-9030), long known for its hot-water heaters. The new units have sanitary construction and are made of stainless steel. Applications include particulate foods, such as salsa. Units are available to treat 100–1,500 lb/hr, and complete systems are available on a skid, with controllers.
Direct steam injection is an alternative to jacketed kettles or external heat exchangers. For each 10 degrees of temperature change, about 1% water is added as condensed steam. Normally, it is simple to adjust formulas to compensate. Sometimes, directly heated fluids are cooled by flashing in vacuum, removing the added moisture.
UVC emitters from Steril-Aire, Inc., 11100 E. Artesia Blvd., Suite D, Cerritos, CA 90703 (phone 562-467-8484, fax 562-467-8481), help eliminate mold and extend shelf life in refrigerated produce. UVC stands for ultraviolet C, a wavelength of light which targets the DNA of microbes. The emitters are installed in air-handling units to reduce the mold content in circulating air. In one case, shelf life of prepared (peeled, deseeded, cut, and tray-wrapped) butternut squash was extended from less than 1 week to 2 weeks after the emitters were installed and a HACCP plan was implemented.
Antimicrobial-coated steel, called AgION, is being promoted to the $1-billion/year antimicrobial products industry by AK Coatings Inc., a subsidiary of AK Steel Corp., 705 Curtis St., Middletown, OH 45043 (phone 513-425-5907, fax 513-425-5866). The concept of the steel is that encapsulated silver ions, the active ingredient, are released from an inorganic coating. The coating also resists stains and fingerprints.
This brief collection of processing innovations demonstrates that the days spent prowling the Food Expo floor were rewarding for inspiration and stimulation. For descriptions of other processing exhibits at Food Expo, see p. 145 of the June 2003 issue and p. 72 of the July issue.
by J. Peter Clark,
Contributing Editor
The author is a consultant to the process industries, based in Oak Park, Ill. E-mail: [email protected].