If health is wealth, then this year's IFT Annual Meeting + Food Expo was a goldmine. From culinary and flavor upgrades for better-for-you products to a plethora of innovative ingredients, food and beverage marketers had an unprecedented opportunity to address a hierarchy of health needs.
Fats, Fiber, and Fortification
It's not surprising that trans fat solutions took center stage, since the Food and Nutrition Board has recommended a dramatic reduction of trans fatty acids and saturated fats in the diet, the Food and Drug Administration will require trans fat labeling as of January 1, 2006, and 25% of Americans are already making a strong or some effort to reduce trans fats, 33% hydrogenated fats, and 58% saturated fats (MSI, 2002).
Fat remains the most avoided food component, according to the Natural Marketing Institute (NMI, 2003)—59.5% of consumers surveyed agreed completely/somewhat that "it is important for my store to have foods that are fat free."
Accordingly, Archer Daniels Midland featured a portfolio of zero and low-trans-fatty-acid oils in foods ranging from stir-frys to a zucchini/carrot cake made with Enova™ oil, to French fries, cakes, and donuts containing Novalipids™.
Cargill introduced TransEnd Trans Free Shortenings in all-purpose as well as microwave popcorn, cake, icing, and roll-in dough products. Danisco's trans-free Benefat™ provides trans-free solutions for baked goods, cereals, and snack crackers.
Also receiving significant attendee attention were 100% non-hydrogenated, trans-free palm oil; Loders Croklaan's SansFree Shortening; the Arnhem Group's "cholesterol-free fat"; Watson Foods' UltraCel, which mimics the creamy mouthfeel of high-fat foods; CPKelco's Slendid® specialty pectin fat replacer, which also acts as a thickener, stabilizer, and gelling agent; and National Starch's low-fat Dry-Tack 250 binder, which helps adhere seasonings, seeds, and small cubes to snack products—all of which will make reduced-fat products more desirable than ever!
With the incidence of heart disease projected to jump 19.6% by 2010, risk-factor reduction represents a major opportunity for food and beverage marketers. Cutting-edge products like Davisco's BioZate® 1, which lowers blood pressure similar to the results seen in the DASH Diet study, will provide a non-drug option for the 53 million American adults currently afflicted. With 103 million adults and 27 million children plagued by high cholesterol levels and an FDA-approved health claim, plant sterols and stanols—such as Raisio Life Sciences' Benecol, Cargill's CoroWise™ phytosterols, and Cognis Nutrition & Health Group's Vegepure® vegetarian plant sterol esters—are fast gaining attention.
Prebiotics such as Orafti Active Food Ingredients' Raftilose® oligofructose and Raftiline® inulin and Imperial Sensus' Frutafit® can reduce serum triglycerides. RFI Ingredients' OxyPhyte™ heart blend—which includes four polyphenolic ingredients—and Flavonoid Technologies' bioflavonoids offer other cholesterol-lowering options. With the American Heart Association dropping the 3-per-week limit on eggs—although limiting cholesterol intake to 350 mg/day—and interest in amino acids and complete sources of protein skyrocketing, egg protein and ingredients will get more attention.
FNB's first-ever RDIs for dietary fiber, an expanded FDA definition which includes novel and physiological fibers, and recognition that less than half of all Americans meet their recommended intake have created a demand for high-fiber, multi-benefit foods. According to NMI (2003), three-quarters of consumers purchased a high-fiber food product last year. The National Academy of Sciences describes as "strong" the scientific linkage between fiber and cholesterol lowering/heart health, bowel function, weight loss, and diabetes. Dietary fibers are enabling food marketers to address the fast emerging diabetes and insulin-resistance market. The National Institutes of Health estimates that 30–80 million Americans may be insulin resistant, 17 million diabetic, and 26 pre-diabetic. Clinical studies confirm that resistant starch—a prebiotic—helps maintain blood sugar levels, promotes digestive health, enhances mineral absorption, and helps improve insulin sensitivity sensitivity. National Starch and Chemical Co. won IFT's 2003 Food Technology Industrial Achievement Award for development and commercialization of its Novelose® and Hi-Maize™ resistant starches.
--- PAGE BREAK ---
Blood sugar levels also play an important role in energy management, weight control, cravings, and hunger pangs. Two-thirds of consumers are interested in learning more about managing blood sugar levels, prebiotics, insulin, and the glycemic index (see table). Nutrition 21's newly GRAS-affirmed Chromax™ dietary chromium and Acatris Inc.'s FenuLife fenugreek extract can play an important role in blood sugar control.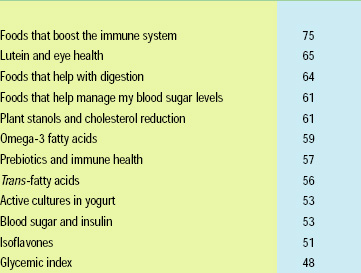 With a myriad of other health benefits, prebiotics are quickly gaining strength. Cargill featured Oliggo-fiber™, which helps promote a healthy digestive system and calcium absorption. Orafti's Raftilose® Synergy 1 enriched inulin is designed to boost calcium absorption. High-beta-glucan Nutrim™ oat bran from Futureceuticals supports structure/ function claims for serum cholesterol/ triglyceride lowering, healthy blood sugar levels, immune function, digestive health, and healthy body weight. It reduces fat absorption, slows carbohydrate absorption, and aids satiety. With 85% soluble fiber on a dry-weight basis, TIC Gums' GuarNT also maintains healthy cholesterol and glucose levels. New fibers from locust bean and guar gums, an alpha-cyclodextrin, an acacia extract with bifidogenic properties and a fiber derived from the bamboo plant were other new bioactive ingredients.
With high-protein/low-carbohydrate regimens ranking just behind losing weight and exercising as the most important strategy for long-term health, it's clear that reduced-carbohydrate foods, protein fortification, and reduced-calorie sweeteners represent an explosive opportunity. With NMI(2003) reporting that 39% of adults believe that their diet is deficient in soy and 36% deficient in soy isoflavones, soy remains the dominant protein ingredient. Products from major marketers, including ADM's NutriSoy™, The Solae Co.'s Solae, Cargill's Advantasoy™, and Acatris' SoyLife™, showcased a variety of customized applications.
With FNB putting no "Upper Limit" on protein intake and setting the first-ever RDI's for nine essential amino acids, other protein sources and blends are coming into play. Armed with an arsenal of "hard-to-get-to" health benefits, whey protein, peptides, and other milk components are coming on strong. In addition to their athletic performance benefits, whey and dairy components have been associated with increased mineral absorption, immune enhancement, appetite suppression, lean muscle mass, antioxidant activity, and antipathogenic and anti-cancer properties.
Glanbia unveiled Salibra 700, a bioactive whey fraction which promotes a healthy intestine; Barflex, a whey protein isolate used for extending shelf life of bar products, and Bioferrin, an antibacterial and mineral-enhancing lactoferrin. The Whey Protein Institute (www.wheyoflife.org) keeps users up to date regarding whey.
Other protein sources, such as pea, egg, selected fish, gelatin, dried yeast, and wheat proteins, were also featured. Dried yeast is a rich source of B vitamins; it contains more than 12 minerals; nearly half of its dry weight is high-grade protein; 20% of its carbohydrates are oligosaccharides; and 5'-nucleotides act as savory flavor enhancers.
NMI (2003) reported that 62% of consumers used low-carbohydrate foods in the past year. MSI (2002) observed that 56% of consumers made a strong/some effort to limit sugar intake. And if that's not all, mothers of pre-teens are making a strong effort to limit their kids' consumption of artificial sweeteners (48%) and sugar (38%). Palatinit USA's Isomalt is a derivative of beet sugar which replaces sugar in a 1:1 ratio, providing bulk and texture. Tooth-friendly, with a low glycemic index, it has half the calories of sugar. NutraSweet Co.'s neotame, a non-nutritive sweetener and flavor enhancer recently approved for general use by FDA, is 7,000–13,000 times sweeter than sucrose. Danisco's sweeteners focused on low-glycemic/low-carb foods and beverages, including chocolate turtles developed using its Litesse® poly-dextrose and Lactitol™.
Maximizing bioavailability is the strongest trend in the traditional nutrient and fortified foods arena. According to NMI (2003), 40% of consumers feel their diet is deficient in calcium, 27% antioxidants, 26% chromium, 25% vitamin C, 23% vitamin E, 21% potassium, and 19% folic acid. Exemplifying the trend is Cargill's Bone Appetit—a raspberry tea that supports bone health; it contains AdvantaSoy™ Clear isoflavones, Oliggo-Fiber inulin, and calcium. Glanbia's Tru-Cal™ offers calcium in natural combination with other milk minerals necessary for enhanced bioavailability. GTC Nutrition and the Marigot Group Ltd.'s Calcilife—a prebiotic mineral ingredient—contains calcified seaweed and short-chain fructooligosaccharides. NutraFlora® calcium blend improves the absorption of isoflavones. Purac America featured a line of highly bioavailable Gluconal gluconate minerals. Balchem Corp.'s Vitasure choline helps correct the taste and odor problems associated with choline fortification. ADM sampled a lemonade icy with its Vitamin E 230 Clear™.
--- PAGE BREAK ---
Omega-3 fatty acids, docosahexaenoic acid (DHA), and other essential fatty acids continue to gain momentum. According to NMI (2003), almost half (47%) of consumers associate omega-3s with heart health and 32% consider themselves deficient in omega-3s. HealthFocus (2003) reports that 21% of Americans have increased use of omega-3 fatty acids over the past two years, up 8% since 2000. Nearly half of consumers say they've heard a lot/some about omega-3 fatty acids and heart health. Nutrinova's DHActive™ vegetarian oil is concentrated in the essential omega-3 fatty acid DHA, and its DHActive™CL, is a clear and more liquid form of its highly concentrated omega-3 DHA. Lipid Nutrition showcased new applications for its omega-3 fish oil in crackers, cookies, UHT milk, and nutrition bars.
Last, and perhaps most lucrative, innovative food industry suppliers continue to open up an ever-growing range of condition-specific markets. Kemin Foods' FloraGlo™ and Roche's lutein and zeaxanthan provide options for the 25% of Americans who feel it's important for their store to offer lutein-enriched foods (NMI, 2003). Cargill offers Ascend™ trehalose, a unique energy source for active lifestyles, and OptaFlex™ chondroitin, aimed at promoting healthy joints for the 80 million suffers of joint pain. AdvantaSoy isoflavones help promote bone health and reduce hot flashes for the 35 million menopausal and 10 million peri-menopausal women. Lignans, phenolic compounds with phytoestrogen activity, such as Pizzey's Milling's BevGrad flaxseed or Acatris' LinumLife™, are fast gaining attention. Lignans also play a role in prostate, breast, colon, bone, heart, and renal health, and have antioxidant properties.
Blueberry extract featured by a number of exhibitors supports structure–function claims for premature aging, eye health, brain function, joint discomfort (possibly as a Cox-2 inhibitor), cardiovascular health, proper blood glucose levels, and urinary tract health and may be anti-carcinogenic. One gram of FutureCeuticals' VitaBlue™ wild blueberry extract provides 6,500 ORAC units of antioxidant activity, compared to an average of 2,500 units for five servings of fruits and vegetables.
Although sales of yogurt and other fermented dairy products continue to soar, only 9% of the population are aware of the term probiotics and only 4% associate them with colon health (NMI, 2003). FutureCeuticals' two probiotic strains FloraFit Balance™ and Florafit Boost™ include Lactobacillus acidophilus, which is active in the upper gastrointestinal tract, and Bifodobacterium bifidum, which affects the lower GI tract. Studies at the Institut Pasteur confirm their immune-boosting properties.
Most recently, probiotics are being positioned as natural preservatives. For example, Rhodia's Starguard GN-10, LM-20, and LM-30—developed to control the growth of Gram-negative bacteria, specifically enterobacteria, during the shelf life of pre-sliced cooked meat, especially hams—are just a few in a line of product-specific bio-preservatives.
With just under half of consumers agreeing completely/somewhat that it is important for their store to have foods that are natural, 31% organically grown, and 30% vegetarian (NMI, 2003), it's not surprising that pure and natural flavors, preservatives, spices, and colors continue to proliferate; 43% are trying to avoid GMO foods. Ingredients such as baby oat flakes, pearled barley, freeze-dried and fresh fruits and vegetables, and a plethora of tropical fruit flavors all added a light and natural touch.
Kerry Seasoning's "Café Pure" featured organic seasonings and marinades in its Tuscan Chicken Wrap and organic potato chips flavored with Sweet Summer Herb Seasoning and Chipotle Chile Barbecue Seasoning. National Starch's "Organic Stadium" served a Quiche Florentine appetizer, demonstrating that commercially prepared organic foods can have the same eating, textural, and shelf stability qualities as their non-organic counterparts.
Perhaps most notable in the "exceptionally pure" arena was the growing popularity of kosher/halal foods and labeling. With the kosher food segment now approaching $40 billion in sales, food marketers would be wise to view the Orthodox Union's 15-minute video on kosher and OU certification and consider kosher certification. Kosher and organic can be a dynamite combination!
--- PAGE BREAK ---
A Bevy of Beverages
The beverage category is destined to remain one of the fastest growing and most versatile segments of the food industry, if the IFT Food Expo is any indication. Creative meal replacement and fortified beverages, soy milks, high-protein shakes, lactose-free, high-energy, low-calorie, no-caffeine, and green-tea-infused drinks were common prototypes throughout the show.
The popularity of dairy beverages continues. An analysis by Innova's Worldwide Innovation Network (WIN) of the most recent 200 new dairy beverage introductions revealed that flavored milk remains the most active new product segment, followed by functional beverages and drinkable yogurt. The WIN databases (www.innovanalysis.com) feature 21 major food and beverage categories and 158 subcategories; contain quality pictures, ingredients, position and promotion, etc., and offer a tailored e-mail alert of new launches and a download feature to make customized reports, analyses, and presentations.
International drinks, including spritzers and hot milk beverages such as Banofee Caliente! —a hot creamy banana-toffee beverage currently popular in Brazil—featured by Kerry Ingredients and Kerry's Create-Your-Own Steamer beverages are indicative of the growing trend. Eastman Chemical's Sustane SAIB MCT weighting agent prevents the oil-soluble ingredients and water in beverages from separating. Kerry's S'mores Chill was right on target for big and little kids, too.
And speaking of kids, from glittering chips and popcorn to "glow" gummy worms and sparkling cookies made with Watson's Edible Glitter™, never has food had the potential to be more fun. How about a Peppymint, a quick-dissolving breath strip that delivers 16 mg of caffeine per strip, or sour fruit–flavored films like lemon/lime? Sensient Colors showcased technology for digital imaging on foods with edible inks and SpectraFlecks™, a color delivery system introducing bold colors to hot confections. Colorcon's Pearlicoat™ Pearlescent provides a pearl-like finish combined with the sparkle of vibrant colors. Balchem's Confecshure® controls the rate of fizz-foam reaction, and Fizz Foam™ nutrients come in a variety of flavors.
A Little More Gourmet
As everyday gets a little more gourmet, suppliers continue to create a wide range of bold flavors, culinary ingredients, and authentic ethnic options. Perhaps most important is the growing presence of research and corporate chefs operating in partnership with ingredient companies. For example, TIC Gums' Corporate Research Chef Walter Zuromski is helping to teach other chefs the role that gums and other additives can play in improving the functionality, appearance, and flavor of professionally prepared meals. Kerry Ingredients, Kraft Food Ingredients, Quest International, and Bell Flavors & Fragrances were among the many exhibitors working with professional chefs.
--- PAGE BREAK ---
Classic French sauces and stocks, like Ariake U.S.A.'s Gourmet Royal sauces, stocks, savory flavoring, broth sauces, and extracts made from scratch, exemplify the trend to authentic and indulgent fare. Creamy sauces like Broccoli and Cheddar, Chipotle Parmesan, New-burg, Stroganoff, and Sun-Dried Tomato were among the popular sauces for convenient noodle and sauce applications. Sauce and dressing flavors remain bold: burgundy mushroom, chipotle cilantro lime, jalapeño lime, Mediterranean, Margarita, salsa, Szechwan, and Thai Peanut curry were just a few.
Marinades included aus jus, Dijon herb, ginger soy, hot-n-sour, mesquite chipotle lime, spicy Caribbean, and tomato pesto. Snack seasoning took some dramatic twists from bacon and cheese to green chili, hot mustard, mango salsa, Polynesian, port wine, Singapore curry, and Tandoori. Glazes and rubs featured red chipotle, hickory brown sugar, honey lime cilantro, mango orange, Kentucky bourbon, Mediterranean olive, Thai peanut, and more.
From breaded appetizers with classic onion sour flavor to fresh crab flavors and anchovy paste, nearly every dish—ethnic or not—had an added degree of culinary sophistication. And ethnic or not, it's clear that everyone loves cheese! Kraft Foods' "La Cocina de Mexico" focused on a number of new pasteurized cheese and flavor solutions. New Mexican-style cheese spreads offered a six-month shelf life: a Restricted Melt Cheese Sauce with Jalapeño Peppers was perfect for vegetable side dishes, hand-held sandwiches, meat, poultry and deep-fried appetizers; Pasteurized Process Monterey Jack Cheese Sauce pumps at refrigerated temperatures; while Hi-Melt high-heat, microwavable, and friable Process Monterey Jack Cheese with Jalapeño Peppers works well in stuffed meats and pocket sandwiches. Mexican Char-Grill-Style Flavor and Fried Corn Chip Flavor were other innovative ingredients.
Last, a dramatic emphasis on texture, crunch, and mouthfeel took the cake, surfacing as one of the most subtle macro trends of the show.
by A. Elizabeth Sloan, Contributing Editor
The author is President, Sloan Trends & solutions, Inc., P.O. Box 461149, Escondido, CA 92046. E-mail: [email protected].