Anyone who read last month's Ingredients section might think that most of the recent ingredient—and marketing—developments in today's spotlight are related to low-carbohydrate formulation. Actually, although the low-carbohydrate diets have been gaining much of the media attention in recent months, there is another wave of developments that will probably be having a longer term of impact on product formulation: Ingredients that are being positioned as alternatives to trans fatty acids.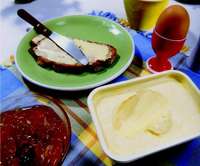 It is interesting to compare these two approaches to product formulation—low trans fats and low carb—in order to gain some perspective on them.
Let's first look at them from a regulatory standpoint. Regarding low carbohydrate, the Food and Drug Administration has never set a definition so there are currently no guidelines in that area. Although things may be changing soon in that area, food formulators have been given quite a bit of freedom in developing and promoting their low-carbohydrate products in the marketplace. In the case of low trans fats, on July 11, 2003, FDA published final rules mandating trans fatty acid content to be included on food nutrition labels by January 1, 2006. Because of this mandate, food manufacturers and ingredient suppliers are beginning to search for alternatives to trans fatty acids.
Second, from a consumer's standpoint, things may be some-what different as well. In the case of low carbohydrates, people seemed to readily grasp the concept. One reason for this might be that consumers are more willing to give up some carbohydrates rather than the taste and texture provided by saturated fats. Also, marketers have been quite adept at simplifying the issue. For example, don't eat the bun. Or if you eat that pasta, make sure you down it with some low-carb beer. With trans fats, however, it might be a lot more complicated an issue. Consumers might not so quickly understand what trans fats are and how they are produced. And, even more important, they might be confused because of conflicting messages. For years they were told that vegetable oils, which are relatively low in saturated fats, were healthy for them. Now the message is being revised, telling them that these oils, when they are hydrogenated, produce trans fatty acids which may not be healthy for them—in fact, FDA is requiring that trans fatty acid contents be included on future food labels. Ironically, products such as butter, which they might have refrained from because of previous health messages, are actually low in trans fatty acids. Taking a low-carb approach may be even adding to the confusion, giving the possible message that it's okay to eat saturated fats as long as you don't eat the carbs. Suddenly, for the consumer, things may not seem as clear cut when talking about low trans fats, and that lack of clarity might influence purchasing decisions in the marketplace.
Third, not surprisingly, the trans fatty acid issue may prove to be more problematic for food manufacturers and ingredients suppliers than the low carbohydrate issue. As they search for trans-fat alternatives, these companies will have to take into consideration a number of factors. For starters, they will have to decide which low-trans-fat solution will provide them with the best overall advantages compared to other trans-fat alternatives. These companies will have to consider costs incurred during manufacture, ingredient availability, functionality of a low-trans-fat ingredient vs a traditional ingredient, and even to what degree the inclusion of a lower trans fatty acid content on the nutrition label will help sell the product in the marketplace. Furthermore, with the state of the general economy in recent years, even a proactive approach can pose certain risks.
--- PAGE BREAK ---
Let's look at one example of a low-trans-fat alternative that we will be discussing in this article. Today, special soybeans are being produced which may be used to derive an oil which is low in trans fatty acids. However, the quantity of the crop is limited, which raises some questions. How available will this crop be in 2006 when the FDA mandate begins? How expensive will the existing crop be? How will it be perceived by the consumer or the food manufacturer in comparison to other possible low-trans-fat solutions? And how many companies will have the opportunity to buy such a crop?
As can be seen, there are a variety of factors to consider when formulating with low-trans fatty acid alternatives. And, when comparing that approach with the low-carbohydrate one in the marketplace today, it might also be a much more thornier issue than simply removing the bun from a burger or the crust from a pizza.
In the 2004 January issue of Food Technology, the Developing Foods report included articles that discussed the status and solutions of low-trans fats from a marketing and technical perspective. I highly recommend the reading of that report, as this month's Ingredients section will be covering a number of fats and oils that are being positioned as offering low-trans-fat alternatives. Palm-oil-based ingredients, medium-chain triglycerides, shortenings made using enzyme interesterification methods or modified hydrogenation processes, canola-based oils, and enhanced traits in soybeans are just a few examples of possible low-trans-fat alternatives.
In addition to the low-trans-fat approach, this article will update some of the newest innovations in the area of lipids, including technology, improved features, functionality and health benefits, and expanding applications. One area that seems to be drawing a great deal of attention is the development of enhanced formula for infants, or (excuse the pun)novel ways to create baby fat.
After describing these new developments, I will look at the unique evolution of fats—what directions they have come from, what directions they are likely moving toward, and what trends are influencing them along the way. For example, if I had been writing this article 40 years ago, I probably would have been highlighting the functionality benefits of lard or tallow. In discussing today's developments, this article will provide a snapshot of where we're currently at in this evolution, and hopefully give us some signs of where we may be going tomorrow and beyond.
--- PAGE BREAK ---
With that, here are some of the newest developments in the area of lipids:
DHA Oil Derived from Microalgae Offers Expanding Applications. A highly concentrated, vegetarian form of docosahexaenoic acid (DHA), an omega-3 polyunsaturated fatty acid, is available from Nutrinova Inc., 285 Davidson Ave., Ste. 102, Somerset, NJ 08873 (phone 732-271-7220; fax 732-271-7235; www.nutrinova.com). Marketed under the name Nutrinova DHA, the oil contains a minimum of 43% DHA, offers high-quality sensoric properties, and can be incorporated into a wide range of food and beverage products without negatively affecting the taste.
While DHA oils are commonly extracted from fatty cold water fish, this ingredient is extracted from microalgae through a patented fermentation process. According to the manufacturer, the ingredient has many advantages over typical fish oil. It contains a much higher concentration of DHA and a lower amount of undesirable fatty acids. Furthermore, it contains no environmental pollutants, lacks the particular taste of fish oils, and, because it is derived from a plant-based source, is suitable for a vegetarian diet.
The microalgae-derived product, available in bulk oil form, is particularly easy to use in applications with a high fat content. For example, it can simply be added along with all other fatty components to enrich margarine or spreads. Other examples are dairy products, nutrition bars, or baked goods. For liquid products, such as fruit-based beverages and milk or soy beverages, the best way to incorporate the ingredient is to homogenize it directly into the product or prepare a concentrated emulsion. The company recommends adding between 50 and 100 ppm to beverage products to maintain maximum product taste and quality.
When used in dietary supplements, the ingredient makes possible the production of much smaller capsules, which still contain the same amount of DHA as the common fish oil supplements. Because of the small size of the capsules and the high quality of the DHA, a fishy aftertaste can be prevented, offering a desirable alternative.
Self-determined GRAS status permits the use of the ingredient in the United States for numerous applications, such as baked goods, cereals, dairy products, fruit juices, or snacks. The ingredient is also available in Europe—German authorities recently gave approval for use in spreads, dairy products, dairy analogs,cereals, dietary preparations, and dietary supplements.
In the European Union, the addition of 200–600 mg DHA/100 g of food is approved. For dietary supplements, the maximum level is 200 mg per daily dose. International health organizations have recommended supplementation of a daily dose of at least 220 mg DHA and as much as 300 mg for pregnant and lactating mothers.
Scientific studies have shown that an adequate supply of DHA promotes the brain and eyesight development of infants and improves the general health of adults. Studies have also shown that DHA can positively contribute to cardiovascular health. Since DHA can only be produced in limited quantities by the body, humans need to consume additional DHA.
Also recently introduced was a clear and more liquid form of the highly concentrated omega-3 DHA. It was developed especially for the dietary supplement industry, and gives the ability to offer clear and high-quality capsules that look more attractive to consumers. In developing this ingredient, the company has optimized the production process, resulting in a completely transparent and more liquid DHA product which will extend the formulation and application possibilities of the ingredient. It is available in bulk oil form, and for dietary supplement manufacturers who do not have filling and encapsulation facilities, in vegetarian capsules as well as in standard soft gels.
--- PAGE BREAK ---
Palm-Oil-Based Ingredients Offer No-Trans-Fat Solutions. In 2003, Loders Croklaan, a producer of fats and oils, was purchased from Unilever by the IOI Group, a Malaysian supplier of palm oil products. That acquisition created an opportunity to supply the food industry with a number of innovative ingredients based on palm oil that are free of trans fatty acids and offer special functionality benefits.
Furthermore, the current and ongoing emphasis on reducing trans fatty acids in foods without compromising their quality and taste is obviously helping to fuel the development of these ingredients. Because of their healthy and functionality properties, these developments are well suited for a variety of applications, including pastries, breads, fried foods, soups, sauces, and a variety of other products.
The following are some examples of palm-oil-based ingredients recently introduced by Loders Croklaan that are free of trans fatty acids and offer special functionality benefits.
A palm-oil-based emulsifier system for producing baked goods with lower saturated fat has been introduced under the name Sans Trans Ultra. The lipid system is nonhydrogenated, and no trans fatty acids are produced during its manufacture. The manufacturer reports that the system has solid lipids which crystallize readily and support aeration, creams easily with sugar, and has a melt point and melting profile that make it suitable for use in cakes, muffins, and bakery fillings. Its special formulation allows the ingredient to be used in bakery products at a 50% level by weight compared to a regular shortening without the loss of product quality or processing performance. This development is the most recent addition to the Sans Trans line that was unveiled at the 2003 IFT Annual Meeting.
A nonhydrogenated liquid oil combining high stability with a low solids profile was introduced under the name Durkex® NT 100. Based on palm oil and containing no trans fatty acids, the ingredient is suitable for use as a flavor carrier; an anti-dusting agent for seasonings, spices, drink mixes, or any powder; and a coating for dried fruits and nuts.
In a related story, Loders Croklaan will be building Europe's largest palm oil refinery and fractionation plant in Rotterdam. Construction is scheduled to begin mid-2004 and be completed 12 months later. The facility will be able to process 2,500–3000 tons each day.
In addition to these new developments, Loders Croklaan has been responsible for a number of innovative products, including a lipid-based delivery system (BetrFX) which improves the texture and appearance of bakery products; lipid-based moisture barriers (Cotebar); and omega-3 fatty acids (Marinol).
For more information about these developments, write to Loders Croklaan, 24708 W. Durkee Rd., Channahon, IL 60410 (phone 800-621-4710; fax 815-730-5202; www.croklaan.com).
--- PAGE BREAK ---
MCTs Move Beyond Special Dietary Formulations. Medium-chain-triglyceride (MCT) oil has traditionally been used for special dietary formulations in the U.S. Compared to typical long-chain fats, MCTs are metabolized in 1/8 of the time and deliver fewer calories. They follow a unique metabolic pathway in which they travel directly to the liver, rather than through the lymphatic system, and are therefore not accumulated as fat in body tissues. Since MCTs are much more readily digested, absorbed, and metabolized than either animal fats or vegetable oils, they have been proven useful in the diets of patients who suffer from various fat malabsorption syndromes. As they do not contribute to a rise in blood cholesterol, they have been used to treat some forms of hyperlipoproteinemia. Additionally, they provide a readily absorbed fat source for infants and special needs patients.
However, because of several factors, including the current interests in reducing trans fatty acids from the diet, lowering cholesterol, developing low-carbohydrate formulations, customizing ingredients to meet specific applications, and, in general, reformulating foods to make them healthier without compromising taste and quality, the image of MCT oil may be rapidly changing as it expands to a number of other uses that take advantage of its special properties.
Here are some developments available from Stepan Co., 100 W. Hunter Ave., Maywood, NJ 07607 (phone 201-712-7642; fax 201-712-7648; www.stepan.com):
Structured lipids can be customized to replace less healthy fats while enhancing taste, texture, and performance characteristics of a specifical application. For example, a structured lipid based on MCTs called Neobee® MLT-B may be used as a replacement for partially hydrogenated vegetable oil (PHVO) in bakery applications. It is reportedly designed to mimic the solid fat index of PHVO used in bakery applications and it incorporates the dietary and health benefits of MCTs. The ingredient is another example of the company's ability to tailor specialty structured lipids to replace PHVO in specific applications such as salad oils, coatings, pastries, breads, and margarine.
MCTs may also prove useful in the formulation of low-carbohydrate products. In sports nutrition, carbohydrates provide quick energy. Because of the way they are metabolized, MCTs can serve as an alternative, providing a readily available source of energy. As such, they may use sports nutrition products as a springboard into the marketplace, finding increasing uses in other foods and beverages designed for consumers interested in a low-carbohydrate lifestyle.
Furthermore, they may find increasing uses in products targeted to health-conscious and weight-challenged consumers. Expanded nutritional and functional food applications for tasteless, odorless, and colorless MCTs have included high-energy protein bars, ready-to-drink nutritional beverages, high-performance wellness foods, and snack products.
In addition to their potential health benefits, MCTs can impart numerous functionality attributes. They are said to be excellent solvents and act as release agents, fat extenders, and viscosity modifiers. They exhibit excellent oxidative stability and have no effect on the organoleptic qualities of formulated or reformulated products. MCTs were recently offered as a substitute for mineral oil in applications such as polishing agents, moisture barriers, viscosity modifiers, mold release agents, plasticizers, and lubricants for food processing equipment. These low-viscosity liquids spread easily and present functionality characteristics for use as carriers for flavors, vitamins, and colors.
MCTs are also being used in cooking oils as a way of lowering cholesterol and in weighting agents for beverages. These two developments will be discussed separately later in this article.
--- PAGE BREAK ---
Business Units Highlight Innovations in Fats and Oils. Many innovative ingredient developments in the area of fats and oils have been introduced by Cargill's various business units. Since each company has a primary focus—for example, specialty canola oils, sauces and oils, coatings, and health—these developments reflect how fats and oils can be approached from different directions, as well as how potential alliances between different business units can have a positive impact on product development.
Here are some examples:
High-stability canola-oil-based shortenings that are free of trans fatty acids are marketed under the name TransEND® by Cargill Specialty Canola Oils, P.O. Box 5693, Minneapolis, MN 55440 (phone 952-742-2675; fax 952-742-5503; www.clearvalleyoils.com). Products in this line are said to match the functionality, mouthfeel, and shelf-life stability of conventional all-purpose shortenings, roll-in shortenings, cake and icing shortenings, and microwave popcorn shortenings. In most cases, they provide the manufacturer with "drop in" solutions. These products are made from canola oils which have higher oleic levels, giving them resistance to oxidation and heat. Consequently they do not require hydrogenation.
Vegetable-fat-based flakes in a range of melting points are available under the name Master Chef by Cargill Dressings, Sauces, & Oils, 15615 McGinty Rd. W., Wayzata, MN 55391 (phone 952-742-6627; fax 952-742-5503; www.cargillfoods.com). A variety of flavors, including garlic, butter, and cinnamon can be added for convenience. This company can provide a complete line of shortenings and oils for a wide range of food applications. In addition, products can be customized to meet specific needs.
Oil-based nut extenders called Nut-Nots is offered by Wilbur Chocolate, a Cargill company, 20 N. Broad St., Lititz, PA 17543 (phone 800-223-0139; fax 717-626-3487; www.wilburchocolate.com). A special blend of oils, developed in cooperation with Cargill Refined Oils, creates a nut-like texture when baked. The baking process also helps the milk proteins in the product to slightly brown so the inclusions resemble macadamia nuts. The oil-based extenders can also be flavored to enhance the eating experience.
Phytosterol esters, also known as plant sterol esters, are composed of vegetable oil fatty acids and plant lipids that are naturally present in vegetables, fruits, and grains. Research has shown that foods enriched with phytosterol esters, when part of a diet low in fat and cholesterol, can help reduce the risk of heart disease by promoting healthy blood cholesterol levels. Phytosterol esters are marketed under the name CoroWise™ by Cargill Health & Food Technologies, P.O. Box 9300, MS 110, Minneapolis, MN 55440 (phone 866-456-8872; fax 952-742-7573; www.cargillhft.com). According to the company, the phytosterols are being used in Hain Celestial Group's Rice Dream Heart Wise™ drink that made its debut recently in the marketplace. The product is said to be the first rice beverage to carry FDA's approved heart health claim for phytosterols on its label. In addition to their potential health benefits, phytosterols can enhance the beverage's creamy texture and flavor.
--- PAGE BREAK ---
Portfolio Offers Diverse Range of Low-Trans Options. A line of low- or no-trans-fat oils and shortenings for use in baked goods, frying applications, confections, snacks, cereals, margarine, and other products was recently launched under the name NovaLipid™ by Archer Daniels Midland Co., 4666 Faries Pkwy., Decatur, IL 62526 (phone 217-424-5424; fax 217-424-5580; www.admworld.com).
According to the company, products in this line utilize a wide variety of vegetable-based raw materials which, when combined with research, development, manufacturing, and technical expertise, can be tailored to meet specific challenges in low- or no-trans-fat formulating. The portfolio, which includes naturally stable oils, tropical oils, blended-base stock oils, and enzyme-interesterified oils, can be incorporated into applications with limited processing changes and without compromising functionality or nutrition.
One of the options available is the production of low-trans-fatty acid-shortening and margarine using enzyme interesterification. By using enzymes instead of chemicals, the economical process subjects oils to less severe conditions and provides numerous functionality characteristics. Shortenings and margarines made by this process are said to have similar functionality (in particular, a desirable melting profile) to products traditionally manufactured with partially hydrogenated vegetable oils. ADM is reported to be the only ingredient manufacturer in North America to use the enzyme-interesterification process commercially.
Previous to the launching of this line, the company, as part of a joint venture with the Kao Corp. of Japan, introduced a healthy cooking oil which may help individuals maintain or lose weight when used as part of a sensible diet. Marketed under the name Enova, the soybean and canola oil is produced by a process that increases concentrations of diacylglycerols. Its unique chemical structure allows much of the oil to be burned as energy rather than stored as fat. Studies have shown that the amount of fat-rich particles contained in the bloodstream following a meal that contained the new oil can be 50% less than with conventional oils. The oil has a light taste and can be substituted for conventional cooking oils in salad dressing, home frying, baking, and cooking, or in virtually any recipe in which vegetable oil is used.
At food shows, ADM has showcased several food prototypes utilizing the oils described in this article. Some of these products have included salad dressings, chicken-less lo mein, French fries, chocolate chip cookies, zucchini/carrot muffin, and doughnuts.
Modified Hydrogenation Process Produces Reduced-Trans-Fat Shortening. A reduced-trans-fat shortening with the functionality of a traditional product has been developed by Bunge Foods, 885 N. Kinzie Ave., Bradley, IL 60915 (phone 800-828-0800; fax 815-929-8081; www.bungefoods.com). The shortening, produced by a modified hydrogenation process, can positively affect the fat profile while maintaining the product quality of such products as baked goods.
--- PAGE BREAK ---
When a liquid oil is converted to a solid shortening by reducing the amount of unsaturated fatty acids, desirable functionality characteristics result, such as an increased level of solids at room temperature and enhanced stability against oxidation. Saturated fats extend beneficial functionality attributes to baked goods, including texture, mouthfeel, structure, and aeration. A typical shortening contains 25–29% trans and 25–29% saturated fats. According to the company, its new product, which is derived from soybean and cottonseed oils, consists of less than 6% trans fats (a reduction of more than 80%) with no change in the amount of saturates. In addition, the level of solid fat is similar to standard shortening.
The reduced-trans fats shortening has been evaluated in a wide range of applications and its performance and handling properties are reportedly comparable to the control. Little difference in the end product was noticed in all-purpose applications, such as chocolate chip and sugar cookies, pie crusts, and biscuits. In other applications, such as white, yellow, and devil's food cakes and butter cream icing, the test products were very similar to the controls.
The product is available in two versions: an all-purpose shortening (Vream Right) and a cake and icing shortening (Vreamay Right). These shortenings consist of partially hydrogenated soybean oil and partially hydrogenated cottonseed oil produced through the new proprietary process.
Bunge Foods offers a complete line of shortening and oils, margarines, specialty fats, and emerging oil-related technologies. In addition to its low-trans fats, shortenings, the company offers innovative products such as Cremol™, a high-performance emulsifying system designed especially for caking and icing applications, and Bunge® Flakes, a butter-flavored shortening flake specifically developed to impart increased flakiness to pizza crust.
Enhancing Traits in Soybeans. Researchers at Monsanto Co. are applying conventional breeding and biotechnology techniques to develop soybeans that will produce oil containing less trans and saturated fats.
"Monsanto researchers are looking at ways to enhance soybeans so that they are healthier and, in turn, can reduce risks that lead to cardiovascular disease," said a researcher from the company. Specifically, the company is applying conventional breeding techniques to produce a soybean low in linolenic acid. The process of hydrogenation reduces the amount of linolenic acid in soy oil and creates trans fatty acids. The new soybean would produce an oil that reduces the need for hydrogenation, and, in turn, could help reduce trans fats in many foods and possibly eliminate trans fats in others.
This product, which is currently being tested in both the field and laboratory, should be available in limited quantities in time to meet the federal government's 2006 labeling guidelines for trans fat in food products.
Monsanto is also applying conventional breeding techniques to produce a soybean high in oleic acid. This soybean, which also would be low in linolenic acid, would produce soy oil high in levels of healthy monounsaturated fat. Once commercialized, the company intends to offer these traits in conjunction with its Roundup Ready technology.
--- PAGE BREAK ---
The company will also apply biotechnology to develop a soybean that will enable the production of a trans- and saturated fat-free soy oil, the first natural oil that could make the claim of being saturated fat-free. In addition, the company is researching other quality improvement traits focused on delivering benefits to consumers. For example, it is researching an oilseed crop that could produce a vegetable oil enriched with omega-3 fatty acids. These fatty acids, typical found in fish oil, have been shown to play a part in keeping cholesterol levels low, stabilizing irregular heart beat, and reducing blood pressure.
For more information, write to Monsanto Co., 800 N. Lindbergh Blvd., St. Louis, MO 63167 (phone 314-694-1000).
Almond Innovations Recognized. Approximately 67% of the fat in almonds is monounsaturated, which, along with other health-promoting components, can help improve healthy blood cholesterol levels and reduce the risk of heart disease. In recent months, a number of studies have looked at the potential health benefits of almonds in the areas of increasing vitamin E intake, decreasing LDL cholesterol, and aiding in weight management.
Because of their potential health benefits, as well as their functionality attributes, almonds continue to be a popular ingredient in food formulating. A contest, sponsored by the Almond Board of California, is designed for food science students to showcase their originality, talent, and skills in developing almond-containing products in baked goods or snacks. The products are evaluated on sensory attributes such as taste and flavor as well as product and marketing plan, use of almonds, packaging, and feasibility for developing the product.
Winners of the 2nd Annual Almond Innovations Contest included an almond snack chip, Almond Cravers (Grand Prize, University of Wisconsin at Madison); a frozen almond-filled pastry, Benny's Almond Pastry Puffs (Baking Category winner, Purdue University); and nutty chocolate almond snack, Almond Crunchers (Nutritious Snack Category winner, University of Minnesota).
Each winning team will send one representative to showcase their almond products at the 2004 IFT Annual Meeting + FOOD EXPO®.
Infant Formula Fat Receives GRAS Approval. Increasingly, lipid-based products have offered health advantages for specific areas, such as weight management, heart health, and enhanced immunity. Now a product that may help provide benefits for infants may soon be making its debut in the U.S.
The FDA recently confirmed the GRAS determination of Betapol™, a human milkfat substitute intended for baby formulas. The lipid-based product is available from Lipid Nutrition, a division of Loders Croklaan, 24708 W. Durkee Rd., Channnahon, IL 60410-5249 (phone 800-621-4710; fax 815-730-5202; www.croklaan.com).
--- PAGE BREAK ---
The novel infant formula fat is said to closely mimic the structure of human milkfat. It has been shown in scientific studies to offer special nutritional and health benefits to babies born prematurely and at term. It also improves energy supply to the infant as well as improves calcium uptake and prevents constipation.
"We expect the U.S. infant formula market to adopt Betapol's use just as the European market has," said a representative from the company.
Lipid Nutrition is a global leader in the supply of lipid-based ingredients (nutritionally active components of oils and fats). The company offers a variety of branded products that have resulted from their lipid research program, including Clarinol™, a conjugated linoleic acid for weight management; Marinol™, fish oil products for heart health; Safflorin™, isomerized safflower oil for immune health; and Membranol™, a lipid-based ingredient for brain health.
Cooking Oils Contain Medium-Chain Triglycerides. A cooking oil that has been clinically shown to maintain a healthy body weight and reduce total and LDL cholesterol has been developed and marketed under the name Vivola™ by Forbes Medi-Tech Inc., 750 W. Pender St., Ste. 200, Vancouver, BC V8C 2T8 Canada (phone 604-689-5899; fax 604-689-7641; www.forbesmedi.com).
Unlike other types of fat, the oil is reportedly oxidized very quickly in the body and converted to energy, rather than stored as body fat. It is composed of several different natural vegetable oils, omega-3 and omega-6 polyunsaturated fatty acids, and Reducol™ (a nutraceutical food ingredient derived from wood-pulping by-products that has been shown to lower LDL cholesterol). These components are blended in a proprietary process to preserve the natural colors and clarity of the oil.
According to the manufacturer, the oil contains approximately 65% MCTs. (As discussed earlier in this article, MCTs possess several special characteristics, the most important being they are metabolized differently in the body from long-chain triglycerides present in other oils.) Furthermore, linoleic acid and linolenic acid—polyunsaturated fatty acids contained in the oil—have been associated with many health benefits.
A study at McGill University between October 1999 and May 2000 involving overweight women consuming Vivola oil found that they showed a significant reduction in their LDL cholesterol by an average of 14.5% as compared to subjects consuming meals containing regular oils.
Forbes Medi-Tech Inc. anticipates that the oil, once commercialized, will have a sizable impact on the health food market, as it can be used in a range of food applications such as baking, frying, salad dressings, and fat spreads. The company is currently exploring licensing opportunities with possible partners.
--- PAGE BREAK ---
Beverage Weighting Agent Uses MCTs in Formulation. A beverage weighting agent combining sucrose acetate isobutyrate (SAIB) and MCTs has been developed under the name Sustane SAIB MCT by Eastman Chemical Co., P.O. Box 431, Kingsport, TN 37662 (phone 423-229-4877; fax 423-229-1525; www.eastman.com). The new product is designed for customers needing improved handling traits, enhanced cloud properties, and taste neutrality in beverages.
Traditional beverage weighting agents are used to increase the specific gravity of the flavoring oils used in citrus beverages and sports drinks, giving increased stability to the finished beverages. Without weighting agents, citrus beverages would tend to separate, leaving a ring of flavoring oil on the surface. The new weighting agent is said to offer significant handling and aesthetic advantages over previous products, including enhanced cloud properties.
According to the manufacturer, the enhanced weighting agent prevents the oil-soluble ingredients and water in beverages from separating during storage. It also improves the appearance and stability of beverage cloud, often lost during beverage processing and storage, to help brands achieve a natural look. Applications may include fruit juices, energy drinks, carbonated soft drinks, nutritional tonics, malt beverages, and new-age drinks.
In particular, the weighting agent can play an especially important role in the formulation of health-promoting beverages. For example, it can be used in nutraceutical beverages requiring stabilization of oil-soluble vitamins and other components.
The weighting agent pours readily at room temperature and increases the flavor stability and cloudy appearance of the beverage. It dissolves rapidly in many flavoring oils and solvents, is resistant to air oxidation, and will not discolor or develop off-flavors during long-term storage. Because of its low viscosity, it can be easily added at common operating temperatures and conditions.
The combining of MCTs with SAIB in the formulation of the weighting agent provides several functionality advantages. MCTs contribute no flavor, may be used as a carrier for flavoring systems, are somewhat soluble in aqueous solutions, and can provide some emulsification properties.
Dried Egg Yolk Provides Functionality Benefits. Dried egg yolk and the functionality advantages it offers were spotlighted in the Fall 2003 issue of Eggsaminer, a newsletter available from the American Egg Board, 1460 Renaissance Dr., Park Ridge, IL 60068 (phone 847-296-7043; fax 847-296-7007; www.aeb.org).
Egg yolk consists of 30–33% of the total liquid weight of a whole egg and contains the entire fat content. When dried, most of the moisture is removed from egg yolks, providing food formulators with a highly concentrated source of egg lipids, including triglycerides, phospholipids, cholesterol, cerbroside, and other minor lipids. Also, eggs contain no trans fatty acids.
According to the newsletter, egg yolks are frequently used in formulations because of the fats they contain. In particular, the phospholipid lecithin acts as an emulsifying agent in foods. Phospholipids can also be used to coat ingredients, aiding in their dispersion in a food matrix.
--- PAGE BREAK ---
Although egg yolks are best known for their emulsification properties in mayonnaise, salad dressing, and creamy sauces, they may be used in other applications as well. For example, dried egg yolks are used in bakery mixes. When prepared, the baked product has a rich color that comes from the carotenoids present in the lipid portion of the yolk. Also in baked goods, the lecithin in the yolk reduces the rate of moisture loss and exerts a tenderizing effect. When combined with other ingredients such as cream or milk, egg yolk creates a suitable glaze for sealing breads, rolls, and pocket-style sandwiches. The glaze helps prevent the crust from drying out and becoming tough, as well as provides a shiny golden-brown surface.
Dried egg yolks are typically spray-dried. Sucrose, corn syrup, or sodium silicoaluminate are sometimes added as anti-caking agents to assure a free-flowing product. Without the ingredients, the egg yolk would harden and solidify, making it difficult to incorporate into food systems.
One hundred grams of dried egg yolk reportedly contains about 34.3 g protein, 55.8 g fat, 3.6 g carbohydrate, and 3.0 g moisture. Dried egg yolk has a pH of 6.6.
Low-Calorie Fat Has Been Approved for Use in Europe. A family of triglyceride blends made from short- and long-chain fatty acids sold under the name Benefat® can now be offered to the European confectionery and baking industry by Danisco USA, Inc., 201 New Century Pkwy., New Century, KS 66031 (phone 913-764-8100; fax 913-764-8239; www.danisco.com). The European Commision has approved the use of the low-calorie fat following the agreement of Member States in the Standing Committee on Food.
Benefat is the trade name for salatrim, the abbreviation for short- and long-chain triglyceride molecules. The short-chain acids (C2–C4) may be acetic, propionic, butyric, or a combination of all three, while the long-chain fatty acids (C16–C22) are predominantly stearic and derived from fully hardened vegetable oil. It is the uniqueness of these fatty acids that contributes to the ingredient's reduced calorie claim. Compared to 9 kcal/g of traditional fat, the ingredient contains 5 kcal/g (U.S. regulation) or 6 kcal/g (EU regulation). Furthermore, unlike other saturated fatty acids, strearic acid has a neutral effect on blood cholesterol. The product is also free of trans fatty acids and highly resistant to oxidation.
According to the manufacturer, the low-calorie fat gives foods a similar creamy taste, texture, and mouthfeel as full-fat products. Metabolization upon consumption occurs in much the same way as with other food components.
The ingredient was introduced in the U.S., Japan, and Taiwan in the mid-1990s and has since been incorporated in a range of reduced-calorie baked products, confections, chocolate coatings, biscuits, and nutrition bars. With the exception of high-temperature frying and molded bars, it represents an alternative to fats and oils in any processed food. It performs well in low-moisture products such as biscuits, where it maintains the full flavor of products made with traditional fats.
The low-calorie fat received final approval from the EU on December 1, 2003. The approval takes effect immediately. The Standing Committee on Food determined that the family of ingredients is safe for humans to eat, but it did take note of gastrointestinal problems that can result when large amounts (more than 30 g/day) are consumed. This is why the authorization requires all products containing salatrim to carry a statement that excessive consumption may lead to gastrointestinal disturbance. Labeling will also identify the product as containing "reduced energy fat (salatrim)" and state that the product is not suitable for children to eat.
The ingredient was presented at the 2003 FI Europe exhibition where it reportedly created interest among attendees looking at developing low-calorie yet indulgent food products for adults.
--- PAGE BREAK ---
Hazelnut Oil Adds Culinary Distinctiveness. A hazelnut oil, marketed under the name Oregon Orchard®, was introduced by Hazelnut Growers of Oregon, P.O. Box 626, Cornelius, OR 97113 (phone 503-648-4176; fax 503-648-9515). The hazelnut oil is low in saturated fat and is one of the highest oil sources of monounsaturated fat and oleic acid. It is also a natural source of vitamin E and protein.
Hazelnut oil can be substituted for almost any other oil in salad dressings, pasta dishes, meat marinades, grilled fish, sauces, roasted vegetables, baked goods, fresh fruit, and other applications. In contrast to olive oil, hazelnut oil is reportedly less likely to burn when used in a stir-fry or stovetop application because of its high smoke point. The oil is said to have a mild, balanced flavor and provides a culinary distinctiveness.
Alternative Oil Does Not Contain Linolenic Acid. New soybean varieties developed at Iowa State University are said to produce oil that does not need to be hydrogenated. The oil passed critical laboratory tests for frying and flavor stability, and is being made available to many major food companies for evaluation in various products.
Most trans fats in the nation's food supply are created in the hydrogenation process, which is used to extend shelf life and stabilize flavors in baked, fried, and processed foods, including chips, snack crackers, cookies, candies, and salad dressings. Manufacturers hydrogenate soybean oil to reduce its content of unsaturated fatty acids, particularly linolenic acid, the primary component responsible for causing food to become stale or rancid. Soybeans typically produce oil with 7% linolenic acid. However, Iowa State's new soybean oil reportedly has only 1% linolenic acid.
The new soybean was developed through conventional breeding practices. In the early 1990s, researchers isolated the three soybean genes that control the 1% linolenic acid trait. The Iowa State University Research Foundation holds the patent for the 1% linolenic acid soybean.
In 2003, the soybeans were planted and harvested in Michigan. In November, 210,000 lb of crude oil were extracted from the harvested soybeans. Loders Croklaan, a producer of specialty and nutritional oils and fats, will refine about 70,000 lb of the oil for distribution to oil suppliers and food companies that have purchased it for testing. The remaining crude oil will be kept in Michigan until more refined oil is needed.
A major supplier of frying oil recently requested oil for testing. In addition, an interest has been expressed by the Japanese vegetable oil industry.
Electrocatalyst-Assisted Hydrogenation of Soybean Oil. Researchers at Southern Illinois University at Carbondale have developed a process for hydrogenating soybean oil that reportedly reduces trans fat content. The process allows for the production of hydrogenated soybean oil containing reduced fatty acids through an electrocatalyst.
--- PAGE BREAK ---
According to the researchers, electrical energy, as opposed to high temperature and high pressure, is used to affect the transfer of hydrogen to edible oils which allows for the greater reduction in trans fatty acids.
One advantage of the process is that it calls for hydrogenating oil at low temperatures compared to current commercial processes which are carried out at much higher temperatures. Other advantages include ease in operation and applications to all types of edible oils.
A patent application is pending.
For more information, contact Office of Research Development and Administration, Southern Illinois University, Carbondale, IL 62901 (phone 618-453-4543; fax 618-453-8038).
New Fat Ingredients Offer Enhanced Attributes. A new fat ingredient for infant formulas has been developed by nutritional oil company Enzymotec Ltd., Hataasia 5 St., P.O. Box 6, Migdal HaEmeq 23106 Israel (phone 972-4-654-5112; fax 972-4-644-3799; www.enzymotec.com). Called InFat, it reportedly has a specific triglycerides' composition, with a high palmitic acid concentration.
In human milk, most of the palmitic acid is in the beta (sn-2) position of the triglycerides. Because the ingredient has been made with up to 90% of the total palmitic acid located at the beta (sn-2) position of the triglyceride, it resembles the fat in mother's milk, making it more nutritious for infants.
According to the manufacturer, incorporating the ingredient into infant formulas will increase the baby's energy and calcium intake. Furthermore, the high palmitic acidic content makes the ingredient easier to blend with other oils.
Previously, the company launched MultOil, a line of multi-functional oils enriched with blends of phytosterol esters and diacylglycerols (DAG), both shown to help reduce the risk of cardiovascular disease. Produced by a special enzymatic process, the healthy oils have a high content of phytosterol esters (25%) and DAG (15%). Popular oils derived from such sources as soy, olive, canola, corn, peanut, sunflower, cottonseed, and palm can be processed by the technology which allows the oils to retain their key functionality attributes while upgrading their content of phytosterol esters and DAG. The ingredient may be used in liquid oils, spreads, and sauces.
Recently, a special grade of the oil has been developed for a major Korean company, Daesang, which is interested in developing a range of cholesterol-lowering foods, such as cooking oils and mayonnaise, which contain the new oil.
Enzymotec is a biotechnology developer of advanced, innovative products for the food and nutraceuticals markets. It is focused on various applications of lipid materials through development in the areas of structured phospholipids, triglycerides, and sterols.
--- PAGE BREAK ---
Sunflower Oil Offers Low- Trans-Fat Alternatives. Sunflower oil is the basis of a number of ingredient developments available from Humko Oil Products, a Division of ACH Food Companies, Inc., 7171 Goodlett Farms Pkwy., Cordova, TN 38016 (phone 800-344-8656; fax 901-381-3000; www.achfood.com).
For example, the company launched a new line of shortenings made with oils derived from non-genetically modified sunflower hybrids. The shortenings may be used in a wide range of applications, including baked goods, spray coating for cereals and dried fruit, and microwave popcorn.
The company offers a portfolio of products that offer alternatives to trans fatty acids. High-oleic-acid sunflower oil, marketed under the Trisun® brand, is low in saturated fats and meets functionality requirements, such as stability and desirable flavor characteristics, without being hydrogenated. New applications are also being developed for the sunflower oil, such as smoothies and nutritional drinks.
Novel System Can Deliver Omega Fatty Acids. A new encapsulation system for entrapping oil-soluble ingredients in a polymeric matrix has been developed by Spain-based Lipofoods S.L. Called Millispheres, the minicapsules allow the creation of visually distinctive finished products by suspending the ingredients within a liquid-to-semisolid vehicle. The minicapsules can also be colored to further enhance their appearance in foods and beverages.
Such an encapsulation system can provide a novel way for delivering nutritionally beneficial ingredients such as omega-3 and omega-6 fatty acids, as well as vitamins, minerals, colors, flavors, and other oil-soluble components. A maximum loading of 20% can be achieved.
The minicapsules take advantage of the synergistic properties of two natural marine-derived polymers, agar and alginic acid, to produce their primary structure. The setting properties of agar offer good thermal stability at up to 80°C. Alginic acid is cross-linked with calcium to enhance and control the mechanical structure of the capsules.
Potential applications for these minicapsules include gelatin desserts, frozen desserts, yogurt and puddings, sports drinks, health food products, nutritional supplements, soups and sauces, confections, ready-to-eat and hot instant cereals, and beverages.
For more information about this development, write to the manufacturer's North American distributor, Nutraceutical Resources, 20 Glover Ave., Norwalk, CT 06850 (phone 877-536-7568; fax 203-822-9805; www.nutraceuticalsresources.com).
--- PAGE BREAK ---
Oils from Japan Are Available. Several oils from Japan-based Nisshin Oil Mills Ltd. are available through Mitsubishi International Corp., 520 Madison Ave., New York, NY 10022 (phone 212-605-2425; fax 212-605-1810; www.micusa.com). These oils, derived from different sources, are said to offer health-promoting properties.
Here are some examples:
Nisshin Diet Oil contains natural medium-chain fatty acids, which are known for their ability to quickly turn into energy after intake. Based on rapeseed, the oil can be used for a variety of applications, including deep frying, stir frying, and salad dressing. It is said to improve taste and make foods crispier.
Nisshin Choleste, a blend of rice germ oil and rapeseed oil, reportedly contains generous amounts of natural elements found in vegetable germ. The yellow-colored oil provides a desirable fragrance when used for cooking.
Nisshin Vitamin E Up is said to contain about six times the amount of vitamin E than normal salad oils. According to the manufacturer, one tablespoon of the oil contains 10 mg of natural vitamin E. The oil also includes lignan, which is found in sesame seeds and acts as a natural antioxidant.
Nisshin Shibousan Balance, which has a corn oil and rapeseed oil base, is said to contain a balance of natural fatty acids required by the body.
Enhanced Mid-Oleic Soybean Oil in Development. A nutritionally enhanced mid-oleic soybean oil is currently in development by The United Soybean Board, 16640 Chesterfield, Grove Rd., Ste. 130, Chesterfield, MO 63005 (phone 206-270-4668; fax 206-270-4656; www.talksoy.com).
The new oil is being tested in a number of commercial applications, and analytical testing results are available from the association, which developed the oil through its Better Bean Initiative.
The testing results are said to indicate that the oil's profile contains 12.6% saturates, 54% oleic, 31% linoleic, and 2.4% linolenic. Work is being conducted to bring down the level of saturates and increase the oleic level, thus reducing or eliminating the need for hydrogenation. In addition to its potential health benefits, the oil provides a number of functionality benefits, including improved oxidative stability and better flavor stability.
At the 2003 IFT Annual Meeting, the United Soybean Board introduced its Qualisoy™ brand of enhanced soybean varieties. The new oils are said to be the first step toward providing value-added soybean varieties to the food industry.
With FDA's mandate that trans fatty acid content must be listed on nutrition labels effective January 1, 2006, several events are already occurring in the marketplace that reflect compliance. For example, Tyson Foods in February 2004 announced that it has begun the process of removing trans fat ingredients from the company's fully cooked retail and "child nutrition" labeled school foodservice products. The implementation started with Tyson-brand breaded chicken products, such as nuggets, patties, and tenders. Packages announcing the removal of trans fats will appear on supermarket shelves in late spring and early summer.
Frito-Lay introduced a new on-pack ribbon label (Smart Snack) on some of its snack products. The ribbon label will highlight some of the product's nutrition information including zero grams of trans fats, no cholesterol, and 1.5 g of fat per serving.
--- PAGE BREAK ---
Also, the FDA Center for Food Safety and Applied Nutrition has created a Web site (www.cfsan.fda.gov/) with helpful background on trans fats and how to minimize them in the diet. The site includes sample "Nutrition Facts" labels showing where trans fat information will be located.
Other countries are also passing regulations to restrict trans fatty acids. For example, in June 2003, Denmark reportedly became the first country in the world to introduce such regulations. The move followed an extensive review of all current knowledge on the impact of trans fatty acids on health.
These developments reflect the continuing evolution, or, to borrow a line from a Beatles tune, "the long and winding road," of fats and oils. Lard, tallow, tropical oils, vegetable oils, and now low-trans oils—these were some of the sign-posts that appeared over the years. These signposts all indicate shifts in direction, shaped by functionality preferences, concerns over cholesterol, concerns over saturated fat, concerns over trans fats, and so on.
This evolution was—and continues to be—fueled by technological developments, increasing knowledge of lipid nutrition, and consumer preferences. And the boundaries between these motivating forces are not always clearly defined, as each force is interrelated, each one influencing the others. For example, at one time hydrogenation technology made possible functionality benefits for vegetable oils, which consumers—based on existing nutritional information and marketing promotion—were calling for. But now expanding nutritional knowledge in the area of lipids is focusing on the health benefits of products having low or no trans fatty acids, which in turn, is influencing the development of new technologies. As a result, this may make possible new products in the market-place which consumers will choose to buy over other products.
And what about the future?
Based on the nature of this road, one would expect that it will continue to wind—i.e., take an evolutionary kind of approach. There are several reasons for this.
First, as already noted, this road, as is true for most ingredient routes that I have traveled on, is influenced by technologies, expanding nutrition knowledge, and consumer preferences, each one tending to influence or balance the other. The consumer, of course, provides the final check because if the product fails in the marketplace, that can obviously have undesirable consequences for the food manufacturer.
Second, while fats are in transition (or more precisely, trans-ition), a gradual change gives food manufacturers and suppliers time to form closer, more productive relationships with each other. Since ingredient suppliers are increasingly becoming more sophisticated, developing ingredients that can be specifically tailored for an application, they can provide a solution or a variety of solutions that have a better chance of being successful. This means that ideally food manufacturers will have time to find solutions that won't necessarily be much more expensive or result in products that, although they may be low in trans, do not necessarily equal the quality of a previous product. But again, time is ticking, and 2006 will be here before you know it.
Third, the attention that is being spent on developing low-trans alternatives may also stimulate other areas in lipid research. We may see oils derived from alternative sources, new fat-based fat substitutes, increased use of omega-3s, the use of lipids in combination with other components to create ingredients providing enhanced functionality, new lipid-based delivery systems, new flavored oils for culinary applications, and so on. And with the growing emphasis on reformulating foods to achieve maximum health, as well as functionality, benefits, fats and oils will play an important role.
From lard and tallow, it truly has been an evolutionary road for fats and oils.
Next month's Ingredients section will present ingredient solutions for culinary challenges.
by DONALD E. PSZCZOLA
Senior Associate Editor
[email protected]