There are more than 850,000 "retail" foodservice establishments—restaurants, schools, offices, vending machines, hospitals, sports arenas, quick-service outlets, etc.—in the United States, serving more than $1 billion worth of food daily. Away-from-home eating constitutes nearly half of the more than $800-billion retail value of all foods consumed in the U.S. today. And at the present 4% rate of growth, foodservice will represent nearly the sole source of growth in the food industry in this decade, according to "Foodservice Packaging," a new 160-page multi-client technical and marketing report available from PakIntell LLC, West Chester, Pa. (phone 610-344-7340, www.pakintell.com).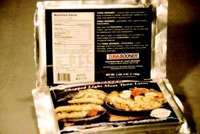 Since value does not necessarily equate to volume, the quantity of food is only about 100 billion lb ensconced within 130 billion package units. The largest volume by far is refrigerated foods, followed by frozen and ambient-temperature shelf-stable foods.
Products and Packages Change
Once upon a time, when foodservice was the drug-store-fountain soda jerk who whipped up banana splits, the cafeteria serving over-boiled green beans, and TWA plating mashed potatoes with something shiny beside them, foodservice was the bulk volume outlet for food processor/packager excess and second-grade outputs.
With the advent of automobile mobility and its attendant quick-service hamburgers with French fried potatoes, foodservice operators began demanding quality, uniformity, and a convenience that could reduce labor and waste.
More recently, the microbiological safety of the foods became paramount for foodservice preparation—generating large amounts of discards to avoid facing the problem. And foodservice retailers devolved into the few who begin from scratch with fresh ingredients, and the many who employ pre-prepared, ready-to-eat, or ready-to-heat-and-eat foods. The demands of the minority of foodservice outlets represented by quick-service chains drove remarkable changes in back-room operations—not all of which have been adopted by the majority of foodservice retailers represented by the family/entrepreneur-owned units.
Even as too many foodservice operators have hesitated to apply foods derived from the new food and food packaging technologies, they have been installing equipment engineered during the 20th and even the 21st first century. Frozen food capacity, however deficient, is an obvious common thread. Refrigeration space is almost always insufficient, and the employment of still air boxes to cool hot foods remains a challenge. Microwave ovens are now ubiquitous, although they cannot be used for much primary cooking. But microwave energy is being complemented by infrared radiation, halogen radiation lamps, forced hot-air convection, hot-air impingement, induction heating, and even woks to accelerate preparation. These and other changes in kitchens and back rooms have generated change in the food delivered to food preparation areas.
And then there is something which we have labeled "take-away," the ready-to-eat foods that are prepared by the "quick" foodservice outlet (as well as leftovers taken home from restaurants via the "doggie bag"). Rarely is the food delivered for away-from-home eating on sterling silver salvers or on china with silver-plated place settings; rather, consumers seem to be "satisfied" with expanded polystyrene "clamshells," coated paper wraps, solid bleached sulfate paperboard cartons, hinged-top corrugated fiberboard "boxes" (think pizza delivery), and a myriad of other structures.
And so we are experiencing an evolving foodservice universe in which products and their packaging have been changing to accommodate to the multiplicity of different types of outlets.
In our context, foodservice packaging consists of both the system that contains the food products used in foodservice kitchens and back rooms, and the structures used by consumers to contain the finished foods.
Portion-Control and Bulk Packaging
In the more interesting realm of how food processors package foods, especially newer ones, the foods are presented in basically two forms—portion control and bulk. Unit portions are familiar to consumers as tiny packets of sugar, artificial sweetener, ketchup, coffee lightener, etc. available by the handful. In back-room operations, portion control translates into cook-ready, heat-ready, serving size–ready packages of food products, such as precisely scaled and sized frozen ground beef patties or sandwich fillers, pre-wedged cake slices, pre-weighed pouches of frozen French fried potatoes engineered for a specific temperature in a timed fryer, pre-batched mixes, etc. Use of portion-control packages coupled with the engineered equipment is one of the techniques intended to permit foodservice operators to prepare foods rapidly, uniformly, and safely, with minimum investment of labor.
The opposite, bulk packaging, means that the sizes of packages—other than portion control—are larger than common for the retail grocery. Often, as with frying fat for seafood restaurants, fresh-cut salad vegetables under modified atmosphere for almost everyone, fresh red meat under vacuum for the steak broilers, rice for Asian kitchens, or flour for pizzerias, bulk can mean very large bags or cases. More often, the word bulk means larger than grocery size for preparation efficiency, e.g., the archaic but honorable No. 10 can for so many low- and high-acid wet foods.
Types of Packages
A count of all the packaging used by food processors for foodservice, including the recently popular home meal replacements prepared in retail grocery kitchens, shows that about 40% of all food packages—a figure inflated by unit-portion-size packages—are employed in this application. The largest number are fabricated from plastic, including trays, bowls, cups, bottles, and jars. Trailing not far behind are paperboard cartons, metal cans, and flexible aluminum foil laminations.
Moving up rapidly and soon to pass the rigid and semi-rigid are flexible materials such as barrier and non-barrier coextrusions, oriented polypropylene film, and the almost ubiquitous polyethylene film. Far behind, as might be expected, are glass bottles and jars.
• Standup Flexible Pouches. Closer examination reveals the presence of new food packaging technologies permeating the foodservice universe. In the elementary category, standup flexible pouches are common for dry baking, sauce, and beverage mixes, displacing film-lined paperboard cartons, and for seasonings, replacing metal cans. Standup in the foodservice packaging context means not only the grocery triangular versions, but also the gusseted-side, square-bottom structures, with and without reclosure features. Materials employed include paper, plastic film–lined paper, and plastic film laminations.
Some perceptions and misconceptions concerning shelf life of foodservice foods have led to both under-packaging (e.g., use of simple multi-wall paper) and over-packaging (e.g., use of aluminum foil laminations) for the same basic product from different sources. The dilemma is essentially that foodservice foods—in lower surface-to-volume ratio packaging—seem to move more rapidly through distribution channels than do retail grocery foods. On the other hand, food preparation areas are noted for their hostile temperature and relative humidity environments that can markedly reduce their quality retention periods.
• Reduced-Oxygen Packaging. The extensive application of vacuum, reduced-oxygen, and modified-atmosphere packaging for chilled foods does not obviate the need for refrigeration, but it does help a bit in the back-room environments emblematic of a paucity of good temperature control. Without visibly advertising the application of altered-internal-environment packaging, this family of technologies is being widely employed for fresh and cured meats and poultry; fresh-cut vegetables and, now, fruit; roasted and ground coffee; shredded cheese; pizza crusts; and some prepared foods. Except for fresh-cut produce, all require gas-barrier packaging to minimize gas-atmosphere change. Fresh-cut produce requires packaging with high gas permeability to avoid overt respiratory anaerobiosis.
• Aseptic and Extended-Shelf-Life Packaging. Aseptic packaging and its analogs have penetrated the entire foodservice food packaging market. Aseptic packaging includes its extensive use for unit-portion coffee lighteners in semi-rigid thermoformed cups (also served by the cousin technology, extended shelf life). Paperboard lamination bricks and blocks are used not only for ambient-temperature shelf-stable foods produced by aseptic processing and packaging but also for chilled and frozen fluids, by virtue of their stackable shape and ease of content removal.
Extended-shelf-life packaging, a major growth area, is essentially the application of aseptic technologies to prolong the quality retention period for contained foods and beverages, including milk, coffee lighteners, puddings, and fruit beverages. Because the contained products are not sterile, they require refrigeration and so are packaged for convenience and less for barrier purposes. Polyester and high-density-polyester bottles and polystyrene cups are hardly uncommon.
• Hot-Fill Packaging. Hot fill ranks among the more intriguing of packaging technologies for foodservice. Introduced more than two decades ago as a substitute for No. 10 metal cans of tomato and analogous high-acid foods, hot fill into flexible barrier pouches has gained a solid niche, but has not overwhelmed the market. Although hot-filled pouches of fluids are extensively employed in back rooms of quick-service retailers, No. 10 cans tend to retain their position in "mama and papa" pizzerias and spaghetti shops. Food processors still have serviceable, reasonable-speed No.10 canning equipment which requires relatively little skilled labor. Hot-filling equipment and flexible-pouch aluminum oxyfoil/plastic laminations and coextrusions—however attractive to food and food packaging scientists and technologists, and to accountants, environmentalists, and safety experts—remain the wave for the future.
• Retort Pouches. Much has been written and discussed about the resurrection of retort pouches and trays—from the perspective of the retail grocery trade—for pet foods and tuna. But the real story behind the story is that retort-pouched foodservice seafood in back rooms preceded the grocery hyperbole by several years. Spurred by the need for better quality than could be delivered by over-retorted solid foods in No. 10 cans, retort pouches quietly entered the scene, with some niche success. With the military driving the application of retort pouches with its Meals, Ready-to-Eat (MREs) rations in retort pouches and now retort trays for troop feeding, more interest in retorted packages can be expected as more capacity is made available for foodservice.
• Active Packaging. Despite the media messages on the topic, active packaging has experienced only limited application for foodservice food packaging. Among the more common is the use of ethylene (gas) scavengers in bulk shipments of fresh produce. Potassium permanganate powder in gas-permeable sachets is used to remove ethylene gas—which is simultaneously a respiratory product, a gas whose presence accelerates physiological deterioration, and an output of combustion in truck and nonelectrical fork-lift vehicles.
Absorbent pads of polymeric material with high moisture capacity are being used for poultry and cut fruit packaging to reduce the residual—contaminating—purge from product squeeze in the bottoms of packages. Osmotic quality of cut tomatoes, watermelon chunks, strawberries, melon cubes, and similar fruits is far better retained when the liquid in the bottom of the package is successfully directed away from the product while maintaining relative humidity within the space.
Take-Away Packaging
Although this article was not intended to probe the breadth of to-go packaging for foodservice, some is so intriguing as to warrant mention in the perspective of all the many packages that rain upon this vast industry, especially since a major fraction of the future rests in the now ubiquitous take-away and home-office delivery packaging for prepared food products.
• Modified-Atmosphere Packaging for Salads. Salads appear to be one major food application for the wondrous technology of modified-atmosphere packaging (MAP) whose true birth and science rest in temperature control. Too much emphasis on gas mixtures has bedeviled MAP of fresh-cut salad and most of the other food products benefited by the discipline. Most salad vegetables are consumed with accouterments such as dressings, crunches, pieces of meats, etc., but their incorporation directly into the wet cut leafy vegetables is not technically feasible today.
One viable alternative is prepackaging each of the adjuncts into structures such as pouches optimum for moisture protection as with baked croutons, reduced oxygen as with meats, oil resistance as with liquid dressings, etc. All of the pouches are included with the cut salad vegetables in a high-gas-permeability flexible film pouch. Consumers remove all the packages and open and empty each into the greens. Effective, but sort of crude.
Recently, some processor/distributors such as Ready Pak and Wawa have developed a four-part take-away package that fits foodservice consumer needs. The cut salad is packed in a thermoformed tray into which is fitted a compartmented thermoformed plastic barrier tray. Each compartment contains one adjunct food with a peelable heat-sealed flexible membrane over the top. The two trays are married by resting the compartmented tray on the bed of greens, and a single peelable flexible lidding is heat sealed to the exterior. At eating time, the consumer removes the overall lid, opens one or more of the compartments and mixes the contents with the adjunct food in the base tray, and eats. The package is more protective and cleaner for the processor and consumer.
• Pizza Packaging. Breathes there a reader in the U.S. who has not partaken of a pizza slice from a hinged corrugated fiberboard tray exhibiting fat leakage on the interior liner and requiring an odd plastic widget to elevate the sagging top above the stringy cheese topping? Hardly a consumer is now alive who has not subconsciously noted the not-so-subtle odor of corrugated fiberboard dust mingling with the delectable aroma of tomato and yeast. And the pizzeria operator has the problem that every unstackable tray must be erected and stacked prior to filling with pizza. That is the way to-go pizza packaging is . . . today.
Throughout the years of take-home and home-delivery pizza, numerous patents and trade offerings have suggested alternatives, such as expanded polystyrene naked or trapped between paperboard liners, or high-temperature-resistant structures capable of being used sequentially as baking pans and delivery packages.
Among the most recent entries is PresSeal, a thermoformed round container engineered for pizzeria and consumer advantage. Fabricated from microflute corrugated paperboard, the structures are (actually) thermoformed into round dishes so that the pizza does not slide within the container. Liner materials for the trays are white solid bleached sulfate treated with moisture- and fat-resistant coatings to resist weakening due to liquid wicking as well as sticking to the hot mozzarella cheese topping. The spacing of the microfluting provides structural strength that permits the tray to be filled with tomato pie and be held on edge without bending.
Cohesive adhesive applied to the paperboard edges permits a top to be adhered to a bottom similarly treated but to resist sticking to any other surface. Thus the consumer can reclose the two-piece configuration after removing one or more slices. Furthermore, and vital to the pizza maker, trays are received nested and do not require pre-erection, thus saving the critical labor and space.
According to the marketers, Harvco Technologies (phone 770-913-0802, www.roundpizzabox.com), market testing has demonstrated that consumers and retail operators perceive the round containers to retain heat better than the traditional square cartons. And because less mass of fiber is employed, the direct purchase economics of the two-piece round are superior to those of the traditional square carton.
A gauntlet is being raised in pizza circles around the round carton about to vie with the old corrugated fiberboard carton. In the past, superior functionality for foodservice packaging has not always emerged victorious because of deficient economics. But with retail operators better comprehending total systems economics and consumers demanding ever-better-quality food products, the round carton must be regarded as a contender.
Not Just an Opportunity
Just in case the message is not clear, foodservice represents a major factor in food in the U.S., and foodservice is projected to be the major source of food industry growth during the coming decade. Foodservice can grow only with its food content, and food expands in great measure because of its packaging support.
Foodservice operators are justifiably obsessed with costs, just as consumers are wed to quality. Both goals are achieved through the intelligent application of food packaging technology. Grocery-store food products are increasingly unifying into packaging that simultaneously serves processing, product, distribution, preparation, and serving—think, for example, bucket barrier-plastic cans. Ready-to-eat and ready-to-heat-and-eat are the watch-words of home meal replacements, a branch of foodservice, and should also be so for all foodservice. Foodservice food packaging can and will benefit from analogous-type thinking—carefully marry the package to the consumer imperatives for axiomatic safety and quality and to the retailer's need for back-room convenience.
But the linkage requires vision, intelligence, and experience in foodservice packaging, where innovation has not necessarily been a beacon. Foodservice is not just an opportunity but an overt goal for the courageous who can understand, and see beyond, today's situation analysis.
by AARON L. BRODY
Contributing Editor
President and CEO,
Packaging/Brody, Inc., Duluth, Ga.
[email protected]