What happens two flavor and fragrance companies, both with strong features and honored traditions, are combined? Some would say you get the perfect mix and a blending of two rich cultures. That appears to be the case with Symrise, a new corporation that was founded in May 2003 by the merger of the two longtime fragrance and flavorings manufacturers, Dragoco AG and Haarmann & Reimer GmbH.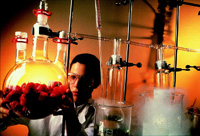 Company Histories
Both companies came to the merger with a deep history of tradition. In 1874, chemists Ferdinand Tiemann and Wilhelm Haarmann, based in Holzminden, Germany, founded the Haarmann & Reimer company, and succeeded in synthesizing vanillin from coniferin. Holzminden thus became the site where vanillin was first produced industrially.
Haarmann & Reimer was the world's first factory in which synthetic scents and flavorings were produced. This formed the basis for an entirely new field: the flavorings and aroma chemicals industry. In 1953, H&R was acquired by Bayer AG, Leverkusen, Germany. In 1990, the company expanded with the acquisition of Creations Aromatiques and, in 1995, with Florasynth.
Dragoco was founded in 1919 by Carl-Wilhelm Gerberding and his cousin August Bellmer in Holzminden. Over the course of 80 years, the small family-operated business grew to become an international corporation in the field of fragrances and flavorings. The founder's appreciation of Asian culture led him to select a company symbol that represented good fortune and success: the dragon. The company produced its first flavoring compounds in 1930.
Was it inevitable that two world-class flavor companies headquartered in the same city in Germany would eventually merge? Both companies had a research focus, but H&R, having more resources, and a focus on developing new technologies. Although both companies were strong in their respective areas, overall market forces increasingly became a stronger factor in the flavor industry. Increasingly, there was price pressure on food companies as well as on their flavor and ingredient suppliers. By 2000, there had been an unbroken trend of consolidations in the aroma/flavor/fragrance industry—in 1995, 10 companies made up 59% of the market share, but by 2000, eight companies had 71% of the market share.
Swedish financial investor EQT Northern Europe Private Equity Funds acquired H&R and a minority interest in Dragoco in July 2002, with the objective of merging the two companies. The company's headquarters remain in Holzminden. In 2002, both companies generated sales of about 1.24 billion. This represents a 3.2% rise in sales compared to the pervious year. This sales growth was generated, in particular, in the flavor segment, where sales rose by 6.2%, as well as by the regions of Europe (+ 6.1%) and South America (+ 7.5%).
--- PAGE BREAK ---
According to the company, the Symrise name is linked with its new corporate logo that combines Dragoco's dragon symbol with H&R's hummingbird symbol to form a single entity. Commenting on the new logo, Ray Hughes, President, Flavors North America said, "The logo presents a graphic rationale of what our signature line, "Creating brands. Supporting brands" means to our customers. It's a visual representation of how our business focus, core competencies, and global expertise are supporting the brands customers create."
Symrise Structure
Symrise employs about 5,800 people worldwide, including 2,800 in Germany. The company has subsidiaries on all five continents.
Horst-Otto Gerberding as president of Symrise oversaw the merger with H&R to create Symrise, and then became Vice Chairman of the Board of Symrise in September 2003. Following the merger that created Symrise, he managed the critical integration phase, bringing together more than 5,800 employees in 29 countries. According to the company, the merger rapidly improved the profitability of the business, while continuing to strengthen its multinational customer base.
In his new position as Vice Chairman of the Board of Symrise, Gerberding will help oversee the company's strategic direction and help position the company for a potential IPO over the next 3–4 years. In addition, he will join EQT's German Senior Advisory Group.
James Forman was named Chief Executive Officer, effective October 1, 2003. Forman spent the past 18 years working in Europe in a number of increasingly responsible general management roles in multinational consumer products companies. Most recently he was CEO of Stollwerck AG.
In North America, Ray Hughes is President of the Flavor Division; John Cavallo is Senior Vice President, Strategic Business Unit, Beverage; Anton Angelich is Vice President of the Sweet Business Unit; Domenick Luccarelli Jr. Vice President of the Savory Business Unit; Matthias Guentert is Vice President of the Flavor Innovation Center; and Michael Springsteen is Vice President of Sales.
In addition to the company's global division structure, the Flavor Division is structured into strategic business units that are responsible for the global development for each of its product categories: Savory, Sweet, and Beverages. These business units are in charge of consulting for clients' brands, developing strategic corporate goals, global expertise, and developing core competencies. The business units use marketing, development, and application teams to work on individual client projects. Another task of the units is to support the national Symrise centers in their marketing and development tasks as well as establish and maintain best-practice manufacturing processes. The regional business units know the taste preferences of local consumers. They develop individualized concepts for each market and adapt global concepts to regional needs.
--- PAGE BREAK ---
• The Savory Business Unit is a team of chefs, flavorists, seasonings specialists, and culinary technologists spread across four regions. The team develops new products playing off culinary trends in soups, sauces, ready meals, and snack foods. The unit focuses on flavor categories in the vegetable and meat area supported by a branding program. According to the company, a trend toward greater convenience, diminished cooking times, home meal replacements, new ways of snacking, and ethnic diversity clearly indicates strong growth potential in culinary and snack-food segments over the coming years. In particular, the seasoning market offers attractive growth opportunities. Dry blended seasonings are used for applications in snack foods, pot noodles, crackers, and food-service products.
• The Sweet Business Unit is a global network of dedicated confectionery, bakery, ice cream, and dairy innovation and business development teams. H&R was a historical pioneer in the synthesis of vanillin. Over the years, the company has greatly extended this expertise with vanilla, mint, and citrus flavors. H&R brought to Symrise significant technology in the sensate area, namely cooling, tingling, and heat sensation products. These are used frequently in confectionery products. The company has had a long history in the creation of synthetic mints with its Optamint line. The company has a strong portfolio of Red, Berry, and Brown flavors for sweet goods applications. Cocoa replacement endeavors can be enhanced with the company's cocoa and chocolate reaction flavors. The Sweet Business Unit has one of the widest ranges of encapsulated products in the flavor industry. It also has a strong research commitment to trend tracking and to understanding consumer needs.
• The Beverage Business Unit is responsible for all activities that have to do with beverage consumption. This group develops flavoring compositions for alcoholic, nonalcoholic, and powdered beverages. Symrise is a leading supplier of flavorings, emulsions, and raw materials in the international beverage market. The flavorists in the beverage area work exclusively in the composition of flavorings for use in beverages. This group utilizes a modular concept, which involves working processing technologies, flavoring compounds and other compunds into one ingredient solution. The company offers clients complete information on these modular ingredient systems, allowing them to decide—based on their own production capacities—at which stage of the production process to introduce their own raw materials. Symrise then formulates a flavoring or a beverage compound which can contain vitamins, minerals, and natural plant extracts in addition to flavoring and juice. The modular development process makes it possible for Symrise to respond to client needs with customized solutions.
Pilot-plant facilities are used to simulate the industrial conditions under which emulsions and raw materials are manufactured. This guarantees maximum safety and optimum product quality for the beverage manufacturer. The newest extraction methods provide special natural flavorings (known as recovery flavors) from fruits such as oranges, lemons, grapefruit, and passion fruit, as well as berry flavorings like raspberry and strawberry—in authentic flavor profiles. These products serve as the basis for new taste combinations in applications where the clients want to use natural ingredients exclusively.
Symrise has also developed precursor technology for alcoholic beverages. This allows manufacturers to attain a full-bodied and well-rounded flavor in less time. This technology allows the beverage to develop its full flavor in less time and the flavor maturing period can be reduced to the legal minimum.
According to the company, natural plant extracts and distillates give added value to functional products. They create new accents in the beverage's taste profile. The company claims that by creating these natural flavoring substances, they can monitor and govern the entire value chain — from selecting the raw materials to choosing the appropriate processes all the way to the manufacturing procedure itself.
--- PAGE BREAK ---
R&D Efforts
Symrise invests about 8% of its annual sales in research and development. The company considers its R&D investments a major factor for long-term success. In addition to basic research, R&D activities also include the elucidation of increasingly scarce natural complexes, followed by the development of cost-effective processes for synthesizing key constituents.
Symrise's key flavor-related research activities include the development of natural flavor components through the utilization of biotechnological, fermentative, and physical processes, as well as the search for new methods of synthesizing nature-identical flavor compounds. The basic development of flavors deals with the transformation of research findings into flavor compositions and the development of new food applications. The R&D team also continuously works to develop and enhance production processes. The company is especially driven by a desire to constantly optimize process technologies with a view to ecological aspects. In addition to high product quality and optimum cost-effectiveness, comprehensive environmental protection and the utmost in safety are factors that enjoy equal priority as corporate objectives.
The primary objective of the company's R&D operations is to actively and creatively support the brand concept of its customers, thereby creating successful innovative products. The structure of the whole R&D department mirrors the structure of the operating divisions and also contains groups dedicated to analysis and technology. There is also a group the works on pilot plant research for scaling-up chemical syntheses.
Corporate R&D has about 200 employees including some 35 Ph.D.s, most based at headquarters in Holzminden. An additional group is based at the North American headquarters in Teterboro, N.J.
The vast majority of Corporate R&D's active research projects are very closely connected with their customers' needs. This helps ensure that R&D works closely with the creation, application, and business development teams of their Flavor Division and other divisions.
Much of the R&D work results in patents being applied for and granted. This is mainly the case in the areas of new molecules, delivery systems, and production and application technologies.
--- PAGE BREAK ---
Interface of Research and Business
Symrise has established a comprehensive global process of flavor innovation that integrates all the important elements of the innovation chain. Starting with the needs of key customers around the globe, the company uses key account and business unit planning to define mid- to long-term strategies. These strategies and specific customer needs are then translated into defined innovation projects.
Flavor innovation is organized around the four regional centers, with two Innovation Centers for the Europe/Africa/Middle East and North America regions. The Innovation Center in North America is under the direction of Vice President Matthias Guentert (see sidebar on page xxx). Together with two global teams of experts for the key fields of citrus and culinary flavors, the Innovation Centers conduct proactive projects that lead to a continuous stream of new products and concepts for the company's internal customers, the various business units, as well as for their key accounts throughout the world. Corporate research, based in Holzminden, is constantly providing the latest technologies in such areas as new flavor molecules, encapsulation technologies, or product performance, which are then translated into commercially viable solutions by the innovation team. High-level management committees steer and monitor all of the innovation projects to ensure that projects are prioritized to drive commercial success.
The underlying philosophy is to link both elements—the technology push and market pull—through defined business ownership, strategic innovation management, and a global network approach to provide customers with innovative concepts and ideas wherever they might require them. The innovation network thus assures that knowledge is globally shared and successfully applied to the benefit of the company's customers.
Outlook
Symrise intends to expand its worldwide position in the fragrance and flavor industry. Key growth factors include the company's complementary product portfolio, numerous product innovations, and increased R&D activities. During 2003, the company found strong growth coming from the expanding markets of Asia, South America, and Eastern Europe as well as the established markets of Western Europe and North America.
In the global food market, flavor manufacturers are being presented with new challenges. The industry standards now include providing a global presence, clearly defined core competencies, core-suppliers status, new technologies, and innovative products. The company is seeking to expand its position as the third-largest manufacturer of flavorings worldwide and will work with clients to create new, successful brands.
---
Profile: Matthias Guentert
Just like the company he works for, Matthias Guentert has a strong history of tradition. He grew up in Holzminden, Germany, alongside both Dragoco and H&R. After receiving a Ph.D in food chemistry, he started his career with H&R in 1986. He joined its flavor division in 1994, and in 1999 he was chosen to head up the division's research efforts. When the two companies merged in 2003, he was appointed to his present position of Vice President of Symrise's Flavor Innovation Center in North America.
Guentert is in a unique position, serving as an interface between basic research and the various business units. The Innovation Center helps drive the input strategy for flavor research initially, as well as translates and transfers that research into practical technology applications for the business units. The focus of the Center is to make the research process and eventual application more efficient.
Although his job is made easier in one way because of the significant investment that the company makes in research, he is responsible for making that investment pay off.
Guentert has been a member of the Institute of Food Technologists since 2000 and says that his membership is of most value in his interaction with other team members who are food technologists.
by James Giese,
Internet Editor