Over the next few pages, we will be taking a colorful—albeit hypothetical—tour of a most unique gallery, the Museum of Food Colors. You won't find a Monet, Renoir, Van Gogh, or Picasso in these show rooms. Nor will you find art styles such as Impressionism, Expressionism, Fauvism, or Cubism. What you will find, however, are portraits of the most recent developments in colors and other ingredients that can enhance the appearance of food and beverage products.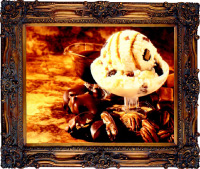 The artists responsible for these compositions may be established masters in the art of color, while others are up and coming And, as you will see, they come from all around the world. The "paints" they use may be natural or synthetic, and they may be available in a variety of forms—dyes, lakes, dispersions, dust-free powders, liquids, emulsions, pastes, natural colors with improved stability, edible inks, colored inclusions and coatings, novel color delivery systems, and, of course, multi-colored blends.
And in many ways, these ingredient suppliers and manufacturers are really artists, in both spirit and practice. One supplier put it very eloquently when he said, "The process requires an artist's eye and an artist's sensibility. In seeking compatibility with client needs, pure science enters the picture, as we search for answers about a colorant's physical form, its oil or water solubility, how a product's final pH might affect the colorant, and many other variables which impact the color's compatibility."
Because their "canvases" are not flat cloths, but multidimensional food and beverage products, they are presented with a whole variety of challenges to overcome with each brush stroke they apply. They have to be sure that colors do not fade in light. Or that colors do not bleed or migrate. Or that an unanticipated ingredient reaction occurs, producing an undesirable color later in the food application. Or that in the case of novelty or children-oriented items, the right color appears at the right time. Or that the colors do not create a mess when the food is being consumed. Or that colors can be applied in an economical fashion. Or that the food product maintains an extended shelf stability. Or . . . well, I think you can safely conclude that despite all his hardships, artists like Van Gogh never had to deal with these special challenges.
And when these artists apply their expertise, they use these colors for various effects. Sometimes colors are used for decorative purposes. Or they may be used to enhance the appearance of a prepared food which might have lost some of its desirable look during processing. I think these are some of the traditional uses for colors, but today, as competition grows in the marketplace, there are a variety of other opportunities for their use. More than ever, they may be used to differentiate a product in the marketplace. Or to add a novel twist that might appeal to children or novelty seekers. Remember green ketchup? Or they may be used to help address a trend. For example, colors can be used very advantageously in the formulation of low-carbohydrate foods. Or on an even broader scale, they may be used in the reformulation of foods, to enhance the visual appeal of foods that have been made healthier. And certainly color has always played a major role in culinary preparations, which are increasingly translated into the formulation of processed foods.
--- PAGE BREAK ---
When you view the different portraits, keep in mind the different ways that the colors are being used. We'll be looking at more than 20 portraits, and they'll all be in color.
Before we begin our tour, however, it might be necessary to quickly review some of the terms being used. After all, if this were a traditional museum, it would probably be necessary to know the difference between the Old Masters and post impressionism or cubism and pointilism.
So let's start with the term "color" and go from there:
Colors and coloring adjuncts are substances used to impart, preserve, or enhance the color or shading of a food, including color stabilizers, color-retention agents, and so on. Synthetic (or artificial) and natural are two categories of colors.
The former group is synthetically manufactured. Synthetic color additives certified by the Food and Drug Administration are designated as Food, Drug, and Cosmetic (FD&C) colors.
The definition of the other term "natural," varies somewhat. One definition I quoted before describes a natural color "as any naturally sourced or nature-identical material, either as is or processed, that is used to add color to a food." These colors come from a variety of sources, including seeds, roots, vegetables, algae, insects, fruits, and so on. The important thing here is that these colors are classified by FDA as exempt from certification.
Although I am using the term routinely in our tour, please don't expect to find the word "natural" on any product label. FDA regulations do not consider any color that is added to a food product as natural (unless the color is "natural to the food product such as coloring strawberry ice cream with strawberry juice), no matter the source of the color."
Furthermore, careful attention must be given to your color choice so that only permitted/defined colors are used, and these colors are used only for their permitted applications.
The word "caramel" may also need some defining. Caramel color is manufactured by the heat treatment of food-grade carbohydrates under precisely controlled temperature, pressure, pH, and reactant concentration conditions. The preferred carbohydrate product used to manufacture caramel color is a high-dextrose-containing starch hydrolysate or syrup, as it produces the highest quality caramel color.
Well, that's a quick lecture on some of the words that will be coming up on this tour. Because these portraits deal with some of the newest developments, traditional views on colors may need some reshaping. For example, one complaint about natural flavors is that they are not stable. Increasingly, color manufacturers are addressing this problem.
Let's now begin our tour. When it's over, I'll be back, and maybe we can compare notes.
--- PAGE BREAK ---
There's caramel in my soup. The title of our first offering comes from one of the several applications using caramel coloring that has been recently promoted by artist D.D. Williamson & Co., Inc., 1901 Payne St., Louisville, KY 40206 (phone 502-895-2438; fax 502-895-7381; www.caramel.com). The use of this color can reportedly help soup manufacturers meet their visual appearance needs when formulating products with caramel colors. Liquid #203 and Powder #640 are among the caramel colors available that can help enhance the eye-appeal of ready-to-serve soups and dry soup mixes, as well as beef and chicken buillons and brown and dark sauces.
Soup, of course, is only the only first entree of a many-course meal that can benefit by the use of caramel coloring. Other potential applications for caramel color (available as liquids and powders) include beverages, baked goods, desserts, sauces, seasonings, and even pet foods for the animal begging beneath the table.
For example, caramel color may be used to improve the appearance of cooked meat, chicken, and turkey products. Slow cooking serves to retain moisture in meat products but can fail to produce an appealing roasted look that comes with high-temperature cooking. Under such circumstances, caramel color may be used to brown, reduce grayness of, or even blacken the surface of cooked meat items such as roast beef. Caramel color may also be used to improve the appearance of restructured meat items.
And for dessert applications, caramel color may be used as a cost-effective way to reduce the amount of cocoa required in the formula. A cocoa replacer consisting of powdered caramel color, flour, and a chocolate flavor is available which can reportedly replace up to 50% of the cocoa in a formula.
In addition to this broadening range of uses for caramel color, a number of innovative ingredient developments have been introduced by D.D. Williamson.
A caramelized apple juice concentrate is said to contribute a flavor to beverage and food products, but its primary use is in adjusting or adding color to drinks, flavors, jellies, and yogurts. Derived from 100% apple juice concentrate, the product provides a clear, clean apple juice color.
An oil-dispersible caramel color blend provides adhesion properties in snack and confectionery applications. While traditional caramel color is water soluble, this blend is suitable for use in applications requiring a brown color that is dispersible in oil or fat systems where the final food product is solid. Furthermore, it helps to minimize uneven color distribution in a dry or crystal mixture.
--- PAGE BREAK ---
The blend can help seasonings, such as barbecue-flavored products, to adhere better to chips and other chips. The blend coats the salt in the seasoning, forming a protective layer which provides improved adhesion to the chip. Cinnamon, which continues to be a popular flavor, can also take advantage of this system, enhancing cinnamon sugar for toppings and fillings in confectionery products. The blend coats the sugar crystals, resulting in better cinnamon adhesion and more uniform product appearance.
The company recently invested in a gas chromatograph with a mass spectrometer detector which can separate a caramel color's taste and flavor profiles. This testing makes possible the ability to develop a standard flavor profile for the company's products. Furthermore, the company now has the ability to manufacture custom caramel colors, which might include a flavored caramel for soy sauce, a malt-flavored caramel for beer, a molasses-flavored caramel for baking, and a coffee-noted caramel.
Caramel color may also be combined with a variety of natural colors, providing functionality in a number of ways. Caramel color can deepen the color intensity of natural colors; it can help reduce the brightness of natural colors, making it suitable in applications such as barbecue sauce that require the lessening of the bright color of tomatoes; in combination with colors such as carmine, it can become even redder; and new colors, such as a green, can be created when a yellow-tone caramel color is combined with blue. Other innovative natural color blends can be formulated that are compatible with the customer's product, process, and package requirements. Here are just a few examples: purple, chocolate brown, peanut butter tan, butterscotch, strawberry, cherry, and tomato.
Partners in Color. Our next composition works well as a companion piece to the previous artistic endeavor because both artists work as partners in color formulation. This portrait is by a supplier of natural color blends, colorMaker, 3309 E. Miraloma Ave., Ste. 105, Anaheim, CA 92806 (phone 714-572-0444; fax 714-572-0999; www.colormaker.com).
The company, which has more than 20 years of application experience and a strong technical background, specializes in the development of natural color blends that are compatible with product, process, and packaging requirements. It offers a full line of standardized natural color blends for coloring specific products, but its strength is its ability to develop and manufacture custom natural color blends tailored to the customer's product requirements.
According to the company, while natural colorants are not new, the approach it takes to customizing them to meet product specifications is novel, partly because the company has an alliance with a leading manufacturer of caramel color, D.D. Williamson. Through this partnership, the company is able to offer clients superior technical strength and distribution on a global scale. Natural colorants utilized for creating blends include annatto, beet juice, beta-carotene, caramel color, carmine, chlorophyll, elderberry, grape juice, grape skin extract, lycopene, paprika, purple carrot, radish, red cabbage, saffron, titanium dioxide, and turmeric. The formulation of these blends takes into consideration a variety of factors such as pH, heat processing, packaging, shelf life, and kosher requirements.
--- PAGE BREAK ---
While working with a client's precise product formulation, a research team factors in background color, product characteristics, and chromaphore selection as part of its proven method of achieving target hue, process stability, distribution shelf life, and religious requirements. The company has the capability and the capacity to manufacture custom color blends as free-flowing powders, liquids, emulsions, or pastes, as dictated by the needs of any particular client.
Whether working online or from a desktop using a CD-ROM, clients can take advantage of colorMaker's colorWheel, which displays more than 16 million colors. It helps clients discuss color in terms of three critical parameters of quantitative color analysis: hue, saturation, and lightness. For instance, it permits clients to select between "raspberry red" and "strawberry red," or "lemon yellow" and "egg yellow."
In recent months, the company has highlighted some of its customized natural color blends. For example, a light-stable natural yellow color is made from turmeric, saffron, and caramel color. It may be used in food and beverage products such as baked goods and fruit juices. Natural color blends may be coated onto large sugar crystals for confectionery applications. Natural blue and green color blends have been developed which may be used in compressed tablets and limited food applications. The are available as free-flowing powders with moisture levels below 5%. The color blends are light and heat stable. However, they are generally not pH stable in solutions below 6.0.
Frozen Dreams. Our next portrait depicts, in especially vivid colors, never-before-seen inclusions and coatings that can enhance the appearance of frozen desserts. This comprehensive ingredient portfolio, highlighted at the 2003 Worldwide Food Expo, is the result of the acquisition of Guernsey Bel, a leading innovator of ice cream inclusions, by artist Kerry Ingredients U.S., 100 E. Grand Ave., Beloit, WI 53511 (phone 608-363-1200; fax 608-363-1670; www.kerryingredients.com).
The ice creams formulated with these inclusions and coatings were said to address a number of emerging frozen dessert trends. These included formulations which are low-carbohydrate or nutritionally enhanced or no-sugar-added; novelties which are soy based or mini sized; herbal and flower essence ice cream products; sweet and savory concoctions; European-influenced desserts; desserts having multi-textured mouthfeel; and many others.
Here are a few examples of ice cream prototypes (works of art may be more accurate) that were shown:
It's My Birthday Cake! is a sweet vanilla ice cream with birthday cake pieces and colorful frosting chunks.
--- PAGE BREAK ---
White Chocolate Lemongrass is a refreshing lemongrass ice cream with sweet chocolate chunks.
Flourless Chocolate Cake is vanilla ice cream loaded with rich chocolate ganache variegate and chunks of flourless chocolate cake. The baked inclusions have a chewy texture and visual appeal, while the variegates provide sweet flavor, visual appeal, and a creamy texture to the end product.
Hazelnut Cream Truffle is toasted hazelnut ice cream with creamy chocolate truffles. Truffles are said to be on the cutting edge of ice cream inclusions, providing visual appeal while creating new ways to satisfy consumer tastes.
Pineapple Upside Down Cake is pineapple ice cream with brown sugar–baked pineapple bits, maraschino cherry pieces, and pieces of "upside down cake." The caramelized sugar flavor base, crumb cake pieces, and pineapple bits and maraschino cherry fruit base all help lend visual appearance while delivering flavor.
Novelty items shown included Double Caramel Nut Cone (Bavarian cream ice cream swirled with sweet caramel ribbon in a waffle cone sprayed and dipped in caramel coating and topped with diced peanuts) and Creme Brulee Bar (Brulee ice cream with burnt sugar swirl dipped in vanilla creme coating with burnt sugar candy crunches).
Color of Hazelnut. In our next portrait, a line of natural colors for a wide range of foods and beverages are available under the trademark, Colors From Nature™, by artist Wild Flavors, Inc., 1261 Pacific Ave., Erlanger, KY 41018-1260 (phone 859-343-3600; fax 859-342-3604; www.wildflavors.com). These stable, intense, and highly concentrated colors are available as water- or oil-soluble liquids and powders. All colors may be adapted to the required application and the special hue.
The company has recently added several innovations to its line of natural colors. For example, a new plant extract that provides a reddish-brown tone has been developed. Obtained from hazelnut and onion extracts, it is said to have a neutral taste and high stability to light, heat, and oxygen in the neutral and acidic pH range. In low dosages, the extract produces a deep-brown tone with a reddish background. The higher the dosage, the more intensive the red tone becomes, while the brown background remains unchanged. The company notes that the allergenic potential of the hazelnut–onion extract, according to in-depth analyses, is negligible.
A deep red color, coupled with orange flavor and strawberry and raspberry overtones, can be provided by the newly introduced Blood Orange. A variety of citrus fruit, blood orange may find advantage in beverages such as wellness drinks and food applications.
Over the past year, the company has highlighted its natural colors in a wide range of prototypes. Here are some examples:
At the 2003 Worldwide Food Expo, a Hispanic beverage, Strawberry Guava demonstrated the functionality of natural colors. In the confectionery area, salt water taffy was available in a rainbow of natural colors. Sugar-free candies made with natural colors were highlighted at the 2003 SupplySide West Show. And at the 2003 IFT Annual Meeting + FOOD EXPO®, brightly colored/flavored pasta, produced in one system, was available for sampling. The colors reportedly did not migrate or bleed.
--- PAGE BREAK ---
Blue Lemonade. Our next painting belongs to the School of Blue Food Art—a category that is becoming increasingly hot in food formulation. We'll probably see other examples of this school before the tour is over. And whether you're a fan or not of performance art, such as the Blue Man Group, I suspect you'll find your artistic thirst satisfied by this offering provided by the artist Robertet Flavors, Inc., 10 Colonial Dr., Piscataway, NJ 08854 (phone 732-981-8300; fax 732-981-1717).
This application, showcased at the 2003 WorldWide Food Expo, takes a popular drink, lemonade, and pairs it with the color "blue." According to the artist, the concept came about in the following way. Flavored lemonades have been picking up steam in categories such as fruit drinks, juices, smoothies, ice creams, drink mixes, and confections. Reported recently to have the greatest volume percentage increase of all bottled juices or drinks sold in supermarkets, lemonades have exhibited renewed success and staying powder.
With that in mind, Robertet added a little color to the concept, and the prototype beverage, "Blue Rampage Lemonade," was created. Since studies have shown that the color "blue" is popular with members of the younger audience, the drink is especially suitable for kids or "young of heart" people who crave something more than an average beverage.
Sensory Specialization. A full range of approved natural and synthetic colors are available from artist Sensient Color Group, a division of Sensient Technologies, 2526 Baldwin St., St. Louis, MO 63106-1903 (phone 314-658-7431; fax 314-658-7318; www.sensient-tech.com). Previously known as Warner-Jenkinson, the company offers the food industry a variety of products, including natural colors, dyes, lakes, and dispersions, consequently creating a much broader range of opportunities. The name Sensient reflects the company's mission: "Enhance sensory experiences through specialized ingredients, delivered through proprietary technologies."
To better achieve this mission, the the company has introduced several innovations, which were highlighted at the 2003 IFT Annual Meeting and Food Expo and other food shows. Here are some examples:
• Water-soluble colored film flakes add sparkled bursts of color to food products. Called SpectraFlecks™, the ingredient is available in a wide range of singular colors or they can be combined into multicolored blends. They are also offered in flavored and unflavored varieties. Containing no fat or sugar, the flakes can help differentiate a food product in the marketplace, help increase the product's appeal to children, help customize the product for holiday or seasons, and create other marketing opportunities.
• A color delivery system was designed to introduce color to hot confection processes. Marketed under the name SpectraMelt™, the pre-dispersed coloring system has a controlled melting point for fast and consistent color applications. The convenient, easy-to-use system, available as a dust-free powder, is said to eliminate problems associated with color streaking of specks.
• A new and improved technology for digital imaging with edible inks on a variety of food substrates is offered. Specially formulated food-grade colorants work with technology from Spectra Inc. to create this technical advancement for creating product differentiation and consumer demand.
--- PAGE BREAK ---
• The company has been granted exclusive sales and marketing rights in North America for Quick Products, a diverse line of specialty confectionery compounds from Alfred L. Wolff. These products include functional ingredients for gumming and coating panned goods, polishing and sealing compounds for various panned products, and glazing and anti-sticking agents for extruded goods.
• In 2000, the company purchased Hamburg-based Dr. Marcus GmbH, a specialist in natural colorings, an action which further enhanced the company's manufacturing capability of natural colors.
• A revised and updated Natural Color Brochure is available, providing data on the company's library of natural colors. In addition, new colors will be unveiled in the future, including different shades of yellow.
In the Black. Our next composition is of a new natural black color unveiled at FIE 2003 by artist Chr. Hansen, Inc., 9015 W. Maple St., Milwaukee, WI 53214 (phone 414-607-5700; fax 414-607-5959; fax 414-607-5959; www.chr-hansen.com). Called CapColor®, the product is said to differentiate itself from other available products in the markeplace. Advantages of the colorant include pumpability, ease of dosing, small particle composition, dispersibility in liquids, non-dustiness, and ease of cleaning. The easy-to-handle natural color can create new application opportunities in extrusion products, soft drinks, baked goods, and other products. It is said to be extra-bright black, provide easy mixing with other colors, and have no sandiness or heavy precipitation.
Another product the company introduced at FIE was ColorFruit Purple, a new anthocyanin natural color with a very specific red purple shade and a special stability to light and heat. The new product was developed to market requirements for new natural red shades and improved stability anthocyanins. The product is said to have a very bright purple color which can enhance the appearance of foods and beverages as well as help differentiate them in the marketplace.
Also, a new form of natural color was recently patented by Chr. Hansen. The stable colorant is made using the company's "cap" technology, which is based on capturing (or capping) fine-particle-size pigments in a matrix of sugar-beet-derived pectin and other food ingredients. The use of specific types of pectin improves the pigments' ability to disperse in water-based systems. For example, the color particles will distribute evenly in a fizzy drink instead of clotting together. Also, the coloring powder of the particles is enhanced, and they have a greater stability to light, acid, temperature, and oxidation. Consequently, unlike traditional natural colors, they will not fade when exposed to sunlight, will not bleed, and will not migrate into the food product. The new type of color is easier to use, is kosher certified, and offers consumers who prefer foods and beverages formulated with natural colors a more stable color option.
Like a pearl. In this portrait, the word "gem" is given a new sparkle, as solvent or aqueous coating systems are custom formulated to give a pearlescent finish to food products. Called Pearlicoat™, the systems have been created by artist Colorcon, 415 Moyer Blvd., West Point, PA 19486 (phone 215-661-2657; fax 215-661-2626; www.colorcon.com).
--- PAGE BREAK ---
According to the company, the thin coating can help provide product differentiation by enhancing its color with the pearlescent effect. Five brilliant colors are available, including gold, red, purple, green, and blue. A marbleized or speckled effect can also be achieved. Potential applications include confections, chocolate, jelly beans, salted snacks, and a variety of other products. The coatings provide flexibility, as they can be applied on finished products or products in production.
This development is the most recent in a broad line of product innovations, including Quick Color™, an agglomerated, nondusting color delivery system; Opacolor®, a liquid color concentrate used for hard panning of confectionery products; and Opadry® a complete film-forming and color system for coating food and confections.
Also, in 2002, the company introduced a new product line of natural colorants, including a full range of annattos and carmines. Available in dry, dispersed, and blended formulations, the colorants are derived from such natural sources as saffron, gardenia, black carrot, paprika, beet, turmeric, and grape.
Sky Blue. Our second entry in the School of Blue Food Art is a natural stable blue color developed by artist Overseal Color, Inc., 1632 Livingstone Rd., Hudson, WI 54016 (phone 715-386-9782; fax 715-386-9783; www.overseal.com). The product uses a particular type of vegetable extract and through formulation and technology can provide a sky blue hue in certain applications.
Called Overseal Blue, the anthocyanin-based innovation offers natural blue shades in applications such as candy and bakery products.
In addition to this natural blue color, the company has developed a range of stable natural colors based on naturally derived beta-carotene. The natural colors are available as water-dispersible emulsions, oil-dispersible suspensions, and water-dispersible powders. They provide golden-yellow to natural-orange shades.
Color for All Canvases. Adding color to a wide range of surfaces is possible with Edible Glitter, a product made with gum arabic as the polymer and a colorant. A full spectrum of colored glittered products using FD&C and natural colorants is available from artist Watson Foods Co., Inc., 301 Heffernan Dr., West Haven, CT 06516 (phone 203-932-3000; fax 203-932-8266).
The colored flakes can be applied easily to a number of surfaces. For example, colored glitter adheres readily to oily surfaces. This means that the user can simply shake glitter over fried snacks, such as chips, cheese-coated snacks, crackers, and any other food that has a slight oil coating. Smaller particle sizes have a tendency to stick better to these surfaces than larger particles.
--- PAGE BREAK ---
Glitter also adheres well to frosted surfaces or any surface that is sticky, such as an uncoated gum drop, gelatin candy, pan-coated candy, or gum. Another option for adhering glitter to a surface is to apply a thin, sprayed-on coating of gum arabic solution, then the glitter, and finally drying the coating. Similarly, glitter can be applied after coating the surface with a saturated sugar solution.
According to the manufacturer, mixing Edible Glitter creates eye-catching effects. Glitter can be used to decorate hard candy products by mixing the glitter into the molten liquid just before setting in a mold. It can also be mixed into cookie fillings, dairy products that can suspend the glitter particles, and even chewing gum.
Some of the colors currently available are amethyst, aquamarine, black, blue, brown, burgundy, emerald, gold, green, lavender, orange, pink, red, silver, clear/white, yellow, and light blue. Custom blends of colored glitter using up to five different colors can be created.
The glitter product has a standard particle size that fits through an 8-mesh screen, and has a thickness of approximately 2 mil. (Also offered is a glitter product which is twice as thick as the standard product, which is more opaque and dissolves at a slower rate than the thinner flake.) Products having various solubility rates that are suitable for use in high-active water systems can also be produced. The company is willing to work closely with customers to determine what characteristics are necessary for the application.
Caramel in Cocoa. Our next portrait demonstrates the effective use of caramel color in cocoa powders. A large selection of powdered caramel colors which can be used as cocoa extenders or cocoa replacers is available from artist Sethness Caramel Color, 3422 W. Touhy Ave., Chicago, IL 60645-2717 (phone 847-329-2080; fax 847-329-2090; www.sethness.com).
Because cocoa powders can vary considerably in color tones and darkness, there is no single solution to replacing cocoa using powdered caramel color blends. However, caramel colors can be used to match the appearance of cocoa powders, usually by blending with flour or maltodextrins. For example, Sethness RT175, which is a light-red powdered caramel color, has been used in blends to reduce the cocoa usage by as much as 40%. Similarly, Sethness 858, which is the darkest powdered caramel color available, can be used in blends to reduce the need for alkalized (Dutched) cocoa powder by approximately 30%.
Interestingly, some powdered caramel colors have flavor profiles similar to that of cocoa powder. Using a gas chromatograph/mass spectrophotometer, the company can demonstrate that some powdered caramel colors and cocoa powders have quite similar flavor profiles.
Another portrait that the same artist is responsible for is the recent development of a low-flavor "plain" caramel color. This product, SC105, is described as a Class 1 (plain) caramel color, with no ammonium or sulfite compounds used in its manufacture. Duplicating specialty "sugar caramels," it is soluble in up to 25% salt solutions.
Previously, this specialty caramel color was primarily made in the Far East, using traditional slow, labor-intensive techniques. The company has developed proprietary manufacturing technology to commercialize this process, resulting in volume production of this caramel color. It is available in liquid form and is suitable in applications where plain caramel color, mild flavor profile, rich golden color, and high salt solubility are desirable.
--- PAGE BREAK ---
Very Berry Colors.
New and special color shades to replace those produced by grape skin products are being developed by artist GNT USA, Inc., 660 White Plains Rd., Tarrytown, NY 10591 (phone 914-524-0600; fax 914-524-0681; www.gntusa.com). Combining a special mixture of raw materials from carrots and blueberries, these natural colorants do not brown or precipitate over time, and are kosher.
These new shades can be used in such applications as soft drinks, juices, ice cream, candies, fruit preparations, and yogurts. They can also complement blueberry, grape, black cherry, and other dark berry flavors.
According to the manufacturer, the colors are made by a new technologically advanced color process which is changing the traditional way natural food colors are being viewed.
Additional color solutions will be assisted by the company's recent completion of its newly renovated research and development headquarters in Aechen, Germany. For the past 25 years, the company has provided international food and beverage industries with innovative color solutions.
Making natural colorants better. A range of natural colorants with superior functionality has been developed by our next artist, American Color Research Center, Inc., 931 Via Rodeo, Placentia, CA 92870 (phone 714-572-8840; fax 714-524-7015; www.acrccolors.com). The company is said to devote its energy to extended research in the development of natural colorants, making products that have properties (enhanced appearance, stability, consistency, clean labels, and consumer acceptability) that may be unavailable in the marketplace.
The following are some examples of these developments:
• A readily dispersible beta-carotene emulsion can be used in beverages with any pH and does not form rings or precipitation. It has excellent stability against light, heat, and acidity. In a stability test, it stayed a bright yellow orange after five days of outdoor direct sunlight exposure, while the control faded completely during the exposure.
• A water-dispersible paprika oleoresin emulsion may be used to provide a red orange color in seasonings and other food products. Made using supercritical carbon dioxide, the emulsion is very stable to light and heat, and does not form rings in any beverages at any pH.
• An annatto solution with stability against acid, light, and heat has been developed for beverages. The bright orange hue is well suited for beverages with orange, peach, carrot, mango, papaya, or other tropical flavors. The solution can color beverages with any pH without precipitation. Also available is a non-pinking annatto cheese color, which is resistant to light-induced fading.
• A new version of cochineal extract has been developed for acidic beverages. The acid-stable extract is said to keep its bright magenta color even after boiling in hydrochloric acid and exposure to outdoor direct sunlight for seven days.
• A stabilized water-dispersible turmeric has been produced without the use of polysorbates. (Polysorbates are traditionally used to make curcumin, the coloring component of turmeric, water dispersible.) The turmeric solution is readily water dispersible and forms a stable solution. It is also stabilized against light. In a model beverage, it took 4 hr to fade out under outdoor direct sunlight while the control (curcumin emulsified with polysorbate) faded completely within 15 minutes under the same conditions.
--- PAGE BREAK ---
Red Radish. A natural color based on red radish was recently launched by artist RFI Ingredients, 300 Corporate Dr., Ste. 14, Blauvelt, NY 10913 (phone 845-358-8600; fax 845-358-9003; www.rfiingredients.com). The product is said to be similar in hue to that of FD&C Red 40, offering potential as a replacement in certain applications. It is also more stable than fruit anthocyanins and can be used at a higher pH level than other products such as red cabbage.
The red radish product, which is GRAS and kosher, is available in liquid or powder form. Potential applications include beverages, dairy products, fruit preparations, confections, and salad dressings.
The product is the newest addition to a line of natural colors marketed under the name ColorPure. This line includes a full spectrum of reds, oranges, yellows, and browns.
Also available is ColorEnhance™-R, a patented water-soluble extract of rosemary that significantly improves the stability and enhances the color of anthocyanin-based natural colors. Added directly to natural colors or to the final applications, the product is said to control color-deteriorating hydrolysis in foods and beverages while increasing both the hue and intensity of the natural color. Its use will give applications a brighter, more intense natural color immediately as well as maintain the color longer over time, increasing the shelf life.
Red as a Tomato. A tomato extract which may be used as a natural colorant is available from artist LycoRed Natural Products Industries, Ltd., based in Israel. Called Lyc-O-Mato®, the product is available from the company's U.S. distributor, LycoRed Biodar USA, 551 Fifth Ave., Ste. 1100, New York, NY 10176 (phone 612-798-7260).
Tomato lycopene, similar in chemical composition to betacarotene, is said to be heat stable and withstand extreme pH values encountered in food processing. It has a much wider color range than beta-carotene and is effective at very low concentrations. Its coloring ability depends on its concentration, method of dispersion, and formulation used. The tomato-derived ingredient offers the dual advantage of providing color as well as being a rich source of lycopene.
No Dust! The title of our next portraits suggests an innovative new color product, a dust-free form of color recently introduced by artist Roha USA LLC, 5015 Manchester Ave., St. Louis, MO 63110 (phone 314-289-8300; fax 314-531-0461; www.rohausa.com). Marketed under the name Spheroclean, the dust-free dyes produce less dust, dissolve quickly, and handle more cleanly and easily.
The granules are said to have a stronger structure, and their spherical shape and smooth surface make them much less friable, keeping them dust-free from plant to product. Because the process does not involve extrusion and compression, the granules dissolve faster. Also, the spherical shape of the particles provide an additional benefit. They flow more like a liquid than agglomerated or extruded dyes. As a result, it is easier to control the particles when dispensing from the container, a scoop, or a measuring device.
The product is available in a wider range of colors than other dust-free brands.
In addition to this new development, the company produces Idacol® food colors and Idalcacol™ lake pigments, liquid colors, plating-grade dyes, custom colors in dye and lake blends, and lake dispersions.
--- PAGE BREAK ---
Different Shades of Red. A stable natural color, Vegetable Juice Color 6100, can provide different shades of red for use in dairy, meat, cereal, and other neutral pH products. The color, based on the radish, has been developed by artist Food Ingredient Solutions, LLC, 260 W. 52nd St., Ste. 11K, New York, NY 10019 (phone 212-246-7350; fax 212-541-9087; www.foodcolor.com).
The color is said to be extremely heat and light stable. At a low pH, this color provides an orange-red shade similar to Red 40. In the 4–6 pH range, this color provides a bright red shade.
Natural Beta-Carotene. Natural beta-carotene was recently introduced by artist Biocolor USA, Inc., 25135 Darlington, Mission Viejo, CA 92692 (fax 949-837-0468; www.biocolorusa.com). The major carotenoid pigments are beta-carotenoid (63%), alpha-carotene (32%), and lycopene (3%). The colorant is said to have excellent stability in light and oxygen environment.
Bits and Pieces. A broad line of vibrantly colored, grain-based powders, sprinkles, and bits is available under the name NutraColors from artist Nuvex Ingredients, P.O. Box 158, Blue Earth, MN 56013 (phone 507-526-4341; fax 507-526-2838). The colorful ingredient has been used as toppings or inclusions in a number of applications, such as breakfast cereals, toaster pastries, confections, chips, cookies, crackers, cake mixes, and many others. The product can be made in a variety of sizes, shapes, and textures, including large crystal or flat-cut particulates. I guess it's only appropriate that an artist from Blue Earth has to be a specialist in coloring.
Blueberry Champagne. And speaking of blue, our final portrait representing the Blue School of Food Art depicts the blueberry, which can add a blue color to a number of food products.
Recently, a new osmotically preserved cultivated blueberry variety has been offered to food formulators. The fruit is prepared through a slow, natural infusion process with stabilizers and carefully dried to preserve color and flavor. The berries are said to be juicy, sweet, and rich in color. Blueberries are also available in a variety of forms, including whole, diced, fresh or dried, freeze-dried, as puree, concentrate, or juice.
Although blueberries can add color to baked goods, frozen desserts, and a number of other applications, let's focus on their innovative use in beverages. For example, blueberries may be used in the formulation of a specialty beer—a hazy copper-colored blueberry beer with a pink/purple head. A colorful, semisweet blueberry champagne may be created for the holidays or other celebratory occasions. And a number of wines can be created with the blueberry.
Other innovative beverages recently introduced into the marketplace include Swerve, a flavored milk-based drink available in three flavors (one of them being Blooo, a mix of blueberry and strawberry; Blueberry Chill, a new organic drink which is said to help the digestive system; Bubble Tea, a combination of tea, milk, flavors, and sweet tapioca balls, that is offered in a blueberry variety; and Holly Rock, a blend of rice wine and blueberry juice.
The highbush blueberry industry has developed the Blueberry Real Seal™ to help beverage producers highlight the use of real blueberries in their products. The seal flags beverages containing real cultivated beverages or real cultivated blueberry co-products such as purees, juices, and concentrates.
For more information, write to the artist U.S. Highbush Blueberry Council, c/o Thomas J. Payne Market Development, P.O. Box 281525, San Francisco, CA 94128-1525 (phone 800-824-6395; fax 650-340-8568; www.ushbc.org).
--- PAGE BREAK ---
Global Coloring. The title of our final composition may sound like an ecological weather condition, but actually it reflects a number of color manufacturers from around the world.
Here are some examples:
• Cybercolors, Ltd., Unit 8, Airport Business Park, Farmer's Cross, Ballygarvan, Co Cork, Ireland (phone 353-21-4375755; fax 353-21-4375756; www.naturalfoodcolors.com) specializes in the sourcing, research and development, manufacture, promotion, and selling of natural colors. The company was founded in 2000, and its main natural color products include annatto, carmine, paprika, natural carotene, and other colors derived from fruit and vegetable extracts. New products in its line include an annatto oil suspension for seasoning applications, a paprika oleoresin for meat, a natural beta-carotene 1% cws powder for beverages, and a carmine lake for coatings.
• R.B. Exports, B/5 Bajratan Industrial Estate Liberty Garden Rd., Mumbai MAH 400064 India (phone 91-22-28836795; fax 91-22-28805268; www.rbexports.com) offer a wide range of FDA certifiable food colors having applications in baking, confectionery, desserts, beverages, dairy products, and pet foods. The company specializes in lake colors with excellent dispersion.
• EVESA (Extractos Vegetales S.A.), Pol. De Campamento s/n, P.O. Box 103, La Linea de la Concepcion, Cadiz 11300, Spain (phone 34-956698070; fax 34-95698006; www.evesa.com) is a producer of heat- and light-stable paprika oleoresin. The product is available in oil- and water-soluble versions.
• Naturex, Site d'Agroparc-BP 1218-84911 Avignon Cedex 9, France (phone 33 (0) 4-90-23-96-89; fax 33 (0) 4-90-23-73-40) manufactures Nat'Color, a line of coloring extracts formulated for the food industry. Products include chlorophylls, curcuminoids, and carotenoids. Also available are blends of natural colors called Vege'Brite line. (More information on these colors is also available from the company's U.S. office, 300 Waverly Ave., Mamaroneck, NY 10543 (phone 914-381-5995; fax 914-381-5985).
Now that our tour is over, let's stop for a cup of coffee and chat awhile about what we've seen. I guess one of the things that stands out is the number of new developments in each color area. For example, there have been several innovations in blue—or what I have called the Blue School of Food Art. These included the addition of blue to lemonade, a natural sky blue color derived from a vegetable extract, and the use of blueberries in both alcoholic and nonalcoholic beverages. These developments help provide what might be called a "New View to Blue." However, although I myself am sort of partial to that color, I'm sure that you have realized, as you toured the different galleries, there were many other schools represented as well.
Take red, for instance. We saw new shades of red derived from radishes, tomatoes, and other vegetables. And when talking about red, we might be taking into consideration such shades as reddish brown, reddish orange, and many others, so seeing red may also be a rage today.
--- PAGE BREAK ---
Then there's brown, especially those shades imparted by caramel color. Because caramel imparts a number of different shades, the color can be used in applications ranging from soups to cocoa powders. In addition to caramel, other innovations are being developed such as a hazelnut-onion extract which can impart a reddish-brown color.
And, of course, there are several other schools—yellow, orange, green, and even black. And as we're thinking about it, let's not forget the School of the Rainbow represented by new particulates, toppings, and other inclusions demonstrating a combination of colors. And related to that group is the School of Shimmer where colors are given a shimmering or effervescent effect.
I'm also hoping that a new school might be emerging, the School of Synthetic and Natural. Interestingly, we have already seen some references to it in this article.
For example, Sensient Color Group offers formulators the option of using synthetic colors as well as natural colors. Such an option provides a much broader range of opportunities, and perhaps suggest the many possibilities of using both types on your canvas.
Also, Watson Foods noted that its glitter products can incorporate both FD&C colors and natural colors. The emphasis here is on the eye-catching appearances that can be created by a combination of colors, regardless of their source.
D.D. Williamson emphasized that caramel color can be combined with natural colors to provide functionality in a number of ways. Again, the emphasis here is on functionality.
Also, since certain natural colors are not permitted in the United States, a synthetic green, for example, may have to be used in combination with other colors, natural or synthetic, to get the right effect.
For this School to become more mainstream, certain marketing messages may also have to change. Certain claims are sometimes falsely made about synthetic colors. Synthetic colors have been approved by FDA—they are not dangerous or hazardous to one's health. They provide consistent vibrant colors, provide stability, and impart other functionality benefits. On the other side, natural colors are frequently emphasized as offering health benefits. This is still open to debate, considering their low usage levels. But by making the claim, the suggestion can be made that they are better than synthetic colors, and this does not, at least in my opinion, serve a useful or positive purpose.
Rather, the School of Synthetic and Natural can open up a wide range of possibilities which can be applied, as discussed earlier, to a number of directions, ranging from reformulation of traditional foods to the preparation of culinary dishes to the creation of unique novelty products for both the young and the young at heart.
With that, feel free to make another tour of this unique museum. After all, as the New Year starts, this ingredient area is certainly the most colorful way to begin it.
by DONALD E. PSZCZOLA
Senior Associate Editor
[email protected]