Stabenow and Bonilla Named IFT Congressional Science Award Winners
Each year, the Institute of Food Technologists honors two members of Congress, in recognition of their achievements and efforts in making food-related policies that are based on sound science.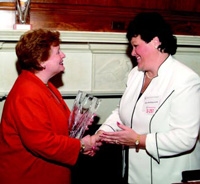 On the evening of May 11, 2004, at a reception in the United States Capitol, IFT President Ann Hollingsworth presented the 2004 IFT Congressional Support for Science Award, represented by a crystal vase, to two distinguished members of the United States Congress, Senator Debbie Stabenow of Michigan and Representative Henry Bonilla of Texas.
Senator Debbie Stabenow has been an active member of the U.S. Senate since 2000, when she became the first woman from the State of Michigan elected to the U.S. Senate. Since her election, she has been a leader in the Senate on agriculture and food research issues and is a strong supporter of science-based public policy. She currently serves on the Committee on Agriculture, Nutrition and Forestry, the Senate Budget Committee, the Senate Banking, Housing, and Urban Affairs Committee, and the Senate Special Select Committee on Aging.
As an alumnus of Michigan State University, Michigan's land-grant university, she is intimately aware of the importance of agricultural research and has sought increased funding in recent years for animal and plant health research, including foot-and-mouth disease and bovine spongiform encephalopathy. She also is an advocate for biotechnology, specialty crop programs, sustainable agriculture, and improved food safety processes such as shell egg pasteurization. Senator Stabenow has also worked to enact policies that promote science education at all levels of the public school curriculum.
Representative Henry Bonilla has been a strong advocate of federal commitment for improving food-related scientific research and science-based federal policies since he was first elected to Congress in 1992. He represents Texas's 23rd Congressional district, which shares 800 miles of border with Mexico. He is Chairman of the House Appropriations Subcommittee on Agriculture and a member of the House Appropriations Subcommittee on Defense and Foreign Operations.
As Chairman of the House Appropriations Subcommittee on Agriculture, which funds both the U.S. Dept. of Agriculture and the Food and Drug Administration, Congressman Bonilla is in a pivotal position for advancing food science in research and food regulatory programs, as well as activities regarding conservation, rural development, and, of course, federal food and nutrition programs. IFT is thankful that a leader so dedicated to science-based food policy occupies such an important post.
Many IFT members attended this year's reception, including IFT Executive Vice President Barbara Byrd Keenan and several past presidents of IFT. Also attending were senior government officials from several agencies, congressional members, and representatives of scientific societies and the legal profession.
In 2003, IFT honored Representatives Frank Lucas of Oklahoma and Rush Holt of New Jersey.
---
The Congressional Support for Science Award was established by IFT in 2001, first, to recognize outstanding contributions to science-based food policies and, second, to increase the role of science in policy development to enhance the safety, nutritional value, affordability, and variety of foods available to consumers.
by TED CARTWRIGHT
IFT Director of Science & Government Relations
Office of Science, Communications, & Government Relations
[email protected]