The three watermelons in this photo can mean only one thing when in Vegas. We just hit a jackpot at the slots. And in following that same winning theme, we will also be hitting the jackpot when it comes to the number of new ingredient developments that will be introduced at this year's IFT Annual Meeting +Food Expo®, to be held in Las Vegas, Nev.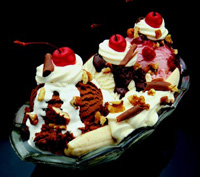 I remember back in 1987 when I first started working at IFT. That year, the first IFT Annual Meeting + Food Expo I covered was held in Vegas. And over the next 17 years that followed, I watched as food ingredient suppliers evolved, becoming more sophisticated in their development of ingredients, in the specific customizing of their applications, and in the approaches they take toward meeting the needs of their customers. At the same time, our own show evolved, also becoming more sophisticated in its attempts to meet the varying needs of our membership.
A quick look at this year's show will confirm this.
The IFT/RCA New Product Development Pavilion; the IFT/Mintel Global New Products Trends & Tasting Presentations; and three New Products & Technologies sessions ("Innovations in Healthy Ingredients," "Innovations in Processing and Functional Ingredients," and "Innovations in Food Safety") are just a few examples of how the show has been enhanced.
Our technical program, including symposia, forums, and hot topics, will be held on such timely subjects as the "Politics of Obesity: Revisited"; "Application and Use of Genomics in Food Microbiology"; "The Broad Impact of the Glycemic Response of Foods"; "Old Story, New Twist: Umami and Amino Acids"; "Qualified Health Claims: One Year Later"; "Functional Fats and Oils"; "The Revised Food Guide Pyramid: What Will It Mean to the Industry?"; and "Impact of the Low-Carb Craze: Effect and Influences on the Many Sectors of the Food Industry." Quite a winning lineup, or as they would say in gambling parlance, a sure bet.
And, of course, at the IFT Food Expo, companies from all around the world (this year there seems to be an especially strong Asian influence), first-time exhibitors, and repeat exhibitors will be highlighting their newest developments which will be reported on in this month's Preview.
Because of all these enhancements, it should not be too surprising that the Preview will be adding some surprises, as well. For starters, the Ingredients section will provide expanded coverage of the event. This article will look at highlights from a broad range of ingredient categories including special themes, flavors, starches, eggs, enzymes, fats and oils, fruits and vegetables, nuts, gums, delivery systems, flavor enhancers/masking agents, emulsions, chocolate, dairy ingredients, grain/pasta, ingredients derived from meat and poultry, colors, preservatives, and sweeteners.
--- PAGE BREAK ---
For the reader's convenience, each of these categories will get a specific section based on developments from the technical program and from the Expo. For attendees, it will hopefully help plan out your time. For non-attendees, it will give you the most current developments being highlighted and the necessary information to make a future contact.
And since we're in Vegas, the ultimate Sin City, the attendee can reasonably expect to find a certain number of ingredient developments that capture a wicked deliciousness.
Here are just a few examples: tequila-flavored gummies; "Adults Only" flavors, a line of nonalcoholic flavors featured in various applications; new products showcased under a carnival like World's Fair theme; decadent-tasting chocolates that are fortified; low-carb pizzas right out of the oven that are made with flax; and flavored coffees for those who need a pickup after a late night (not an impossible scenario in Vegas).
Also, we will be seeing new tropical tastes perfect for a desert climate; various particulates and inclusions to match the glitter of the town; a finger-food version of macaroni and cheese for those on the go; and chefs whipping up a wide range of dishes, from low-carb soups to barbecue sandwiches made with soy.
And, with Mintel and RCA contributing, we'll even have our own floor shows this year.
Vegas will truly be the hot spot for these kinds of developments.
So, take the gamble, pull down that golden handle, and watch as the ingredient developments begin to spin and spin. One cherry . . . two cherries . . .
--- PAGE BREAK ---
SPECIAL THEMES
World's Fair theme provides sneak preview of future formulations
A World's Fair Theme will be the focus of Cargill, Inc., P.O. Box 5625, Minneapolis, MN 55440 (phone 952-742-6000; fax 952-742-7393; www.cargillfoods.com). The booth's demonstrations will be modeled after the famous World's Fairs where many food product innovations that are now commonplace were originally introduced, including cotton candy, hot dogs, ice cream cones, ice tea, and even peanut butter, which was called a health food.
World's Fairs are events where attendees can get a sneak preview of the future. With the same vision in mind, Cargill will showcase a wide array of future-focused healthful and fun foods. These products reportedly will be just what you would expect to find at a World's Fair in the 21st century. Attendees will be able to sample foods and beverages that reflect a world of taste, convenience, and nutrition that will appeal to audiences around the globe. Cargill, Inc., Booth 1543.
Prototypes reflect foods that taste good but are healthy
Developing foods that taste good but are healthy will be the overall theme of Archer Daniels Midland Co., 4666 Faries Pkwy., Decatur, IL 62526 (phone 217-424-5424; fax 217-424-5580; www.admworld.com). ADM will highlight a variety of products and services that will highlight this focus, including donuts and gourmet cookies featuring its NovaLipid line of zero and low-trans oils; and meatless barbecue sandwiches, as well as fajitas and Italian pasta containing its NutriSoy® Next™ meat alternatives served with breads and tortilla chips made with its low-carbohydrate mix of ingredients.
The company will also be showcasing its research and development services and state-of-the-art facilities, including its baking laboratory and recently developed Culinary Center, to assist customers with formulation, testing, and launch of their respective retail and foodservice product lines.
As an innovative provider of ingredient solutions for the food and beverage industries, the company understands the importance of developing healthy, consumer-friendly ingredients that can be incorporated into any product. And while consumers continue to demand great-tasting, healthy products, manufacturers are looking for suppliers who offer a complete package, including ingredients, access to state-of-the-art research and development facilities, and customer service and sales support. ADM, Booth 2547.
Newest developments in grill flavors will be showcased
Food formulations that have a variety of authentic grill cooked flavor characteristics will be a centerpiece at the booth of Kraft Food Ingredients, 8000 Horizon Center Blvd., Memphis, TN 38133 (phone 901-381-6500; fax 901-381-6628; www.kraftfoodingredients.com).
--- PAGE BREAK ---
Since the introduction of its first Grill Flavor® in 1986, the company has continued to expand the line to meet ever-evolving consumer tastes and manufacturer trends. For example, these flavors can play an important role in developing low-carbohydrate preparations.
The line of grill flavors provide a consistent, authentic-tasting charbroiled profile associated with popular outdoor and backyard cooking trends. The product line generates flavors with grilled, charred, seared, and wood-roasted notes. By adding these flavors directly to the product application, the cost-effective line results in significant reductions in time, labor, and raw materials cost. Additionally, the formulation assists in simplifying manufacturing processes by replicating flavors associated with actual cooking processes.
Available in liquid and dry forms, the Grill Flavors line includes such offerings as Mesquite, Hickory, Lemon, CharGrill, and International.
Also available are Enhanced Grill Flavors, which combines the patented Grill Flavor technology with special flavorings such as Grilled Steak and Onion, Grill Fajita, Cajun Grill, and Grilled Hamburger; and Woodfired Grill Flavors which provide restaurant-style flavors reminiscent of open-fire grilling over mesquite, hickory, cherry, or apple woods. Kraft Food Ingredients, Booth 1743.
FLAVORS
Applications highlight range of flavors
Various applications of flavors including confectionery, bakery, savory, and beverage will be presented by Bell Flavors and Fragrances, 500 Academy Dr., Northbrook, IL 60062 (phone 847-291-8300; fax 847-291-1217; www.bellff.com).
Key applications that will be highlighted include confectionery, Key Lime Bon-Bons and Strawberry- and Tequila-Flavored Gummies. Also featured will be a bakery/snack application, Honey Raisin Granola Bars and Biscottis. The savory section will feature flavored mustards while the beverage application will highlight two frozen drinks–Lampshade and Peach. In addition, flavored lip balms (we're in the desert, after all) and flavored coffee (for those who frequented casinos during the previous night) will be available.
The featured selections are just a small sampling of the available flavors and applications that Bell can develop. Attendees can sample these prototypes and find out how the company can help with current or future development of top-notch products. Bell Flavors and Fragrances, Booth 2659.
--- PAGE BREAK ---
Flavor ingredients help create new tropical tastes
New tropical taste sensations will be highlighted by Treatt USA, 4900 Lakeland Commerce Pkwy., Lakeland, FL 33805 (phone 863-668-9500; fax 863-422-5930; www.treatt.com).
A range of tropical Treattarome™ products will be presented to assist in the creation of tropical flavors reflecting the true character of the original fruit. Exciting new additions to the range are to be unveiled at the show, complementing its existing portfolio which includes kiwi, watermelon, passion fruit, and guava. At varying dosage levels, these products can add either an intense, fruity character, or more delicate topnotes. Successful applications range from juices and alcoholic drinks to dairy products and dressings.
The flavors are water-white, making them suitable for clear beverages. Like their savory counterparts, the tropical products are wholly produced from the named food (FTNF). Furthermore, their FTNF status can be a positive label claim, enabling the flavorist to round off the flavor by the addition of an entirely Natural distillate.
Also highlighted this year will be Citreatt™ concentrated and terpeneless oils for citrus flavors in a number of food and beverage applications. These products have been developed using a cold concentration process and are suitable for the creation of fresh, FTNF citrus flavors. The range of oils, derived from the named food, is available in orange, lemon, grapefruit, and lime (distilled and expressed) varieties. They retain their volatile flavor components, offering a superior natural flavor and making them suitable for beverage application.
An extensive number of high-impact nitrogen and sulfur synthetic flavor chemicals from the Endeavor range will also be shown at the booth. Attendees can sample these and the other flavor ingredients while interacting with available representatives. Treatt USA, Booth 1334.
Butter flavor is free from added diacetyl
A natural and artificial butter flavor free from added diacetyl has been developed by Wild Flavors, Inc., 1261 Pacific Ave., Erlanger, KY 41018-1260 (phone 859 342-3600; fax 859-342-3604; www.wildflavors.com). The product delivers the high-impact and flavor character associated with traditional microwave popcorn butter flavors, but it contains only a trace of naturally occurring diacetyl.
Low Diacetyl Butter is production friendly, and is the flavor of choice for a full impact, rounded microwave-stable butter popcorn. It received excellent taste scores compared to conventional flavors. The butter flavor without added diacetyl is heat stable in a number of other applications, including snack, bakery, and savory products.
Representatives will be available to discuss this flavor as well as a wide array of other flavors available from the company. Wild Flavors, Inc., Booth 1343.
--- PAGE BREAK ---
Latest grill and roasted flavors to be unveiled
The latest additions to a family of grill and roasted flavors will be highlighted by Red Arrow Products Co. LLC., 633 S. 20th St., Manitowoc, WI 54220 (phone 920-683-5500; fax 920-683-5524; www.redarrowusa.com).
New Grillin' line of Off the Grill™ flavors, Chef 's Grill® 3103 imparts a savory grill flavor with a meaty impression, while Chef 's Grill 3104 provides an initial gas grill flavor, followed by a subtle meaty/pork finish. For an initial charcoal grill flavor impact followed by a subtle smoked bacon flavor, Chef 's Grill 3105 is the best choice.
Roastin'® family of roasted flavors are suitable for meeting the growing consumer demand for rich, long-cooked taste from rapid preparation methods. These innovative flavors are designed to impart a variety of rich savory notes to a range of food applications. Overall savory depth is enhanced as well, giving finished products the taste of long, slow roasting despite short preparation times.
New Roastin' flavors are ideal for building savory depth in a variety of applications. Version 3106 provides a dark roasted pork taste, while 3107 gives an oven-roasted beef flavor. Braised chicken flavor is obtained from 3108. Version 3123 provides a slow-roasted pork taste, including the savory meat and slight brown notes associated with a fatty piece of pork. Version 3124 provides the initial char and caramelized notes associated with the flavor of a pork chop being broiled over high heat. These latest flavors complement the roasted chicken skin taste of 9073, the meaty-roasted chicken taste of 1013, and the deep-roasted turkey notes obtained from 2002.
Formulations using these flavors will be available for sampling. Red Arrow Products Co. LLC, Booth 2928.
Culinary wine reductions to be launched
A line of culinary wine reductions available for industrial food processing and foodservice will be launched by Todhunter Foods & Monarch Wine, 222 Lakeview Ave., Ste. 1500, West Palm Beach, FL 33402-4057 (phone 561-655-8977; fax 561-655-9718; www.todhunter.com).
Diversified varieties of 10-fold reductions include Red Port, Burgundy, Chablis, Sherry, and Sweet Marsala. New for the show are Balsamic Vinegar Reduction and Sake Wine Reduction.
The company's food chemists have also developed Distilled Spirit Reductions including French Brandy, Kentucky Straight Bourbon Whiskey, and Scotch Whiskey. These culinary wine reductions have industrial food processing applications in soups, sauces, entrees, marinades, condiments, specialty food products, and flavor production.
Foodservice applications offer consistency and labor savings, while never compromising on the culinary creativity of the corporate chef. Todhunter Foods & Monarch Wine, Booth 1573.
--- PAGE BREAK ---
Heat-stable flavors will be showcased
Latest offerings regarding heat-stable natural butter and cheese flavors will be showcased by Gamay Flavors, 2770 S. 171st St., New Berlin, WI 53151 (phone 262-789-5104; fax 262-789-5149; www.gamayflavors.com).
Products retain their flavor characteristics in baked products where flavor loss due to intense heat treatment occurs. Applications include crackers, pretzels, breadsticks, and chips. Gamay Flavors, Booth 2726.
STARCHES
Symposium addresses impact of starch-hydrocolloid interactions
The impact of starch-hydrocolloid interactions in food systems is the subject of a symposium sponsored by the Carbohydrate Div. and Food Chemistry Div. Papers in the symposium cover non-starch polysaccharide interactions with starch during gelatinization, rheology of starch-gum mixtures, enhanced stability of freeze-thawed starch gels by hydrocolloids, and physical effects of gums on starches and reactions of gums with starches.
Researchers from the Whistler Center for Carbohydrate Research at Purdue University, Glascow Caladonian University in the United Kingdom, Korea University in South Korea, and Cornell University all contributed to the symposium, which will be held Tuesday morning, 9 a.m. to noon. Session 4.
Wheat-derived resistant starch enhances fiber content 
A highly functional resistant starch made from wheat is available under the name FiberStar 70™ from MGP Ingredients, Inc., 1300 Main St., Atchison, KS 66002-0130 (phone 913-360-5442; fax 913-367-0192; www.mgpingredients.com). The ingredient can enhance fiber content, and by partially replacing flour, can reduce carbohydrate content. It is suitable for use in breads, pasta, muffins, waffles, breakfast cereals, and nutritional bars.
The resistant starch delivers a minimum 70% of total dietary fiber. Its water-holding capacity is significantly lower than traditional fiber sources such as wheat bran. This allows for high inclusion levels of the ingredient in product formulas with only minimal formula adjustments required.
The ingredient possesses a clean flavor,is extremely white in color, and imparts a smooth, creamy texture. In breads, these qualities produce a whiter crumb, improved taste, and potentially increased loaf volume. In addition to enhancing fiber content, it can be used in combination with specialty wheat proteins to provide solutions for the manufacture of high-protein, lower-carbohydrate foods. MGP Ingredients, Booth
--- PAGE BREAK ---
Modified corn starch provides viscosity without heating or cooking 1981.
A line of high-viscosity, cold-water-swelling, modified corn starches will be featured by Grain Processing Corp., 1600 Oregon St., Muscatine, IA 52761 (phone 563-264-4265; fax 563-264-4289; www.grainprocessing.com). Called Inscosity, the instant food starches are designed to provide viscosity without heating or cooking, and maintain a clean flavor and ultrasmooth surface appearance with clarity and sheen. They offer excellent freeze/thaw and steam table stability for both acid and neutral pH systems.
According to the manufacturer, the ingredient is suitable for hot or cold water dispersible applications, especially those where ease of mixing is needed. The starches can provide texture and body, reducing levels of gums, hydrocolloids, fruit, or tomato solids. They may be used in a wide range of applications including gravies, meat marinades, sauces, salad dressings, desserts, and bakery applications.
For example, the starches offer properties that may be especially useful in baked goods. Long-term stability of texture and conformation of frozen cakes and other baked goods is a challenge for manufacturers in the bakery industry. The instant modified starches have been shown to reduce shrinkage and moisture loss in frozen storage cakes, muffins, and cookies.
Literature on this ingredient, as well as prototypes demonstrating the effectiveness of these starches will be available. Grain Processing Corp., Booth 1259.
EGGS
Egg portfolio to be unveiled
A concise, easy-to-read, informative portfolio which addresses egg-related topics of interest is being unveiled by the American Egg Board (AEB), 1460 Renaissance Dr., Park Ridge, IL 60068 (phone 847-296-7043; fax 847-296-7007; www.aeb.org).
Entitled "EGGsolutions," the portfolio is the latest effort by the organization to educate food manufacturers, product developers, marketers, other segments of the industry, and consumers about the benefits of using egg products.
The portfolio will detail the different types of egg products, identify the appropriate egg products for various food categories, and highlight the many functions and advantages of eggs, as well as their processing, storage, and handling aspects. A particular area of interest will be a " Frequently Asked Questions" section on egg products and processing authored by Glenn Froning, AEB's Food Technology Advisor. The portfolio will be available for distribution at the Food Expo.
Also, Froning and William J. Stadelman, AEB Food Technology Advisors, will be at the booth to answer questions and discuss recent trends related to eggs. These trends might include the use of eggs in low-carbohydrate formulation; the use of eggs in high-protein diets; the benefits of eggs over egg alternatives in culinary recipes; the resurgence of eggs as a healthy ingredient; how eggs might play a positive role in the growing emphasis on healthy fats; how eggs can be designed to meet specific health needs, such as omega-3s; and many other egg-citing topics. American Egg Board, Booth 2110.
--- PAGE BREAK ---
Egg concept launched from Spain
On the Food Expo floor, IFT will host specially prepared presentations by Mintel, a leading supplier of media, product, and consumer intelligence. These presentations will focus on the latest global product themes in the areas of Health & Wellness, Ethnic Flavor, and Convenience and Packaging. Analysts from Mintel's Global New Products Database will discuss more than 50 recently launched products from Europe, Asia, and the Americas.
One of the products in the Mintel's Database is a new egg concept from Spain-based Huevos Maryper. Called Ovochef, the product is said to have the same characteristics of fresh egg, can be consumed in any place, at any time, and poses no health risks. It is available in innovative packaging with two compartments: one with water and the other with pasteurized dehydrated egg, in exact quantities for the perfect mixture and reconstitution of the egg in a hygienic way. The egg has three years storage with no need for refrigeration. To prepare, press and shake the satchel and the egg is ready to cook. It is practical, safe, easy to use, and because it has no shell, it does not present any salmonella risks.
The product is currently available in two types: 2 Huevos de Galina (two chicken eggs) and Tortilla de Patatas (an instant mix for Spanish omelette). For attendees interested in learning more about this product, visit with one of the Mintel's analysts or visit the new products database. IFT/Mintel New Products Pavilion, IFT Food Expo floor.
ENZYMES 
Enzyme product modifies egg yolk and soy lecithins
A new bacterial phospholipase A2 enzyme product for modification of egg yolk and soy lecithin has been developed by Genencor International, Inc., 200 Meridian Centre Blvd., Ste. 300, Rochester, NY 14618 (phone 800-847-5311; fax 585-244-4544; www.genencor.com). Called LysoMax, the enzyme product catalyzes the selective hydrolysis of the sn-2 ester bond of the phospholipid yielding a free fatty acid and a 2-lysophospholipid.
2-lysophospholipids have superior emulsifying properties when compared to their respective unmodified phospholipids. Enzyme-modified egg yolk and soy lecithins, which contain significant concentrations of 2-lysophospholipids, can be used effectively as emulsifiers in salad dressings, mayonnaise, and other food products.
The new product, which is food grade, kosher, and has true A2 phospholipase functionality, will be discussed at a New Products & Technologies Session. The presentation will disclose information relevant to egg yolk and soy lecithin modification with the enzyme. This will include information on the effects of pH, temperature, dosage, and other operational parameters.
The functionality of a wide range of enzymes, including a new glucose oxidase for economical production of sodium gluconate and derivatives, will also be highlighted at Paper 35-5 and Genencor, Booth 827.
--- PAGE BREAK ---
Enzyme infusion technique provides alternative to soaking procedure
A novel enzyme infusion technique using positive pressure to alter solid physical properties of a variety of food materials was developed by Japan-based Ajinomoto Co., Inc. Use of the technique could provide benefits over traditional soaking procedures, resulting in foods with effective food structure modification.
Food materials, including carrots, pumpkin, and potatoes, were soaked in an enzyme solution in the presence of positive pressure. Also, recycling usage of the enzyme solution was performed. The weakening or strengthening of the physical structure of the vegetables were then studied.
According to the researchers, when carrots or pumpkins were treated with pectinase solution with 0.5 MPa for the duration of seconds to minutes, a definitive weakening of the vegetable structure was perceived. When carrots, potatoes, or pumpkin were treated with pectin methyl esterase, significant hardening of vegetables was observed, with the hardening controlled according to the pressure applied.
The study indicated that pressure less than 1 MPa could make a significant change in the property of food materials. Also the efficiency was a lot greater than a simple soaking procedure could provide.
Results of the study suggested that a new field in food structure modification could be opened. Paper 94-2 and Ajinomoto Food Ingredients LLC, Booth 2569.
Enzyme de-esterifies pectin molecules
A purified pectin methylesterase for use in fruit and vegetable applications is available under the name Crystalzyme® AES Super from Valley Research, P.O. Box 750, South Bend, IN 46624 (phone 574-232-5000; fax 574-232-2468; www.ValleyEnzymes.com).
Produced by the controlled fermentation of a nongenetically modified strain of Aspergillus niger, the enzyme de-esterifies pectin molecules by randomly hydrolyzing the ester bonds which link methyl groups to carboxylic acid groups on individual galacturonic acid units (C-6). The food-grade liquid formulation, when applied to fruit and vegetable pieces, increases firmness and texture.
Applications range from purees, fruit and vegetable pieces, and whole fruits. The company offers a broad line of animal, plant, and microbially derived carbohydrase, protease, and lipase enzymes for the food industry. A general product brochure for specific enzyme needs is available. Valley Research, Booth 1225.
--- PAGE BREAK ---
FATS & OILS
Structured lipid is designed for baking applications
A structured lipid derived from medium-chain triglycerides has been developed for use in baking applications by Stepan Co., 100 W. Hunter Ave., Maywood, NJ 07607 (phone 201-712-7642; fax 201-712-7648; www.stepan.com).
Called Neobee® MLT-B, the trans-fat-free product is suitable for use as a replacement for partially hydrogenated vegetable oils in baking applications.
Medium-chain triglycerides (MCTs) are commonly used in medical and sports nutritional products because of the special metabolic pathway they follow. Unlike typical long-chain fats, which travel through the lymphatic system for distribution to the body tissues, MCTs travel directly to the liver, are preferentially burned for energy, and do not accumulate as fat in the body.
The highlighted ingredient can be used in place of shortening in baking applications.
The company has the capability to tailor a structured lipid to meet the specific requirements for products such as salad oil, coatings, pastries, breads, or margarine. Stepan Co., Booth 3067.
Vegetable source of DHA will be highlighted in orange juice drink
An orange juice drink incorporating a highly concentrated, vegetable source of docosahexaenoic acid (DHA) will be highlighted by Nutrinova Inc., 285 Davidson Ave., Ste. 102, Somerset, NJ 08873 (phone 732-271-7220; fax 732-271-7220; www.nutrinova.com). Marketed under the name Nutrinova DHA, the product is derived from microalgae via a patented fermentation process.
According to the manufacturer, the ingredient offers several advantages over typical fish oils. It contains a much higher concentration of DHA and a lower amount of undesirable fatty acids. Extracted from a plant-based source, it is also acceptable for a vegetarian diet.
Self-determined GRAS status permits the use of the ingredient in the United States for numerous food applications, including baked goods, cereals, dairy products, spreads, energy bars, fruit juices, and snacks. Representatives from the company will be available to answer questions on the benefits, applications, and usage levels of the product as well as its highlighted application. Nutrinova Inc., Booth 510.
--- PAGE BREAK ---
Lipid family has new addition for use in baked goods
A palm-oil-based lipid system for producing baked goods with lower saturated fat has been introduced under the name Sans Trans Ultra by Loders Croklaan, 24708 W. Durkee Rd., Channahon, IL 60410 (phone 800-621-4710; fax 815-730-5202; www.croklaan.com).
The lipid system is nonhydrogenated, and no trans-fatty acids are produced during its manufacture. The system has solid lipids which crystallize readily and support aeration, creams easily with sugar, and has a melt point and melting profile that make it suitable for use in cakes, muffins, and bakery fillings.
Its special formulation allows the ingredient to be used in bakery products at a 50% level by weight compared to a regular shortening without the loss of product quality or processing performance.
This development is the most recent addition to the Sans Trans line that was unveiled at the 2003 IFT Annual Meeting.
The company also offers a variety of other no-trans-fat solutions. For example, a nonhydrogenated liquid oil combining high stability with a low solids profile is available under the name Durkex NT 100. Based on palm oil and containing no trans fatty acids, the ingredient is suitable for use as a flavor carrier and as a coating for dried fruits and nuts. Loders Croklaan, Booth 1835.
FRUITS AND VEGETABLES
Vegetable-based ingredients provide color and flavor to culinary creations
Vegetable-based culinary creations will be created by Chef James Duncan at Vegetable Juices, Inc., 7400 S. Narragansett Ave., Bedford Park, IL 60638 (phone 888-776-9752; fax 708-924-9510; www.vegetablejuices.com).
These colorful preparations will demonstrate the flavor, functionality, and potential health benefits of vegetable purees, juices, and diced products, along with herbs and peppers. The company's corporate chef will showcase dipping sauces, new applications, and recipes that will reportedly tantalize the taste buds of attendees as well as stimulate their imaginations.
The company's vegetable-based products can provide fresh natural flavors, texture, and color to many flavor systems, and are GMO free, kosher, and organic. Vegetables include artichoke, beet, bean, broccoli, carrot, cabbage, cauliflower, celery, corn, cucumber, kale, lettuce, leek, onion, spinach, tomato, and many others.
Also available is a line of peppers including ancho, anaheim, chile de arbol, cascabel, cayenne, chipotle, green bell, guajillo, habañero, jalapeño, morita, pasilla, poblano, red bell, and several others.
The company offers contract packaging for both liquid and dry products. Also a new exciting line of organic purees and new chili pepper items will be introduced at the show. Vegetable Juices, Inc., Booth 1827.
--- PAGE BREAK ---
Infused ingredients offered in dried and frozen forms
A range of innovative fruit and vegetable ingredients for use in cereals, baked goods, dairy products, and other applications will be highlighted by Graceland Fruit, Inc., 1123 Main St., Frankfort, MI 49635 (phone 231-352-7181; fax 231-352-4711; www.gracelandfruit.com). Among the products offered are infused dried fruits and vegetables, such as cherries, blueberries, cranberries, strawberries, and carrots, as well as the Soft-N-Frozen line, which contains several new introductions, including seedless red raspberry puree, lemon puree, whole strawberry, sliced cranberry, and diced mango.
According to the company, the Soft-N-Frozen line, made from fresh, Grade A frozen fruit, consists of three product types: Stabilized, which contains 50–80% fruit in a stabilized matrix; Premium, infused frozen fruit which typically contains 85% fruit suspended in an infusion matrix of 15% or less; and Infusion Frozen, which can be up to 100% fruit. The process used for the manufacture of these three products isolates and controls the free water in a product and prevents it from freezing. Ice crystals are less likely to form, and the product will not completely freeze even at 0°F. The result is a fruit ingredient that remains soft and scoopable at low temperatures, and does not get soggy when thawed. Products in this line include cherry, mango, peach, strawberry, papaya, lemon peel, blueberry, apple, cranberry, watermelon, and others. In addition, combinations include strawberry/watermelon, raspberry/cranberry, banana/strawberry, and tropical fruit.
A recent product that the company introduced was pineapple, which is available infused dried and Soft-N-Frozen stabilized, as well as in two tropical combinations: mandarin orange/pineapple/coconut and mandarin orange/pineapple/mango. The infused pineapple, which has excellent flavor, color, and texture, may be used in baked goods, cereals, trail mixes, and snack food applications. Stabilized and infused frozen forms of pineapple have application in ice cream and other frozen desserts.
Representatives will be on hand to discuss how these ingredients can meet customer's exact specifications. Potential prototypes using these ingredients will also be described. Graceland Fruit, Inc., Booth 3267.
NUTS
Hazelnuts provide flavor and texture benefits
Recent developments in hazelnuts will be highlighted by Hazelnut Council, 424 2nd Ave., West, Seattle, WA 98119 (phone 206-301-4321; fax 206-270-4656; www.hazelnutcouncil.org).
Known for its indulgent and distinctive flavor, hazelnuts prove increasingly popular in both the food industry and among consumers. Whether used to lower the carbohydrates in baked goods, incorporated in a chocolate confection, or added to a gourmet entree, hazelnuts add a distinctive flavor and special texture to many food dishes.
Hazelnuts also provide a heart healthy alternative to other snacks. Only 1.5 oz as part of a diet low in saturated fat and cholesterol may reduce the risk of heart disease.
The Hazelnut Council represents the world's leading hazelnut producers, importer, and distributors. The Council is made up of the Oregon Hazelnut Marketing Board, the Black Sea, and Istanbul Exporters Unions and the Association of Food Industries. Hazelnut Council, Booth 869.
--- PAGE BREAK ---
Winning almond innovations will be showcased
Almond innovations will be spotlighted by the Almond Board of California, 1150 9th St., Ste. 1500, Modesto, CA 95354 (phone 209-549-8262; fax 209-549-8267; www.AlmondsArein.com).
Several university students in the U.S. participated in the 2nd Annual Almond Innovations Contest sponsored by the Almond Board of California. The contest is designed for food science students to showcase their originality, talent, and skills by developing products for baking or nutritious snacks categories. The winning team will send one representative to showcase their almond product at the IFT Food Expo.
The finalists were judged on February 2, 2004, by a panel of officials made up of food technology professionals, culinarians, and almond industry representatives. The products were evaluated on sensory attributes such as taste and flavor as well as production and marketing plan, use of almonds, packaging, and feasibility for developing the product.
The Grand Prize went to the University of Wisconsin for Almond Cravers, an almond snack chip.
The Baking Category Winner was Purdue University for a frozen almond-filled pastry, Benny's Almond Pastry Puffs.
The Nutritious Snack Category Winner was University of Minnesota for a nutty chocolate almond snack, Almond Crunchers.
In addition to highlighting the winners of the competition, the Almond Board of California will also be distributing information about the cholesterol-reducing properties of almonds, application ideas, nutrient labeling, and details about forms, functionality, and application. Almond Board of California, Booth 845.
Organic peanut products to be launched
A line of organic peanut butter and chopped peanuts will be launched by Nutrin Corp., 1627 Connecticut Ave. NW, Ste. 3, Washington, DC 20009 (phone 202-588-7367; fax 815-550-6246; www.nutrin.com).
Nutrin is a vertically integrated producer of peanut flavor materials, including peanut flours, peanut extracts, roasted and refined peanut oils, peanut butter, peanut paste, and both dry-roasted and oil-roasted chopped peanuts and peanut splits. The company also produces special peanut products such as partially defatted peanuts, confectionery-coated peanuts, sugar coated peanuts, and other items developed for customers with specific needs.
Potential applications for these products include ice creams, confections, baked goods, pet foods, and other products. Representatives will be on-hand to provide literature and discuss the functionality and potential health benefits of these products. Nutrin Corp., Booth 2221.
--- PAGE BREAK ---
GUMS
Use of gums in low-carb and dairy formulations will be highlighted
Use of gum systems in low-carbohydrate food formulations and dairy products will be focused on by TIC Gums, 4609 Richlynn Dr., Belcamp, MD 21017 (phone 410-273-7300; fax 410-273-6469; www.ticgums.com).
The company is planning to show manufacturer show gum systems can help boost soluble dietary fiber levels and reduce the "net carbs" of their formulations. Research chef Walter Zuromski will prepare and serve several low-carbohydrate soups thickened with gums as replacers for traditional starches.
TIC Gums will also highlight its expertise in the dairy industry. As a leading supplier to dairy processors and manufacturers, the company has invested considerably in dairy product innovation, especially through its new state-of-the-art dairy pilot plant in Belcamp. Its latest line of stabilizers for use in dairy products will be promoted under the name Dairyblend™.
Information about the company's wide range of gum systems will be available. For example, the company recently introduced TIC Pretested® Action Gum 8200 Powder, a natural, cold-water-soluble gum system which may be used for binding, suspending, and emulsifying. Potential applications include bakery products, sauces, relishes, beverages, and a variety of other products. A major Mexican-style foodservice chain, for instance, chose the gum as an ingredient for the restaurant's cinnamon sugar-coated tortilla, a popular dessert menu item. The system's binding properties were integral to the recipe formulation and to its overall consistency, taste, and appearance. TIC Gums, Booth 153.
Hydrocolloid line has been expanded
Hydrocolloid line has been expanded to meet growing demands on food formulators to create healthy convenience foods by Aqualon, a division of Hercules, Inc., 1313 N. Market St., Wilmington, DE 19894 (phone 302-594-5000; fax 302-594-5400; www.aqualon.com.
Featured at the show will be the expanded line of Benecel® Methylcellulose and HPMC products, which help address many challenges in creating appealing shelf-stable foods, particularly multi-phase systems. Also demonstrated will be the company's newest CMC product that extends product shelf-life.
Aqualon produces a wide range of hydrocolloids, including Aqualon® and Blancose® Cellulose Gum (CMC), Aquasorb® Cellulose Gum (specialty CMC), Klucel® Hydroxypropylcellulose (HPC), and Supercol® Guar Gum. Other ingredients include Ethylcellulose and Ester Gum.
The products are used throughout the food industry for thickening, rheology control, water retention, adhesion, film formation, binding, suspending, and emulsification. Other benefits include shelf-life extension and colloid protection. Aqualon, div. of Hercules, Inc., Booth 2417.
--- PAGE BREAK ---
Emulsion stabilizer provides improved functionality

A natural emulsion stabilizer based on high-molecular-weight polysaccharides has been developed by Colloides Naturels, Inc., 1170 U.S. Hwy. 22, Ste. 204, Bridgewater, NJ 08807 (phone 800-872-1850; fax 908-707-9405;
www.cniworld.com
). The new ingredient, called
Eficacia
, is an acacia gum-based emulsion stabilizer which offers significantly enhanced emulsifying and stabilizing properties
According to the company, the new ingredient is three-to-five times more efficient than traditional acacia gums or starches. This high level of functionality and effectiveness provides cost savings and superior emulsion stability.
Soft drink flavor emulsions must be stable for one year in concentrated form, containing approximately 15% oil phase and 150 ppm in diluted form. Weighting and coloring agents are components of typical beverage formulas, and type-concentration of each has a distinct impact on the emulsion stability. The most recent analytical techniques including laser granulo-metering and scanning measurements have been applied to detect instability and product defects.
Studies have confirmed that the ingredient stabilizes without the occurrence of creaming, flocculation, sedimentation, or coalescence in the concentrated emulsion and after dilution.
The new technology used to produce the stabilizer provides wide pH stability and is highly compatible with traditional weighting systems. Very effective in highly colored systems, the ingredient integrates easily with most artificial and natural coloring agents. It is granulated, dust free, and flows easily to facilitate handling and hydration.
The new technology involves multiple physical purification and filtration steps, yielding a finished ingredient with high microbial purity. Extensive emulsion studies have confirmed effective use levels of 4–7% in liquid emulsions vs typical levels of 18–25%. While initial stability studies were completed in beverages, the technology can be expanded in many food applications. The ingredient will be highlighted at a New Products & Technologies Session. Paper 35-7.
New hydrocolloid-based blends will be showcased
A full line of custom-tailored hydrocolloid-based blends will be highlighted by Excelon Specialty Products, Inc., 37 Sherwood Dr. #106, Lake Bluff, IL 60044 (phone 847-482-0818; fax 847-482-0823; www.specialtyblends.com). These blends, made with and without functional ingredients, offer a wide range of properties, including moisture management, texture improvement, shelf-life extension, and health applications.
In particular, the company will showcase several special new product offerings:
--- PAGE BREAK ---
• Excel™ TPM Texture Premixes are proprietary blends for texture and stabilization that ensures consistency and standardization of finished product characteristics. Allowing manufacturers to develop products from a comprehensive list of hydrocolloids and other specialty ingredients, these premixes offer an attractive alternative because they help reduce costs associated with handling, storage, and sourcing.
• NetCarb™ CST Carbohydrate Replacement Ingredients enable product developers to meet the current demand for great-tasting high-fiber, low-carbohydrate foods. These new products provide the texture, appearance, and stability needed for developing successful low-carbohydrate formulations.
• Café Epicure™ HPS Complete Mixes for high-protein smoothie beverages provide customers a simple, turn-key product solution. These instant mixes are easy to prepare and provide nutritious, creamy, and tasty results.
The company works with customers to create customer solutions for challenging product and processing problems. Company's capabilities include technology leadership in texture and stabilizer products; a wide range of hydrocolloid and protein stabilizer products; application expertise and fully equipped research and development laboratories; access to the latest food market trend information; and technical support for product development programs. Excelon Specialty Products, Inc., Booth 3303.
DELIVERY SYSTEMS
Superior encapsulation system will be highlighted
New processing technology for encapsulation has been developed by Littleford Day, Inc., 7451 Empire Dr., Florence, KY 41042 (phone 859-525-1446; fax 859-525-1446; www.littleford.com). This technology may be particularly useful in the area of nutraceutical ingredients, which require protection from the environment (moisture, oxygen, or other ingredients), and which effectiveness is dependent on controlling the time releasing of the ingredient or product.
According to the company, it has drawn upon its process technology, including advanced Ploughshare® mix action, to develop a superior encapsulation system. This system assures a rapid and complete encapsulation of the products in minimal cycle times. Encapsulating in a single vessel without the need to dry the product after encapsulation eliminates the possibility of cross contamination. Littleford Day, Inc., Booth 3029.
--- PAGE BREAK ---
Strategic alliance produces microencapsulated flavors
A strategic alliance to manufacture and market microencapsulated flavors throughout North America has been formed between global flavor and stabilizer manufacturer David Michael & Co., and Balchem Encapsulates, a business segment of Balchem Corp. Marketed under the name MichaelCap icroencapsulated with Balchem™, these flavors will have application in baked goods, dairy products, confections, tea and coffee, meats, dry mixes, and other products.
Balchem's special encapsulation technology offers a number of attractive benefits vs traditional spray drying. The flavor load with MichaelCap is increased by as much as 100%, while the proprietary coating process provides for a longer shelf life (typically 18 to 24 months), and improved stability under heat, high moisture, and oxidation. The flavors are being offered with multiple coating materials for controlled release and application-tailored flavor delivery systems. The technology also offers a benefit of co-encapsulation of multiple ingredients, both flavoring and non-flavoring.
More information on encapsulation can be obtained from Balchem Encapsulates, P.O. Box 600, New Hampton, NY 10958 (phone 845-326-5600; fax 845-326-5717; www.balchem.com). Balchem Corp., Booth 2921.
Coating system effectively delivers lutein into beverages
A novel delivery system for the inclusion of lutein into beverages has been developed by Kemin Foods, L.C., 600 E. Court Ave., Ste. A, Des Moines, IA 50309 (phone 515-248-4000; fax 515-248-4051; www.kemin.com).
As a fat-soluble carotenoid, lutein is difficult to incorporate into water-based systems, limiting a manufacturer's ability to produce functional beverage with the nutritional benefits of lutein. The company has solved this problem by producing lutein with ClearTec™ coating.
Sucrose monolaurate is dissolved in water, the carotenoid is added, and aproprietary patented drying process creates a final product concentration of 15% lutein. The concentrated product is dispersible in water, yielding optically clear beverages that do not ring or settle, and is substantially stable to thermal processing and storage.
The new product will be discussed at a New Products & Technologies Session. Paper 1-4 and Kemin, Booth 353.
--- PAGE BREAK ---
FLAVOR ENHANCERS/MASKING AGENTS
Masking flavor improves stability and aftertaste of artificial sweeteners
A natural flavor which improves the stability and aftertaste of artificial or high-intensity sweeteners will be highlighted by Creative Research Management, Inc., 2029 E. Harding Way, Stockton, CA 95205 (phone 209-938-0900; fax 209-938-0769).
Called SucramaskTM, the novel flavor has been used in quantities of three to 15 times the amount of the sweetener to stabilize it under adverse heat and pH conditions. Additionally, the flavor diminishes or completely dissipates the aftertaste of the sweetener. Available as a clear liquid, the easy-to-use product has a very subtle sucrose-like flavor with pleasant acidity, and is certified kosher.
Triangle taste panels demonstrated that processed, packaged, and stored beverage samples of varying pH made with aspartame, neotame, and sucralose, when supplemented with the flavor, were preferred over samples made without the flavor.
Results of these tests will be further elucidated, and product formulations that benefited the most from the use of the natural flavor will be discussed at a New Products & Technologies Session. Paper 1-10 and Creative Research Management, Inc. Booth 374.
Symposium focuses on umami and flavor enhancement
Foods and flavor enhancers made with glutamate can be useful in contributing savory taste and rounding out and heightening flavors. A symposium entitled, "Old Story, New Twist: Umami and Amino Acids," will be sponsored by the Toxicology & Safety Evaluation Div. and Food Laws & Regulations Div.
The symposium, held on Wednesday afternoon, will present data on the current status of basic research in identifying, characterizing, and measuring responses to umami stimuli. Papers will look at the identification and characteristics of umami taste receptors, a representation of umami taste and the human brain, culinary applications of flavor enhancement in product development, flavor amplification in the elderly and safety and regulatory status of umami substances.
Paper 58-3 will specifically address the topic from a culinary applications perspective, providing food technologists with an increased understanding of how umami enhances acceptance and preference in food selection. Although many foods naturally contain components that impart umami taste, others form umami substances during curing, aging, or fermentation. Understanding how to match those inherent flavor attributes in a food with the appropriate use of ingredients that further enhances umami taste may potentially provide the product developer with a valuable resource. Session 58.
--- PAGE BREAK ---
Wheat-derived ingredient provides flavor enhancement
A natural flavor enhancer made from fermented wheat protein will be highlighted by Kikkoman International Inc., Industrial Dept., P.O. Box 429784, San Francisco, CA 94142-0784 (phone 415-391-1842; fax 415-391-1842; www.kikkoman-usa.com). Called NFE-S, the ingredient is produced using specific microorganisms and enzymes to create a natural fermentation process similar to the process used to make naturally brewed soy sauce.
Available as a light, golden-tan powder with a mild aroma, the flavor enhancer can be used to heighten or round out the flavors of seasoned poultry, meat products, soups, snack mixes, marinades, and other products. High in glutamic acid, it also gives a balanced, brothy, umami flavor to a variety of applications.
The fine, free-flowing powder is heat stable, offers excellent flavor retention during heat processing and freezing, and is suitable as an alternative to hydrolyzed vegetable proteins and monosodium glutamate in these products.
A new brochure, "A Natural Start to a Natural Label," describes functionality, labeling advantages, and application ideas for this product.
The company will also be featuring several of its soy sauce products, including a granulated version which rapidly disperses and can be easily reconstituted, and reduced-sodium versions which provide a less salty flavor with typical brewed notes from fermentation. Booth 2521.
EMULSIONS
Weighting agent combines SAIB and MCTs for maximum functionality
A weighting agent called Sustane SAIB MCT has been developed by Eastman Chemical Co., P.O. Box 1974, Kingsport, TN 37662 (phone 423-229-2586; fax 423-224-0414; www.eastman.com). A blend of sucrose acetate isobutyrate (SAIB) and medium chain triglycerides (MCTs), the product has a neutral taste even at the maximum allowable usage level, as well as stability to air oxidation and hydrolysis.
The addition of MCTs to the formulation reduces the viscosity of SAIB so that it is readily pourable at room temperature. Other benefits include enhancement of cloud stability and compatibility with nearly all flavoring oils.
The weighting agent will be discussed at a New Products & Technologies Session. The presentation will summarize the results of recent beverage and emulsion studies which support its functionality and added benefits. Also, at the booth a new brochure describing the weighting agent, its benefits, properties, applications, usage levels, and other information will be highlighted. Paper 35-6 and Eastman Chemical, Booth 2677.
--- PAGE BREAK ---
System allows isoflavones to be used in clear beverages
Beverage formulations containing nanoemulsions of soy isoflavones is the subject of a presentation given at a New Products & Technologies Session by Adumim Food Ingredients, 36 Charuvit St., Mishor Adumim, 90610, Israel.
The use of soy isoflavones in functional food products is limited to solid food systems and opaque beverages because of their insolubility in water. Furthermore, beverages containing isoflavones often exhibit undesirable effects such as sedimentation and sandiness resulting from the particle characteristics of the commercial isoflavone complexes.
Recently, the company was successful in formulating oil-based concentrates that are easily diluted in aqueous systems to form nano-emulsions. Commercially available soy complexes with as low as 10% isoflavone content are solubilized in these clear concentrates. The main characteristics of the final beverage are active load of up to 50 mg isoflavones in 250 mL, no off-taste, no sedimentation, and suitability in transparent beverages.
Data related to the nano-emulsion formation and solubilization of the isoflavone guest molecule in commercial beverage systems will be disclosed at the presentation. Paper 1-2.
Gum system offers special emulsifying properties
A new emulsifier, a modified gum acacia called Ticamulsion™ A-2010, has been developed by TIC Gums, 4609 Richlynn Dr., Belcamp, MD 21017 (phone 410-273-7300; fax 410-273-6469; www.ticgums.com). The modified gum acacia exhibits enhanced emulsifying properties and may be used as a replacement for modified starches at one half the level required.
The hydrocolloid is designed as a stabilizer for oil-in-water emulsions, and is promoted by the company as the "next generation" of emulsifying agents. It has proven to provide superior emulsion stability over both modified food starch and traditional gum arabic. It is cold-water soluble and is especially effective in beverage emulsions.
Oil-in-water beverage emulsions were prepared with the gum product and evaluated. When used in spray-dried powders, the gum also yielded excellent protection against oxidation. It was also evaluated in a UHT-treated beverage and compared to a gum system containing propylene glycol alginate. Results show that the modified gum acacia yields stable emulsions, given the optimum conditions required.
The emulsifier will be discussed at a New Products & Technologies Session. Paper 35-8 and TIC Gums, Booth 153.
--- PAGE BREAK ---
CHOCOLATE
Fortified chocolate products will be highlighted
An extensive line of chocolate and compound drops, flakes, chunks, and coatings are available from Wilbur Chocolate, a Cargill Company, 20 N. Broad St., Lititz, PA 17543 (phone 800-233-0139; fax 717-626-3487; www.wilburchocolate.com). With a focus on innovative new products, the company collaborates with food industry partners in baking, confectionery, and ice cream to capitalize on the healthy chocolate trend. By fortifying these chocolate products, they become a creative delivery for functional foods.
New products that will be highlighted include Sweet Collaboration™, a line of fortified drops, chips, chunks, and coatings for functional food needs; New  Frontier ™, sugar-free coatings and inclusions that offer improved digestibility, flavor,and functionality; No Sugar Added Ice Cream Coatings which provide excellent flavor and texture; Two-Tone Ice Cream and Bakery Inclusions which provide an appealing image and a burst of flavor; and Nut-Nots, macademia nut extenders. Wilbur Chocolate, Booth 1543
Cocoa and chocolate flavors offer functionality and health benefits
Cocoa and chocolate flavors designed to reinforce and enhance the organoleptic characteristics of cocoa and chocolate products will be featured by Natraceutical, Natra U.S., 21 W. Putnam Ave., Greenwich, CT 06830.
The soluble flavors have specific application in products where the amount of standard cocoa powder is limited because of solubility problems encountered during the manufacturing process, or with the final product. Using these soluble flavors limit or eliminate the need for additives to disperse cocoa powder in final products.
The soluble cocoa and chocolate flavors can be incorporated into a wide range of shakes, creams, puddings, and caramel creams, improving the taste and color of the products while avoiding the problem of sedimentation of cocoa powder particles. Because of their high solubility and concentrated flavor, they are well suited for use in beverages.
The soluble flavors are obtained by hydro-alcoholic extraction of soluble cocoa components from cocoa and chocolate powders. This extraction process eliminates fat and selectively enriches cocoa and chocolate flavors, increasing the organoleptic characteristics of the product. For ease of formulation, the company has developed four different soluble flavors available in powder and liquid forms.
Also available are insoluble cocoa flavors which contain theobromine and caffeine, making them suitable for formulation in diet/weight loss applications, energy and sports bars, and dietary supplements.
Both soluble and insoluble cocoa and chocolate flavors are low fat and contain antioxidants. In pediatric formulations,they can effectively mask any unpleasant taste of active ingredients. Natraceutical, Natra U.S., Booth 3536.
--- PAGE BREAK ---
Branded chocolate candy pieces offered as inclusions
Candy pieces in milk and semisweet chocolate are offered as creative ingredients for bulk use in baked goods, snacks, dairy products, and other applications by Nestle/Branded Ingredients, 800 N. Brand Blvd., Glendale, CA 91203 (phone 866-429-5371; fax 818-543-7831). These ingredients are from such popular confectionery and baking brands as Butterfinger, Crunch, Baby Ruth, Wonka Nerds, SweeTarts, Raisinets, Nestle Chocolate, Toll House (Chocolate Chips and Chunks, White, and Peanut), and other such products.
The company will be showcasing several new ingredients this year, including Rainbow Mini Morsels in five colors (also available in orange only); Harvest Blend Gems (candy-shelled semisweet chocolate in fall colors); Dextrose Peanut Butter Morsels and Chunks; Crunchy Crunch (inclusions designed to maintain their crunch in frozen products); and Butterfinger Fine Grind (ideal for fillings and cream centers).
Representatives will be available to discuss how these inclusions can be used to create innovative new products. Nestlé/Branded Ingredients, Booth 3011.
DAIRY INGREDIENTS
Dairy proteins offer functionality benefits in ice cream
Dairy proteins for use in all types of ice cream, novelties, frozen custards, and frozen desserts are available from Grande Custom Ingredients Group,301 E. Main St., Lomira, WI 53048 (phone 920-269-7188; fax 920-269-1445; www.grandecig.com). Called Grande Bravo®, the dairy proteins improve texture, smoothness, and creaminess by imparting a heavy mouthfeel and clean milk-like flavor profile.
The versatile dairy proteins can replace up to 25% of the milk solids in an ice cream formulation (shown in photo). Also, because it improves the body and enhances the creamy texture and flavor, overrun can be increased so manufacturers realize additional cost savings.
Other benefits of the dairy ingredient include the ability to bind moisture without the use of heat, and extended shelf life by slowing the formation of ice crystals. Grande Custom Ingredients Group, Booth 2421.
--- PAGE BREAK ---
Winning entries of dairy competition will be spotlighted
A grab-and-go version of macaroni and cheese and a low-carbohydrate, bite-size frozen novelty were among the four winning entries in the 6th Annual Discoveries in Dairy Ingredients Contest, a competition for food science students sponsored by Dairy Management, Inc., 10255 W. Higgins Rd., Rosemont, IL 60018 (phone 847-803-2000; fax 847-803-2077; www.doitwithdairy.com).
The contest gave food science students the opportunity to formulate foods and beverages using dairy ingredients in a project that emulates new product development in the business world. Winning entries will be featured at the DMI booth at the 2004 IFT Food Expo.
A team from the University of Minnesota received Best Overall for its Ice Cream Poppers, a premium, reduced-carbohydrate, bite-sized frozen novelty. The concept combines whey protein concentrate, milk, cream, and vanilla into a creamy frozen core, surrounded by a crunchy, reduced-carbohydrate base made from almond flour, wheat bran, whey protein, wheat starch, and sugar. The individual pieces are coated with chocolate, adding indulgence to the treat.
Cornell University received the "Most Creative" distinction for its Berry Blasters, a color-changing dairy and fruit juice beverage for children. The package base contains a white cranberry juice and microfiltrate whey while the cap features soft color-changing gummy balls. Children can mix the two together and sip the drink through a straw.
Washington State University earned a "Most Marketable" award for Barner's Ready-Bake Crackers, refrigerated Buttermilk Ranch and Onion Poppyseed dough pieces made with Grade A milk that can be freshly baked at home in 10 minutes into crispy crackers.
North Carolina State University also earned a "Most Marketable" award for Mac n Cheese Grabbers, a finger-food version of macaroni and cheese. Similar in look to mozzarella sticks, the macaroni-and-cheese-filled products were developed for foodservice. DMI, Booth 2143.
--- PAGE BREAK ---
New restricted-melt cheese sauces make their debut
Two new restricted-melt cheese sauces will be introduced by Kraft Food Ingredients, 8000 Horizon Center Blvd., Memphis, TN 38133 (phone 901-381-6500; fax 901-381-6628; www.kraftfoodingredients.com). Swiss American and Italian-style cheese sauces are the latest additions to a lineup that includes Cheddar, Mexican-style (with Peppers), and Mozarella flavors.
Both new additions will be highlighted at the 2004 IFT Food Expo. The Swiss American sauce, which provides a distinctly creamy, Swiss profile that is compatible with filled appetizers, soups,and side dishes, will be featured in crunchy ham and cheese croquettes. The Italian-style sauce, consisting of a blend of Romano and Parmesan cheeses, will be showcased in a risotto-style multigrain side dish application. These two new products can also assist in the development of low-carbohydrate applications.
Designed for versatility, the restricted melt cheese sauces can be used in frozen entrees and side dishes; appetizers; meat, poultry, and seafood products; baked goods, and enrobed sandwiches. They are suitable for increasingly popular hand-held applications. Whether it is a baked, fried, or microwaved dish, these ingredients provide a consistent flavor and saucy mouthfeel.
The company's restricted-melt cheese sauces can be used "as is" for fillings via extrusion or dispensing equipment at refrigerated temperatures. These products can also be used as foundations to develop finished soups and sauces by simply adding water and other desired ingredients, with minimal equipment requirements.
The restricted-melt cheese causes are specially formulated for increased price stability as compared to traditional block cheese ingredients. These ingredients also offer versatile flavor profiles that can be easily modified using Kraft® Exceed® technology.
The cheese sauces are freeze-thaw stable for improved handling and storage. They are pasteurized for extended shelf life, thus maintaining consistent texture and flavor attributes essential for successful processing. Kraft Food Ingredients, Booth 1743.
Functionality of dairy ingredients covered in technical poster session
A technical poster session sponsored by the Dairy Foods Div. will present papers describing the functionality of a range of dairy ingredients and how they may provide additional advantages in future formulation of food products.
For example, 17B-7 discusses the extrusion characteristics of hydrolyzed whey proteins. Studies have shown that the addition of proteins to starchy ingredients reduces extrudate expansion and increases hardness. This study, which evaluated the effect of added hydrolyzed whey proteins on macroscopic attributes of corn meal extrudates, was undertaken to examine the possibility of reducing or eliminating such detrimental effects by using hydrolyzed whey proteins. The data from the study clearly indicated that the detrimental effects of proteins on attributes of expanded products can be overcome or eliminating by using hydrolyzed proteins. This may lead to increased use of proteins in expanded snack food products.
--- PAGE BREAK ---
Paper 17B-10 describes the foaming and emulsification properties of derivatized whey powders. Whey protein was modified to produce powders capable of thickening, similar to pregelatinized starches. Information on foaming and emulsifying ability of derivatized protein ingredients will expedite the development of applications with the dairy ingredient, particularly in those foods desiring an all-natural or all-dairy food label.
Other topics covered by the session included comparison of sweetened condensed skim milk and whey protein ingredients in caramels, efficacy of a whey permeate based sports drink, production of a bitter peptide from casein and its sensory characterization, characterization of brothy flavor in Cheddar cheeses, and a range of others. The session will be held on Tuesday morning. Session 17B.
GRAIN/PASTA
Flaxseed applications offer low-carbs, pleasing taste
Low-net-carbohydrate food product formulations featuring whole-milled flaxseed will be highlighted by Pizzey's Milling, Specialty Flaxseed Ingredients, 3175 Commercial Ave., Ste. 211, Northbrook, IL 60062 (phone 847-714-9527; fax 847-714-9528). Flaxseed is very low in net carbohydrates; is especially rich in omega-3 fatty acids, lignans, and dietary fiber; and offers a pleasing taste.
The company has developed and introduced several new formulations using flaxseed to improve flavor, reduce carbohydrates, and enhance nutritional value. One of the products that will be Flaxseed applications offer low-carbs, pleasing taste shown is a pizza crust made with up to 15% SelectGrad™ Ultra-Fine holemilled flaxseed, which contributes 1,100 mg of omega-3s per serving as well as offering less than 3.0% net carbohydrates. The recently introduced Ultra-Fine version is a 20-mesh whole-milled flaxseed designed especially to improve the dough-handling properties of low-net-carbohydrate baked goods.
Other prototypes made with flaxseed that will be available for sampling include bread, breading formulations, and an omega-3 beverage. Pizzey's Milling, Booth 3622.
Low-carb bread mixes use stabilized flax flour ingredient
Low-net-carbohydrate bread mixes formulated with a flaxseed have been recently introduced into the U.S.A. and Canada by first-time exhibitor Bioriginal Food & Science Corp., 102 Melville St., Saskatoon, SK S7J 0R1, Canada (phone 306-975-0272). The company, a leading processor of flaxseed products for the functional food market, will be showcasing its Low-Carb Bakery Mix, an innovative low-carbohydrate, yeast-raised mix designed for high-fiber, multigrain diets.
Produced for foodservice and retail in-store bakers, the low-carbohydrate formulation is a cost-effective way to boost high fiber and omega-3 fatty acid consumption. The mix uses a stabilized flax flour ingredient called BakOmega™ to help produce moist, delicious multigrain and flax breads. Excellent for sandwiches, each slice contains 2 g of fiber and 6 g of net effective carbohydrates. The mix can be used to make 1-lb loaves that stay soft and moist for up to seven days.
Samples of the products made with these mixes will be available at the booth for sampling. Bioriginal Food & Science Corp., Booth 2995.
--- PAGE BREAK ---
Ingredient offers higher protein content, improved functionality
Rice protein concentrate called Remypro N80+ will be introduced by A&B Ingredients, Inc., 24 Spielman Rd., Fairfield, NJ 07004 (phone 973-227-1390; fax 973-227-0172; www.abingredients.com). The ingredient contains a minimum of 80% rice protein, which is 10% more than the rice protein concentrate (Remypro N70+) that made its debut at last year's IFT Food Expo®.
In addition to the increased protein content, the ingredient also has a finer particle size, cleaner taste, and whiter color than its predecessor. One of the qualities that makes it special is the fact that it is not thixotropic—unlike most proteins, it can be used at high levels without thickening. And because it is rice-based, it is hypoallergenic.
According to the company, rice protein is a natural, complete protein, one of the most easily digestible grain-based proteins, and contains all essential and nonessential amino acids. In fact, the amino acid profile of rice is closer than any other protein to mother's milk.
The concentrate can be used to increase the nutritional content of low-carbohydrate baked goods and pasta, energy bars, meal replacement systems, and nutritional supplements. The versatile ingredient functions as an alternative to other proteins currently used in the formulation of low carbohydrate and high protein foods. The company's focus is to discover special ingredients that enable customers to create value-added products. The company is committed to working as a partner, to develop prototypes of new and improved food products. A&B Ingredients, Inc., Booth 3135.
Rice-derived ingredient functions as a fat replacer in baked products
Organic rice syrup solids which function as a replacer of trans and saturated fats in baked goods have been developed under the name Bake-Trim™ by California Natural Products, P.O. Box 1219, Lathrop, CA 95330-1219 (phone 209-858-2525; fax 209-858-4076).
Much effort in the food industry is being focused on removing trans fats from foods and replace them with more heart-healthy ingredients. However, trans fats provide many functional advantages in food applications that are not easily replaced. Trans fats are particularly helpful in improving texture and shelf life of baked items.
According to the company, the rice derived ingredient can replace much of the functionality of trans fats. Initial tests have shown equivalent to superior organoleptic results with the use of the ingredient. These results include improved height in the white cake model when all of the fat is replaced; improved tortilla height in fat-and trans-fat-free tortillas; and improved tortilla flexibility in fat-and transfat-free tortillas. Additional testing is underway in breads and cookies, and results will be presented accordingly.
The ingredient is not a substitute for frying fats or oils.
Properties and benefits, nutritional labeling information, product specifications, and applications of the rice-derived ingredient will be described at a New Products & Technologies Session and by company representatives at the booth. Paper 1-7 and California Natural Products, Booth 3210.
--- PAGE BREAK ---
Ingredients will be shown for niche baking
New developments in flour and bakery ingredient blends for niche baking will be highlighted by Equichem International, Inc., 510 Tower Blvd., Carol Stream, IL 60188 (phone 630-784-0432; www.equichem.com).
Custom-formulated systems that support special requests for enhanced nutrition are added directly at the bakery or within bakery/flour mix operations. Some and/or of non-animal origin; nutritionally enhanced flat wheat flour-based products such as tortillas and chappatis, which use custom Nutri-Mix™ blends; and baking products using Viva™, a natural dough improver.
Representatives from the company will be on-hand to show attendees different ways to use these products for specialized or niche baking. Equichem International, Inc., Booth 1821.
Leavening system for low-carb pizzas will be featured
Leavening system for use in developing low-carbohydrate fresh, frozen, and refrigerated pizza brands will be spotlighted by Astaris LLC, Food Products Div., 622 Emerson Rd., Ste. 500, St. Louis, MO 63141 (phone 314-983-7530; fax 314-983-7636; www.astaris.com). The system called EZ Dough™ allows food processors to develop low carbohydrate pizza brands with the taste, volume, and textural characteristics of traditional formulations. 
As the crust is a major element of the pizza experience, the challenge for processors is to create low-carbohydrate brands without sacrificing the crust's volume, texture, and appearance. The highlighted system aids processors in overcoming these challenges because it does not rely on sugars to fuel the leavening process.
According to the company, the product is the first leavening system of its kind with the capability to complement, or completely replace yeast-based systems. In complementing leavening systems for low-carbohydrate dough, it enables reduced reliance on yeast for leavening. Pizza dough retains the flavor and texture of traditional pizza while achieving peak baked volume and reduced carbohydrates.
The company manufactures and markets a wide range of phosphate technology solutions for food applications worldwide. Astaris LLC, Booth 516.
--- PAGE BREAK ---
INGREDIENTS DERIVED FROM MEAT AND POULTRY
New meat-derived powders introduced
A wide selection of spray-dried meat powders, spray-dried broth powders, and spray-dried fat powders will be presented by International Dehydrated Foods, Inc., P.O. Box 10347, Springfield, MO 65808 (phone 417-881-7820; fax 417-881-7274; www.idf.com). These ingredients, derived from meat and poultry, provide a savory flavor and creamy mouthfeel that is desirable in sauces, soups, gravies, rice dishes, and other products.
Newest additions to the line which will be unveiled at the show include #5526, a powdered beef fat with extract of rosemary for a natural flavor option, and #5431, a powdered beef broth made from Argentinean beef for a smooth savory flavor.
Also available will be Culinary Creations, a guide that contains many starting recipes/formulas that demonstrate the versatility of these ingredients. The guide is now available in CD form.
Representatives will be available to show numerous end uses for these ingredients. The company is a world leader in the development, processing, and distribution of basic poultry and meat ingredients,including spray-dried versions, spray-dried agglomerated powdered chicken broth, spray-dried fat powders, frozen chicken broth, and shelf-stable chicken fat. International Dehydrated Foods, Inc., Booth 1635.
Porcine hydrolyzed collagen to be unveiled
A porcine hydrolyzed collagen, Rousselot™ PCH, will be introduced by Rousselot, Inc., P.O. Box 0234, Waukesha, WI 53187 (phone 888-455-3556; fax 888-257-9259; www.rousselot.com). The product is the latest addition to the company's family of hydrolyzed collagen products.
According to the company, careful selection of raw materials and stringent quality control procedures resulted in a collagen hydrolysate that is tasteless, odorless, and of exceptional quality. It provides rapid dispersal and dissolution even in cold water. Suggested applications for the ingredient include sports drinks for increasing viscosity and adding protein, nutritional bars for binding and adding protein, and as a binder for tabletting operations.
Last year, the company introduced the successful Rousselot ACH, which was highlighted in a protein drink. Rousselot's technology and industry expertise with a vast range of raw material options (pork, beef, poultry, and fish) has provided customers with a wide range of choices for their gelatin needs. Gelatins are manufactured that are approved kosher or halal. Rousselot Inc., Booth 2229.
--- PAGE BREAK ---
Line of savory meat flavors will be highlighted
A line of savory meat flavors will be featured by Innova, A Griffith Laboratories Co., 2021 Swift Dr., Oak Brook, IL 60523 (phone 630-928-4811; fax 630-928-4820). Marketed under the Robust brand name, this line offers customers greater flexibility in choosing the right flavor solution for a particular need and application.
The line of flavors can deliver a range of cooking nuances, including sauteed, grilled, fried, fully cooked, charbroiled, roasted, fatty, and smoked. The flavors provide a high-impact taste and can help achieve cost effectiveness in the development of a number of applications, including poultry, beef, pork, main meals, side dishes, soups, sauces, gravies, snacks, and appetizers.
The company specializes in creating custom flavors with special signatures for any savory and meat application. In addition to the Robust line, the company will be spotlighting the SavorNotes line, which includes savory flavors such as cheese, vegetable, chile, seafood, dairy, and alcohol flavors.
Attendees can stop by to sample prototypes made with the savory meat flavors. Innova, a Griffith Laboratories Co., Booth 3041.
COLORS
Rich color from organic caramelized rice syrup
An organic caramelized rice syrup that produces a rich, brown color in food products has been developed by D. D. Williamson, Inc., 1901 Payne St., Louisville, KY 40206 (phone 502-895-2438; fax 502-895-7381; www.caramel.com). Based on requests from food processors for organic ingredients, an organic caramelized rice syrup was first developed for a butterscotch-flavored, organic rice pudding application. It also works well in other natural food products such as granola bars, rice cakes, muffins, snacks, and cereals.
The coloring is produced from 100% organic brown rice. During the milling process, brown rice retains the nutrient-rich bran that makes it a prime source of fiber, essential oils, vitamin B, and a host of other vitamins and minerals. Williamson researchers then expanded its organic product line by sourcing a caramelized apple juice concentrate. This new product has been well received in the food and beverage industry.
Other products that will be highlighted include non-GM caramel colors as an alternative for products exported to the European Union, an oil-dispersible caramel blend, and innovative natural color blends compatible with product, processing, and packaging requirements. Also featured will be a confectionery application— cola gummies. Booth 1435.
--- PAGE BREAK ---
Liquid browning agent for pizza doughs
An all-natural, low-viscosity tomato concentrate that will give a golden brown "oven-baked" color when sprayed or brushed on microwave pizza crust, and other microwaveable dough-based products, will be introduced by A&B Ingredients, Inc., 24 Spielman Road, Fairfield, NJ 07004 (phone 973-227-1390; www.abingredients.com). The product is branded as TomEssence™ Liquid Browning Agent and has a high concentration of free amino acids and sugars to add instant eye appeal to microwave pizza and other microwaveable baked goods.
New product development surveys conclude that most new product launches for 2004 will be prepared foods. They offer consumers convenience and time-saving benefits, but they must both taste good and "look good." A common problem with microwaveable foods is that although thoroughly heated, an off-white crust and beige-colored bread may give the finished products an unappetizing appearance of being "half-baked." Whether sprayed on, brushed on, or mixed with the dough, TomEssence yields an appealing golden brown just like freshly baked items in a bakery or pizza parlor. When used in small amounts, it doesn't change the product flavor and can act as a flavor enhancer. Booth 3135.
Dry color blends are GMO-free, allergen and
A line of colors was recently expanded with the addition of: EXBERRY® Shades of Grape Blue Powder, Cherry Red Powder, and Pink Powder. These new dry blended colors will be offered by GNT USA, Inc., 660 White Plains Road, Tarrytown, NY 10591 (phone 877-468-8727; fax 914-524-0681). These products are GMO-free, allergen-free, chemical solvent-free, and can be added easily to tablets, protein mixes, sports bars, and dry mix beverages. They are heat-and light-stable, water-soluble, and impart bright colors of vibrant pinks, cherry reds, and blueberry reds when dissolved in liquids, and subtler pastel reds, purples, and fuchsias when used in dry blends and tablets. These colors are made only from fruits and vegetables of the highest quality, are available in liquid and powder forms, and are kosher and halal certified. Booth 1883.
PRESERVATIVES/ANTIOXIDANTS
DVD shows benefits of high-purity salt
A high-purity salt with a porous structure and diverse properties will be demonstrated by Morton Salt, 123 N. Wacker Dr., Chicago, IL 60606 (phone 800-789-7258; fax 312-807-2899; www.mortonsalt.com). StarFlake® Dendritic Salt has a low bulk density, rapid dissolving rate, excellent flow ability, and exceptional liquid adsorption capacity.
This salt is intended for a variety of food applications, including processed meats and poultry, snack foods, baked goods, cheese, and seasoning blends. A new DVD highlighting the benefits of the product will be available.
Also displayed will be literature and samples of more than 25 grades of salt used in food processing. A technical staff will answer application questions. Booth 743.
--- PAGE BREAK ---
Spinach standard is rich in antioxidants
Pure spinach that has been blanched, pureed, and passed through filter screens may be used to provide measurement of accurate content of nutrient information for its products, as well as to validate analytical methods. Standard Reference Material (SRM) 2385 (Slurried Spinach) is available from NIST/Standard Reference Data Group, Bldg. 820, Room 103, Gaithersburg, MD 20899 (phone 301-975-3774; fax 301-926-0416; www.nist.gov/srm).
This SRM may be used by food processors to compare its measurements to NIST-certified values. For example, NIST values confirm that spinach is rich in antioxidants, both beta-carotene and lutein. Amounts in spinach may be small, but the two together are far more than most fruits and vegetables. Antioxidants help fight development of certain diseases. Beta-carotene converts vitamin A in the body to enhance healthy vision, skin, and hair. Lutein is a pigment found in the retina and helps guard against eye diseases. Spinach also contains 1.55% dietary fiber by weight.
The new SRM was developed at the request of the food industry and with the help of more than 10 food manufacturers. NIST now supplies 37 different food SRMs.Booth 2387
Free-flowing BHA saves time and money,
A white, crystalline form of BHA, containing no additives, having a low-caking property and stable to both heat and mildly alkaline conditions, will be showcased at the IFT Food Expo®. This unique Free Flowing BHA has been developed by Amerol Corp., 71 Carloyn Blvd., Farmingdale, NY 11735 (phone 631-694-9090; fax 631-694-9177; [email protected]).
Oxidation is the major cause of deterioration of food products that contain fat and oils because it causes rancidity. The food industry has developed many applications for BHA as a preservative. The major benefit of the new free-flowing form is not having a granular antioxidant that will cake as a solid "brick" in shipment and force the user to regranulate the product at his labor and expense prior to usage. Booth 2884.
Natural lactates act as antimicrobials
Lactic acid is now being derived by an entirely new process of fermenting sugar. Galaflow SL60, a sodium lactate, and Galaflow PL60, a potassium lactate, are the natural salts of lactic acid, and will be provided by Galactic, Ch. de St Job 12, BE 1180 Brussels, Belgium (phone 32-2-332-14-00; fax32-2-332-16-11; [email protected]).
Lactates are used in meat and poultry as antimicrobial agents. They inhibit pathogenic and non-pathogenic growth of bacterium such as Listeria monocytogenes, Escherichia coli, Clostridium botulinum, etc. Microbial growth inhibition is due to the reduction of water activity and a lactate effect on hindering bacterial growth. Sodium lactate and potassium lactate also improve the meat juiciness, as they have a good water-holding capacity.
Calcium lactate is also available as a primary source of calcium, which is a key factor in determining healthy bone and teeth, and preventing osteoporosis. Consumers who do not consume sufficient milk or dairy products to cover their needs can find fortified fruit beverages as a solution. Booth 3228.
--- PAGE BREAK ---
SWEETENERS
Malty-flavored sweetener will be showcased in milk shakes
The rich, full flavor of an old-fashioned malted milk shake can be reproduced today by application of a natural, malty-flavored sweetener produced from malted barley, wheat, milk, bicarbonate of soda, and salt. The Malted Milk Powder is a product of Briess Malt & Ingredients Co., 625 S. Irish Rd., P.O. Box 229, Chilton, WI 53014 (phone 920-849-7711; fax 920-849-4277; www.briess.com). IFT Expo attendees will experience samples of old fashioned malted milk shakes from Briess "soda jerks."
Malted milk powder can be applied by food and beverage manufacturers as a natural healthy sweetener in a variety of products, including baked goods, bagels, sweet snacks, cappucino, flavored milk drinks, confections, cereals, bars, and more.
Briess is also a supplier of a complete line of Natural Grain Sweeteners, including malt extracts and brown rice syrup. Briess Malt & Ingredients Co., Booth 3426.
Sweetener blends to be featured in sugar-replaced drinks
Partially sugar-replaced drinks containing blends with a high-intensity sweetener acesulfame K (Sunett®) will be featured by Nutrinova, Inc., 285 Davidson Ave., Ste. 102, Somerset, NJ 08873 (phone 732-271-7221; fax 732-271-7235; www.nutrinova.com).
With increased consumer interest in obesity and health problems, the high-intensity sweetener will provide low-calorie products while maintaining regular like flavor profiles and mouthfeel properties. High-intensity sweeteners also are typically less expensive than sugar on a sweetness contribution basis. In reduced-sugar beverages, sugar replacement can be 50% or more. Nutrinova, Inc., Booth 510.
---
• Pioneering product solutions will be showcased by Kerry Americas, 100 E. Grand Ave., Beloit, WI 53511 (phone 608-363-1200; fax 608-363-1670; www.kerryingredients.com). These solutions are tied into key consumer insights affecting three major food industry trends: low-carbohydrate, organic/natural, and impact flavors. By identifying new market opportunities, Kerry provides customers with a proactive problem-solving approach to help tackle current challenges within the ever-changing food industry. And with an investment in new ingredient categories and expertise across all menu parts, the company's technical creativity brings customers innovative product formulations supporting their future business success. Booth 1859.
• "Flavor Your Day" is the theme featured by Virginia Dare, 882 Third Ave., Brooklyn, NY 11232-1902 (phone 718-788-1776; fax 718-768-3978; www.virginiadare.com). Prototypes are made with the company's new line of VidaPro™ Flavors, which were developed specifically for use in protein-based foods and beverages. These flavors demonstrate a special flavor delivery system that promotes quick flavor release with sustained performance. Attendees can enjoy VidaPro Flavors in a variety of samples, including nutritional bars, ice cream treats, and flavored ice teas. Application specialists will be available to discuss product development issues. Booth 2449.
--- PAGE BREAK ---
• New ideas and concepts in many foods and beverages will be highlighted by Wild Flavors, Inc., 1261 Pacific Ave., Erlanger, KY 41018-1260 (phone 859-342-3600; fax 859-342-3610; www.wildflavors.com). The company delivers innovative flavor, color, ingredient system, and process technology solutions, as well as placing an emphasis on health and organic food choices. Wild also has a specific booth area dedicated to international concepts covering global tastes. Booth 1343.
• The blended disciplines of culinary arts and food science will be presented by the IFT/RCA New Product Development Pavilion. Top chefs from diverse market segments will work with food technologists to create new culinary dishes on demand using specific ingredients. IFT Food Expo floor.
• "Global New Product Trends & Tasting Presentations" will be hosted by IFT/Mintel. These presentations will focus on the latest new product themes from around the around in three areas: Health & Wellness Ingredient Trends, Ethnic Flavor Trends, and Convenience and Packaging Trends. IFT Food Expo floor.
• Custom dairy flavor solutions for cultured dairy products will be highlighted by Dairychem Laboratories, Inc., 9120 Technology Dr., Fishers, IN 46038 (phone 317-849-8400; fax 317-849-8213; www.dairychem.com). The company'sline of Cheesy Culturomas is offered in several versions, including Cheddar, Jack,Asiago, and others. Booth 3629.
• Natural, specialty savory flavors are available from Summit Hill Flavors, 256 Lackland Dr. E., Middlesex, NJ 08846 (phone 732-805-0335; fax 732-805-1994). New flavors featured this year include Natural Seafood Extracts, consisting of shrimp, lobster, clam and clam broth, and cod. In addition, the company will be offering its expanded line of exclusive, certified organic savory flavors. Booth 3114.
• A complete line of flavors, including sweet, savory, dairy, and customized versions is offered by Comax Flavors, 130 Baylis Rd., Melville, NY 11747 (phone 631-249-0505; fax 631-249-9255). Flavors are available in liquid, powder, and spray-dried forms. Several prototypes using these flavors will be available for sampling. Booth 1967.
• Flavors for beverages, candy, and other applications will be featured by Weber Flavors, 549 Palwaukee Dr., Wheeling, IL 60090 (phone 800-558-9078; fax 847-215-2073; www.weberflavors.com). The company manufactures a wide range of flavors, including natural flavors, natural and artificial flavors, and artificial flavors. In addition, vanilla extracts and vanilla-vanillin blends are available. Highlighted at the show are no-sugar-added variegates for the ice cream and bakery industries. Booth 2075.
• Microencapsulated flavors called MichaelCap will be highlighted by David Michael & Co., Inc., 10801 Decatur Rd., Philadelphia, PA 19154-3298 (phone 215-632-3100; fax 215-632-3920; www.dmflavors.com). These flavors offer numerous benefits when compared to spray drying, including increased flavor load, shelf-life, and heat release. Also shown will be Adults-Only flavors–a line of non-alcoholic flavors that taste like the real thing, and DM Choice® flavors, a line of savory flavors designed to withstand high temperatures from microwaving. A variety of prototypes will be prepared to demonstrate the booth's theme "Hit Your Flavor Target Faster." Booth 2143.
--- PAGE BREAK ---
• A wide range of fruit and cooling flavors are available from Blue Pacific Flavors & Fragrances, Inc., 1354 S. Marion Ct., City of Industry, CA 91745 (phone 626-934-0099; fax 626-934-0089). With the recent opening of Blue Pacific's functional beverage research center, the company can offer its processing services for customers on a confidential contract basis for beverage product development, trial runs, shelf-life testing, as well as flavor optimization. Booth 3421.
• Caramel for providing flavoring, binding properties, chewy texture, and other benefits will be spotlighted by Kraft Food Ingredients, 8000 Horizon CenterBlvd., Memphis, TN 38133 (phone 901-381-6500; fax 901-381-6628; www.kraftfoodingredients.com). Kraft will be featuring three forms of caramel at its booth. Soft and stretchy, enrobing caramel is suitable for cookies, granola bars, and candy bars, especially as a chewy sandwich layer. It can be used as a vehicle for binding nuts, cereals, grains, and coconut to the outside of cookies or snack bars. Caramel sauce adds a rich taste and soft chewy texture to ice cream and frozen desserts, and is excellent as a thin filling or saucy layer in cakes, brownies, and other bakery products. Caramel bits provide a flavorful mouthfeel and are suitable as baking pieces, especially in dense batters for brownies, cakes, cookie bars, and fruit pies. Booth 1743.
• Flavor concentrates and essences are provided by Sensus LLC, 9848 Windisch Rd., West Chester, OH 45069 (phone 513-759-6500; fax 513-755-5422; www.sensusflavors.com). Products highlighted will include fresh coffee and tea flavor profiles which do not have off notes. These ingredients have application in beverages and dairy products. Booth 2581.
• A vast array of flavors—natural, artificial, and WONF—are available from Flavor Savor, Inc., 285 E. Fullerton, Carol Stream, IL 60188 (phone 630-868-0350; fax 630-868-0360; www.flavorsavor.com). The company is the exclusive national distributor of Firmenich Flavors. Flavors are offered in a variety of forms, including powder, liquid, and oil. Along with the technical expertise of Firmenich, the company provides customer service linked with an extensive warehouse network. Representatives can assist in product development, improvement, or flavor duplication. Booth 2221.
• Organic native tapioca starch called TapiOK™ is available from CIRANDA, Inc., 221 Vine St., Hudson, WI 54016 (phone 715-386-1737; fax 715-386-3277; www.ciranda.com). The starch may be used to improve the taste, consistency, and gelatinization of puddings and desserts; improve the consistency of soups and sauces, ketchup, mayonnaise, and dressings; thicken and stabilize meat and soy products; and improve the structure of baked goods. The ingredient is available as a fine white powder mechanically extracted from the root of the cassava or manioc root.Booth 372.
• A full line of specialty starch products derived from tapioca and common maize are offered by Cargill Food and Pharma Specialties, 15407 McGinty Rd. W., MS 46, Wayzata, MN 55391 (phone 877-650-7080; fax 319-399-6170; www.cargillfoods.com). Products include native food starches, and instant and cookup modified food starches. Two new lines of modified tapioca starches were recently introduced, making possible a wider variety of process and shelf-stability characteristics, as well as starches specifically designed for encapsulating flavors, colors, and vitamins, and enhancing emulsion functionality.Booth 1543.
• New line of waxy maize starches (modified as well as pregelatinized) is featured by Austrade, Inc., 2875 S. Ocean Blvd., Ste. 200, Palm Beach, FL 33480 (phone 561-586-7145; fax 561-585-7164; www.austradeinc.com). The starches, imported from Austria, provide an alternative to conventional starches, and are described as non-GMO. Upon demand, the company also provides native and modified tapioca starches directly imported from Thailand. Booth 3333.
--- PAGE BREAK ---
• Organic rice starches are among the rice-derived ingredients available from A&B Ingredients, 24 Spielman Rd., Fairfield, NJ 07004 (phone 973-227-1390; fax 973-227-0172; www.abingredients.com). Products include Remyline XS, a highly stable native rice starch for use as a thickener, and Remygel 7331, a modified rice starch designed to give a similar structure to gelatin. Rice starches may be used in a variety of products such as ice cream, cheese sauces, pastries and other baked goods, binding systems for meat and poultry products, and other products. Booth 3135.
• A variety of egg products will be highlighted by Oskaloosa Food Products, 546 9th Ave. East, Oskaloosa, IA 52577 (phone 641-673-3486; fax 641-673-684; www.oskyfoods.com). Products include dried, liquid, and frozen eggs packaged in bag-in-box, buckets, totes, boxes, cans, or any other packaging. Booth 3425.
• Egg products for sauces, mayonnaise, dressings, baked goods, and other applications are available from Inovatech Egg Products/Michael Foods, 3911 Mt.Lehman Rd., Abbotsford, BC V4X 2N1, Canada (phone 604-857-9080; fax 604-857-0843; www.inovatech.com). Products include Centromay, a refrigerated egg product with emulsion stability for use in dressings and sauces; Centronova, a liquid, whole egg concentrate designed for baking applications; and Emulsa, a frozen egg product for use in retortable sauces where thermal stability is required. Also showcased will be Instant Egg White, a product that has the convenience of standard egg white powder while providing better handling and functionality properties, including increased dispersibility, increased wettability, and increased solubility characteristics. Inovatech Egg Products is a division of MFI Canada Ltd., which is owned by Michael Foods, Inc., of Minnetonka, Minn. Booth 2021.
•Egg powders for a wide range of food applications will be featured by Belovo, Zoning Industriel 31, Bastogne, 6600, Belgium (phone 061-240540; fax 061-240541; www.belova.com). Egg yolk and whole egg powders for baking, mayonnaise, quiches, and other applications offer whipping and binding functionality. The company also offers a range of egg-derived nutraceutical products. Among the products extracted from the egg albumen are lysozyme, a natural antimicrobial and food preservative, and ovotransferin, which can be used as a nutritional ingredient in iron-fortified applications. Egg yolk phospholipids delivers long chain polyunsaturated fatty acids for potential health benefits. Booth 2721.
• The quality of retorted eggs may be improved by a combination of ingredients, according to a study conducted by University of Tennessee. Currently, a need exists to improve sensory attributes of retorted egg products commonly found in military rations. In the study, researchers found that the addition of citric acid, color, egg flavoring, salt, in combination with preformation of egg curds prior to retorting substantially improved acceptability of retorted eggs. Paper 67F-25.
• A variety of enzymes for food processing will be highlighted by Enzyme Development Corp., 21 Penn Plaza, Ste. 1102, 360 W. 31st, New York, NY 10001-2727 (phone 212-763-1580; fax 212-279-0056). Enzymes include a new alkaline protease and a high-activity lipase for use in flavors. Also available is a short paper discussing information needed to purchase enzymes. Booth 2410.
--- PAGE BREAK ---
• New bakery enzymes were recently launched by Novozymes, 77 Perry Chapel Church Rd., Franklinton, NC 27525 (phone 919-494-3000; fax 919-494-415; www.novozymes.com). Products include Gluzyme® Mono 10000BG, an improved glucose oxidase for dough and gluten strengthening, and Nobamyl® SD, an exzyme which provides extended shelf-life benefits in lowpH breads. Booth 2310. 
• Beta-Glycosidase for enhancing the aroma of wines and teas is highlighted by Amano Enzyme USA, 2150 Point Blvd., Ste. 100, Elgin, IL 60123 (phone 847-649-0101; fax 847-649-0205; www.amano-enzyme.co.jp). Beta-glycosidase is not inhibited by glucose and liberates aromatic compounds directly from disaccharide precursors in a one-step reaction. Booth 3480.
• Phospholipase enzyme for improving the functionality of egg yolk has been developed by Biocatalysts Ltd., Treforest Industrial Estate, Pontypridd, Wales, CF37 5UD United Kingdom (phone 44-1443-843712; fax 44-1443-486500; www.biocatalysts.com). The new enzyme is marketed under the name Lipomod™ 699L. The company produces enzymes for such sectors as egg and protein processing, baking and flavor, and fruit and vegetable processing.Booth 1489.
• Enzyme portfolio consisting of more than 160 solutions that address the needs of customers in industries such as food processing, baking, and juice and wine is featured by Specialty Enzymes and Biochemicals, 13591 Yorba Ave., Chino, CA 91710 (phone 903-613-1660; fax 909-613-1663; www.specialtyenzymes.com.) Enzymes are derived from four natural origins: plant, vegetable, fungi, and bacteria. Booth 3491.
• Papain, a preparation of proteolytic enzymes isolated from the latex of the green fruit of the papaya tree (Carica papaya L.), is available in a variety of forms from Enzybel, Rue de Waremme 116, Villers-Le-Bouillet, LiEge 4530, Belgium (phone 04-259-9330; fax 04-259-9339; www.enzybel.be). Papain hydrolyzes small peptides as well as proteins and has wide substrate activity.Booth 2721.
• A line of zero-and low-trans oils will be featured in donuts and gourmet cookies by Archer Daniels Midland Co., 4666 Faries Pkwy., Decatur, IL 62526 (phone 217-424-5424; fax 217-424-5580; www.admworld.com). Recently launched under the name NovaLipid™, the portfolio of oils can be tailored to meet specific challenges in low-or no-trans-fat formulating. Booth 2547.
• Specialty food oils including high-linoleic safflower oil along with highest stability rice bran oil, high-oleic safflower oil, and high-oleic sunflower oil will be highlighted by Japan-based Oilseeds International. Oilseed International is one several Japanese companies that will be exhibiting in a joint booth organized by Itochu Corp. Booth 319.
• "Lipid Shopping Center" describes products and services available from Bunge Foods, 885 N. Kinzie Ave.,Bradley, IL 60915 (phone 800-828-0800; fax 815-523-8081; www.bungefoods.com). Among products to be discussed and sampled are indulgent baked goods formulated with margarines, healthful indulgent baked goods formulated with trans-reduced shortenings, and a wellness product formulated with a novel oil. Booth 2769.
--- PAGE BREAK ---
• High-oleic canola oil specifically developed for high-heat applications is available from Catania-Spagna Corp., 1 Nemco Way, Ayer, MA 01432 (phone 978-772-7900; fax 978-772-7970; www.cataniausa.com). Marketed under the name Ultima, the ingredient is a non-hydrogenated, high-stability frying oil that has zero trans fats. It has an equal or better fry life than hydrogenated oils, and because it is not hydrogenated, it does not overpower the natural flavors of the foods. Also available is Ultima Soy (Expeller Pressed Soybean Oil), an extended fry life soybean oil which has zero trans fats. It has a fry life equivalent to hydrogenated oils because of its special refining method. Booth 3392.
 • High-stability canola oil-based shortenings are available from Cargill Specialty Canola Oils, P.O. Box 5693, Minneapolis, MN 55440 (phone 952-742-2675; fax 952-742-5503; www.clearvalleyoils.com). Marketed under the name TransEND®, the products are free of trans-fatty acids and have the functionality, mouthfeel, and shelf-life stability of conventional shortenings. Booth 1543.
• Semi-dried, roasted tomatoes will be featured by Hakan Arca, A.V.O.D. Co., Ltd., 1483 Sokak, No. 51-53, Doganlar, Bornova, Izmir, 35060 Turkey (phone 90-232-479-85-98; fax 90-232-479-85-58; www.alestafinefoods.com). The ingredient may be described as oven semi-dried, roasted, or sun blushed depending on different markets. Mass production of this new product is now available to customers in a deep-frozen form for further processing. Booth 1519.
• Carrot-based ingredients are available from Bolthouse Farms, 7200 E. Brundage Lane, Bakersfield, CA 93307 (phone 661-366-7280; fax 661-366-9236; www.bolthouse.com). An extensive array of juice concentrates, purees, and IQF carrots in all shapes and sizes is offered, along with a carrot-derived Functional fiber called Hydrobind®. Attendees can sample innovative applications using these carrot-based ingredients. Booth 3177.
• Dried plums, their functionality and potential health benefits as an ingredient, will be demonstrated by California Dried Plum Board, 3841 N. Freeway Blvd., #20, Sacramento, CA 95834 (phone 916-565-6232; fax 916-565-6237). Potential applications for the ingredient include hamburgers, turkey burgers, hot dogs, and pork sausage, in addition to traditional uses such as baked goods. Booth 3614.
• Aseptic banana puree in three different forms—acidified, low-acid, and nonacidified— will be highlighted by Florida Products, P.O. Box 3580-1000 San Rose, Costa Rica (phone 506-293-7575; fax 506-239-0081; www.floridaproducts.co.cr). In 2002, the company expanded production and started Manufacturing Frozen Pineapple Juice Concentrate, which provides a stronger yellow color and substantially different blending possibilities than traditional products. Booth 3532.
• Fruits and vegetables are processed into concentrates, purees, and essences by Kerr Concentrates, Inc., 2340 Hyacinth St., NE, Salem, OR 97303 (phone 503-378-0493; fax 503-378-1123; www.kerrconcentrates.com). These ingredients can enrich applications with distinctive color and flavor. Booth 3171.
• Cranberry-derived ingredients will be featured by Northland Cranberries, 2930 Industrial St., Wisconsin Rapids, WI 54495 (phone 715-424-6667; fax 715-422-6871; www.northlandcran.com). Among the ingredients highlighted will be cranberry powder, cranberry fiber, cranberry juice blends, and a variety of other value-added cranberry products. Booth 3243.
--- PAGE BREAK ---
• California almonds are available from Golden West Nuts, 1555 Warren Rd., Ripon, CA 95366 (phone 209-599-6193; fax 209-599-6013; www.goldenwestnuts.com). The company, which is a grower, processor, and shipper of shelled and in shell California almonds, offers natural and blanched varieties of whole, sliced, and diced products. Also available are bulk almonds and gift packs at its harvest shops and on-line store. The company uses the latest technologies to ensure quality. Samples, product information, and company literature will be highlighted by the representatives. Booth 1768.
• The processing and exporting of nuts and seeds has been specialized by Rizhao Huasai Foodstuffs Co. Ltd., South Korea Industrial Park, Rizhao Development Zone, Rizhao City, Shangdong Province 276826 (phone 0086-633-360-1602; fax 0086-633-360-1022; www.chinapumpkinseeds.com). The company has an annual output exceeding 10,000 metric tons. Potential applications include baked goods, confections, ice creams, and other products. Booth 1620.
• Nuts, dried fruits, and chocolate coated products are available from Terri Lynn Inc., 1450 Bowes Rd., Elgin, IL 60123 (phone 847-741-1900; fax 847-741-1912; www.terrilynn.com). The company owns and operates a state-of-the-art pecan shelling plant in Cordele, Ga., which has capacity of up to 20 milliolb of raw material annually. Booth 1488.
• Chemical composition of edible tree nuts was studied by researchers from Florida State University. Tree nuts are valued for their sensory, nutritional,and health attributes. Most tree nut composition data available have been compiled from analysis done by various laboratories over a period of time. As part of an ongoing investigation on commercially important tree nuts (almond, Brazil nut, cashew nut, hazel nut, macadamia nut, pecan, pine nut, pistachio, and walnut), this current study was specifically designed to analyze moisture, total fat and fatty acids, protein, ash, total and reducing sugars, proteolytic activity, total tannins, phytates, hemagglutinin, and trypsin inhibitory activity. The chemical composition data collected may be valuable to tree nut growers, food processors, and consumers. Paper 67C-22.
• Production of agar agar powders is specialized by B&V Srl, Borgo Regale 15, Parma, Italy 43100 (phone 39-0522-671000; fax 39-0522-671333; www.agar.com). The ISO 9001 company produces agar in three factories in Italy, Spain, and Morocco, with powders designed to have specialty characteristics and properties for specific applications. Products include Frutagar, agar developed for use in fruit preparations; Gelagar, agar systems for use in confectionery, bakery, jams, and glazing; Yogar, agar products for specific use in dairy; and Meatagar, agar for use in canned meat, canned fish, and other products that need to be sterilized. Booth 1816.
• Certified organic guar grown in Texas will be introduced by first-time exhibitor Guar-Tex, P.O. Box 528, Brownfield, TX 79316 (phone 806-637-1643; fax 806-637-1643; www.guar-tex.com). Guar-Tex offers specialty ingredient companies the ability to choose an organic and/or a naturally grown guar gum product, and maintains a reliable U.S. supply at a consistent price. Organic supplies are limited. Booth 1496.
• New and special grades of tara gum are available from Exandal Corp., 17620 Sherman Ave., Ste. 215A,Van Nuys, CA 91406 (phone 818-705-9497; fax 818-705-8628; www.exandal.com). Tara gum may be used as a replacement for locust bean gum and is superior to guar gum in a variety of applications. Potential uses include ice cream, sherbet, cheese products, meat products, baked goods, water jellies, sauces, dressings, and other products. Booth 3402.
--- PAGE BREAK ---
• Natural gum systems, including guar gum, gum tragacath, xanthan gum, gum arabic, locust bean gum, and others are available from Gumix International, 2160 N. Central Rd., Fort Lee, NJ 07024 (phone 201-947-6300; fax 201-947-9265). Latest generation of these gum systems provides creamier mouthfeel and texture and longer shelf-life without masking the flavor. Potential applications include salad dressings, sauces, gravies, cream cheese, cheese dressings, and other cheese products with high moisture content. Booth 3529.
• A wide range of cellulose gums marketed under the name Cekol® are available from Noviant Group, 3000 Corporate Center Dr., Ste. 260, Morrow, GA 30260 (www.noviantgroup.com). Cellulose gum is one of the most versatile products for the food industry, offering a variety of functionalities, including thickening, water binding, film forming, dietary fiber, encapsulation, and suspension. It may be used in dairy drinks, frozen desserts, baked goods, beverages, culinary preparations, meat products, and other applications. Cellulose gum is derived from natural plant materials, ensuring steady availability, security of supply, and good consumer perception. According to a company representative, Noviant has recently made a $2 million investment in food application laboratories and functional rheology capabilities to enhance its understanding in food physics. Booth 759.
• Xanthan gum is manufactured by Shandong Gold Millet Biological Products Co., Ltd., 140 Yanhe Rd., Wulian County, Rizhao, Shandong 262300 China (phone 86-633-532-3808; fax 86-633-532-2199; www.goldmillet.com). The major specifications of xanthan gum are classified into food grade, pharmaceutical grade, and oil field drilling grade. The company's annual production of high-quality xanthan gum reaches 6,000 MT. Products are sold to the markets of Europe, America South-east Asia, and Middle East. Representatives will be on hand to discuss the services that the company provides worldwide. Booth 2717.
• CMC, marketed under the name Gelycel, is produced by Quimica Amtex S.A. de C.V., 821 Bluestem Dr., Bolingbrook, IL 60440 (phone 630-739-2094; fax 630-739-2907). The company has invested significantly in its three production plants. It has also implemented the latest technology to offer its clients an important range of products that meet the ever-changing needs of the market. Booth 2095.
• Blends of carrageenan and other gums will be highlighted by Carrageenan Co., 3830 S. Teakwood St., Santa Ana, CA 92707 (phone 714-751-1521; fax 714-850-9865; www.CarrageenanCo.com). Some of these blends include Carrafat, a fat replacement system for meat and poultry; CarraLizer, an ice cream stabilizer; and CarraJell, a system for water dessert gels. Booth 861.
• Stabilization of omega-3 fatty acids with encapsulation technologies will be the subject of a presentation given by Martek Biosciences Corp., 6480 Dobbin Rd., Columbia, MD21045 (phone 888-652-7246; fax 410-992-9785; www.martekbio.com). Encapsulation provides various benefits to docosahexaenoic acid, including protection from oxygen and secondary processing; uniform distribution in food products; stability and shelf-life extension; minimization of ingredient interactions; and convenience. This paper will highlight a variety of encapsulation techniques or processes used in a number of different situations based upon ingredient requirements. Some of these technologies include spray drying, spray chilling/cooling, fluidized bed coating or suspension coating, and inclusion complexation. Paper 38-2.
• Cyclodextrin products for microencapsulation are available under the Cavamax trade name from Wacker Biochem Corp., 3301 Sutton Rd., Adrian, MI 49221 (phone 517-264-8671; fax 517-264-8795; www.wacker.com). Cyclodextrin technology is increasingly used in nutraceutical and functional food products for stabilization against heat and oxidation, and for taste or odor masking. For example, a heat-stable ingredient (Cavamax W6) was recently introduced using newly approved alpha cyclodextrin. The company has also enlarged its OmegaDry products, with the addition of high-quality berry oil powders. These products also use cyclodextrins to microencapsulate on a molecular level. Booth 731.
--- PAGE BREAK ---
• Films for delivering a range of ingredients will be highlighted by Watson Foods Co., Inc., 301 Heffernan Dr., West Haven, CT 06516 (phone 203-932-3000; fax 203-932-8266). Active ingredients, which can consist of up to 30% of the film by weight, becomes locked into the film matrix and remain stable until consumption The quick-dissolving films are offered in a range of colors and flavors. These films may be used for candy strips designed for children, breath-freshening films for adults, and other potential opportunities which can be discussed with representatives from the company. Booth 2029.
• Delivery systems using lipid technology will be featured under the name BetrFX by Loders Croklaan, 24708 W. Durkee Rd., Channahon, IL 60410-5249 (phone 800-621-4710; fax 815-730-5202; www.croklaan.com).These systems synergistically combine the functionality benefits of lipids with flavors, colors, minerals, and other food ingredients in an easy-to-use single ingredient system. Prototype applications demonstrating the functionality benefits of these delivery systems will be highlighted. Booth 1835.
• A line of masking products, Magnifique Flavor Technologies, is showcased by Wixon Fontarome, 1390 E. Bolivar Ave., Saint Francis, WI 53235 (phone 414-769-3000; fax 414-769-3024; www.wixon.com). The natural products are designed to correct most basic flavor problems at low levels of use. They reduce or eliminate excess bitterness, acidity, saltiness, sourness, and sweetness. They mask beany, grainy, and of flavor notes. Booth 311.
• Masking flavors, available in many different types, will be demonstrated in prototype applications by Virginia Dare, 882 Third Brookly, NY 11232-1902 (phone 718-788-1776; fax 718-768-3978; www.virginiadare.com). The masking flavors may be used in nutritional bars, soy beverages, fortified dairy products, confections, and other applications. They are designed to effectively reduce or eliminate off-notes from vitamins, minerals, herbs, botanicals, amino acids, proteins, caffeine, artificial sweeteners, and other compounds. Booth 2449.
• Licorice-based products for use as flavor enhancers, sweetness potentiators, and masking agents are available from Mafco Worldwide Corp.,Third and Jefferson Ave., Camden, NJ08104 (phone 856-968-4062; fax 856-964-6029; www.magnasweet.com). Called Magnasweet, these products are multifunctional, developed to meet the diverse needs of various sectors in the food industry. Booth 1420.
• Acidulant for use in beverages and general food processing will be featured by Jones-Hamilton Co., 30354 Tracy Rd., Walbridge, OH 43465 (phone 888-858-4425; fax 419-666-9838; www.jones-hamilton.com). Marketed under the name pHase, the sodium acid sulfate lowers pH without overpowering taste. A lower percentage of the acidulant is needed to reduce pH than other conventional acidulants, which minimizes sour impact on the beverage formulation. Booth 1367.
• A variety of yeast extracts for flavor enhancement are available from Savoury Systems International, Inc., P.O. Box 5487, Branchburg, NJ 08876 (phone 908-534-6621; fax 908-534-7979; www.savourysystems.com). Products include light, flavor-enhancing types along with very dark, roasted types. Custom products can also be formulated, including a new umami flavor. Booth 3278.
--- PAGE BREAK ---
• Beta-carotene emulsions have been introduced under the brand name Altratene by Allied Biotech Corp., No. 76, Tun Hua S. Rd., Sec.2, 12th Floor, Taipei, Taiwan, 10602 (phone 886-2-2703-0209; fax 886-2-2703-0289; www.altratene.com). The new line of high-potency beta-carotene emulsions in liquid, water-soluble form offers an alternative to traditional powders. it is available in a 5% beta-carotene version, but can be customized to meet specific customer demands. Booth 162.
•A variety of emulsifiers are available from Mitsubishi-Kagaku Foods Corp., 1-3-9 Ginza, Chuo-ku, Tokyo 104-0061 (phone 81-3-3563-1513; fax 81-3-3563-1676; www.mfc.co.jp). Polyglycerol ester is good in dispersing oil material in water and helping to prepare stable oil in water emulsion for beverages, sauces, and other products. Sucrose Oligo Ester (SOE) can help prepare water in oil emulsions with high water content—for example, a 70% inner phase is possible. SOE can inhibit fat bloom, provide viscosity reduction, and provide surface gloss effects on chocolate. Booth 3520.
• A broad range of food emulsifiers are produced by Lonza Group, 17-17 Rte. 208, Fair Lawn, NJ 07410 (phone 201-794-2400; fax 201-794-2515; www.Ionza.com). Key products include glycerol and polyglycerol esters, sorbitan esters, and polysorbates, along with blends tailored to meet specific market needs. As a vertically integrated manufacturer, the company has direct control over key raw materials, providing flexibility to meet emerging needs. Booth 2575.
• Stabilization of omega-3 fatty acids with emulsification technologies is the subject of a presentation given by researchers at the University of Massachusetts. The succesability of polysaturated lipids to oxidation is a major cause of quality deterioration in many food-emulsion-based products. The reaction mechanism and factors that influence oxidation are appreciably different for emulsified lipids than for bulk lipids. This presentation reviews the current understanding of the lipid oxidation mechanism in oil-in-water emulsions. It also discusses the major factors that influence the rate of lipid oxidation in emulsions, such as antioxidants, chelating agents, ingredient purity, interfacial characteristics, droplet characteristics, and ingredient interactions. This knowledge is then used to define effective strategies for controlling lipid oxidation in food emulsions. Paper 38-3.
• Sugar-free chocolate coatings, sugar-free ice cream coatings, and specialty cocoa powders will be featured by Blommer Chocolate Co., Inc., 600 W. Kinzie St., Chicago, IL 60610 (phone 312-226-7700; fax 312-226-4141; www.blommer.com). The company's full line of milk, white, and semisweet chocolate drops are also especially suitable for sugar-free products and other special needs. Booth 1775.
• High-quality cocoa and chocolate products are manufactured by Barry Callebaut USA, 400 Industrial Park Rd., Saint Albans, VT 05478 (phone 802-524-9711; fax 802-524-5351; www.barry-callebaut.com). The fully integrated company has a network of 30 state-of-the-art production sites in 17 countries. Booth 1937.
--- PAGE BREAK ---
• A range of premium conched chocolates, compound coatings, and specialties such as sugar-free chocolates and organic chocolates will be highlighted by Debelis Corp., 5000 70th Ave., Kenosha, WI 53144 (phone 800-472-7462; fax 262-656-8326; www.debelis.net). The company's European parent has equipped a recently acquired plant in Kenosha with state-of-the-art equipment to guarantee the highest product quality. Booth 3621.
• Chocolate-coated cookie pieces, chocolate coatings, and various flavors are available from Terri Lynn Inc., 1450 Bowes Rd., Elgin, IL 60123 (phone 847-741-1900; fax 847-741-1912; www.terrilynn.com). Potential applications include baked goods, ice creams, confections, foodservice products, and retail. Booth 1488.
• Broad range of cocoa powders are the focus of Gerkins Cocoa, a Cargill Company, 20 N. Broad St., Lititz, PA 17543 (phone 800-233-0139; fax 717-626-3487; www.gerkenscocoa.com). Advantages of these products include flavor and color consistency, packaging solutions to reduce costs, integrated production, and distinctive customer solutions. Booth 1543.
• Chocolate couverture, cocoa powder, and other gourmet and industrial products are available from OCG Cacao U.S., Inc., One Plummers Corner, Ste. 205, Whitinsville, MA 01588 (phone 508-234-5107; fax 508-234-5495; www.ocgcacao.com). Cargill recently acquired OCG Cacao SA, a major supplier of industrial chocolate to the European food industry. Booth 1395.
• Dairy proteins, including micellar casein (an under natured casein) will be featured by American Casein Co., 109 Elbow Lane, Burlington, NJ 08016-4123 (phone 609-387-3130; fax 609-387-7204; www.mericancasein.com). Micellar casein is a high-quality milk protein being used in the manufacture of nutraceutical beverages, particularly sports nutrition, since it is known to produce a high content of bioactive milk peptides. This specially processed casein is high in protein (90%), low in fat (less than 2%), and low in lactose (less than 0.5%), while providing the known benefits of the amino acid profile of asein. Booth 2875.
• A high-grade pasteurized butter with 82% butterfat produced from carefully selected cream will be highlighted by Corman S.A., Rte. De la Gileppe, 4, B-4834 GOE, Belgium (phone 32-0-87-34-22-11; fax 32-0-87-34-24-00; www.corman.be). Also a butter blend, a subtle combination of selected butterfat and vegetable oils, will be featured. The company offers a wide range of anhydrous milkfats, dairy butters, tailor-made butters, functional dairy ingredients, and food preparations. Booth 2721.
• Hard-Style Italian Cheeses, Parmesan, Romano, Asiago, and Fontina are available from first-time exhibitor The Antigo Cheese Co., P.O. Box 503, Antigo, WI 54409 (phone 715-623-2301; fax 715-623-4501; www.antigocheese.com). Potential applications for these cheeses include sauces/dressings, garnish, pizza, side dishes, snacks, appetizers, and other products. Booth 871.
•An extensive range of dairy-based food ingredients that display functionality and nutritional value is available from Irish Dairy Board, 825 Green Bay Rd., Ste. 200, Wilmette, IL 60091 (phone 847-256-8289; fax 847-256-8299; www.idb.ie). Product range includes casein/caseinates, milk powders, whey products, specialty milk protein products, and specialty ingredient blends. The company is a major international exporter of Irish dairy products. Booth 522.
--- PAGE BREAK ---
• A variety of cheeses, including Aged Italian, Mexican, and Specialty will be featured by Sartori Food Corp., 107 Pleasant View Rd., Plymouth, WI 53073 (phone 920-893-6061; fax 920-892-2732; www.sartorifoods.com). Also highlighted will be cheese products and cheese-based flavor systems. Marketed for the foodservice and food processing areas, the products provide flavor, functionality, and performance. Booth 3115.
• A range of cheese solutions, including cream cheese, Italian and natural cheeses, process cheese, substitute and imitation cheese, and a variety of other specialty products are available from Schreiber Foods, Inc., P.O. Box 19010, Green Bay, WI 54307-9010 (phone 800-344-0333; www.schreiberfoods.com). Among the products spotlighted will be cream cheese, which contains 33% butterfat and 55% moisture, and Neufchatel cream cheese, which is lower in fat, with only 23% butterfat, higher in moisture, and softer in texture. Cream cheese and Neufchatel blend well with other flavors, making them ideal bases for spreads and dips. They are sold in a variety of sizes and are available in more than 30 flavors, including strawberry, onion and chive, and pineapple. Booth 2629.
• Cheese sauce concentrates, marketed under the name Chef Style, will be highlighted by Sargento Food Ingredients Group, One Persnickety Place, Plymouth, WI 53073 (phone 920-893-0851; fax 920-892-6822; www.sargentofoodingredients.com). The new concentrates are suitable for use in shelf-stable, refrigerated,and frozen applications. They can be diluted to a variety of solids and viscosities, and can be easily modified with flavors. Signature sauces can be created by adding water and different flavors. The company also makes available a variety of other innovative cheese products. Booth 1767.
• Highly concentrated dairy powders are produced using enzyme modification technology by Butter Buds Food Ingredients, 2330 Chicory Rd. 53403 (phone 262-598-9900; fax 262-598-9999; www.bbuds.com). These natural dairy concentrates deliver up to 400 times the flavor strength of standard dairy ingredients, and are used at extremely low applications (usually less than 1.0%). The powdered ingredients are easy to use, provide a range of benefits, and are stable in price. Booth 2976.
• An extensive line of standard and specially modified whey products is featured by Foremost Farms USA, P.O. Box 111, Baraboo, WI 53913-0111 (phone 608-355-8769; fax 608-355-8695). Product line includes functional specialty dairy protein products, as well as edible and refined lactose, whey, whey powders, specialty milk replacer blends, and hydrolyzed and demineralized whey protein concentrates. Booth 2278.
• Milled products, including cracked wheat, cracked rye, cracked oats, oat flour, rye flour, and triticale flour, are available from Hesco Inc., P.O. Box 815, Watertown, SD 57201 (phone 605-884-1100; fax 605-884-1133; www.hescoinc.com). The company offers identity preserved and organic products, as well as custom milling to the industry. Booth 2495.
•A line of pearled barley flours and yellow mustard products has been added to its portfolio by Minnesota Grain, 1380 Corporate Center Curve, Ste. 105, Eagan, MN 55121-1200 (phone 651-681-1460; fax 651-681-1460; www.mngrain.com). The company, a supplier of specialty grain-based food ingredients, focuses on barley, spring wheat, durum wheat, mustard, and rye. Its capabilities include cleaning, pearling, cutting, flaking, toasting, and grinding these grains for use in hot and cold cereals, granola bars, side dishes, and many other applications. Booth 717.
• A variety of whole wheat pasta shapes will be offered by Zerega Pasta, P.O. Box 241, Fair Lawn, NJ 07010 (phone 201-797-1400; fax 201-797-0148; www.zerega.com). These products are higher in fiber than regular pasta and have a low-glycemic index. In addition to whole wheat, the company manufactures other specialty pasta products such as organic, toasted, and low carbohydrate. Shapes can be customized for size and ingredients to meet all prepared food applications. Booth 1687.
--- PAGE BREAK ---
• A low-carbohydrate pasta called Dreamfields™ will be highlighted by Dakota Growers Pasta Co., 1660 S. Hwy. 100, Ste. 434, Saint Louis Park, MN55416 (phone 763-253-0441; fax 763-253-0399; www.dakotagrowers.com). The product, which is manufactured and distributed by the company, has authentic pasta taste and al dente texture, and provides 5 g of digestible carbohydrates. Booth 668.
• A new microwavable pasta which cooks in 2.5 minutes is available from Chaucer Food Group, 160 Eileen Way, Syosset, NY 11791 (phone 516-496-2500; fax 516-496-2516; www.chaucerfoods.com). In addition to manufacturing instant rehydrating pasta, the company offers a wide range of ingredients, including a new freeze-dried avocado powder for use in soups and sauces. Booth 2213.
• Oat flour and organic oat flakes will be featured by La Crosse Milling Co., 105 Hwy. 35, Cochrane, WI 54622 (phone 800-441-5411; fax 608-248-2221; www.lacrossemilling.com). The oat-derived ingredients may be used in a variety of applications including baked goods, ready-to-eat cereals, health bars, convenience meals, sports and energy drinks, and a variety of organic products. The company is a conventional and organic manufacturer of milled grain ingredients, including oats, wheat, and barley. Booth 1795.
• Dry pasta is produced by American Italian Pasta Co., 4100 N. Mulberry Dr., Ste. 200, Kansas City, MO 64116 (phone 816-584-5658; fax 816-584-5758; www.aipc.com). Current capabilities include standard pasta, low-moisture pasta, and thinwall pasta for quick cooking and microwave applications. A wide range of raw materials, additives, and enrichments can be utilized to achieve functionality, flavoring, coloring, and health claims. Booth 1995.
• An industrial line of Individually Quick rices for use in side dishes or entrees is available from Riviana Foods, 2777 Allen Pkwy., Houston, TX 77019 (phone 713-525-9569; fax 713-529-1661). A wide variety of quick cooking rices, milled and parboiled rices, wild rice, crisped rice, brown rice, and other rice products is offered by the company. Booth 242.
• Grain-based extruded inclusions are featured by Nuvex Ingredients, P.O. Box 158, Blue Earth, MN 56013 (phone 507-526-4341; fax 507-526-2838). Among the products in the company's portfolio are Proti-Oats, a rolled oats with 50% soy protein, and crisp rice ingredients. Booth 1389.
• A broad range of grain-based ingredients is offered by PGP Int'l, 351 Hanson Way, Woodland, CA 95776 (phone 530-662-5056; fax 530-662-6074; www.pacgrain.com). These ingredients include crisp rice, extruded particulates, rice flours and blends, soy protein crisp rice, and specialized functional grain-based ingredients. Potential applications include baked goods, confections, energy/nutritional bars, ready to-eat cereals, and prepared foods. Booth2948.
• Corn products will be shown by Didion Milling, Inc., 520 Hartwig Blvd.,Johnson Creek, WI 53038 (phone 920-348-5868; fax 920-348-6203; www.didionmilling.com). Ingredients include grits, meals, flour and viscosity-controlled corn flour, pregelatinized corn flours, binders and bran, and other non-GMO and organic corn products. Booth 2198.
• Meat ingredients are available from Land O'Frost, Inc., 911 Hastings, Searcy, AR 72143 (phone 800-643-5654; fax 501-268-0357; www.lamdofrost.com). The company reportedly produces millions of pounds of meat ingredient products annually, including beef, chicken, turkey, and ham. It manufactures meat logs or further processes meats into chips, dices, strips, or ground formats. Booth 2827.
--- PAGE BREAK ---
• Pure beef extract is offered by RFI Ingredients, 300 Corporate Dr., Ste. 14, Blauvelt, NY 10913 (phone 845-358-8600; fax 845-358-9003). The beef extract, which is certified BSE free, is sourced from Uruguay. A Country of Origin certificate is also available.Booth 2535.
• Hydrolyzed collagens will be highlighted by Nitta Gelatin NA, Inc., 201 W. Passaic St., Rochelle Park, NJ 07662 (phone 201-368-0071; fax 201-368-0282; www.nitta-gelatin.com). Hydrolyzed Collagen GCP-1000 will be used as an ingredient in protein pretzels to be distributed to attendees. This collagen is a highly purified protein that can be easily absorbed and digested within the human body. A major use for the ingredient is nutritional or dietary supplements such as protein bars and drinks. It is readily soluble in hot and cold liquids and suitable for use where traditional gelling stability is not required. The ingredient is a Type 1 collagen, which is the primary protein in the human body. Booth 3166.
• A new line of beef, chicken, and pork flavors designed specifically for meat and poultry marination systems is available from Summit Hill Flavors, 256 Lackland Dr. East, Middlesex, NJ 08846 (phone 732-805-0335; fax 732-805-1994). These flavor systems replace flavors lost in highly pumped meat and poultry products. New varieties include Roasted and Char-Grilled meat and poultry flavors. Booth 3114.
• Innovative ingredient solutions are offered by Hormel Foods Corp., One Hormel Pl., Austin, MN 55912 (phone 507-437-5609; fax 507-437-5120; www.homeingredients.com). The company features a savory line of soup stocks and meat ingredients, as well as a broad dairy portfolio. Booth 2267.
• Red pigment extract from the Garcinia indica fruit will be offered by Unibar Corp., 9894 Bissonnet, Ste. 686, Houston, TX 77036 (phone 713-977-5160; fax 713-977-1284). The color is brand named CitriRed, and is stable from 3.0 to 4.5 pH at 100°C. It also contains anthocyanin, a proven antioxidant, in concentrations greater than 600 g/mL, making it an excellent choice for the juice and beverage industry. Unibar will also introduce three new botanical extracts ideal for "low-carb" diets and weight management. They are: Methifiber, a water-soluble fenugreek fiber; Super Citrisure, a water-soluble Garcinia powder; and CitriSure™, a pure calcium salt from Garcinia cambogia. Booth 775.
• Rosemary extracts and natural colors are multi-functional. Natural extracts that may be used for their coloring, flavoring, preservation and nutraceutical properties are distributed by Naturex Inc., 300 Waverly Avenue, Mamaroneck, NY 10543 (phone 914-381-5995; fax 914-381-5985; [email protected]. Rosemary extracts can be used for colors (carotenoids, anthocyanins). Herbs and spices can be used for oleoresins and essential oils (oregano, coriander, garlic, mustard, horseradish, thyme, rosemary, fennel, capsicum, black pepper, celery, cloves, etc.). Natural colors (carotenoids from paprika, annatto, carrot, palm oil, etc.) and botanical extracts (olive leaf, rosemary, horse chestnut, curcumin, hawthorn, grape seed and skin, etc.) are common ingredients. All of these products are offered in liquids and spray-dried powders, water- or oilsoluble, pure, formulated, or blended to ease their usage in foods. Booth 2167.
--- PAGE BREAK ---
• A line of natural colors will be a new product feature at this year's show, as a result of a recent strategic partnership between Overseal Foods Limited, Overseal, England, and RFI Ingredients, 300 Corp. Dr., #14, Blauvelt, NY 10913 (phone 845-358-8600; fax 845-358-9003; www.rfiingredients.com). Besides the new colors line, the joint venture will feature Overseal's line of fruit and vegetable powders, purees and concentrates (certified organic if required), and cereal grasses. RFI will also showcase their OxyPhyte® line of natural antioxidants, Chocamine™ proprietary cocoa extract and Lycomato® tomato powder for food applications. Booth 2535.
• A natural antioxidant has been specially formulated to meet the demands of product developers to extend shelf-life of fresh and case-ready meat food products. It will be highlighted by Alltech's Global Foods Division, 3031 Catnip Hill Pike, Nicholasville, KY 40356 (phone 859-885-9613; fax 859-887-3256; [email protected]) . Preventox™ is an proprietary mixture of rosemary extract, natural mixed to-copherols and citric acid, and is claimed to be the best alternative for synthetic antioxidants for allowing a clean and friendly label on food products. Booth 2635.
• Antimicrobial sodium/potassium lactate for application on fresh and cooked meat and poultry products will be demonstrated by Purac America, Inc., 111 Barclay Blvd., Lincolnshire, IL 60069 (phone 847-634-6330; fax 847-634-1992; www.purac.com). Puracel® Powder is new and developed to extend shelf-life, increase safety, preserve color, and enhance flavor. It is highly suitable for spice blends and usable where the liquid form cannot by used. In fresh meats, it increases shelf-life, and also improves the tenderness and juiciness of beef, pork, and chicken. Booth 2335.
• Phosphate blends can extend shelf-life and improve product thickness, flexibility, rollability, and opacity in selected food products. A patent-pending blend, named Tortilla-Rise™ will be a new product exhibited by Rhodia Specialty Phosphates, 1101 Arnold St., Chicago Heights, IL 60411 (phone 708-757-6111; fax 708-709-2861; www.rhodia.com). A full range of food-grade phosphates that combine with other ingredients and processes to enhance and add customer appeal to meat, seafood, poultry, bakery, beverage, dairy, and health products. These will include VersaCAL® Tricalcium Phosphate for use in liquid beverages, cottage cheese, yogurt, and milk replacement products to reduce grittiness; Curavis®, a blend for use in low-temperature, high-salt brines to increase yields and reduce storage losses while improving color in meats, seafood and poultry; and patent-pending microwavable technology to produce frozen raw pizza dough, and frozen or dry forms of cake, brownie, and biscuit mixes. Booth 2958.
• A natural preservative derived from white mustard seeds will be described in the New Products & Technologies session, Paper 69-2. It will be marketed under the brand name of IsoGard™ by The Procter & Gamble Company, Miami Valley Laboratory, 11810 E. Miami River Rd., Cincinnati, OH 45252 (phone 513-626-5685; fax 734-314-6308; www.pgchemicals.com) and Newly Weds Foods, Inc., 2501 N. Keeler Ave., Chicago, IL 60639 (phone 800-621-7521; fax 773-489-2799; www.newlwedsfoods.com). The natural preservative actually is comprised of white mustard essential oil (WMEO), which is extracted from the seeds by supercritical carbon dioxide extraction after grinding in the presence of moisture to activate the endogenous enzyme, myrosinase. The enzyme, in turn, hydrolyzes the glucosinalate naturally present in white mustard seeds to an active antimicrobial agent, 4-HBITC. Studies indicate that WMEO is an effective antimicrobial agent at relatively low usage levels. To disperse such low levels of the 4-HBITC into foods, preservative compositions have been formulated containing WMEO with a hygroscopic carrier, like maltodextrin. Isogard has future potential for shelf-life extension in a variety of foods, including beverages, dressings, fruit and vegetable products, and fresh and ready-to-eat meats. Booth 1379.
--- PAGE BREAK ---
• Coated lutein provides a novel delivery for anti-oxidative action in many foods. Lutein is an oxygenated carotenoid that absorbs visible light and plays a role in the quenching of singlet oxygen. A product consisting of FloraGLO® lutein with a ClearTec™ coating has been formulated for yielding optically clear beverages that do not ring or settle, and therefore are substantially stable to thermal processing and storage. Introduction to this concept will be described in a New Products & Technologies session, Paper 1-4, by Kemin Foods, L.C., 600 E. Court Ave., Ste. A, Des Moines, IA 50309. Sucrose monolaurate is dissolved in water, the carotenoid is added, and a proprietary patented drying process creates a final product concentration of 15% lutein. This ingredient combination is GRAS-approved in the U.S. for use in bottled water, carbonated beverages, meal replacement beverages, ready-to-drink teas, egg substitutes, baby foods, dry milks, fermented and flavored milk beverages, yogurts, energy/sport drinks, fruit and vegetable juices, and nectars. Booth 353.
• The technologies of moisture retention processing efficiency, consistency, and enhanced flavor systems in poultry, meat, and seafood applications have all been improved by addition of Nutrifos® phosphates. Nutrifos BC and 088 are core ingredients in marinades and spice blends. This technology will be spotlighted by Astaris LLC, Creve Coeur IV, 622 Emerson Rd., St. Louis, MO 63141 (phone 314-983-7500; www.astaris.com). This phosphate dissolves concurrently with salt, unlike traditional sodium tripolyphosphates that require dissolution prior to addition of salt. Without salt-compatible phosphate technology, marinades may not fully penetrate beyond the surface and fail to be uniformly absorbed into the product. The product may be used in solution for injection, tumbling, or soaking, or as part of a spice blend. Booth 516.
• Three natural food preservatives from China been developed and approved for use in food by the U.S. Food and Drug Administration. Included are Natamycin, Nisin, and ePolylysine.These will be featured by Beijing Oriental Rada Biotech Co., Ltd. With these three kinds of food preservatives, almost all bacteria, including mold, yeast, Gram-positive and Gram-negative, can be prevented. Combining these preservatives in different ratios can greatly improve their effectiveness. Booth 3593.
• High intensity sweeteners with unique features are being developed to decrease the reduced carbohydrate interests and obesity epidemic in the U.S. Neotame represents the next generation of sweeteners, and will be discussed at the New Products & Technologies session by The NutraSweet Co., The Merchandise Mart, Suite 936, Chicago, IL 60654 (phone 312-873-5010, www.nutrasweet.com). Neotame is approved for foods in the U.S., Australia, New Zealand, Mexico, and China.
This new sweetener can be blended with caloric sweeteners, including sucrose and high fructose corn syrup, as well as with other high-intensity sweeteners such as aspartame, acesulfame potassium, sucralose, cyclamate, and saccharin to match the taste of existing products. It can also be used to create desirable new tastes and flavors in a variety of food and beverage products. Neotame is 7,000—13,000 times sweeter than sucrose, therefore offering considerable reduction in usage and costs. Booth 1878.
• An all-natural, high intensity sweetener, made from the isolated flavonoid from citrus extract (Citrus aurantium) is 1,500—1,800 times sweeter than sucrose. he sweetener is brand named Flavex-LC™ and will be demonstrated by Arnhem Group, 25 Commerce Dr., Cranford, NJ 07016 (phone 908-709-4045; fax 908-709-9221; www.flavexprotein.com). It is an ideal sweetener for diet, low-calorie, and low-carbohydrate foods and beverages. The intensity depends on several factors, such as pH and the products to which it is added. It has a synergistic sweetening effect when combined with sugar alcohols (e.g., xylitol, isomalt, etc.), and can be easily mixed with other sweeteners such asaspartame, acesulfame-K, saccharin, and cyclamate. Normally, it is used at a very low level of 1-to-5 parts per million. Application suggestions include savory products, including meat, poultry, fish preserves, sauces, condiments, seasonings, soups and mayonnaise; confectionery products, including chocolate-based products, dry fruits, spreads, marmalade, and jams; desserts and related products; nutritional foods and beverages; and other beverages, including juices, milk, and milk derivatives. Booth 3319. 
Contributing Editor Dean Duxbury provided the sections on "Colors," Preservatives/Antioxidants," and "Sweeteners."
by DONALD E. PSZCZOLA
Senior Associate Editor
[email protected]