Given increased regulatory attention and consumer awareness, laboratory and quality assurance personnel are taking on additional duties and responsibilities. Because of new regulations, threats of bioterrorism must be considered in conducting food safety assurance checks. Food security has been added to other issues dealing with consumer health and nutrition and the ever-present dangers of foodborne pathogens. In addition, the past year has seen the first confirmed case of mad cow disease in the United States. Many of the technical sessions at this year's IFT Annual Meeting, a few of which are summarized here, and many of the new laboratory products at this year's Food Expo focus on these concerns.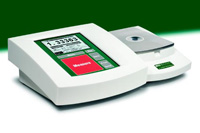 Papers
This year's papers deal with a variety of topics of interest to those working in the food laboratory testing and analysis areas:
Session 5 on Tuesday morning deals with "Nondestructive Food Testing: Present and Future." It is sponsored by the International and Food Engineering Divisions and moderated by J. Irudayaraj, Pennsylvania State Univ. and C. Reh, Nestlé Research Center. The session will cover the new uses of ultrasound and of infrared spectroscopy for food testing. The session will also cover the use of hyperspectral imaging system for contaminant detection on food surfaces; the nondestructive sterility testing of ambient stable packed products; and the use of biosensors.
Session 28 on Tuesday afternoon is entitled, "Ultrastructural Measurements in Frozen Foods." It is sponsored by Refrigerated & Frozen Foods and the Food Engineering Divisions. Freezing is a major food process operation used on a wide variety of commodities and entrees. However, accurately measuring or predicting optimum process time, energy flow, or product properties is still a challenge. This session will cover how nuclear magnetic resonance and magnetic resonance imaging have shown promise in monitoring these food processes. These techniques are non-invasive and can monitor internal characteristics of food products. The session will also discuss monitoring glass transition in frozen foods and the use of microscopy for analyzing frozen foods.
Session 57, "Novel Rapid Molecular Methods for Tracking Foodborne Pathogens Throughout the Food Chain," will be held on Wednesday. Sponsored by the Food Microbiology Division, this promises to be an important report on the state of tracking foodborne pathogens for food safety and biosecurity. The session will discuss how PulseNet has revolutionized foodborne disease surveillance in the U.S. This database provides near real-time DNA pulsed-field gel electrophoresis (PFGE) subtyping of clinical isolates of major foodborne pathogenic bacteria by participating state and local health departments. It has enabled rapid and timely recognition of foodborne disease clusters that may be common source outbreaks. The real-time availability of PFGE patterns for clinical isolates of foodborne pathogens facilitates outbreak investigations by allowing epidemiologists to exclude geographically and temporally associated cases that are not infected with the outbreak isolate.
--- PAGE BREAK ---
Session 68 on Thursday morning will discuss "Keeping the Food Industry Competitive: When Mad Cow Comes Home." This session will look at the recent occurrence of mad cow disease in the U.S. The speakers will present the science, the background, and their viewpoints on the domestic and international issues related to the Disease. The attendees will gain an update on the status of this situation and the approaches being used to resolve this challenge.
Session 69 is a New Products and Technologies session on innovations in food safety and will be held on Thursday morning. Laboratory products that will described during the session include:
•The SpotCheck™, a non-instrumental color hygiene test for on-the-spot cleaning validation. This kit may be used to measure, in 60 sec or less, whether surfaces are thoroughly clean. The kit's swabs detect glucose, which is a component of 85% of all foods and beverages, while others may be used to detect glucose and lactose, for use by the dairy industry.
•The Pulsifier®, claimed to be a new concept in food sample preparation for microbiological analysis. In the late 1990s the inventor of the Stomacher patented a new concept for food sample preparation called "pulsification." Instead of crushing the food sample, the Pulsifier beats the sample bag very rapidly using an oscillating metal ring. This generates a great deal of turbulence within the sample, resulting in intensive shear forces across the surface of the food particles which drive the bacteria off the food matrix and into the broth.
•The PetriScan® automated colony counter for enumerating 3M PetriFilm® aerobic count plates. In the food and dairy industries, aerobic plate counts are determined by a time-consuming and laborious hand-counting method. The PetriScan, developed by Spiral Biotech, Inc. is an automated dry film colony counter that saves valuable time and labor, and improves efficiency in the microbiology laboratory. It is designed for use with commercially available aerobic count dry hydratable films such as 3M Petrifilm Aerobic Count Plates.
•The Veratox and Alert for Wheat Allergen rapid test kits for testing equipment, raw material, and final product to ensure that they are free of wheat proteins. The Veratox kits will provide an exact level of wheat protein, while the Alert provides simple screening results down to 5 ppm. Both kits are designed to be used at the plant level with a minimum of equipment or training needed. The test kits are sandwich enzyme-linked immunosorbent assays.
Other sessions of interest include: Session 104, "International Update on GMO Labeling and Traceability" on Friday morning, sponsored by the Quality Assurance and International Divisions. The session will give an overview of the new European Union GMO labeling and traceability regulations and a perspective from other major markets (Brazil and Japan). An industry perspective on manufacturing product to meet non-GMO standards in the EU and elsewhere will be presented. Identity preservation, traceability, and the latest advances in DNA detection technologies for GMO testing will also be covered.
Session 106, "New Analytical Challenges in the Development of Official Test Methods for Natural Products and Diet Supplements," will be held on Friday morning. Sponsors of the session are the Food Chemistry and Nutraceuticals & Functional Foods Divisions. The session will provide an overview of the Dietary Supplements Methods and Reference Materials Program at the National Institutes of Health; the industry involvement in the development of official test methods for natural products and diet supplements; challenges in multi-laboratory collaborative studies with diet supplements; actions of expert review panels in the development of an official test methods for beta-carotene, St. John's Wort, chondroitin, and SAMe.
--- PAGE BREAK ---
Exhibits
In addition to the information presented via technical papers at the IFT Annual Meeting, the Food Expo will present a wealth of suppliers of food laboratory equipment and analytical instrumentation. The following are brief highlights of what some of the exhibits.
• Antimicrobial Lab Coats. Lightweight garments constructed from resilient dual-faced material with a sheer flat side that allows most liquids and chemicals to bead off the coat's surface, while still maintaining a breathable inner face. In addition to their anti-absorption characteristics, the lab coats are treated with a broad-spectrum antimicrobial treatment for enhanced safety against harmful microorganisms.This treatment disrupts cell membrane activity on contact, effectively killing microorganisms and eliminating dangerous biological risks. Qorpak, 1195 Washington Pike, Bridgeville, PA 15017 (phone 412-257-3100; fax: 412-257-3100; www.qorpak.com), Booth 2694.
• Milk and Dairy Product Analysis.The LactoScope™ and LactoScope FTIR™ spectrophotometers may be used for the accurate determination of fat, protein, lactose, and total solids in milk and milk products, including icecream and other specialty and complex products. The company will also exhibit the SomaScope™ instrument, which measures the total somatic cell count in raw milk. The CombiScope™ precision analyzer measures both the chemical composition as well as the total somatic cell count of raw milk. The LactoScope is an infrared spectrophotometer capable of determination of fat, protein, lactose, and total solids in milk, cream, and other dairy products. According to the company, the product features infrared filter technology in an easy-to-use instrument. It is available in manual and automatic versions with throughput rates up to 450 samples/hr. Delta Instruments, 2 Technology Way, Norwood, MA 02062 (phone 781-320-9000; fax 781-320-8181; www.deltainstruments.com), Booth 2321.
• Lab Blenders. The BagSystem is a line of blenders for sample preparation for food control and microbiological analysis. The blenders range in size from 100 to 3,500 mL with automatic adjustable gap between paddles and door. The company will also exhibit the Spiral Plater DS Plus, Gravimat dilutor, Scan colony counter, Clinet disinfecting wipes and spray, and Anabac autoclave deodorant.Interscience Laboratories Inc., 86 Finnell Dr., Unit 16D, Weymouth, MA 02188 (phone 617-548-6416; fax 781-682 9035; www.intersciencelab.com), Booth 2415.
• Sterile Sample Bags. TheWhirl-Pak sterile, polyethylene laboratory sample bags may be used for quality control testing, research and development, and product analysis. They are made of FDA-approved resins for food contact. There are 49 sizes and styles of bags for most sampling requirements. They feature patented puncture-proof tabs minimize bag puncture and scratching of hands with specially covered wire tabs. The bags are sterilized with ethylene oxide gas, and documentation of sterility is available on request for every bag. Special bags are designed for use in homogenizer blenders, surface and carcass sampling, and long-term storage.Nasco, 4825 Stoddard Rd., Modesto, CA 95356 (phone 209-545-1600; fax 209-545-1669; www.enasco.com), Booth 2216.
--- PAGE BREAK ---
• Color Colony Counter. The Color QCount colony counter is said to allow rapid color bacterial colony screening without the additional cost of purchasing color-differentiated counting systems. The unit incorporates a high-resolution digital CCD camera and software to identify and colorize most bacterial strains, such as Streptococcus pneumoniae and Listeria species. The instrument is suited for food testing laboratories counting E. coli and Listeria. With total plate analysis time, including overlapping colony clusters, of less than one second, a laboratory can process and count up to 400 plates/hr. Spiral Biotech, Inc., 2 Technology Way, Norwood, MA 02062 (phone 781-320-9000; fax 781-320-8181; www.spiralbiotech.com), Booth 2321.
• Automated Colony Counter. The ProtoCOL automated colony counter may be used for Good Laboratory Practice (GLP) compliant bacterial enumeration.The company is also featuring a line of automated media preparation systems (8-110 L/capacity)/plate pouring instruments, the Dilumat automated sample diluter, the new Pulsifier and the WASP II automated spiral plater for the elimination of serial dilutions.Microbiology Intl., 5108 Pegasus Court, Ste. L, Frederick, MD 21704 (phone 301-662-6835; fax 301-662-8096; www.800ezmicro.com), Booth 2197.
• Chocolate Temper Meters. The new Model 225 will be demonstrated with its standard internal printer. The Model 806H hand-held gloss/bloom measurement system for confections and packaging will also be shown. Additional demonstrations will include TMDAS (Temper Meter Data Acquisition Software) which allows users to view, print, graph and save test data from TRICOR chocolate temper meters to database files. Tricor Systems, Inc. 1650 Todd Farm Dr., Elgin, IL 60123 (phone 847-742-5542; fax 847-742-5574; www.tricor-systems.com), Booth 1998.
• Microbiological Supplies. A complete line of culture media, rapid identification tests, quality control organisms as well as stains and reagents will be featured. The company offers supplies for most microbiological applications. Remel Inc., 12076 Santa Fe Dr., Lenexa, KS 66215 (phone 800-255-6730; www.remel.com), Booth 2788.
• Moisture Analyzer. The Vapor Pro Fx measures moisture levels in liquids and most oils down to 10 ppm. According to the company results are achieved in as few as 3 min and may be displayed as percent moisture, parts per million moisture, or micrograms of water. The instrument utilizes a sealed flow-path that purges the system with dry nitrogen between tests, thus preventing moist air from entering or trapping itself within the system. In addition, the moisture-specific sensor is not influenced by other volatiles. Arizona Instrument, LLC., 1912 W. 4th St., Tempe, AZ 85281 (phone 602-470-1414; fax 480-804-0656; www.azic.com), Booth 1340.
• Amylograph. The Micro ViscoAmyloGraph7 evaluates starch or flour samples at a fraction of the standard requirements. Only 5-10 g of sample are needed for an evaluation. Total test time can be reduced by the elevated temperature rate increase (up to 10 degrees C/min). The instrument monitors and records actual stock temperature. C.W. Brabender Instruments, 50 E. Wesley St., South Hackensack, NJ 07606 (phone 201-343-8425; fax 201-343-0608; www.cwbrabender.com), Booth 2893.
• Protein Measurement. The rapid N Protein/Nitrogen analyzer allows determination by AOAC and ISO approved methods. The vario Macro and Max offer multi-element capability for N/CN/CNS and protein. The vario Max offers robotics capability to make wet, thick, or slurry materials as easy to analyze as solids. It offers automatic ash removal, ash determination, three-stage drying, and 5-mL crucibles.Elementar Americas Inc. Ste. B-204, 520 Fellowship Rd., Mt. Laurel, NJ 08054-3407 (phone 856-787-0022; fax 856-787-0055), Booth 3335.
--- PAGE BREAK ---
• Particle-Size Measurement. The S3500 Tri-Laser is a solid-state laser particle-sizing instrument that measures sizes from 0.04 to 3,000 microns with wet or dry materials. The instrument measures particle size in seconds and replaces sieve, sedimentation, and other types of sizing systems. Microtrac, Inc., 12501-A 62nd St. N., Largo, FL 33773 (phone 727-507-9770; fax 727-507-9774; www.microtrac.com), Booth 1912.
• Particle-Size Analyzers. The Nicomp DLS Submicron Sizer and the AccuSizer Single Particle Optical Sizer may be used to measure particle sizes covering a range of 0.003B5,000 microns for wet and dry applications. Modular accessories allow online sampling, batch autosampling, Zeta potential measurement, and syringe sampling. Particle Sizing Systems, 8203 Kristel Cl., Port Richey, FL 34668 (phone 727-846-0866; fax 727-846-0865; www.pssnicomp.com), Booth 3400.
• Digital Refractometer. The Palette-alpha series is a new series of digital refractometers that feature high accuracy, temperature compensation, measurement temperature display, and three programmable user scales. The company will also feature a Pocket series of handheld refractometers, inlcuding the PAL-1 0-53% Brix handheld and the PAL-2 45-93% Brix units. Atago U.S.A., Inc., 13005 N.E. 126th Pl., Kirkland, WA 98034 (phone 425-821-9050; fax 425-825-5525; www.atago.net), Booth 1896.
• Refractometers and Polarimeters. A wide range of instruments are available, from hand-held (Eclipse) refractometers for "on-the-spot" Brix measurement to digital and Abbe models. The RFM series of benchtop models includes the RFM 340s, 700s, and 800s which have a Peltier system for internal temperature control. The company also offers online refractometers for continuous monitoring of Brix levels. Additional products include automatic and mechanical polarimeters and Lovibond tintometer colorimeters. Bellingham & Stanley, 1000 Hurricane Shoals Rd., Ste. D-300, Lawrenceville, GA 30043 (phone 770-822-6898; fax 770-822-9165), Booth 3495.
• Process Manufacturing Software. The BatchMaster Enterprise is a system of software modules that assist the food manufacturing process. Enterprise 7.20 is the latest release. The Formula/Recipe module makes it perfectly suitable for industries like Food & Beverage, Pharmaceuticals & Chemicals. This feature has the advantage of linking many finished goods with a single recipeCa basic need for many food processors. BatchMaster Software, Inc., 23422 Mill Creek Dr., Ste. 200, Laguna Hills, CA 92653 (phone 949-583-1646; fax 949-598-8144; www.batchmaster.com), Booth 0134.
• Refractometer. The new J357 (photo above) refractometer is said to be suited to the most demanding refractometer applications. It features a built-in temperature control to 1001C for measuring materials like fats and oils that are solid at room temperature. Rudolph Research Analytical, 354 Rte. 206, Flanders, NJ 07836 (phone 973-584-1558; fax: 973-584-5440; www.rudolphresearch.com), Booth 1495.
• Water Activity Meter. The AquaLab Series 3 Model TE is a temperature-controlled water activity meter that allows the user to have a temperature-stable sampling environment without the need for an external water bath. Decagon Devices, Inc., 950 NE Nelson Ct., Pullman, WA 99163 (phone 509-332-2756; fax 509-332 -5158; www.decagon.com), Booth 237.
• Refractometers. A full line of refractometers, from handheld to fully automated benchtop units featuring Peltier temperature control, is available.Reichert, Inc., 374 Walden Ave., Depew, NY 14043 (phone 716-686-4500; fax 716-686-4555; www.reichertai.com), Booth 2692.
--- PAGE BREAK ---
• Data Logger. The HygroLog NT data logger/digital transmitter features digital humidity technology and a memory card for storing data. The company offers a wide array of probe options, up to 7 probes per instrument. Data retrieval may be accomplished via a network with a local display and keypad option. Rotronic Instrument , 160 E. Main St. Huntington, NY 11743 (phone 631-427-3898; fax 631-427-3902), Booth 774.
• Density Determination. The Grabner Minidens uses air-displacement technology for the density and API gravity determination of solids, powders, and liquids. The 59B951F temperature range eliminates the need to extrapolate results from a chart. According to the company, the 4-mL volume promotes rapid cooling and reduces waste. Petrolab Co., 874 Albany-Shaker Rd., Latham, NY 12110 (phone 518-783-5133; fax 518-783-5185; www.petrolab.com), Booth 1788.
• Chromatography Products. HPLC and GC columns are available from a single source. Also offered are supplies and instrumentation for GC, HPLC, IC, TLC, sample handling, and filtration. New products being featured include the ELSD for oil and carbohydrate analysis. Alltech Associates Inc., 2501 Waukegan Rd., Deerfield, IL 60015 (phone 800-458-3769; fax 847-948-1078; www.alltechweb.com), Booth 2892.
• Mercury Analysis. The Mercur unit uses atomic fluorescence measurement for mercury analysis in a wide linear range of concentrations. According to the company, the advantages of atomic fluorescence is an expanded linear working range and improved sensitivity. Analytik Jena USA, Inc., 26009 Budde Rd., Ste. D-100, The Woodlands, TX 77380 (phone 281-367-6130; fax 281-367-6730; www.analytik-jena.com), Booth 3511.
• Volatile Compound Measurement. The TV9000 Food may be used for the measurement of volatile substances. According to the company, unlike instruments such as gas chromatography or gas chromatography/mass spectrometry, this instrument does not require trained personnel. Sampling is done using SPME, and detection is done using a FID. Brechbuehler Inc., 18542 Carrot St., #409, Spring, TX 77379 (phone 281-370-9290; fax 281-370-9259; www.brechbuehler.com), Booth 3587.
• Sample Mill. The LC-123 Fritsch Mini-Mill is a new pulverizing mill that may be used for reducing very small quantities (5 mL or less) with maximum recovery and minimum sample loss. Applications include sample preparation for chemical ingredient analysis, mass spectrometry, genetic and precious materials. Gilson Co., Inc. 7975 N. Central Dr., Lewis Center, OH 43035 (phone 800-444-1508; fax 800-255-5314; www.globalgilson.com), Booth 0873.
• Standard Reference Materials. NIST SRM 2385 Certified Slurried Spinach is a standard reference material consisting of small jars of slurried spinach, which is pure spinach that's been blanched, pureed, and passed through filters. The concentrations of vitamins and other constituents have been measured and certified, so the food industry can use the standard to validate analytical methods and provide accurate nutrition information for its products. NIST Standard Reference Materials, 100 Bureau Dr., Stop 2310, Gaithersburg, MD 20899 (phone 301-975-3774; fax 301-926-0416; www.nist.gov/srm), Booth 2387.
• Physical Testing Instruments. Physical testing and inspection instruments for the food, coatings, and related industries will be featured. Instruments on display will include the LFRA Texture Analyzer, digital electronic hydrometer, and electronic refractometers. Paul N. Gardner Co. Inc., 316 N.E. 1st St., Pompano Beach, FL 33060 (phone 954-946-9454; fax 954-946-9309; www.gardco.com), Booth 3514.
--- PAGE BREAK ---
• Portable Refractometer. The new LR02 E0asy Start portable benchtop laboratory refractometer with automatic start measurement features will be exhibited. The user simply closes the cover, without pushing any buttons, and the unit measures the refractive index of the sample, calculates its concentration, and presents the value on the back-lit LCD display. Maselli Measurements, Inc., 7746 Lorraine Ave., Ste. 201 Stockton, CA 95210-4234 (phone 209-474-9191; fax 209-474-9241; www.maselli.com), Booth 3191.
• Oxygen Sensor. The Foxy-Lite Handheld Oxygen Sensor is said to combine the convenience of handheld operation with the advantages of optical sensing. The instrument uses time-resolved fluorometry and sol-gel based optical sensing technology to enable a variety of oxygen-sensing applications, including through-the-package sensing. Unlike electrodes, the unit consumes no oxygen and can be used in contact with viscous samples such as salad dressing. Oxygen values can also be shown in ppm, % oxygen, or user-defined units. Ocean Optics, 380 Main St., Dunedin, FL 34698 (phone 727-733-2447; fax 727-733-3962; www.oceanoptics.com), Booth 3339.
• Laboratory Products. Weber Scientific is a distributor of a wide range of specialized laboratory equipment and supplies to dairy and food laboratories throughout North America. They are an authorized distributor for many leading laboratory product manufacturers' including Becton Dickinson Microbiology Systems, Kimble, Orion, ERTCO, Nasco, Gerber, and IDEXX. Weber Scientific, 732 Kuser Rd. Hamilton, NJ 08691 (phone 609-584-7677; fax 609-584-8388; www.weberscientific.com), Booth 0719.
• Microwave Laboratory Instrumentation. The Smart Trac Fat and Moisture Analyzer is said to yield results in min without solvents or frequent calibration.The Smart System 5 Moisture Analyzer offers results in min for a variety of sample types from 0.1 to 99.9% moisture. The Mars line of microwave digestion/extraction systems provides sample preparation for difficult matrices. The Phoenix Ashing System provides rapid results with cool, clean operation. CEM Corp., 3100 Smith Farm Rd., Matthews, NC 28104 (phone 704-821-7015; fax 704-821-8710; www.cem.com), Booth 0674.
• Electronic Nose. The zNose is based on flash chromatography. According to the manufacturer, it is the only electronic nose with the ability to speciate and measure the concentration of individual chemicals in 10 sec. The unit creates chromatograms, virtual chemical sensors, and/or 2D images. The portable design allows for use in the field or the laboratory. Electronic Sensor Technology, 1077 Business Center Cl., Newbury Park, CA 91320 (phone 805-480-1994; fax 805-480-1984; www.estcal.com), Booth 1999.
• Test Strips. Instruments, field kits, and strips for analysis of all types of water will be exhibited. Featured will be total N and P tests, a total chlorine meter, peracetic acid strips, and chlorine dioxide strips. Lamotte Co., 802 Washington, Chestertown, MD 21620 (phone 410-778-3100; fax 410-778-6394; www.lamotte.com), Booth 3337.
• Moisture Analyzer. The new Mark 3 moisture analyzer is designed for moisture/solids testing of materials as low as 20 ppm. The unit is composed of a monolithic balance milled from an aerospace-grade alloy. There is no tolerance stack-up and no potential for human error in assembly. The system is not affected by thermal variations caused by varying expansion/contraction coefficients, as it is made from one metal. Omnimark Instrument Corp., 1320 S. Priest Dr., Ste. 104, Tempe, AZ 85281 (phone 480-784-2200; fax 480-784-4738; www.omniwww.com), Booth 2914.
--- PAGE BREAK ---
• Spectrometer. The DA7200 Diode Array NIR may be used for nondestructive food testing. The heterogeneity of finished foods makes it difficult to analyze products such as breakfast cereals or snack foods without any sample preparation. According to the company, this unit is ideal for analyzing food and ingredients without sample preparation. The analysis results are used to verify incoming ingredients, provide greater process control, and verify final products. The unit can measure moisture, protein, oil/fat, sugars, fiber and many other parameters in products such as flour, grain, cereals, snack foods, and mixes. Perten Instruments, 6444 S. 6th St. Rd., Springfield, IL 62707 (phone 217-585-9440; fax 217-585-9441; www.perten.com), Booth1513.
• Scientific Instruments. Equipment and software for improving manufacturing processes and quality assurance are being offered. Product lines include Orion Lab Products, Orion Titrators and Orion On-line Water Analyzers. Thermo Electron, 166 Cummings Center, Beverly, MA 01915 (phone 978-232-6000; fax 978-232-6015; www.thermo.com/water), Booth 1791.
• Liquid Chromatography. The Acquity Ultra Performance LC System is designed for liquid chromatography and liquid chromatography/mass spectrophotometer applications. Waters Corp., 34 Maple St., Milford, MA 01757 (phone 508-478-2000; fax 508-872-1990; www.waters.com), Booth 3327.
• Color Measurement. Portable, benchtop, and online color measurement systems for the food industry may be used for measuring raw materials through the finished product, including liquids such as juices; solids such as spices, seeds, and meats; and to nonuniform products such as cereals and snack foods. Hunterlab, 11491 Sunset Hills Rd., Reston, VA 20190 (phone 703-471-6870; fax 703-471-4237; www.hunterlab.com), Booth 1421.
• Data Tracer. The DataTrace Micropack III Tracers may be used for monitoring temperature, humidity, pressure and 4-20mA. Software for the tracers allows for data collection, analysis, and presentation. Mesa Labs., Inc., Datatrace Div., 12100 W. 6th Ave., Lakewood, CO 80228 (phone 303-987-8000; fax 303-987-8989; www.mesalabs.com), Booth 2592.
by JAMES GIESE
Internet Editor
[email protected]