When you travel to Las Vegas for the newly packaged IFT Annual Meeting + Food Expo® in July, you will again have the opportunity to experience a perspective on future food and beverage packaging.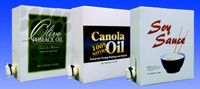 This year, IFT's Food Packaging Div. will be offering seven sessions embracing 67 presentations, not counting poster sessions. In addition, about a dozen or so exhibitors will be demonstrating their latest technologies engineered to provide solutions for many of the challenges faced by food and beverage—and especially ingredients—processors.
Although you are not guaranteed a peek into the vast tomorrow of food and beverage packaging, you are promised great insights into some of the more intriguing arenas, such as polyester and polyolefin containers; the potential role of nanocomposites; the spectacular rise of convenience through packaging; films and coatings; the ever-elusive antimicrobial films; sensors built into packaging; biopolymers; the almost-forgotten biodegradable materials; and ultrasonic sealing.
There are so many more that you will be compelled to read the IFT Web site for the Annual Meeting + Food Expo (www.am-fe.ift.org); the Program and Exhibit Directory when you arrive; and the September post-show issue of Food Technology, which will provide a summary of the total impact of food and beverage packaging beyond merely protecting and containing the foods and beverages you consume in the foodservice establishments, on the show floor, and in the hospitality suites.
This preview will provide highlights of selected presentations and exhibits related to packaging.
Polyester and Polyolefin Containers
The Tuesday afternoon symposium, "Evolutionary Trends in PET and Polyolefin Containers" (Session 22), organized and chaired by Joe Marcy of Virginia Tech and Barbara Blakistone of Graham Packaging, will feature five in-depth discussions of the new pasteurization; the ever-growing sensory problems; ethylene vinyl alcohol as a flavor barrier and oxygen barrier; and the emergent discipline of shelf-life prediction through the prism of plastic containers.
J.W. Tobias, consultant, predicts that the next level for polyester will be in packaging pasteurized foods such as pickles (whatever happened to the Vlasic initiative in this technology three years ago?), sauerkraut, peppers, and maraschino cherries. This iteration tracks the increase in polyester temperature resistance to 205°F during the past decade to permit hot filling of apple and tomato sauces and jams. Paper 22-1.
--- PAGE BREAK ---
Jay Arnold of Graham Packaging will review the progression of polyester technology from carbonated beverages through hot filling of fruit beverages into the new realm of post-fill pasteurization. He suggests the edge of retortable bottles that stretch the boundaries of polyester and polyolefins as plastic package material structures. Paper 22-2.
The critical issues of sensory interactions of polymer package materials will be probed by J.B. Webster of Virginia Tech. Acetaldehyde's undesirable influence—long addressed by both carbonated-beverage and polyester interests—will be a foundation for discussions of flavor scalping and means for obviating this usually deteriorative effect. A contemporary challenge is to reduce the visible-light-oxidative accelerant that materializes with meeting the perceived consumer desire for package transparency. Paper 22-3.
M.T. Stevens of instrument-maker Mocon plans to introduce a novel method for shelf-life prediction, illustrated by its application to polyester packaging. Paper 22-5.
Nanotechnology
Oddly, the only packaging presentation on the highly publicized and controversial arena of tortuous path enhancement of plastic barrier (incorporation of inorganic physical barriers to the flow or diffusion of gas in the plastic matrix) is from the U.S. Army Natick Soldier Center. This group has been seeking mechanisms to improve the operational and performance characteristics of packaged combat rations and to simultaneously decrease the environmental insult.Several montomorillonite nanocomposites were studied in concert with polyethylene, ethylene vinyl alcohol, and polyester to determine dispersion and compatability. Extrusion into films demonstrated improvements in barrier properties and thermal stability.
Convenience Packaging
Symposium 52, "Convenient Food Packaging for On-the-Go Lifestyle," on Wednesday afternoon is perhaps the most sensational of all the many great sessions on the interface of packaging and food. Organized and moderated by Leslie Cook of Cryovac, Teri Mascuch of McCormick, and me, this symposium addresses the incredible world of how packaging has literally altered how we as consumers eat, drink, dress, behave, and even think. This group of industry and university thinkers promises to disturb your preconceptions. They show that convenience is the principal value measured by consumers in their food choices. (And you thought that consumers made their food selections on the basis of price, microbiological safety, nutritional value, or alleged health benefits.)
With a string of true on-the-shelf successes, designer Chris Bailey will recite the empirical standards that his experience has led him—and his contemporaries—to apply to their food packaging design projects in this millennium. Paper 52-1.
--- PAGE BREAK ---
And to punctuate the Bailey thesis, new-products guru Lynn Dornblaser will list the successes and failures of the past year's 15,000-plus new food product introductions. Her enumeration and insightful commentary will demonstrate the overriding power of building convenience into the packaging to lead to consumer purchase and repeated use. Paper 52-2.
My own contribution will be a cross-section of examples of the most important packaging developments of the past 50 years, to demonstrate that despite the imperative of protection and product, convenience of access and use are indispensable to consumers' demand for whatever the food scientists and technologists concoct and develop in the laboratory and culinologists formulate in their kitchens. Paper 52-3.
To ensure that the experiential data are not simply biased perspectives on the obvious, Bob Underwood of the University of Alabama, Birmingham, will cite some of his many unassailable peer-review studies that have established a quantitative foundation for the great work of the food packaging developer/designers. Paper 52-6.
Reinforcing all the history and data will be actual anecdotal evidence presented by representatives from three of America's great food and packaging organizations— Kraft, Hershey, and Cryovac Sealed Air. Skeptics who somehow doubt the theory and reality will have to cope with the policies and practices of some of our leading companies (as much as we should like to believe that the product is the core value, packaging is the first signal to the consumer). Convenience derived from packaging must be reckoned as one key to consumer perception. Papers 52-4, 52-5, and 52-7.
Hurdle Technologies
Symposium 74 will address "Emerging Trends in Hurdle Technologies." A paucity of visibility has undermined the under-appreciated hurdle technologies, and perhaps this session will help to establish this elusive discipline within our profession. With all of the sound data and information, too much still might be dazzle and hyperbole. In a session focusing on such topics as low-dose irradiation, ultra-high pressure, and the venerable modified atmosphere, only one paper actually reads "packaging." Jung Han's review of antimicrobials in packaging systems is an attempt to position this as-yet anomaly into the mainstream of combination technologies somewhere. Promises, promises—unfilled promises. Why? The University of Manitoba's young professor will describe many of the influencing variables such as pH, atmosphere, sanitation, nutrients, and water content to try to set a path to implement the promise, sooner rather than later. Paper 74-2.
But have no fear, for also among the papers in the symposium are results of nisin, sulfur dioxide (in charcoal), lysozyme chitosan, pediocin from corn zein, lactoferrin, lactoperoxidase, chitosan-gelatin, oregano, combinations of chitosan and oregano, and nisinchitosan as in-or on-package antimicrobials—an amazing list.
Poster Sessions
Without in any way minimizing the 42 contributed poster papers on applications of edible coatings, films, and sensors, IFT's Food Packaging Div. presentations are crammed into concurrent sessions on Thursday morning, making it very difficult to fathom how interested students can participate in both sessions.
--- PAGE BREAK ---
In addition to the antimicrobials listed above, attendees can be informed about recent research results on antioxidants, pastification of edible films (the reduction of brittleness and stiffness by addition of a "softening" agent so that the film can be rendered flexible), irradiation residues, biodegradable films, and crystallization inhibitors. And, surprise, there's one paper that details oxygen and water vapor barrier—one key purpose of packaging—of one edible film.
How many edible films are covered by these papers? Let us count the diversity: starch acetate, pea starch, whey protein, alginate-calcium, fish protein, surimi wash water, cassava starch, cassava-starch-gelatin, zein, chitosan-polypropylene, and many more—all in two concurrent sessions. One might question this investment in edible films, while we still struggle with the basic barrier properties of polyethylene, polypropylene, and polyester, which are everyday issues. With all of this effort, can mainstream hydrocarbon-based polymeric packaging have a future? Tune in next year for the next chapter in this continuing saga.
But the concluding IFT Food Packaging Div. technical oral session on Thursday afternoon—Session 95—really probes some of the pressing questions of food packaging: residual solvents, evaluation of ultrasonic sealing of aluminum foil laminations, effects of irradiation on plastics, partition coefficients, solubility parameters, and migration. All report results of laboratory research on topics that have beset food packaging technologists for years and will probably continue to puzzle us for many more years, in spite of the fine work being presented at this event.
Curiously absent from this extensive time spent on films are issues on can formats, shapes, and coatings; retort pouches; aseptic and extended-shelf-life packaging; and paperboard, still the largest-volume package category in this country and the world. How does the most important technical food packaging conclave in the world barely touch these dominating forces? Might the organizers think that we have resolved all the myriad of challenges that have been with us historically or have appeared with current applications? Although flavor scalping is mentioned, it hardly received the attention it warrants today. The same editorial comment might apply to heat-seal integrity and its measurement, thermal processes for the new shapes of ambient-temperature shelf-stable foods, sterilants for extended-shelf-life liquid foods, and how to better preserve the "fresh" in both ambient-temperature shelf-stable and minimally processed foods. Resources should be invested to objectively evaluate all the bewildering array of food packaging product and technology offerings from all the world's suppliers, including active packaging, radiofrequency identification, barrier case-ready meat, and so forth.
Exhibits
The Food Expo exhibits will again be overwhelming. Merging participation in meetings with the lure of the floor and its spectacular demonstrations (and yummy samples) requires extraordinary juggling by IFT food scientists and technologists. Here are descriptions of some of the packaging exhibits:
• Retortable Carton.Tetra Pak's Tetra Recart, the world's first retortable carton, offers food manufacturers a new and innovative packaging option for prepared foods such as vegetables, soups, ready meals, fruit, pasta meals, sauces, salsas, and pet food. The package is this year's winner of IFT's Food Technology Industrial achievement Award. Tetra Pak also supplies an array of innovative long-life packaging and processing solutions that lock in the freshness and flavor of foods, naturally. The company's aseptic technology helps keep even the most sensitive foods like fresh milk safe, nutritious, and naturally delicious for months—without the need for refrigeration or preservatives. Tetra Pak, 101 Corporate Woods Pkwy., Vernon Hills, IL 60061 (phone 847-955-6000, fax 847-955-6500, www.tetrapakusa.com), Booth 2686.
--- PAGE BREAK ---
• Bag-in-Box. Bag-in-box pioneer company Scholle will demonstrate its new product line for containment of edible oil to replace pails, steel cans, and drums. The nonreturnable bag-in-boxes are capable of holding from 1 L to 8,000 gal of salad, canola, olive, peanut, corn, and other vegetable oils used in foodservice or industrial applications. Shown in photo at bottom are 5-L edible-oil boxes. Also available are bulk containers for processors who ship large quantities of liquid or viscous products by truck, rail, or sea—the reusable Multibulk® and the one-trip Solobulk™, which holds about 6,000 gal of product. Scholle Corp., 200 W. North Ave., Northlake, IL 60164-2490 (phone 708-562-7290, fax 708-409-4473, www.scholle.com), Booth 2757.
• Bulk Shippers. Under the trade name Liquiplex®, Longview Fibre will display one-way film-lined corrugated fiberboard containers (shown at right)received flat and erected in-plant for distribution of bulk quantities of dry or liquid ingredients and foods. Longview Fibre Co., 300 Fibre Way, Longview, WA 98632 (phone 770-951-2733, fax 770-951-2459 (www.longviewfibre.com), Booth 3466.
• Flexible-Packaging Converting. Gateway Packaging makes multiwall bags, flexible packaging, pressure-sensitive labels, convolute or spiral wound labels, and heat-seal closures for foodservice and tamper-evident applications. The company also offers graphic design and production. Narrow- and wide-web flexographic presses can print up to eight colors plus UV coating or varnish. Gateway Packaging Co., 20 Central Industrial Dr., Granite City, IL 62040 (phone 618-451-0010, fax 618-876-4856, www.gatewaypackaging.com), Booth 3435.
• Liquid Bulk Containers. The 300-gal Exo-Bin is a returnable, collapsible, liquid bulk container for food-grade materials. Made from 100% plastic and composite components, it eliminates wood from the food processing system and reduces inventory, labor, and fumigation compared to wooden bins. The recyclable EZ-Bulk corrugated container system is designed for one-way, economical shipments of food-grade liquids. Aseptic, dairy, and kosher applications are available, and specialty liners allow 100% evacuation of products up to 1.5 million cP. Paper Systems, Inc., 321 S.W. 4th St., Des Moines, IA 50309 (phone 515-280-1111, fax 515-280-9219, www.papersystems.com), Booth 725.
When we tread the exhibition, we shall doubtless find more and perhaps more-intriguing representations of food packaging innovation. See the post-show Packaging column in the September issue of Food Technology for more-complete coverage of packaging exhibits at this year's Food Expo.
by AARON L. BRODY
Contributing Editor
President and CEO,
Packaging/Brody, Inc., Duluth, Ga.
[email protected]