The number of sessions on nonthermal processing at this year's IFT Annual Meeting + Food Expo® far eclipse the few on more-conventional thermal processing. Here are brief descriptions of selected papers on various nonthermal processes, as well as some of the exhibits related to processing.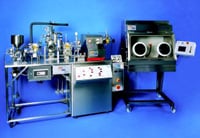 High Pressure
• B.G. Swanson, Washington State Univ., will describe modifying functional properties of dairy products by ultra-high pressure (UHP). UHP treatment alters the structure and functionality of milk proteins. It disrupts casein micelles, providing an innovative process for the formation of yogurt gels exhibiting unique micellular aggregates and gelation. It also disrupts the native secondary structure of whey proteins, beta-lactoglobulin, providing an intermediate molten-globule structure with enhanced hydrophobic character and functionality. UHP treatment of milk prior to Cheddar cheese making results in increased cheese yields and no detrimental effects on cheese flavor. Paper 6-2.
• M.F. San Martin-Gonzalez, Univ. delas Americas, will present cheese manufacturing assisted by UP. High-pressure (HP) treatment causes unique effects on proteins and other food components that could be advantageously used in the dairy industry. Although commercial HP application is currently limited to the processing of guacamole, oysters, juices, and fruit jams and jellies, this technology offers potential to be applied in cheese manufacture. HP processing can be used either for treating the milk prior to cheese making or for treating whole cheeses. Paper 6-3.
• G.V. Barbs-Canvas, Washington State Univ., will describe the manufacturing of yogurt from full-fat milk subjected to high hydrostatic pressure (HP). This modification to the conventional process leads to yogurt having similar water holding capacities and yield stress. The combined action of HP for micelle disruption and thermal treatment for whey protein denaturation results in yogurt having less syneresis and improved functional properties such as yield stress and elastic modulus. Paper 6-5.
• A. Giron, Oregon State Univ., will discuss a study to determine the effect of buffer selection and pH on the lethality of UP on Lactobacillus plantarum. microbial tolerance to lethal treatments is strongly dependent on environmental pH. In typical food applications, a reduction in pH often leads to a reduction in microbial tolerance and an increase in the lethal effect. High hydrostatic pressures can induce the dissociation of weak acids and in certain buffer systems may result in a temporary reduction in pH. Paper 49H-2.
• A. Bayindirli, Middle East Technical Univ., will describe the effect of combined treatment of HHP and mild heat on peroxidase inactivation in green beans, peas, and carrots. A common method of preventing changes in quality due to enzymatic activities is blanching vegetables prior to processing. Peroxidases are known to be the most heat-stable enzymes in vegetables, and their inactivation is usually used to indicate the adequacy of blanching. HHP can be used to inactivate the enzymes. Enzymes can be ranked according to the their increasing pressure resistance in the following order: lipoxygenase, pectinesterase, lipase, catalase, polyphenol oxidase and peroxidase within a pressure range of 0.1–600 MPa at 25–60°C. Paper 49H-6.
--- PAGE BREAK ---
• M.P. Cano, Instituto del Frio-CSIC, will discuss the effect of combined treatments of high pressure, citric acid, and sodium chloride on carotenoid content and antioxidant activity of tomato puree. High-pressure treatment reduces microbial counts and enzyme activity and offers new advantages to process fresh fruit/vegetable juices minimizing chemical changes. Paper 49H-7.
• F. Bozogulu, Middle East Technical Univ., will describe the effect of storage temperature on recovery of injured foodborne pathogens in HHP-treated milk. The ability to inactivate foodborne pathogens between 300 and 600 MPa without affecting quality characteristics of foods has increased the interest in HHP applications to milk and dairy products. Although HHP-treated cell membrane showed altered permeability, the primary pressure damage occurs at Pressures of 400 MPa or higher but damage of ribosomal units were observed at pressures lower than 400 MPa. Paper 49H-9.
• E. Murakami, National Center for Food Safety & Technology, will discuss a study to determine whether adding either CO2 or air during HPP can increase the rate of inactivation of E. coli and Lactobacillus innocua. HPP of food products is very dependent on processing pressure, temperature, and time. The addition of gas with the sample may allow for enhanced destruction of microorganisms and thus potentially lower operating process parameters, resulting in products with fresh quality. Paper 49H-11.
• H. Alpas, Middle East Technical Univ., will describe the effects of HHP on shelf life of lager beer, compared to heat pasteurization. Paper 49H-12.
• A.R. Marselles-Fontanet, Univ. of Lleida, Spain, will describe the effects of three nonthermal treatments—UV radiation, HPP, and high-intensity pulsed electric fields (PEF)—on survival of the spoilage organism Saccharomyces cerevisiae in grape juice. Paper 49H-14.
• E.J. Lee, Korea Food Research Institute, will present the effect of hydrostatic pressure on Ca, Mg, and ATPase activities and soluble protein of myofibrillar protein extracted from bovine Semitendinosus. The author will also describe the inactivation rates of ATPase activity induced by hydrostatic pressure on myofibrillar protein from bovine Semitendinosus, compared to heat-treated myofibrillar protein. Papers 49H-15 and 49H-17.
• A.A. N. Lima, Univ. of Campinas, will discuss the inactivation of Lactobacillus brevis by UHP homogenization in phosphate buffer and beer. The microorganism produces gums, turbidity, and spoilage in beer. Paper 49H-16.
• M. Lecky, Univ. of Florida, will discuss continuous high-pressure CO2 processing of watermelon juice. Flavor of watermelon juice is especially vulnerable to thermal degradation. High-pressure carbon dioxide has the potential to cold-pasteurize the juice and bring stability to the watermelon market. Paper 49H3.
• L.S. Jova, Univ. College Cork, will present preparation of emulsions of orange peel oil in orange juice by high-pressure homogenization (HPH). In addition to breaking up fat globules, HPH has been shown to affect colloids, enzymes, microorganisms, and many functional properties of emulsions. To obtain enriched-vitamin juices, it may be necessary to homogenize an organic phase in the juice to contain the fat-soluble vitamins. This study investigated the effect of HPH on the stability of an emulsion containing orange peel oil in orange juice, with or without emulsifiers. Paper 49H-22.
--- PAGE BREAK ---
• M. Kabadi, National Food Safety Center, will discuss quality of egg patties treated at up to 700 MPa and 121°C. Producing minimally formulated shelf-stable egg products through conventional thermal processes results in discoloration. HPP produces a product free of color taint, but syneresis, texture changes, shifts in pH, and faint flavor changes are possible under suboptimal conditions. The objective was to study the effect of packaging, pre-heating, and HPP on physicochemical characteristics and quality of formulated egg patties. Paper 49H-24.
• J.H. Lee, Kyung Hee Univ., will explore the use of UHP to develop a new nonthermal starch hydrolysis method.. Most UHP investigations of food systems have focused on the behavior of microorganism, inactivation of enzymes, and functional properties of proteins. Limited information is available on other biopolymers, including starch. Paper 49H-19.
• P. Juliano, Washington State Univ., will discuss optimization of high-pressure thermal sterilization conditions for formulated egg products. Few formulated ready-to-eat egg products in today's market can provide long-term shelf stability as well as consumer convenience. HPP and its combination with heat have been identified as a promising approach for food sterilization. This study determined the adequacy of different high-pressure thermal sterilization conditions for three egg product formulations. Paper 49H-20.
• M. Estrada-Giron, Washington State Univ.,will discuss the retention of isoflavones in soymilk and buffer solutions using HHP. The beneficial properties of soybean isoflavones are gaining more attention in the last few years, particularly the health-enhancing dietary compounds. The objectives of this study were to determine the effect of HHP on retention of isoflavones in buffer solutions and soymilk compared to traditional methods. Paper 49H-26.
• F.P. Campos, State Univ. of Campinas, will describe the shelf life evaluation of orange juice processed by UHP homogenization as an alternative to thermal pasteurization. Paper 49H-27.
• J.A. Guerrero-Beltran, Washington State Univ., will present the shelf life of HHP-processed peach purée with antibrowning agents. HHP can be applied to fruit products to reduce the microbial load and to denature enzymes such as polyphenoloxidase (PPO). Antibrowning agents can be added to reduce the browning discoloration due to the remaining PPO activity after HHP processing. Paper 49H-28.
• E.W. Ross, U.S. Army Natick Soldier Center, will discuss properties of the quasi-chemical mechanistic model for bacterial growth and death by nonthermal technologies. The quasi-chemical model represents the convergence of predictive microbial modeling and the principles of chemical kinetics and has been used successfully to model growth-decline kinetics, survival, and inactivation of pathogens in foods controlled by hurdles. With minor modifications, the model can evaluate linear and nonlinear microbial inactivation kinetics by HPP as functions of pressure and temperature. Paper 66-1.
--- PAGE BREAK ---
• D. Guan, Univ. of Delaware, will describe results of an inactivation study of Salmonella Typhimurium DT104 in UHT whole milk treated by HPP (350, 400, 50 MPa) at ambient temperature. Different patterns of HPP inactivation kinetics observed with various microorganisms make it difficult to assume first-order kinetics, so kinetic studies are therefore necessary to design, evaluate, and optimize HPP for product application. Paper 66-2.
• A.W. Wolf, Univ. of Wyoming, will present results of a study to determine if HHP, in conjunction with bacteriocins of lactic acid bacteria, could destroy E. coli O157:H7 in inoculated, vacuum-packaged frankfurters after extended refrigerated storage. Paper 66-3.
• P.S. Taoukis, National Technical Univ. of Athens, will discuss thermal and HHP inactivation kinetics of ficin and papain, which have been used for various applications in the food industry, such as meat tenderizers and milk-clotting enzymes for novel dairy products. The author will also describe comparative kinetics of inactivation of pectin methylesterase (PME) from various sources by temperature and high pressure. Previous studies indicated that the origin of the enzyme resulted in different inactivation kinetics. Papers 66-4 and 66-5.
• H.E.I. Berg, TNO Nutrition and Food Research, will discuss effects of UHP processing on soy-based ingredients. UHP processing of liquids, chilled salads, and dressings ("cold" pasteurisation) is promising, and the technology can also be used for product development of innovative products by making "new" structures and thus new ingredients and products. Another new application of UHP is UHP shift freezing and thawing, which results in better product quality. Paper 66-7.
• J. Ahmed, United Arab Emirates Univ.,will describe the effect of HHP treatment on rheological, thermal, and color characteristics of date paste, an intermediate product of the date processing industry used for development of various products in the confectionery and baking industries, especially in the Middle East. Fruit products have shown a good promise for HPP applications with better quality retention in terms of color, flavor, and vitamin content with some changes in texture attributes. The study used two cultivars (Khalas and Lulu) of date paste. Paper 66-8.
• B. Li, South China Univ. of Technology, will present the effect of HHP on the sensory properties of mango juice, with special focus on the changes in volatile components. Mango, one of the most commercially important tropical fruits in the world, is widely accepted by consumers for its aroma and flavor. Paper 669.
• D.G. Hoover, Univ. of Delaware, will present the Nonthermal Processing Division Lecture on viral inactivation by HHP. Infectious human viruses redominate as causative agents of food borne illness. This presentation will overview HPP as an intervention strategy against important foodborne viruses, such as the noroviruses and hepatitis A. Paper 88-1.
--- PAGE BREAK ---
• J.B. Rose, Michigan State Univ., will discuss novel approaches for inactivation of Cryptoporidium parvum in water and food. The association of the coccidian protozoan with diarrheal disease outbreaks from contaminated tap water and fruit juice raises a safety concern in the food and beverage industries. The effects of HHP, UV irradiation, and high-energy electron irradiation on C. parvum oocyst infectivity was evaluated using cell culture Foci Detection Method (FDM). Paper 88-5.
• F.M. Dong, Univ. of Illinois, Urbana-Champaign, will describe results of a study to determine the suitability of HHP to kill Anisakis simplex nematodes in raw Pacific halibut and arrowtooth flounder and to determine the effect on the color of wild-caught king salmon. Entrees of sashimi and sushi containing raw finfish are becoming increasingly popular in the U.S. A food safety concern is that wild-caught, cold water finfish, such as salmon, often contain A. simplex, a human pathogen commonly present in the larval stage in fish intestines. The nematode will migrate into the flesh of the fish after harvest and pose a health risk if the fish is not frozen according to the time/temperature treatment recommended by the Food and Drug Administration prior to consumption. Paper 88-6.
• C.J. Doona, U.S. Army Natick Soldier Center, will discuss a study that screened E. coli, Staphylococcus aureus, Listeria monocytogenes, or Bacillus stearothermophilus spores in model food systems (starch or protein suspensions) over a range of experimental conditions of pressure and temperature. The researchers determined that the inactivation kinetics of E. coli ATCC 11229 in whey protein suspensions were the most suitable for discerning the roles of pressure and temperature for effecting microbial inactivation using HPP. Paper 88-7.
• R. Vimini, Perdue Farms, Inc., will describe results of a study of HPP of ready-to-eat poultry. The study determined the effect of varying pressures, dwell times, and temperatures on the growth of L. monocytogenes, microbiological and sensory shelf-life performance, and physical properties of the product and package for a variety of vacuum-packaged and modified-atmosphere-packaged ready-to-eat poultry products. Paper 102-5.
Pulsed Electric Fields
• W. De Haan, Stork Food & Dairy Systems, will discuss milk pasteurization by PEF, which inactivates vegetative microorganisms. Spores (bacterial as well as as-cospores) cannot be inactivated by PEF, and it has limited influence on enzymes. It can be applied to liquid products with and without solid particles. The treatment has no influence on color, flavor, and nutrients and a limited effect on structure. Consequently, the process is of interest for products with an extended refrigerated shelf life, whose quality is adversely affected by thermal processing. PEF may prove very attractive for products like yogurt, with and without pieces of fruit. Paper 6-4.
• Z.T. Jin, Ohio State Univ., will describe the development of shelf-stable, high-acid viscous foods with or without particulates by a combination of PEF and mild heat treatments. Previous research showed that mild heating at 60–70°C for 30 sec combined with PEF treatment enhanced the effectiveness of microbial inactivation and extends shelf life of foods at refrigeration temperature. However, these foods, particularly high-viscous foods with particulates, were not shelf stable at room temperature. The objective of this project was to develop processing methods to overcome this problem. Paper 32-1.
--- PAGE BREAK ---
• P. Takhistov, Rutgers Univ., will discuss polarization of the cell membrane and bacterial inactivation kinetics in PEF processing. High-intensity PEF involves application of pulses of high voltage to foods placed between electrodes, resulting in inactivation of foodborne pathogens and improving microbiological safety of processed food products. The key element is cell membrane polarization followed by pore formation and/or electrical breakdown of the membrane. Three factors affecting the microbial inactivation with PEF are process parameters, pathogen-specific factors, and food product properties. Paper 32-2.
• S.Q. Li, Ohio State Univ., will describe inactivation of Lactobacillus plantarum and extension of microbial stability of a model salad dressing using a pilot-plant PEF system. The objectives of one study were to investigate the effect of PEF alone and combined with mild heat. The objectives of another study were to investigate the effect of combined processing of PEF with mild heat on the microbial stability and physical properties of selected food products at room temperature, and to evaluate the effect on the physical properties of the treated products. Paper 32-3 and 32-4.
• S. Paul, Rutgers Univ., will discuss a study designed to reveal the nature of interactions between a complex food system and an externally applied electric field. Since frequency of the applied field distinguishes each processing application from another, a variation in electrical behavior with frequency was chosen to characterize the non-ideal dielectric nature of foods. Paper 32-5.
• O. Martin-Belloso, Univ. of Lleida, Spain, will present the effects of high-intensity PEF on inactivation of PME and peroxidase in orange juice. PME causes cloud loss in orange juice, and peroxidase (POD) induces color deterioration, undesirable flavor, and nutrient losses. The author will also discuss the effect of high intensity PEF on vitamin C content and antioxidant capacity of orange juice and gzpacho, as well as the inactivation of Staphylococcus aureus in milk by combination of high-intensity PEF and nisin. Bacteriocins such as nisin are gaining interest because of their feasible food application and their wide sectrum activity against food pathogens. Papers 49H-13, 49H-33, and 49H-34.
Ozonation
• P.K. Overbeck, International Ozone Association, will describe application of ozone technology in food processing.Ozone is the strongest commercially available oxidant and disinfectant. It rapidly destroys microbiological organisms such as E. coli, coliforms, and Legionella bacteria, virus and parasitic cysts while degrading many organic contaminants present. While ozone has an internationally proven track record in more than 3,000 municipal water treatment plants and more than 1,000 FDA-regulated bottled water plants, its use in food processing and agriculture applications has recently emerged. Paper 102-2.
• J.T.C. Yuan, American Air Liquide, will discuss ozone technology in the dairy industry. Since ozone received GRAS affirmation by FDA in June 2001, there has been increased interest in its use by various segments of the food industry, ranging from production agriculture to packing and processing operations. These uses of ozone as a sanitizing agent and alternative germicide are largely in the developmental stages. This technology update will focus on the sanitation and dairy applications. Paper 6-6.
--- PAGE BREAK ---
• D.M. Graham, R&D Enterprises, will discuss Strickland Produce's use of ozone washing for its fresh-cut vegetables and and fruits for the ready-to-eat market. Lettuce is sorted, cut , washed, flumed, dewate packed in palstic bag and distributed under refrigeration. The flume water is recycled in a closed loop at 200 gal/min. After extensive pilot testing, Strickland installed a state-of-the art ozonation system in 2000. Paper 102-3.
• A.E. Yousef, Ohio State Univ., will describe susceptibility of human rotavirus to ozone, high pressure, and PEF. Rotavirus causes a food-transmitted gastroenteritis that mainly affects children. Currently, the food industry is interested in alternative food processing technologies, but research on control of food transmitted viruses by these technologies is limited. The study used human rotavirus cultured on MA104 cells. Paper 88-3.
Irradiation
• A. Mohan, National Center for Food Safety & Technology, will describe dosimetry of foods in a food-package irradiator in India. The dose distribution profile of various commodities processed by gamma radiation will be presented. Paper 49H-5.
• J. Han, Texas A&M Univ., will present quality of packaged romaine lettuce hearts exposed to low-dose electron beam irradiation. Irradiation has been shown to effectively reduce the number of food spoilage organisms and to increase the shelf life of fruits and vegetables. Studies have been conducted using gamma rays as the irradiation source, but little information is available on the effects of e-beam irradiation on fresh produce, and the effect of low-energy irradiation on food packaging materials has not been studied extensively.Paper 49H-25.
• F. Stichelbaut, Ion Beam Applications (IBA) S.A., will describe an X-ray pallet irradiator designed for food products. MDS Nordion, Inc. has proposed a new concept for the irradiation of intact pallet loads with X-rays, and IBA and MDS Nordion have decided to jointly develop this new concept under the name Palletron™. BA is pursuing the engineering and development using Monte Carlo simulations as the main design tool. Paper 49H-32.
• K.M. O'Donnell, Wegman's Food Markets, Inc., will discuss its experience in introducing irradiated fresh ground beef into the market. Paper 102-4.
--- PAGE BREAK ---
• B. Parisi, National Center for Food Safety & Technology, will describe the surface inactivation of E. coli and Bacillus pumilus spores by pulsed low-energy e-beam and ultraviolet (UV) irradiation. UV is used to decontaminate food surfaces in a wide range of applications, but surface shielding effects may protect microorganisms from UV light penetration. Pulsed low-energy electron beam (LEEB) is capable of inactivating pathogenic and spoilage organisms on the surface of a food without causing unwanted effects. Paper 49H-30.
• N. Mohd Adzahan, Cornell Univ., will present the effect of UV radiation treatment on ascorbic acid in apple juice. FDA has approved thermal pasteurization and UV irradiation as safe treatments to process apple juice and cider, but vitamin C is very sensitive to both heat and UV. Significant losses during treatment may occur with UV. The study evaluated the loss of ascorbic acid in water solutions and apple juice when exposed to UV at the energy level required to achieve a 5-log reduction of Escherichia coli O157:H7. Paper 49H-10.
• J.A. Guerrero-Beltran, Washington State Univ.,will discuss microbial reduction of S. cerevisiae, E. coli, and L. innocua in apple juice by UV. Paper 49H-18.
• E. Palou, Univ. de las Americas, will discuss short-wave UVC irradiation of watermelon juice. One nonthermal process is the irradiation of foods with shortwave UVC light. The study determined the effects of UVC, potassium sorbate addition, and pH reduction on watermelon juice microflora, color, and sensory acceptability. Paper 49H-29.
• A. Lopez-Malo, Univ. de las AmericanPuebla, will discuss surface disinfection by UVC and the use of actinometry to estimate the amount of energy (UV doses) available for disinfection. Paper 49H-31.
• J. Halsey, Milk Pail Farm & Orchard & Greenhouses, will present UV light processing of juice. Originally when the 5-log reduction regulation was introduced, pasteurization was the only option available to juice producers to achieve the required level of reduction. Recent work on UV light for application to apple cider and other beverages has offered a nonthermal alternative for juice manufacturers. Paper 102-6.
Other Nonthermal Technologies
• S. Deng, Univ. of Minnesota, will describe a study of nonthermal plasma (NTP) for pasteurization of liquid foods. NTP is electrically energized matter which generates highly reactive species, including gas molecules, charged particles in the form of positive ions, negative ions, free radicals, and electrons, and quanta of electromagnetic radiation (photons) at near room temperature. Since these reactive species can kill microorganisms on contact, NTP technologies could be used for nonthermal pasteurization and sterilization of foods and biological fluids. The author will also discuss use of NTP for disinfection of almonds, which have been reported as a source of several Salmonella enteritidis PT30 infections. Papers 32-6 and 32-7.
--- PAGE BREAK ---
• R.R. Ruan, Univ. of Minnesota, will discuss inactivation of pathogens in foods by NTP and how it can be used for nonthermal pasteurization and sterilization of foods and biological fluids. Paper 88-4.
• K.L.G. Ho, Praxair, Inc., will discuss treatment of milk and dairy-based beverages by dense-phase carbon dioxide processing, a novel process that uses liquid and supercritical CO2 to inactivate microorganisms. The presentation involves the discussion of processing alone or in conjunction with a light thermal process to provide microbiologically safe processed milk or dairy-based products with improved sensory and nutritional qualities. Paper 6-1.
• G. Folkes, Univ. of Florida, will describe pasteurization of beer by a dense-phase CO2 system. Beer is a delicate and heat labile beverage, and off-flavors are easily formed during pasteurization. The study assessed the effect on yeast colonies in beer. Paper 49H-21.
• A.V. Decastro, Sun Orchard, Inc., will discuss dense-phase (liquid) CO2 processing of orange juice. A continuous, nonthermal system developed by Praxair, Inc. and trademarked as Better Than Fresh BTF) was installed at Sun Orchard of Florida, Inc. to treat freshly extracted orange juice by inactivating microorganism.This was the first commercial-scale installation of the BTF process. Paper 102-1.
• V. Rasanayagam, American Air quide, will describe processing of orange juice using supercritical CO2. The objective was to investigate the effects of supercritical CO2 on inactivation of pathogenic and nonpathogenic organisms in freshly squeezed orange juice. Paper 49H-23.
• S.E. Woodling, Cornell Univ., will discuss effectiveness of pulsed light (PL) treatment for microbial decontamination of stainless-steel food-contact surfaces. PL, consisting of intense and short flashes of light with wavelengths from 200 to 1,000 nm, has been proven effective for killing a wide variety of microorganisms on the surface of foods and food packaging. PL decontamination of stainless-steel food contact surfaces has not previously been explored. Paper 32-8.
• D.J. Geveke, Eastern Regional Research enter, USDA/ARS, will discuss inactivation of Escherichia coli in orange FEF). This nonthermal process has been known to inactivate bacteria in apple juice at moderately low temperatures, but has not previously been applied to other juices. Paper 32-9.
• E.E. Ugarte-Romero, Univ. of Illinois at Urbana-Champaign, will describe power ultrasound as an alternative method for pasteurization of apple cider. Unpasteurized apple cider has been implicated in several foodborne illness outbreaks in recent years. Paper 32-10.
• H. Feng, Univ. of Illinois at Urbana-Champaign, will discuss deactivation of pectinmethylesterase in orange juice by power ultrasound. Pectinmethylesterase (PME) occurs naturally in orange, where it is bound by electrostatic interaction to the cell walls. PME catalyzes the de-esterification of pecticin molecules, leading to cloud loss and phase separation in orange juice. Heat treatment is the conventional method used to inactivate PME but causes flavor loss and off-flavor formation. The objectives of this study were to examine the effect of power ultrasound on the inactivation of PME in orange juice and to compare the quality of ultrasound treated samples with that of heat-treated samples. Paper 49H-4.
--- PAGE BREAK ---
• S. Carbonell, Univ. College Cork,will present the effect of high-pressure shift frezzing on the texture of raw and cooked potatoes. This technique can potentially produce the highest quality in frozen vegetables, as the fast and volume-independent freezing process produces tiny ice crystals throughout the whole product. Its impact on the texture of potatoes at the core of samples after the freeze–thaw cycle was studied in raw, cooked and sous-vide cooked potatoes and compared to normal air-blast freezing. The use of guar gum to improve texture was also analyzed, as previous studies with conventional freezing showed them to have a protective effect on texture for some potato cultivars. Paper 49H-8.
• S. Zhu, McGill Univ., will present results of a study using high-pressure calorimetry to evaluate the amount of ice crystals formed instantaneously during  depressurization of a pressure shift freezing (PSF) process with distilled water and pork muscle. PSF is a new technique that can produce small and uniform ice crystals in test samples. The process is of significant interest for improving the quality of frozen food, but knowledge in this field is still very limited. The amount of ice nuclei instantaneously formed by pressure release is crucial to the final formation of ice crystals in the PSF process. Paper 66-6.
• N. Lawrence, Boston Biomedica, Inc., will discuss potential applications of pressure cycling technology (PCT), a proprietary technology of Boston Biomedica, Inc. PCT utilizes cyclic hydrostatic pressure to control biomolecular interactions, with applications such as inactivation of pathogens, extraction of nucleic acids and proteins from cells and tissues, and purification of proteins. It is currently being evaluated for use in food safety, antibioterrorism, agriculture and agricultural, genomics and proteomics, pharmacology, environmental science, and forensics. Paper 88-2.
Exhibits
Here are some of the products related to processing that will be exhibited at Food Expo:
• Pilot-Plant/Laboratory Processing Equipment. HTST Processor operates at 0.8–4 L/min and provides the ability to process products using direct steam injection or tubular indirect heating. It is being featured with other inline options, including plate heat exchangers, microwave heaters, homogenizers, and ultra-clean filling. MicroThermics, Inc., 3216-B Wellington Ct., Raleigh, NC 27615 (phone 919-878-8045; fax 919-878-8032; www.microthermics.com) Booth 453.
Here are some of the products related to processing that will be exhibited at Food Expo: HTST Processor operates at 0.8–4 L/min and provides the ability to process products using direct steam injection or tubular indirect heating. It is being featured with other inline options, including plate heat exchangers, microwave heaters, homogenizers, and ultra-clean filling.
• Release Agent. Acatris offers more than 50 different release agents to resolve even the stickiest food processing problems. Products are available for organic, non-GMO, allergen-free, and no-trans-fat applications. The company can develop products to meet a customer's exact specifications.Acatris, Inc., 3300 Edinborough Way, Minneapolis, MN 55435 (phone 952-920-7700, fax 952-920-7704, www.acatris.com), Booth 853.
--- PAGE BREAK ---
• Hygiene Monitoring. Biotest offers the Hycon® System, a complete line of hygiene monitoring products including microbial air samplers, agar strips, and contact slides for use in a contamination-control HAACP program. The RCS Centrifugal Air Sampler is a portable, economical hand-held unit which is operated by "D" cell batteries. The agar strips provide reliable and accurate results every time. The contact slides are used to enumerate microorganisms on surfaces, including equipment, conveyers, floors, and ventilation shafts. Swab rinse kits are also available for hard-to-reach areas. Biotest Diagnostics Corp., 66 Ford Rd., Ste. 220, Denville, NJ 07834 (phone 973-625-1300, fax 973-625-9454, www.biotestusa.com), Booth 1898.
• Ozone Sanitation System. The Delzone MPI-300 Ozone Sanitation System is being introduced as an affordable ozone sanitation option for small wineries The self-contained system provides ozone-enriched cold water on demand for hard-surface sanitation and direct food contact applications. Available in wall-mounted or mobile-cart configurations, it provides 3.3-gal/min water flow with a residual ozone dose of approximately 2.0ppm at the nozzle, and with a 25-ft zone delivery hose and spray wand. Ozone is an antimicrobial agent approved by the Food and Drug Administration, the U.S. Dept. of Agriculture, and the Environmental Protection Agency and allowed by USDA's National Organic Program. It The system provides no-rinse, no-residual, continuous or on-demand sanitation. Ozone is effective at inactivating bacteria, viruses, molds, spores, yeast, mildew, and fungi. Microorganisms cannot build up a tolerance to it. Del Ozone, 3428 Bullock Ln., San Luis Obispo, CA 93401 (phone 800-676-1335, fax 805-541-8459, www.delozone.com), Booth 2329.
• Fully Automatic Retort Control System. Designed for laboratory and pilot-plant applications, the Dixie Automatic Control System provides PLCbased control that permits an operator to select any of several process modes from the main menu screen. Typical operating modes include steam cook, steam cook and pressure cool, water cook, water cook and pressure cool, overriding air pressure with water cook and cool, or manual operation (valves are opened and closed manually using the touch screen). Once a process mode is chosen, the system prompts the operator to enter appropriate setpoint data for the process mode selected. These setpoints may include Time and Temperature for vent and cook, Time and Pressure for pressure cool, and Pressure for overriding air pressure. When all required setpoints have been entered, the operator is prompted to initiate the cycle by touching the start button. Without further operator involvement, the control system automatically puts the retort through each process sequence until the cycle is complete. A permanent record of each cycle is recorded while continuous digital readouts indicate actual temperature, pressure, and time readings throughout the cycle. The system includes instruments and valves for retrofitting to existing lab retorts or as a complete System No. 5 that also includes the Dixie RDSW-3 Retort. Dixie Canner Co., 786 E. Broad St., Athens, GA 30601 (phone 706-549-1914, www.dixiecanner.com), Booth 332.
• High-Pressure Processing. An automated model of the EZ-Press technology shows how the innovative high-pressure processing design allows for easy loading on one end of the pressure vessel and easy unloading on the other end. Patented vessel technology reduces maintenance and provides long equipment life. Information on the benefits of high-pressure processing and on the commercial and laboratory systems will be available.Elmhurst Research Inc., 60 Loudonville Rd., Albany, NY 12204 (phone 518-462-5340, fax 518-462-0415, www.elmhurstresearch.com), Booth 2985.
• Datalogger/Digital Transmitter. The HygroLog NT datalogger/digital transmitter is the latest introduction in a new line of humidity instrumentation. It offers a large range of features including the HygroClip® digital h u m i d i t y technology, virtually unlimited logging capacity, wide array of probes, up to 7 probes per instrument, data retrieval via a network, and USB, RS232, and Bluetooth interface options. It has a maximum measuring range of –50 to 200°C/0 to 100% RH and a maximum accuracy of ±1.0% RH/±0.2°C.Rotronic Instrument Corp., 160 E. Main St., Huntington NY 11743 (phone 631-427-3898, www.rotronic-usa.com), Booth 774.
--- PAGE BREAK ---
• Drying, Mixing, Granulating Equipment. The Littleford Day Ploughshare Vacuum Dryer homogeneously mixes dry ingredients, injects liquids, and efficiently vacuum dries the material to a final product. The Littleford Ploughshare Technology creates a mechanically fluidized bed mix action that rapidly mixes the dry solids and facilitates the quick and even dispersion of the added liquids. Optimizing the drying process, the dryer's high-speed choppers deagglom-erate and control particle size. The unit can be configured with heating jacket, a pulseback filter, and a vacuum system. The Mixer/Granulator develops an intermediate-intensity mixing action that is gentle, yet thorough. This action, when supplemented by high-shear choppers is capable of quickly dispersing minor liquid or powder ingredients. Both the plows and chopper shafts are mounted through air purge seals which maintain a small ingress of air around the shafts at all times, nearly eliminating the chance of any material getting into the seals. The company's Technical Center is available for research and development, product formulation, or direct production scale-up, and the Mixer/Granulator can be rented. Littleford Day Inc., 7451 Empire Dr., Florence, KY 41042 (phone 800-365-8555 or 859-525-7600, fax 859-525-1446, www.littleford.com), Booth 3029.
• Color Brush Line. Color-coded brushes provide maximum traceability for today's stringent HACCP environments. The Total Color Brush line has been expanded to include ten additional brushes. With block and bristle made from the same color, these brooms and brushes feature several designs and bristle types to provide with maximum efficiency and durability. Available in five colors, they are part of the Vikan Hygiene System®, Intelligent Cleaning Technology. Remco Products, 4735 W. 106th St., Indianapolis, IN 46077 (phone 317-876-9856, www.remcoproducts.com), Booth 122.
• Hand-Held UVC Wand. The SterilWand™ uses patented UVC technology for decontamination of surfaces infested with mold, bacteria, or viruses. The user slowly passes the hand-held device closely over the contaminated surface area, allowing the energy from the 30-in-long, high-output UVC Emitter™ to decontaminate surfaces. An aluminum safety shield prevents direct exposure to UVC energy, while also adding reflectance that increases the light's effectiveness. The wand may be used to provide a fast-acting, portable method of decontaminating tabletops, walls and other surfaces. Common applications include food and beverage preparation and processing areas and yeast rooms (to reduce contamination), laboratories, and other locations. The device may also be used for mold remediation, as a supplement to other control strategies. The company also offers a complete line of installed UVC devices to decontaminate food processing and storage areas, packaging lines, air conditioning coils, and other components. Steril-Aire, Inc., 11100 E. Artesia Blvd. #D, Cerritos, CA 90703 (phone 800-278-3745 or 562-467-8484, fax 562-467-8481, www.steril-aire-usa.com), Booth 1285.
• Miniature-Scale Aseptic Processing System. A complete miniature-scale aseptic processing and packaging system capable of replicating the manufacturing process consists of the FT74DI direct steam injection HTST/UHT unit, an optional FT90 homogenizer, and the FT105 Asepto-Fill filler/closer unit. The system enables very small quantities of product (5-L batches at flow rates of 10–20 L/hr) to be processed and filled aseptically into sterile packaging. Processing of all stages is continuous, and steady-state conditions are reached and maintained in a matter of seconds. The entire system is sterilized and cleaned in place for efficient operation, with both processes PLC monitored and controlled. The UHT system preheats the product indirectly prior to direct steam injection to product hold temperatures of up to 150ºC. Instantaneous product cooling and evaporation of condensed steam occurs in the expansion vessel of the direct steam injection unit. Product is further cooled indirectly through a tubular heat exchanger. Product may be homogenized at either the pre-heat or the indirect cooling stages using an aseptic two-stage homogenizer capable of pressures up to 1,000 bar. Cooled product is then pumped to the Asepto-Fill for sterile filling. Armfield Ltd., Bridge House, West St., Ringwood, BH24 1DY, England (phone +44 1425 478781, fax +44 1425 470916, www.armfield.co.uk), Booth 2350.
by J. PETER CLARK
Contributing Editor
Consultant to the Process Industries
Oak Park, Ill.
[email protected]