For the past several months, I kept a certain photo in anticipation for just the right issue to use it in. The photo was of a cookie loaded—and I do mean loaded—with a variety of candies and other confectionery items. It was so top heavy with these inclusions that it was difficult imagining anyone actually eating it. And of course I'm sure that there are some consumers out there who would have a difference of opinion on whether they would even want to eat it or not.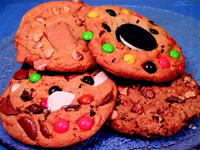 As I look at this photo (see below), I keep asking myself a whole variety of questions regarding the identity of the product shown. Is it a cookie? Is it a confection? Is it a cookie with confections? Is it a confection with a cookie? Is it something else? Would we need a microscope—and perhaps even the assistance of Mr. Spock— to closer examine its classification?
I find these questions to have a particular significance, especially in connection to this article. This is because, in recent years, the distinctions keep blurring between what a confection is and what it isn't. In fact, it's probably safe to say that many of today's confections would not have been found in those old-fashioned, wooden-floor candy stores that I visited when I was a kid. And today's children, when they are 40, will probably have very different nostalgic memories of what confections were to them.
Traditionally, "a confection" might be described as a delicacy which is sweet. According to the Oxford Companion to Food, the word "confection" is related to medieval Latin confecta and the English word comfit, with meanings associated with the preparation of a mixture, and preservation in sugar.
This definition, based on current trends, needs to be somewhat updated. For instance, many of today's confections are made with sugar alternatives. In fact, at the recent All Candy Expo, one of the dominant trends was low-carbohydrate formulation—a theme which I have discussed in previous Ingredients sections. According to studies, diet candy—low-carbohydrate and sugar-free selections—are experiencing strong growth. Sales have increased more than 90% over the past 12 months as consumers seek a broader variety of candy treats to fit their lifestyles.
Furthermore, while confections can still be generally described as sweet, especially if they make money in the marketplace, they are not always necessarily so. For example, sour or intense flavors have become increasingly popular among younger audiences. In addition, hot and spicy flavors are moving into the confectionery mainstream. Different cultures have always had different ideas of what confections are, but because of space considerations, this article will primarily focus on new developments emerging in the American market.
And even today's chocolate products have broadened or changed the definition of confection somewhat. They may be formulated with such a wide variety of inclusions that any number of flavors, textures, and taste sensations are possible.
--- PAGE BREAK ---
From "confection," I moved to the word "candy" in the hopes of getting a better handle. I found that the latter word is derived from the Arabic qandi meaning a sugar confection. In the United States, it is a general term for sweets of all kinds. This makes sense, of course. When you went trick or treating as a kid, your aim was to bring back a bag of candy and not a bag of confections. And I'm pretty sure your parents, as they bundled you up, used the term candy as well.
Pursuing the next task with an "anything goes" spirit, I began to think of what some of these different types of confections might be. I wrote down several examples including candy (hard or chewy), fruit snacks, chocolate, oral-care products such as gums and mints, novelties, nutrition bars, occasion candy, ethnic confections, and so on.
It became quite clear to me from these many examples that the word confection could mean many things—in fact, it could easily be an acronym for these many items. Consequently, I thought it might be fun—as well as educational—to look at the newest developments in 10 categories: C (chocolate), O (oral care products), N (nutrition bars), F (fruit snacks), E (ethnic confections), C (candy–hard or chewy), T (traditional confections), I (inclusions for confections), O (occasion candy), and N (novelties). These categories incidently were not picked arbitrarily but are some of the hottest areas right now in confections or confectionery-related areas.
With that approach in mind, we'll be focusing on ingredients—traditional and not-so-traditional—that are helping to transform these categories. In each category,we'll be looking at some of the newest products being launched in the marketplace, as well as some of the newest prototypes that ingredient companies are developing. We'll also examine the functionality and health benefits that these ingredients may be offering. And finally, we'll include a few of the trends that are having an impact in that particular category.
Afterwards, we'll have some concluding thoughts on the future directions that confections might be taking.
Chocolate. Its story began more than 2000 years ago in equatorial Central America. It was first brought back to Spain in the 1500s, where it was served hot with sugar and spices added to it, and later it spread throughout Europe. In 1847, an English company manufactured the first solid eating version of this product, made by combining melted cocoa butter with sugar and cocoa powder. In 1876, in Switzerland, milk was added to it. During World War II, the U.S. government recognized its important role, and it has even been taken into space as part of the diet of U.S. astronauts. I'm talking, of course, about chocolate.
But the story of chocolate, especially as a confection, does not end there. Its update would include many recent developments that—both from a functionality and health standpoint—manufacturers of chocolate and chocolate confections would probably find of interest.
Here are a few examples:
--- PAGE BREAK ---
• A process that uses computerized laser technology to reproduce high-quality photos, logos, messages, and three-dimensional images onto a chocolate surface has been developed by an Australian company, Chocolate Graphics International. The process is said to be unique in that it does not rely on transfers or dye printing to achieve the personalized effect. The entire product is made of chocolate, which can be produced in a variety of colors; filled with nuts, fruit, yogurt, or other flavors; or made into any flat shape including chocolate business cards, CDs, menus, and postcards. According to a representative from the company, "with this technology, we can reproduce complex logos, or images of the corporate headquarters, a new product, or even the CEO, all on chocolate, using chocolate."
In the U.S., the company plans to appoint a Master Licensor who will be responsible for developing the network of 250 manufacturing licensees projected for the country. The licensor will also oversee training, marketing, and brand development activities within the country. The product is easy to produce, and the specialized technology offers existing confectionery manufacturers a novel way to extend their business into new markets. For more information, contact the company's U.S. office at 775-841-6562; www.chocolategraphics.com).
• According to a report by Packaged Facts, "Market Trends: The U.S. Market for Gourmet Chocolate," 69% of Americans are reevaluating their attitudes regarding premium dark chocolate, considering it an upscale, indulgent alternative to standard chocolate. The report suggests that consumers are responding to the product's higher cocoa content, lower sugar levels, and perceived health benefits, driving retail sales to about $243 million in 2003.
• At the 2004 International Baking Industry Exposition (IBIE), a novel prototype frozen confectionery was highlighted by Blommer Chocolate Co., 600 W. Kinzie St., Chicago, IL 60610 (phone 800-621-1606; fax 312-226-4141; www.blommer.com). The push-up product, which had the texture of an Italian ice dessert with a rich chocolate taste, was formulated with the company's Teton Cocoa line (described as nib alkalized cocoas providing enhanced flavor and a darker color than other cocoa products).
The application demonstrated the functionality and taste benefits of the cocoa ingredient in the frozen confectionery segment, and was definitely "something different." The company's chocolate technologists are available to work with clients to determine their formulation needs in such sectors as confectionery and bakery.
• Carb Alternatives, a new option for consumers who are seeking lower-carb sweet treats without giving up taste, has been introduced by Hershey Foods, 14 E. Chocolate Ave., Hershey, PA 17033 (phone 717-534-5465; fax 717-534-5297; www.hersheys.com). The line, which contains 50% less sugar carbohydrates than traditional chocolate products of the same variety, includes Hershey's Milk Chocolate with Almonds; Reese's Miniatures; Hershey's Kisses, and Kit Kat Miniatures. The candies are available in miniature-sized pieces to make portion control easier.
--- PAGE BREAK ---
Also recently introduced by the company was Hershey's Swoops, curvy solid chocolate slices in four varieties—Reese's Peanut Butter Candy, Hershey's Milk Chocolate, Almond Joy, and York peppermint candies. What I find interesting about this innovation is what connotations the new shape might suggest. On the one hand, the curved shape might suggest a snack product as opposed to a traditional confection. On the other hand, the curved shape, like the miniature candies that Hershey and other candy companies are manufacturing more of these days, might be an alterative way at getting at portion control. (In a related point, still another way at getting at portion control is the growing number of chocolate bars created to break easily into sections for sharing or enjoying a little now and a little later.)
And right at press time, Hershey Foods announced another introduction—a chocolate syrup fortified with vitamins and nutrients. The syrup reportedly provides 10% of the Reference Daily Intake of five essential vitamins and minerals, including calcium, vitamin E, biotin, pantothenic acid (vitamin B-5), and zinc. From a mother's standpoint, the syrup can be used to add additional nutrients to foods and beverages. From a child's standpoint, the syrup may be used on less-traditional applications, such as vegetables, providing a confectionery kind of quality. And perhaps still have Hershey's Swoops in the back of my mind, but perhaps the syrup can be added to potato chips (in curved form or otherwise) and other salted snacks, giving a sweet and salty quality.
• And speaking about fortification, in recent years a large number of studies have looked at the potential role that chocolate can play. For example, chocolate is a rich source of polyphenol antioxidants that may help guard against cancer and heart disease. Also, neither cocoa nor unsweetened chocolate are intrinsically cariogenic. While any food that contains sugar or can cause dental caries, studies show that chocolate may be actually less cariogenic than many foods. More information about the health benefits of chocolate can be obtained from the Chocolate Manufacturers Association, 7900 Westpark Dr., Ste.A-320, McLean, VA 22102-4203.
• Proprietary blends of erythritol, inulin (oligofructose), and isomalt in a comprehensive line of sugar-free chocolate products have been developed by Wilbur Chocolate, a Cargill Co., 20 N. Broad St., Lititz, PA 17543 (phone 800-233-0139; fax 717-626-3487; www.wilburchocolate .com). These blends, which may be used in milk chocolate and dark chocolate flavored sugar-free coatings and sugar-free compound nuggets, offer a number of advantages over traditional sugar-free offerings, including improved digestive tolerance, fewer calories, and lower glycemic response. As these blends blunt glycemic response, they may be appropriate for diabetic confectionery applications. Also available are maltitol-based sugar-free coatings.
This next-generation of sugar-free chocolate, marketed under the name New Frontiers™, was created by Wilbur in collaboration with other Cargill business units. In addition to its potential health benefits, the chocolate delivers on taste as well as other functionality benefits. One key ingredient was Eridex™ erythritol, a sweetener which has a mint-like cooling effect, combined with Oliggo-Fiber® inulin, which has a warming effect, to produce a chocolate-like sensation when eaten.
--- PAGE BREAK ---
In addition to the sweetener blends above, Cargill can also provide other ingredients that can play an important functionality role in the production of chocolate. For example, soy-based lecithin is being marketed in North America by Cargill Food & Pharma Specialties, 15407 McGinty Rd. W., Wayzata, MN 55391 (phone 952-742-2491; fax 952-742-5830; www.cargillfoods.com). In chocolate production, lecithin adds value by reducing cocoa butter in the recipe. It enhances the performance of the coating, improves flow behavior, and increases shelf life by preventing fat bloom.
• A new line of bite-size chocolates is being marketed specifically for women by Seattle Chocolate Co., 8620 16th Ave. S., Seattle, WA 98108 (phone 800-334- 3600; www.SeattleChocolate.com). Called Chick Chocolates™, the premium chocolate line, created for women by women, is said to profile different female personality types. Products in the line include Strong Chick™, made with calcium-foritifed, creamy 37%-cacao milk chocolate; Nutty Chick™, studded with dry roasted almonds and bits of golden toffee in rich 37% cacao milk chocolate; and Extreme Chick™, featuring 55%-cacao dark chocolate embedded with roasted cacao nibs that are high in antioxidants. The chocolates are available as portable, single-serve treats. A three-piece pocket box, which looks like a lipstick, is hand-packed with individually wrapped chocolates in colorful foil twists. From a male standpoint, it once again proves that no one should ever get between a lady and her chocolate.
• As the previous example perhaps suggests, chocolate may be combined with a variety of other flavors or ingredients to create new products. For example, Sunbursts—candy-coated, chocolate-covered sunflower kernels—are available from the Kimmie Candy Co., 3650 El Centro Rd., Sacramento, CA 95834 (phone 916-924-8620; fax 916-925-1292; www.kimmiecandy.com). Chocolate Cotton Candy Bits, which taste like marshmallow bits but with a rich chocolate taste, is offered by Fantazzmo Fun Stuff!, 222 Silvert Ct., Bensenville, IL 60106 (phone 630-960-2222; fax 630-860-5484). Flavors teaming up with chocolate in new products include citrus flavors, mint profiles, coffee flavors, different varieties of vanilla, and many others.
Oral-Care Products. Oral-care products, which can include chewing gum, mints, throat lozenges, and oral-care strips, has become a hot category today (judging by the number of new entries in the marketplace), further blurring the distinctions between these products and traditional confections. For example, when is chewing gum just for chewing? Or a mint just for after dinner? Furthermore, as we shall see in this section, some manufacturers of chewing gum are crossing over into the mint sector, and some manufacturers of mints are crossing over into the gum sector, thus taking advantages of both approaches in the larger oral-care area.
These products can provide a number of benefits, most specifically fresh breath, a clean mouth, throat relief, and vapor action. Many of them are promoted for their dental benefits as well, providing healthy, good-looking teeth and gums. The development of flavors for high-impact, long-lasting taste sensation are playing an especially important role in these products. Some of these products are also being enriched with vitamins and minerals, as well as providing components such as caffeine for revitalizing energy throughout the day.
Here are a few recently launched products to chew on:
--- PAGE BREAK ---
A new mint brand, Eclipse Mints®, has been launched by Wm. Wrigley Jr. Co., 410 N. Michigan Ave., Chicago, IL 60611 (phone 312-644-2121; fax 312-644- 135; www.wrigley.com). The newest entry into the projected $554-million mint category and the first mint product to be released in the U.S. by Wrigley, it is available nationwide in Peppermint and Winterfrost flavors. In taste tests, the sugar-free product reportedly refreshed breath longer than other leading intense mints, while providing a longer-lasting cool sensation without the burn.
Wrigley plans to promote the health benefits of chewing gum, according to the publication Advertising Age. The company has compiled medical studies on the benefits of gum chewing, including stress relief, dental health, and improved memory. Further details on the plan will be released by the company.
Related to this story may be a recent development in which researchers at the University of Illinois at Chicago found that Big Red—a popular cinnamon-flavored chewing gum made by Wrigley—reduced bacteria in the mouth that caused bad breath. The finding was presented at the annual meeting of the International Association for Dental Health.
The gum contains cinnamic aldehyde, a plant essential oil used for flavoring. Several essential oils have been found to inhibit the growth of bacteria responsible for cavities and periodontal infections. The laboratory findings and interest from Wrigley prompted researchers to launch a clinical trial of the effects of chewing gum on oral bacteria.
In the study, 15 subjects chewed one of three gums for 20 minutes: Big Red, the same gum with natural flavors but no cinnamic aldehyde, or a gum base with neither flavors nor oil. Twenty minutes after the subjects stopped chewing the gum, their saliva was tested and compared with samples collected before chewing began. Microbiological analysis showed that Big Red reduced by more than 50% the concentration of anaerobic bacteria in the saliva. It was particularly effective against anaerobic bacteria residing at the back of the tongue, reducing the population by 43%.These bacteria produce volatile sulfur compounds through the putrefaction of proteins and are considered the major contributors to halitosis. The gum that contained natural flavors but no cinnamic aldehyde also reduced the number of bacteria by about 40%, while the gum base without flavors or cinnamic aldehyde produced no significant reduction in oral bacteria.
Oral-care strips in a new flavor, Fresh Citrus PocketPaks, are available from Pfizer Consumer Healthcare, 201 Tabor Rd., Morris Plains, NJ 07950 (phone 973-385-3094; fax 973-385-6888; www.pfizer.com). According to the company, the oral-care strips provide the same germ-killing power found in otherListerine PocketPaks, but with a refreshing, less-intense experience. Other flavors include original Cool Mint, FreshBurst, and Cinnamon.
A breath-freshening sugar-free gum with a blend of tropical fruit flavors, Trident ® Tropical Twist™, is new from Cadbury Adams USA, 400 Interpace Pkwy. Bldg. B, Parsippany, NJ 07054-1192 (phone 877-492-3267; fax 973-909-3036). The gum, which reportedly incorporates a long-lasting flavor technology, offers a blend of tropical fruit flavors combined with the dental-care benefits of the other Trident products. The family of chewing gums also includes two other sugarless gums, Trident for Kids and Trident White, a gum that whitens teeth using a patented whitening technology. Both of these gums are made with Recaldent, a milk-derived ingredient that promotes healthy teeth. Also recently launched by this company was Dentyne Tango, the first sugarless fruit-flavored pellet gum in the Dentyne line. The gum is said to instantly deliver an intensely bold fruit flavor.
--- PAGE BREAK ---
A breath-freshening "microgum," Mentos NewCharge, was introduced by Perfetti Van Melle USA, Inc., 3645 Turfway Rd., Erlanger, KY 41018 (phone 859-283-1234; fax 859-283-6880). The sugar-free gum is available in micropieces for an instant burst of flavor.
"Curiously Strong" is a term that has been used to describe Altoid mints, available from Kraft Foods North America, 3 Lakes Dr., Northfield, IL 60093 (phone 847-646-4174; fax 847-646-2800; www.kraftfoods.com). Now the company has introduced another "curiously strong" product: Altoids Cinnamon Chewing Gum. The product will be one of the latest entries in the fast-growing breath-freshening gum category.
A caffeine gum for increasing levels of energy is manufactured by Gum Runners LLC, 238 Main St., Ste. 111, Hackensack, NJ 07601 (phone 201-678-9300; fax 201-678-9355; www.GumRunners.com). Two pieces of Jolt Caffeine Energy Gum is said to equal a cup of coffee. The product combines the strength of the Jolt Cola brand name with a mint gum.
Innovative chewing gum solutions that can help add value are available from Gumlink A/S, Dandyvej 19, Vejle 7100, Denmark (phone 45-72151515; fax 45-72-151731; www.gumlink.com). The company introduced a new technology for the production of compressed chewing gum products. These products consist of a unique two-layer structure of chewing gum combined with a non-chewing gum layer (e.g., hard compressed mint and gum). Other key elements can include two layers with different colors, flavors, and active ingredients. The product can provide stronger taste and longer-lasting flavor, a superior cooling sensation, lower production temperature (making it possible to add ingredients which would not survive in traditional chewing gum), and tailor-made shapes and embossed logos.
Nutrition Bars. Many confections today are fortified with proteins, omega-3s, vitamins, minerals, and other components which studies have shown provide potential health benefits. What then is the difference between a fortified candy bar and a nutrition bar?
Take, for example, this product which is described as having a soft and chewy center, covered with caramel, and topped with peanuts or cookie pieces, all covered in rich chocolate. Sounds like a confection, right? Actually it's a nutrition bar designed for controlling carbohydrates and managing weight.
As you can see, the distinctions between a confectionery bar and a nutrition bar have certainly blurred. So is there a difference between these products? Well, the answer probably lies in their promotion. A confectionery bar that contains added healthy components will likely be promoted as a nutrition bar, while a confectionery bar that does not contain added healthy components will likely not be promoted as a nutrition bar.
Part of the challenge in the nutrition bar (or fortified candy) category is that manufacturers are attempting to provide products that have a delicious taste, fewer calories, smaller sizes, the addition of healthy components, the customizing to meet specific demographics (sex, age, level of physical activity, risks associated with certain health problems, and so on), an attractive marketing program, and other factors. By attempting to do all this, products inevitably will be created that will have blurred distinctions. And that may not necessarily be bad—rather, it may just be another step in the process of evolution.
--- PAGE BREAK ---
One hundred years from now (or less), the term "nutrition bar" may not even be necessary. A confection may be reformulated with soy or whey protein and still be a confection. Or it may be reformulated with calcium or other important minerals or vitamins and still maintain its status as a confection. Until then, however, nutrition bars are fair game for my acronym, and this section will briefly look at some recent developments in this area.
A line of products for low-carb lifestyles, 1 gram Sugar Carb, was recently launched by Hershey Foods, 14 E. Chocolate Ave., Hershey, PA 17033 (phone 717-534-5465; fax 717-534-5297; www.hersheys.com). What's interesting about these products is that although the name and the tag line might suggest that these products would be promoted as nutrition bars, the package clearly reads chocolate candy. As Hershey is a major manufacturer of chocolate candy, it can be perceived as a good sign that other companies are or will be fortifying candy with healthy components and promoting these products as such. Products in the line include Chocolate, Dark Chocolate, Chocolate Candy with Almonds, and Chocolate Candy with Soy Crisps. These bars are made with ingredients such as erythritol, inulin, chocolate cocoa butter, polyglycitol syrup, cream, sucralose, and others, depending on the version.
A whey protein bar called SlimWhey has been developed for the controlled-carb market by Next Proteins, P.O. Box 2469, Carlsbad, CA 92018 (phone 760-431-8152; fax 760-431-0323; www.slimwhey.com). The bar is said to contain a Designer Whey Protein™ Blend consisting of whey protein concentrate, whey protein isolate, hydrolyzed whey protein, and soy protein isolate. According to the company, the blend can help provide effective appetite control and faster weight loss. The protein bar is available in three flavors— Caramel Peanut, Peanut Butter, and Coconut Almond. Each bar has a milk chocolate coating made with maltitol, palm kernel oil, non-fat dry milk, cocoa powder, and soy lecithin.
NutraFlora, a prebiotic fiber suitable for use in nutrition bars and other confections, is available from GTC Nutrition Co., 600 Corporate Circle, Ste. H, Golden, CO 80401 (phone 800-522-4682;fax 303-216-2477; www.gtcnutrition .com). According to the company, the fiber ingredient is being tested in confections as a partial sweetener replacer and as an added source of fiber and calcium. Numerous prototypes are being developed which use the fiber in caramels, chocolate coatings, soft candies, sugarfree candies, and more. It can help enhance fruit, coffee, chocolate, and creamy flavors; mask soy off-notes; and work synergistically with polyols and high-intensity sweeteners, reducing their bitter or metallic profiles, as well as balance the cooling effect of the polyols. The ingredient consists of a single glucose unit linked with two to four fructose units by a beta-2-1 linkage.
Recently, a line of zero- and reducedtrans-fat oils and shortenings was introduced by Archer Daniels Midland, 4666 Faries Pkwy., Decatur, IL 62526 (phone 217-424-5200; fax 217-451-2233; www.admworld.com). Called Nova- Lipid™, these ingredients may be used in the manufacture of bars and coatings, and were developed to meet FDA's criteria for trans-fat labeling. Other ingredients that are suitable for this application include Fibersol-2™, a soluble fiber ingredient which can be used to formulate a fiber-rich bar that does not sacrifice flavor or mouthfeel; NutriSoy® brand soy protein which enables nutrition bars to carry an FDA-approved health benefit claim for diets containing 25 g of soy protein/day; phytosterols, which can provide cholesterol-blocking benefits; vitamin E and mixed tocopherols which provide antioxidant benefits; and many other ingredients.
Flavors and flavor enhancers are playing an increasingly important role in bar products. At the 2004 IFT Food Expo, several prototypes were highlighted by Virginia Dare, 882 Third Ave., Brooklyn, NY 11232-1902 (phone 718-788-1776; fax 718-768-3978; www.virginiadare.com). Among these products were nutrition bars— S'Mores and Dulce deLeche, featuring VidaPro™ flavors and ProSweet® Natural and Artificial Flavor Enhancer. Prototypes such as these demonstrate how flavor-delivery systems can promote quick flavor release with sustained performance; how flavors can be developed to mask undesirable notes imparted by the addition of vitamins, minerals, and other nutraceuticals; and how flavors can create a sense of nostalgia or comfort, as well as help meet ethnic tastes in the marketplace.
--- PAGE BREAK ---
A variety of blueberry formats may be used in bar formulations that require ingredients with low-water activity. One of these new additions is a sugar-infused blueberry that maintains a rich blueberry color and the size integrity of fresh whole fruit. With a water activity of 0.5–0.87, these blueberries will work well in baked goods and snack bar products. Other blueberry formats include dried, freeze-dried, bits and chips, juice concentrate, and essence. A variety of bar products made with blueberries have found their way into the global marketplace. Many of these bars have been promoted as low carb. For more information about the functionality and health benefits of blueberries and how they may be used in bars, write to U.S. Highbush Blueberry Council, 300 E. Bidwell, Ste. 300, Folsom, CA 95630 (phone 800-824-6395; fax 916-983-9022; www.ushbc.org).
Fruit Snacks. A wide range of confections today are taking advantage of fruits or fruit flavors. These kinds of snacks can appeal to both the younger segment and adults. Furthermore, they are perceived as healthy and are one way to get some of the necessary vitamins and other nutrients into the diet. Not surprisingly, we're seeing a wider range of innovative fruit snacks as well, taking advantage of different shapes, colors, textures, and, in the case of novelties, interactive qualities. (More about interactive qualities will be discussed later in this article.) They also blend well with chocolate, nuts, caramel, and other ingredients and flavors, again creating new products in the marketplace.
Here are a few examples of fruit snack products:
Welch's Fruit Snacks, made with real fruit and fruit juice, are manufactured by Welch Foods Inc., 3 Concord Farms, 575 Virginia Rd., Concord, MA 01742 (phone 978-371-1000; www.welchs.com). The fat-free fruit snacks are available in seven flavors—Mixed Fruit, White Grape Peach, Strawberry, White Grape Raspberry, Concord Grape, Fruit Punch, and Berries 'N Cherries. They contain 100% RDI of the vitamin C and 25% of vitamins A and E.
A dual-textured candy with a crunchy candy shell and chewy fruit center was recently launched under the name Narbles™ by Ferrara Pan Candy Co.,7301 W. Harrison St., Forest Park, IL 60130 (phone 800-323-1768; fax 708-366-5921; fax 708-366-5921; www.narbles.com). The fat-free chewy fruit candy is shaped like a marble and measures approximately 3/8-inch in diameter. It comes in five bold colors and flavors, including cherry, orange, apple, lemon, and grape. According to the company, which also manufactures Lemonheads®, Black Forest® Gummy Bears, Boston Baked Beans, and Red Hots®, this introduction of a new candy brand is its first in 30 years.
Blueberry Pates de Fruits, little square "gelee" bursting with fresh blueberry flavor, is available from Recchiuti Confections, One Ferry Bldg., Shop #30, San Francisco, CA 94111 (phone 415-834-9494; www.recchiuticonfections.com). A long-time French favorite, the confection is also offered in other fruit flavors, including Morello Cherry, Passion Fruit, Cassis, Apricot, Pear-Lime, and Lemon.
More fruit juice flavor has been added to Mike and Ike® Original Fruits chewy assorted fruit-flavored candies, available from Just Born Inc., 1300 Stefko Blvd., Bethlehem, PA 18017-6672 (phone 800-652-3267; fax 800-543-4981). Smaller piece sizes are packed with even more flavor, with real fruit juice and a new strawberry flavor added to the mix.
Candy sticks made with real fruit and double dipped in a creamy white chocolate coating are new from Bogdon Candy, 1900 W. 47th Place, Ste. 120, westwood, KS 66205 (phone 913-262-6425; fax 913-262-6885; www.bogdoncandy.com). Called Fruit Double Dips, the candy sticks are offered in lemon, orange, strawberry, and raspberry flavored varieties.
It would be impossible to provide a complete list of fruit snack launches, but I think you can get an idea from the above selections that this category is still very much alive. Other products might include chocolate-covered fruits, fruit chews, fruit-juice-filled licorice, fruit-flavored gelatin products, jelly beans, and many others too numerous to mention.
--- PAGE BREAK ---
Furthermore, ingredient suppliers are developing new ingredients and flavors that are suitable for confections, especially fruit snacks.
For example, a new line of flavors called Vivid Flavors which may have application in the confectionery area was recently launched by Takasago International Corp., USA Flavor Div., 4 Volvo Dr., Rockleigh, NJ 07647 (phone 201-767-9001; fax 201-784-7277). These flavors are said to capture the nuances that are not identified through traditional analytical tools.
The global Takasago team, using research from the company's central research and development laboratories in Japan, initiated the development of these flavors, using innovative sensory and analytical techniques. The program uses the company's proprietary intellectual property and patented techniques for the discovery of useful components that enhance the character of flavors and make them more "vivid" and natural when used in food and beverage applications.
According to a company representative, "Chiral compounds can be created to be identical to those found in nature, and therefore they allow the flavorist to create the subtleties found in aroma and taste characteristics that maximize the perception of the flavor, particularly in their use in complex food and beverage applications."
The line of new flavors include peach, Concord grape, Fuji apple, strawberry, and raspberry. Each flavor delivers the taste of real fruit—which would be a definite advantage in this category of confections.
An extensive line of flavors for fruit snacks has been developed by Wild Flavors, Inc., 1261 Pacific Ave., Erlanger, KY 41018 (phone 859-342-3600; fax 859-342-3610; www.wildflavors.com). The company provides flavors that include popular Western profiles such as strawberry, lemon, and orange, as well as more exotic tropical flavors, such as starfruit, mangosteen, and dragonfruit. In addition, the company can meet the taste preferences of major ethnic and demographic groups. At the 2004 IFT Food Expo, the company highlighted several prototype confections, including Raspberry, Peach, and Starfruit Fruit Chew Taffies and Blood Orange Filled Chocolates.
One fruit that might find potential application in fruit snacks as well as other confections is pomegranate. Pomegranate derivatives reportedly contain the highest concentrations of natural ellagic acid, anthocyanidins, and other polyphenolic compounds. Studies have shown that these naturally occurring compounds are powerful free-radical scavengers. Pomegranate derivatives such as Dry Seed Extract, Dry Peel Extract, Fermented Juice Extract, and Cold Processed Seed Oil are available from Morre-Tec Industries, Inc. (phone 908-688-9009).
--- PAGE BREAK ---
Ethnic Confectionery. Among all ethnic groups, the Hispanic market represents the largest ethnic segment in the U.S. and ranks among the fastest-growing populations. Currently, Hispanics represent 13% of the total U.S. population—39 million people. The total spending powder of U.S. Hispanics in 2003 was more than $652 billion/year and growing. As the U.S. Hispanic market grows, an increasing number of candy companies are looking to that segment for potential  opportunities. Here are just a few examples of products that are or will be making their debut in what the Mexicans would call the mercado Latino.
Several confectionery products targeted for the Hispanic market will be launched by Hershey Foods Corp., 14 E. Chocolate Ave., Hershey, PA 17033 (phone 717-534-5465; fax 717-534-5297; www.hersheys.com). These products, featuring a number of the company's top brands but with an added "Latin Flavor Twist," include a new white chocolate Kiss filled with dulce de leche (caramel), white and milk chocolate Hershey Miniatures containing bits of cookies, and Jolly Rancher lollipops in spicy and fruit-flavored versions. Packaging of the candy will be in English and Spanish.
A candy combining the spicy flavor of chilies with the crunchiness of peanut butter is manufactured by Atkinson Candy Co., 1608 Frank St., Lufkin, TX 75904 (phone 936-639-2337; fax 936-639-2337; www.atkinsoncandy.com). Called Pic-O-Sito Spicy Peanut Butter Candy, the bite-size product is coated with spicy chili powder, giving it a distinct flavor. Peanuts are slow-roasted to produce a pure peanut butter with no added oils or fillers.
Pop Rocks Limon, also aimed at Hispanic consumers, are available from Pop Rocks Inc., 10395A Democracy Lane, Fairfax, VA 22030 (phone 636-828-5366; fax 636-828-4977; www.pop-rocks.com). The candies combine sour lemon, Pop Rocks candy, and salt.
Diablo Ignited Sours—mints that combine a sour flavor with a spike of smooth chili pepper—is produced by Big Sky Brands, Inc., 253 College St., Ste. 395, Toronto, ON M5T 1R5 Canada (phone 416-599-5415; fax 416-599-0392). Consumers also get a burst of fruit flavor followed by a fiery blast.
In addition to the development or redesign of confections for the Hispanic consumer, one can bet that business activities such as acquisitions and strategic alliances are being formed to further this end, as well.
For example, Masterfoods USA, a division of Mars, Inc., recently acquired Mexico-based Lucas Group as a way of reaching Hispanic consumers.
Also, an important alliance was formed between Spain-based lollipop manufacturer Chupa Chups USA, and Ohio-based Spangler Candy Co. which will allow the marketing of each other's products, utilizing the brands, global distribution systems, industrial and technology resources, and best practices of both companies. In the U.S., the combined lines will be represented by Spangler, while Chupa Chups will manage the business in Mexico.
What is especially interesting about these developments is that while they are designed to penetrate the Hispanic market— and as a result hopefully produce mucho dinero—these developments can also have a positive impact on a non-Hispanic market, which, as we have seen in the past, is looking for new flavors or flavor combinations, creative novelty especially among the younger segments, and overall, new culinary experiences for the adult. Of course, not all  products aimed at the Hispanic market will succeed (remember caramel M&Ms), but that is probably true for all new formulations and shouldn't necessary distract food manufacturers from developing confections that might appeal to the Hispanic consumer as well as the mainstream audience.
Furthermore, ingredient suppliers can take advantage of this growing trend to provide novel ingredient solutions as well as prototypes. From just the few product launches mentioned above, we can see the importance of a number of ingredients, including chilies and other hot spices; peanuts and peanut-derived products; dulce de leche or caramel; fruits and fruit flavors, especially tropical varieties; flavors combining heat and sweet; chocolate; Pop Rocks; and salt.
--- PAGE BREAK ---
Other ingredients that have played a role in Hispanic food traditions may find advantage in confectionery products. For example, raisins, like cornmeal and peppers, are a basic ingredient in a wide range of Hispanic dishes such as empanadas and other baked goods, tamales, salsas, savory dishes, sauces, and other products. According to the California Raisin Marketing Board, in confections, raisins can help provide an authentic Hispanic identity as well as contribute a number of functionality properties which translate well to confectionery formulations. Raisins provide a natural sweetness, flavor, chewy texture, and flavor-enhancement properties which can increase the depth of flavor inherent in ingredients such as chilies and curry blends. Raisins can be pureed alone or with ingredients such as nuts to increase thickness as well as richness. And raisins can be flavored with lemon, cinnamon, peppermint, cherry, spice mixes, and even jalapeño pepper. Hispanic recipes and information can be obtained from the California Raisin Marketing Board, 3445 N. First St., Ste. 101, Fresno, CA 93726 (phone 559-248-0287; www.calraisins.org).
Fruit flavors such as tamarind have played a part in Hispanic food traditions and have application in confections. Such flavors may then move into the mainstream.
Like mainstream applications, there are also opportunities for nutraceuticals such as vitamins and minerals in the fortified confections marketed for Hispanics.
Finally in the August 2004 Ingredients section on flavor enhancers, I mentioned how a spicy version of salt, Morton Hot Salt, might be used as a dusting on chocolate. After seeing the above developments, the idea doesn't seem so crazy now, does it? Perhaps even a little hot salt on the rim of a chocolate drink? But that's another story.
Candy. By "candy," I'm primarily referring to hard or chewy, non-chocolate products. Many of the developments discussed in this article can be applied to this category, but there seem to be at least three major areas where there has been a great deal of attention—flavors, sweeteners, and colors.
Let's look at flavors first. The old adage, "different strokes for different folks," seems to especially apply here, with flavors being developed for kids, adults, traditionalists, Hispanics, and the health conscious. Flavors for kids have included sour, intense, and novelty (reproducing flavors from the world of Harry Potter, for example), while for adults, there have been nonalcoholic (Piña Colada, Strawberry Daiquiri, and Margarita, to name a few); coffee, especially in different variety blends; fruit mixes, without the intensity not clear targeted for younger audiences; and caramel. However, still remaining at the top of the popularity list for hard candies are traditional flavors such as mint, orange, lemon, cherry, strawberry, watermelon, grape, lime, pineapple, root beer, and fruit punch.
As already mentioned in this article, flavors for Hispanics are moving into the mainstream, where we can expect to see hot and sweet varieties such as tamarind (a combination of citrus tart flavor and hot pepper) or flavors that combine different qualities such as pineapple and coconut or raspberry and lemonade.
--- PAGE BREAK ---
Flavors are frequently being developed to attract consumers to sugar-free or low-carbohydrate products. As I noted earlier in this article, diet candy continues to experience strong growth, with the diet segment of the candy category reportedly representing about 3% of overall candy sales. Not surprisingly, flavors—whether they're for kids, adults, traditionalists, or ethnic segments—can play an important role here.
With the increasing emphasis on health, formulators are using a variety of sweetener alternatives and combinations. For example, Maltisweet MH80 maltitol solution enables a hard-candy manufacturer to make sugar-free hard-candy with sweetness and stability equivalent to sugar candy, according to supplier SPI Polyols, Inc., 321 Cherry Lane, New Castle, DE 19720-2780 (phone 302-576-8554; fax 302-576-8569; www.spipolyols.com). It contains approximately 15% more maltitol than any other commercially available maltitol solution and is said to provide the optimal balance of sweetness and stability.
Sweet toffees that are safe for teeth and represent a caloric reduction of at least 30% may be made with Gaio® tagatose, available from Arla Food Ingredients, Inc., 645 Martinvilles Rd., Basking Ridge, NJ 07920 (phone 908-604-8551; fax 908-604-9310; www.gaio-tagatose.com). The toffees contain a combination of tagatose, isomalt, and fructo-oligosaccharide, with tagatose constituting the main ingredient responsible for the sweet taste and color development.
The enhancement of the product's appearance is also playing an important part in the development of candy. In particular, natural colors have seen improvements over recent years and are suitable for use in these applications. Natural colors provide an additional advantage: they can help candy manufacturers meet certain claims, such as "Contains all fruit juice." A variety of natural colors made from fruits and vegetables are available from GNT USA, Inc., 660 White Plains Rd., Tarrytown, NY 10591 (phone 914-524-0600; fax 914-524-0681; www.gntusa.com). For example, the company produces a Mango Yellow, which not only is suitable for enhancing the confection's appearance but also provides the labeling advantage noted above.
Colors—both natural and synthetic—can provide a number of benefits to hard candy. Imagine developing a product for Hispanics that has a spicier flavor and coloring it a darker red shade to reflect that taste. Or imagine developing a novelty product that changes color in your mouth.
In the following section, we will be looking at traditional confections. Some of these have gone through subtle changes, being updated to meet a younger audience. Color again can play an important part in extending the traditional confectionery line. It can improve the product's appearance, adding specks, stripes, shapes, and images to the surface.
--- PAGE BREAK ---
Traditional confections. At the 2004 IFT Food Expo, malted milk shakes and malted milk balls were highlighted by Briess Malt & Ingredients Co., 625 S. Irish Rd., Chilton, WI 53014-0229 (phone 920-849-7711; fax 920-849-4277; www.briess.com). According to the company, a manufacturer of natural grain sweeteners and value-added grain ingredients, "the nostalgic flavor of malted milk is being rediscovered by many food developers who are faced with the challenge of formulating healthy foods and beverages that taste good. It highlighted in the applications was the company's malted milk powder, which may be used as a natural healthy sweetener in confections and other products.
I mention the above item because in an environment filled with changes and responses to different trends, we sometimes forget that traditional candies (malted milk balls being one of them) still play an important role in any confectionery showcase.
As will be discussed in the next section, traditional candies are increasingly being used as inclusions in other confectionery products. These confections provide several advantages, including giving a new product a familiar taste and texture and supporting a new or existing product with its strong brand name.
Interestingly, a New York-based candy store, Chocolate Bar, recently launched a line of confections, Retro Bars, which bring back flavors that instill a sense of nostalgia. These gourmet chocolate products come in six flavors— Malted Milk, Key Lime Pie, Caramel Apple, Peanut Butter and Jelly, Raspberry Jam, and Salted Pretzel. Ironically, the flavors of these traditional products—whether confections, desserts, or snacks—can help create a new product by giving it the taste of a traditional—or, if we must say it, older—product. Furthermore, by giving a chocolate bar the taste of a peanut-butter-and jelly sandwich or a salted pretzel, we are again blurring the distinctions of different product categories, and creating new ones through the creative—and sometimes unusual—fusions.
Traditional confections may also be reinvigorated to try to meet the desires of other consumers, especially younger ones who probably were not even born yet when some of the confections were already established. Take licorice, for example. Exciting flavors, new shapes, the addition of higher levels of fruit juice, fillings, and innovative packaging are all helping to put new twists on an old favorite.
Cotton candy, another traditional favorite, has also seen some transformations. For example, chocolate can be added to it. Pop Rocks (another traditional favorite) may be used to create a cotton candy that explodes (rather than dissolves) in one's mouth. And then there's Airhead's Cotton Candy Bubblegum, which looks like cotton candy and feels like cotton candy, but turns into bubble gum when you chew it. 
 There are a host of other traditional confections, such as caramel, which are lending their functionality—and sometimes health benefits—to a variety of new and existing confectionery products.
--- PAGE BREAK ---
Inclusions for Confectionery. Today, a broad range of confectionery and baking inclusions, especially branded ones, are available which can reinvigorate confections, transforming them into new sensory experiences. Consider the different possibilities: They can take a non-confectionery application (remember my loaded-cookie photo) and make it, at least in my opinion, a confectionery treat. Or they can take a traditional confectionery application, such as a candy bar, and by adding color, texture, flavor, and taste sensations create a totally different product. Or they can take a new product and by lending a popular brand name give that product a certain familiarity or marketplace stability.
Perhaps one of the best examples of a recently launched product that successfully took advantage of inclusions was the M-Azing bar available from Masterfoods USA, a Division of Mars, Inc., 800 High St., Hackettstown, NJ 07840 (phone 908-852-1000; fax 908-850-2734; www.m-ms.com). The milk chocolate bars are loaded with M&M's® brand Minis® Chocolate Candies in two varieties—Peanut Butter and Crunchy. Each bar contains these brightly colored inclusions, which provide a crunchy bite to the creamy bar. Embossed on the bars are M&M's brand characters. The company also launched crunchy cookie squares, Cookies &, with branded toppings (M&Ms chocolate candies, Snickers ®, Milky Way®, and Twix®).
A variety of popular confectionery and baking brands are offered as ingredients in confections and other applications by Nestlé Branded Ingredients, 800 N. Brand Blvd., Glendale, CA 91203 (phone 818-543-7804; fax 818-543-7804). Brands include Butterfinger, Crunch, Baby Ruth, Wonka Nerds, SweeTarts, Raisinets, Nestle Chocolate, and Toll House Chocolate Chips and Chunks, plus candy-shelled baking pieces in milk and semisweet chocolate. New products include Rainbow Mini Morsels (Candy Shelled Nestlé Mini Morsels in five colors) and Harvest Blend Gems (Candy Shelled Nestlé Semi Sweet Chocolate in fall colors). At the International Baking Industry Exposition 2004, the company highlighted a variety of applications formulated with these branded inclusions. Products included Chocolate Brownies with Butterfinger, Crispy Rice Treats with Nestlé Semisweet Gems, and Chocolate Brownies with Nestlé Toll House Semisweet Chocolate Chunks.
Caramel can also play an important role when developing confectionery products having inclusions, according to Kraft Food Ingredients Corp., 8000 Horizon Center Blvd., Memphis, TN 38133 (phone 901-381-6500; fax 901-381-6628; www.kraftfoodingredients.com). For example, soft and stretchy enrobing caramel from the company is suitable for cookies, granola bars, and candy bars, especially as a chewy sandwich layer. It can also be used as a vehicle for binding nuts, cereals, grains, and coconut to the outside of cookies or snack bars. With additional processing, enrobing caramel may be used as stretchy center for candy.
While the use of branded ingredients as inclusions seems to be in the spotlight these days, one shouldn't overlook the fact that a broad range of ingredients may be used to add flavor, color, texture, or nutritive benefits to confections. Some popular examples might include raisins, blueberries, coconut, rice, nuts, marshmallows, soy bits, confectionery particulates, and many others too numerous to mention here.
Several confectionery prototypes demonstrating creative inclusions were highlighted at the 2004 IFT Food Expo by Kerry Americas, 100 E. Grand Ave., Beloit, WI 53511 (phone 608-363-1200; www.kerryamericas.com). Caramel Apple Bites is a layered bar with caramel apple-flavored center with real apple bits, creamy caramel filling, and a rich, caramel coating. Chocolate Marshmallow Macaroons consist of a protein enhanced dough with coconut and marshmallow bits in a sweet chocolate coating. Novelty Fortune Cookie, which contains a high-protein soy powder with a superior flavor profile, has as its inclusion creative customized fortune cookie messages. (Here's an idea: How about edible fortune cookie messages having different flavors and textures? Now that would be an inclusion!)
A wide range of particulates and confectionery ingredients for use in developing innovative applications is available from Custom Industries, 9807 S. Forty Dr., St. Louis, MO 63124 (phone 314-787-2828; fax 314-787-2838; www.custombits.com). In 2002, the company unveiled a new innovative research and development center which incorporates a product development and research area, an applications demonstration kitchen, and consumer sensory panels. It is an interactive resource that allows customers to work on-site with the company's research and development team to increase product speed to market. Among the inclusions that the company offers are bits, gems, crunchlets, candy-coated chocolate chips, sparkles, sprinkles, nonpareils, and colored salts. New product offerings include color changing bits, coextruded gems, soft bits, and sugar-free bits and gems.
--- PAGE BREAK ---
Occasion Candy. By occasion, I mean, of course, seasonal candy, although technically the term could apply to any special occasion such as an anniversary, wedding, birthday, or any other event that is a time for celebration. According to studies, for the past three years, seasonal confectionery has accounted for about 30% of annual candy sales. Candy sales are said to increase more than 100% in the two weeks prior to Halloween, Christmas, and Easter. The biggest "candy holiday" is Halloween/Back-to-School, followed by Easter, the winter holidays (Christmas, Hanukkah, and Kwanza), and Valentine's Day.
Not surprisingly, both retailers and candy manufacturers recognize the importance of candy to holiday celebrations, and each year they introduce an even wider variety of seasonal candies.
For example, Marshmallow Peeps® Delightfills for Halloween was introduced by Just Born, Inc., 1300 Stefko Blvd., Bethlehem, PA 18017 (phone 610-867-7568; fax 610-867-9841; www.justborn.com). The marshmallow candy is shaped like a real pumpkin and filled with real chocolate cream.
Glow in the Dark Snickers and M&Ms will provide a surprise trick—as well as treat—this Halloween by Masterfoods USA, 800 High St., Hackettstown, NJ 07840 (phone 908-852-1000; fax 908-850-2734). The wrapper on several of its best-selling, fun-size brands will glow in the dark.
Also, suitable for Halloween are several other candies which are taking advantage of the Harry Potter, Spider-Man, and Hulk movies.
Easter will see pastel-colored Bunny Corn Candy made with real honey, introduced by Zachary Confections, Inc. (phone 800-445-4222), and The Egg—a real eggshell filled with one of three chocolate truffle fillings and decorated in delicate, colorful patterns—available from Germany-based Gut Springenheidi GmbH (phone +49-2553-1022; fax+49-2553-1025).
For Valentine's Day, a heart-shaped, sugar-free chewing gum in assorted colors and flavors is available from Necco (phone 800-225-5508). The gum, which has messages written on it, is made with a cold-compression process that results in an intense, long-lasting flavor.
And for Christmas, we have such treats as Holiday Wreaths Jelly Candy from Sunrise Confections (phone 800-685-1475).
One line of candy, Peanuts® TwistPops™ from Kencraft (phone 800-377-4368), are customized for all four holidays. These lollipops with swirls of flavor and color (dependent on the holiday) depict characters from the Peanuts comic strip in situations that reflect that particular holiday.
Many of the ingredient innovations mentioned in this article could easily apply to occasion candy, as they help to customize a product to meet the needs of a specific occasion. For example, blueberries may be used in the creation of a Halloween treat, "Blueberry Bats."
A formulation is U.S. Highbush Blueberry Council, c/o Thomas J. Payne Market Development, P.O. Box 281525, San Francisco, CA 94128-1525 (phone 800-824-6395; www.ushbc.org).
--- PAGE BREAK ---
Remember the computer laser technology to reproducing high-quality images that was discussed in the chocolate section? Imagine the possibility of this technology to create chocolate with the Frankenstein monster on it. You might even have in the package a little sound device which could imitate his grunts and growls while you eat the bar. (Okay, I'm making all this up, but it sure does sound possible, doesn't it? Or how about a Dracula bar saying, "I bid you welcome? That chocolate could be filled with a cherry flavoring that would drip"blood" when you bite into it. Or perhaps my favorite, a Mummy bar, a chocolate bar wrapped in candy-coated bandages. It could also be sold on Mother's Day because it says, "I'm a mummy!
In the following section, we'll be looking at some products that glow. Imagine the possibilities that such developments would have for seasonal candy, especially Halloween. But also think about a Christmas tree-shaped hard candy that would have a lit star on top.
Critical to the success of seasonal candy is the use of colors. For example, a color-changing system is available from Sensient Color Group, a division of Sensient Technologies, 2526 Baldwin St., St. Louis, MO 63106-1903 (phone 314-889-7600; fax 314-658-7318). The system can be used to visually represent one shade of product, but develop a completely different shade when hydrated with water, milk, or the moisture in your mouth. Also manufactured by the company is Spectraflecks, colored particles that can provide a burst of color to almost any confectionery product. A creative mind could easily apply both developments in the formulation of seasonal candies.
Novelties. Recently at the supermarket, I saw an interesting item which could be described as an interactive novelty. The product, Color-a-Cookie Cookie Coloring Kit, included a cookie (made with whole eggs, vegetable shortening, flour, and sugar) and several fruit-flavored markers. The cookie depicted cartoon characters (mine showed SpongeBob Squarepants), which, like an edible coloring book, could then be filled in with the markers. Depending how artistic the user wanted to be (child, young at heart, or budding artist), the activity could keep one busy for a while; then instead of hanging it on the refrigerator, the user could consume it or share it with the family.
In recent years, a wide range of confections have been introduced into the marketplace which are, well, novel, to say the least. Here are just a few examples:
• An illuminated lollipop that can stay lit continuously for 6–8 hours has been created by Lite Pop, LLC, 11230 Sorrento Valley Rd., San Diego, CA 92121 (phone 858-509-9777; fax 858-509-3907). Called Lite-Pop, the product is based on a custom- designed light-transmission element which throws light directly into the mouth while casting a bold and highly visible light around the candy. Its patented design is approved by FDA. The candy is available in a variety of flavors and holiday themes, such as Halloween, Valentine's Day, and Easter.
--- PAGE BREAK ---
• New interactive candies based on the Marvel Comics character Spider-Man are available from Au'some Candies, Inc., 2031 Rte. 130, Ste. E. Bldg. A, Monmouth Junction, NJ 08852 (phone 732-951-8818; fax 732-951-8828; www.ausomecandy.com). The candies include a webstring which comes in sour fruit flavors, a gummy spider suspended in candy gel, and a fruit-flavored lollipop that kids can coat with a sour powder.
• "Push-n-pull" interactive candy featuring three lollipops in one is offered by Imaginings 3 Inc., 6401 Gross Point Rd., Niles, IL 60714 (phone 847-647-1370; fax 847-647-0633). The candy consists of a Green Apple, Wild Blue Raspberry, and Sour Strawberry lollipop housed in a clear tube. Children can switch from one flavor to another by pushing, pulling, and rotating the pops.
• Candy Cosmetics for children who want to play dress up and snack at the same time have been developed by Frankford Candy, 2101 Washington Ave., Philadelphia, PA 19146 (phone 215-735-5200; fax 215-735-0721; www.frankfordcandy.com). The lipstick has a working mirror on the cap and comes in green apple, blue raspberry, and strawberry flavors. The compact also has a working mirror, plus a candy stick with two flavors for dipping.
• Energy Candy in D-cell battery shaped containers is available from Chargers Candy, P.O Box 12404, La Jolla, CA 92039 (phone 858-405-4806; fax 443-256-1264; www.chargerscandy. com). Each tin holds 0.5 oz of red-candycoated, chocolate-covered espresso beans.
As can be seen, these novelties provide a number of opportunities for flavors, colors, and other ingredients that can be specifically tailored for that application.
In recent months, some of the media have vilified confections as being responsible for the obesity epidemic, making the old adage, "any news is good news," painfully incorrect in such a climate. Such negative attention, by targeting confections, simplifies the picture, missing, along the way, several important factors contributing to the health problem. Not following moderation and a balanced diet, a lack of physical activity, and a genetic propensity for obesity in some individuals have all contributed to the obesity epidemic much more than the consumption of candy by itself. Furthermore, the elimination of candy, at least from a psychological standpoint, would make a stress-filled world a lot less cheerier for many individuals—I being one of them.
From a food writer standpoint, the negative emphasis is also having another unfortunate consequence: it's not seeing the current innovations—some major, some minor—that are happening in the confectionery arena. From the products that I have seen—as well as the ingredients that are being used to formulate them—there seems to be an "out-of-the-box" thinking characterized by a creative, sometimes audacious, perhaps humorous, spirit. For example, when seeing a product such as Reese's Inside Out (peanut butter on the outside, chocolate on the inside), one can't help appreciating this spirit. And while this product may not necessarily have a major impact on the confectionery area, that same spirit is being applied to all areas, whether they involve portion control, low-carbohydrate development, creation of new flavor combinations, updating of traditional products, maintaining of healthy teeth and gums, interactive role of packaging, and so on. And, of course, that same spirit is opening up new opportunities for ingredients, whether sweeteners, fiber ingredients, fruits and nuts, colors, flavors, vitamins and minerals, flavor enhancers, inclusions and toppings, or processing aids.
Such a wave of creativity—trying to do as many things as possible, especially under a cloud that is sometimes created by negative press—is not an easy task. Furthermore, with all these changes going on, and with formulators trying to meet different needs without compromising other needs, it shouldn't be surprising that traditional distinctions between what is a confection is and what it isn't have blurred considerably. This article has probably gone one step further. Because "confections" can include so many traditional or emerging areas, that word has become less a specific definition and more of an encompassing term for these different products—or, as this article has hopefully demonstrated, a flexible acronym representing products that will increasingly provide us with sweet results, ranging from functionality to health.
Next month's Ingredients section will look at recent developments in the area of basic tastes—sweet, salty, sour, bitter, and umami.
by DONALD E. PSZCZOLA
Senior Associate Editor
[email protected]