Bun-less burgers, Atkins-endorsed menus, deconstructed burritos/fajitas, downsized super-sized fries/drinks, and even "Pizza in a Pail"—Americans' new penchant for health has sent the foodservice industry back to the kitchen to develop recipes that remove unwanted carbs, calories, trans fats, and more, as the desire to "take it off" in the name of health, for the first time, goes head to head with more indulgent restaurant fare.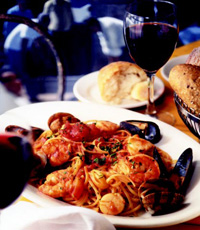 But at the same time, savvy TV Food Channel–educated, restaurant-spoiled consumers are demanding more exciting and complex flavors, upscale and exotic ingredients, and added value, forcing chefs to "pile it on." Sandwiches layered with sauces, flavorful spreads, marinated vegetables, exotic greens, specialty cheeses, and highly seasoned meats have become the "norm." For example, even Schlotzky's Deli's Original Oven Toasted Sandwich is now made with lean smoked ham; Genoa and Cotto salamis; melted aged Cheddar, Mozzarella, and Parmesan cheeses layered with signature black olive tapenade; red onion; shredded romaine and iceberg lettuce; Roma tomatoes; and mustard—all on Original Sourdough bread.
Meats, poultry, or fish regularly layered with trendy crusts, savory sauces, crumbled cheese, crab, or caviar—and most recently prepared with wine or spirits—have become mainstays on chain restaurant menus. Bennigan's Irish American Grill & Tavern's new Blue Cheese Filet is finished with a port wine demi-glaze, garnished with crisp fried onions and almonds, and served over green beans and seasoned mashed potatoes.
"Bar chefs" are also layering flavors. Red Robin's "Sand in Your Shorts"—a blend of Chambord, Midori, vodka, peach schnapps, and triple sec and orange and cranberry juices—and its Layered Raspberry Limeade prove that this technique sells for both non-alcoholic and regular beverages.
And while little bites, tasting flights, and small plates abound, expect them to be layered with flavors and upscale ingredients, as well. Samplers of three mini filets—all with different flavored crusts, sauces, toppings and garnishes—are one of the hot signature bar items in upscale steakhouses today. And watch as smaller portions of ultra-rich foods like Kobe beef, exotic pates, and imported cheeses help stack up little tasting plates, too!
Virtually every segment of the foodservice industry has responded to America's cry for health. In the past year, market leader McDonald's downsized its super-sized items; added all white-meat Chicken Selects™ strips; introduced adult "Happy Meals"; and added milk, fruit, and yogurt options to its kid-oriented meals. Subway and TGI Friday's added Atkins®-approved menu items, and TGI Friday's added a low-carb Chardonnay and Merlot.
Applebee's Neighborhood Bar & Grill went national with a branded Weight Watcher program complete with Weight Watcher points on menus. Ruby Tuesday launched its Smart Eating plan with more than 30 new menu items lower in fat, calories, and carbs; switched from soybean to canola oil to reduce trans fats; and added nutrition information to menus. Panera Bread Co. menued fresh-baked low-carb breads, while Blimpie Subs & Salads touted its Carb Counter Menu.
--- PAGE BREAK ---
Jack-in-the Box broke new ground with its new Natural Cut Fry's, the only "skin-on" fries in fast food. Simplot introduced Infinity Fry with zero grams of trans fat, and the Melting Pot invented the first bouillon-style fondue. Boston Chicken founder George Naddaff opened a new chain, KnowFat Lifestyle Grilles. Romano's Macaroni Grill created a new menu category, "Sensible Foods," with menu entries such as Pollo Magro "Skinny Chicken," a chicken breast on steamed spinach and topped with roasted tomatoes, onions, and honey balsamic glaze, with only 4 g of fat. And hospital food went healthy gourmet!
The authentic restaurant and Italian bakery company Il Fornaio created the North Beach Diet in answer to the low-carb craze. The 2,500-kcal/day diet, which includes bread, pasta, wine, smaller portions, and multiple courses, emphasizes whole grains, complex carbohydrates, and vegetable-based dishes. Named for the San Francisco neighborhood, it is said to be the "healthiest, happiest diet" around!
Health-directed customer behaviors in foodservice are increasing, too. The NPD Group (2003a, b) reported that salad orders in quick-service restaurants jumped 12% last year and that only 11% of restaurant dinners included a dessert. In homes and away from home, fruit became America's second most frequently eaten snack food (NPD, 2004a). Although French fry orders have begun to rise, as "carb-conscious" consumers adjust their diets to accommodate their favorite foods, orders fell 11% in 2003. One-third of kids age 8–17 consulted a parent before visiting a fast-food restaurant, up 6% in 2003 (Harris Interactive, 2004). Omega-3s were added to school meals in Texas; the U.S. Dept. of Agriculture created an allergy-free school foodservice category; Nestlé and Stonyfield Farm have placed branded vending machines offering only healthy food into schools.
But not all restaurant patrons are concerned about health. According to Technomic (2004a), people whose eating habits are unchanging or are increasingly unhealthy account for 47% of all restaurant visits. On the other hand, low-carb eaters (15%) and those who are simply trying to eat healthier (16%) also are heavy restaurant users. Low-fat- and/or low-calorie-focused (10%), vegetarian (7%), and "salad and water" eaters (5%)—who eat more salads and water and reduce nearly everything else—visit restaurants less frequently.
And if consumer packaged goods sales are any barometer of menu interests, scanner data indicate that low-carb interest isn't simply going away. Information Resources, Inc. reports that for the year ending 6/30/04, sales of naturally low-carb products—like eggs, poultry, diet beverages, and cheese—a $78-billion food category, rose $4 billion. Low-carb-branded-product activity quadrupled to more than $1.1 billion, with upstart new brands and companies like Atkins falling from 55% of the market to 40% (IRI, 2004).
Trading Up
The growing desire for more upscale, exotic, and gourmet-like ingredients and flavors is unquestionably the biggest change in diner demands in the last two years. Although customers are still focused on comfort, familiarity, and, even more important, value, they're far less willing than ever before to by-pass the excitement of authentic ethnic and regional cuisines, bold flavors, premium and/or exotic ingredients or a celebrity chef 's meal. Unfortunately, with food prices rising and diners closely monitoring their away-from-home spending, delivering flair and value is not an easy task.
--- PAGE BREAK ---
But savvy marketers have embraced select culinary concepts and ingredients as they trickle down from high-end restaurants to casual chains and quick-service restaurants (QSRs). Burger King's Angus Steak Burger—made with 100% Angus beef, fire-grilled onions, cap leaf lettuce, Red Ripe tomatoes, and Signature Steak Sauce on a freshly toasted corn-dusted bun—and Perkins' new Black Angus Beef and Portabella Mushroom Sandwich on Asiago Focaccia take advantage of the trend to branded quality meats.
Au Bon Pain offers Grilled Salmon Salad with Yogurt Pesto Sauce on its signature Ficelle. All its artisan breads are made with Guérande Sea Salt and organic flours. Subway's new Mediterranean Chicken Salad contains baby spinach, grape tomatoes, black olives, roasted chicken, Feta cheese and other upscale ingredients, topped with Greek vinaigrette. Bob Evans' Dinner Solutions line features Atlantic Salmon Fillets with Garlic Herb Butter; TGI Friday's a Strawberry Fields salad; and Cheesecake Factory Steak Diane.
Some fine-dining establishments are adding traffic-building tasting bars and mini-cafés within their restaurants, where small portions and a select few signature items are available at a lower cost, frequently paired with higher-margin bar drinks. Datamonitor (2004) projects that sales of all premium foods will jump from $72.2 billion to $94 billion by 2008, an increase of almost 30%.
With America's young adults more culinary and health aware than any generation in history, the long-term opportunity for more sophisticated restaurant fare will remain strong. The 40 million young adults age 18–24 are the most likely population segment to say they like to eat gourmet whenever they can, closely followed by those 25–34. These two demographic groups also index highest for those who like to try new foods (Packaged Facts, 2003). Nearly nine out of ten young adults (87%), are familiar with quesadillas, 86% sushi, and 16% samosas (Wharf Research, 2003).
But casual dining it will be. Those 18–24 do not "prefer" foods prepared as an "art form" and index among the lowest for those with a preference for spicier foods (Packaged Facts, 2003). Seven in ten young adults buy ethnic foods regularly, while use decreases with age to a low of 4 in 10 consumers aged 65+. They are also more likely than the general population to shop at ethnic specialty and natural/organic stores—a clear message as to the higher-quality, more natural, and ethnically diverse directions they expect restaurants to take in the future (FMI, 2004).
And restaurant savvy they are. One-third of those 15–24 eat their evening meal at a restaurant three or more times a week—almost double the frequency of any other population segment (FMI, 2004). Subway was the favorite restaurant among college students, followed by Wendy's, Taco Bell, Freshens/Smoothies, and Starbucks (Griffith, 2004d). According to Buzzback Research (2004), fresh tops the list of criteria these young adults use when deciding what to eat, followed by easy/fast to prepare (71%) and "on the go" food. With the generally less financially well-off 18- to 34-year-olds being the heaviest users of QSR and casual-dining restaurants, higher price points may prove to be a barrier to more-upscale fast-casual eateries, as they set their sights on a share of the fast-food market (Perlick, 2003).
This group is also surprisingly concerned about health. A desire for improved physical performance tops the list of why teens and young adults make dietary changes or go on a specific dietary regimen (MSI, 2003a). Energy beverages top the list of most-requested beverages, followed by flavored coffees. Nearly one-quarter of all energy beverages are consumed by those 18– 24 (Packaged Facts, 2004a). Only one in three are satisfied with their weight; 17% of girls age 16–17 (MSI, 2003a). Although those age 18–34 have historically driven the carbonated soft drink segment, they are also frequent salad eaters, consuming 48.1 eatings per year, compared to 44.3 for those age 13–17 (NPD, 2004b).
Last, the "Trading Up" phenomenon—in which mid-income consumers treat themselves to "luxury" products and cut back on others—is projected to accelerate in the coming years, creating opportunities at the top and bottom of markets. New luxury product quality not only wins devotees among middle-market consumers but also compels them to spend more on certain items than they ever have before. The Boston Consulting Group (BCG, 2004) identified P.F. Chang's, Panera Bread, Starbucks, and the Cheesecake Factory among the "new luxury" restaurants with long-term luxury-based growth potential.
--- PAGE BREAK ---
Back on Track
Armed with a new diversity of healthy and trendier menu items, the fast-food hamburger outlets are leading the recovery in the restaurant industry after the weakest year in more than a decade (NPD, 2004c). Traffic for the year ending May 2004 was up 3% at all QSRs, up 3% in full-service casual restaurants, and back up to 0% in mid-scale dining establishments. Guest counts rose 3% for the large chains, 1% for small chains, and 4% for one-of-a-kind places.
Total sales in the same period were up 3% for QSRs, up 4% for casual dining, and down 1% for mid-scale establishments; the industry was up 2% overall. QSRs continue to enjoy the largest share of restaurant visits at 74%, mid-scale 14%, casual 11%, and fine-dining 1%.
Same-store sales are also up for many fast-food chains. CKE's Hardees and Carl's Jr.'s restaurants saw same-store sales jump 9.6% in March 2004, while McDonald's and Wendy's each climbed 9.9% (Technomic, 2004b). However, it appears that the "return to restaurants" has focused on eating breakfast and lunch-the cheaper dayparts-while dinner sales currently remain flat. "Average eater checks" rose less than 1% for the same time frame, while traffic increased, reflecting the shift toward more-frequent restaurant visits to these cheaper dayparts (NPD, 2004c).
And the future looks better, too. The National Restaurant Association reports that operators remain optimistic, despite the rising cost of food and the uncertain economic and political climate (NRA, 2004a). Just over six in ten (63%) of QSR and casual-dining, 60% of family-dining, 59% of fast-casual, and 58% of fine-dining operators predict higher sales within the next six months. More than half rate the sales outlook as excellent or very good.
NRA (2003) reports that one in three consumers say they are not eating on the premises of restaurants as often as they would like; a similar percentage said they would like to purchase take-out food more often (NRA, 2004b). Six in ten consumers say they plan to spend more in sit-down restaurants in 2004, the No. 1 response to a Boston Consulting Group Survey on the new luxury phenomenon (BCG, 2004).
NRA's (2004c) Restaurant Industry Forecast predicts that total foodservice industry sales will reach $440.1 billion in 2004—an increase of 4.4% over 2003 or 2.0% in real growth, compared to a 1.3% real gain in 2003 (Table 1). NRA expects full-service restaurant sales to reach $157 billion, for an increase of 4.6% over 2003 or 2.1% in real growth. Sales at QSRs are expected to hit $123.9 billion in 2004, an increase of 3.9% over 2003 or 1.5% in real growth. Restaurants in the South and West will enjoy the strongest growth. Currently, 46% of the United States food dollars are spent on food "away from home"—up from 25% in 1955 and expected to reach 53% by 2010. The nation's 878,000 restaurant locations—projected to top more than 1 million units by 2010—employ 12 million or 9% of the U.S. workforce.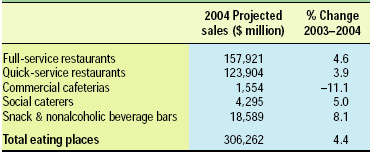 Movers and Shakers
According to Restaurants & Institutions' 40th Annual Top 400 Report, sales of the "Top 400" chains were approximately $218.1 billion, a 5% increase over last year (Hume, 2004). Sales increases were not due to rapid unit growth as in the past, as worldwide units among the "Top 400" rose a little more than 1%. McDonald's remains the largest chain, accounting for 20.1% of the Top 400's sales and 12.4% of total units, followed by Kentucky Fried Chicken, Burger King, Pizza Hut, Wendy's, Subway, Taco Bell, Domino's Pizza, Applebee's Neighborhood Grill & Bar, and Dunkin' Donuts.
--- PAGE BREAK ---
Full-service P.F. Chang's fast-casual restaurant, with its Pei Wei noodle/wok made-to-order concept, topped Technomic's overall list of the fastest-growing chains in 2003 (Technomic, 2004c, Table 2). Operators of emerging concepts are creating complementary dual formats like P.F. Chang's as a way of broadening their demographic appeal and capturing traffic from more dayparts and price points. Darden Restaurants' Smokey Bones more than doubled its sales and unit count in 2003, grabbing the No. 2 slot, the only barbecue concept among the top 25 fastest-growing chains.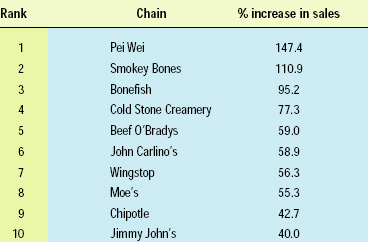 Just as "quick casual" found a niche two years ago between limited-service and casual-dining (Sloan, 2002), upscale-casual restaurants are slowly carving out a place between casual-dining and fine-dining eateries. With check averages generally between $25 and $40, these new concepts attract diners looking for fine-dining fare in a relaxed but sophisticated atmosphere. Bonefish Grill, the 3rd-fastest-growing chain, is one of the first to fill the niche between high-end and low-end seafood houses.
Ranking 4th, Cold Stone Eatery—the only single-concept item in the Top 10—customizes mix-ins, such as nuts and candy, into ice cream on top of a cold marble slab and offers fresh-baked cones. Wingstop, ranking 7th, is another profitable and unique entry offering a wide diversity of sauces and wings.
Among the larger chains in the "Top 100" (Technomic, 2004d), McDonald's Chipotle Mexican Grill and Quiznos remained the fastest-growing chains ranked by sales increases; Quiznos and Baja Fresh Mexican Grill in terms of unit growth. For the first time, two chains featuring Asian cuisines—P.F. Chang's China Bistro and Panda Express made the "Top 10" list. Despite the low-carb movement, fast-casual segment Quiznos posted a 49.7% compounded growth rate (CAGR) between 2001 and 2003, Panera Bread/St. Louis Bread Co. 35.8%, Atlanta Bread 33.8%, and Subway 12.5%.
Asian restaurants once again posted the highest growth rate in the casual dining segment, enjoying a 27% sales increase in 2003. Italian restaurants were a distant second with 2003 growth of 14%, BBQ 13%, varied menu 9%, steak 7%, and seafood 3%. Hard hit by the low-carb movement, casual-dining Mexican chains fell 18%. In the limited-service sector, donuts posted the largest sales increase (21%), followed by Mexican 7%, "other sandwich" 6.5%, hamburgers 5%, chicken and seafood, both 3%, and yogurt 1% (Technomic, 2004d).
After years of holding back, restaurant chains appear to be building again. In terms of new concepts, limited-service concepts account for 70% of new units. Technomic (2004e) reports that the largest cluster in new restaurant concepts is "other sandwich," which not only grew 20% in units between 2002 and 2003, but also accounted for 15% of all growth among the 150 emerging chains. Among the larger chain segments, Asian concepts grew 32%, coffeehouse/cafe 27%, pizza/pasta 9%, and chicken 7%. Among the smaller segments, barbecue units increased 40%, soup and salad 41%, seafood 36%, dessert/beverage 35%, and wraps 21%. Amerimex/Southwestern was the only segment that doubled in the past year.
Of the 245 full-service units introduced last year, 83% fell into the casual-dining area. Italian, barbecue, seafood, and sports bars and grills were the fastest-growing clusters. In the limited-service segment, Amerimex/Southwestern, chicken, and soup and salad were the largest. In fast-casual, other sandwich, Mexican, and Asian topped the list (Technomic, 2004e).
With travelers estimated to account for 15–30% of restaurant sales, the recent rise in air and auto traffic is also encouraging for restaurateurs (NRA, 2004d).
--- PAGE BREAK ---
Some New Criteria
With 10% of all meals eaten on-the-go last year, convenient concepts and on-the-go foods will continue to grab customer attention. Just over half of consumers (55%) eat "to-go" foods as part of their lunch, 40% breakfast, 38% mid-afternoon snack, and 37% dinner (IRI, 2003a). Two-thirds of consumers say that no utensil required is now an important everyday dining criterion; one-third speed/ease of consumption (IRI, 2003b). Two-thirds of teens rank fast/and easy to eat and good to eat on-the-go among their top three food-selection criteria (Buzzback, 2004).
Jack-in-the-Box's Pannido's™—boldly flavored gourmet deli-meat sandwiches on authentic ciabatta baguettes packaged in bakery bags "to go"—have become a huge hit with the burger-and-fries crowd. With value in mind, Rubio's Fresh Mexican Grill has found success with its "everyday affordable" authentic street tacos—Baja-authentic $1 Carnitas Street Tacos™ , $1.39 Carne Asada Street Tacos™, and newcomer Cabo Coconut Shrimp Taco™.
Curbside pick-up—where diners telephone in their orders and pick them up in designated parking spots monitored by closed-circuit television—is now the fastest-growing sector in the casual-dining segment and right on track with the demand for more-upscale take-out meals. Outback Steakhouse, an early pioneer, reported that its Curbside Take-Away program now accounts for 10%, or about $200 million, of company sales, and projects that it will eventually reach 15%. Applebee's Carside to Go program contributed 9.4% of all sales, Ruby Tuesday's program 7.0%, and Romano's Macaroni Grill's program 6.0% (Horovitz, 2004). Just over half of casual-dining and family-dining operators and 36% of fine dining operators said that their patrons ordered take-out more often than two years ago (NRA, 2004b). Moreover, one in three adults said they would like to purchase takeout food more often.
With nearly one-quarter of Americans regularly skipping a meal, usually breakfast, 10% classified as "grazers," and 49% as regular "snackers," operators not surprisingly are quickly adding snacks, appetizers, and mini-portions to menus, as well as extending restaurant hours to accommodate round-the-clock tastes. And a big market it will be, since 74% of consumers snack in the evening, 57% in the afternoon, and 45% mid-morning. NRA (2004c) projects that sales of snack and nonalcoholic beverage bars will grow 8.1% this year, bars and taverns 3.2%. Savvy operators are also enjoying strong incremental sales from all-day sampling and sipping in computer-friendly cafes; a new late-night (post-10:00 p.m.) snacking occasion; after-school snacks for kids; and bar and mini-morsel dining for the adventurous adult crowd.
Quiznos' Diamond Mini Melts and P.F. Chang's China Bistro's Crab Wontons and Peking Dumplings are perfectly suited for serious snacking and mini-meals. Chevys Fresh Mex offers its Tapas Style Fresh Mex® "Small Plates with Big Bold Flavors," including Ceviche, Fresh Mex® Spring Rolls, Pork Empanadas, and Homemade Tamales. Today, tapas—a wide variety of small Spanish appetizers—are being loosely interpreted and diversifying into various ethnic segments, including Mediterranean Meze and Cucchini, Italian-style little plates. And Buffalo Wild Wings, Wingstop, and Wing Zone are highly successful chains literally designed for all-day snacking. Domino's Pizza has added wings to its menu, while some clever marketers are selling pizza by the inch!
The mini mindset is also showing up on the beverage end. Smart operators are offering tasting flights of premium spirits, beer, and wine or pairing tasty treats with signature cocktails or blended drinks. Clustering mini-portions together in samplers makes bar meals a culinary adventure. Three popular bar trends—pairing small portions of high-end menu items from a certain era, such as Crab Louis or Coquilles St. Jacques, reminiscent of the 1950s or '60s; tasting flights of one food item such as Deviled Eggs but made from quail, pheasant, and guinea hen eggs each topped in distinctly different fashion; and a combination plate of three distinctly different ethnic items, such as a samosa, calzone, and seared Ahi tuna morsel with Asian vegetables.
--- PAGE BREAK ---
Menu Makers
Salad entrees topped the list of menu items chain and family dining operators said their patrons ordered more often compared to two years ago. In fine dining, seafood entrees topped the list, followed by salads (Table 3). Prepared salads were also the "most ordered" deli item followed by sandwiches, hot vegetables, cheese, and fresh green salads—all ordered more than 2.5 times/week (IDDBA, 2004). Pizza Hut is delivering pre-packaged, family-sized Fresh Express salads nationwide, often with its healthier Fit 'N Delicious Pizza with 25% less fat than regular pies. Even limited-menu restaurants like Dairy Queen and Brueggers' Bagel Bakery now offer entree salads.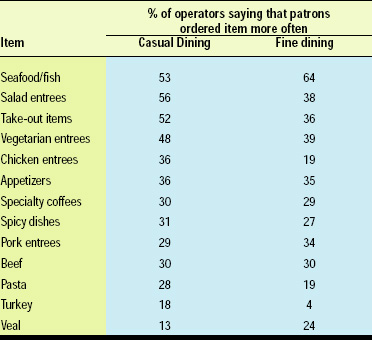 Ingredient-laden variations of Caesar—including new hot Caesar salads with grilled romaine—Cobb, Chef, Chinese Chicken, Antipasto, Iceberg Wedges, and other Retro recipes remain America's favorite salads, but Barbecue, Southwestern, and Mediterranean versions are coming on strong. According to R&I (2003), 36% of restaurants offer a signature salad, 28% a mixture of specialty greens.
Salads sans lettuce—classic Waldorf, Mozzarella and tomato, marinated seafood and bean, bread and rice salads—are moving center stage. As protein salads move more toward meals, cooking techniques such as flame-roasted, blackened, and fruit-wood smoked are fast becoming familiar salad menu descriptors. Regional and seasonal salads—such as Ruby Tuesday's Spring Chicken Salad—convey freshness and a higher quality. Specialty cheeses, fruits, nuts and exotic beans, rice and grains are frequent salad add-ins; protein skewers, crunchy breadsticks, and boutique fruits are attention-grabbing toppers.
Salads have also become more frequent sandwich fillers, often conveniently contained in a pita, or are served atop a burger, pizza, or specialty bread such as Au Bon Pain's Goat Cheese and Field Greens Ficelle. "Build-your-own" salad concepts, half-sized combos with a cup of soup, a slice of quiche, or half a sandwich, and salad samplers are enjoying brisk sales. Salads that "pair up" with the most-menued soups—chicken noodle, French onion, chili, broccoli and clam/seafood chowder—are a very smart idea (R&I, 2003).
Italian, Ranch, Caesar, Honey Mustard, and Balsamic are the five most menued dressings (R&I, 2003). Chipotle, Passion Fruit, Island, New Oriental, Soy and Creamy Tomato are among the new popular chain-restaurant vinaigrettes, according to Food Beat (2003). New lighter dressings include Sesame, Tangy Mediterranean, Plum, and Sweet n' Tangy; Ancho Bacon, Creamy Dill-Caper, BBQ Ranch, Mexi-Ranch, Parmesan Peppercorn, and Creamy Asiago Caesar are among the more-robust dressings (2004a).
With Boomers preferring fish/seafood over any other protein and consumption of naturally high protein foods soaring, it's not surprising that menu mentions of shrimp jumped 47% in chain restaurants in the past five years; shrimp appetizers 39%; entrees 40%; and salads 90% (Food Beat, 2004). Shrimp tops the list of America's most-eaten seafood, followed by tuna, salmon, pollock, catfish, cod, crab, clams, tilapia, and flatfish (NFI, 2004). Although fried/crusted, broiled, and blackened preparations are the most requested by diners, Asian, Cajun, Caribbean, and Indian recipes—like Legal Sea Foods' Grilled Chettinad Spiced Fish with a blend of 12 Indian spices—are coming on strong.
Raw dishes like sushi, sashimi, ceviche, and seafood tartare and minimally cooked Ahi tuna continue to move mainstream. With health in mind, savvy chefs are substituting lighter crusts, using dry spice rubs, and topping fish with fruit salsas instead of calorie-laden sauces. Darden's Red Lobster's LightHouse Selections highlights healthy menu options and lists carbohydrate, calorie, and fat content on menus. Red Lobster is also breaking new ground by pairing entrees with wine suggestions—including red wines—and their fresh-seafood home-delivery service. Their Endless Shrimp and other all-you-can-eat, limited-time promotions have been another business builder.
Dieting and food safety concerns over beef have shot poultry and white meat in particular into the spotlight. Among carb-conscious consumers, chicken/turkey is the most frequently eaten dinner item: 77% eat chicken/turkey during an average week, 48% steak/beef, 45% fish, 35% pork, and 22% eggs (MSI, 2003b). Among those not watching carbs, 54% eat poultry for dinner, 46% burgers, 44% beef, 27% fish, and 25% pork (MSI, 2003c). Sales of chicken strips and nuggets climbed 18% in 2003, while burgers grew just 1%. The introduction of all-white-meat Chicken McNuggets in 2003 spurred a 33% sales increase (Howard, 2004). Clever marketers are taking the strip/nugget concept into meat.
--- PAGE BREAK ---
Duck, capons, Guinea hen, pheasant, quail, and ostrich; darker meat portions; and smaller birds like Cornish hens are an up-and-coming fine-dining trend. Local poultry farms, regional breeds such as Sonoma and Long Island Duckling, and free-range, grain-fed, and organic birds are now highly desirable menu additions across all restaurant segments. With 86% of consumers aware of pork as the "the other white meat," expect a greater role for pork as a healthy menu addition.
But even with rising prices, beef dishes remain the perennial best seller. According to R&I (2004a), the following beef items show the greatest sales strength for the fine-dining, casual-dining, family-dining, and hotel categories on a scale of 1 to 5, with 5 the greateststrongest: filet mignon 4.36, strip steak 4.09, sirloin/top butt steak 4.08, prime rib 4.05, chicken-fried steak 4.03, ribeye steak 3.98, barbecued beef/ribs 3.87, flank steak/London broil 3.82, T-bone/porterhouse 3.80, and pepper steak 3.62. The skyrocketing interest in premium beef—including Kobe beef, 100% Certified Angus or Hereford, and veal—all-natural, organic meats and preservative-free sausages, hams, and cold cuts are undoubtedly the most exciting new direction.
Bun-less, Buffalo, or vegetarian, burgers remain an all-American favorite. TGI Friday's Atkins' Cheeseburger Platter offers two bun-less, cheese-topped, natural Angus burgers. Big and bursting with ingredients—like Champp's Pepperjack Bacon Stack Burger with two 8-oz patties and apple-smoked bacon—is another industry mega-trend. Red Robin's 22 gourmet burgers include a Banzai Burger marinated in teriyaki and topped with grilled pineapple, a half-pound Carnitas Burger, and a Pot Roast burger. Although perceived as healthier, veggies, fish, and turkey burgers are loaded, too. The Claim Jumper's California Veggie Burger is topped with smoked Gouda, caramelized onions, cucumbers, sliced tomatoes, and California avocados.
Freshly made sandwiches also remain one of the most-ordered restaurant menu items, up 14% in 10 years, reaching 17.4% of all restaurant orders in 2003 (NPD, 2003a). IDDBA (2004) reports that more meat (34%), veggies (33%), and cheese (17%) were the top sandwich ingredient changes in the last two years; however, 22% of diners want more low-fat/calorie spreads, and 26% want Artisan breads.
With the emphasis on health, orders for turkey sandwiches not surprisingly increased 45% in the past five years (IDDBA, 2004). French Bistro, Serrano, and country ham, Italian cured meats such as Mortadella and Pancetta, and ethnic salami/sausages are another fast-emerging trend. Retro premium meats like pastrami, brisket, and corned beef are also enjoying a triumphant return. Regional and ethnic sandwiches and dippable sandwiches, like Quiznos' new Steakhouse Beef Dip are other strong directions.
From dessert soufflés to high-protein wraps and burger toppers, eggs are enjoying a renaissance on restaurant menus. At breakfast, they're likely to be boldly flavored, paired with rustic pastries, Artisan bread, Andouille or Chorizo sausage, and an exotic free-trade coffee/tea or handmade smoothie with fruit biscotti. Seafood omelets and breakfast fish quesadillas are modern morning combos. McDonald's offers a Breakfast Protein Platter with eggs, bacon, sausage, and tomatoes in Canada. Breakfast samplers, finger foods, tapas, egg rolls, and dippable French Toast Fingers are now breakfast staples. Non-breakfast sandwiches, including panini sandwiches with savory cream cheese filling or sweet exotic marmalades, are upscale early morning fare. Expect an increased interest in fruit, zucchini, and carrot breads; organic cereals; and baked goods made with age-old grains. Smaller breakfasts for a smaller price is another emerging direction.
It's hard to discuss menus these days without saying "cheese." Restaurants are not only upgrading to more-exotic specialty cheeses, but also doubling and tripling the amount in recipes; an example is Friendly's Four Cheese Bacon and Tomato Supermelt. Among America's fastest-growing specialty cheeses are Crema Mexicana, Cheshire, Manchego, Queso Blanco, Mascarpone, and chevre of any kind. Important Italian, Spanish, and German cheeses, washed-rind, and American goat cheese are other explosive segments.
--- PAGE BREAK ---
While 80% of consumers reported last year that Italian was the most popular cuisine among their household members, followed by Chinese (71%) and Mexican (64%), interest in food from Spain, Cuba, Brazil, Japan, Viet Nam, Thailand, the Caribbean Islands, Germany, and Greece continues to grow (MSI,2003). Consumers' most-ordered foodservice ethnic styles in the past year were Latin, ordered by 36%, Chinese 35%, Italian 32%, Mexican 30%, Korean 30%, Japanese 19%, Tex-Mex 17%, Greek 13%, Thai 13%, and French 9% (R&I, 2004c). Among young adults, 39% name Chinese as their favorite cuisine, followed by Mexican 21%, Japanese 12%, and Italian 10% (Packaged Facts, 2004b).
Latin-inspired dishes such as carnitas and barbacoa, Spanish cheeses, sausages, spicy peppers, bold barbecue sauces, and desserts are mainstreaming their way onto menus. Chili pepper newcomers ancho, poblano, Scotch bonnet, guajillo, and piquillo continue to delight chefs and diners alike. Tres Leches dessert, horchata beverages, pepino confections and chimichurri sauces are popular menu additions.
Other zesty flavor combinations are coming from age-old products like mustard, horseradish, jerk, and curry; newer mainstream movers include wasabi, oyster sauce, chili garlic sauce, tamarind, aioli, and "pesto." Regionality is also increasingly being used as a menu descriptor. Baja, Yucatan, Mongolian, and Hawaiian are some of today's trendy dining descriptors. Tea-smoked, baked inside a brown paper bag, habatchi-grilled, spit-roasted, bourbon-braised, and stone-steamed—along with a diversity of smoked and wood-grilled techniques—are among new preparation techniques connoting flavor. Hand-made, hand-rolled, and hand-dusted connote high-quality foods to diners.
Last, a fresh, healthy image—no matter what the dish—is key to grabbing diners' attention. With two-thirds of Americans now organic purchasers, organic and all-natural ingredient mentions on menus can be a very strong draw. Fruits and whole grains are other means of adding a healthy aura. Watch as strong fresh berry flavors, especially those with extreme intensity like cranberry, marionberry, blueberry, and black current, will join tropical fruits to form a new generation of tart and tangy recipes. More-exotic fruits like cherimoya, passion fruit, star fruit, prickly pear, blood orange, pomegranate and dragon fruit are also appearing on menus. 
Asian and lighter flavors such as lemon grass, basil, tea, dill, tarragon, and turmeric help to convey a lighter approach to food, as do fruit-coupled flavors such as teriyaki-lime, pear-walnut, and other sweet and tangy combinations. Herbal blends, botanicals, and florals such as lavender are also becoming more popular. Smaller desserts, smaller portions of rich foods, samplers, tasting flights, and dessert carts with bite-size portions of luscious desserts are helping to bridge the health gap. Healthier versions of kids' meals are also becoming more important.
At the same time, friendliness to the environment, farm workers, and a diversity of charities are becoming ever-more-important factors for choosing a restaurant, especially among young diners.
Looking Ahead
Change is always a good business builder, and restaurants are no exception. The increased demand for health has created new, untapped opportunities for foodservice marketers—from college students demanding organic foods to new quick-service customers who have traditionally shunned fast foods. New interest in international flavors and ingredients and a growing penchant for cuisines close to home have made culinary directions literally limitless in the past two years.
But with home cooking curtailed and new generations of gourmets on the way, the future for the restaurant business promises to be even more exciting than it is now.
by A. Elizabeth Sloan,       
Contributing Editor
The author, a Professional Member of IFT, is President, Sloan Trends & Solutions, Inc., P.O. Box 461149, Escondido, CA 92046. E-mail: [email protected].