Fats in foods are essential to our diet. They are the source of body energy and essential fatty acids. Food companies during the 1960s and '70s yielded to consumer demands to eliminate fats such as lard, beef tallow, and tropical oils from their products to reduce the negative health effects of high-saturated-fat content. Hydrogenated oils were initially introduced to foods because they offered more stability during frying and baking, as well as enhanced texture in pastries, cookies, and crackers. In addition, hydrogenated solid oils at room temperature and liquid oils were more resistant to oxidation. But soon, they were found to be more dangerous to health than saturated fats.

Partially hydrogenated oils—the first substitute to replace hydrogenated oils—became a favorite of processors and consumers. These oils enhanced French fry crispness, creaminess in sweets, and freshness of pastries. They also offered consumers the old-fashioned fat flavors they were familiar with. But soon, scientists found them to be equally detrimental to health.
The food industry quickly discovered that higher levels of substitution of 100% trans fatty acids solved part of the problem. Since most popular processed foods contained less than 10 g of trans fat per serving, it was chosen over the recommendations of all top nutrition and medical experts to simply reduce the overall fat intake. Most oils that are hydrogenated, such as canola, soybean, and others, will contain trans fat, while non-hydrogenated oils of these types that are used, for example, in salad dressings do not contain any trans fats.
But, once again, more recent studies indicated that trans fatty acids produced during the hydrogenation process exhibited the same negative health effects as saturated fats. Some even showed that trans fat had the same heart-clogging properties as saturated fat, but, unlike saturated fat, it also reduced the "good" cholesterol that can clear arteries. The Food and Drug Administration has ordered food companies to disclose trans fat content on food labels by January 1, 2006. The research on trans fatty acid health effects, replacement possibilities, and choice of label options continues, but health-conscious consumers are already shopping for products with lower or no trans fat content.
Researchers have tested margarine as an alternative to partially hydrogenated oils. Margarine contributes less than 1 g of trans fat to the daily diet serving (about 8 kcal out of the average 2,000 consumed daily). The softer the margarine product, the fewer trans fatty acids it contained; however, the oils in margarine tended to puddle in frozen foods, make crusts unpalatably dense, and prevent flakiness with the use of such soft fats.
Program Addresses Fats and Oils Innovation
The question of how the food industry will resolve the current controversies of formulating foods with trans fats as a substitute for partially hydrogenated oils (now declared the worst fat in the American diet), or use other alternative fat sources such as omega-3 and omega-6 fatty acids from fish, algae, soy, and other sources was recently discussed by a group of fats and oils experts.
The program, "Fats and Oils in the Food Industry: Business Success Through Innovation," was organized by the North Central Section of the American Oil Chemists Society (AOCS), the parent AOCS organization, and five food industry sponsors—Kraft Foods, Inc., DSM Nutritional Products, Inc., Martek BioSciences Corp., Omega Protein Inc., and United Soybean Board. It was held in Chicago in February 2005. Speakers and attendees came from government, universities, and industry.
--- PAGE BREAK ---
Meeting unmet consumer needs—such as transparent benefits, no behavior changes, no taste trade-offs, meeting the consumer value/benefit equation, and including healthy alternatives—presents marketplace opportunities, said Michael Brock, Technology Entrepreneur-Corporate Function R&D, Procter & Gamble Co. America's aging population correlates to a rising interest in wellness and a shift from reducing harmful foods to incorporating healthier foods.
Brock said that since P&G's introduction of olean (trademarked Olestra) in 1996, P&G has test marketed other healthier fat source alternatives, including "compact oils," functional oils, olive/canola oil blends, and omega-3 sources.
The retail oil segment of the food market represents $1.5 billion in sales, he said, and has shown a drop in vegetable oils and an increase in canola and olive/specialty oils in the past few years. Compact oils, cholesterol-reducing oils, and fat-reducing oils (e.g., Cooksmart, CookRite, Crisco Cooksmart, and Crisco Chef's Blend) were test marketed, with unclear results. High customer purchase intent was indicated, but few cholesterol-reduced foods have come on the market, and fat-reduced oils are considered beneficial but confusing to consumers.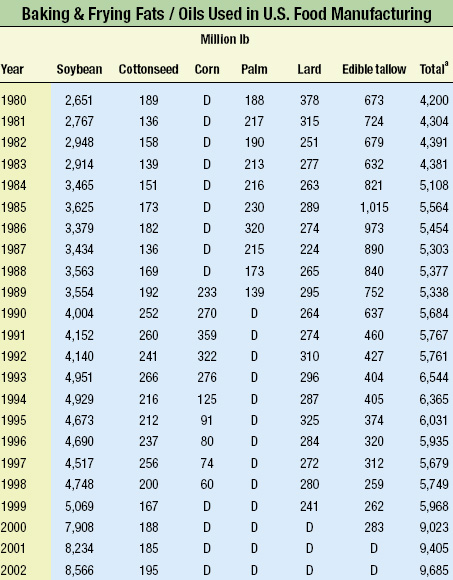 Gary List, Research Chemist at the U.S. Dept. of Agriculture's National Center for Agricultural Utilization Research, said, "The nutritional labeling dilemma today is trans versus saturated acid, where product acceptance must be balanced between oxidative stability, nutrition, and functionality. Soybeans are still a primary source of trans fat, as they are utilized in 88% of the processed food market." Since 1980, the amount of baking and frying fats/oils used in food manufacturing has more than doubled (see table). Soybean oil usage has more than tripled, while animal fats usage has decreased significantly.
He offered a list of alternative oils to trans fat sources and optional processes for reducing trans fatty acids, but said that they all require serious considerations of the functionality changes in various food applications and increased cost of the new, less-available omega-3 fatty acid sources.
Research by List and others he quoted showed that the hydrogenation process may be modified to inhibit development of trans fatty acids. Interesterification by either a chemical or enzymatic process can affect the level of trans fatty acids in hydrogenated fats. Low temperatures, high pressures, and high catalyst concentration can produce about 50% less trans fatty acids than normal.
Julie Moss, spokeswoman for FDA's Center for Food Safety and Applied Nutrition, spoke about FDA's concerns regarding trans fats in foods. After several industry and consumer hearings for comments, she said, "The Food and Drug Administration's 'final rule' for separate labeling of trans fat on the Nutrition Facts label has now been issued and will be effective January 1, 2006. And, a request for industry and university research data has been issued to establish qualifying criteria to establish Nutrient Content and Health Claims for trans fats."
--- PAGE BREAK ---
Are Omega-3 Fatty Acids the Answer?
The current leader in replacement of trans fatty acids is probably omega-3 fatty acids from sources other than hydrogenated fats. "Omega-3 fatty acids are an old idea with new marketing opportunities," said George Liepa, Professor of Nutrition at Eastern Michigan University. "There are several options in types of dietary fatty acids or essential fatty acids. If we show there is a need [for a reduction in trans fats], U.S. industry will come to the rescue."
Liepa listed two dietary sources of essential fatty acids: omega-3 fatty acids (made by chloroplasts), including algae, land plants, fish oil, some seed oils (flax, canola, and soy); and omega-6 fatty acids, which would include most of the remaining seed oils. He warned that "not all salmon are alike," suggesting that not all sources and intakes of omega oils will have the same health reactions. He concluded, "An increase in omega-3 fatty acids can help impact on chronic diseases and mental health improvement, and food companies need to find safe ways to increase the amount of omega-3 fatty acids in the diet."
Applications of Liepa's research were suggested as innovative technologies for the stabilization of omega-3 fatty acids in functional foods. FDA continues to study and seek comments from industry, university, and consumers on developing a qualified health claim for long-chain omega-3 (n-3) fatty acids. The agency has reported that supportive, but not conclusive, research shows that consumption of eicosapentaenoic acid (EPA) and docosahexaenoic (DHA) from omega-3 fatty acids may reduce the risk of coronary heart disease.
A researcher in this area of foods, Eric Decker, Associate Professor of Food Chemistry, Dept. of Food Science, University of Massachusetts, commented, "The best opportunity to achieve consumption of recommended nutritional levels of omega-3 from seafood will require 3–17.5 servings a week, depending on the type of fish source (e.g., 3 servings from farmed Atlantic salmon or 5.8 servings from albacore tuna or 17.5 servings from cod). However, fish has also been found to be contaminated with dioxins, PCBs, DDT, and methyl mercury. So, how do we eat more omega-3 from fish while FDA says, 'Don't eat these chemicals'?"
Decker suggested that one answer is application of omega-3 in functional foods. "The body is good at digesting fats, and the bioavailability of omega-3 fatty acids in fortified foods is high. The food industry can ensure that omega-3 fatty acid oil sources are low in toxins. Omega-3 fatty acids in functional foods do not have a flavor reflux problem common in supplements, and supplementation will be limited by potential rancidity," Decker reported. The latter problem is a result of most food lipids existing as dispersions, and antioxidants that are so effective in bulk oils are often not effective in dispersed liquids.
Decker's research offers solutions to this problem. Oils high in omega-3 fatty acids may be spray-dried and the oil embedded in a dry matrix with very low exposure to surface oxidation. The delivery system for incorporation of bioactive lipids into foods can also be controlled by the influence of pH on electrical charges of the emulsion droplets, or by producing a low-viscosity emulsion for ease of handling and incorporation into water-based foods. Addition of mixed tocopherols is more effective than addition of alpha-tocopherols, and EDTA is the only commercial chelator that has been tested and proven effective. Both of these antioxidants have demonstrated a shelf-life protection of more than 12 months.
Decker concluded by saying that studies have shown that algae oils, high in omega-3 fatty acids, function very well in yogurts and ice creams. "To use the FDA omega-3 fatty acid qualified health claim," he said, "you must use algae or fish oils that are high in EPA or DHA. These oils can be purchased in bulk, dried, or emulsified forms, but often usage will increase your previous oil source costs. Utilization of alternative oil sources will depend on the nature of the food products (e.g., moisture content, pH, required shelf life)."
--- PAGE BREAK ---
FDA labeling regulations for use of omega-3 fatty acids (EPA and DHA) and reduced risk of coronary heart disease were published in 2000 for dietary supplements only (as "daily intake should not exceed recommending 2 grams EPA and DHA"). In September 2004, the FDA issued omega-3 fatty acid qualified health claims for "conventional foods including fortified foods." Eligibility criteria for total fat, saturated fat, cholesterol, and other conditions were also specified for dietary supplements, fish, and conventional foods. A qualified health-claim label for monounsaturated fatty acids in olive oil was issued in November 2004. Labeling of olive oil in eligible foods is based on 6 g or more of olive oil per serving.
Successful Marketing
Several foods formulated with "substitute fats" have been marketed in the United States and other countries with great success, and some have failed, as is typical with new food products. A few examples of recent successes may ring a bell or knock the cobwebs off some old or suspended research and development projects that utilized alternative fat sources in foods. Now is the time for product developers to look into the new options, before the regulatory system or consumer demands force them into expensive last-minute research on competitive products.
• Mead Johnson wanted to provide infants and children the best possible start in life by innovative supplementation of its term and pre-term infant formulas. Addition of long-chain polyunsaturated fatty acids increased the single-cell oil DHA and arachidonic acid (ARA) levels in infants, with many positive growth effects, according to Deborah Dierson-Schade, Research Fellow, Mead Johnson Nutritional Group.
"Preformed DHA," she said, "is preferred for infants, because although it accumulates in the brain early and rapidly, the conversion from a precursor is highly variable, and experts agree it may be insufficient for their needs. Dietary DHA is critical to a normal brain growth of 175% in the first 12 months of life. Research also determined that the role of DHA and ARA in supplemented formulas enhanced retinal and visual acuity functions, and higher mental and psychomotor development. Overall growth (measured in length) of infants fed the supplemented formula up to 6–12 months of age equaled those being breast fed at 18 months of age. Market introduction of supplemented infant formulations was the biggest innovation in 30–40 years."
This market success is now being researched further to adapt it to liquid diet formulations for older infants and mothers with breast-feeding infants. Studies are showing similar benefits in children up to 4 years of age and beyond, and include enhanced intelligence test scores, Dierson-Schade said.
• ADM Kao LLC, after successful marketing of a revolutionary processed soy and canola oil blend with health benefit claims in Japan, recently introduced the oil in Chicago and Atlanta test markets under the trade name Enova™. ADM Kao is a joint venture of Archer Daniels Midland Co. of Decatur, Ill., and Kao Corp. of Japan.
"Enova oil is digested and absorbed the same as conventional vegetable oils; however, it is metabolized differently," summarized Branin Lane, Research Manager-Nutritional Science at ADM. The new blend, he said, is processed to contain a higher concentration of diacylglycerols (DAGs), which contribute to body weight and body fat management, and reduce serum triglycerides. It contains lower saturated fat content and no trans fat per serving. The new oil works because DAG fats come in two shapes (1,2 DAG and 1,3 DAG). The process pre-breaks down the DAG and triacylglycerol (TAG) fat molecules into smaller pieces for absorption by the body, similar to how the body works on the DAG and TAG in conventional oils. Then the intestines rebuild the TAG and DAG fats and bind them into fat packets. These fat packets are passed into the lymphatic system and out into the body, where they're stored as fat. But because of the shape of the 1,3 DAG molecules in this oil, the intestines cannot easily rebuild them into fat. They are filtered out into the blood and oxidized in the liver. Therefore, less Enova oil is stored in the body as fat.
After 15 years of positive clinical studies, self-approved Generally Recognized As Safe (GRAS) data submitted to FDA, and a successful market test in two cities, the oil was scheduled for a U.S. national rollout distribution in January 2005. The consumer will be advised that DAG components occur naturally in the diet and the human body, the oil is not a fat-substitute, no adverse digestive effects have been observed, and absorption of fat-soluble vitamins is not affected. The oil is GRAS for use in bottled oil, salad dressing, mayonnaise, margarine, baked goods, pizza, nutrition bars, nutrition beverages, frozen meals, soups, and gravies.
Although the test markets indicated high consumer acceptance of the oil's look and taste of conventional vegetable oils, mild flavor, and light color, marketing of a new substitute fat product will require a lot of consumer education, Lane said. This was accomplished with point-of-purchase displays, product demonstrations, instant coupon machines, oversized shelf talkers, a new consumer brochure, consumer advertisement, and in-store consumer information sheets. A major point was made to consumers: "New Enova brand oil . . . less of it is stored in the body as fat!"
Where To Go From Here
Although one program attendee observed that successful introductions of new foods containing omega-3 fatty acids in the marketplace will probably be started by smaller food companies, the early successful products described above indicate that larger food companies are in the lead with enhanced fat replacements for high-volume existing products. FDA is up-to-date in issuing regulations on trans fats and omega-3 fatty acids, while requesting more scientific data, for both label content and qualification for health claims. Now, it is up to food processors to do their research and select the best fat source for their product.
by Dean Duxbury,
Contributing Editor