Imagine a large toolbox, the kind that you might find in a basement workshop. You unfasten the lock and slowly open the hinged lid. Instead of the usual contents—nails, screws, screwdrivers, pliers, hammer—you find for your use an assortment of ingredients ranging from enzymes to phosphates and from silicas to fatty acids, along with a few other interesting surprises tossed in.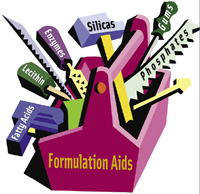 After rummaging through the box, you recognize some of the items as processing aids—substances added for their technical or functional effect in the processing of a food. Because these added substances are removed from the food before it is packaged or are present in the finished food at insignificant levels, they do not have any technical, functional, or nutritional effect in the food itself. Common examples of processing aids include clarifying and clouding agents, foamers and defoamers, catalysts, anticaking agents, release agents, and filter aids.
To better illustrate (and since you should be careful and know how to properly use your tools), let's look at the processing of fats and oils as an example.
According to the Institute of Shortening and Edible Oils (www.iseo.org), when a substance is added to achieve a technical effect during processing, shipping, or storage and followed by its removal or reduction to an insignificant level, the material is considered to be a processing aid. Used in that way, polyglycerol esters provide crystallization modification, phosphoric acid and citric acid function as refining acids and metal chelators, silica hydrogel is an adsorbent, sodium methoxide is a rearrangement catalyst, and so on.
However, when the added material provides a technical effect in the end-product, it is considered a direct additive. In bakery products, confections, snack foods, and other food products that make use of fats and oils, ingredients such as monoglycerides provide emulsification of water in oil; lecithin contributes to viscosity control and wetting; polyglycerol esters promote crystallization and aeration; and sodium steroyl lactylate functions as a dough conditioner and stabilizer.
Hopefully, all of these distinctions are clear.
With a guideline established for processing aids, you are now ready to make use of the contents of the toolbox. Some of these tools will probably be rather familiar. Others, however, may not quite fit the conventional definitions. And others may function sometimes as processing aids and other times as direct additives.
--- PAGE BREAK ---
But at this point I'm afraid I have to throw a small "monkey wrench" into the process (I found that tool next to the silicas, don't ask me what it was doing there). By that, I mean I've decided to make a modification: Instead of using the term "processing aid," which applies specifically to the process where the substance has a beneficial effect, I prefer the term "formulation aid." Such a term—at least the way I'm applying it—would be broader in scope, taking into consideration a number of important areas in the entire formulation process, including other ingredients in the formulation, the food application itself, the process that is used to manufacture the food product, and even the way that the product might be customized to meet different trends in the marketplace.
Such an approach, while it might be taking liberties, is much more in keeping with the philosophy of my Ingredients sections and allows me to explore a broader area of new developments that can help in the formulation of a food product.
Also, traditional definitions don't always capture the essential, and perhaps overlooked, role that these substances play. As one of my handy, ever-present reference books, Dictionary of Food Ingredients by Robert S. Igoe and Y.H. Hui (Chapman & Hall, 1995) notes, these manufacturing aids are used to "enhance the appeal or utility of a food or food component." That wording certainly leaves the door open to several interesting—and exciting—interpretations. These developments provide the food formulator, processor, or manufacturer valuable assistance in creating a product that has been enhanced in some way by that development.
But now let's see if that holds true. It's time to unfasten the latch and discover how many treasures this toolbox holds.
Silicas Help Improve Flow, Reduce Caking
The November 2005 Ingredients section looked at a number of opportunities that spices and seasonings offer to food manufacturers in the areas of health, food safety, flavor, flavor enhancement, color, texture, international cuisine, and seasonal use. However, these opportunities could very easily be hindered if certain processing problems associated with spices are not first solved.
For example, many spice companies use a flow agent to keep their products from caking. However, the use of flow agents may affect the color of the spice ingredient, which in turn could affect the appearance of the food. Seasoning mixtures normally have problems flowing well. Various ingredients may be wet, oily, or hygroscopic, and they may interact with other ingredients based on their water activity. The presence of fine particles will make flow worse. Ground spices in the mixture may form lumps. Also, milling processes can expose wet surfaces of the spice which are sticky.
Fortunately, the use of precipitated silica products can solve these problems, helping to improve flow, reduce caking, and retain color of the ingredient. Silicas can preferentially absorb oil which may exude from such components as paprika, garlic, or onion powders, and their hygroscopic nature provides a degree of moisture protection to the dry mix.
--- PAGE BREAK ---
In addition to spices and seasonings, silica products can be used in a diverse range of everyday products, including dessert, bakery, and soup mixes; grated cheeses, powdered milks, and whey products; salt and salt substitutes; powdered sugar and sugar substitutes; essential oils; and flavors.
To meet the needs of the products, a broad range of precipitated silica and silicate options are available. For example, Degussa Corp., Parsippany, N.J. (phone 800-233-8052, www.degussa.com) offers its line of Sipernat® precipitated silica and silicates for transferring liquids into free-flowing powders, improving dispersibility, and acting as a processing aid in spray-drying and milling applications. Huber Engineered Materials, part of J.M.Huber Corp., Atlanta, Ga. (phone 678-247-7355, www.hubermaterials.com) manufactures a line of precipitated silica items (Zeofree®, Zeosyl®, and Zeothix®), calcium silicate (Hubersorb®), and sodium aluminum silicate (Zeolex®) for anticaking, rheological control, and preferential absorption.
Because of their convenience and easy-to-handle properties, powdered ingredients play an important role in food formulation. However, they also tend to cake and exhibit poor flowing properties—problems that a small amount of silica can solve.
According to Degussa's product literature, the company's silica products are composed of tiny particles with a huge surface area, a mid-range water activity, and 4–7% moisture content. The physical properties are designed specifically to absorb moisture and fit between particles in the mixture to keep them free-flowing. In dextrose, for example, Sipernat 820A and Sipernat 225, prevented caking at elevated humidity. At a usage of 0.5%, the silica products improved funnel flow, allowing the material to flow through a 2.5- or 5-mm opening.
If a powdered mix does not wet and disperse quickly and easily, this can lead to lumping. Materials such as fats, proteins, and some sugars and salts are most prone to this, as shown in Huber's literature. Salt crystals tend to surface-wet, coalesce, and bridge in humid weather. The addition of 1% or less of Zeolex and Hubersorb yields a product with 500% more moisture protection than untreated salt. Because of the high fat content of powdered egg products, they are very difficult to handle in continuous mixing and proportioning equipment. High fat content accentuates caking and lack of flowability of these fine-particle products. Use of 2% Zeolex absorbs the fat and coats the surface of the dried egg products, thus acting as a parting agent to prevent caking.  
The use of silica products can improve the spray drying of oily powders and many other difficult-to-spray dry materials. They function by preventing sticky powders from adhering to the sidewalls of the spray dryer and by absorbing oils during the drying process. This can improve the dryer's efficiency and improve the flow of the final product. The dryer will also stay clean longer, reducing shutdown time. Furthermore, because the materials are more free-flowing and less prone to caking, packing efficiency is improved.
It should be noted, however, that when working with a particular application, it is important to find the right silica product and its optimum concentration. The mixing of the substrate with the silica product is a crucial step in obtaining optimum performance. Too much of a silica can have a negative effect—by saturating the powder with silica, density is lowered and this causes the powder to float on the surface rather than wet out. Furthermore, overblending of some high-fat or high-protein substrates can cause encapsulation of the silicate conditioner within the substrate, resulting in a loss of function.
For these reasons, working closely with an applied technology representative from the silica company is very important. In addition, other sources are lending their support. For example, Degussa's Advanced Fillers & Pigments business unit recently unveiled its "Silica Library"—an electronic source (www.silica-library.com) of application information, specifications, support documents, and other literature for its portfolio of silica products.
When used correctly, silica products can improve the wetting time and dispersion of many problematic powdered mixes, including instant drink mixes, high-gelatin drink mixes, cocoa mixes, and various soup and sauce mixes.
--- PAGE BREAK ---
Phosphate Blends Buffer New Formulations
A phosphate, which is any salt of phosphoric acid, plays a variety of roles, such as sequestrants, emulsifiers, solubility enhancers, and buffers in a wide range of foods. The steady development of new food products and improvement of process technologies require advanced phosphates that can fulfill all these requirements.
One of the leading producers of phosphates is Chemische Fabrik Budenheim, represented by Gallard Schlesinger Industries, Plainview, N.Y. (phone 800-645-3044, www.gallard.com). Its portfolio of products can be used for baking; meat, poultry, and seafood; dairy products; and mineral enrichment.
The effect of phosphates on food is a function of chain length and pH. Depending on the phosphate, phosphates impart specific properties that have an important impact on the processing or formulation of the food. For example, the sequestering properties of long-chain polyphosphates are used to chelate polyvalent cations, such as calcium and magnesium, especially important in the production of meat and milk products. Chelating heavy-metal cations such as iron and copper can inhibit oxidation and retard rancidity in seafood and poultry processing.
Phosphates help to stabilize dispersions, emulsions, and suspensions because of their negative surface charge. These properties increase with chain length and pH. By affecting the surface charge of proteins, phosphates have a strong influence on their water-binding capacity and gel formation as well as on their precipitation properties. Phosphates, especially tricalcium phosphates, act as anticaking agents to keep hygroscopic powders free flowing. Their high specific surface binds excess moisture, and their spherical crystal structure leads to excellent flow behavior. More information on the functions of phosphates can be found in a series of brochures available from Budenheim.
Several major advancements in the phosphate industry have occurred over recent months. For example, a variety of new food phosphates were launched in 2005 by Innophos, Inc., Cranbury, N.J. (phone 609-495-2495, www.innophos.com). The company, formed in 2004, was the result of the acquisition of Rhodia's United States, Canada, and Mexico phosphate assets.
The company's Curafos® blends (OptiBind, OptiBalance, ColorSure, and BrineSolve) were developed to address the product development challenges of producing high-quality convenient deli meat, chicken, and turkey products. Benefits of these products include improved moisture retention, improved yield while maintaining color, and brine tolerance.
Bakery phosphates included Cal-Rise™—a non-sodium, slow-acting leavening agent (a combination of calcium acid pyrophosphates and monocalcium phosphate)—that provides controlled sustained leavening action, fine cell structure, and improved texture in microwavable cakes and other bakery products, and a calcium base that offers a neutral flavor; Dough-Rise™—a blend of Cal-Rise and sodium aluminum phosphate that provides leavening for refrigerated and frozen dough products; and Tortilla-Rise™, a phosphate system that improves the leavening of tortillas, resulting in a product that has increased thickness, better surface texture and brown points, and extended shelf life.
Such products make possible the development of a variety of novel formulations, including microwavable cake and brownie mixes; a frozen, microwavable, individually packaged pizza that delivers the eating qualities of a baked pizza; deli meats that offer improved sliceability, textural qualities, and color development; and pancakes fortified with calcium, just to name a few.
Most recently, Tel Aviv–based Israel Chemicals Ltd., parent company of BK Giulini Corp., Simi Valley, Calif., announced its plans to acquire Astaris LLC, St. Louis, Mo. (phone 314-983-7500, www.astaris.com), a leading manufacturer and marketer of a broad range of phosphates, thermal phosphoric acid, and phosphorus derivatives. The Astaris product line will be integrated into the ICL Performance Products Div., one of the four business segments of ICL. The acquisition of Astaris' complementary business activities is said to represent a major step for ICL in the U.S. and significantly strengthens its geographical reach and manufacturing capability in specialty phosphates, especially in North and South America.
According to Barbara Heidolph, Astaris's Market Development Manager for Food Phosphates, one of the key initiatives for Astaris is the development of a novel leavening agent that offers controlled release comparable to those of current agents in the market, such as sodium aluminum phosphate or sodium acid pyrophosphate, but is sodium free as well.
--- PAGE BREAK ---
MCTs Provide Formulation Flexibility
Medium-chain triglycerides (MCTs) provide a number of processing and formulation solutions for food and beverage manufacturers. These fats, consisting of caprylic and capric fatty acids that are fractionated from coconut or palm kernel oils and esterified with glycerin, are manufactured under the name Neobee by Stepan Co., Maywood, N.J. (phone 201-712-7642, www.stepan.com).
Their functional characteristics, especially low viscosity, oxidative stability, ease of dispersibility, and lack of flavor, color, or aroma make MCTs suitable as formulation aids in a broad range of food processing applications. For example, they can function as anti-dusting agents in mixes, seasonings, and dry blends; as a moisture barrier, preventing water loss and sticking in dried fruits and vegetables; as a flavor carrier and softening agent in liquid center and soft chew confections; as a polishing agent in hard candy production; as a spray oil for snack foods; and as a lubricant in food and pharmaceutical processing. In these applications, MCTs can be substituted for mineral oil and other high-stability oils.
In beverage production, MCTs may be used as a clouding agent. Because of their ability to produce uniform beverage clouds, they were recently incorporated into a new product, Sustane SAIB MCT, by Eastman Chemical Co., Kingsport, Tenn. This product is designed for beverages requiring a weighting agent with enhanced cloud properties.
MCTs are slightly polar, so they can dissolve a variety of substances that are insoluble in conventional fats and oils, as well as substances that are known to be fat soluble. Since they are efficient solvents for oil-dispersible materials, they can act as carriers for fat-soluble vitamins and actives, as well as flavors and colors.
Their use as a concentrated source of readily metabolized energy—combined with their functional characteristics as formulation aids in food and beverage production—make MCTs suitable in the development of future innovative products. Depending on the application, they are available as a liquid, solid, or powder to accommodate different production needs.
Encapsulation Helps Facilitate Processing 
Encapsulation continues to be an important tool for improving both the processing and final product qualities for all types of food and beverage applications. Because it preserves the potency of ingredients that can be lost or minimized during processing, it can help facilitate the product's processing, which otherwise could be problematic.
For example, vitamin C is often added to baked nutrition bars, but it degrades during processing and storage, primarily because of oxidation. To preserve its potency, a microencapsulated vitamin C, Vitashure Ultimate Ascorbic, has been recently commercialized by Balchem Corp., New Hampton, N.Y. (phone 845-326-5600, www.balchem.com). A free-flowing powder to facilitate processing is made using a novel technology that encapsulates vitamin C inside a barriercoating sphere. These coatings protect the vitamin from oxygen, increased pH, moisture, copper or ferrous salts, and the very high processing temperatures used in baking.
Nutrition bars produced with either raw vitamin C or the encapsulated product were baked with internal temperatures above 180°F. When placed under accelerated storage conditions, raw vitamin C degraded very quickly, whereas the encapsulated product remained stable with more than 42% retained after 20 weeks. In another test, after 1 hr in boiling water, the encapsulated product retained more than 57% of its vitamin C.
--- PAGE BREAK ---
An encapsulated fumaric acid for tortillas was recently developed by Primera Foods, Cameron, Wis. (phone 800-365-2409, www.primerafoods.com). Called PrimeCap®, the product is available with a release temperature of approximately 135°F or 155°F. Particle size of the product is specially designed to provide uniform distribution of fumaric acid, resulting in a consistent pH throughout the dough. This improves the preservative's ability to increase shelf life. The encapsulated product improves the machinability of the dough so that the dough is softer than when raw fumaric acid is used. It also improves stretchability and shaping of dough for processing, improves opacity by preventing fumaric acid from reacting with the leavening system, and improves rollability and flexibility of the tortilla.
The use of encapsulation to help facilitate processing can lead to the development of a variety of new products. As products become more sophisticated in terms of the nutrients they offer—as well as their taste, texture, and color—this technology grows in importance. Without encapsulation as an option, some products would be seriously compromised in their quality and subsequent desirability in today's  changing and more demanding marketplace.
Use of Lecithin in Production
The uses of soy-based lecithin as a formulation aid and functional ingredient in a number of food areas are detailed in a new brochure from Cargill Food & Pharma Specialties, Wayzata, Minn. (phone 866-532-4844, www.cargill.com). The brochure, "Innovation in Lecithin," covers some of the company's lecithin products, available in a variety of forms.
According to the brochure, in one recent year, more than 1,400 new products were introduced that included lecithin. One reason has to do with its healthful properties. A second reason, of relevance to this article, is its ability to provide solutions to processing difficulties.
In baked goods, use of lecithin stabilizes dough systems and improves moisture absorption, leading to improved machinability as well as energy savings due to shorter kneading times. Lecithin can play an important role in the development of new reduced-fat and fat-free cakes, breads, rolls, doughnuts, pastry dough, frozen pizza, and prepared flour products.
Take, for example, self-rising frozen pizzas, which have become popular over recent years. Lecithin acts as a natural release agent and significantly reduces dough stickiness. Less-sticky dough is easier to process, saves time, and reduces equipment wear and tear. And as an alternative to other emulsifier systems, it can improve the chewiness and softness of the pizza crust, while reducing sogginess from sauce and toppings.
In chocolate production, lecithin reduces the use of cocoa butter, enhancing the performance of the coating, improving flow behavior, and increasing shelf life by preventing fat bloom. In caramels and toffees, lecithin promotes better fat distribution, improves chewability, and provides anti-stick properties. As a surface-active agent, it improves the separation of sticky chocolates and hard candies from containers and molds, and prevents unpacked individual pieces from sticking together.
For frying margarine, lecithin has suitable anti-spattering characteristics. It also promotes browning by interacting with proteins, improves aroma, limits foam formation, and prevents sediment from sticking to the pan. The bland taste of deoiled lecithin will not compete with delicate flavor systems. It also can work to displace the fat in a formula and to prevent margarine from separating or frying out during storage.
Recently, France-based Degussa Texturant Systems developed a lecithin product, Metarin®EWD NGM, for use in highly concentrated protein products. The enzymatically hydrolyzed liquid soybean product functions as an instantizing aid, improving the wettability and dispersibility of powdered protein products in liquids. Because of its excellent hydrophilicity, the product performs as a wetting promoter, enabling the protein powder to disperse very quickly. When diluted in oil, it can be homogeneously sprayed onto the powder. When bigger powder particles are required, it can be dispersed in water and used for a combined one-step agglomeration and lecithination process.
--- PAGE BREAK ---
Chelating Agents "Claw" At the Solution
Trace metals occur naturally in all plant and animal tissues, are found in processing water, and can be introduced by processing equipment. Furthermore, as mainstream foods are reformulated to make them healthier, certain metals may be added to address nutritional deficiencies.
However, the presence of trace metals can present certain formulation problems. By accelerating undesirable chemical reactions, trace amounts of soluble iron, copper, and other metals can degrade the quality, shelf life, and value of food products. Flavor, color, clarity, stability, and vitamin content can all be affected.
According to Dow Chemical Co., Midland, Mich., a manufacturer of food-grade chelating agents, emulsified products are particularly sensitive to metal-catalyzed oxidation of fats and oils. In products such as salad dressings, mayonnaise, sauces, and spreads, as little as 0.5–1.0 ppm of copper or iron can oxidize fatty oils, leading to rancidity. Color changes, off-flavors, and emulsion instability can also occur.
Chelating agents inhibit undesirable reactions in foods by complexing metal ions. The resulting structure immobilizes the metal ion and prevents it from reacting with other components in the system. (The word "chelate" comes from the Greek word for crab's claw, meaning that like a crustacean, the agent will grab the metal, bind it, and not let go.) 
Dow Chemical (phone 800-447-4369, www.versene.com) makes available a line of EDTA chelating agents (Versene CA and Versene NA) for effective metal ion control under typical food conditions. EDTA (ethylenediaminetetraacetate) forms highly stable complexes with metal ions and is a cost-effective solution because of its effectiveness at very low concentrations.
Enzyme for Cheese Production Increases Yield
An enzyme solution, YieldMax™ PL, provides higher yield for Mozzarella and pizza cheese. The development, which is being introduced to the U.S. cheese market, is the first product resulting from a strategic alliance formed three years ago by Novozymes, Franklinton, N.C., and Chr. Hansen, Inc., Milwaukee, Wis. (phone 414-607-5700, www.chr-hansen.com).
Under normal conditions, the enzyme will reportedly increase yield by approximately 2%. To give some perspective to this accomplishment, it is estimated that the combined efforts of the entire dairy industry has increased yield by just 1% over the past decade, noted Steffen Ernst, Novozme's Research Director. "With YieldMaxPL, you get cheese with a higher amount of the milk nutrients," he added.
The two companies that developed the enzyme feel that the potential of the new solution could be quite large, considering that the top 10 U.S. dairies alone produce an estimated one million tons of Mozzarella and pizza cheese each year, and just 2% of that amounts to 44 million lb of cheese.
The enzyme was showcased in a pizza application at the 2005 World Wide Food Expo. Its developers have applied for a joint patent in both the U.S. and the European Union. A major U.S. dairy is said to have placed the first order.
--- PAGE BREAK ---
Xanthan Gum Makes Possible Increased Hydration Rate
For salad dressing producers, time is lost waiting for traditional agglomerated xanthan gum to fully hydrate. TIC Pretested® Pre-Hydrated® Ticaxan® Xanthan Rapid-3, an agglomerated xanthan gum that solves this problem, was developed by TIC Gums, Inc., Belcamp, Md. (phone 800-899-3953, www.ticgums.com). 
While traditional agglomerated xanthan gums still form lumps, this product goes into solution lump-free. Because of this increased dispersibility, hydration is virtually instantaneous and the salad dressing manufacturer can immediately proceed with the next processing step after adding gum to the tank.
To verify these results, a trial which duplicated the operating conditions of commercial salad dressing production was performed by the company. At the 5-minute mark in the hydration time, the product exhibits a viscosity that is nine times thicker than conventional products. Furthermore, the product achieves this performance without oil/gum slurries, which slow down hydration.
In the past, the viscosity of the finished product varied depending on the amount of time individual operators allowed for the gum to hydrate. Since production can continue immediately after the gum is added without stopping the desired viscosity build, this ensures the creation of more-consistent salad dressing batch after batch and more cost-effective use of production time.
Odorless Rosemary Extends Antioxidant Applications
Food manufacturers face problems when using rosemary extracts in some of their formulations. Rosemary extracts can affect the organoleptic characteristics of products, reducing the number of applications that can benefit from their functionality.
A new product line of odorless rosemary extracts called Inolens™ has been developed by Slovenia-based Vitava (phone +386217888733, www.vitiva.si). Made by a proprietary extraction process which eliminates the strong odor from rosemary extracts, the oil-soluble product functions as a natural antioxidant, extending shelf life and improving quality of such products as mayonnaise, omega oils, salad dressings, sauces, white chocolate, dairy products, and flavors. 
"Mayonnaise producers, for example, who use synthetic solutions can implement Inolens," said Matevz Kmet, the company's Head of Sales and Marketing. "In our laboratory, we have also tested the possibility of applying our product to different types of chocolate. Some components, such as hazelnuts, tend to oxidize and spoil the entire product. Inolens can easily prevent this process."
--- PAGE BREAK ---
Process Fractionates Acid Whey
Most whey protein ingredients currently on the market come from sweet whey, which has a pH of 6.0 and is produced during the manufacture of semi-hard and hard cheeses. However, researchers at the Wisconsin Center for Dairy Research at the University of Wisconsin–Madison have successfully applied a process for extracting nutrients and proteins from acid whey, which has a pH of about 4.6 and is produced when cottage cheese, cream cheese, and ricotta cheese are manufactured.
"The current processes for fractionating liquid whey use membranes to separate the fluid into different components," said lead researcher Mark R. Etzel. "The lower pH of acid whey results in clogging of these membranes, inhibiting processing. Also, whey protein isolate manufactured in this fashion from acid whey contains traces of lactic acid, calcium, and phosphate."
Ion-exchange chromatography generates whey protein isolate and alpha-lactalbumin from acid whey with high purity. The process removes the extra minerals, lipids, and lactic acid that both distinguish acid whey from sweet whey and potentially affect the flavor and functionality of protein fractions. Other advantages are that the process uses inexpensive food-grade buffers, is scalable, and operates at high flow rates and high recovery levels.
Such a development can be of significance to manufacturers of nutraceuticals and foods and beverages that use dairy proteins as an ingredient. The process can help generate large quantities of high-quality protein that can meet growing demands for such formulations. For more information, contact Dairy Management, Inc., Rosemont, Ill. (phone 800-248-8829, www.innovatewithdairy.com).
For Want of a Nail
As I rummaged through our hypothetical toolbox, I was reminded of an old verse: "For want of a nail, the shoe was lost,/For want of the shoe, the horse was lost,/For want of the horse, the rider was lost,/For want of the rider, the battle was lost,/For want of the battle, the kingdom was lost,/And all for the want of a horseshoe nail."
Now I'm pretty sure that the author of that melody did not have processing aids in mind when he applied that reasoning, but he sure could have. As we have seen in this article, the lack of a proper phosphate could have an effect on controlled leavening action, which could then affect fine cell structure and texture, which could result in a substandard microwavable cake product, which would ultimately lead to poor sales and product removal. Or without a proper whey processing aid to create a uniform charge distribution, there would be no overall force to break aggregates into fine particles, deposits on the evaporator would increase, and overall efficiency would be seriously lessened. And the same could be said about the other formulation aids.
--- PAGE BREAK ---
The above rhyme also captures the idea that a little goes a long way. Although small amounts of these additives are needed, they have a quiet power, affecting the processing of the product, its storage, and ultimately, in an indirect way, its final eating qualities. Without their presence, many products would certainly not succeed in the marketplace. These developments may not always be pretty—or what they do glamorous—but they are essential in the formulation process and should not be overlooked or their importance underestimated.
So next time you open that toolbox, make sure that you have plenty of "nails" on hand to do the job correctly.
Next month's Ingredients section will look at some of the directions that texture will be taking and the factors that influence them.
---
Whey Processing Aid Acts as Sequestrant
A whey processing aid, Whey Treat™, provides significant benefit in operating time and lactose recovery. The product is available from the Whey Treat Co., a division of FBC Industries, Inc., Schaumburg, Ill. (phone 847-839-0880, www.thewheytreatcompany.com), which was established to concentrate efforts on developing high-performance processing aids for the dairy industry.
The minerals that cause "hardness" in water can also react to form deposits on the evaporator heat transfer surfaces during the processing of whey. The process by which a chemical compound, in aqueous solution, combines with a metal ion to form a water-soluble, stable combination is called sequestration. Sequestration prevents the formation of undesirable precipitates and the occurrence of detrimental side reactions. During this process, Whey Treat ties up hardness ions such as calcium, magnesium, and iron in the incoming whey stream, resulting in more-efficient whey processing.
According to Rebecca Bowen, Marketing Manager for FBC, "the product is an excellent buffering agent, exhibiting a relatively constant pH or degree of alkalinity (or acidity) in solution. This ability to hold pH is independent of concentration and the temperature of the solution. This characteristic is beneficial during the processing of whey and whey products."
Fine particles tend to have non-uniform charge distribution over their surface. Because of this non-uniform distribution, fine particles form aggregates or flocculates, and these larger particles deposit on heat transfer surfaces. Bowen explains that during processing, Whey Treat has the ability to coat these particles and create a uniform charge distribution, resulting in an overall force that breaks the aggregates into fine particles.
Very low concentrations of the product result in deflocculation, producing more-stable slurry formulations. Their separation and removal are enhanced, significantly reducing the deposits on the evaporator during whey processing. 
---
by
Donald E. Pszczola,

Senior Associate Editor
[email protected]