Not that long ago, if you were trying to come up with examples of soy-based foods, products such as tofu, soymilk, tempeh, soynuts, and soy sauce would come to mind. Today, however, the applications of soy ingredients cover an ever-broadening range of mainsteam foods, including pretzels and other snacks; breads and bakery products; bottled water and other clear beverages; infant formula; nutrition bars in a wide variety of flavors; meatless items ranging from burgers to chili to lasagna; mashed potatoes; coating systems; frozen desserts; soups, sauces, and dressings; and many, many others.
In fact, according to the Global New Products Database of Mintel Inc., a leading market research firm, more than 435 products with soy as a key ingredient was introduced in 2004—up from 329 in 2003. "Manufacturers and marketers behind these products . . . have managed to expand the category year after year," noted Erik Thoresen, Senior Research Analyst at Mintel.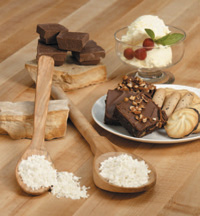 Product development, particularly taking advantage of combining culinary expertise with technological advances, has created increasingly imaginative products, extending market segments and making any answer to the question, "What's next for soy?" certainly open-ended.
As the market for soy-based products evolved well beyond the health stores into the currents of the mainstream, various factors influenced this growth as well as directions.
Several advancements in agriculture, processing, and flavor/flavor masking have helped minimize the functionality challenges associated with soy—in particular, eliminating its once-characteristic strong beany taste. Also, researchers improved soybean traits that previously had caused undesirable problems such as flatulence for individuals consuming soy-based foods.
In addition to improving the overall soybean, scientists are overcoming functionality challenges related to specific applications which previously could not use soy because of its properties. For example, traditionally, soy isoflavones could not be used in clear beverages because of their insolubility and their imparting of sedimentation and other undesirable visual characteristics. As we shall later see later in this article, this specific problem was solved, opening the doors for use of soy-based ingredients in clear beverages such as bottled waters—a beverage segment which has become very popular. Other examples of improvements include easy-to-digest soy proteins for infant formula; a blend containing soy-derived plant sterols which overcome solubility and processing issues; and healthier soybean oils that have reduced or no trans fatty acids.
These advancements will increasingly have an influence on the way soy will be promoted by marketers, and the way it will be perceived by the consumer. Years ago, traditional soy products such as soymilk clearly emphasized their major ingredient, distinguishing them from non-soy products. But as the functionality challenges have been overcome, soy's identity has gradually changed, ideally becoming one more valuable ingredient to be used with other ingredients in the reformulating of foods.
--- PAGE BREAK ---
This subtle but very important change may also help explain in part the results of a recent Mintel study that poses the possibility that consumers are losing interest in soy products. According to this consumer research study, figures showed a 17% increase in sales of soy food and drink products between 2001 and 2002, but sales slowed by 2003. The market continued to show growth between 2003 and 2004, but the increase was recorded at 6%. Furthermore, 27% of those in the study reported using soy products in 2004 vs 30% in 2002.
While the study provides some useful background statistics on current soy consumption, I don't think the numbers themselves—and the differences they indicate—are strong enough to suggest that consumers are necessarily losing interest in soy products, especially since the bottom line is that the soy market still is indicating growth. In the past two years, sales of soy increased more than 20%. Also, keep in mind that novel, more creative products made with soy as an ingredient are penetrating the marketplace.
Rather, the study's numbers could indicate that soy, in its evolution from tofu to mainstream, is reaching a more stable position as an acceptable—perhaps even traditional—ingredient that can be used in a number of applications in the marketplace. While some consumers are purchasing soy products chiefly because of their potential health benefits, other individuals may purchase soy-containing foods because they have accepted soy or do not have an issue with soy, as long as the product tastes good. It should prove interesting when future studies look at the impact that soy is having in specific and/or non-traditional application areas. These kinds of products will make use of soy's functionality and health benefits without necessarily showcasing soy as a major ingredient in that application.
Some media publications have posed the question, "Is soy's honeymoon coming to an end?" That question reminds me of another question that has been frequently asked by many pundits lately: Is the low-carbohydrate trend coming to an end? Actually, there are some interesting similarities between the two "trends." Certainly, the low-carb trend may have had a positive impact on the consumption of soy, and their fates in the marketplace may be somewhat intertwined. That should not be too much of a surprise. What is interesting, however, is the directions that low-carb ingredients and soy are taking in their evolution.
As noted in last month's Ingredients section, the low-carb trend is morphing into a health message that covers obesity, energy management, blood glucose levels, diabetes, and so on. Soy, too, has evolved, partly because of ongoing health studies that are looking at different benefits that the ingredient can provide, but also because of its functionality, improved on by a number of technological advances, that is making it suitable for such a wide range of applications.
Because soy has become so versatile, consumers now have many more options. No longer is it necessary to get soy from one specific product such as tofu or soymilk—applications that depending upon one's perspective, can conjure up positive or negative connotations. But now it has become possible for the consumer to get soy from bottled water, mashed potatoes, chile, a pretzel, or a number of other imaginative possibilities.
This month's Ingredients section will look at the broadening applications of soy, and the functionality and nutritional benefits that these ingredients offer in these novel mainstream products.
--- PAGE BREAK ---
• Use of soy protein in a hard pretzel. Maximizing soy protein inclusion in a hard pretzel system to displace carbohydrates was the subject of a poster delivered at the 2004 AACC/T I A Joint Meeting by Cargill Health and Food Technologies, P.O. Box 9300, MS 110, Minneapolis, MN 55440-9300 (phone 866-456-8872; fax 952-742-7573; www.cargillhft.com). The study evaluated selected ingredients for their suitability in allowing the development of dough characteristics needed to extrude adequately; produced a finished product with enhanced nutritional profile and compared its sensory performance during extended shelf life; and, ultimately, gained some insight on the potential of this concept in the snack market.
According to the presentation, which was given by K. Manirath, D. Karleskind, and A. Stark, products with 40% less carbohydrates and with 50% more protein were formulated that maintained acceptable sensory characteristics of hard pretzels. The use of soy protein isolate, Prolisse™, which provided a clean flavor; the adequate selection of the sweetener source; and the addition of fiber were key to achieving a desirable snack in terms of taste, nutrition, and wholesome appeal.
Flavor development and texture of the pretzels were shown to be affected by the selection of sweeteners used in the formula. The maltose syrup provided an increase in typical pretzel flavor and a somewhat lower drying-mouth effect than pretzels made with corn syrup. The addition of soy protein isolate at 15% to displace wheat flour seems to result in acceptable products. The addition of 5% Fibersol-2 Digestion Resistant Maltodextrin, a source of dietary fiber available from Matsutani America, Inc., 951 Bunker Lane, Decatur, IL 62526 (phone 217-875-4490; fax 217-875-9821; www.MatsutaniAmerica.com), showed a positive impact on its texture, as evaluated by a texture analyzer. After five months, hardness of products using the 5% fiber source was closer to control results.
Although the appearance of pretzels with soy protein isolate and the fiber source differed from the control, it was observed that soy pretzels appeared to have more of a whole grain appearance when compared to the control pretzels. One serving of the Soy Hard Pretzels contains 10 g of net carbohydrates and 4 g of soy protein.
Specifically, research is supporting soy protein's role in obesity management, which suggests an ideal opportunity for soy protein in the convenience snack category. Today's expanding population of grazing and low-carbohydrate–conscious consumers desire nutritious snack options without sacrificing taste or texture. Consequently, the soy pretzel produced by the study may appeal to these kinds of consumers.
The presenters noted that the research work described in the poster presents a template for formulators seeking to incorporate soy protein into a pretzel-type product; however, further sensory work using consumer tests is recommended to validate these results.
--- PAGE BREAK ---
• Snack bar combines soy-derived sterols and cocoa. A cocoa-based snack bar containing soy-derived plant sterols for lowering cholesterol levels has been developed by Mars Inc., 800 High St., Hackettstown, NJ 07840 (phone 800-627-7852; www.mars.com). Called CocoaVia™, the product is reportedly the first snack bar that combines cocoa flavanols and plant sterols. Clinical research has shown that consumers can eat two of these bars a day and see significant reduction in their cholesterol levels, according to the results of a study presented at the American Heart Association's Scientific Sessions.
"Plant sterols are a clinically proven ingredient that lowers cholesterol," said Catherine Kwik-Uribe, Research Chemist for the company and one of the study authors. "This research shows that patients have another food option with not just the sterol benefits, but with the multiple cardiovascular benefits of cocoa flavanols and great taste, too."
Because flavanols may be destroyed during standard processing, not all cocoas contain much of the naturally occurring flavanols. However, Cocoapro®, developed by the company, is a proprietary process that retains much of the natural cocoa flavanols and their potential healthful properties. Cocoa made by this process was used in the formulation of these snack bars.
• Beef tallow/soybean mix broadens cholesterol-lowering uses. A beef tallow/soybean mix which reportedly provides enhanced cholesterol-lowering capability than other similar plant-based food additives while making possible a broader range of applications has been developed by researchers at University of Nebraska-Lincoln.
Although sterols help reduce blood cholesterol, they do not dissolve in water. Mixing sterols with oil or fat improves their solubility but has limited their use to higher-fat foods. In response to this problem, nutrition scientist Tim Carr devised a blend that combines beef tallow rich in cholesterol-lowering stearic acid and soy-derived plant sterols. The resulting compound is available as a powder, which should make it easier to incorporate into foods, unlike commercially available plant sterol additives which are gooey, sticky substances that can adhere to food manufacturing equipment. Because of its functionality and health properties, the blend can be added to a diverse range of products, including cereals, dairy products, beverages, and chocolate.
"We think this powder is going to be much easier to work with and have a much broader application," said Carr. He is testing his compound's effectiveness in animal studies and exploring how best to commercialize it to benefit consumers. The university is patenting this technology. The research is being conducted in cooperation with the university's Agricultural Research Division.
--- PAGE BREAK ---
• Soy oil and trans-free applications. The December 2003 Ingredients section discussed the value of various strategic alliances, one of them being a collaborative effort involving all areas of the soybean industry. This agricultural initiative, appropriately termed Qualisoy, focuses on improving the quality and competitiveness of U.S. soybean varieties.
According to David Durham, the initiative's Chairman and immediate past Chairman of the United Soybean Board, "Qualisoy was created as a means to expedite the development and introduction of enhanced quality soybean traits." In particular, a major effort of the initiative has been the development of healthier soybean oils, including those that have reduced- or no-trans fatty acids.
To do this means changing the fatty acid composition of soybeans to make the oil more naturally stable and eliminate the need for hydrogenation. Liquid soybean oil, which has no trans fat, commonly undergoes partial hydrogenation to make it more suitable for baking and frying applications, but the process also creates trans fatty acids.
As has been reported in Food Technology, several companies have recently announced the commercialization of soybean varieties with low-linolenic acid. These varieties will lead to the production of processed soybean oils that are inherently more stable without need for hydrogenation. Examples include Vistive™, a 1% low linolenic variety developed by Monsanto and Iowa State University, and Nutrium™ Low Lin from Pioneer variety 93M20, developed in partnership by Bunge and DuPont.
In addition to these low-linolenic varieties, the industry is exploring various processing techniques such as interesterification (rearrangement of the fatty acids), blending of semi-solid fats and liquid oils, and increased use of antioxidants to produce reduced-trans or trans-free oils. In cooperation with the initiative, researchers will continue to work on developing soybeans with an improved fatty acid profile and functional characteristics.
"I think the food industry will embrace these soy-based products as part of the solution to the trans fat problem," said Robert M. Reeves, President of the Institute of Shortening and Edible Oils. "These new products will provide quality fats and oils that will help meet the ever-changing needs of the U.S. food industry." The implications of these new products may be far-reaching, since soybean oil accounts for 80% of the oil consumed in the U.S.
In a related story, the American Soy & Tofu Corp. and the Georgia/Florida Soybean Association recently obtained the rights to grow a new soybean variety that will dramatically impact soybean cultivation in the Southern U.S. The hybrid soybean, L-Star, is said to retain the healthy benefits of soy without the pungent soy odor or taste. The National Agriculture Research Organization of the Ministry of Agriculture, Forestry, and Fisheries in Japan developed the new crossbred variety of soybean in the 1990s. Lack of the three lipoxygenase isozymes in this variety is the most significant characteristic, resulting in much lower lipid dioxide in processed soy food. Consequently, soy foods can be formulated that are healthier and tastier. Cultivation of the soybean in the U.S. will be solely confined to the South because of necessary climate, technological, and management requirements.
The American Soy and Tofu Corp. recently hosted an L-Star Market Update and Gourmet Soyfood Tasting event where leading research, health, and nutrition experts discussed the benefits and applications of the new soybean variety. The program showcased several gourmet foods using the soybean, including Shrimp Tempura, Strawberry Napolean, smoothies, danishes, muffins, and others. Bread developed from 100% L-Star soy flour by researchers at Japan's Yamagata University was also available for sampling.
--- PAGE BREAK ---
• Ingredient made from whole soybeans provides higher fat content. A soy ingredient that offers higher fat and protein content for use in a variety of baking, beverage, and dessert applications has been introduced under the name Soy Supreme Kreme by Sunrich, a SunOpta company, P.O. Box 128, Hope, MN 56046 (phone 800-297-5997; fax 507-451-8201; www.sunopta.com). The organic, shelfstable ingredient is reportedly made with whole soybeans and not hexane-extracted soybean oil.
According to Bill Fenske, the company's Vice President of Technical Services, "the new ingredient supplies the nutrition of the whole soybean and produces products with a creamier flavor and texture than if soybean oil was used alone."
Fenske further explained that whole soybeans maintain and deliver more of the nutritional components that supply the health benefits of soy. Because the new ingredient uses the whole soybean, it requires less processing than traditional soybean oil, taking fuller advantage of the health and formulation benefits that soy provides. In addition, the ingredient is made with a proprietary processing technique that provides a pleasing flavor profile and a natural taste that requires little added flavoring. It also improves the solubility and functionality of the final product.
The ingredient can be used in baking applications such as cakes, cookies, and icings, as well as in dry-blended product applications, such as powdered soy hot cocoa mixes. It can also be incorporated into gourmet sauces and creamy desserts, including soy ice creams and puddings.
"In the past, companies have had to rely on less nutrient-rich, fractionalized soy for high-fat applications," said Allan Routh, President of the company's Grains and Soy Products Group. "However, Sunrich's new Soy Supreme Kreme offers companies an ingredient with the nutrition and taste necessary to create a successful product.
• Ingredient replaces egg in bakery products. A soy-based whole egg replacer or extender for use in a variety of bakery products is the latest addition to a line of egg products and egg alternatives available from Primera Foods, 612 S. 8th St., Cameron, WI 54822 (phone 800-365-2409; www.primerafoods.com).
Marketed under the name EggStreme™ Bakery Mix 100, the ingredient was developed to reportedly provide the functionality and characteristics of whole eggs.
Manufactured primarily from soy, the cholesterol-free ingredient can reportedly replace as little as 25% or up to 100% of whole egg in the formulation.
According to the manufacturer, the ingredient is available as a powder that can replace both dried egg powder and liquid eggs. Replacement levels for various bakery products include 15–35% (yellow cake), 25–50% (chocolate cake), 25–100% (yeast doughnut), 40–100% (breads), 45–100% (cookies), 50–75% (brownies), and 50–100% (waffles, pancakes, muffins, cake doughnut, and batter and breading systems).
--- PAGE BREAK ---
• Soy-based infant formula introduced. An infant formula that combines easy-to-digest soy proteins with omega fatty acids has been nationally launched under the name Nestlé Good Start Supreme Soy DHA & AHA by Nestlé USA, 800 N. Brand Blvd., Glendale, CA 91203 (phone 800-326-4286; www.nestleusa.com). The new milk-free, lactose-free product is a soy version of the company's existing milk-based formula, Nestlé Good Start Supreme DHA & ARA, made with partially hydrolyzed whey proteins.
Soy-based infant formulas are recommended by doctors for infants up to 12 months who have a documented allergy to milk protein, or have a hereditary or temporary lactase deficiency. Since a baby's digestive system is still developing during the first year, the new formula incorporates soy proteins (Supreme) which have been broken down into smaller pieces for easier digestion. In addition, the formula features the fatty acids, docosahexaenoic acid (DHA) and arachidonic acid (ARA) that are naturally found in breast milk and that studies have linked with improved brain and visual development in babies.
"Breast milk is the perfect food for babies," said Jose M. Saavedra, medical and scientific director of Nestlé USA Infant Nutrition. "However, if breastfeeding is not possible or not chosen, and a baby requires a milk-free, lactose-free formula, moms can feel good knowing that the new formula is a high-quality product that provides complete nutrition."
The new formula is available in powder, ready-to-feed, and concentrate forms.
• Soy in meatless applications. Several meatless products made with soy have been introduced into the marketplace in 2004.
For example, a soy-based patty, the McVeggie Burger, has been introduced at participating McDonald's in Manhattan. The burger is manufactured exclusively for McDonald's by Yves Veggie Cuisine, a brand wholly owned by a leading producer of fresh meat alternatives, The Hain Celestial Group, 4600 Sleepytime Dr., Boulder, CO 80301 (phone 800-434-4246; www.hain-celestial.com). The new product, which replaces the existing McVeggie Burger offered at McDonald's in New York, is said to contain 8 g of fat and 370 calories.
A branding partnership was formed between Archer Daniels Midland Co., 4666 Faries Pkwy., Decatur, IL 62526 (phone 217-424-5200; fax 217-451-2233; www.admworld.com) and Madison, Wis.-based Boca Foods Co. ADM's soy protein marketed under the name NutriSoy is now featured in Boca's entire line of meatless foods for retail outlets.
Recently, ADM introduced a new line of high-moisture meat analog products made from soy called NutriSoy® Next. An alternative to whole muscle meat, they are produced using soy proteins in combination with other vegetable proteins such as wheat gluten. Twin-screw extrusion of protein materials at moisture levels of 50–80% gives the meat analogs a tender, moist texture that closely simulates cooked, whole-muscle meat such as poultry. Adjusting the moisture, temperature, or pressure during their production results in a wide range of textures and degrees of firmness. The base products have mild flavor profiles, allowing them to easily be flavored to resemble desired meats. Since they are already cooked in the production process, they require no additional steps prior to use in recipes.
--- PAGE BREAK ---
• Soy-based snack prototypes combine flavors and textures. Several prototypev snack applications demonstrating the functionality and nutritional value of soy-based ingredients were developed by Kerry Americas, 100 E. Grand Ave., Beloit, WI 53511 (phone 608-363-1200; www.kerryamericas.com). As can be seen from the these formulations, the soy products are working with a variety of other ingredients to create novel combinations of flavor and texture, along with potential health-promoting properties.
For example, crisp soy protein flakes and high-protein soy powder were used to formulate Gourmet Harvest Snack Mix—snack bites with chunks of white chocolate–coated berries, almond granola, orange cream–coated soy flakes, and protein-infused ginger chocolate chunks. Seasoned soy nuts and coated and flavored soy protein flakes were used to create Imperial Blend Snack Mix—a gourmet snack blend with lemongrass white chocolate macadamia bar, caramel sesame ridges, spicy soy nuts, tandori raisins, and orange cream coated soy flakes.
Indulgent sweet comfort flavors were paired with crunchy soy nuts to create Peanut Butter Caramel Crunch. This snack product consists of tasty nougat caramel center with crunchy, all-natural soy nut pieces and waffle cone bits enrobed in a high-protein peanut butter coating. Also formulated were lower-carbohydrate fortune cookies containing a high-protein soy powder which provides the functionality of traditional soy isolates with a superior flavor profile.
Recently the company developed Iso II and Iso III soy powders that offer special advantages in a variety of applications. These high-protein soy products offer the functionality of traditional soy isolates with a neutral flavor profile that allows high inclusion rates in food and nutritional applications. Most of the naturally occurring isoflavones in the soybean remain in the product.
Also part of the ingredient portfolio is soynuts, dry roasted soybeans which have a special nutty texture, and soy flours, available in both low-fat and full-fat versions. The low-fat product is made using a mechanical extraction process that removes 65% of the fat, while the full-fat version is made using a short-cook process.
• Soy reformulates coating systems. High-protein coating systems formulated with soy protein have been developed by The Solae Co., P.O. Box 88940, St. Louis, MO 63188-1940 (phone 314-982-1983; fax 314-982-1121; www.solae.com). The coating systems are suitable for cheese sticks, breaded poultry and steaks, breaded seafood, vegetables, breading mixes, and other products that would otherwise have a traditional breading-type coating.
Not only are the coatings said to bring the carbohydrate content down, but also 17–20% less fat is picked up in the final product. The coating systems are offered in both "crunchy" and "flour-type" versions. They also allow flexibility for the food manufacturer to add its own seasonings and flavor systems.
Other potential benefits of the coating systems include prolonged shelf life, increased color stability during frying, maximum coverage, less powder handling, and a desirable label.
--- PAGE BREAK ---
• Use of soy isoflavones in clear beverages. Soy isoflavones for use in bottled water and other clear beverages have been developed by Intellisoy, 275 Grove St., Ste. 2-400, Newton, MA 02466 (phone 617-527-0600; fax 617-663-5344; www.intellisoy.com). See photo on page 44.
The use of soy isoflavones in clear beverages has traditionally been limited because of their insolubility in water and because they exhibit undesirable effects such as sedimentation and sandiness resulting from the particle characteristics of the isoflavone complexes. However, these branded isoflavones, extracted from soybeans through a patented water-based process, are said to offer solubility and clarity—qualities which can provide a solution to clear beverage applications.
According to the manufacturer, the soy-derived compound is suitable for adding the health potential of soy isoflavones without altering the flavor or appearance of the beverage. The colorless, odorless, and flavorless compound contains primarily glucoside and acetyl derivative isoflavones (the most soluble of the isoflavone isomers) as well as soluble oligosaccharides. In addition, it has little or no insoluble by-products such as fat, ash, or protein.
The ingredient has GRAS status for use in a number of food and beverage applications in concentrations up to 20 mg per serving. Although it can be used in baked goods and other solid or opaque products, its special qualities make it particularly suitable for use in clear beverages.
The company manufactures and licenses these concentrated soy isoflavones. Both the product's isoflavone composition and extraction technology are currently licensed to a number of food and beverage companies in North America, Europe, and Asia. At the 2004 IFT Food Expo®, Aqua Soya, a clear, lightly flavored bottled water containing the soluble soy isoflavones was showcased by the company.
• Soy germ-derived ingredient provides isoflavones. Higher levels of isoflavones can be delivered by SoyLife Focus, an ingredient derived from soybean germ that is manufactured by Acatris Inc. USA, 3300 Edinborough Way, Minneapolis, MN 55435 (phone 952-920-7700; fax 952-920-7704; www.soylife.com). Using the germ portion, which is especially rich in isoflavones, means that ingredients can be produced that are reportedly 20 times more concentrated in isoflavones than other traditional ingredients.
According to Laurent Leduc, President of the company, the ingredient goes beyond being just an isoflavone concentrate. Rather, soy germ contains the complete spectrum of natural soy compounds (soy phytonutrients, omega-3 fatty acids, vitamin E, folic acid, soy protein, and approximately 40 other components). These compounds can work in synergy, providing important nutritional benefits as well as enhancing the bioavailability of isoflavones.
As a powder, it is very compatible with other ingredients. Furthermore, because it is concentrated, less is needed in the formulation. With only 1–2 g of the ingredient per serving, it can help the formulator reach adequate levels of soy phytonutrients while not affecting the taste of most food and beverage products.
Potential applications can include breakfast cereals, bakery products, nutrition bars, snack foods, sauces, pasta, and beverage powders.
--- PAGE BREAK ---
• Use of soy in tortillas and breads. The January 2005 Ingredients section covered a variety of ingredients for use in the development of breads and tortillas. Not surprisingly, soy-based ingredients are playing a role in this area, as well.
As you may recall, statistics have shown that the growth of tortilla consumption has continued at more than 9% per year, with U.S. sales estimated to total $6 billion in 2004. A formulation for tortillas containing soy flour has been developed by Cargill Food and Pharma Specialties, 15407 McGinty Rd. W., #46, Wayzata, MN 55391 (phone 319-399-6690; fax 319-399-6123; www.cargillfoods.com). The soy flour, marketed under the name Prolia, reportedly replaces 23% of wheat flour in the tortilla. The finished product is said to have a golden color, with texture typical of conventional tortillas.
The tortillas are a good source of protein and fiber, and contain no cholesterol. Each 55-g tortilla serving has 8 g of soy protein. The Food and Drug Administration allows foods low in fat and cholesterol with 6.25 g of protein per serving to carry a health claim on the reduced risk of coronary heart disease.
Ingredients in the tortillas include enriched flour (wheat flour, niacin, reduced iron, thiamine mononitrate, riboflavin, and folic acid), soy flour, hydrogenated soybean oil, dextrose, salt, baking powder, distilled mono and diglycerides, and sodium steroyl lactylate.
Prolia soy flour from Cargill is available in several versions, including defatted. relecithinated, and full fat. The soy flours are said to offer several benefits, including greater stability for increased shelf life; superior water absorption; and improved texture, quality, and product performance. In addition, the flours are a good source of naturally occurring isoflavones.
Breads also are being formulated that are taking advantage of soy. For example, a new soy flour for use in reduced-carbohydrate bread, cookies, and baked goods is being introduced by Spectrum Foods, 2520 S. Grand Ave. E., Springfield, IL 62703 (phone 217-391-0091; fax 217-391-0096; www.nexsoy.com).
Called Nexsoy Extra, the high-fiber, low-fat soy flour has a neutral taste profile and can be incorporated at high inclusion rates without affecting flavor or texture. The product is available in natural, non-GMO, and organic versions.
A soy protein isolate for use in formulating low-carbohydrate bread and other baked goods is available from Protient, Inc., Ste. 200, 1751 Country Rd. B, St. Paul, MN 55113 (phone 651-638-2600; fax 651-697-0997; www.protient.com). The ingredient, marketed under the name Soy Protein Isolate 6000, is membrane-filtered for bland flavor and high solubility. A single 25-g slice of the bread made with the ingredient is said to have 2 net carbs, is low in fat and high in fiber, and offers 6.25 g of soy protein. A pancake mix made with the ingredient contains both whey protein and soy protein. With 45 g of mix per serving, this product delivers more than 6.25 g of soy protein. Technical support from the company is also available for development of muffin mixes and bagels for low-carb cuisine options.
Recently, a new soy-based bread, Healthyhearth, was introduced that resulted from research conducted by food scientists at Ohio State University. The bread, which is being marketed in central Ohio, has enough soy in it (6.25 g per slice) to carry FDA's heart-healthy label. The researchers formed a new company, Bavoy Inc., to market the bread to commercial bakeries in retail outlets. The company, which has a patent pending on the bread, has offices in Ohio State's Business Technology Center, and has an option to obtain an exclusive license to the technology used in creating the bread. For more information about this development, phone Yael Vodovotz at 614-247-7696.
--- PAGE BREAK ---
• Soy can partially replace potato flakes in instant mashed potatoes. Soy flakes, which may be used to increase the protein content in instant mashed potatoes while preserving its flavor, are available from MicroSoy Corp., 300 E. MicroSoy Dr., Jefferson, IA 50129 (phone 515-386-2100; fax 515-386-3287;www.microsoyflakes.com).
According to the company, commercial potato flakes were blended with the soy ingredient and prepared using the same instructions found on commercial instant mashed potato packages. A 26% reduction in carbohydrates (37% reduction in net carbohydrates) can be achieved by substituting 40% of potato flakes with the soy flakes. Furthermore, the application provided 3.5 g of soy protein.
In a consumer test, participants reported that the soy flakes could be added at up to 40% without objectionable soy flavor, texture, and appearance. The combination of potato and soy flakes reportedly provides excellent taste, flavor, and color. A natural yellowish or light tan appearance is imparted to the finished potatoes by the flakes.
• Targeting isoflavones for dairy and other markets. A highly soluble soy isoflavone extract for use in yogurt, soy milks, functional beverages, and other products was introduced at HI Amsterdam by Solbar Industries, Ltd., P.O. Box 2230, Ashdod 77121, Israel (phone 972-8-8632111; fax 972-8-8561455; www.solbar.com). Called Solgen 3/S, the ingredient was developed to introduce isoflavones into a number of markets, including dairy, nondairy, and nutritional health foods.
According to the manufacturer, the ingredient is typically 3% total isoflavones with high levels of genistein and daidzein. The company's laboratories reportedly use strict analytical standards to document all 12 soy isomers in both the ingredient and consumer products, to improve quality assurance and accurate labeling.
Solbar Industries Ltd. was formed in 2000 with the merger of Solbar Hatzor Ltd. and Solbar Plant Extracts Ltd. The company's two production sites are located in Israel.
In addition to isoflavones, the company produces soy protein concentrates, textured soy flours, textured soy concentrates, a steam-textured soy protein, and soy protein isolates.
• Crispy bits offer texture enhancement, protein enrichment. A new line of extruded soy-based crispy bits for protein enrichment and texture enhancement of nutrition bars, confections, toppings, snack mixes, cereal blends, or other products has been introduced by Zumbro River Brand, Inc., 138 W. Front St., Owatonna, MN 55060 (phone 507-446-9097; fax 507-451-3732; www.getmorsoy.com).
Crispy Soy Bits are crunchy and nutty-flavored, offering 50–80% protein content, allowing formulators to easily reach the soy protein level required to make the heart-healthy claim. These bits also offer significant levels of fiber, soy isoflavones, potassium, and oligosaccharides. The company also markets the 60% protein bits under the brand name of Getmor® Soymates™ for use as a substitute for ground meat or rice/pasta in side dishes, as well as an ingredient in hot or cold cereal.
--- PAGE BREAK ---
In addition, the company unveiled its line of Crispy Dairy Bits with 50–70% protein, utilizing whey protein concentrate and whey protein isolate. Crispy Bits with combinations of soy and dairy protein can be created, providing the benefit of complementary amino acid profiles from the whey and soy.
The crispy bits can be further customized to include other beneficial ingredients, such as oat flour with beta glucan, brown rice with rice bran, hydrolyzed guar gum, or citrus fiber. In addition, ingredients such as gelatin, glucosamine, chondroitin sulfate, whey peptides, or probiotics can be included or enrobed on the surface. The bits can be colored or flavored to meet customer requirements. Samples are available, including Honey Nut, Apple Cinnamon, Cheese, Caramel, beet-colored, and unflavored.
• Particulate for energy bars. A particulate-containing blend of soy protein isolate and calcium carbonate for use in energy bars and other products has been developed by Nuvex Ingredients, Inc., P.O. Box 158, Blue Earth, MN 56013 (phone 507-526-4341; fax 507-526-2838). Called Zero Carb Crisp, the ingredient reportedly contains 80% soy protein, allowing manufacturers to develop low-carbohydrate versions of energy bars and other suitable applications. The particulate contains no net carbohydrates and no sugars.
Soy, soy, everywhere. That line sounds like it could have been taken out of a classic poem. But it does seem accurate when describing the growing applications of soy-based ingredients. Clearly, soy has become very versatile. And I don't think it's just because of soy's potential health benefits. A point that perhaps needs further emphasis is that if soy's potential health benefits were promoted without taking into consideration its functionality, sensory properties, and its ability to work with other ingredients, then in all likelihood we would not be seeing such a broad range of applications utilizing soy.
This article has tried to provide numerous and frequently novel examples of products being made with soy. At the same time, it is necessary to put soy in the proper context and not suggest that it can be used or should be used in every application. Or that it should necessarily be used at higher levels in all applications. Or that it should only be viewed as a complete replacement for another ingredient. From a functionality standpoint, soy works in different ways at different levels.
In some applications, such as soymilk, soy is a major ingredient. In other applications such as a snack or a confection, it might be more of a background player. Although soy and dairy have been frequently promoted as competitors, they can also work together, with whey and soy proteins providing enhanced functionality and nutritional benefits. And while soy may be used in vegetarian applications, it can also be used as a meat extender in various products. As the applications in this article have shown, soy-based ingredients can work well with other ingredients that offer health and functionality benefits. And finally, soy ingredients can work well with other soy ingredients. Imagine the possibilities of an appetizer with a soy-based coating and a soy-based filling. Or a vegetarian chili made with soy and topped with soy cheese and served with crackers enriched with soy.
Another factor that needs to be considered when formulating with soy is the results of new or ongoing studies. For example, studies conducted by researcher Sharon Donovan, food science and human nutrition professor at the University of Illinois, are looking at the effects of soy baby formula on intestinal development. In one study, she fed newborn piglets a cow's milk–based formula while feeding other piglets formula supplemented with the soy isoflavone genistein at the level found in soy formula. In the piglets fed genistein, the number of proliferating cells in the intestine was 50% lower than the number in piglets fed the cow's milk formula alone. Concentrations of genistein in the piglets' blood were similar to those in babies fed soy formula, so these data may be applicable to human infants.
"Clinical data suggest that soy formulas are safe," Donovan said, "but even though they appear to be safe, they may not be without effect." The researcher is planning to study other soy isoflavones that likely affect genistein's actions in the intestines. "Soy isoflavones may have both positive and negative effects that need to be better understood," she noted.
As new technologies improve soy's functionality and overcome challenges related to specific applications, whether they be bottled waters, snacks, or infant formulas, the results of these and future studies must be carefully considered so that soy's effects, both "positive and negative," especially in a particular application, are fully understood.
In addition, food formulators must also be aware of new or ongoing studies that shed light on other health areas where soy may be of benefit. As mentioned earlier,just as the low-carbohydrate trend is evolving, encompassing a number of other health areas, so the same may hold true for soy. Ideally, the potential health benefits that soy offers will be balanced with its improved functionality.
Next month's Ingredients section will focus on how a variety of ingredients can help reformulate desserts by providing texture, flavor, functionality, health potential, and added value.
by DONALD E. PSZCZOLA
Senior Associate Editor
[email protected]