Everyone probably recognizes the Pillsbury Doughboy. But on an ice cream package? Well, it's true, and, please, no giggles, unless, of course, they're from the Pillsbury Doughboy himself.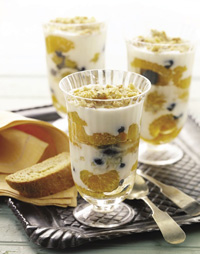 A Pillsbury-branded line of premium ice creams was recently launched by Minneapolis-based Kemp's Ice Cream in supermarkets across the United States. This product is one example of a variety of frozen desserts, including ice cream, yogurt, sherbet, ices, and novelty items which have been formulated to offer new or improved textures, flavors, functionality, health potential, and added value.
With the Pillsbury Doughboy on the package of the new Kemp ice cream product, this marks the first time that the brand for fresh-baked cookies and other baked goods has been associated with ice cream. The line, called Pillsbury Ice Cream Classics, features seven flavors—Chocolate Chip Cookie Dough, Turtle Fudge Brownie, Peanut Butter Fudge Chunk, Lovin' Caramel Swirl, Brownies 'N Cream, Cake & Ice Cream, and Homemade Vanilla.
Linking ice cream to a leading dessert name may prove to be a very effective, as well as strategic, marketing move—one that can also re-energize (or put the chills of excitement back into) product development of frozen desserts, especially in the areas of new flavors and nontraditional ice cream ingredients. Expect to see other such tie-ins to appear in the marketplace some time in the near future.
And speaking of tie-ins, one can find several examples of frozen desserts being paired with movies or television shows, sporting or political events, and seasonal traditions. Take, for instance, the baseball-theme ice cream flavor, Reverse the Curse, that was created by Brigham's Ice Cream, Arlington, Mass. Launched several months before the 2004 World Series, this product, at least according to its promoters, raises "chills up your spine" speculation that it may have had some psychic impact on the performance of the Boston Red Sox last year. I can only wish some ice cream manufacturer would do a similar service for the Chicago Cubs.
Flavor and ingredient suppliers are also developing prototype flavors that have tie-ins with the holidays, special occasions, or themes. David Michael & Co., Inc., Philadelphia, Pa., for instance, created "Anti-Valentine Day" flavors, including Cold As Ice (a chilly champagne sorbet with raspberry variegate), Love Bites (cinnamon-flavored ice cream swirled with a sweet blueberry variegate), and Loves me, loves me . . . nut (a blend of butterscotch-flavored ice cream with butterscotch swirl and praline pieces). The company also has a line of Ice Screamin' Ideas for Halloween.
--- PAGE BREAK ---
Healthier Formulations and other Trends
With recent studies looking at dairy's role in weight management, a renewed focus on fortifying foods with nutrients such as calcium, the evolving low-carbohydrate trend and its encompassing of sugar-free developments, and the attention on making foods healthier through reformulation, it shouldn't be too surprising that a variety of new frozen desserts have been formulated to offer additional health benefits.
Nestlé USA, Inc., recently introduced a line of low-fat, sugar-free, and vitamin-fortified treats called Nestlé Kids Frozen Treats. Products such as ice creams and yogurts are being formulated with ingredients designed to help lower cholesterol. French firm Venial launched a cholesterol-lowering drinking yogurt under the St. Hubert brand, which was then followed by Danone's introduction of a new range of "anti-cholesterol" yogurt, sold under the brand Danisco.
In the October 2004 Ingredients section, I discussed a variety of confections, including oral care products made with alternative sweeteners, improved flavors, and vitamins and minerals. Could this same approach be applied to create a breath-freshening ice cream or a frozen dessert promoted specifically for healthy teeth? The sugar-free products could be formulated with chewing gum or mint inclusions made with ingredients that offer oral health benefits. I might also add that many of the other categories discussed in that article—such as ethnic flavors (spicier, hotter), nontraditional inclusions, novelties, fruit-based ingredients, and new developments in chocolate—could easily apply to frozen desserts, creating a wide range of new opportunities for product development and marketing.
And as was true for confections, there seems to be an interesting mingling of product categories. Frozen desserts are being created that take the shape of other foods. For example, a frozen dessert shaped like a hot dog has been created by Cool Dog, Inc., Shirley, Mass. The hand-held, wiener-shaped cake and ice cream sundae is topped with colorful sprinkles and wrapped in a bun-like custom sleeve. Also, frozen desserts are being formulated with a variety of inclusions that give them the taste and texture of baked goods or confections. Even the distinctions between frozen desserts are blurring, as vanilla ice cream and sherbet, or yogurt and ice cream combine to create tasty and novel hybrids. Nontraditional colors add to their distinction.
Based on the signs appearing in the marketplace, it is probably safe to say that from a product development standpoint, there are wild and creative days ahead for frozen desserts, much like we've seen for confections. And certainly some of the marketing statistics seem to suggest that this might be a good time for such product development.
For example, according to the "U.S. Market for Ice Cream, Related Frozen Desserts, and Frozen Novelties," a new report from Packaged Facts, New York, ice cream sandwich sales are up 57.1% over 2002 sales of $651 million and now account for $1 billion of the $6.2-billion frozen novelties market. With figures like these, products such as hot-dog shaped frozen desserts certainly might find their niche.
Furthermore, with each innovative development, frozen dessert manufacturers are hoping to get a bigger piece of the pie—I mean sundae. The U.S. frozen desserts business reportedly accounts for $21 billion and includes a variety of retail and foodservice channels.
--- PAGE BREAK ---
New Ingredient Developments in Frozen Desserts
Helping to reformulate these frozen desserts is a variety of ingredient developments, including novel flavors, colors, texturizers, proteins, sweeteners, and nutrients. These developments come from all around the world, making the phrase, "We all scream for ice cream," globally true from marketing and technical perspectives.
• Rice starch replaces milk fat in ice cream. A six-month research project to evaluate the use of rice starch for replacing milkfat in ice cream was recently completed by A&B Ingredients, Inc., 24 Spielman Rd., Fairfield, NJ 07004 (phone 973-227-1390; www.abingredients.com). The study found that the rice-based ingredient can produce a creamy ice cream with less fat, while allowing manufacturers to reduce costs in the formulation.
According to the company, some considerations of the study were iciness, freeze/thaw stability, viscosity, and melt characteristics. Results showed that the small granule size and soft gels of rice starches create a creamy texture that resembles the taste and mouthfeel of milkfat. A variety of rice starches can be used to achieve this, each providing slightly different textural characteristics.
A sensory panel concluded that reduced-fat ice cream made with the natural rice starch Remyline DR and 6% milkfat was comparable in quality, flavor, taste, and texture to regular ice cream containing 10% milkfat. Furthermore, rice starch may be an economical alternative to other milkfat replacers currently in use. It may be used to reduce the fat content in ice cream, frozen yogurt, frozen custard, and ice cream novelties.
• Flavors for low-carbohydrate ice creams. A range of flavors provide sweetness enhancement and bitterness reduction in artificially sweetened, low-carbohydrate ice creams and other dairy desserts. The flavors, including apple, blueberry, chocolate, fruit punch, lemon-lime, orange, peach, raspberry, strawberry, tropical, and vanilla, have been developed under the name Aura by Danisco USA, Inc., P.O. Box 26, New Century, KS 66031-1113 (phone 913-764-8100; fax 913-764-5407; www.danisco.com).
The flavors are said to outperform leading low-carbohydrate ice creams in taste tests, and are suitable for dairy products such as yogurt, yogurt drinks, and flavored milks. The incorporation of these flavors help food manufacturers adjust viscosity, mouthfeel, and bitterness associated with artificial sweeteners in these kinds of dairy desserts.
In addition to dairy applications, the flavors can mask the addition of vitamins in enhanced water; offer a cleaner, more refreshing citrus note to lemon and lime carbonated beverages; and mask the bitter aftertaste of artificial sweeteners in diet soda and no-added-sugar juice drinks.
--- PAGE BREAK ---
• Cucumber ice cream? A range of ice creams and sorbets called Green Frosties contain vegetable juices derived from carrots, cucumbers, beets, or pumpkin that provide color and potential health properties. The prototypes for these desserts were developed by an international supplier of stabilizer systems, G.C. Hahn and Co., Postfach 1384, D-23503 Lubeck, Germany (phone 49-451-16-04-0; www.gchahn.com).
Incorporated in these frozen desserts are also new stabilizer systems created by the company to provide excellent functionality and potential health benefits. For example, a sorbet containing tomato or carrot juices is said to have little ice crystallization, creamy melting, and a light and refreshing taste. It is made with a stabilizer system which generates smaller ice crystals, resulting in reduced frostiness in the mouth and an improved melting behavior.
Other prototype products include an ice cream (made with beetroot, carrots/celery, or cucumber/dill) with 6.6–8.3% fat and a creamy mouthfeel, and a frozen dessert (made with pumpkin or cucumber), with a fresh and typical yogurt taste.
In addition, these flavors may prove valuable in formulating soy-based frozen desserts. According to the company, its soy ice cream utilizes the same production technology as milk-based ice cream but contains no milk components. The fat content of soy ice cream is approximately 10%, but can be reduced to zero.
• Ice cream gets a "rustic" makeover. A new natural color derived from fruits and vegetables adds a brown hue to ice cream and other dessert applications. Called Exberry® Shade "Rustic Brown," the natural color is gently manufactured without the use of chemical solvents or caramelization, and is available from GNT USA, Inc., 660 White Plains Rd., Tarrytown, NY 10591 (phone 914-524-0600; fax 914-524-0681; www.gntusa.com).
The product may be used to impart a brown hue to ice cream varieties such as toasted marshmallow or coconut. It may also be used in syrups or in hard-candy inclusions developed for frozen desserts. One of the manufacturer's customers is finding that the color works well in a current ice cream formulation.
The product also imparts a clear and brilliant brown color to beverages such as iced tea, cola, root beer, or cream soda. Additionally, it complements flavors such as caramel, fudge, and chocolate in such applications as flavored syrups, inclusions, pastry desserts, and popcorn coatings. In savory products, it enhances the flavor of soy sauce, barbecue sauces, and marinades.
Whether used in a frozen dessert or other application, it reportedly will not affect the flavor profile of the finished product. Furthermore, it has excellent heat stability and will maintain its color hue and strength throughout the shelf life of the finished product.
--- PAGE BREAK ---
• Egging frozen desserts forward. "Egg Products Help Make Perfect Desserts" is the title of an article in the Fall 2004 issue of the EggsAminer, a newsletter published by the American Egg Board, 1460 Renaissance Dr., Park Ridge, IL 60068 (phone 847-296-7043; fax 847-296-7007; www.aeb.org). The article discusses the functionality benefits of eggs in a variety of desserts, including frozen and nonfrozen.
According to the newsletter, foodservice industry analysts predict that in the next year or two, desserts, especially bakery and dairy, will be the trendy attraction at many restaurants. Such a trend will also eventually apply to ready-made desserts sold in supermarkets. The newsletter suggests that just as desserts are ripe for a renaissance, the use of eggs—for both functionality and health reasons—will find increased use in their formulating or reformulating.
For example, in ice creams and frozen custards, egg products retard or eliminate crystallization, decrease melting point, and contribute a silky, creamy mouthfeel. They can also provide a rich flavor and a natural color to the products.
The American Egg Board also developed The Egg-Ceptional Innovations Application Guide to assist the formulator by demonstrating the many ways egg products provide solutions to common challenges in food product development. The booklet is organized by recipe types, including those for desserts, such as Frozen French Vanilla Custard.
• Flavor system finds use in ice cream prototype. A new flavor system made from milk and milk ingredients offers ice creams and other dairy products a number of benefits in the areas of fat content, shelf life, nutrition, and cost effectiveness. In addition, incorporation of the system avoids functionality challenges such as off-notes and deviations in appearance, texture, aroma, and taste.
Called Dairy Designer, the system is launched by Quest International, Huizerstraatweg 28, 1411 GP Naarden, The Netherlands (phone +31 35 699 9111; fax +31 35 694 6067; www.questintl.com). Early application tests reportedly have been very successful. For example, a prototype ice cream made with vegetable fat has been developed with the flavor system. Other products using the system include cream cheese and skimmed milk.
Quest has introduced the new dairy system in Europe and North America, with Asia slated for 2005. Earlier this year, the company also unveiled its new flavor creative center where research and development of the flavor system was done.
• Prototype ice cream flavors reflect latest trends. A cotton-candy-flavored ice cream with pieces of real cotton candy is one of several prototype ice cream flavors for 2005 that have been specifically developed by David Michael & Co., Inc., 10801 Decatur Rd., Philadelphia, PA 19154-3298 (phone 215-632-3100; fax 215-632-3920; www.dmflavors.com). A list of these formulations is available with ingredients and flavors used, recommended usage levels, and step-by-step instructions for formulating
Among the other formulations for this year are vanilla and chocolate ice cream with variegates of icing and chocolate crunch (Ice Cream Cake Ice Cream); cherry-flavored ice cream with pieces of lollipop (Lollipop Ice Cream); and bubblegum-flavored ice cream with pieces of real bubblegum (Bubblegum Ice Cream).
For 2004, the company introduced ice cream with spice cake pieces (French Pain D-Epices Ice Cream), ice cream with candied red beans (Chinese Vanilla Red Bean Ice Cream), ice cream with praline walnuts and pie crust pieces with a maple ribbon variegate (Canadian Maple Sugar Pie), and coffee and molasses flavored ice cream with chunks of cinnamon cake (Mexican Café De Olla).
--- PAGE BREAK ---
• Plant sterols in ice cream may offer heart benefits. Phytosterols, which have been shown to reduce the absorption of dietary cholesterol, may be used to reformulate dessert products such as ice creams, non-standardized ice cream products, yogurt, and yogurt-type products. A line of these ingredients—plant sterols derived from vegetable oils—is available under the name CardioAid from Archer Daniels Midland, 4666 Faries Pkwy., Decatur, IL 62526 (phone 217-451-5141; fax 217-451-4510; www.admworld.com).
Because phytosterols are structurally similar to cholesterol, they compete for absorption into the intestine, ultimately blocking cholesterol at the small intestine's surface. Unabsorbed cholesterol and phytosterols are eliminated from the body. Reportedly, 1–2 g of phytosterols generally produces a significant decrease in serum LDL cholesterol levels.
Adding phytosterols to food and beverage formulations without affecting flavor or texture can be challenging. However, ADM recently formed a strategic alliance with Korea-based Eugene Science, a pioneer in plant sterol technology. As a result, ADM has gained marketing rights in North America and Europe for the technology, which is said to produce phytosterols that are suitable for a wide range of applications, including frozen desserts.
For foods containing phytosterols, the Food and Drug Administration allows the following claim: "Foods containing at least 0.4 g per serving of plant sterols, eaten twice a day with meals for a daily total intake of at least 0.8 g, as part of a diet low in saturated fat and cholesterol, may reduce the risk of heart disease. A serving of (name of food) supplies __ gram(s) of plant sterols."
• Gum-based ingredient provides complementary fibers. An ingredient combining acacia gum and fructooligosaccharides—two soluble dietary fibers with proven nutritional benefits and technological properties—was highlighted at Health Ingredients Europe by Colloides Naturels International, P.O. Box 4151, 76723 Rouen Cedex France (phone 33 2 32 83 18 18; fax 33 2 32 83 19 19; www.cniworld.com).
Marketed under the name Floracia, the ingredient reportedly has an increased bifidogenic effect because the two complementary fibers have different rates of fermentation in the colon. It also has increased gut tolerance.
The ingredient's main applications include dairy products, such as frozen desserts; fruit preparations, which may be used for desserts; and low-carbohydrate products. Because of the company's co-drying process, the ingredient is non-hygroscopic,free-flowing, and easy to handle and dose.
• Stabilizer improves heat-shock protection and body in ice cream. A stabilizer for providing improved heat-shock protection and body in frozen desserts is available under the name Gelstar from FMC Biopolymer, 1735 Market St., Philadelphia, PA 19103 (phone 800-526-3649; fax 215-299-6291; www.fmcbiopolymer.com).
Fat content affects the melting rate of ice cream. Reducing the butterfat and/or milk solids nonfat content by 1–2% and replacing it with the stabilizer maintains or improves the stability of the ice cream over time and temperature. This can be especially important during distribution, when ice cream is subjected to freeze-thaw cycles that promote the formation of ice crystals. Using the stabilizer minimizes the amount of moisture that melts and reforms into ice crystals, thus maintaining a rich, creamy product.
--- PAGE BREAK ---
It also provides excellent support and firmness to ice cream by forming an insoluble matrix around the air cells. This adds stiffness during the extrusion of the ice cream, added body during hardening, and smoother meltdown of the ice cream. This enhanced stability of the air cells or foam offers ice cream manufacturers new capabilities when ice cream is extruded into novelties.
According to the company, using different polyols and non-sucrose ingredients to provide sweetness and added body creates changes in the freezing point of the ice cream, requiring greater protection against heat shock. The stabilizer offers protection while imparting added creaminess to the ice cream. Differing from more traditional hydrocolloids, it imparts "solid-like" properties to the formulation, allowing for fuller body and less crumbly textures.
The stabilizer performs well in frozen dessert mixes that are frozen into different novelty shapes. The mix can be extruded at slightly higher temperatures to fill the molds easily without becoming icy or coarse in texture.
"Protection against shrinkage is achieved with Gelstar when ice cream is subjected to changes in altitude or temperature fluctuations," said a company representative. "The ability of the stabilizer to form insoluble matrices around the air cells reduces the tendency for ice cream to experience shrinkage. In addition, the stabilizer interacts strongly with protein to further strengthen or enhance the structure supporting the air cells."
• Stabilizer system prevents ice cream heat shock. Traditionally, ice cream heat shock has been a difficult problem for ice cream manufacturers to overcome. A new stabilizer system Grindsted®IcePro reportedly may present a solution to this challenge.
The system, developed by Danisco USA, Inc., P.O. Box 26, New Century, KS 66031-1113 (phone 913-764-8100; fax 913-764-5407; www.danisco.com), reportedly produces ice cream with ice crystal growth 37–57% smaller than that in ice cream produced with conventional stabilizers.
Temperature fluctuations, such as those present during distribution and home storage, cause ice crystal growth. Throughout shelf life, ice crystals continue to grow, eventually becoming detectable within the mouth. When this occurs, a once-smooth-textured ice cream becomes rough and potentially off-flavored. The company's system is reportedly capable of protecting ice cream through multiple heat shock cycles.
According to the manufacturer, other methods used to address the problem of heat shock have proven expensive and ultimately ineffective. Most stabilizers have little to no impact on the ice crystal nucleation process, and only limited impact on the recrystallization process. Cold extrusion can suppress initial ice crystal size, but does not reduce recrystallization.
Unlike previously available methods, Danisco's stabilizer not only produces smaller initial ice crystals but also controls ice crystal growth throughout product shelf life. "We are really excited about this technology," said Jennifer Lindsey, Product Manager-Functional Systems. "Imagine having ice cream in your home freezer that is still smooth and creamy after several weeks, even months of storage."
--- PAGE BREAK ---
• Tapioca derivatives offer sweetener alternatives. A line of organic tapioca derivatives offering functionality properties in frozen desserts is available under the name TapiOK® from Ciranda, Inc., 221 Vine St., Hudson, WI 54016 (phone 715-386-1737; fax 715-286-3277; www.ciranda.com). These functional ingredients, including syrups and maltodextrins, are derived from roots of the cassava or manioc from Brazil.
In ice creams and other frozen desserts, organic tapioca syrups may be used as a sweetener alternative, contributing levels of sweetness and other attributes such as a neutral flavor profile, low color, and ease in processing. They can also help provide body and crystal control in frozen confections. Derived from organic tapioca starch, these ingredients are hypoallergenic and easy to digest, and their composition of complex sugars provides a steady supply of energy. They are available in dextrose equivalents from 27 to 74 and in high-maltose versions.
Also added recently to the line are honey and chocolate TapiOK syrups that provide natural, consistent flavoring, a range of sweetness, and functionality properties. The chocolate syrup reportedly uses a single source of European processed cocoa. According to the manufacturer, these syrups meet the 95% organic ingredient standard.
Organic tapioca maltodextrins with dextrose equivalents of 3 and 10 are produced from tapioca starch by a natural enzymatic process to give desirable fat-like and stabilizing properties. They can be used as a fat replacer in desserts, ice creams, cheese products, and other applications, reportedly providing good flavor release and improved smooth texture. They can gel in cold water and have a high water-binding capability, good freeze/thaw stability, and neutral flavor. The off-white color and low application rate of 2–10% makes the ingredient a suitable substitute for fat, milk, gums, and other stabilizers.
The company recently moved production of these ingredients to North America. "We set up production here to better serve the U.S. market," said Hans Friese, President of Ciranda. "Our capacity has been increased and we are developing new products to provide our customers with wider application solutions."
• Dessert prototypes reflect new directions. In demonstrating different ways that frozen desserts can be reformulated to appeal to today's marketplace, prototypes must take into consideration a number of factors, including functionality, taste, appearance, and enhanced health value.
A number of frozen dessert prototypes reflecting the changing directions that reformulation is taking have been developed by Kerry Americas, 100 E. Grand Ave., Beloit, WI 53511 (phone 608-363-1200; www.kerryamericas.com). For example, baked pie, cake, or brownie pieces can help simulate or provide all the flavors and textures of classic or traditional desserts in an ice cream or frozen dessert format. These inclusions can add a variety of textures, including crisp, chewy, "cakey," and "fudgy." Also, inclusion of colored, flavored dough pieces can add eye appeal, texture, and interest.
From a health perspective, the use of low-fat, no-sugar-added, reduced-carbohydrate dough or baked pieces can help create interesting, tasty, and healthful ice cream or frozen desserts
--- PAGE BREAK ---
• Functional native starch provides freeze/thaw stability. A functional native starch, characterized by very good freeze/thaw stability and tolerance to low-temperature storage conditions, is said to be particularly well suited for ice creams, soft-serves, yogurt, and other frozen or refrigerated desserts.
A functional native starch, characterized by very good freeze/thaw stability and tolerance to low-temperature storage conditions, is said to be particularly well suited for ice creams, soft-serves, yogurt, and other frozen or refrigerated desserts.
The starch is introduced under the name Novation Prima 600 by National Starch Food Innovation, 10 Finderne Ave., Bridgewater, NJ 08807-0500 (phone 908-685-5000; www.foodinnovation.com). Derived from waxy maize, the starch is recommended for low to moderate temperature and shear food processing at a neutral pH. In products requiring a long shelf life or low-temperature storage, it delays the onset of syneresis and gelling while providing end-product quality and premium texture.
The starch has a very bland flavor profile, providing the product developer with opportunities for potential flavor improvements or reduced flavor usage. It also provides excellent flavor-release characteristics, allowing inherent flavors of the formulation to prevail. Flavors of food systems formulated with the ingredient are said to be brighter and have greater intensity when compared to the same systems formulated with traditional modified starches.
Like other products in the line, this ingredient is made by a processing technology which results in native starches having functional properties similar to those of modified starches while meeting the labeling criteria for a native starch. This allows food manufacturers to formulate with native starches while maintaining the quality achieved with traditional modified starches.
• Gum systems stabilize dairy desserts. Gum systems for stabilizing dairy-based desserts aid in the formulation of low-carbohydrate or low-sugar desserts. The gum systems, called Pretested® Dairyblend, were developed by TIC Gums, P.O. Box 369, Belcamp, MD 21017-0369 (phone 410-273-7300; fax 410-273-6469; www.ticgums.com).
Dairyblend IC LC Base is used primarily for low-carbohydrate and sugar-free/reduced sugar ice cream bases. The powdered ingredient imparts a rich, creamy mouthfeel, helps boost aeration, and slows meltdown.
--- PAGE BREAK ---
Dairyblend YG LC Stabilizer—a blend of starches, agar, and pectin—was designed to enhance the fiber content and stabilization of low-carbohydrate yogurt formulations, resulting in yogurts that are gelatin-free, yet smooth in texture, appearance, and mouthfeel. Suitable for both cup-set and vat-set yogurt, the powder withstands the high-speed processing common in yogurt operations.
Dairyblend LC PD, a low-carbohydrate pudding base, replaces sugars and starches found in standard pudding mixes. The base, which consists of a carrageenan blend and other ingredients, is said to provide a desirable pudding set. It is ready to be mixed with other flavors and ingredients and can be used in cook-and-serve or instant puddings made with dairy ingredients, partially hydrogenated vegetable oil, or a combination of both. Because of its freeze/thaw stability, the base enables low-carbohydrate puddings to be frozen and brought to temperature easily.
A brochure, "Guide to Using Gums in Dairy Applications," is also available from the company describing a broad range of gum systems which are suitable for dairy-based desserts.
• Study compares full-sugar vs no-sugar-added ice creams. Sensory study showed a significant preference for no-sugar-added ice creams made with Malt-sweet™ IC, a maltitol syrup available from SPI Polyols, Inc., 321 Cherry Lane, New Castle, DE 19720 (phone 302-576-8600; fax 302-576-8569; www.spipolyols.com). The study compared full-sugar ice cream vs a wide range of commercial no-sugar-added products currently on the market.
A study recently published in Foodservice Research International (Vol. 15, 2004) compared the same no-sugar-added product with a full-sugar vanilla ice cream—both products are available commercially at The Pennylvania State University Creamery. This study, which was led by Peter Bordi, Director of the Center for Food Innovation and Associate Professor in Penn State's School of Hospitality Management, suggested an overall equivalent acceptability of the no-sugar-added ice cream compared to the full-sugar ice cream. Further studies are planned to study shelf life and to confirm preference for the characteristics of maltitol and maltitol syrup vs other no-sugar-added approaches on the market.
• Stabilizer maintains ice cream texture after freezing. A stabilizing system which allows ice cream to maintain a soft, warm, and creamy texture even after an extended period of time in the freezer is available under the name Textrion Ice. The system, a patented mixture of proteins, emulsifiers, carbohydrates, and stabilizers, was developed by DMV International bv, P.O. Box 13, 5460 BA Veghel, The Netherlands (phone 31 413 372222; fax 31 413 343695; www.dmvinternational.com), and stabilizer specialist German-based Hahn Co.
The system is designed to upgrade commercial ice cream to match home-made and artisan varieties, opening up new segments and opportunities in the ice cream market. The stabilizer system is tailored to fit the desired formula of the customer.
According to Teroeska Boterkooper, DMV's Food Market Development Manager, the company's researchers have come up with three new product concepts built on the latest market trends and using the special qualities of the stabilizer system. These include Quattro Gelati, four flavors of ice cream in one box; Abbracia e bacia, a layered ice cream dessert in a cup; and Squice, a soft ice cream in a leak-free pouch for snacking.
--- PAGE BREAK ---
 • Redefining pie a la mode. Ice cream on pie, sure. But how about pie in ice cream?
Traditionally, two comfort foods—pie and ice cream—were combined to create pie a la mode. But now new ice cream inclusions may be helping to provide a whole new definition for that familiar concept.
Pie crust or Graham cracker pie crust pieces are available as ice cream inclusions from Jana Classics, Inc., P.O. Box 1050, Tualatin, OR 97062 (phone 503-691-1600; fax 503-691-6112; www.janas.com). The inclusions are said to maintain their integrity in ice cream, providing a flavor, texture, and appearance reminiscent of pie a la mode.
The baked items are also available oil-coated or chocolate-coated to help the formulator achieve the desired texture and appearance—slightly softened with the surrounding moisture and flavors, crisp and crunchy like an oven-browned crust, or possibly a combination of both. The pie crust may also carry cinnamon for a spicier flavor.
Pie crust pieces may also be combined with fruit variegate to provide an even more novel definition to pie a la mode.
Cultural Needs Help Redefine Frozen Desserts
According to Mintel research, 90% of U.S. households consume frozen desserts, and total U.S. production of these products amounted to about 1.4 billion gallons in 2003. With stats like these, there must be some wording in the Bill of Rights that says every American has the inalienable right to lick ice cream cones.
But we sometimes overlook the fact that frozen desserts are also enjoyed passionately throughout the world. As I noted at the end of this article's introduction, the "we" in "we all scream for ice cream" is certainly a global one, with new ingredient developments within each culture helping to reformulate or reshape these dessert products according to the consumer needs of that culture. If so, formulators of these products have a lot of technological information to share as well as to learn.
This article has been like a world tour of different ways that frozen desserts are being reformulated today. For example, the people of Russia enjoy ice cream, but the product has been formulated with iodine to address a deficiency of that element. In Europe, a range of ice creams and sorbets made with vegetable flavorings have been introduced. New Zealanders reportedly each year consume about two million liters of "hokey pokey," vanilla ice cream with toffee added to it. Korea has worked on plant sterol technology which can be applied to frozen desserts. Thailand has a passion for blueberries in ice cream products. A Canadian company has developed a whey protein isolate which delivers a probiotic effect in ice cream. And in Louisiana, people are said to like hot sauce added to their frozen desserts. These are just a few examples of how frozen desserts are being formulated that offer healthier options, especially for children; a variety of new flavors and inclusions; different shapes, forms, and colors; and solutions to special functionality challenges.
So what's in store for frozen desserts?
Well, based on the innovative developments in this article, we're probably only seeing the tip of the ice cream cone. Following the path of confections, frozen desserts will continue to incorporate a variety of creative—perhaps even wild—concepts in the Age of Reformulation.
--- PAGE BREAK ---
New Health Initiatives Aimed at Children
A new line of low-fat, sugar-free, and vitamin-fortified treats called Nestlé Kids Frozen Treats is being launched by Nestlé USA, Inc., 800 N. Brand Blvd., Glendale, CA 91203 (phone 818-549-7131; www.nestle.com). The line of sherbet and ice cream tubes, pops, and mini-sandwiches are designed to appeal to children and to their health-conscious parents.
According to Douglas Cornille, Marketing Manager for the product, "Parents were screaming for healthy ice cream." In response, the company developed this product line which includes Scooby-Doo sherbet tubes and pops. The products are made with skim milk, are low in sugar, and offer the advantages of vitamin fortification.
To coincide with the 100th anniversary of the frozen pop, Nestlé Ice Cream is debuting 14 new kids' frozen snacks that provide potential health benefits. The highly anticipated offering includes frozen pops with real fruit juice (Scooby Doo Mystery Pops, Splash Pops, Teen Titans Hero Pops, and Shooting Stars), frozen pops with 100% of the Daily Value of Vitamin C (Fruit Fuel), dairy snacks with calcium fortification (Miniwiches, Double Fudge Pops, and Scooby Doo Ice Cream Push Up treats), and no-sugar-added snacks (NSA Double Fudge Pops, NSA Splash Pops, and NSA Fruit Fuel).
In addition to these new products, Nestlé Ice Cream is launching a nationwide search for children to try out for a chance to "Be a Frozen Pop Flavorologist" for a day. The selected children will pay a visit to the flavor laboratory, which has never before been open to the public, where they will sample a variety of flavors. In addition to a behind-the-scenes tour, the children will have an opportunity to learn the science behind frozen pops, put their taste buds to the test on a variety of nontraditional flavors such as hot bubble gum and macaroni and cheese, and sample their own flavor creations.
"Most people don't realize that the frozen pop was actually invented in 1905 by an 11-year-old boy," said John Harrison, Official Taster for Nestlé Ice Cream. "We think it is fitting to mark this upcoming anniversary by offering aspiring inventors a special opportunity to dream up their own frozen pop creations. In fact, more than two billion frozen pops are enjoyed in the U.S. each year, so we are really looking for extraordinary flavor ideas that will appeal to kids of all ages.
---
Blue Becoming More Popular in Frozen Desserts

The color blue is playing an increasingly important role in the reformulation of ice creams and other frozen desserts.
For example, a stable, natural blue color which may be used in ice cream, confections, and other products has been recently launched by Chr. Hansen, Inc., P.O. Box 14428, Milwaukee, WI 53214-4298 (phone 414-607-5700; fax 414-607-5709; www.chr-hansen.com). Derived from natural ingredients, the new color is being introduced into several markets, including the European Union, the United States, and Australia.
--- PAGE BREAK ---
According to the manufacturer, the color is stable within a very broad pH range of 5.5-8.0. The result of several years of research, the formula for the natural blue color remains proprietary.
Chr. Hansen has developed a large assortment of natural food colors, but blue was missing from the palette until now. "Our clients in Europe and the United States have been requesting natural blue color for a long time," said Annette Mollgaard, Marketing Manager. "It has been complicated to formulate, but now that it is finally ready to launch, we are very much looking forward to introducing it to the market."
Of course, when talking about blue as a color, one of the first ingredients that probably comes to mind is the natural blueberry. According to U.S. Highbush Blueberry Council, c/o Thomas J. Payne Market Development, P.O. Box 281525, San Francisco, CA 94128-1525 (phone 800-824-6395; www.blueberry.org), consumers like the fact that blueberries are a natural ingredient with an intriguing color that can transform established products, such as frozen desserts, into novel creations. The color blue may also bring up images of heath, as consumers link the blueberry to heart health, anti-aging properties, cancer prevention, improved eyesight, and better memory.
Blueberries may be used in the formulation of a wide range of frozen desserts, including ice creams, frozen yogurt, sherbet, gelatos, sorbets, and sorbettos. Blueberries' variety of commercial forms—fresh, frozen, individually quick frozen, pureed, and the new, plump osmotically preserved—add color, texture, and taste. In frozen desserts, they can provide effects such as blue swirls and patterns, and are essential in almost any red, white, and blue product. With their natural high-sugar levels, they can help to remove the sour taste sometimes associated with yogurt. Some novel concepts using blueberries are blueberry-pie-flavored ice cream and a chocolate-blueberry ice cream sandwich featuring chunks of blueberries in vanilla ice cream served between two chocolate cookies.
Blueberries are used in frozen desserts throughout the world. For example, in Europe, sorbets, sorbettos, and gelatos are made with blueberries as a primary ingredient. In Thailand, blueberries are reportedly the most popular ingredient in ice cream products. And in the U.S. market, a wide range of products incorporating blueberries have recently been launched, including Cold Stone Creamery's Very Berry Good™, a fat-free, no-sugar-added ice cream; Gelato Massimo's blueberry gelato; and HP Hood's LeCarb blueberry frozen desserts. Other products of interest include Dreyer's New York Blueberry Cheesecake Ice Cream and Gelato Classico's Blueberry Zinfandel.
Food trend forecasters have identified blueberry as one of the breakthrough flavors in 2005, noted flavor manufacturer, Sethness-Greenleaf, Inc., 1826 N. Lorel Ave., Chicago, IL 60639 (phone 773-889-1400; fax 773-889-0854). To satisfy this demand, the company has developed a new line of high-impact natural and synthetic blueberry flavors that impart a "fresh-picked" flavor. The blueberry flavors may be used alone or to complement blueberry components in a formulation. Some suggested applications include frozen desserts, fruit preparations, variegates, toppings, syrups, baked goods, and beverages.
Several ice cream prototype formulations developed by David Michael & Co. also incorporate blueberry flavors. These include Triberrysaurus, a strawberry-flavored ice cream with blueberry variegate and raspberry shortcake; and Jazzy Blues Berry, a rice-pudding-flavored ice cream with blueberry variegate and blueberry cake pieces.
--- PAGE BREAK ---
Probiotics Find Use in Frozen Desserts
Studies have shown that oligofructose has a positive effect on the survival of probiotic cultures in fermented dairy products during processing and shelf life. While this research indicates that probiotic bacteria in fermented dairy products are still viable at the time of consumption, it was not determined whether the bacteria are vital enough to survive the severe stress of digestive conditions.
Now, a new study demonstrating inulin's probiotic vitality during digestion in the body has been conducted by Orafti Active Food Ingredients, 101 Lindenwood Ave., Malvern, PA 19355 (phone 610-889-9828; fax 610-889-9821; www.orafti.com). The company performed the study to determine if inulin, an ingredient it produces and markets under the name Raftilose, also promotes the survival of probiotic bacteria during digestion in the body.
The study tested yogurts containing the probiotics Lactobacillus rhamnosus or Lactobacillus casei, with 3% Raftilose P95 or Raftilose Synergy 1. Samples of the yogurt were pulled at intervals up to 10 weeks to test the viability of the probiotics after consumption by using a model in-vitro digestion system.
The results indicated that at 10 weeks, both types of Raftilose (added at 3%) were shown to protect probiotic bacteria over the shelf life with no change in viability. The yogurt processed through the in-vitro stomach/intestine with the inulin showed no significant difference in L. rhamnosus cell count vs a 30% decrease in counts for the control yogurt with no added inulin. The yogurt with L. casei cultures showed a 5% decrease in culture vitality with the inulin, while the control yogurt without added inulin had a 19% decrease in cell counts after simulated digestion.
The inulin-based ingredients thus protected the probiotics through both storage and digestion. The clean flavor and flexibility of inulin make it suitable for use in synergy with probiotics in processed foods, such as yogurt and other dessert applications.
In another significant development, a whey protein isolate containing a probiotic has recently been introduced under the name Inprobiotic by Vitalus Nutrition, Inc., 3911 Mt. Lehman Rd., Abbotsford, BC V4X 2NI Canada (phone 604-857-9080; fax 604-857-0843; www.vitalus.com).
Manufactured using a gentle cross-flow microfiltration technique, the biologically active whey protein contains a specific strain of probiotic bifidobacteria that improves digestion, enhances intestinal health, and strengthens the immune system. The probiotic is said to remain stable throughout shelf life and subsequent passage through the gastrointestinal tract.
According to the manufacturer, the ingredient is suitable for use in ice creams and other frozen desserts, which can benefit by its delivery of high-quality protein and a positive probiotic effect. The company is reportedly working with ice cream manufacturers to develop health-promoting versions of traditional products. In addition to dairy-based desserts, other potential applications include health supplements, nutraceutical foods and drinks, and sports and clinical nutrition applications.
Several physiological roles have been defined for whey proteins. The components of whey protein provide high-quality amino acids; growth enhancement of beneficial gut microflora, such as bifidobacteria; control of specific diseases, including cancer; antitoxin activity; antimicrobial action; and immune-enhancing properties. Research studies have demonstrated that individual whey protein fractions, such as lactoferrin and IgG, have the ability to modulate immune functions and responses.
--- PAGE BREAK ---
Ice Cream Targets Iodine Deficiency in Russia
Consumers in Russia can now enjoy ice cream enriched with iodine to combat deficiency of that element in their country. The product, marketed by the Russian dairy group MiasoMolTorg JSC, says it is the first product of its kind on the Russian market and the latest to promote the health credentials of dairy products.
Iodine is needed by the body to make thyroid hormones, which in turn are necessary for maintaining normal metabolism in all cells of the body. Iodine deficiency can cause serious mental and learning difficulties. In December 2004, the World Health Organization issued a report calling for the strengthening of salt-iodization programs. More than 50 countries around the world are still iodine deficient. Deficiency results when the soil is poor in iodine, causing a low concentration in food products and insufficient iodine intake in the population. The problem of iodine deficiency is most severe in Africa, with Europe having the highest number of countries of different world regions where the problem was reported as mild, with Russia and Ukraine among problem cases.
In response to this health problem, ice cream presented an alternative way to add the element to the diet. Iodine is found naturally in many dairy products, making ice cream product a natural choice for added supplementation. The product is said to be one of a number of new projects currently underway at MiasoMolTorg JSC, 213823 Bobruisk (Belarus), Russia (phone +375 2251 76790; +fax 375 2251 23350).
The company reportedly produced 2,500 tons of ice cream in 2000, and hoped to double that figure in 2004 despite increasingly competitive conditions in the Russian market. Another innovation that the company is planning to introduce is a blend of yogurt and ice cream.
Next month's Ingredients section will discuss ways to overcome functionality challenges in fortified foods.
by DONALD E. PSZCZOLA
Senior Associate Editor
[email protected]