Let the good times roll at the 2005 Annual Meeting
Plenty of new and exciting programs are planned for attendees at this year's IFT Annual Meeting + Food Expo®., New Orleans, La., July 16–20, 2005. Below is just a sampling of the events, programs, conferences, and pavilions offered at this premier event for food industry professionals. And don't forget to check out the registration kit included with this issue or visit www.am-fe.ift.org for complete information and updates on all of the activities.
• Don't Miss the Keynote Speaker. Best-selling author and New Yorker columnist Malcolm Gladwell will present this year's keynote address. An engaging and dynamic speaker, Gladwell has written about and discussed topics such as management trends and decision making and is known for interpreting research and applying it to business. His book, The Tipping Point, provides managers with new tools for understanding trends, and his newest work, Blink: The Power of Thinking Without Thinking, analyzes intuition and how it can be used to improve instincts for good decision making.
• Hot Topics Help Build Consumer Trust. Two Hot Topic sessions—Top Five Fear Factors and Food Science to the Rescue—will give you the tools to help build and maintain consumer confidence in your company and the food industry. The first session will examine the ways in which you can help protect your company and the industry against fears that affect the food industry—such as commodities costs and bioterrorism threats—and the second session will present ways that food science can help to improve public health. A third session will be added at a later date.
• Series Helps Develop Management Skills. The Executive Management Series, presented by the American Management Association, consists of two sessions designed to provide formal project management training and help new supervisors develop the skills to help lead their team members. More than 50,000 managers have attended this seminar to develop skills to deliver projects on time and within budget.
Nominations for IFT Leadership Election due April 1
There is still time for IFT members to add candidates for the IFT Leadership Election to the ballot by petition. Members will select from an outstanding slate of candidates for President-Elect and Membership Representatives on the Executive Committee, and qualified Councilors will vote for Councilor Representatives on the Executive Committee in IFT's global electronic election.
The deadline for submission of petitions and candidate biographies to IFT is April 1, 2005. Please direct all candidate information and questions to Andrea Lohse, Manager of Membership Experiences, Institute of Food Technologists, 525 W. Van Buren St., Ste. 1000, Chicago, IL 60607 (phone 312-782-8424, e-mail [email protected]). Details can be found in the IFT Policy and Procedures Manual at www.ift.org/pdfs/governance/cppmanual/elections.pdf.
This year, the IFT Leadership elections will be conducted electronically from May 1 to June 1. Members will vote on-line at a secured Web site accessible from any Internet-connected computer anywhere in the world. Access to the Web site will be restricted by a required login, and usernames and passwords will be verified to ensure single, unique votes.
Other nonprofit associations have turned to electronic voting for their elections. Advantages include better voter turnout and fast election results. Last year, 16 IFT Sections and Divisions conducted on-line elections using the IFT members-only Web site, and many of the members noted the increased turnout in their elections. Howard Zhang of the Nonthermal Processing Div. said that division's 2004 on-line election represented a more than 20% increase from 2003, when the division held its first on-line election. Jae Park of the Aquatic Food Products Div. also noticed the increased participation. "Seventy-one ballots are the largest participation in our election. I am pleased with your excellent service and assistance to out division."
IFT will be communicating important information to its members not only through Food Technology but also via listservs and e-mail. We are therefore asking members to send new e-mail addresses to [email protected]. Please include your name and IFT member number in the message as well. All other inquiries should be sent to [email protected].
SECTION & DIVISION NEWS
Kentucky Food Science Club going strong
The University of Kentucky Food Science Club, a chapter of the IFT Student Association, kicked off the 2004–05 school year with a semester of speakers and successful fundraisers.
"What better way to learn about careers in food science, food technology, and culinary arts than to visit food processing and research and development facilities," said Taylor Wallace, club president. "Members of the club took tours of facilities at Krispy Kreme, Mississippi State University Food Science Dept., Kraft Food Ingredients, and Newly Weds Foods, where they interacted with scientists, product developers, and processors and viewed the production lines of various food products and ingredients."
Wallace said that the club will continue to host speaking engagements and tours of local food companies and participate in various community service activities throughout this semester. The club will also continue with its fundraising efforts, which netted more than $5,000 through ice cream and milk shake sales at the Kentucky State Fair in 2004.
Sinn speaks on quality systems
At a recent meeting of the Northwest Ohio Chapter of IFT held at Bowling Green State University, John W. Sinn, Professor at the university, presented information about food quality, safety, and security management systems. Sinn, who specializes in quality systems, walked section members through the process and introduced the tool kits used in food industry applications.
EDUCATION NEWS
Nelson appointed Scholle Chair at Purdue
The Purdue University board of trustees recently appointed Philip Nelson the first Scholle Chair in Food Processing.
A professor in the Dept. of Food Science at Purdue, Nelson has broad experience in the field of food processing. He created the first viable application for aseptic processing. As a result of his work, his bulk aseptic storage process was presented IFT's Food Technology Industrial Achievement Award in 1976. He has also received the IFT Nicholas Appert Award and U.S. Secretary of Agriculture's Award for Personal and Professional Excellence.
During his career, Nelson worked with William Scholle, for whom the endowment is named, to develop a method by which Scholle containers would remain sterile during their filling with food products.
In 1961, Nelson became an instructor at Purdue, where he earned his Ph.D. degree in food science in 1967. He was appointed Director of the Food Sciences Institute in 1975, served as Head of the Dept. of Food Science from 1984 to 2003, and taught many food preservation and product development courses. He is a Fellow, Professional Member, and Past President of IFT.
Webster receives graduate student award
Janet Webster, a Ph.D. candidate in food science and technology at Virginia Polytechnic Institute and State University, has won the 2004 National Food Processors Association Graduate Student Award.
The award—a $3,000 scholarship—recognizes a student in the area of food technology and food science who has demonstrated the ability to enhance the safety, nutrition, and wholesomeness of food products through research and scholastic achievement.
Webster, a Student Member of IFT, earned her B.S. in biology and M.S. degree in food science and technology from Virginia Polytechnic.
Morris awarded Arkansas Alumni Award
Justin Morris has won the 2004 Southern Arkansas University Distinguished Alumni Award. A Distinguished Professor and Director of the University of Arkansas Division of Agriculture's Institute of Food Science and Engineering, Morris received the award for his career accomplishments, especially for his research in developing a total system for the mechanization of grape vineyards.
Morris and his co-inventor Tommy Oldridge developed a system that incorporated equipment, timing, and methods to mechanize cultural operations such as pruning, shoot positioning, fruit thinning, canopy management, and harvesting. This system could be used to reduce the grape industry's reliance on hand labor with no reduction in product quality. He is currently testing and refining this system in commercial vineyards in California and assessing its potential for reducing production costs while maintaining grape quality.
A Professional Member of IFT, Morris has received many awards for his work, including being elected an IFT Fellow in 1997 and winning both the University of Arkansas's Food Science Dept. Research Award and the John W. White Research Excellence Award in 2004.
Daubert named Associate Director of BTEC
Christopher R. Daubert has been named Associate Director of the Biomanufacturing Training and Education Center at North Carolina State University. He will remain a member of the food science faculty while he helps to develop BTEC's educational and research programs. Daubert is a Professional Member of IFT.
BOOK REVIEW
MUSHROOMS: CULTIVATION, NUTRITIONAL VALUE, MEDICINAL EFFECT, AND ENVIRONMENTAL IMPACT, 2ND EDITION. Shu-Ting Chang and Philip G. Miles. CRC Press LLC, 2000 N.W. Corporate Blvd., Boca Raton, FL 33431. Call 800-272-7737 in U.S. or 561-994-0555 in Canada, or visit www.crcpress.com. ISBN: 0-8493-1043-1. 2004. 451 pp.
Mushrooms, the fruiting bodies of macro fungi, have been used as food in the early civilizations of the Greeks, Egyptians, Romans, Chinese, and Mexicans, and probably also in prehistoric times. Today, more than 300 are considered prime edible species, approximately 60 are commercially cultivated, and 10 are grown on an industrial scale. The most important is Agaricus bisporus, or button mushroom, originally grown in France in the early 17th century. Its popularity is currently being matched by Lentinula edodes, the shiitake mushroom. Other species are beginning to gain significant market shares as well.
Mushrooms provide a nutritious, protein-rich food, and some species have a medicinal value. They are grown on lignocellulosic biomass and are thus making a significant contribution to the management of agricultural and industrial wastes at regional and national levels.
The 22 chapters in this book cover, among others, an overview of mushroom biology and science, nutritional attributes, medicinal values, substrate and mycelial growth, genetics and breeding factors, culture preservation, and world production of edible mushrooms. Each chapter includes an extensive list of references, and a glossary of terms is provided at the end.
The book is well written and illustrated. It makes interesting reading and should be most useful to food technologists interested in nutraceuticals and to those involved in aiding local farmers and governments in developing countries.
Alina Surmacka Szczesniak, IFT Fellow and retired Principal Scientist, General Foods Corp. (now Kraft Foods), Mount Vernon, N.Y.
---
Corrections
• The article "Identifying Food Science & Technology Research Needs" (December 2004, pp. 32–34) was a summary of a report prepared by the IFT Task Force on Research Needs in Food Science and Technology. Dennis R. Heldman, Principal, Heldman Associates, San Marcos, Calif., was listed as the author of the article because he was the chair of the task force and the article was a summary of the report.
It should be noted, however, that the various sections of the article (as well as those of the entire report) were written by him and the other members of the task force, and credit should also go to them.
The members of the task force were Al S. Clausi, IFT Past President, Retired Senior Vice President, General Foods Corp.; Jozef L. Kokini, Professor II, Chair and Director, Dept. of Food Science and CAFT, Rutgers University; Theodore P. Labuza, IFT Past President, Morse Alumni Distinguished Professor of Food Science and Engineering, University of Minnesota; Syed S.H. Rizvi, International Professor of Food Science, Cornell University; and Kenneth L. Swartzel, William Neal Reynolds Distinguished Professor of Food Science, North Carolina State University.
• In her Nutraceuticals & Functional Foods article, Immunity Boosters (January, p. 65), contributing editor Linda Milo Ohr discussed research showing that beta-glucan sped up the immune response. Although oat-based beta-glucan (1,3/1,4) has been shown to stimulate the immune system in topical and internal applications, the beta-glucan and clinical results discussed, provided by Biopolymer Engineering Inc., Eagan, Minn., were based on a yeast-based beta-glucan extract (1,3/1,6).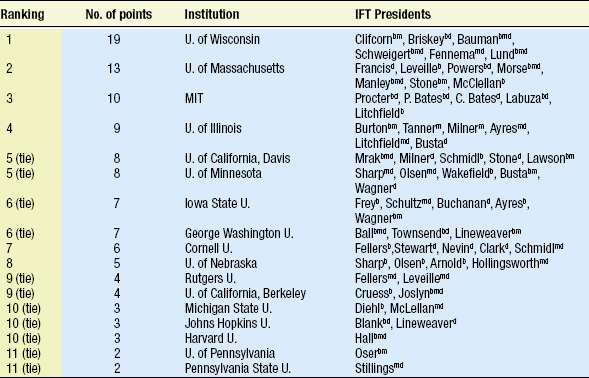 In addition, it was stated that Immunity Defense, an orange juice introduced by Tropicana, Bradenton, Fla., contains vitamins C and E, zinc, and selenium. It does not contain zinc, but is fortified with ascorbic acid (vitamin C), vitamin E acetate (vitamin E), and sodium selenite (selenium).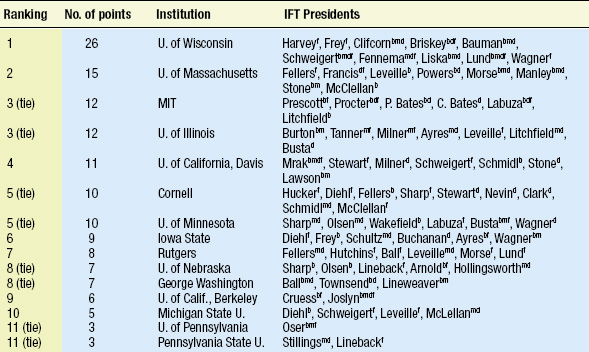 • Several errors appeared in the tables in the article, "Influence of Educational Institutions on the IFT Presidency" by F.J. Francis (January, p. 52). Daniel Farkas pointed out that the listing "U. of Oregon" in Tables 2 and 4 should have been "Oregon State U.," which he said had one of the first food technology departments in the world. And Marc A. Meyers and Manfred Kroger pointed out that the listing "U. of Pennsylvania" in Tables 1 and 3 was incorrect—there should also have been a listing for "Pennsylvania State U." President Stillings received his degrees from Pennsylvania State U., and President Oser received his degrees from the U. of Pennsylvania and taught there. The corrected tables are shown below.
by KAREN BANASIAK
Assistant Editor
[email protected]