What is sensory evaluation, and what is its value?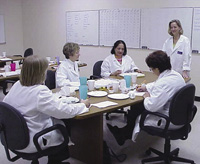 Food processing pioneer Wilbur A. Gould, Consultant to the Food Industries and Former Director of the Food Industries Center at The Ohio State University, briefly described the term sensory as "Examination by smelling, feeling, tasting and/or seeing (appearance)" (Gould, 1990).
S. Arazi and D. Kilcast of Leatherhead Food RA said that "Without appropriate sensory analysis, there is a high risk of market failure. . . . Sensory analysis is too frequently often overlooked as a requirement before product launch, and is often carried out to a poor standard" (Arazi and Kilcast, 2001).
The Food Industry Foundation said that "Today's consumers are discerning, demanding, and more knowledgeable about food and expect products which are safe, good value, and of high sensory quality. Therefore, knowing consumers' preferences and perceptions of the sensory characteristics of food/drink products is very important to food manufacturers and retailers alike" (FIF, 2005).
According to FIF, sensory evaluation can be used by companies to improve the sensory quality of a product or to ensure inter-batch consistency; understand the sensory characteristics of their products and how they influence consumer preferences; understand how their product performs against competitors' products in relation to consumer perceptions and/or sensory characteristics; determine whether or not consumers can detect differences between products, e.g., "me too" products, or changes in the product due to recipe modifications; influence product listings with retailers by presenting independent research demonstrating that the company has a greater understanding of their product's profile and consumers; and assist in the determination of the shelf life of products (in conjunction with microbiological testing).
The "Sense" in Sensory Makes Sense
Herbert Stone, President of Tragon Corp., Redwood City, Calif., author of books, presenter of educational programs, and developer of laboratory services related to sensory evaluation for many years, considers this activity as a "science."
"Sensory evaluation is a science that measures the responses of people to products as perceived by the senses," he said. "It is a powerful resource for understanding the similarities and differences among products, whether those products are competition, new formulations, or a comparison of alternative processing effects. Sensory resources are cost effective, providing precise information quickly, and they serve as a bridge between the technical and consumer worlds.
--- PAGE BREAK ---
"The ability to relate preference and purchase behavior with specific sensory characteristics is powerful information and when linked with market strategy becomes a crucial product knowledge source. In today's competitive environment, what better way to gain a competitive advantage than to use sensory information to identify the key drivers of preference. This provides a focus for any further development efforts."
"Over the years," he continued, "sensory resources have become more refined and sophisticated through better systems for selecting and qualifying subjects and using methods in more precise ways. Using the difference test to only measure whether product differences are perceived as requesting the basis for the difference is an example of better use of a method. A second example is the use of consumer language to describe products vs relying on experts (who cannot represent the consumer). This second example yields strong correlations with preferences, ingredients, and process variables."
Stone, who is also currently President of the Institute of Food Technologists, concluded with a look at the future: "With the advent of more diverse styles of foods such as functional foods, the use of sensory analysis becomes even more important. The ability to determine a product's potential early in the development process will be of great help to companies that have and use contemporary sensory resources."
Collaborative Research with Processor/Customer
Richard Popper, Vice President, Research & Development, at Peryam & Kroll Research Corp., Plano, Tex., addressed the collaborative approach between food processors and sensory evaluation companies. Peryam & Kroll, with facilities in Chicago, Los Angeles, Dallas, and New York and associates across the nation, was founded by David Peryam and Beverley Kroll, two pioneers in the field of sensory evaluation. Popper summarized the company's total qualitative and quantitative consumer research services.
"Our research approach is collaborative," he said. "We work closely with clients to identify the test objective that clearly reflects the business objective, then make recommendations focused on product development and marketing implications that provide actionable solutions. Our services help clients identify the attributes that drive consumer liking, providing companies the understanding needed to optimize new products and to enhance the profitability of existing ones. We offer specific methodologies for consumer needs exploration, product benchmarking, category appraisals, product optimization, and concept-product fit studies."
Peryam & Kroll has also been at the forefront of developing and applying methods for conducting research with children, and tests about 10,000 children per year. The staff comprises both sensory and market research professionals, he said, allowing the company to serve R&D and marketing clients equally effectively.
"To attain deeper insight from research," Popper added, "Peryam & Kroll's advanced analytic toolbox contains, to name just a few, SegDrive, the company's proprietary tool for simultaneous segmentation and drivers of liking analysis; DesignX, a suite of tools for identifying optimal product and process formulation parameters; Penalty Charting for prioritizing product modifications; TURF for estimating optimal product line configurations; trade-off analysis and simulation using conjoint analysis; and attribute importance analysis using partial least-squares regression."
--- PAGE BREAK ---
Descriptive Analysis Establishes "Fingerprint"
Lauri Rottmayer, Marketing Director at 21st Sensory, Inc., an independent consulting laboratory in Bartlesville, Okla., indicated that "Whether a company's objective is to create a new product, refine a current product, or enhance product stability, descriptive sensory analysis plays a vital role. Descriptive analysis is the process wherein certain properties (attributes) of a product are identified and measured, the data analyzed and interpreted."
Kathleen Rutledge, President/CEO, said that the company offers unbiased, third-party testing for its clients. "In consultation with the client," she said, "we are able to define the objective of the project and devise testing that will result in actionable information for them. We accomplish this using the skills of highly trained sensory professionals and data analysts and precise laboratory support to render prompt, complete, and accurate reports that meet the client's needs."
Descriptive analysis, she said, "provides qualitative information and quantitative data about the sensory attributes of a product. The resulting information establishes the product's baseline sensory attributes, or 'fingerprint.' Whether the product initially profiled is a competitor's target product or the client's own gold standard, it is important to document the sensory profile of the product before adjusting the formulation to help determine direction and degree of desired change."
"Conversely," she continued, "if the goal is to substitute ingredients from alternative suppliers as a cost-saving measure, it is important to maintain consistency of the product. Descriptive analysis will reveal if ingredients from different suppliers affect the sensory aspects of the product. By combining the data from descriptive analysis and consumer studies, formulators are able to identify and optimize those product attributes that drive consumer liking. Whether the ultimate objective is to develop a new product, address a problem by adjusting an existing formulation, or maintain the sensory integrity of a current product, sensory analysis plays an important role in the development and perpetuation of a successful product."
"The resultant data provide a company with unbiased information that will aid in achieving the desired objective. Comprehensive knowledge of a product and its sensory attributes greatly increases the odds of establishing a successful product."
In the world of food science, Rutledge concluded, unanswered sensory questions leave room for doubt and mistakes, while "knowledge is power."
In-House Services at an Ingredient Supplier
Terry Work, Director of Sensory Science at McCormick & Co., Inc., Hunt Valley, Md., provided the viewpoint of a supplier's in-house sensory group.
"Consumers continue to gain exposure to new food experiences, such as those from travel and dining to food network television shows and cooking clubs," she said, "understanding that the complexity of the human interaction with foods is an ever-changing science." The key to the success of product development, she added, is the unique linkage of the product development group with the sensory group.
--- PAGE BREAK ---
"Knowledge and insights of consumer trends, behavior, and product acceptability are important drivers to delivering superior flavor solutions," she continued. "Highly skilled product development groups must possess the knowledge, experience, and creativity needed to formulate virtually any food system. Having access to a wide array of information on food, flavor, and eating trends, as well as consumer studies and consumer insight programs, is the basis for a successful product development undertaking."
"McCormick is unique," Work said, "in that we are able to assemble our team of scientists in a quantum-leap approach to develop great products, while significantly reducing the product development time cycle by as much as 50–80%. Interfacing with consumers early in the process gets us to an optimized product faster today than even five years ago. Using a multidisciplinary partner approach with our customers, we apply a process in which quick feedback may be acted on in a timely manner, usually within hours, not weeks.
"Key to our process is our Sensory group, which believes it is critical to understand the entire dynamic of food evaluation, enjoyment, and consumption. Current research efforts in our group focus on the effect of context—social, food choice, environment, and meat components—on product acceptability. The combined elements of our technical research, sensory expertise, and novel approaches to consumer science leverage our Consumer Preferred Product Development Process™, resulting in ideas which move quickly through concept creation and commercialization," she concluded.
In-House and Outside Services
Sensory evaluation is a science that has been developed, tested, expanded, and proven valuable over the years to the food industry, as related to enhancement of product quality, cost evaluation, and marketing. Processors will find numerous services available to either establish their own sensory services in-house or contract with an outside service. Facilities may be relatively simple, but the required expertise takes many years to develop. Therefore, those wishing to establish in-house services must begin as soon as possible, while expert outside services are widely available today.
For More Information
Food Industry Foundation, Queen Margaret University College, Clerwood Terrace, Edinburgh, UK EH12 8TS, (phone +44(0)131-317-3464, fax +44(0)131-317-3465, www.qmuc.ac.uk/fif).
Tragon Corp., 365 Convention Way, Redwood City, CA 94063 (phone 800-841-1177, fax 650-365-3737, www.tragon.com).
Peryam & Kroll Research Corp., 3033 W. Parker Rd., Plano, TX 75023 (phone 972-769-0001, fax 972-769-1172, www.pk-research.com).
21st Sensory, Inc., 512C S.E. Washington Rd., Bartlesville, OK 74003 (phone 918-333-1011, fax 918-333-7773; www.21stsensory.com).
by DEAN DUXBURY
Contributing Editor
Consultant, Oak Brook, Ill.
[email protected]