It's not just in the United States: Functional foods and beverages are finding success globally, due in part to the major consumer trend toward health and wellness.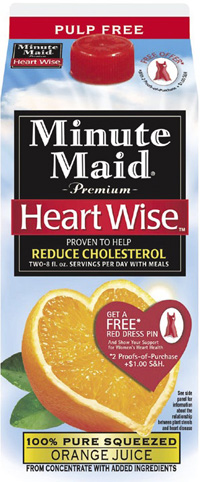 According to an ACNielsen study, "What's Hot Around the Globe—Insights on Growth in Food and Beverages 2004," food and drinks that support healthy diets and weight loss are among the world's fastest-growing food categories. Of the seven categories that experienced double-digit revenue growth in 2004, five offered perceived health or weight-loss benefits.
"The global market for functional foods is estimated to be worth $77 billion," said Franz Timmermann, Global Market Segment Manager, Functional Foods & Medical Nutrition, Cognis Nutrition & Health, Cognis Deutschland GmbH & Co. KG, Illertissen, Germany, citing information from Nutrition Business Journal. "The U.S. and Europe have a similar market size, with 34% and 32% of global share, respectively; Japan has a share of approximately 25% of the global functional food market."
While health is the overall theme in the U.S., Europe, and Japan, differences lie in product offerings and types of health ingredients. "The consumers are different, regulatory environments are different, and even the style of marketing food ingredients is different," observed Jim Kappas, International Director of Marketing, Cargill Health & Food Technologies, Minneapolis, Minn. "The Japanese consumer, for example, really wants to understand how an ingredient works. The American consumer is more interested in what an ingredient does."
Differences also lie in what aspects of health are being targeted. Heart health and weight loss are dominant factors in the U.S., but European and Japanese functional foods place more emphasis on other health conditions. "While heart and weight are number one and two in the U.S., they are probably in the top three or four worldwide," Kappas noted. "The two areas that I think are more common in Japan and Europe are digestive health and immune health. Immunity is a little bit more of a focus in Japan. There is an interrelationship between digestive and immune health, which is better understood and accepted outside the U.S."
ACNielsen reports that the two fastest-growing products globally are soy-based drinks and drinkable yogurts. However, because of the differences in markets, popular functional food categories vary between the U.S., Japan, and Europe. "Major applications in the U.S. are bars, cereals, and beverages, whereas you find most European functional food applications in dairy and beverages; Japan has an additional interest in the specialty oils market," Timmermann stated.
Because targeted health conditions and product categories vary, the types of health ingredients vary slightly as well. For example, "whereas the majority of health ingredients in the U.S. are vitamins, minerals, and plant extracts, Europe focuses more on probiotics and fibers; Japan promotes fibers or specific proteins," Timmermann added.
The following is an overview of some of the health ingredients and functional food products offered in Europe and Japan.
--- PAGE BREAK ---
Europe
Almost three-quarters of Europeans are now more concerned about their health and well-being than a year ago, according to "Global Consumer Trends," a Datamonitor report. The number of functional food consumers in major European markets is growing each year by around 6–7%, the report states.
"European food companies target different health issues with immunity, gut health, and general well-being among the top categories. Nevertheless, heart health and weight management are also of concern in Europe," Timmermann said.
For example, Mintel reports that 17% of consumers in the UK have high cholesterol. "We have seen many products fortified with sterols or sterol esters introduced during the past year," Timmermann stated. Sterols have been shown to help lower cholesterol. "In Europe, Unilever has further developed its success with its Flora pro-activ® table spread into milk and yogurt-type products," Timmermann said. "Danone has introduced a sterol ester–containing fermented drink in some European countries and other dairy companies have also emulated their success stories."
In February, the Coca-Cola Co. applied to UK food authorities for approval to market Europe's first cholesterol-lowering juice. An 8-oz. serving of Minute Maid Premium Heart Wise Orange Juice contains 1 g of Cargill's CoroWise plant sterol.
Mintel reports that probiotic yogurts and drinks are still a main growth sector in the UK. This paves the way for the popularity of probiotics and prebiotics, offering benefits for digestive health and immunity. The Flora pro-activ yogurt drink, for example, is also promoted as a probiotic, "which means it contains 'good' bacteria to help your body's balance of bacteria in the gut." Tesco, a merchandiser chain in the UK, also introduced its own probiotic beverage, which contains Lacto-bacillus acidophilus and inulin.
New EU regulations aim to build consumer confidence in the claims made for functional food and drink products, which is undoubtedly at the root of future growth and success for this market sector, states Mintel. "Adoption of an EU-wide system of regulation will ensure a harmonized approach across the whole of Europe, which is key for the success of companies operating in the wider EU market. As self-regulation of health claims in the UK continues, and with the EU regulations eventually coming on-stream, we are likely to see more health claims being made in the future, and use of the approved claims by more suppliers."
--- PAGE BREAK ---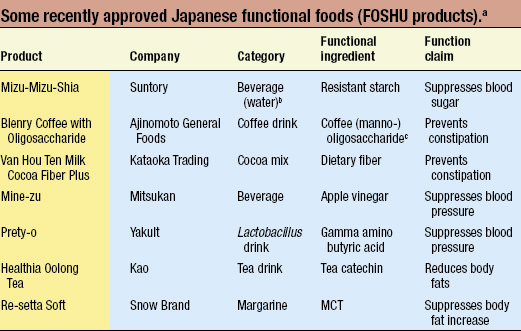 Japan
The Japanese functional foods market reached $16+ billion in 2004, increasing12% from 2003, according to "Functional Foods and FOSHU Japan 2004," a report published by Paul Yamaguchi and Associates Inc., Tarrytown, N.Y. Foods for Specified Health Use (FOSHU)—functional foods with a government-approved health claim—accounted for $5 billion, with just over 398 approved products.
"The Japanese functional food market has been growing much faster than dietary supplements," Yamaguchi said. "This year it is expected to reach the $18 billion mark and by the end of the 2010, it may reach $25 billion, the largest market in the world for fortified functional foods."
He attributed the innovativeness and success of Japanese functional foods in part to Japan's regulatory environment. "The Japanese regulatory environment is favorable to the functional food industry." He said. "FOSHU health claims have encouraged Japanese food and pharmaceutical companies to develop new products and raise consumer awareness in foods that provide better health."
The growing popularity of alternative medications also contributes to the success of functional foods in Japan, added Kentaro Ono, Manager of Business Development, ADM-Far East Ltd. Alternative medications offer enhancement of immunity and improvement of self-curing functions of the body, which can be supported by ingredients in health foods and FOSHU products, he said.
Gastrointestinal (GI) products are by far the largest category and of most common interest for the Japanese consumer regardless of age groups, according to Yamaguchi, who said that 63% of sales of FOSHU products ($5 billion) and 29% of sales of non-FOSHU products ($11 billion) is for GI health. The next potential growth market is functional foods for fatigue prevention and recovery. Yamaguchi added that the government, private companies, and a university are working on a corroborative project that may conclude some time next year. The goal is to find a biomarker of fatigue and develop products that prevent the feeling of tiredness.
When it comes to the types of health ingredients found in products, Japanese functional foods offer a great variety, including soy peptides, various plant extracts, and astonishing booming of Co-Q10. For example, there are ingredients for seasonal allergies, such as milk and soy peptides and premature apple, mint, and tomato extracts, Ono said. Blueberries are common ingredients found in eye care products. According to Ono, collagen, hyaluronic acid, and ceramide are ingredients for smooth skin, while grape seed extract, lotus germ extract, and rose petal extract are used for a white skin complexion. For weight control, chitosan, conjugated linoleic acid, and L-carnitine attract consumers' attention for suppression of lipid absorption and acceleration of lipid oxidation. Soy isoflavone is another growing ingredient for its estrogen-like functions, Ono said.
--- PAGE BREAK ---
Probiotics are also popular ingredients in Japan due to the interest in GI health. Morinaga offers a lactoferrin yogurt and Koiwai a Lactobacillus yogurt for seasonal allergies, Yamaguchi said. LG 21 Pylori yogurt from Meiji offers prevention of harmful pylori bacteria in the intestine. Calpis launched a soy peptide lactic acid bacteria drink, Daizu Peptide Nysankin. The drink contains 1,000 mg of soy peptide, which reportedly regulates GI conditions and helps to recover the lost energy level. Other soy peptide beverages from major manufacturers are Coca Cola Japan's Powerade, which contains 4,000 mg and The Peptide from Toraku (a subsidiary of Fuji Oil), which contains 8,000 mg of soy peptide. Soy peptide, a bonding of multiple amino acids, is absorbed in the intestine more quickly and helps the body regain lost energy faster than other amino acids. It has recently become a hot ingredient in Japan, according to Yamaguchi.
Other unique ingredients include a sardine peptide for hypertension, found in Tokiwa's Lapis Support, and green tea catechin, found in Kao's Healthya Green Tea. The catechin reportedly helps prevent fat buildup in the body, Yamaguchi said.
"Beverages are the by far the largest and strongest growth category in Japan—36% of Japanese functional foods are beverages," Yamaguchi added. "Within the beverage category, sports drinks and ready-to-drink teas have shown the strongest growth for the last two years and may continue for the next year. Yogurt is also showing strong growth, specifically the therapeutic yogurts and liquid yogurts for lowering cholesterol and treating seasonal allergies."
"It continues to be a more global market in our industry," Kappas observed. "Ideas flow from U.S. to other markets and vice versa more quickly than in the past." Aside from the common health aspect, taste is also of utmost importance in any functional food product, whether in the U.S., Europe, or Japan. "Taste is very different from region to region around the world, so it is critical that a product is customized to local taste standards," Kappas said. "You can't just take an American beverage and swap out flavors. You have to go back and really build the formulation up from scratch."
No matter where you are, despite the health aspect of a product, taste will still remain a key factor in a functional food's success.
by LINDA MILO OHR
Contributing Editor, Chicago, Ill.
[email protected]