Although they'll need to triple their intake to meet the 5–13 servings per day recommended by the 2005 Dietary Guidelines for Americans, consumers are clamoring to consume more fruit, no matter what form it's in.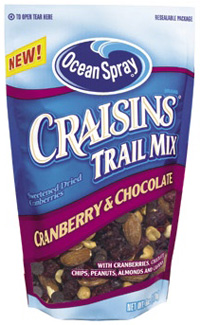 After 14 years of decline, fresh fruit consumption rose 4% from 2002 to 2004, while fresh vegetable intake fell 2%, according to the NPD Group's NET database and the Produce for Better Health Foundation (PBH). Young adults age 18–37 and those with children under age 6 years posted the largest gains in fruit intake last year, up 34% and 36%, respectively, according to The Packer's Fresh Trends Report.
The Produce Marketing Association (PMA) projects that fresh-cut fruit sales will reach $1 billion by 2008. For the first time in 2004, fruit made the top 10 list of fastest-growing restaurant orders reported by NPD's CREST. Also enjoying brisk sales are fruit-flavored gelatin; syrups; ice cream toppings; fruit-based hard candies; and fruit preserves, jellies, conserves, and salsas.
And it's all in the name of health. In 2005, PBH/ACNielsen's HomeScan reported that staying healthy—more than taste—was the No. 1 reason Americans ate fruits/vegetables. With 28% of adults saying they're deficient in antioxidants, 24% fiber, 18% vitamin C, and 17% B-vitamins, according to Multi-Sponsor Surveys, Inc., fruit will continue to grab the spotlight.
In addition, HealthFocus reports that awareness of phytochemicals is growing—69% of shoppers believe that some foods contain active components that reduce the risk of disease and improve long-term health. More than half (56%) think red wine is an excellent source of phytochemicals and aids heart health, up from 49% in 2002. Savvy marketers are blending juices/fruits—such as Old Orchard's 100% juice Blueberry Pomegranate juice—to maximize their antioxidant and photochemical contents and trendy appeal.
Most fruit is eaten at breakfast (44%), 18% at lunch, 15% as a snack, and 7% carried from home, according to PBH/NPD. Fruit for snacking grew 9% in 2004, lunch 6%, breakfast 4%, and carried meals 3%, while dinner use fell 1% as the elimination of side dishes continues. Dole's single-serve Fresh-cut Melon bowls are a quick, healthy snack or dessert. Fruit-based cheese toppers are upscaling cheese for entertaining, while Field Fresh Farms' freeze-dried fruit and Cereal Toppers™, without extra sugar, make any breakfast cereal healthier and tastier yet.
According to a June 2005 NPD survey, children age 2–12 now snack on fresh fruit more than potato chips, chocolate, or cookies. Yogurt ranked second among younger children, and gum and potato chips second among older girls and boys. Among adults, fruit ranked third, behind both gum and chocolate candy. Ocean Spray's new Craisins® Cranberry and Chocolate Trail Mix and Wolfgang Candy's sweet dark chocolate-coated fresh Blueberries and Raspberries candies are forging a new era in healthy confections.
Apples, avocados, bananas, cantaloupes, cherries, and citrus remain America's most frequently eaten fruits, according to PMA. Apples topped the list of fruits consumers plan to eat more of this year, followed by oranges, bananas, and grapes. The U.S. Dept. of Agriculture projects that citrus, apples, and grapes will lead future growth of fruits through 2020 in at-home and away-from-home markets.
With McDonald's restaurants serving nearly 50 million customers worldwide every day and 89% of fruit still being eaten in, or taken from, home, restaurants can have a dramatic impact on fruit intake. McDonald's Apple Dippers and Fruit & Walnut Salad and Wendy's Fresh Fruit Bowl and Mandarin Orange and Fresh Fruit Cup side dishes already have. Sunkist's Fun Fruit line of single-serve fresh-cut fruits for foodservice are also right on target.
But fruit is moving to other meal parts, too. Fruit chutneys and purees decorate plates and entrees at high-end eateries. Au Bon Pain has a new Red Curry Chicken Salad with apples and grapes, Applebee's a Grilled Tilapia with Mango Salsa, and Denny's a Peach and a Cinnamon-Raisin French Toast. Expect chefs to feature more-exotic baby fruits, such as Frieda's Baby Coconuts and Kiwifruit, Cocktail Grapefruit, and Yellow Seedless Watermelon. Crabapples, cactus fruit, pomegranates, and tropical dragon fruit are all in season at Melissa's Specialty Produce.
At the same time, other problems must be solved. The naturally high calorie and sugar content of some fruits/juices have sent marketers scrambling for more healthy alternatives. In a June 2004 Supermarketguru.com poll, 74% of consumers said they'd purchase more fresh fruit/vegetables if they stayed fresh longer.
And with use of organic produce up 14% overall last year, the technological challenges will be tougher yet.
by A. Elizabeth Sloan,
Contributing Editor 
President, Sloan Trends, Inc., Escondido, Calif. 
[email protected]