Safety has always been a primary objective of all food processors, but it has become a priority concern because of the increasing volume and variety of food production and the endless possibilities of mishandling, underprocessing, or contamination. Nevertheless, food scientists and government regulatory agencies agree that the United States has the safest food supply in the world.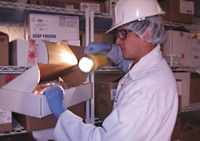 Assuring total food safety is a 3-stage process. First, a complete audit of a company's food business and food processing operations must be conducted by experts in this field. Second, a food safety program must be established based on the audit, with programs such as the Hazard Analysis and Critical Control Point (HACCP) system and Good Manufacturing Practices (GMPs) included, and must be developed by the expert and the company personnel enforcing the program in the company. And third, laboratory testing must be routinely scheduled where needed. These tests may include both internal testing by the company's own quality control staff and more sophisticated and extensive testing by certified external service laboratories.
Food safety auditing services are available from such respected organizations as the Food Products Association (formerly the National Food Processors Association), with its FPA-Safe program, and AIB/AIB International, or from numerous independent consulting or laboratory services. Here's what a number of experts from such services had to say about food safety auditing.
Important Part of Food Safety Management
Ray Matulka, Staff Toxicologist at Burdock Group, consultants to the food and beverage industry, said that all successful food companies comply with the demands of two masters: the consumer and the regulator. "Failure to serve the first," he said, "results in product that might not be purchased, but failure to serve the latter will eliminate any chance of purchase, as well as possible product recall and loss of consumer faith in the brand. Therefore, implementation of a food safety management system is a critical step in preserving the brand."
Food safety audits are an important part of a successful food safety management system, he added, to ensure that all components, from initial raw material acquisition throughout every processing step, are safe and suitable and maintain the quality and safety of the final product. This is the objective of current Good Manufacturing Practices (cGMPs) and HACCP programs, which include the seven Codex principles: assess hazards, identify critical control points, set critical limits, monitor the procedures, set corrective actions, verify procedures, and document all procedures. At the foundation of cGMPs, he said, is the quality of the ingredient itself. Food and Drug Administration regulations (www.cfsan.fda.gov/~dms/opa-cg4.html) state that all components of a food product must be of food grade.
--- PAGE BREAK ---
"A successful food safety management system," Matulka continued, "must also consider the safety and regulations governing the use of the individual ingredients that go into the final product. The majority of ingredients permitted for use in food were initially reviewed in the 1950s, and the concept of Generally Recognized as Safe (GRAS) for ingredients was written into the 1958 Amendment to the Federal Food, Drug, and Cosmetic Act (FFDCA §201(s) Definitions).
"A GRAS determination is actually very specific for the ingredients used and concentration in a specific food product or category of food products. It has been too often assumed that the GRAS substance may be used in any food, at any level for any purpose. As a result, the uses of some GRAS food ingredients have proliferated to the point where the GRAS status was brought into serious question (Federal Register 39: 34194-34195, 1974)."
Critical to a determination of GRAS, Makulta continued, is the safety information derived from animal studies and, to a lesser extent, on reports of human adverse reactions to an ingredient. "Because this is a dynamic process, with often more safety data being generated following the original GRAS determination, it is incumbent on the manufacturer or user of the GRAS substance to keep apprised of new safety data.
"However, regardless of whether a substance was found GRAS or its use approved via a food additive petition," he said, " the safe use of the ingredient is still largely the responsibility of the user. In the final analysis of the use of any ingredient, the user must make the decision of whether new safety information impacts the safe use of the ingredient in his product. Therefore, a successful food safety management system must include current safety and regulatory information on the ingredients that go into making the final product, on top of general HACCP and FDA guidelines (21 CFR §110)."
Why and How to Audit

George Baker, Chief Operating Officer at ABC Research Corp., an accredited food safety laboratory, said that "If you are a food company, restaurant, or laboratory, third-party audits may be required by regulatory agencies, independent accreditation agencies, purchasing food companies, or restaurants, as part of internal or external food safety compliance."
For example, he said, a food company may be required to undergo a food safety audit by a third-party agency because of a purchasing company's food safety plan, or an accredited laboratory may be audited to ensure that it follows standardized guidelines are being followed, proper techniques are being used, and accurate measurements are being made. A "fresh set of trained eyes," he said, can find a variety of deficiencies or potential problems that may not otherwise be seen and can give suggestions to make the process better."
--- PAGE BREAK ---
Troy Ayers, Director of Analytical & Technical Provisions at ABC Research, added that "If the demands of a food safety audit are placed on your organization, a range of requirements may need to be met, depending on who is ordering the audit, as well as the reason for the audit—i.e., is this a routine audit, or was it sparked by regulatory or customer concern over product safety?
"During any food safety audit," he continued, "it's almost a guarantee that a thorough paperwork review will be conducted in addition to a facility inspection for condition and operations." For the paperwork review, he said, an auditor will mainly focus on all written programs related to food safety in conjunction with associated records. GMPs, Sanitary Standard Operating Procedures (SSOPs), traceability and recall programs, employee training, pest control, supplier approval, food security/biosecurity, microbial, environmental, and finished product testing, and foreign material control (e.g., glass, metal, wood fragments) are a few of the programs that contribute heavily to food safety and will most likely be examined by the auditor.
In the majority of food processing facilities, he added, a HACCP plan is required. "HACCP utilizes the strength of written GMPs, SSOPs, and the recall plan as its foundation and will become a focus of food safety philosophy and practice within the facility." During an audit, facility personnel may be asked to produce supporting documentation to evaluate the integrity of any area of a comprehensive food safety program, possibly leading to discovery of internal deficiencies or weaknesses that could cause amplified failure during times of distress (i.e., product recall due to microbial, physical, or chemical contamination).
"Beyond the review of written programs, mock recalls, HACCP records, certificates of analysis, letters of guarantee, sanitation records, microbial test results, and so on, is the facility tour," he said. "Grounds, receiving and shipping docks, storage areas (for raw materials, finished goods, packaging materials, sanitation supplies, and pest control chemicals), break rooms, restrooms, laboratories, and, of course, processing areas are all subject to evaluation during an audit. The habits of production personnel will most likely be monitored, with some auditors even conducting on-site interviews with workers for discovery of knowledge regarding the training of these individuals. A great deal can be learned about product protection in five minutes from the food handlers themselves," Ayers concluded.
--- PAGE BREAK ---
Improving Food Safety
Jay Ellingson, Director of Food Safety Services at Marshfield Clinic Laboratories, coordinates a full-service microbiological laboratory providing qualitative analysis for food safety testing and molecular-based diagnostic testing with minimal turnaround time. "Experts can evaluate a company's facility and production processes for areas that may contribute to food safety problems," he said. "Implementation of recommended process control changes can lead to improvement of public health."
"In addition to providing fast and accurate test results, our laboratory integrates ways to improve food safety," explained Ellingson. "Funded by extramural grants, customers, and our own research budget, we strive to conduct research and training that will ultimately improve animal health, food safety, and human health."
The laboratory's current studies include, among others, Johne's disease surveillance; development of a diagnostic tool for Mycobacterium avium subspecies paratuberculosis in feces and milk, and development of a new polymerase chain reaction–based testing technology for the food industry. "Extremely rapid product testing for the major food pathogens using this technology will increase the food safety protection for the food industry and consumer," he said.
"Working in concert with more than 700 physicians and scientists at Marshfield Clinic and in conjunction with our own human and veterinary laboratories, we have the potential to help improve food safety every step along the food chain from farm to table," Ellingson added. "This unique combination of physicians and scientists enables the study of health-related issues that cross between animals and humans. Doctors specializing in infectious disease, gastroenterology, and many subspecialties are readily available to discuss issues related to diagnosis and treatment of foodborne illnesses," he concluded.
---
For More Information on Food Safety Audits

ABC Research Corp., 3437 S.W. 24th Ave., Gainesville, FL 32607 (phone 352-372-0436, www.abcr.com)
AIB/AIB International, P.O. Box 3999, Manhattan, KS 66505 (phone 785-537-4750, www.aibonline.org)
Burdock Group, 2001 9th Ave., Suite 301, Vero Beach, FL 32960 (phone 772-562-3900, www.burdockgroup.com)
CNS/FoodSafe™, 7900 S. Cass Ave., Darien, IL 60561 (phone 630-512-0827, www.foodsafe.com)
Food Products Association, 1350 I St., N.W., Suite300, Washington, DC 20005 (phone 202-637-4808, www.fpa-safe.org)
Marshfield Clinic Laboratories, 1000 N. Oak Ave., Marshfield, WI 54449 (phone 888-780-9897, [email protected])
by Dean Duxbury
,
Contributing Editor 
Consultant, Oak Brook, Ill.
[email protected]