Take a look at the beverage aisles in today's supermarkets and you'll find products of varying flavors, carbonation levels, colors, sizes, and packaging. In the next few years, you will likely see even greater variety as manufacturers address mainstream consumer demand for drinkable nutrition and health benefits. Scrutinize the labels of these emerging functional/wellness beverages, ranging from waters to smoothies, and you are likely to see dairy in its myriad forms, adding its unique nutritional and functional benefits to a burgeoning new category.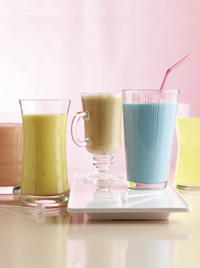 The fastest-growing beverage segment in the United States between now and 2008 is projected to be wellness/functional beverages. This segment is on track to account for 85% of incremental beverage sales growth by 2008, replacing carbonated soft drinks as the largest nonalcoholic beverage segment, says Julia Kadison, Senior Vice President of Consulting Services at Beverage Marketing Corp. (BMC), N.Y. The three fastest-growing areas from 2004 to 2008 are projected to be ready-to-drink (RTD) sports nutrition beverages (86% increase), nutrient-enhanced drinks (84%) and energy drinks (69%).
Wellness beverages are still evolving from the niche market of yesterday to the booming segment of today. In the 1980s, the theme was "better for you," with beverages focused on eliminating the negatives. Consumers were exposed to statements such as all natural, no additives/preservatives, and no artificial ingredients. The new wellness beverages focus on real benefits, Kadison says. They target specific functionality such as illness prevention based on targeted health concerns and even genetic predisposition to disease. High-growth beverage segments through 2008 include dairy-based beverages, bottled waters, isotonics, nutrient-enhanced drinks, beverages with added protein, meal replacements, energy drinks, and ready-to-drink sports nutrition beverages.
What is driving the popularity of wellness and functional beverages? Consumer health concerns, active pursuit of wellness, and increasingly on-the-go lifestyles are three major forces behind new-age beverage demand. And these trends do not appear to be slowing down.
Role of Dairy Ingredients
Dairy ingredients can play an important role in the wellness/functional beverage market, not only enhancing product nutrition, but also contributing functionality. "The window of opportunity is open for expanded use of dairy ingredients in beverage offerings," says Kadison. "Protein-enhanced beverages will be a strong platform for innovation, creating an ideal situation for protein-rich dairy ingredients such as whey proteins and fractions, ultrafiltered milk, milk protein concentrate, and more."
Kadison adds that dairy ingredients' strongest growth will be seen in the following types of wellness beverages:
• Sports nutrition. Powdered beverages target the more serious athletes/bodybuilders while RTD sports beverages are more for the mainstream, overall fitness-conscious consumers. Dairy offers one of the highest-quality protein sources for building lean muscle mass, optimizing nutrition for muscle recovery/repair.
--- PAGE BREAK ---
• Meal replacement. Dieters, seniors, on-the-go meal seekers and people with health conditions are the main consumer targets for meal replacement beverages. Protein-rich dairy ingredients can offer the benefits of maintenance of lean muscle mass and carb-controlled meal replacement.
• Yogurt drinks/smoothies. The consumer target for these beverages includes health-conscious adult women, juice drinkers, and kids. For breakfast, lunch, or snacks on the go, these dairy-based beverages are a good-tasting premium alternative beverage with the health benefits of dairy.
• Drinks with milk as an ingredient. These beverages target both children/teens and adults. They offer an alternative to carbonated soft drinks. For adults, RTD coffees offer premium indulgence positioning. Examples of successful drinks with milk as an ingredient include FUZE Healthy Infusions Refresh, a vitamin-fortified beverage that contains skim milk, SoBe's Lizard line of dairy-based beverages, and Bravo! Foods' Breakfast Blenders (See sidebar "Wake Up and Smell the 'Breakfast Blenders'").
This potential for dairy is enormous. By 2008, BMC sees dairy ingredients appearing in numerous products in which one wouldn't expect to find dairy, such as energy drinks, isotonics, enhanced waters, and fruit drinks.
Whey protein, whey protein fractions, milk protein concentrate, and ultrafiltered milk are some of the dairy ingredients that will add to the innovation in wellness/functional beverages.
Whey Proteins
Whey proteins are high-quality protein sources that contain all of the amino acids in the proportions that the body requires. They also have a high biological value compared with other proteins (104 for whey protein concentrate vs 100 for whole egg, 74 for soy protein, and 54 for wheat). In addition, whey proteins contain a higher concentration of the branched-chain amino acids (BCAAs) isoleucine, leucine, and valine than any other protein source. BCAAs are unique in that they provide exercising muscle with glucose and a readily available energy source. This makes whey proteins excellent ingredients for sports nutrition and meal replacement beverages.
Whey proteins already have a following among athletes and bodybuilders, and they have potential for wide acceptance by consumers. This can be leveraged to reach out to other health and wellness seekers.
In milk-based drinks, energy drinks, yogurt drinks/smoothies, and fruit juice drinks, whey proteins offer protein-enhancement to the nutritional profile. Enhanced bottled waters, carbonated soft drinks, RTD tea, and sports nutrition beverages potentially can tout whey proteins' BCAA content. Meal replacement beverages can use whey proteins as a high-quality/complete protein source.
--- PAGE BREAK ---
Not only do whey proteins offer health benefits, but functionally they offer a clean, neutral flavor, solubility, viscosity, emulsification, and aeration. "The reason whey proteins work in a variety of beverages is due to their solubility over a wide pH range," says Kimberlee "K.J." Burrington, Dairy Ingredient Applications Coordinator at the Wisconsin Center for Dairy Research at the University of Wisconsin-Madison, which is partly supported by Dairy Management Inc.™ (DMI). "They need protection from heat in the pH range of 3.5–7, but through the assistance of stabilizers in the 3.5–4.5 range, and stabilizers and buffers in the neutral range [6.5–7], they will maintain their solubility."
The acid beverage category is often divided into high-acid and low-acid. High-acid beverages refer to drinks in the pH range of 2.8–3.5. These drinks are mostly hot/ambient-fill or ultra-high-temperature (UHT) processed, says Burrington. Examples of high-acid beverages include soft drinks, Gatorade, and energy drinks such as Red Bull. "In this category, adding whey protein isolate will result in a clear beverage," she explains. The clarity increases as pH decreases. A lower pH results in flavor notes well suited to citrus or fruit flavors.
In high-acid beverages, Burrington notes that with whey proteins, a maximum of 2 g of protein/oz at pH 3.0 under hot-fill conditions can be achieved. "If you are maximizing the amount of protein, you may want the addition of some hydrolyzed whey proteins to enhance the heat stability," she says.
Low-acid beverages are less acidic and have a pH range of 3.5–4.5. These are also mostly hot-fill or UHT-processed. This category includes mainly juice drinks and cultured smoothies. "At higher levels of protein (5%-plus), you will need the help of stabilizers (i.e., pectin) plus homogenization, and possibly buffers," says Burrington. "The stabilizer choice depends on the level of protein, pH, heating conditions, and desired viscosity."
Neutral beverages in the pH range of 6.5–7.0 are usually UHT- or retort-processed. These are often thick, shake-like products. Burrington suggests that combinations of dairy proteins work well to achieve good heat stability and shelf stability. "It can be more difficult to reach 2 g of protein/oz with all whey protein, but hydrolyzed whey proteins can be used here also," she says. The stabilizer choice depends on the types of protein and levels. Homogenization may be needed for higher levels of protein, while buffers are often needed under retort conditions.
Ongoing DMI-supported research into the development of a milk refinery may one day result in a direct way to produce "native" proteins from milk that are minimally processed and handled, increasing their use in wellness/functional beverages, according to David Barbano, Director of the DMI-supported Northeast Dairy Foods Research Center at Cornell University, Ithaca, N.Y.
--- PAGE BREAK ---
Along with Barbano, Mark Etzel, Professor of Food Science at the University of Wisconsin-Madison, is conducting research into the technical and economic development of a milk fractioning process in which whole milk is first separated into skim milk and cream by traditional cream separation. Microfiltration (MF) of skim milk then produces a casein retentate and a milk serum protein permeate. The retentate and permeate provide the raw materials for ion exchange (IE) fractionation of milk proteins. In a milk refinery, cation exchange would be used to manufacture protein fractions from the MF permeate stream, and anion exchange would be used to manufacture casein fractions from the MF retentate stream.
The ultimate goal of a milk refinery would be to fractionate milk into as many value-added ingredients as possible, while providing flexibility to switch between the different ingredients day to day, depending on market value and demand.
Whey Protein Fractions
Whey protein fractions include lactoferrin, alpha-lactalbumin, and glycomacropeptide. These proteins may soon appear in wellness/functional beverages as research in this area continues.
Lactoferrin is an iron-binding protein. When added to infant formula, it helps babies absorb more iron from their food. It may help keep harmful bacteria from attaching to intestinal walls, thus having an effect on immune defense. Alpha-lactalbumin is a calcium-binding protein that may enhance calcium absorption, thus adding to the nutritional value of beverages. Glycomacropeptide (GMP), a whey fraction derived after cheesemaking using rennet, is a peptide naturally free of phenylalanine. GMP can play an important nutritional role in foods and beverages for those suffering from phenylketonuria (PKU). People with PKU cannot metabolize phenylalanine.
Dairy farmer–funded research at the University of Wisconsin-Madison is investigating a whey refinery for producing these protein fractions for beverages and nutraceuticals. Etzel is leading a research group that is developing bioseparation processes to purify these proteins using ion exchange. With the whey refinery, it could be possible to make up to five different proteins at one time.
Etzel is conducting additional work on making clear beverages using whey proteins. "We are targeting a protein concentration of 0.6 g of protein/oz because it meets the FDA guidelines for label claims of 'good source of protein' … by providing 10% of the … DRV [Daily Reference Value] for protein per serving," explains Etzel.
"A beverage serving is defined by the government as 240 mL. At this concentration, we can use whey proteins to make crystal-clear, heat-treated beverages at pH 2.5–3.2, the same pH range as Gatorade (pH 3.1) and other isotonics, and of carbonated sodas (pH 2.5), and of juice drinks (pH 3.0)," Etzel says.
--- PAGE BREAK ---
Etzel notes that some whey protein fractions, such as GMP, form crystal-clear beverages after heat treatment at even higher pH values, such as pH 7.0, greatly extending the useful range to include both low-acid and high-acid beverages. Bottled water is an example of such a beverage. "Therefore, we can make crystal-clear beverages that contain whey proteins, and that have the same pH as carbonated sodas, juice drinks, sports drinks, isotonics and bottled water," he says.
Fluid Ultrafiltered Milk
Ultrafiltration (UF) of milk removes part of the lactose, soluble minerals, and water from whole or skim milk. The resulting fluid UF milk offers opportunities for lower-calorie, reduced- and no-lactose, and lower-carb dairy-based beverages.
Ultrafiltration combined with other processing technologies can result in fluid UF milk with an extended shelf life. This can stand alone as a unique dairy-based beverage or be used in novel dairy drinks such as smoothies or yogurt beverages. UF milk is currently being sold as a fluid ingredient with higher protein and lower lactose levels than condensed milk.
UF milk can be used to produce a dairy-based beverage with 3 g of lactose/8-oz serving. Regular milk contains about 12 g of lactose/8-oz serving. Additional dairy proteins may be added to this beverage to boost the protein content. Non-nutritive sweeteners are often added to these products as well.
An example of a beverage using UF milk is MooTopia by H-E-B, a San Antonio, Texas-based chain of food and drug stores. Compared with whole milk, this lactose-free beverage provides 60% less sugar, 35% more calcium, and 75% more protein.
Milk Protein Concentrate
The milk protein concentrates (MPCs) generated from ultrafiltration also are well suited to producing lower-carb beverages. MPCs contain undenatured forms of both casein and whey protein. The level of protein, lactose, and mineral present varies, depending on the degree of protein concentration.
Commercially, MPC is available in a range of protein levels, from 42 to 85%. The high-protein/low-lactose ratio makes MPC an excellent ingredient for protein-fortified beverages. Functionally, MPC also provides emulsification, solubility, and viscosity.
Limitless Possibilities
From fluid UF milk to whey protein fractions, this large array of dairy ingredients provides varied functionality and exceptional nutrition to solve formulation challenges and address consumer needs. Dairy offers a viable solution for developing tomorrow's healthy beverages.
--- PAGE BREAK ---
Wake Up and Smell the 'Breakfast Blenders'
In November, Bravo! Foods will launch Breakfast Blenders, a line of fortified milk and fruit drinks in 11-oz plastic bottles. The products will be distributed exclusively at 7-Eleven stores nationwide. 7-Eleven collaborated with Bravo! Foods on the product development.
"We're committed to offering new better-for-you products," said Bravo! CEO Roy Warren, "and working with 7-Eleven allowed us to pinpoint consumer trends that led to the development of Breakfast Blenders, combining the needs of active consumers with our delicious milk drinks."
Breakfast Blenders contain low-fat milk and a blend of fruits and flavors. The drinks are fortified with vitamins, minerals, and health-promoting ingredients. They boast the added nutrition claims of being 100% lactose-free, low in sugar, and having 50% more protein than fluid milk. The addition of milk protein isolate helps increase the protein content to 17 g/11-oz serving. Chocolate Raspberry Breakfast Blenders are fortified with antioxidants naturally found in raspberries and chocolate, while Vanilla Peach Breakfast Blenders contain fiber found naturally in peaches. Double French Vanilla and Double Chocolate varieties are both rich in calcium.
"Our customer trends showed that the typical consumer is skipping breakfast due to their hurried schedules, while health research shows that breakfast is a very important meal," said Kurt Schumacher, Category Manager of Dairy and Ice Cream Products for 7-Eleven. "Customers are looking for convenient products that are nutritious and consumable on the go, and that led us to work with Bravo! Foods to develop the Breakfast Blenders products."
In addition to Breakfast Blenders, Bravo! Foods markets Slammers, a line of extended-shelf-life, single-serve milk drinks. The products are distributed to 30,000 stores nationwide, including supermarkets, mass merchandisers, and convenience and drug stores. Bravo's Pro Slammers and Slim Slammers contain 1% or less milkfat, which meets school nutritional guidelines. The shelf-stable products are being vended in schools through strategic partnerships with distribution and vending brokerage firms.
—Bob Swientek, Editor-in-Chief

by Greg Miller is Senior Vice President, Nutrition and Product Innovation at Dairy Management Inc.™, 1025 W. Higgins Rd., Suite 900, Rosemont, IL 60018. Send reprint requests to Heath Meyer at [email protected]. For more information on using dairy ingredients, contact the Dairy Technical Support Hotline at 800-248-8829 or visit www.innovatewithdairy.com.