When you think about it, we really are a nation of cheese-heads. In the Midwest, there is a certain football team that touts this fact. But no matter where you go, from coast to coast, you'll find cheese in some form being served in foods such as appetizers, soups and sauces, garnishes for salads and chili, main entrees, snack coatings, and desserts. And, for me, no list would be complete without the ultimate cheese expression—macaroni and cheese.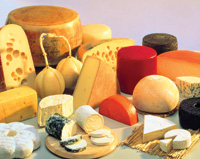 According to the U.S. Dept. of Agriculture, average cheese consumption in the United States nearly tripled between 1970 and 2003, from 11 lb/person to 31 lb. In the past few years, this growth rate has accelerated. Marketing research analyst Mintel reports that the U.S. per capita cheese consumption rate increased 75% from 1991 to 2004. And depending on your source, America's cheese consumption is expected to grow anywhere between 33 lb and 42 lb by 2013.
With its rising popularity, cheese has become an especially suitable vehicle for delivering a number of benefits to the consumer. As an ingredient, it can provide a variety of taste profiles, textures, and functionality properties. Furthermore, in the area of health, cheese has the potential to be as successful in the U.S. as yogurt is in Europe. A UK-based consulting firm Landell Mills recently issued a report highlighting cheese's potential for delivering dairy nutraceuticals in the U.S.
Cheese's versatility is also helping food formulators meet a wide range of trends in today's marketplace, as well as creating new opportunities. Imagine, for example, the number of cuisines from around the world that incorporate cheese as an ingredient. Or the number of ways that cheese can be paired with other foods and food ingredients. Or the array of flavors—traditional or not so traditional—that can be incorporated into cheese or cheese blends to create novel or more upscale products. Or the possibilities that cheese can have in healthy snacking.
This month's article will look at a variety of new cheese concepts and options being developed for today's formulator. It will discuss how new ingredients and technologies are being used to create higher-quality products, especially in the area of fat replacement. And it will demonstrate how cheese is a suitable vehicle to meet the needs of a changing marketplace.
Setting New Standards
A number of new ingredient and technological developments from around the world are helping to improve the manufacture of cheese, leading to higher-quality, more-consistent products while increasing production speeds, overcoming processing challenges, and minimizing costs.
--- PAGE BREAK ---
Here are a few examples which may set new standards in cheese manufacture and help spawn future developments.
• A cheese-ripening enzyme, Acceleryme® CPG, from Netherlands-based DSM Food Specialties (phone +0031-15-279-3474,www.dsm-foodspecialties.com) significantly reduces cheese maturation time and eliminates bitter peptides that may be formed during maturation by culture bacterias or other enzymes.
The carboxy-peptidase activity of the enzyme accelerates cheese-flavor development by releasing C-terminal amino acids such as phenylanine, leucine, methionine, and valine from proteins and peptides. The enzyme's activity remains low during the early stages of cheese-making, rising significantly once the pH level in the cheese has been reduced by culture activity. The enzyme is thermo-labile and its activity is dormant during standard pasteurization, ensuring problem-free whey processing.
• Also recently launched by DSM is a texture-improving cheese culture, Delvo-Add F, which can modify the structure of Cheddar-style cheese curds at a very early stage in the ripening process, usually within 10 to 14 days. This provides a smooth, creamy curd much earlier than usual, improving texture and increasing moisture content, even in reduced-fat cheeses. In soft and semi-hard cheeses, the use of the culture maximizes water content and improves yield, while softening the cheese body and enhancing mouthfeel.
The culture is a strain of Streptococcus thermophilus that produces exopolysaccharide (EPS) in dairy products, such as fermented milks, cream, and fresh cheese applications. By altering the properties of cheese, EPS can act as a fat replacer, keeping protein filaments apart. This helps to avoid whey separation and the compact rubbery texture often associated with low-fat cheeses.
• An enzyme solution, YieldMax™ PL, can increase production yield of Mozzarella and pizza cheese by 2%. The enzyme, recently introduced in the U.S. cheese market, was the result of an alliance between Chr. Hansen, Milwaukee, Wis. (phone 414-607-5700, www.chr-hansen.com), and Novozymes, Franklinton, N.C. (phone 919-494-3000, www.novozymes.com). Emphasizing the importance of this development, Steffen Ernst, Novozymes' Research and Development Director, noted, "It is estimated that the combined efforts of the entire dairy industry has increased yield by just one percent over the past decade."
• A new range of starter cultures, named Choozit™ 730, is tailored to Dutch and continental cheeses such as Gouda and Edam. The range, developed by Danisco A/S (phone +45 3266 2000,www.danisco.com), gives cheese a desirable buttery yet slightly matured flavor after only three weeks production. The flavor intensity also gradually develops, with no hint of unpleasant off-flavors or bitterness even after a 12-week maturation process.
• An acidulant, sodium acid sulfate, may provide advantages in cheese manufacture. According to its manufacturer, Jones-Hamilton Co., Walbridge, Ohio (phone 419-666-5277, www.jones-hamilton.com), preliminary results show that the addition of the acidulant pHase results in a firmer curd, lower processing time and temperature, and more usable whey.
• A cellulose-free anti-caking agent, Flow Lite, is said to control cheese browning on pizza. The low-dust product, recently introduced by Allied Starch & Chemical, Keokuk, Iowa (phone 319-524-1235, www.alliedstarch.com), retains moisture throughout the baking of the pizza, which, in turn, controls the browning of the cheese. Its smaller particle size allows for superior cheese melt at all application rates.
• New carbon dioxide technologies are being developed for improvements in the shelf life, quality, and yield of cheeses, cottage cheeses, raw and pasteurized milk, and other dairy products. A comprehensive review of past and present research related to quality improvement of dairy products using CO2 is published in the September 2006 issue of Comprehensive Reviews in Food Science and Food Safety, page 158.
--- PAGE BREAK ---
Delivering Added Health Benefits
In the global marketplace, a variety of innovative cheese products are appearing that have been fortified with vitamins, minerals, and other healthful components. And based on the potential of the following developments, we can expect to see cheese penetrate even further into the health arena.
More vitamin D can now be added to cheese and cheese products. In response to a petition from Kraft Foods, the Food and Drug Administration is allowing an increase from 89 International Units (IU)/100 g to 81 IU/30 g, an increase of almost three times. The rule, which went into effect on December 16, 2005, allows cheese makers to make the claim that these products are "good" or "excellent" sources of vitamin D. With this rule change, there may be new fortification opportunities for other nutrients such as vitamin A or calcium.
Interestingly, there may be particular potential for the inclusion of probiotics in cheese. Researchers at DSM Food Specialties conducted a series of tests on cheese in which they added their company's Lafti series of probiotics consisting of three strains—Lactobacillus acidophilus, Bifidobacterium lactis, and Lactobacillus casei. Results indicated that cheese presented a number of advantages as a delivery system, including higher survivability rates of the strains. A deeper flavor in the cheese was also noted.
Fatty acids and their potential health benefits may find a suitable vehicle in cheese as well. For example, as new technological developments improve the quality and taste of fish oils, the potential also grows for the use of omega-3 fatty acids in cheese.
Soluble dietary fiber may play an emerging role in cheese manufacture. According to an article in the Journal of Food Engineering (November 2006), "the incorporation of soluble dietary fiber into cheese may result in the development of both a nutritionally and technologically superior product." Researchers from University College Dublin in Ireland and Massey University in New Zealand found that certain soluble fibers such as guar gum and pectin could speed up coagulation time as well as improve cost efficiency.
Adding soluble fiber to cheese products is also of interest to National Starch Food Innovation, Bridgewater, N.J. (phone 908-685- 5000, www.foodinnovation.com). The company is the North American supplier of Nutriose, a soluble fiber made from dextrin. The ingredient is said to work well in cottage cheese and other cheese products, and can help manufacturers produce a distinctive product that offers nutritional and functionality benefits.
--- PAGE BREAK ---
Taking the Fat Out of Cheese
Earlier, this article discussed how vitamins, minerals, and other healthful components can be added to cheese. Another way that cheese manufacturers are addressing health issues is through the replacement of fat spurred on by obesity concerns, especially among children.
Now I can already hear the groans of cheese-heads out there afraid that taste and texture will be negatively affected. But actually there are low-fat products being developed which are said to compare favorably to their traditional counterparts. Researchers in the dairy industry are working on low-fat and no-fat Mozzarella cheeses for pizza applications and new cultures are being developed that can improve the texture of low-fat products.
In addition, flavors, flavor enhancers, and other ingredients that can withstand processing conditions are being used to boost the flavor of these products. For example, Synergy Flavors, Inc., Wauconda, Ill. (phone 847-487-1011, www.synergytaste.com), developed a new line of Saporesse flavor enhancers based on lactic yeast extracts. When added to cheese or cheese-containing products, they magnify the cheese flavors without boosting calories or fat. Cheese flavor is maximized with lower cheese usage, and profiles can be achieved cost effectively.
During the 2006 IFT Food Expo, Leprino Foods, Denver, Colo. (phone 303-480-2600, www.leprinofoods.com), demonstrated at its on-site development kitchen reduced-fat Cheddar and reduced-fat Monterrey Jack cheeses that are said to achieve desirable melt and mouthfeel characteristics.
Serving Up Cheese Solutions for Pizza
At the 2006 International Pizza Expo, Dean Sommer, Cheese Technologist for the Wisconsin Center for Dairy Research, Madison, gave a presentation entitled, "Cheese: The Ultimate Pizza Ingredient." He discussed a number of cheese innovations that can help overcome challenges that occur during pizza production.
"Pizza companies today are looking for Mozzarella that browns less," said Sommer. Ovens with higher temperatures are being used which can bake faster the pizza, but at the same time create an over-browning in the cheese. Consequently, researchers are looking at different ways to make the cheese more resistant to browning.
Sugar metabolism is key to the control of browning, noted Sommer. Faster make times results in less time for sugar metabolism, which leads to excess browning. Fortification can lead to excess lactose levels in cheesemilk. And lactose, which has been incompletely metabolized, can build up galactose, a potent browning enhancer. Sommer recommended that cheese manufacturers start with less lactose, metabolize lactose/galactose completely, and wash out excess lactose/galactose. Developers are also looking at ways to create new varieties of Mozzarella that are more resistant to browning and can retain their white color.
--- PAGE BREAK ---
Another area for research is controlling the functionality of the cheese, especially for stuffed-crust pizza, so that it does not squirt out or behave in other undesirable manners. "One solution might be the creation of a custom melt-controlled process cheese," said Sommer. "This product can also be custom flavored to deliver greater flavor impact."
Other areas that researchers are working on is the development of low-fat and no-fat Mozzarella cheeses for pizza applications, and the blending of Mozzarella with nontraditional cheeses such as Blue, Feta, Asiago, Muenster, White Cheddar, and Smoked Provolone for added value and the creation of more upscale products.
Research that Sommer discussed is supported by Dairy Management, Inc., Rosemont, Ill. (phone 800-248-8829, www.innovatewithdairy.com).
Cheese for Connoisseurs?
In the September 2006 Ingredients section, I discussed how chocolate, fueled by gourmet trends and single-origin cocoa beans, can increasingly offer distinct flavor profiles and sensory properties much like coffee, vanilla, and wine. Cheese can easily fall into this category as well.
Specialty cheeses and artisan products are not necessarily new, but trends show that there may be a greater demand for them. For example, Vermont Butter & Cheese Co., Websterville, Vt. (phone 802-479-9371, www.vtbutterandcheeseco.com), a leading producer of artisan cheese, recently introduced three new French-style artisan goat cheeses—said to be the first of their kind produced in the U.S. According to the company, their introduction demonstrates the evolution of artisan cheese production in the U.S., as these cheeses require a technical facility and production sophistication common in Europe but not previously available here.
When considering the number of flavor opportunities for cheese—ranging from fruit flavors to yes, even chocolate—the growing focus on specialty products should not be too surprising. Also, novel flavors and colors for children are being developed for inclusion in cheeses, making kids connoisseurs, too. Furthermore, other trends, such as an emphasis on organic and "fresh farmstand," may help fuel cheese into a gourmet-like status.
And that may only be the beginning of the story when considering the development of new cheese blends; innovative processing developments that can improve the overall quality of the cheeses; the emphasis on authenticity (the creation of a product that appeals to a specific shopper, whether it be a Hispanic or some other individual looking for a specific taste, texture, or processing method); and the mixing of milk from different animals from different states or countries to produce unique (and hopefully safe) cheese products.
Like chocolate or the cork of a wine bottle, you might sniff that piece of cheese and guess what kind of cheese is in it, how it is made, and what state or country it comes from. Connoisseurs of all ages have that discerning ability, you know.
--- PAGE BREAK ---
Blending Cheeses
In the sidebar on page 72, I discussed how Hispanic cheese varieties are increasingly being added to the roster of more familiar cheeses, such as Cheddar or Mozzarella. Interestingly, we are also seeing a wide array of emerging additions in the form of cheese blends. These blends offer a variety of exciting benefits, including different flavor profiles, the potential for upscaling products such as pizza, and cost effectiveness. And once you start blending, the sky is the limit. Imagine, for example, combining Hispanic varieties with traditional cheeses and using them in such applications such as sauces, snacks, and dressings.
A variety of spray-dried cheese blends, including Cheddar-Blue, Cheddar Jack, and Three-Cheese (Romano, Cheddar, and Parmesan) are available from DairiConcepts, Springfield, Mo. (phone 877-596-4374). At the recent IFT Chicago Section Suppliers Night, the company highlighted a prototype concept, Blue Buffalo Cheddar Seasoning on Corn Chips.
Also at the Suppliers Night, Chr. Hansen, Inc. demonstrated its Four-Cheese–Flavored Seasoning Blend that combines Natural Cheddar Cheese Flavor, Natural Parmesan Cheese Flavor, Natural Romano Cheese Flavor, and Natural Swiss Cheese Flavor in a cheese powder.
Kraft Food Ingredients, Memphis, Tenn. (phone 901-381-6500, www.kraftfoodingredients.com), recently introduced its Kraft Grated Asiago, Parmesan, and Romano Cheese Blend. The combination of granular, Italian-style natural cheeses provides an authentic, full-bodied flavor with the slightly nutty note of Asiago cheese. The cost-effective blend, made exclusively with cow's milk, may be used in a variety of applications, ranging from pizzas to sauces.
Sartori Foods, Plymouth, Wis. (phone 800-558-5888, www.sartorifoods.com), offers Signature Blends for salads. These include Caesar, a blend of Parmesan, Asiago, and Romano; Garden, a pairing of Piave and Asiago; Sicilian, a combination of Parmesan, Asiago, and Pecorino Romano; and Mexican Medley, a mix of Asadero, Cheddar, and Cotija.
From Ingretec, Lebanon, Pa. (phone 717-273-0711, www.ingretec.com), comes Mozza-Most™, a Parmesan-Romano cheese blend in a shreddable form. The ingredient is said to double the cheese taste in applications such as pizza, bakery products, sauces, and meat products.
A variety of bold flavors is also being incorporated into these cheese blends. (Some of these flavors will be discussed later in this article.) Their incorporation can further broaden the application of cheese blends in formulating, especially in the areas of snacks, sauces, and international dishes.
Another factor that may increase their popularity is blending natural cheeses, such as Colby, Jack, Mozzarella, and Cheddar with processed cheeses. By doing so, the formulator can take advantage of the flavor of natural cheese with the functionality of processed cheeses.
--- PAGE BREAK ---
Pairing Up in New Ways
Cheese and crackers. Cheese and pretzels. Cheese and meat products. Cheese and vegetables. Cheese sauces and chips. These are only a few examples of how cheese can be paired with other foods or food ingredients. Cheese's versatility can help create new marketing opportunities such as pre-packaged cheese-and-cracker combos in a variety of flavors; bakery products such as cheese breads, which can deliver certain global profiles; cheese appetizers in a variety of different textured or flavored coatings; and individual meal kits combining cheese with different grains, meats, or vegetables.
Because of cheese's versatility and popularity in dishes, one can expect to see these pairings broaden to include other ingredients not normally associated with cheese. You've heard of sugar and spice. Well, how about cheese and spice? A new product line from Dairy Farmers of America (DFA), Inc., Springfield, Mo. (phone 888-332-6455, www.dfamilk.com), pairs shredded cheese blends with specially blended spice packs. Shred Medleys™ offers consumers a convenient ingredient solution, letting them control how much seasoning to add in cheese dishes while eliminating the need to measure individual spices.
"We have removed the guesswork for consumers trying to figure out proper ratios of spices to cheese," said Mark Korsmeyer, President of DFA's American Dairy Brands division, which manufactures the product line. "Yet the consumer still has control over how much seasoning to use, depending on taste preferences." The product combines shredded Borden® Cheese blends with Season Sensations™ spice packs in four flavor combinations—Pesto Parmesan, Southwestern Style, Garden Blend, and Tuscan Herb.
Consumers may use the product as an ingredient in casseroles, pasta, wraps, salads, skillet meals, vegetable dishes, soups, breads, snacks, and other dishes. In addition to its ease of use and convenience, the new product offers visual advantages over pre-flavored seasoned cheeses. According to DFA researchers, preflavoring can cause discoloration of the product, or the spices can loosen and gather at the bottom of the package.
Stretching Flavors Borders
Recently, I attended a harvesting tour of cranberries (see article on page 77). As I write this article, I can't help thinking about the interesting possibilities that combining cheese with a cranberry flavor might have in such applications as spreads, dressings, dips, or possibly even a snack cracker or coating.
Today, we're seeing a wide array of flavors being used in cheese. Some of these flavors are not traditionally associated with that product.
--- PAGE BREAK ---
Shredded cheese combined with bold flavors, Bistro Blends from Sargento Foods, Inc., Plymouth, Wis. (phone 800-795-7090, www.sargentofoodingredients.com), help liven up salads, omelets and other egg dishes, pastas, pizzas, and vegetables, just to name a few. The blends include Mozzarella with Sun-Dried Tomatoes & Basil, Cheddar Salsa with Tomato & Jalapeno Peppers, and Mozzarella & Asiago with Roasted Garlic.
As we saw in the November 2006 Ingredients section, cheese and flavor combinations are especially finding use in topical applications for snack chips. Take, for example, Cheesy Chicken BBQ, a formula from International Dehydrated Foods, Springfield, Mo. (phone 417-881-7820, www.idf.com), that combines powdered chicken broth, chipotle, and a variety of cheese powders such as Blue, Romano, and Cheddar. Or how about a Mexi-Ranch Flavored Dip, a prototype formula from Chr. Hansen that is made with Natural Manchego Type Cheese Flavor, a ranch seasoning, Mexican-style process cheese, sour cream, salsa, fresh buttermilk, and jalapeno puree.
And from Thiel Cheese (phone 920-989-1440, www.thielcheese.com), comes flavors for process cheese that includes Mozzarella & Pepperoni, Ham & Cheese, American & Sausage, Monterey Jack with Habanero Peppers, and many others.
Edlong Dairy Flavors, Elk Grove Village, Ill. (phone 847-439-9230, www.edlong.com) provide a line of cheese flavors that mimic authentic Mexican cheeses for use in sauces, snacks, dips, crackers, and other products. These flavors are the newest additions to a product portfolio that replicates profiles from around the world. For example, the company has highlighted such prototypes as Greek Brined Cheese & Spring Onion Seasoned Crisps, Tzatziki Seasoned Potato Crisps, Chevre Dip with Chive, and Mexican Chipotle Cheese Dip.
New Sources for Cheese Production
This article has looked at a variety of ways that cheese can be used as a vehicle to deliver functionality and nutritional benefits. A number of business developments are also occurring which can have a major impact on cheese manufacture and future formulations.
For example, a $190 million cheese plant, a joint venture between milk producers and cheese producers, opened on October 6, 2006, in Clovis, N.M. The plant, Southwest Cheese, is owned 50% by Ireland-based Glanbia plc, a major U.S. producer of American-style Cheddar cheese, and 50% by the Greater Southwest Agency, consisting of Dairy Farmers of America, Select Milk Producers, Zia, and Lonestar. At full capacity, the plant can produce 40,000 lb of cheese/hr and can process 275,000 lb of whey/day. For more information, call 503-309-5249.
--- PAGE BREAK ---
Avoca, Inc., a subsidiary of Pharmachem Laboratories, Kearny, N.J. (phone 800-526-0609, www.pharmachemlabs.com), opened a 105,000-sq-ft dairy ingredient and natural product processing facility in Menomonee, Wis., that is capable of blending, enzymatic treatment, homogenization, batch pasteurization, and thermal processing. According to Gregory Drew, Director of Pharmachem's New Business Group, the dairy ingredients operation of Avoca BioProcessing Corp. includes a manufacturing capacity of approximately 10 million lb/ year of dairy-based ingredients, including concentrated cheese flavors, lipolyzed cheese flavors, enzyme-modified cheese, cheese blends, fat-reduced cheese, and fortified cheese. The operation is suitable for producing ingredients for use in bakery, confectionery, snack foods, seasonings, salad dressings, and foodservice applications. "The new addition is another example of how we provide custom manufacturing services outside of our core nutritional markets," said Drew.
Denmark-based Arla Foods (phone +45-8938-1000, www.arlafoods.com), has indicated that it will continue to expand in the U.S. special cheese sector. The company has reportedly doubled its production in the U.S. during 2006, and has seen high sales in Danish havarti cheese, especially in regions that have a strong Hispanic influence.
Another new choice for dairy ingredients, including processed and imported cheeses, is the Kantner Group, Wapakoneta, Ohio (phone 419-738-4060). The company was formed when Euro Proteins, Blue Valley Foods, and Chianti Cheese joined forces.
Such developments can prove especially timely, considering all the new cheese concepts being explored today. Furthermore, the relationships between these new companies and their customers can stimulate new innovations, helping cheese to continue its advancement, especially in areas of health and functionality.
Next month's Ingredients section will look at a variety of new food toppings and the ingredients that help them to rise to the top.
--- PAGE BREAK ---
Diga 'Queso'
In addition to mainstream cheeses, such as Cheddar, American, and Mozzarella, we are becoming more familiar with names such as Queso Blanco, Cotija, Asadero, and Panela. This should not exactly come as a big surprise to anyone. The growing U.S. Hispanic population, combined with an interest by mainstream consumers in cuisines represented by that demographic segment, is inspiring a wide array of Hispanic and Hispanic-style cheeses and cheese flavors.
Keep in mind that many of the products in the marketplace are not necessarily authentic Hispanic but rather incorporate North-of-the-Border components and are probably designed to capture a broader segment of the audience.
Furthermore, authentic Hispanic cheeses may have qualities very different from what you might initially think. For instance, these cheeses are frequently mild, not spicy. Queso Blanco is one example of a mild-tasting cheese, having a flavor similar to Feta. Asadero is mild and creamy, and Panela has a cottage-cheese-like flavor.
Also, the Hispanic cheese you select depends on your formulation. Asadero is a melting cheese that can be used on nachos, quesadillas, and tostadas, while Cotija, described as the "Parmesan of Mexico," tastes sharp and is especially suitable as a flavoring ingredient or garnish.
When creating authentic Hispanic cheeses, the food manufacturer has to be aware of the diversity of the Hispanic community. "Manufacturers should not assume that the kind of Cuban-influenced Queso Fresco selling well in Miami, for instance, will be embraced as enthusiastically in a Mexican market in Los Angeles," noted Dean Sommer, cheese and food technologist at the Wisconsin Center for Dairy Research.
Sommer emphasized that the traditional flavor patterns in these cheeses are not always easy to duplicate and present processing challenges which researchers are working to overcome. Techniques, such as controlling homogenization, are being explored to produce authentic cheeses that meet U.S. processing standards.
by Donald E. Pszczola,
Senior Associate Editor
[email protected]