Recognizing their achievements and efforts in making food-related policies based on sound science, the Institute of Food Technologists has named two distinguished members of the United States Congress—Senator Robert Bennett of Utah and Representative Bob Etheridge of North Carolina—this year's winners of IFT's Congressional Support for Science Award.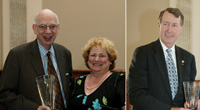 IFT President Margaret Lawson presented the awards—represented by a crystal vase—at a reception in the Senate Russell Building on May 3, 2006. Many IFT members attended the reception, including several past presidents of IFT, as well as Executive Vice President Barbara Byrd Keenan. Senior government officials from several agencies, along with congressional members, representatives of science societies, and representatives of the legal profession also attended.
Senator Robert Bennett was elected to the U.S. Senate in 1992. Since then, he has focused on improving and safeguarding the U.S. high-tech infrastructure and securing additional federal support for food and agricultural research, such as the Biotechnology and Genomics Research Center in Utah and securing a million dollars for agriculture research at Utah State University.
Senator Bennett's leadership in support of food and agriculture research led him to become a cosponsor of a bill (S. 767) to establish a Division of Food and Agricultural Science within the National Science Foundation and to authorize funding for the support of fundamental food and agricultural research of the highest quality. IFT is proud to have played a leading role in supporting this important legislation.
Representative Bob Etheridge entered Congress in 1997. Since that time, he has been an aggressive advocate for science and science education. He has an outstanding record of working with various constituencies of the scientific community and knows the importance that science and science education plays in maintaining America's innovation-driven economy. As a result, he has been at the forefront of addressing challenges of inadequate science funding at the federal level across the scientific disciplines.
As a member of the House Agriculture Committee, Representative Etheridge is in a position to provide needed support for food and agricultural sciences. As a former member of the House Science Committee, which has jurisdiction over federal science programs, he became a leading advocate for federal science programs. His belief in the importance of science has led him to become a leading advocate on legislative initiatives for the improvement of math and science education in elementary and secondary schools. Early in the 107th Congress, the Science Committee introduced two bills, the National Mathematics and Science Partnerships Act (H.R. 1858) and the National Science Education Act (H.R. 100) in an effort to improve math and science education.
On May 5, Etheridge issued a news release saying, "I am honored to receive this prestigious award. As the former Superintendent of North Carolina's public schools, I know firsthand how important science education is to the future of our economy. The federal government must support science education so that the nation is able to compete and win in the global marketplace of the 21st century."
The Congressional Support for Science Award was established by IFT in 2001 to recognize outstanding contributions to science-based food policies and to increase the role of science in policy development to enhance the safety, nutritional value, affordability, and variety of foods available to consumers.
Each year, IFT honors two members of Congress, in recognition of their achievements and efforts in making food-related policies that are based on sound science. Last year, IFT honored Senator Christopher Bond of Missouri and Representative Collin Peterson of Minnesota (see Food Technology, June 2005, page 20, for details).
by Ted Cartwright,
Director of Science & Governement Relations,
Office of Science, Communications, & Government Relations, Institute of Food Technologists, 1025 Connecticut Ave., N.W., Suite 503, Washington, DC 20036 
[email protected]