Two deadly animal diseases have become hot news items—bovine spongiform encephalopathy (BSE) and avian influenza. This article will discuss the diseases and how they are tested for.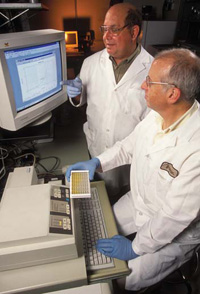 BSE Timeline
The nickname of "mad cow disease" for the cattle disease BSE tends to spread a fear of its being communicable to consumers worldwide. However, according to information provided by Suzan Holl, Public Affairs Specialist at the U.S. Dept. of Agriculture's Animal and Plant Health Inspection Service (APHIS), "BSE is a degenerative neurological disease caused by an aberrant protein called a prion. It is in the family of diseases—all caused by prions—referred to as transmissible spongiform encephalopathies, or TSE. TSE include scrapie in sheep and goats, chronic wasting disease (CWD) in deer and elk, and Creutzfeldt-Jakob disease (CJD) in humans. It's important to note that TSE are not communicable diseases—they do not spread easily like viruses."
Signs of animals affected with BSE are changes in temperament, such as nervousness or aggression; abnormal posture; incoordination and difficulty in rising; decreased milk production; or loss of body condition despite continued appetite. The incubation period is 2–8 years. There is no treatment, and affected animals die. The deterioration period is 2 weeks to 6 months.
Erika L. Voogd (phone 630-293-9444), President of Voogd Consulting, Inc., West Chicago, Ill.—an independent global consultant to the beef processing industry, specializing in animal welfare, food safety, sanitation, and USDA regulations for import/export to the United States—summarized the status of BSE in the U.S.
"As early as 1996," she said, "the U.S. had in place an emergency response team that met to review the current issues and prepare for emergency response, should a case of BSE be detected in this country. It was thought quite unnecessary in a country where BSE had never been detected.
"It was nine years later, December 23, 2003, when the U.S. beef industry received the unprecedented news that a first positive case of BSE had been discovered in a dairy cow processed at a plant in Washington State. The 6½-year-old cow originated in Canada and was sold to a U.S. dairy farm in 2001. Since this announcement, the subsequent two years have produced a series of events with global impact for the U.S. beef industry.
--- PAGE BREAK ---
"After the initial incident in 2003, exports were suspended on December 24 for not just meat products but also semen, dairy, hides, and skins to most countries outside of the U.S. For more than two years, meat industry groups such as the American Meat Institute and National Meat Association worked diligently with Foreign Agricultural Service representatives to restore trade with many countries, the most recent of which was Japan. This border opening was short lived, though, when Japan again ceased trade on January 19 of this year. The cause: one small New York–based establishment, Atlantic Veal & Lamb, Inc., shipped a retail roast cut that contained the vertebral column, which is considered a Specified Risk Material (SRM) under the Japanese rule. It is believed that this halt in trade may cost the U.S. economy as much as $1.4 billion annually.
"The 1997 Food and Drug Administration feed ban which prevented the feeding of ruminant meat and bone meal to other ruminants was another critical firewall, later enhanced in 2000 by the ban of import on all rendered animal protein products from European countries (a part of the world known to have many BSE positives).
"Infectivity in cattle and humans is believed to be caused by oral ingestion of the "prion," a protein found in central nervous system tissues of infected animals. The most likely method of transfer from animal to animal is through infected meat and bone meal originating from animals that have contracted BSE. The order of predominance for infectivity of prion-containing tissues (Specified Risk Materials) is: brain, spinal chord, dorsal root ganglia, trigeminal ganglia, distal ileum of the small intestine, and tonsil. Controlled studies indicate that the higher the dose of the infective prion agent ingested, the more rapid the onset of BSE symptoms and disease. However, doses as small as 0.01 g have resulted in infection in cattle, with an incubation time of 59 months.
"The U.S. government has implemented a very effective method for targeted surveillance to achieve identification by requiring brain testing of clinical suspects, fallen stock or "downers," and animals that are emergency slaughtered. The recent announcement of a fourth positive animal in Alberta, Canada, barely made headlines, with little effect on public consumption of beef. There is no doubt that honest communication, rapid release of pertinent information, and conscientious attention to address and resolve key concerns have worked well to dispel any myths and to assure the North American public that the beef supply has been and will continue to be safe."
--- PAGE BREAK ---
Testing for BSE
According to APHIS, there is no test to detect BSE in a live animal, but two laboratory methods are currently approved to confirm a diagnosis of BSE.
• Immunohistochemistry (IHC). This is the primary confirmatory test for USDA's BSE surveillance program. This test is a microscopic examination of the brain tissue to visually identify characteristic changes in the spongiform and through a staining technique to indicate presence of abnormal prion. It involves looking at an intact portion of the brain (the obex) to find lesions (holes or a spongy appearance). The staining process uses antibodies that detect the abnormal prion. Testing requires 4–7 days.
• SAF Immunoblot (Western Blot). There are several types of immunoblot techniques, with the SAF Immunoblot being the one recognized by the World Organization for Animal Health (OIE). USDA protocol requires use of this method when a sample is not suitable for testing by the IHC method (i.e., if it is autolyzed or degraded, or if the brain stem is not evident microscopically).
The test uses a large portion of the obex brain tissue, which is enriched by ultracentrifugation then exposed to the enzyme protease to destroy any normal prion proteins present and leaving only abnormal prion proteins. The remaining sample is then run through a gel to separate the abnormal prion protein components by molecular weight. These are transferred to a membrane and stained using antibodies that can identify a specific banding pattern associated with prion diseases, including BSE. A diagnosis is made by recognizing three distinctive bands that are identified as a result of a reaction with the anti-prion protein antibody.
Both tests are equally effective at detecting the classical form of BSE and are internationally recognized by OIE. Freezing of the samples does not interfere with the performance of either test method.
In BSE testing, samples are collected from high-risk cattle by USDA personnel and sent to a network of state and federal Laboratories. If the sample is negative, no further testing is required. Inconclusive tests must be further tested by the U.S. national BSE reference laboratory, the USDA/APHIS National Veterinary Services Laboratory (NVSL) in Ames, Iowa. (The world reference laboratory for BSE is located in Weybridge, England.)
NVSL advises that "There is no scientific evidence that shows BSE can be spread by contact between unrelated adult cattle to other species. Cattle can become infected with BSE by eating feed contaminated with the infectious BSE agent. That is why in 1997, the U.S. Food and Drug Administration prohibited the use of most mammalian protein in the manufacture of animal feed intended for cows and other ruminants."
For more information on BSE, see IFT's Scientific Status Summary "Transmissible Spongiform Encephalopathies" in the June/July 2005 issue of Journal of Food Science and the article "Understanding BSE and Related Diseases" in the July 2005 issue of Food Technology. Up-to-date information on BSE and BSE testing is available at www.aphis.usda.gov/vs/nvsl.
--- PAGE BREAK ---
Testing for Bird Flu
A virulent form of bird flu causing infection and serious illness in numerous poultry flocks in Asian countries is now spreading into Eastern Europe. The H5N1 virus, a highly pathogenic form of avian influenza, has been causing fear of an influenza pandemic. However, it has never occurred in the U.S., according to USDA. Authorities say that cooking kills the virus, and health officials in the U.S. say that eating properly handled and cooked poultry is safe.
Despite this assurance, the U.S. poultry industry, led by its trade association, the National Chicken Council (NCC), has announced a comprehensive testing program in the U.S. Companies that make up 94% of the nation's production, which totaled more than 9.5 billion chickens in 2005, have already signed up for testing, and more are expected.
The U.S. poultry industry will finance the testing program, which will test 11 birds from each chicken flock, or farm. An estimated 150,000 flocks are produced each year, so about 1.6 million chickens would be tested. Samples will be collected on farms and tested at state- or industry-certified laboratories. Any positive bird flu results will be confirmed by the NVSL laboratory in Ames, Iowa. None of the birds from an affected farm will enter the food chain.
NCC's proposed H5/H7 Avian Influenza (AI) Monitoring Plan, once approved, will require all flocks to be tested negative prior to slaughter, and will be found in 9 CFR Part 146, Subpart C, Paragraph 146.33(b)(2). Testing 11 birds per shift will not be an option in this new voluntary program; instead, 11 birds per flock will be necessary. Birds must be tested within 14 days of slaughter. Approved tests are agar gel immunodiffusion (AGID) and the enzyme-linked immunosorbent assay (ELISA), as well as virus-detection tests, including virus isolation (VI), RRT-PCR, and antigen-capture such as dipstick or solid-phase ELISA. Any ELISA-positive sample must be confirmed by AGID. Positive AGID and antigen-detection test results must be confirmed in a Federal Reference Laboratory, which will also determine the subgroup. The laboratory will be the sole and final authority for declaring a flock positive for H5 or H7 Al.
In the event of a confirmed positive H5/H7 result, a two-mile zone will be established around any positive flock for further testing. Participating companies will maintain weekly slaughter files. Only H5 and H7 viruses are considered "notifiable" under the rules of the World Organization for Animal Health (OIE) because they are the only types known to be capable of changing from the mild, "low pathogenic" form of the disease to the "highlypathogenic" form that causes widespread mortality in poultry. Low pathogenic viruses are not found in poultry meat.
Stephen Pretanik (202-296-2622), NCC's Director of Science and Technology, said that NCC intends to test every chicken flock in the U.S. for bird flu prior to slaughter. "If H5 or H7 types are found in a flock," he said, "the industry believes the best way to prevent the disease from spreading, or possibly turning into the highly pathogenic form, is to destroy all the birds in an affected flock. This comprehensive testing will add another protection to the multiple layers already in existence, and assure American consumers a safe food supply," he said.
by Dean Duxbury,
Contributing Editor
Consultant, Oak Brook, Ill.
[email protected]