With the Food and Drug Administration's new trans fat ruling taking effect this past January, most attention in the fats and oils arena has focused on reformulating with new trans fat–free ingredients. But as consumers are learning more about the fats they should eliminate, they are also learning about the fats and oils that can be beneficial for them. Products such as juice and baked goods now tout the presence of omega-3 fatty acids, while weight-loss bars and beverages offer the benefits of conjugated linoleic acid.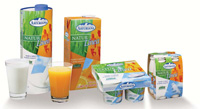 The realm of nutritional lipids is continually growing. Here is a look at some of these functional fats.
Fish Oil and Omega-3s
Fish oil and omega-3 fatty acids are increasingly being found in a number of food products. Consumers can reap the benefits of omega-3 fatty acids in products such as bread, pasta, and even yogurt. For example, Woodstock Water Buffalo Yogurt™ with Omega-3 from Woodstock Water Buffalo Co., South Woodstock, Vt., contains 100 mg of omega-3 eicosapentaenoic acid (EPA) and docosahexaenoic acid (DHA) per 170-g serving. Danone Canada Inc. recently introduced Cardivia™ yogurt with omega-3s. Both yogurts contain MEG-3™ fish oil, a unique form of microencapsulated fish oil, from Ocean Nutrition Canada Ltd.
Already recognized for its heart-health benefits, omega-3 fatty acids are mounting research behind its brain-health benefits, as well. A study from the University of Siena, Italy, found that healthy people consuming fish oil had improved mood and cognition (Fontani et al., 2005). The researchers used a variety of tests involving different types of attention for 35 days on people taking either an omega-3 fatty acid supplement or an olive oil placebo. They concluded that omega-3 supplementation is associated with an improvement in attentional and physiological functions, particularly those involving complex cortical processing.
According to national survey results released by Martek Biosciences Corp., Columbia, Md., memory loss is Americans' second greatest health fear—second only to cancer—but few people are consuming enough DHA. Several studies have associated a high dietary intake of DHA with a reduced risk for Alzheimer's disease and dementia. Martek DHA™ is made from algae.
--- PAGE BREAK ---
Omega-3 fatty acid supplements were also recently shown to protect against exercise-induced bronchoconstriction (EIB) in asthma sufferers (Mickleborough et al., 2006). EIB is a temporary narrowing of the airways that can be triggered by vigorous exercise. Sixteen asthmatic patients with documented EIB received either fish oil capsules containing 3.2 g of EPA and 2.0 g of DHA or placebo capsules daily for 3 weeks. The fish oil diet improved pulmonary function to below the diagnostic EIB threshold, with a concurrent reduction in bronchodilator use. The researchers concluded that fish oil supplementation may represent a potentially beneficial nonpharmacologic intervention for asthmatic subjects with EIB.
Beyond Fish Oil
Other oils besides fish oils have either been introduced or have been the subject of recently published research supporting additional benefits.
• Both soy oil and fish oil may help prevent heart attacks, according to a study by Holguin et al. (2005) in which 58 elderly nursing home residents were randomized to receive 2 g of fish oil capsules or 2 g of soy oil capsules daily. They were followed up every other day for a period of 6 months with 6-min measurements of heart rate variability (HRV), a measure of cardiac autonomic function. The researchers concluded that daily supplementation with 2 g of fish oil was well tolerated and was associated with a significant increase in HRV. Daily supplementation with 2 g of soy oil was associated with a lesser but significant increase in HRV.
"Taking a daily supplement of fish or soy oil may help reduce the risk of suffering an adverse cardiovascular event, such as arrhythmia or sudden death, specially in persons with known cardiovascular disease or at increased risk for it, such as those with lipid disorders, advanced age, hypertension, a history of smoking, and family history of heart disease," said lead author Fernando Holguin.
Soybean oil is an excellent source of alpha-linolenic acid (ALA), which is believed to provide heart-health benefits. A study at Penn State University looked at the effects of three experimental diets: the average American diet, a linoleic acid (LA) diet, and an ALA diet (Zhao et al., 2004). After six weeks, the researchers found that the level of C-reactive protein, a marker of inflammation strongly associated with heart disease, declined after both the LA and ALA diets, but much more significantly in the ALA diet. They concluded that ALA appears to decrease cardiovascular disease risk by inhibiting vascular inflammation and endothelial activation beyond its lipid-lowering effects.
--- PAGE BREAK ---
• Flaxseed oil has a high content of unsaturated fatty acids. ALA makes up roughly 52% of the fatty acids of flaxseed oil. A joint committee of the World Health Organization and the Food and Agriculture Organization recommends an omega-6 to omega-3 dietary ratio of between 5:1 and 10:1. Flaxseed provides a ratio of 0.3:1, according to information from AmeriFlax, a trade organization representing North Dakota flax producers.
• Rice bran oil was shown to lower cholesterol in a study by the Pennington Biomedical Research Center at Louisiana State University (Most et al., 2005). The results showed that rice bran oil lowered cholesterol in healthy, moderately hypercholesterolemic adults. The reduction in cholesterol was due to components present in the rice bran oil, such as unsaponifiable compounds. According to California Rice Oil Co., Novato, Calif., the unique components of rice bran oil are the powerful antioxidants tocotrienol and gamma oryzanol.
• A unique blend of high-oleic canola oil, medium-chain triglycerides, and phytosterols, Delta SL™ from Bunge Ltd., White Plains, N.Y., reportedly helps consumers reduce their low-density-lipoprotein (LDL) cholesterol and maintain a healthy weight. According to the company, research shows that the oil inhibits the body's ability to absorb cholesterol, and that the medium-chain triacylglycerol component allows for the oil to be metabolized more rapidly than traditional vegetable oils.
• Another unique oil, made from all-natural soy and canola oils, helps consumers maintain a healthy lifestyle when used as part of a sensible diet. Enova™ oil, offered by ADM Kao LLC, Decatur, Ill., is created through a patented process that increases concentrations of diacylglycerol (DAG). Most of the DAG molecules in the oil are metabolized in a slightly different way, so less is stored in the body as fat, compared to other vegetable oils. 
Conjugated Linoleic Acid
Conjugated linoleic acid (CLA), both dairy- and safflower-derived, continues to mount research behind its benefits. CLA is naturally present in cow's milk and beef and other ruminant meats. According to Dairy Management Inc.™, Rosemont, Ill., emerging research indicates that milk-derived CLA might hold anti-cancer properties as well as offer potential cardiovascular-health benefits. Biomedical research using animal models and cell cultures have consistently shown that CLA is a potent, naturally occurring anti-carcinogen. Animal studies and some clinical studies using up to 3 g of CLA/day suggest that CLA may provide heart-health benefits. 
--- PAGE BREAK ---
Safflower oil–derived CLA is making a name for itself in the weight-management market. For example, a study using a commercial form of CLA, Tonalin® from Cognis Health and Nutrition, La Grange, Ill., showed that the safflower-derived CLA reduced body fat mass in overweight but otherwise healthy adults by as much as 9% (Gaullier et al., 2004). A continuation of this study concluded that long-term supplementation is safe and well-tolerated (Gaullier et al., 2005). In addition, the two-year study confirmed that taking CLA decreased body fat mass and maintained lean body mass, reducing the potential "yo-yo" effect often associated with diet plans
Cognis' CLA research was recently selected by internationally recognized journal editors and scientific reviewers as one of 25 "exemplary" papers to appear in the National Institutes of Health's Office of Dietary Supplements' Annual Bibliography of Significant Advances in Dietary Supplement Research 2004. The company produces Tonalin CLA through a proprietary process that converts linoleic acid from safflower oil into CLA. 
Another safflower oil–derived form of CLA, Clarinol ™ from Lipid Nutrition, Channahon, Ill., allows for four structure/function claims to be made: reduces weight gain, increases lean muscle mass, reduces the amount of body fat, and maintains body weight level. In February, Lipid Nutrition signed an agreement to acquire PharmaNutrients' CLA One® business, giving the company complete control and responsibility for the CLA One business, including manufacturing, customer service, and technical support. 
Lipid Nutrition also received the 2005 Frost & Sullivan Excellence in Technology Award in the nutraceuticals and nutritional lipids category. The award was given in recognition of the company's development of novel, natural-origin lipid ingredients, such as Clarinol, Safflorin™, Betapol™, and PinnoThin™. Safflorin is derived from natural safflower oil and is said to support the immune system. Betapol helps overcome the problems associated with poor fatty acid absorption from infant formula. PinnoThin is an appetite suppressant whose active ingredient is pinolenic acid, which is extracted from the nuts of the Korean pine. The ingredient is said to stimulate the release of the hunger-suppressing hormone cholecystokinin and glucagon like peptide. The company also offers Marinol™ fish oil concentrates.
Phospholipids
Phospholipid-based ingredients target mental health. For example, Israel-based Enzymotec Ltd. enriches soy lecithin with L-serine to give a highquality soy-phosphatidylserine, SharpPS. FDA has approved a qualified health claim for dietary supplements that states that soy-derived phosphatidylserine may reduce the risk of cognitive dysfunction and may reduce the risk of dementia in the elderly.
Phosphatidylcholine is another phospholipid linked to mental health. It is a major source of choline, which is a building block used to produce the neurotransmitter acetylcholine. This is a chemical messenger molecule that seems to be involved in neuron networks which are crucial for memory. According to Lipid Nutrition, a number of animal studies as well as some human studies have demonstrated that dietary supplementation with phosphatidylcholine has memory-boosting effects. The company offers Membranol ™ liquid products, containing either 30 or 35% of phosphatidylcholine.
by Linda Milo Ohr,
Contributing Editor,
Denver, Colo.
[email protected]
References
Fontani, G., Corradeschi, F., Felici, A., Alfatti, F., Migliorini, S., and Lodi, L. 2005. Cognitive and physiological effects of omega-3 polyunsaturated fatty acid supplementation in healthy subjects. Eur. J. Clin. Invest. 35: 691-699.
Gaullier, J.M., Hølse, J., Høye, K., Kristiansen, K., Fagertun, H., Vik, H., and Gudmundsen, O. 2004. Conjugated linoleic acid supplementation for 1 y reduces body fat mass in healthy overweight humans. Am. J. Clin. Nutr. 79: 1118-1125.
Gaullier, J.M., Hølse, J., Høye, K., Kristiansen, K., Fagertun, H., Vik, H., and Gudmundsen, O. 2005. Supplementation with conjugated linoleic acid for 24 months is well tolerated by and reduces body fat mass in healthy, overweight humans. J. Nutr. 135: 778-784.
Holguin, F., TC)llez-Rojo, M.M., Lazo, M., Mannino, D., Schwartz, J., HernC!ndez, M., and Romieu, I. 2005. Cardiac autonomic changes associated with fish oil vs soy oil supplementation in the elderly. Chest 127: 1102-1107.
Mickleborough, T.D., Lindley, M.R., Ionescu, A.A., and Fly, A.D. 2006. Protective effect of fish oil supplementation on exercise-induced bronchoconstriction in asthma. Chest 129: 39-49.
Most, M.M., Tulley, R., Morales, S., and Lefevre, M. 2005. Rice bran oil, not fiber, lowers cholesterol in humans. Am. J. Clin. Nutr. 81: 64-68.
Zhao, G., Etherton, T.D., Martin, K.R., West, S.G., Gillies, P.J., and Kris-Etherton, P.M. 2004. Dietary α-linolenic acid reduces inflammatory and lipid cardiovascular risk factors in hypercholesterolemic men and women. J. Nutr. 134: 2991-2997.