Junk food. The dreaded j-word. Some critics have argued that processed snack foods, no matter how they are reformulated, even if their levels of fat and calories have been diminished, are still essentially junk foods—with little nutritive value and great expendability in an age of rising obesity. Furthermore, these critics maintain that snack food manufacturers have a lot of chutzpah, in light of the amount of money they spend on marketing their conventional snacks, to suggest that reformulated products offer healthier improvements over previous versions. One gets the distinct impression that this camp feels that Chester Cheetah is about as uncool as Joe Camel and it is now open season on any animal who wears sunglasses.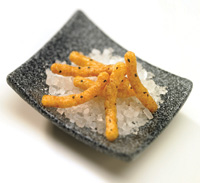 Actually, their argument that snack food manufacturers should take more responsibility is a valid one. But then the same can be said of parents, lawmakers, educators, and yes, the individual. Here's one good example of how different parties are taking more responsibility. Recently, former President Clinton and the American Heart Association announced a deal with five major food companies—Kraft Foods Inc., Mars Inc., Campbell Soup Co., Dannon, and PepsiCo Inc.—to make school snacks healthier. These manufacturers will adopt criteria that provide better choices in the snack food category by promoting healthy foods and minimizing calories from fat, saturated fat, trans fat, sugar, and sodium.
It is not always easy, especially in a competitive marketplace, to determine just exactly what and how much the snack food industry should do to address current health problems. If manufacturers did not take any action, they would be strongly criticized. On the other hand, they are frequently criticized for not doing enough. Because the stakes are high and the issues emotional, some portray them as opportunists while others see them as scapegoats.
To be fair, as concerns over obesity and other health problems continue to rise on a global basis, food developers are looking at different ways to make snacks better for you without compromising their taste. More healthful fats and oils, whole grains, fiber, and sodium alternatives are some of the ingredients they are using to reformulate these snacks. A wide array of new flavors and flavor combinations are proving especially valuable in their efforts to get consumers to purchase foods that are targeting health. Many consumers are more likely to grab that bag of chips not because the product is made with healthful sunflower oil, but rather because it is flavored with a unique spice combination reminiscent of cuisines from such countries as India or Vietnam.
--- PAGE BREAK ---
A number of emerging concepts also suggest the future directions that snacking might take. One such innovative idea that reached the marketplace is Pizzettos™, a baked snack made from wheat flour pizza dough flavored with cheese, garlic, and spices. The snack, free of trans and saturated fats, is said to offer 110 calories per 1-oz serving. Initially, this novel concept was the result of a class assignment at Chapman University, Orange, Calif., to develop a product designed for long-term space travel. (It eventually won the 2003 NASA Food Technology Commercial Space Center Product Development Competition and was showcased at the 2003 IFT Food Expo.) The developer of the product and her teacher formed a company Xengaru Fun Foods, Laguna Niguel, Calif., to commercially market the snack.
So where are we at this point in time? Well, first of all, I don't think processed snack foods will be abolished any time in the near future. But I don't think they're going to be exactly the same either. According to Snack Food Trends in the U.S., a new report by Packaged Facts, the nation's snack food market has reached $61.4 billion in 2005 (an increase of 1.5% from the previous year). The report also noted that the market has seen some internal shifts with an increase in demand for better-for-you snack options.
This view was also emphasized by Sally Lyons Wyatt, Senior Vice President of Information Resources, Inc., who, during a state-of-the-industry report at 2006 SNAXPO, told the audience that snacking is not going away, and, in fact, is showing vibrancy. "Over the past year, there has been significant growth in the 'healthier' snack category," she said. "In addition, there was tremendous growth and continued opportunity for manufacturers and retailers alike in the natural and organic arena."
Now the evolution of snacks may take some time. Most evolutions are on the slow side. And yes, there are health pressures to consider which will probably speed things along to some degree. But at least we're taking the first steps and that, under any circumstances, is a move in the right direction. Also, hopefully, this evolution may help "un-junk" the concept or image of snack foods in general, and teach us something that many of us still overlook. It is a mistake to blame any one food or food category for obesity or any other health problem. While manufacturers do have the capability to create better-for-you options in the snack arena, it is still the individual who must practice good habits, including choosing variety and eating in moderation.
With that, let's now look at some of the different ways that snacks are being reformulated.
--- PAGE BREAK ---
Incorporating Whole Grains
With so much attention spent on the removal of trans fats in recent months, the emerging value of whole grains in mainstream snack foods may not have received the spotlight it would have otherwise gotten. Furthermore, many of the initial whole-grain applications focused on breads and other such bakery products, and, based on their success in the marketplace, whole grains are gradually moving in the snack foods direction.
The penetration of whole grains into snack foods is likely to accelerate, however. Now that many snack food manufacturers, especially the major players, have switched over to healthier oils, their next focus may be on the potential benefits of whole grains in formulating. Snack foods offer a convenient vehicle for delivering more fiber into the diet, and products made with whole grains can accomplish that. Also, much like the effect created by FDA's mandate regarding trans fats, new federal dietary guidelines recommending at last three servings of whole grains daily may help spur product reformulation.
A white-spring whole-wheat flour called WheatSelect ™ was introduced in late 2005 by Horizon Milling, an affiliate of Cargill Inc., Minneapolis Minn. (phone 952-742-6000, www.cargill.com or www.horizonmilling.com). The flour delivers the nutritional value of whole grains but with a lighter color, softer texture, and milder taste. According to the company, its advanced flour milling processes produce a fine-grind flour that optimizes granulation size for baking performance. It is suitable for use in snacks, cereal bars, crackers, and other baked goods.
From Cargill also comes MaizeWise™, a line of whole-grain corn products including corn meal, corn flour, and masa flour. The products can be used as a direct replacement for existing ingredients in pursuit of the FDA-approved whole-grain claim, and can be blended easily with other ingredients. They are available in a range of flavors from neutral to toasted corn. Potential applications include extruded snacks, tortilla chips, cereal and cereal snack bars, coating systems, and other bakery products.
"According to our research, 48% of consumers want foods that are high in fiber and more than half are increasingly looking to whole grains to help with disease prevention," said Mike Veal, Marketing Director for ConaAgra Mills. "The challenge for manufacturers is to create new products and reformulate existing products with whole grains that appeal to the sensibilities and tastes of mainstream consumers." ConAgra Food Ingredients, Omaha, Neb. (phone 800-851-9618, www.ConAgraFoodIngredients.com), recently introduced UltraGrain Soft, a whole-grain flour for use in cakes, pastries, and cookies. Like the original UltraGrain which was used in breads and pastas, this product preserves the mild flavor, color, and texture of refined flour while retaining the fiber, phytonutrients, and antioxidants of 100% whole wheat.
An ingredient made from corn bran, developed and marketed under the name TruBran™ F75M by Grain Processing Corp., Muscatine, Iowa (phone 563-264-4265, www.grainprocessing.com), can be used to increase the fiber in snack products. Made from 100% natural yellow corn, the product contains a minimum of 75% total dietary fiber, is golden brown in color, and is heat-treated for added stability. According to the manufacturer, it works well in dough without a significant increase in water addition, and it provides a crisp texture in chips out of the fryer. In extruded snacks, it blends easily with corn meal and flows well through the extruder; the finished snack exhibits good expansion and texture. In savory cheese crackers, it provides a golden brown color during baking, mixes well in the cracker dough with other ingredients, and has a clean flavor profile.
--- PAGE BREAK ---
Providing Flavor Enhancement
A high 5'nucleotide yeast extract, Maxarome® Select, allows up to 50% salt reduction in potato chips and other snacks, providing excellent taste impact, mouthfeel, and full-salt perception without off-flavors. The ingredient from DSM Food Specialties USA, Inc., Eagleville, Pa. (phone 610-650-8480, dsm-foodspecialties.com), is the latest addition to a range of yeast extracts suitable for natural flavor enhancement.
Research has also indicated that the yeast extract is suitable as an alternative to monosodium glutamate. Its use at a level of 0.5% enables manufacturers to completely replace MSG in chips without compromising taste or flavor. For example, when applied to cheese and onion chips, sensory tests showed that the ingredient surpassed the taste enhancement properties of MSG, delivering a fuller flavor, increased sweetness, and a creamier taste. It also added richer cheese and onion characteristics. (At the 2006 IFT Food Expo, attendees were able to sample the chips and compare them to a control.)
The yeast extract was also effective in enhancing a cheese sauce (25% reduced cheese solids) which may be used on tortilla chips and other such snacks, or in low-fat mayonnaise for use in dips or spreads for snacking applications.
With its faster, stronger, and longer taste impact, Maxarome Select gives the strong umami effect and dramatic flavor enhancement sought after by snack manufacturers, noted Otis Curtis, Business Development, DSM Savory Ingredients. It has an entirely neutral taste, unlike other natural taste enhancers, so it can be used to improve overall product quality perception in an extensive range of end products. It can also be used to improve balance and round off unwanted peaks where off-notes are present.
Switching to Healthier Oils
Current dietary fat recommendations to increase poly- and monounsaturated fats while keeping saturated and trans fat levels low in order to decrease the risk of chronic diseases are having a major influence on today's formulating, especially in the snack area. You might say that snack food manufacturers are putting all their chips on the table with the ante on health when it comes to their use of oils with more healthful benefits.
Take, for example, Frito-Lay. In 2003, the company eliminated trans fats from its entire portfolio of snack chips (more than two years before FDA's mandate took effect). This year, its switch to NuSun sunflower oil reduced the saturated fat in its leading potato chip brands, Lay's and Ruffles, by more than 50% without changing the product's taste, as well as increased the amount of heart-healthy mono- and polyunsaturated fats. And like the rest of its portfolio, these products are free of trans fats. New product launches, such as Frito-Lay's Sensations kettle-cooked potato chips (Lime & Cracked Black Pepper and Sweet Chili & Sour Cream), are also produced in pure sunflower oil, resulting in lower saturated fat per serving (1 gram or less) and zero grams of trans fat.
--- PAGE BREAK ---
The cooking oil that Frito-Lay chose, NuSun, was introduced into the marketplace in 1999—the result of efforts by USDA researchers, hybrid seed companies, processors, and sunflower growers. Developed using standard breeding techniques, the mid-oleic oil provides a balance of optimal fats (approximately 65% monounsaturated fat, 26% polyunsaturated, and less than 10% saturated). Since the oil is not partially hydrogenated, it cannot contribute to forming trans fats. In addition to its distinctive fat profile, the oil possesses the necessary attributes for use in industrial cooking. Functionally stable for frying, cooking, or use as an ingredient, it is said to perform as well or better than partially hydrogenated oils. The oil provides a clean, light taste that does not interfere with the flavors of the food. More information about this sunflower oil can be obtained from National Sunflower Association, Bismarck, N.D. (phone 703-328-5101, www.sunflowernsa.com).
This sunflower oil is one of several healthier oils that food manufacturers are turning to for solutions to their formulation challenges. Another example is a new generation of trans-fat-free, high-oleic, low-linolenic oils produced from canola and sunflower seeds developed by Dow AgroSciences LLC, Indianapolis, Ind. (phone 317-337-4807, www.dowagro.com). These oils, marketed under the name Natreon, have high oxidative stability and can function as alternatives to partially hydrogenated oils.
I'll let Rocco Papalia, Senior Vice President, Research and Development, Frito-Lay North America, have the last word on the benefits of healthful oils: "We are removing nearly 60 million pounds of saturated fat annually from the American diet, while keeping the same great taste." Certainly that's a good beginning.
Replacing Gluten with Functional Ingredients
Miniature cereal bars free of gluten and other allergens, "Mega Bites," present kids with a healthy, whole-grain snack. The prototype, developed by students from California State Polytechnic University at Pomona, took third place in the recent 2006 IFT Student Product Development Competition.
The team of students needed to replace gluten and wheat with ingredients that would offer similar binding characteristics and provide body and texture to the product's crust. Key to the formulation was a functional native tapioca starch supplied by National Starch Food Innovation, Bridgewater, N.J. (phone 908-685-5000, www.foodinnovation.com), which helped provide those properties. Other components in the formula included brown rice, amaranth, flax seed, legumes, and fruit paste.
--- PAGE BREAK ---
Formulating the bite-sized bar with an emphasis on both health and taste was not an easy task, according to the team's advisor, Maria Botero-Omary, Assistant Professor of Human Nutrition and Food Science at the university. "The absence of gluten and other allergenic ingredients posed several interesting challenges to formulating the perfect flour blend for the baked good."
The students were eventually successful in developing a product that has a soft-chewy, golden-brown crust. The crust surrounds the fruit filling in a 4:1 ratio, and is enrobed with a colorful zigzag piping made from fruit powder. The shelf-stable, low-fat snack comes in two popular flavors, kiwi-strawberry and pineapple, and maintains its freshness for up to six months.
Such a prototype demonstrates the potential that a gluten-free, whole-grain snack could have in today's marketplace. It offers good-for-you benefits without compromising taste or texture; provides convenience and easy portability; can appeal to children; and be of especial value to individuals who suffer from gluten sensitivity and intolerance.
In addition to the tapioca starch used in this formulation, National Starch supplies a wide variety of other specialty starches that can play an important role in snack formulating. These include resistant starches, Natural Hi-maize 5-in-1 Fiber, which, when used in extruded snacks, can increase cell uniformity, improve stability, increase crunchiness, and provide low water-holding capacity; starch-based adhesive coatings which can adhere seasonings and flavors to the surface of cereal-based snack foods; and functional starches derived from such sources as corn, potato, and tapioca.
Creating New Snacking Experiences
Major ingredient companies are increasingly adopting a systems approach in which they use a wide range of ingredients from their portfolio to develop finished prototypes. Such an approach can help provide snack food manufacturers with a variety of benefits, including the creation of innovative products; the reformulation of snacks to make them healthier; the optimization of costs, especially those related to research and development; the solving of specific formulation challenges; and the addressing of current and prospective market trends.
A series of "solution sets" are available from Tate & Lyle, Decatur, Ill. (phone 217-423-4411, www.tateandlyle.com), which can be applied to the snack area. Let's look at two examples:
• Coated Snack Create™ 700 enables manufacturers to create dual-textured, low-fat snacks that have a light, crispy shell and are soft inside. The crunchy coating can be used on dried fruit pieces, peanuts, soy nuts, and sunflower kernels, and can be combined with a wide variety of flavors. Some prototypes that the company developed using the ingredient system are spicy fire-roasted strawberries, chili-lime soy nut, coated blueberries, and coated golden raisins.
--- PAGE BREAK ---
"Moisture is removed with baking, which results in a light and crunchy texture with mild sweetness," said Doris Dougherty, Senior Food Scientist for Tate & Lyle. "Additionally, because the coating is made with Splenda® Sucralose, it has bake-stable sweetness and the customer can formulate a coating that achieves a no-sugar-added claim.
The mix of ingredients is easy to incorporate in a tumbler coating process, and is used at a 40-60% level in a dry coating matrix and is typically combined with cereal flours or particulates before it is applied over food pieces in a tumbler. The coated pieces are then baked at up to 375°F, which leaves them with a crisp coating and 3-5% moisture in the finished product.
According to Dougherty, "the sky's the limit in terms of how the coating can be flavored or textured by use of oats, bran, or other products. For example, the spicy, fire-roasted strawberry is a unique, unexpected combination of hot and sweet and has a crispy jacket surrounding a soft, chewy fruit piece."
• Sandwich Cracker Enrich Systems, formulated for use in crackers and cracker fillings, contain high levels of fiber which provide prebiotic properties to help promote a healthy digestive tract. Per serving, crackers made with these systems are said to contain six grams of dietary fiber and can deliver 25% of the daily recommended dietary fiber intake. Additionally, the crackers provide 170 kcal, 9 g of fat, and are trans-fat free, with the filling system allowing the use of 100% liquid oil. Alternatives currently on the market frequently offer only one gram of fiber or less per serving and are often higher in calories and fat.
The cracker is developed with a system using inulin, resistant starch, wheat gluten, and wheat protein isolate. It has excellent dough machinability and provides optimized structure in the presence of fibers. The filling, which contains corn syrup solids and resistant starch, has a soft and pliable texture, and is shelf stable at ambient temperatures. The filling system is suitable for use in cheese, jalapeno cheese, and peanut butter fillings.
Conceptualizing New Snacks
An extruded healthy curl snack has a vegetable base consisting of potato, rice, barley, and jicama (a legume native to Central America). The air-dried, non-fried snack provides increased fiber, is free of gluten and trans fatty acids, and is flavored with Roasted Red Pepper Cream Cheese seasoning.
Consumers are becoming increasingly attentive about their health while searching for new snacking concepts such as this one. This prototype is one example of a variety of innovative healthy snack concepts created to by Kerry Ingredients, Beloit, Wis. (phone 800-334-4788, www.kerryamericas.com), using its ingredients portfolio, technologies, and expertise.
--- PAGE BREAK ---
Here are a few other examples from the company:
• Sea Salt & Black Pepper Crisps is a hot extruded, potato-based snack that contains 24% protein for energy. The zesty snack (see photo on page 48) provides a unique flavor layering combination—it is seasoned with sea salt and crushed black pepper as well as being flavored with garlic.
• Asian Wonton Straws with ready-to-serve sauces is a light and crispy wheat-based snack concept. It is baked and seasoned with a delicate balance of soy sauce, ginger, and garlic for a special taste and crunch, and paired with three dipping sauces—Wasabi Ginger, Tangerine, and Vietnamese Chile Basil.
• Beef Dipsticks Seasoned with Chile are made with textured soy concentrate and soy isolate. The soy ingredients, marketed under the name Nutriant, are said to provide a cleaner taste than regular soy and gives a protein boost without sacrificing taste or texture.
Corn-based tortilla chips may be formulated with an organic seasoning that features a rich chili flavor complemented by a refreshing hint of lime. Potato chips can make use of a maple-chipotle seasoning, which is slightly reminiscent of BBQ flavor.
Replacing Fat with Hydrocolloids
A natural stabilizer blend, made with microcrystalline cellulose, konjac, and xanthan gum, may be used to formulate low-fat snack products. The gum blend—Coyote Brand Stabilizer CKX—is available from Gum Technology Corp., Tucson, Ariz. (phone 520-888-5500, www.gumtech.com).
According to the manufacturer, the cellulose gel in the blend has the property of thickening into a fat-like texture when shear is applied. The konjac and xanthan gum react synergistically with each other to provide an elastic gel set. Together, they help create a creamy texture that mimics fat. The stabilizer can be dispersed in cold or hot applications.
The gum blend can be used at very low levels (from about 0.10%) to replace fats or oils in a variety of foods for snacking, including bars, cookies, cakes, and dips. In addition to its fat replacement functionality, the stabilizer provides a high level of moisture-binding capacity which extends shelf life by reducing staling and syneresis. In frozen snacks, it can be used to bind up moisture to retard the growth of ice crystals and reduce their size, further extending shelf life.
--- PAGE BREAK ---
Globalizing Snack Flavors
The 2006 October Ingredients section discussed how ingredients, flavors, preparation styles, and concepts from around the world are being used to reformulate traditional foods and beverages so that they have an international taste or quality. Not too surprising, expect to see more examples of "globalized" snack foods as well.
At this year's SNAXPO, Chr. Hansen, Milwaukee, Wis. (phone 414-607-5700, www.chr-hansen.com), highlighted a variety of internationally flavored snack concepts inspired by the world's diverse cuisines. Flavors such as Greek Tzatziki, Indian Tandoori, Savory Citrus Cuban, Tropical Caribbean, and others were presented on potato, corn, and multi-grain snack bases.
A global cuisine showcasing a number of snack concepts was featured at 2005 FI Europe by Edlong Flavors, Elk Grove Village, Ill. (phone 847-439-9230, www.edlong.com). These concepts included Greek Brined Cheese & Spring Onion Seasoned Crisps (flavor of traditional Greek Feta complemented by the freshness of spring onion); Tzatziki Seasoned Potato Crisps (flavor of classic Greek yogurt and cucumber dip, seasoned with garlic, dill, and mint); Mexican Chipotle Cheese Dip (spicy Mexican dip with smoky Chipotle chili and tangy Cheddar cheese), and Chevre Dip with Chive (a creamy French goat-cheese-flavored dip with fresh chive).
In Europe, Netherlands-based Quest Flavors (phone 31 35 699 9111, www.questintl.com), is currently marketing a range of snack concepts focusing on the growing demand for snacks with a culinary influence. A collection called Snacks a la carte includes flavors based on a South African dish of cooked vegetables combined with sweet and sour spices, and an Asian dish of lightly curried, braised mince of lamb with fresh apricot.
There are several reasons why globalized flavors can find an especially fertile ground in the snack area. First, the time is certainly right, with a wide array of exciting and different flavors finding their way on chips and other snacks. Second, consumers are becoming more familiar with flavors from regions and cultures that were not previously in the mainstream. Third, snacks are a convenient format to enjoy flavors found in culinary preparations. Fourth, exciting flavors are always a great way to get consumers to try foods that are formulated with healthier ingredients.
When I was a kid, potato chips came in three basic flavors—plain, barbecue, and sour cream and onion. This is certainly not the case today. Barbecue flavor alone comes in countless varieties, and my guess is we'll see (if we haven't already) such international examples as Thai BBQ, Indian BBQ, and Vietnamese BBQ. When it comes to flavors, anything is possible in today's snack arena.
--- PAGE BREAK ---
Using Rice as an Alternative Ingredient
The USDA Agricultural Research Service and the USA Rice Federation are sponsoring a rice utilization workshop called, "Beneath the Hull: Exploiting the Health-Beneficial Properties of the Rice Grain." The workshop, which will be held on February 1-2, 2007 in New Orleans, will stimulate ideas for the development of innovative, non-conventional uses for rice.
Because of rice's health and functionality benefits, it has always puzzled me that this grain has not penetrated more into the mainstream snack market. It's true that rice-based snacks are in health stores and smaller retail establishments, and frequently those are good springboards for novel concepts. It's also true that since rice plays such a major part in different cuisines from around the world (cuisines which we are becoming more familiar with), that may also have an influence on its use in snacks. Also, with such an array of exciting flavors available, rice may provide a suitable base. The fact that rice is easy to digest, is free of allergens, and does not contribute to off-flavors only reinforces its suitability in a climate dominated by health concerns.
Although rice may not have a dominant role in the snack industry, it is offering creative uses as an ingredient. Specialty rice-based ingredients from A&B Ingredients, Inc., Fairfield, N.J. (phone 973-227-1390, www.abingredients.com), can provide snack foods with a variety of functionality benefits.
For example, a native rice starch, Remyline AXS-FGP, can reduce fat uptake in tortilla chips by as much as 50%, as well as reduce breakage, improve machinability during processing, and increase the crispiness of the chips. The starch is used at a level of 2-5%, replacing part of the corn flour in the formula. When the dough is mixed with water, the starch hydrates quickly and forms a matrix. Because the starch retains water during the cooking process, it is able to keep the matrix dense longer, resulting in functionality benefits.
Two new rice flours—Remyflo R790T (based on a high-amylose variety of rice) and Remyflo S90T (based on a waxy rice variety)—provide higher binding capacities than conventional rice flours. The micronized rice flours have very fine particle sizes, making them suitable for coatings and baked snack foods such as sponge cakes. "The rice flours also emulsify oils and fats better than earlier rice flours and thus serve well as carriers for oils and fats," said Gil Bakal, the company's Managing Director. "Thorough emulsification permits consistent product taste and texture.
--- PAGE BREAK ---
"Redefining Savory Concepts
New snack prototypes are redefining the way we perceive savory and as a result are adding a new dimension to the snacking experience. The following examples suggest how, with a little thinking outside of the box, things may never quite be the same again in the area of snacks.
For example, when you think of snack or nutrition bars, usually what comes to mind is a sweet product. Not necessarily, if we judge by the concept developed by Kikkoman International, Inc., San Francisco, Calif. (phone 415-956-7750, www.kikkoman-usa.com). The IQ Savory Smart Bar, a salty twist on the traditionally sweet product category, is flavored with Kikkoman Dehydrated Soy Sauce and Kikkoman Natural Flavor Enhancer, which gives it a meaty flavor. A 30-g bar contains 135 mg of sodium.
How about a savory cheesecake snack? It's certainly not typical and it's not sweet. Savory Smoked Salmon Cheesecake from Kraft Food Ingredients, Memphis, Tenn. (phone 901-381-6500, www.kraftfoodingredients.com), is made with such ingredients as Kraft® Neufchatel Cheez Blend, Woodfired Grill Flavor® (mesquite), and Grey Poupon Classic Dijon Mustard. And even though it has a honey graham crust, there are no sweet ingredients to leach into it.
How about a Cheesy Chicken BBQ flavor for that chip seasoning? International Dehydrated Foods, Springfield, Mo. (phone 417-881-7820, www.idf.com), has developed such a formula using powdered chicken broth, powdered chicken fat and broth, and a variety of cheese powders (blue cheese, Romano, and Cheddar). Talk about adding a culinary twist to a snack.
Looking for Nutty Solutions
"Consumers are looking for healthy convenience foods, and the categories in which almond products are growing the fastest are also those in which they make up a more significant portion of the formulation," said Guangwei Huang, Technical Manager for the Almond Board of California, Modesto, Calif. (phone 209-549-8262, www.AlmondsAreIn.com). "These include snack nuts, granola bars, candy, and energy bars. A versatile, multifunctional ingredient, almonds have shown very favorable consumer appeal in taste, value, indulgence, and health."
Several imaginative but practical almond-based snack solutions have come out of ABC's Annual Almond Innovations Contest, a competition designed for food science students to showcase their product development skills. Some of the winning concepts over the past four years have included a nutty chocolate almond snack, Almond Crunchers; an almond snack chip, Almond Cravers; a microwavable gluten-free snack cake, Almond Dingers; cereal bars with yogurt and soy fillings and a crust made from almond meal and almond butter, A+ Bars; and a bite-sized almond waffle cone layered with dark chocolate and crunchy almond pieces, Cone-coxions.
The fifth annual competition challenges participants to create an indulgent almond treat that is low in calories while meeting consumer demand for guiltless indulgence. Starting with almonds in any form as an integral part of the formulation, the prototype is limited to a maximum of 200 calories per serving and requires at least one nutrition statement that accords with FDA guidelines. The winning entry will be showcased at the 2007 IFT Food Expo.
--- PAGE BREAK ---
Preventing Snacks from Crumbling
Remember those days after school when you came home and made yourself a peanut butter sandwich? It was probably the only real snack that your mother allowed you to make on your own. And if you were like me, after you spread the peanut butter on the bread, you then folded the slice, making a neat mini sandwich with the peanut butter tucked inside. (Bologna also worked really well, too.)
Unfortunately, while it didn't affect the taste, the bread usually broke or became crumbly when it was folded. That problem may now be solved by a softening enzyme developed by Danisco, New Century, Kan. (phone 800-255-6837, www.danisco.com). The G4 amylase marketed under the name Grindamyl ™ PowerFresh was unveiled at a press conference held at the 2006 World Grains Summit.
The enzyme was specifically developed to delay staling in baked products. By cutting off maltotetraose (G4) from the amylopectin side chains, amylopectin retrogradation is reduced, enhancing the softness and resilience of bread. Another benefit is moderate amylose fragmentation, providing a further reduction in overall crumb firming and improved crumb foldability.
The improved strength and flexibility and reduced crumbliness achieved with the enzyme contributes to an excellent "hinge effect," enabling sliced bread to be folded or buttered without breaking. Both white and whole-grain bread stay soft and fresh for longer and gain a significantly more resilient crumb—a characteristic directly related to eating quality.
The enzyme is another result of the synergy arising from Danisco's acquisition of former U.S. biotechnology company Genencor in 2005. The outcome of an extensive development project, the ingredient recently obtained self-affirmed GRAS status in the U.S.
In addition to improving peanut butter sandwiches, the enzyme also holds potential for other baked snack products. After the press conference, Lars Obel, Business Director of Food Enzymes, Danisco Specialties, told me that all current tests are being performed on bread, but in the future, the company will look at other applications such as snack cakes.
--- PAGE BREAK ---
Crunching on More Healthful Snacks
Scientists at the University of Leeds in the United Kingdom recently found that people's "enjoyment of biting" increased with louder, crunchier foods. Professor Malcolm Povey, an expert in ultrasound, said that although the way in which the brain interprets the information was not yet understood, it was highly probable that humans are all genetically disposed to appreciating crispiness as a sign of freshness in food. .
This information can have particular importance for snack food manufacturers. Taking advantage of the sound of crunchy food, formulators can create more healthful snacks that have enhanced textural properties. As this article has shown, other ways to attract consumers to better-for-you foods can involve flavor or flavor enhancement, improved appearance of the snack (for example, keeping the seasoning adhered to the chip or preventing crumbling or breakage), the use of novel colors, the use of alternative ingredients to reduce sodium, and the incorporation of whole grains.
While there may be a sense of irony to this, there is a better chance that consumers will reach for that snack (however heathful it may be), if it meets their personal requirements for flavor, texture, and appearance. And that's actually okay. Hopefully, in an age of increasing obesity, there will be more empty bags of snacks with healthier labels or nutrition panels on them, even if the use of a healthier ingredient was not the primary reason the snack was bought.
Next month's Ingredients section will look at new concepts in cheese, and how they are shaping product development.
---
Process Keeps the Topping on the Chip
A new method successfully adheres large three-dimensional seasoning bits, such as fragments, chunks, or morsels, to a snack food base, according to U.S. patent 7,074,446, assigned to Frito-Lay North America, Inc. The method makes possible the creation of a dual-textured food substrate having large seasoning bits.
A first topping consisting of large seasoning bits and a dry adhesive is applied to a cooked chip. The topped, cooked chip is then heated to a temperature such that the dry adhesive undergoes a glass transition and flows down to the food substrate. The topped, cooked chip is then subjected to changed process conditions, such as cooling. The adhesive hardens and a bond is formed between the chip and seasoning bits. A second topping with its special texture is then melted onto the chip. The food ingredient properties are optimized to provide a shelf-stable, dual-textured snack product.
Food particulates are often added to snack foods, such as tortilla chips, pretzels, crackers, and popcorn, during processing. Seasonings used, usually in a powdered form, have included salt, cheese, chili, garlic, Cajun spice, ranch, sour cream, onion, and many others. However, there is often an undesirable accumulation of seasoning on the sidewalls and bottom of the snack food bag with the result that the consumer has less than the desired complement of topping. The separation occurs because of insufficient adhesion of the seasoning to the chip. The problem of separation increases with the size and weight of the individual particles. The process helps overcome this challenge while creating innovative dual-textured snack products.
by Donald E. Pszczola,
Senior Associate Editor 
[email protected]