When developing savory concepts, formulators have to be worth their salt. They have to be able to overcome such challenges as reducing sodium levels without sacrificing taste; finding the right salt to enhance the texture and appearance of the product; and using umami or the synergy of different flavor enhancers to their best advantage.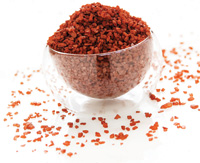 Fortunately, as this article will show, there are an increasing number of savory solutions available. Some of these ingredients have been improved over previous versions or have value added to them, such as new flavors, textures, colors, or additional enhancement properties. These solutions may include sodium chloride, sea salt and other specialty salts, salt blends, monosodium glutamate, yeast extracts, hydrolyzed vegetable proteins, dairy derivatives, soy sauces, flavor and flavor enhancers, and, of course, customized solutions involving these ingredients or their combinations.
With all the different kinds of savory solutions being offered today, there are many more opportunities to help differentiate a product in the marketplace. This is especially true because these ingredients provide different kinds of "saltiness" or "savoriness." And although some of the solutions are promoted as salt alternatives with qualities similar to those of sodium chloride, they are also very distinctive in their own right, leading to the development of new products in the marketplace.
The concerns over excessive salt consumption are helping to fuel the development of some of these ingredients. Recently, Campbell Soup Co., Camden, N.J., announced a major initiative to reduce sodium in its soups and beverages. According to the company, it will utilize a sea salt product to help reduce sodium by at least 25%. Also, a range of Progresso Soups from General Mills, Inc., Minneapolis, Minn., reportedly contain 50% less sodium per serving than its original versions. Products include Chicken Noodle, Chicken Gumbo, Garden Vegetable, and Minestrone.
Since this article is focusing on the taste and functionality benefits of savory solutions, I will not be addressing in detail the controversies regarding salt intake. Put simply, the excessive consumption of salt, like that of any food or food ingredient, is probably not a wise practice, especially for individuals at high risk for certain health problems. Most of the studies that have been done—as well as reports being issued by major health organizations—are supporting this view, which includes encouraging food manufacturers and processors to reduce the salt content of their products.
--- PAGE BREAK ---
However, it is also important that this view should not be oversimplified or distorted to suggest that salt should be eliminated or demonized. Salt is too important from both functionality and health perspectives to take such an approach. And there is still argument—one which will be resolved, in part, in the marketplace—regarding to what degree can salt be truly replaced without compromising the taste or functionality attributes of the finished product.
I also think it is important from a marketing perspective to be very clear in the claims that are being made about the product. For example, a salt alternative may be replacing sodium by simply adjusting the ratio of sodium chloride to potassium chloride or other components in the mixture. This does not mean that the chemistry of salt has been technologically changed. Also, the size, shape, and texture of the crystal can have an impact on lowering levels of sodium, but that does not mean that the salt itself has been technologically changed.
In addition to salt replacement, other considerations are influencing the development and use of these ingredients. Savory ingredients can play an important role in creating foods that reflect different global cuisines or novel flavor combinations. Also, new concepts are being developed that are exploring savory tastes in products that were traditionally associated with sweetness or other tastes.
As you will soon see, this is an especially good time for formulators to savor the different possibilities.
Savory Partnerships
Until recently, table salt, kosher salt, and white sea salt were the only varieties of salt readily available, according to McCormick® Flavor Forecast 2007, published by McCormick & Co., Inc., Hunt Valley, Md. (phone 410-527-8753, www.mccormick.com). Today, multiple colors and flavors of sea salts abound, such as Hawaiian Alaea, Peruvian Pink, and Fleur de Sel.
With the increasing popularity of sea salt and the availability of salt in a variety of types, the time may be right for partnering savory components with other ingredients to create new trend-setting flavor combinations. These different flavor combinations can play an important role in the future development of savory applications from taste, texture, and even color perspectives.
--- PAGE BREAK ---
For example, the recently released forecast highlighted the pairing of sea salt and smoked tea, which may be used to create savory rubs for grilled meats, especially ribs, steaks, and burgers. Salt balances the intense flavor of smoked tea, and their pairing helps accent spicy foods. Brewed tea can also serve as a base for broths and sauces, such as Beef & Noodles in Smoked Tea Infused Broth—a formulation that uses a naturally smoked black tea (Lapsang Souchong from China) with coarse sea salt, crushed red pepper, and anise seed.
As a topping, smoked tea and coarse sea salt can impart a fresh flavor and texture to a variety of foods, and may be "the next evolution of the classic salt and smoke combination."
The forecast also spotlighted Crystallized Ginger and Salted Pistachio, a sweet-and-salty combination featured in the foods of North Africa, the Mediterranean, and Asia. Pistachio nuts, a savory ingredient used in cooking and baking, offer a delicate, slightly salty taste; crunchy texture; and a distinctive color. Crystallized ginger, also known as candied ginger, has a citrus-like, sweet, and slightly hot flavor. When paired, they can help upscale a variety of foods.
For example, desserts such as cakes, tarts, and cookies can showcase this flavor combination, which can be further teamed up with chocolate and its decadent qualities. Or a crust for salmon, halibut, shrimp, chicken, or pork can be created by the two ingredients. Or they can be sprinkled on to salads, added to stir-fries and rice dishes, or used as a topping for yogurt, ice cream, or fresh fruit.
Salt of the Earth (and Sea)
Dendritic salt combines the most useful features of vacuum-granulated salt and grainier flake salt. Unlike the cubical crystals of vacuum salt or the flat, irregular crystal aggregates of grainier flake, dendritic crystals (or "dendrites") are branched or star-like in shape. Dendrites, like vacuum salt, are concentric; yet they exhibit the low density, high specific surface area, and rapid dissolution properties of fine grainier flake salt. A unique feature is the cavitation or macroporosity of the crystal.
This high-purity salt with a porous crystal structure is marketed under the name Star Flake® by its manufacturer, Morton Salt, Chicago, Ill. (phone 312-807-2000, www.mortonsalt.com). Because of its physical properties, it can offer a variety of benefits for food manufacturers.
--- PAGE BREAK ---
For example, its rapid dissolving rate can provide adequate protein extraction in emulsified meat products or reduced mixing time in the hydration of marinades. Its ability to adsorb liquid internally as well as on the surface makes it especially suitable in the preparation of liquid/solid blends such as soluble spices where oils or oleoresins are plated onto a salt carrier; unlike other grades of salt which might initially disperse as much liquid, dendritic salt exhibits an enhanced capacity of retaining liquids over time. And its notched crystal surfaces provide excellent adherence to snacks such as potato chips, cheese collets, and oil-popped popcorn. When blending oil slurries for cheese collets, dendritic salt blends more rapidly and provides a more uniform dispersion than granulated and flake grades.
In addition to this product, Morton Salt offers a variety of other salts that can provide specific savory solutions. Kosher salt, traditionally used in koshering meat and poultry, is rapidly becoming mainstream. Its large, coarse flake provides a crisp flavor and better portion control. Sea salt from the Mediterranean was recently made available to home cooks nationwide. Made popular by celebrity chefs, this specialty salt provides a greater sensory experience than table salt, but can be used in many of the same applications as either a topping salt or in gourmet recipes. Sea salt is offered in both fine and coarse varieties. And for food manufacturers particularly interested in reducing sodium in their formulas, the company makes available Morton Lite Salt Mixture (a salt and potassium chloride mixture that contains 50% less sodium than regular salt) and Morton Salt Substitute (a potassium chloride product that can contain additional seasonings).
A couple of years ago, Morton introduced its Hot Salt Product, which combines salt with smoked jalapeno pepper and red pepper. This was not the first time that the company had created a blend of salt with other ingredients. Included in its portfolio of special salts are products such as Morton Garlic Salt and Morton Seasoned Salt. What is particularly interesting, however, is the growing number of opportunities that these salt blends can present today. Earlier, this article mentioned how combinations such as sea salt and smoked tea or crystallized ginger and salted pistachios can create new flavor-setting trends. Perhaps some of these ingredients can be combined to create new blends that can shape the future directions of savory ingredients. For example, they might be used not only to formulate mainstream foods to reflect international cuisines, but also to reduce the levels of salt in processed foods by offering more-flavorful alternatives.
Flavor Blend Reduces Off-Tastes in Salt Substitute
A new salt substitute, a combination of potassium chloride and sodium chloride, is made with a natural flavor blend that reportedly eliminates the typical metallic flavor or aftertaste usually associated with potassium chloride while giving it a distinctive table-salt flavor.
--- PAGE BREAK ---
With 50% of the sodium of regular table salt, KCLean Salt was developed by Wixon, Inc., St. Francis, Wis. (phone 414-769-3000, www.wixon.com), using the company's proprietary line of Mag-nifique Flavor Technologies. The product retains salt's texture, functionality, and mouthfeel and does not break down or alter its flavor in cooking, freezing, or shelf-life applications.
"KCLean Salt is designed to replace regular salt in virtually every application, but could be especially beneficial to food processors, meat companies, snack food companies, healthcare facilities that do their own cooking, foodservice companies, and others who want to lower the sodium levels of their food items," said Chuck Ehemann, the company's Executive Vice President. The product is currently available in various commercial and industrial package sizes. Free samples are offered.
At Snaxpo 2007, the product was introduced in new flavor combinations—Chili Lime Mango Tango, Pepper Cheddar Jack Kick, South of the Border Bean & Cheese, and Classic Sour Cream and Onion. Popcorn, French fries, chips, crackers, snacks, and beverages made with KCLean Salt retain all the flavor of salt with half the sodium, and now can be made with the new flavor combinations. The salt is said to adhere to the snack as well as regular salt, with the additional advantage of providing four new flavors. Samples of the salt with the flavor combinations are also available.
Blending Mineral Salts
A blend of mineral salts functions as a new salt-reduction system from Jungbunzlauer, Inc., Newton Center, Mass. (phone 617-909-08900, www.jungbunzlauer.com). The product, sub4salt, can reportedly reduce sodium content by 25-50% while offering similar salty taste characteristics.
According to John Hadley, the company's Technical Sales/Service Manager, the blend consists of sodium gluconate, potassium chloride, and sodium chloride. It is the sodium gluconate (the sodium salt of gluconic acid, produced by fermentation of glucose) that masks the bitterness associated with potassium chloride so that the product has no metallic off-notes. All the components of the blend are considered natural and have GRAS status.
--- PAGE BREAK ---
One gram of the blend contains 0.26 g of Na (compared to 0.4 g of Na in 1 g of salt), noted Hadley. The system may be used as a one-to-one replacement for salt in a variety of foods, including soups, bakery products, sauces, snack seasonings, meat products, canned foods, and herb and spice blends. Actual usage levels of the ingredient vary with the application.
For example, to obtain a white bread with a sodium reduction of 25%, the manufacturer recommends 22.9 g of sub4salt/100 g of flour mix. To achieve a sodium reduction of 50%, 15.3 g is needed. Taste panels found no significant difference in taste between this bread and a standard one with 2% sodium chloride. Also, taste, crumb texture/appearance, crispiness, and color are comparable to standard bread.
In other sensory tests, no significant differences were found between an instant tomato soup containing 7% sodium chloride and one where sub4salt had reduced sodium by 25%. Also, tests showed that it was possible to produce a ham with 28% less sodium without changes in taste or functionality.
Sea Salt Product Offers Less Sodium
A sea salt containing 60% less sodium than ordinary salt will be distributed to U.S. food manufacturers by Nexcel Natural Ingredients, a division of Spectrum Foods, Inc., Springfield, Ill. (phone 217-391-0091; www.nexcelfoods.com), in an exclusive agreement with the product manufacturer, England-based The Low Sodium Sea Salt Co., Ltd. The Solo® brand low-sodium mineral sea salt contains approximately 41% sodium chloride, 41% potassium chloride, and 17% magnesium.
The homogeneous powder reportedly can be used to replace salt on a one-to-one basis in virtually any recipe without compromising taste or functionality. Also, it dissolves much faster than ordinary salt, delivering special benefits to the bakery, meat processing, and snack food industries, noted Leslie Wilson, Managing Director and founder of The Low Sodium Sea Salt Co., Ltd.
Potential applications for this ingredient include white bread and other baked products, cheese and butter, snacks (such as chips, pretzels, crackers, and nuts), sauerkraut and pickles, and processed meat products. No significant differences in taste were detected in moderately salted foods.
--- PAGE BREAK ---
Finding the Right Note—Savory Style
In recent years, we have seen a number of emerging cuisines that make use of chile peppers and other savory flavors. "The chile connoisseurs of today are able to differentiate the subtle nuances of a particular chile much like a wine or coffee connoisseur," said Stephen Hodge, Senior Executive Chef for ConAgra Food Ingredients, Omaha, Neb. (phone 402-595-4000, www.conagrafoodingredients.com). The primary reason for their use, of course, is to add flavor and pungency, reproducing the tastes of a particular region, and, in some cases, even helping to "globalize" more traditional or mainstream dishes, ranging from macaroni and cheese to meatloaf.
However, these savory ingredients can play an increasingly important role in reduced-sodium foods where they can help spice things up. By providing savory flavor, they might help offset some of the taste or flavor enhancement that was lost when salt levels were reduced. Furthermore, as cuisines from around the world become more popular and mainstream, they can provide especially attractive vehicles for a variety of savory solutions—traditional or alternative.
ConAgra Food Ingredients offers a number of savory solutions. For example, Gilroy Foods Controlled Moisture Vegetables, are produced by a process which reduces the amount of water in the vegetables, delivering a finished product with intense flavor, color, and concentrated nutritional properties. The line includes such products as jalapeno peppers, green chiles, and bell peppers. The company has also been highlighting its vegetable and herb blends in Asian, Latin, and Mediterranean profiles—the latest additions to its line of GardenFrost Purees which include roasted versions of jalapeno, tomato, garlic, onion, and sweet red bell pepper.
"While our GardenFrost products offer authentic flavor profiles in the various vegetable purees and herb blends, our flavor technicians can actually extract the heat and flavor components individually and recombine these 'flavor building blocks' to engineer a pepper profile that meshes perfectly with a product," noted Hodge. "So when a customer recently asked for a profile that had very little, if any, of the heat of the jalapeno, we worked on an application where our flavorist actually came up with a very good green-note jalapeno flavor with no heat at all."
Another savory solution from ConAgra is SpiceTec's Amplify® Salt Flavor Enhancement Technology, a custom-designed approach based on peptide and amino acid technology. According to the company, this approach makes possible the reduction of sodium content up to 50% or more while enhancing overall flavor. Available in paste, powder, and culinary base forms, the customized system is effective over a wide pH range and is heat stable in most processing conditions. Potential applications include soups and broths, frozen entrees, meat and poultry products, sauces and gravies, snack foods, frozen pizza, and other products.
Savory flavor trends in the future will become more systematically regional, based on people travels and experiences, predicted Hodge. "On a recent culinary trip to Vietnam, my regional experiences uncovered the spicy nuances of Saigon to the more neutral blending of flavors from Hanoi," he observed. "It is these types of ethnic splintering experiences that are shaping the flavor trends of the future."
--- PAGE BREAK ---
Adding Umami to Low-Sodium Savory Foods
A flavor modification system, introduced by Wild Flavors, Inc., Erlanger, Ky. (phone 859-342-3600, www.wildflavors.com), is said to add the sensation of umami in soups, sauces, salad dressings, meats, marinades, snacks, and other products. SavorCrave™ is an easy-to-use, heat-stable system that imparts no characterizing flavor to the finished product, contains no glutamic acid, and can be easily blended with other dry ingredients.
Savory foods, especially those reduced in sodium, fat, or calorie content, can benefit by its flavor enhancement properties. The system can be labeled a natural flavor in most countries, and is available in kosher and halal versions.
Previously, the company introduced SaltTrim™, a customized system that simultaneously blocks the negative tastes of potassium chloride while keeping the true taste and mouthfeel of salt. When used in conjunction with potassium chloride, it enables a reduction of salt by up to 50% without affecting taste.
Savory Solution from Sunflowers
A sunflower-based hydrolyzed vegetable protein ingredient, Exter CL, provides a bouillon flavor to soups, sauces, meats, snacks, and other products. Recently launched by Exter Aroma, Zaandam, Netherlands (phone +31 75 6700041, www.exteraroma.com), it offers food processors a new vegan flavoring option to their portfolio of savory solutions.
HVPs are formed when proteins are split into smaller pieces, releasing intense or very specific flavors. The allergen-free ingredient, available in powder and paste forms, is said to deliver meaty, savory notes. Specific flavors, such as chicken, beef, pork, and vegetables in boiled, roasted and grilled variations, can be developed on request.
Customizing Flavor Solutions
A number of flavor companies are trying to develop new flavors that can help reduced-sodium products maintain their original salty taste. Let's look at a few examples:
• Flavor systems for sodium reduction are being customized and tested for their effectiveness by International Flavors & Fragrances, Inc., New York, N.Y. (phone 212-765-5500, www.iff.com). The approach that is being adopted by the company includes natural and natural and artificial flavors, the utilization of proprietary flavor technology, and ingredients that enhance salty impression, suppress negative aspects of potassium salts, and rebalance the overall flavor system.
--- PAGE BREAK ---
"In many instances, manufacturers can reduce sodium levels by 10-15% and achieve parity or preference to higher sodium content foods without the need to employ sodium-reduction technology," said Guy Hartman, IFF's Global Director of Flavor Applications. "However, IFF has a portfolio of custom flavor systems that can allow an additional 15-25% reduction while still maintaining consumer preference."
Hartman described some of the sensory testing that was recently done. In a comparison between two chicken broths, consumer salt perception of a broth with 455 mg of sodium and a sodium reduction flavor system achieved equal preference with one containing 711 mg of sodium—a reduction in sodium of more than 35%.
"There is no magic bullet in the industry that will effectively reduce the sodium in each and every product," emphasized Hartman. Consequently, flavor systems need to be application-specific, forming a starting point for further customized work. Optimizing salt reduction requires a close relation between the flavor company and its customer.
• A new flavor from Copenhagen-based Danisco A/S (phone +45 3266 2000, www.danisco.com), can provide food manufacturers with a way to reduce salt in processed foods by 25-35% without compromising the taste. The product, SalboosT, is said to compensate for the flavor lost through salt reduction by activating the salt receptors on the tongue.
According to the company, "the overall flavor impression is longer lasting, more rounded, and generally more savory." Containing 4% salt, the ingredient has a significant flavor impact at a low usage level, performing particularly well in cooking sauces, pie fillings, soups, biscuits, puff pastry, bread, and salted fat spreads.
• A customized natural flavor system, TasteEssentials™ for Salt Reduction, modifies off-notes exhibited by potassium chloride while enhancing overall saltiness. The system from Givaudan Flavors, Cincinnati, Ohio (phone 513-948-8000, www.givaudan.com), allows the company to offer flavors with non-characterizing taste profiles, such as Natural Savoury Base Flavor, as well as flavors with specific profiles and characteristics. The salt-reduction flavors are said to be effective in a variety of applications, including soups, bouillons, sauces, dressings, frozen-ready meals, and salty snacks.
--- PAGE BREAK ---
• XALT, a natural flavor system from Blue Pacific Flavors, City of Industry, Calif. (phone 800-248-7499, www.bluepacificflavors.com), can help reduce sodium in various snack foods, prepared foods, and baked goods. The natural flavor enhancer allows formulators to reduce salt up to 40% in the product.
• A flavor system developed by Mastertaste, Teterboro, N.J. (phone 201-373-1111, www.mastertaste.com), is said to enhance the perception of salinity, while providing an overall savory profile in salt-reduced applications. The system, which mimics the salinity effect without the use of potassium or magnesium, imparts a clean, savory impression without any residual aftertaste.
• Flavors have been created by Bell Flavors and Fragrances, Northbrook, Ill. (phone 847-291-8300, www.bellff.com), to enhance the taste of food formulations with up to 40% less salt. The flavors, which contain a very small amount of sodium, may be customized, depending on the application, for optimal results. Available in liquid and spray-dried forms, they are heat- and freeze-thaw stable, and provide a longer-lasting flavor.
• A salt reduction technology from Innova, a Griffith Laboratories Co., Oak Brook, Ill. (phone 630-928-4800), stimulates taste receptors on the tongue to create the perception of salt without the need for high sodium addition. Effective in applications that require 25-50% salt reduction, SaltSavor delivers a robust flavor sensation. It may be used in gravies, sauces, marinades, soups, glazes, processed meat products, snacks, breadings, and other prepared foods.
Developing New Yeast Extract Solutions
A new North American technical center provides customers with savory ingredient solutions, especially those involving yeast extracts and ingredients derived from them. The facility, based in Belvidere, N.J., was recently opened by DSM Food Specialties Savoury Ingredients, Parsippany, N.J. (phone 973-257-8290, www.dsm-foodspecialties.com), to support the company's savory ingredients business unit. Its creation within DSM's Nutritional Products technical center will bring together the strengths of both businesses.
From this "Center of Excellence," several proprietary projects with leading universities will be initiated, providing new information and opportunities for the application of yeast extracts. The facility is available for customer visits, Savory 101 and Umami training sessions, presentations on trend-drive applications, and joint application projects.
DSM recently introduced Maxarome® Select, a neutral-tasting yeast extract which can function as a flavor enhancer, allowing 40-60% salt reductions in soups, sauces, chips, and other products without compromising taste or adding off-notes. See the November 2006 Ingredients section for a discussion of its benefits. It may also be used as an alternative to monosodium glutamate.
--- PAGE BREAK ---
A line of yeast extracts which can replace salt in bakery products has been developed by Savoury Systems International, Inc., Branchburg, N.J. (phone 908-534-6621, www.savourysystems.com). Replacer #886—a blend of potassium chloride, sugar, yeast extract, and flavors which mask the bitterness of the potassium chloride—may be used to replace 20-40% of the salt in white breads, specialty breads, and pizza crust doughs while enhancing the aroma and flavor of the bakery product. The blend can be used for soft, hard, or whole grains, and will not work against the active yeast of a dough system. Also in the line is Replacer #1079, which contains 22% flavor-enhancing nucleotides and can be used at low dosages to provide a flavor enhancement boost.
From Synergy Flavors, Inc., Wauconda, Ill. (phone 847-487-1011, www.synergytaste.com), is a line of savory flavor enhancers called Saporesse. The line of lactic yeast extracts is said to be useful in a broad range of applications including condiments, dressings, bakery goods, soups, sauces, snacks, and seasonings. The yeast extracts have been shown to achieve 30% salt reduction in snacks and 50% salt reduction in sauces without having an adverse taste impact. Two salt-replacing versions are available, DSR3001 (Dairy Salt Reducer) and SSR3000 (Savory Salt Reducer). The extracts, which are retort- and pH-stable, are produced by a proprietary process where the yeast is grown on lactose, but contains no lactose.
Savorizing with Soy
Soy sauce can provide savory solutions in formulating products. Here are a few examples of how it can create new opportunities:
A new wheat-free natural flavor enhancer from Nikken Foods Co., St. Louis, Mo. (phone 636-532-1019, www.nikkenfoods.com), is a blend of naturally fermented soy sauce, salt, and yeast extract spray-dried on a maltodextrin carrier. Natural Flavor Enhancer (7203), a replacement for hydrolyzed vegetable protein and monosodium glutamate, can be used in gluten-free processed foods. It is said to be effective in soups, gravies, and sauces.
A wheat-based snack concept, Asian Wonton Straws, is baked and seasoned with a delicate balance of soy sauce, ginger, and garlic. The prototype, developed by Kerry Ingredients, Beloit, Wis. (phone 800-334-4788, www.kerryamericas.com), has a distinctive taste and crunch, and is paired with dipping sauces, such as Wasabi Ginger, Tangerine, and Vietnamese Chili Basil.
A healthy snack prototype, the IQ Savory Smart Bar from Kikkoman International, Inc., San Francisco, Calif. (phone 415-956-7750, www.kikkoman-usa.com), demonstrates how soy sauce can put a salty twist on a traditionally sweet product category. Made with whole grains and vegetables, the bar is flavored with Kikkoman Dehydrated Soy Sauce and Kikkoman Natural Flavor Enhancer, giving it a meaty flavor.
--- PAGE BREAK ---
Whey to Reduce Salt
Dairy-based ingredients are providing food manufacturers with another "whey" to reduce salt in food formulations. (See the 2007 February Ingredients section for a look at how dairy derivatives are helping to address a variety of challenges in product development.) These whey products have flavor-enhancing properties which can be especially suitable in reduced-sodium applications.
For example, Grande Gusto from Grande Custom Ingredients Group, Lomira, Wis. (phone 920-269-7188, www.grandecig.com), is a whey derivative that can add savory flavors to meats, soups, and sauces; improve chocolate, caramel, and buttery flavors in baked goods and confections; extend dairy flavors, especially cheese powders in cream sauces; enhance spices and seasonings in dry blends and coatings; provide a umami sensation in monosodium glutamate-replaced applications; and mask bitter soy and metallic notes in fortified foods. Its usage level depends on the application.
New Zealand-based Fonterra Cooperative Group (phone +61 0 3 8541 1588, www.fonterra.com), unveiled a dairy-derived flavor enhancer, Savoury Powder, which can reduce up to a third of the sodium in food products. A usage level of 0.5% is suitable for a number of applications, including dairy, meat products, snack foods, soups, vegetables, and sauces.
Flavored Oils Deliver Herbs and Spices
Earlier, this article mentioned how herbs and spices can provide an effective savory solution, especially in reduced-sodium products. The flavor of fried herbs and spices can be delivered by a new line of oils called Sunspice from Symrise, Teterboro, N.J. (phone 201-462-2389, www.symrise.com).
The flavored oils enable the full, typical fried flavor of herbs and spices to be easily integrated into a dish, without the need for high heating of the other ingredients. The product is created by frying herbs, spices, and other ingredients in vegetable oil to authentically reproduce their characteristic taste, and is suitable for all oil-soluble applications. The oils are available in a variety of flavors, including fried basil, fried garlic, fried oregano, fried onion, Cajun, and cayenne.
In addition, the company recently introduced a library of new savory flavors and seasoning blends, including Mediterranean, Asian, South American, Indian, Caribbean, and classic American tastes associated with the Deep South.
--- PAGE BREAK ---
Seasoning Delivers Kokumi
A savory seasoning from Ajinomoto Food Ingredients LLC, Chicago, Ill. (phone 773-714-1436, www.ajiusafood.com), provides the sensation of Kokumi, a Japanese concept that combines enhanced flavor impact, balance, and increased mouthfeel. Called Koji-Aji, the product can help reduce salt, increase spice-derived flavor notes, and deliver a long-lasting taste sensation.
The efficient, easy-to-use powder is suitable for a wide variety of savory applications, including meat, poultry, and seafood products; canned and dry soups; processed tomato products; and soy/miso-based sauces. Furthermore, in reduced-fat products, it can mimic the mouthfeel of full-fat versions.
Ajinomoto, a manufacturer of monosodium glutamate and other savory ingredients, recently entered into two agreements with Senomyx to discover and develop new flavor enhancers and savory products. See sidebar on page 62.
Acidulant May Play a Role in Salt Reduction
Acidulants serve a variety of functions in processed foods. As we will see in next month's Ingredients section, they may be used as flavoring agents, preservatives in microbial control, chelating agents, buffers, and gelling agents. Of particular interest here, however, is their possible role in the reduction of salt in foods, especially retort products.
According to Jones-Hamilton Co., Walbridge, Ohio (phone 419-666-5277, www.jones-hamilton.com), the addition of sodium acid sulfate product (pHase) in retort applications caused an increase in saltiness. As a result, the salt content could be lowered and a significant reduction in sodium achieved.
Sodium acid sulfate can provide a reduction in pH that is necessary for preservation and stability. For example, by acidifying an Alfredo sauce with pHase, the sauce could be made shelf stable with a milder heat treatment. (See the July 2006 Ingredients section for the results of a 12-month real-time shelf-life study of the acidified Alfredo sauce product.)
Carl J. Knueven, the company's Corporate Manager for Product Development, noted that the addition of the acidulant caused an unexpected increase in saltiness, possibly leading to new opportunities for food manufacturers interested in alternative ways to reduce sodium in their products. The company has since shared the results of these studies with food companies.
--- PAGE BREAK ---
A Savory Future
In this article, we have seen some of the potential ways that formulators may be able to address different challenges, as well as some of the new directions that savory developments seem to be taking in the areas of culinary, low-sodium products, and novel flavor combinations.
And, of course, the possibilities are limitless, as the future may prove to be a savory one. Recently, Kerry Ingredients conducted a survey to obtain consumer insights for the development of optimal healthy savory snack concepts. According to the findings, salty-flavored savory snacks generated the most interest from respondents, especially females; consumers prefer crispy or crunchy textures; and savory concepts with less fat and calories seem to be of paramount importance. Kerry also developed a prototype, Queso Potato Sticks, to demonstrate the benefits of a healthy savory snack.
At the 2007 Research Chefs Association Annual Conference & Tradeshow, D.D. Williamson, Louisville, Ky. (phone 502-895-2438, www.ddwilliamson.com), highlighted Savory Tidbits, made with the company's Caramelized Onion for color and flavor. The snack features compote made with crumbled blue cheese, figs, raisins, apricot nectar, and honey. A mixture of caramelized onion and balsamic vinegar is added to the compote. The compote is then spooned into precooked phyllo dough cups, sprinkled with powdered sugar, and topped with a slivered almond.
Other products such as savory snack bars, crispy snacks made with sea salt and combinations of other flavors, savory chocolate sauces, and a cheesecake snack with a smoked flavor may just be a few examples of prototypes that may or already have appeared in the marketplace.
Next month's Ingredients section will look at the role that acidulants play in food formulating, focusing, in particular, on their sour characteristics.
---
Stylish Salt
Just your ordinary grain of salt? Not likely.
An exotic collection of specialty gourmet salts representing a wide range of textures, flavors, colors, and origins are available from Artisan Salt Co., a division of SaltWorks, Inc., Redmond, Wash. (phone 425-885-7258, www.artisansalt.com). The company supplies gourmet salts to restaurants, consumers, and the food industry.
The customer can select from more than 30 varieties of salt. Here are a few examples:
--- PAGE BREAK ---
Peruvian Pink, harvested in terraced salt flats in the foothills of Peru, is known for its rosy color, high moisture content, and uneven texture crystals. It is especially suitable for fish, meat, and poultry dishes.
Cyprus Mediterranean Flake Salt has a pyramid-shaped crystal. Its texture and mild taste make it a versatile salt for use in cooking, baking, and garnishing.
Kala Namak or "Indian Black Salt" is actually pinkish gray with a powdery texture, and has a smell similar to egg yolks. Used extensively in Indian cuisine, this salt has become popular with vegan chefs for adding natural egg flavor to their dishes.
Alaea Hawaiian Sea contains purified Alaea clay which contains minerals and has a mild taste. The coarse salt can be mixed with herbs and used as a roasting salt to seal in the moisture of meats.
Salish Smoked Salt is an organic Pacific sea salt that is cool smoked over red alderwood. The salt gives foods such as salmon, red meat, pasta dishes, and baked potatoes a smoked flavor regardless of whether they are barbecued.
Fleur De Sel de Guerande, reportedly "the caviar of salts," is accepted by many chefs as the best finishing salt. Young crystals are skimmed from the surface of salt ponds in France to create this mild salt with a crisp finish.
According to Mark Zoske, founder of the company, gourmet salt is the hottest category in the gourmet food industry. "These salts are becoming an integral part of contemporary cooking," he said. "People are discovering recipes on TV, in magazines, and on the Internet that call for gourmet salts, and it's becoming more common for stores to carry six or more varieties of gourmet salt."
---
A Savory
Y
ear for Senomyx
During 2006, Senomyx, San Diego, Calif., began work on the identification of enhancers of the Delta form of the sodium ion channel, ENaC, which is believed to play an important role in mediating salt taste in humans.
The company, which focuses on using proprietary taste receptor-based assays, screening technologies, and optimization chemistry to discover and develop novel flavors, flavor enhancers, and taste modulators for the packaged food and beverage industry, reportedly identified compounds that enhance the in-vitro activity of Delta ENaC, although these did not provide a taste effect.
Work is continuing to be done to identify additional enhancers of Delta ENaC to obtain compounds that will provide a taste effect. A complementary effort has been initiated to characterize alternative ion channels and receptors that may play a role in salt taste perception. From this pioneering scientific work, researchers at the company are generating potential targets for enhancement.
Senomyx entered into two new collaborative agreements with Ajinomoto in March and October of 2006. During a three-year-period, the two companies will work on the discovery and development of novel savory flavor ingredients in soups, sauces, culinary aids, noodles, and bouillon products. In addition, Senomyx has extended its collaborative agreement with Campbell Soup Co., and amended its agreement with Nestlé S.A. to include the development and commercialization of flavors and flavor enhancers in pet foods. The previous agreement covered the categories of dehydrated and culinary foods, frozen foods, and wet soup products.
One of the company's collaborators is preparing for initial commercialization of products containing a Senomyx savory flavor enhancer. A number of different products have been targeted for market launch in selected countries over the course of 2007. A second collaborator is conducting initial taste tests and product development work in preparation for potential future launches of products containing Senomyx's savory ingredients. Concurrently, Senomyx is working to obtain commercialization strategies for subsequent product launches of its savory flavor enhancers in additional countries.
---
by Donald E. Pszczola,
Senior Associate Editor 
[email protected]