Field of change is probably an apt description for the effect that whole grains are having on food formulating these days. Whether in the creation of new products or in the reformulation of existing ones, whole-grain ingredients are finding use in a variety of traditional and nontraditional ways.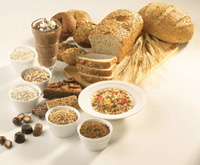 Whole grains or foods made from them contain all the essential parts and naturally occurring nutrients of the entire grain seed, as defined by the Whole Grain Council. Moreover, if the grain has been processed (for example, cracked, crushed, rolled, extruded, and cooked), the food product should deliver approximately the same balance of nutrients that is found in the original grain seed.
The following, when consumed in a form including the bran, germ, and endosperm, are some examples of generally accepted whole-grain foods and flours: amaranth, barley, buckwheat, corn (including whole cornmeal and popcorn), millet, oats (including oatmeal), quinoa, rice (both brown and colored), rye, sorghum, triticale, wheat (in several varieties and forms), and wild rice.
New product launches making a "whole grain" claim have grown sharply (see sidebar on page 64), covering a variety of categories including pasta, cereals, tortillas, breads, cookies, waffles, snacks, and entrees. One might say that the clearer the focus, the "grainier" the product becomes in the marketplace.
So why this changing landscape? Well, according to recommendations from the 2005 Dietary Guidelines for Americans, whole grains should constitute half of the grains consumed by adults each day, equaling three to five servings. Comprehensive documentation has shown that whole grains in the diet can decrease the risk of coronary artery and heart diseases by more than 25%, which led to the Food and Drug Administration's approval of a "heart-healthy" claim for foods containing at least 51% whole-grain ingredients.
However, the average American eats less than one daily serving of whole grains, and more than 30% of Americans never eat whole grains at all. Furthermore, while whole grains are nutritious, their use presents the food developer with certain formulation challenges involving taste, texture, and color. And as we have learned many times in the past, consumers do not want to compromise on those qualities. Or to put it another way, consumers want to be able to have their whole-grain cake and eat it, too.
--- PAGE BREAK ---
Consequently, when developing foods and beverages that can help increase the consumption of whole grains, food developers are exploring a number of innovative ingredient and technology options. For example, flours are being developed that combine the nutritional benefits of whole grains with the texture, appearance, and flavor of refined flours. When you think of whole grains, varieties such as wheat, oats, barley, and even brown rice probably come to mind first, but whole-grain flours derived from special varieties of corn are being developed as well. Also, certain grains such as bulgur, amaranth, and quinoa are being rediscovered for their whole-grain benefits. And let's not forget that technologies or processes are being used to mix different whole grains to optimize their nutrition, functionality, and sensory properties.
Whole grains are being promoted as alternatives to other grains, but some companies are going one step further: The whole-grain ingredients they are developing may be used as alternatives to non-grain products such as cocoa. Companies are also developing non-traditional prototype applications for whole grains. Yogurt is one example. A meat rub might be another. Whole grains can also take advantage of popular foods that have been tweaked some, such as flavored tortillas or trail mixes made with different flavored cereals. One area, in particular, where whole grains may be seeing a promising future is breakfast foods which may be having a bit of a resurgence. If so, imagine products such as waffles, ready-to-eat cereals, pancakes, breads, and convenience bars—all reformulated with whole grains.
The incorporation of whole grains is one way to reformulate a food product to make it better for you. However, other approaches, such as the removal of trans fats, the addition of fiber, the reduction of calories, enrichment by vitamins and minerals, or switching to organic can all work successfully with the emerging whole-grain message. From a marketing perspective, these different combinations can add value to that food or beverage product and even help distinguish it in the marketplace.
Is it a whole-grain world yet? Not sure about that, but waves are certainly being made in that amber field. This article will look at some of the novel approaches that food formulators are taking when developing whole-grain food and beverage products.
Creating New-Fashioned Whole Grains
In 2004, ConAgra Food Ingredients, a business segment of ConAgra Foods, Omaha, Neb. (phone 800-851-9618, www.conagrafoodingredients.com), started re-fashioning whole grains when it launched Ultragrain®, a whole-wheat flour that combined the nutritional benefits of whole grains with the functionality, mild flavor, color, and texture of refined white flour. The ConAgra Mills ingredient was made by a special milling technology applied to hard spring wheat and could be used in breads, pasta, pizza dough, and tortillas. Since then, a second variety, UltraGrain Soft, was introduced which has application in such products as cakes, pastries, and cookies.
--- PAGE BREAK ---
According to the company, mixing Ultragrain with other flours is proving to be an especially effective strategy for food manufacturers. Sara Lee's Soft & Smooth Made with Whole Grains White Bread, ConAgra Food's The Max school lunch pizza, and Pepperidge Farm Goldfish Crackers are just a few examples of products made with flour blends that contain Ultragrain.
In addition, ConAgra Foods recently made its flour available to consumers, when it introduced Healthy Choice's All Purpose White Flour with Whole Grains. This product is made with 30% Ultragrain flour blended with an enriched refined white flour. With the ingredient in the mix, the flour delivers higher levels of fiber, minerals, B-vitamins, phytonutrients, and antioxidants, while performing like refined flour. It can be readily substituted in recipes that call for all-purpose or bread flour.
A variety of other whole-grain ingredient solutions from the company have been refashioned to meet today's needs. With barley eligible for a qualified heart health claim by FDA, innovations such as Sustagrain® Barley are being developed. This variety of waxy barley consists of more than 30% total dietary fiber. Nearly half of this fiber is cholesterol-lowering beta glucan, giving this ingredient three times the total dietary fiber and soluble fiber of conventional whole oats. It also has less than half the starch of other cereals. Available in flour, kernel, flaked, steel-cut, and rolled forms, the ingredient boosts the fiber but not the bulk in breads and breakfast cereals, soups, energy bars, rice side dishes, and pastas.
And you've heard of good old-fashioned oats. Well, how about these new-fashioned ones? By enrobing traditional oat flakes with honey or other coatings, the company has created a versatile whole grain that's suitable for granola bars, ready-to-eat cereals, and yogurt inclusions. Coated oats can also be fortified with a blend of omega-3, vitamin E, or other nutraceuticals.
Lending an Ear
Under the theme, "How Texture Changes Everything," National Starch Food Innovation, Bridgewater, N.J. (phone 800-797-4992, www.foodinnovation.com), showcased a number of functional and nutritional ingredient solutions at the 2007 IFT Food Expo. Among these developments was its new Hi-maize® whole-grain flour derived from a specialty hybrid high-amylose corn.
A prototype application, Trail Mix Made with Dulce De Leche Frosted Whole-Grain Cereal, featured the whole-grain ingredient. The flour was incorporated into the cereal, and Nutriose® soluble fiber was used in the cereal frosting. The prototype reportedly demonstrates how you can deliver more whole grains, fiber, and antioxidants and less sugar—all without compromising crunch and taste.
--- PAGE BREAK ---
According to a brochure from the company, the whole-grain corn flour can add crunch and longer bowl life to cereals, enhance the crust texture of hard rolls and artisan breads, and impart a light texture to whole-grain cookies. It is easy to formulate into most low-moisture foods without adversely affecting mixing and cooking. Furthermore, the ingredient is said to deliver nearly triple the dietary fiber content of whole-grain wheat flour and whole-grain oats, while containing high levels of antioxidants, vitamin A, and folic acid.
For more information about the benefits of the ingredient, a free copy of the brochure, "New Hi-maize Whole Grain Corn Flour: It's Whole Grain, High Fiber, and Lots, Lots More," is available. Included in the publication is a sample packet of the ingredient, as well as charts comparing the nutrient content of the flour to popular grains, vegetables, and fruits. Details about its functionality properties are also covered, along with the role that whole grains can play in food formulation.
Reinventing Whole-Grain Applications
A whole-grain ingredient solution from ADM, Decatur, Ill. (phone 800-637-5843, www.admworld.com), provides the appeal of white flour while delivering the nutrients of traditional whole wheat. Made from hard white wheat, Kansas Diamond™ extra-fine white whole-wheat flour may be used in a variety of products, such as pizza crusts, bread, bagels, pasta, cookies, and tortillas, without compromising taste, texture, or other sensory characteristics.
At the 2007 IFT Food Expo, the company demonstrated prototypes that were reformulated with this flour as a possible way to encourage increased consumption of whole grains. For example, a Chicago Hot Dog Panini was made with the flour. Also featured was a white whole-wheat crepe with strawberries and fig sauce. Prototypes also demonstrated how products can be made better for you by combining whole grains with other ingredients such as plant sterols, meat alternatives, and trans-fat-free oils.
ADM also offers a variety of other whole-grain ingredients, including traditional white and red whole-wheat flours, along with whole-grain mixes. The actual ingredients used will depend upon the intended finished product. Bakers should keep in mind that the type of whole-grain ingredients used and their levels of incorporation will affect tastes and textures of finished products.
--- PAGE BREAK ---
A Pure-Grain "Yogurt"
One possible way to increase whole-grain consumption may to incorporate whole-grain ingredients into applications that have not traditionally been grain based. Creative Research Management, Stockton, Calif. (phone 209-938-0900. www.crmcorp.net), found an innovative way of doing this.
The company developed a procedure that separates, processes, and recombines all the constituents of whole grains such as wheat, oats, and rice to produce a line of functional whole-grain ingredients. An alternative to dairy and soy yogurts, Ricera® Organic Whole Grain Rice Yogurt, was created to demonstrate the functional and nutritional properties of a reconstructed ingredient derived from organic whole brown rice.
The cultured rice product—a non-dairy prototype containing 24 g of cooked whole brown rice per 6-oz cup—was made possible by the development of RiceLife, a specially processed ingredient that delivers all the nutrients of whole grains without the typical texture and taste of whole grains. A variation of this ingredient—organic RiceLife Plus, which has been enhanced with additional organic brown rice components to increase the protein content to twice the level of the original ingredient—was used in the formulation. Like the original, it was produced by a process that physically deconstructs the whole grain and reconstructs all of the natural components. Its smooth milk-like texture and desirable taste makes it suitable not only for use in yogurt, but in beverages and other foods that were previously not possible to make using whole grains.
Six culture organisms give the application the typical yogurt "tang" that complements the natural flavors of fruit and vanilla bases in which it is blended to make the smooth-textured finished product. It is available in four varieties—Blueberry, Peach, Strawberry, and Vanilla.
A Whole-Grain Wrap Up
As tortilla consumption in the U.S. continues to grow, Cargill, Wayzata, Minn. (phone 952-742-7575, www.cargill.com), offers a number of tortilla prototypes that address functionality, flavor, and health needs. In particular, by offering these solutions, the company can make the consumption of whole-grain products more attractive which, in turn, may lead to other application opportunities.
For example, a tortilla prototype can be formulated with flour that delivers the nutritional benefits of whole grains but has a lighter color, softer texture, and milder taste. WheatSelect™, a white spring whole-wheat flour launched by Horizon Milling, a Cargill Foods affiliate, is suitable for use in a broad range of applications, such as breads, buns, bagels, pizza crust, pasta, cookies, breakfast breads, pancakes, waffles, snacks, and cereal bars. Its fine-grind granulation size offers optimized performance in bakery applications.
--- PAGE BREAK ---
The addition of whole grains and fiber to tortillas can also be facilitated by Cargill's line of MaizeWise™ whole-grain corn products, which include corn flour, masa flour, and corn meal. These products can be used as a direct replacement for existing ingredients or blended with other ingredients in tortillas, as well as taco shells, extruded snacks, cereals, breads, and pasta. According to the company, they can help meet health claims for whole-grain foods with moderate fat content, are specially treated for enhanced storage stability, and come in a spectrum of flavors. Also available in this line is corn bran, an insoluble fiber that can boost levels of dietary fiber at low to moderate inclusion rates while providing minimal impact to flavor, texture, color, and processing characteristics.
As flavored tortillas become more popular, perhaps these new flavors may also be incorporated into whole-grain flours as well to make them more enticing. Flavor systems from Cargill that have application in traditional flour tortillas include Jalapeño, Chipotle, Chorizo, Cilantro, and Lard-flavored.
On the subject of lard, many flour tortilla manufacturers that don't use traditional lard are looking for solutions to replace their current fat systems (typically 30–35% trans fat) while maintaining anti-sticking properties when packaged. Cargill also developed a tortilla with zero grams trans fat that did not sacrifice these properties—no matter what size or color of tortilla was desired.
Pasta Combines Fiber Technology with Whole Wheat
FiberGourmet, Inc. is a new subsidiary of Food Industry Technology (FIT), Miami Beach, Fla. (phone 305-672-3233, www.fibergourmet.com), a supplier of gelatin and other ingredients. FIT's recent expansion into retail products was generated by the development of a new technology which allows for high levels of fiber (40–50%) to be incorporated into pasta and baked goods, while maintaining the texture and taste of the original versions.
The low-calorie products made by the technology are not considered whole grain, but a new addition to the line has changed that. FiberGourmet Whole Wheat Pasta is a blend of whole-wheat flour and flour that has been replaced by resistant starch.
A limiting factor when using insoluble dietary fiber is that it can have a negative impact on the sensory properties of the finished product, as well as interfere with the food production process. The patent-pending technology makes possible the development of food products with fiber at levels of more than 12%. According to the manufacturer, the new whole-wheat pasta contains 20 g of fiber and 120 calories in every 2-oz serving. Previous FiberGourmet pasta products contained 18 g of fiber and 130 calories. And the new product has the nutritional composition expected of whole grains.
This pasta may open new possibilities for whole-grain products made with the fiber technology.
--- PAGE BREAK ---
In the Black?
As can be seen, more and more whole-grain flours are being developed that are trying to duplicate as closely as possible the appearance and texture of white refined flours while providing the dietary benefits of whole grains. But here's a development that takes the color of a whole-grain flour in the opposite direction.
By carefully controlling the natural processes of grain sprouting, roasting, and grinding, Briess Malt & Ingredient Co., Chilton, Wis. (phone 920-849-7711, www.briess.com), has created a roasted specialty grain that closely duplicates the color intensity, flavor, and particle size of black cocoa. The product, Organic Briess® Black Cocoa Replacer, can achieve the same intense brown-to-black coloring capability of black cocoa. It may be used as a one-to-one replacement for black cocoa in chocolate sandwich- and wafer-style cookies, breakfast pastries, and other foods. Further-more, as a natural source of color, it can be used in any application requiring a dark black or brown note, including sauces, gravies, sausages, spice blends, or meat rubs.
The innovative ingredient is milled from 100% pure roasted barley. The grain undergoes a natural fermentation process and is then roasted. The process does not use any heavy alkalizing agents but only water, grain, heat, and time. The product, offered in both certified organic and conventional forms, contains little to no fat and is suitable for low-fat or, in some cases, no-fat applications.
Shaping Up Whole-Grain Snacks
Better-for-you snacks are made possible using a new line of Sunlite™ whole-grain pre-formed snack pellets from J.R. Short Milling Co., Kankakee, Ill. (phone 800-544-8734, www.shortmill.com). The microwavable pre-formed snack pellets, which were introduced at the 2007 IFT Food Expo, are flavorful blends of specialty whole-grains such as corn, wheat, rice, and oats.
According to the company, these products do not have to be processed by traditional deep frying, oven baking, or expanded air popping methods, and can be microwaved by consumers. Rich in bran, fiber, minerals, and fiber, they are made with no trans fat added and are less than 100 calories.
The pellets are available in a variety of popular shapes and grain combinations, including ring-shaped, whole-grain, corn-based; ring-shaped, multi-grain; ring-shaped, whole-grain, wheat-based with cinnamon; wave-shaped, multi-grain; and traditional chip-shaped, tapioca-based, with a seafood flavor.
Other popular shapes and grain combinations are also available. For example, a snack pellet in a twist form can be produced containing whole-grain corn and wheat flours. Its neutral flavor profile makes its suitable for both savory and sweet applications. Or a multi-grain snack pellet in a triangle form can contain whole-grain corn, wheat, rice, and oat flours and can be used as a healthy, multi-grain alternative to traditional nachos.
--- PAGE BREAK ---
Process Combines Several Whole Grains in Flour
A natural cooking process used by Caremoli USA, Inc., Ames, Iowa (phone 515-233-1255, www.caremoli-usa.com), changes the taste and viscosity of grains, allowing several whole grains to be mixed together to produce a flour that has the texture and profile of a refined flour. This process can also be used to stabilize organic cereals, legumes, and rice that may have stabilization issues.
The technology, developed in Italy, is said to be the first of its kind in the U.S. The company, a manufacturer of specialized multi-whole-grain flours, recently opened a cooking/stabilization facility at its Iowa-based plant that uses the technology to specially cook, mill, and mix the different grains. The resulting flour may be used in such products as pasta, baked goods, confections, and baby foods.
At the 2007 IFT Food Expo, Caremoli demonstrated several different foods made with its multigrain flours.
Whole Grains of Antiquity?
New whole-grain flours, the use of technology to blend different whole grains, the development of other novel grain-based ingredients, and the use of these ingredients in both traditional and nontraditional applications all help create opportunities for the increased consumption of whole grains. But attention in this area may also help stimulate or resurrect less familiar grains from far-off places and times. In short, new grains of "antiquity" can be rediscovered.
Bulgur wheat, for example, is a staple in countries of the Middle East and North Africa. Traditionally, it has been described as a quick-cooking form of whole wheat that has been parboiled, dried (usually by spreading in the sun, and ground into particles. Bulgur that has not been debranned can provide a whole-grain, high-fiber product. Its light and nutty flavor has made it suitable for use in pilafs, soups, bakery goods, stuffing, ethnic dishes such as tabouli salad and kibbeh, and may be used as a substitute for rice or cous cous.
There are differences in commercial bulgur wheat production in the U.S. Premium bulgur wheat from Sunnyland Mills, Fresno, Calif. (phone 559-233-4983, www.sunnylandmills.com), is made from special varieties of white wheat that impart a pleasing sweet flavor to the end product. It is distinguished by its golden-yellowish to light-brown color, more-even particle size, and softer texture.
According to the company, its bulgur is a quick-cooking form of whole wheat that has been cleaned, parboiled, dried, ground into particles, and sifted into distinct sizes. Its four distinct grind sizes as well as whole kernel provide different textures and cooking properties for a variety of food applications. The result is a nutritious, versatile wheat product with a pleasant, nut-like flavor and an extended shelf life that allows it to be stored for longer periods.
--- PAGE BREAK ---
Recently, Sunnyland Mills announced the North American introduction of Organic Kamut® Bulgur. The product, available in #1 fine and #3 coarse grinds as well as whole kernel, has a rich flavor and light amber color. The company has been producing premium-quality bulgur wheat and other specialty grains for food manufacturers, distributors, exporters, and restaurants since 1935. Its brand is said to be known throughout the U.S. and the world.
Another whole grain that may be making a comeback is amaranth. This whole-grain source is high in dietary fiber, calcium, and iron, and is said to have better balanced protein than other grains. This tiny seed, about 1/32 inch in diameter, was once touted by the Aztecs as a "wonder" food as they believed it gave their runners and warriors super strength. Closer to our times, a line of amaranth ingredients that reportedly can boost nutritional profiles in finished formulations was launched by Nu-World Amaranth, Naperville, Ill. (phone 630-369-6819, www.nuworldamaranth.com).
According to Susan Walters-Flood, President of the company, "FDA dietary guidelines stress the importance of whole grains in our diets. From a nutritional standpoint, amaranth is one of the best available sources of whole grains. A 25% substitution of amaranth in an all-wheat flour formulation will double iron, and boost calcium by 87% and dietary fiber by 6% without any effect on taste or texture." Furthermore, amaranth is gluten free and is available in organic or conventional forms.
Amaranth products available from the company include toasted bran flour (whole seed), flour (whole seed), bread crumbs, starch, oil, pre-gel, and puffed. Ingredients may be used in a variety of products such as baby foods, bakery goods, confections, snacks, herbal teas and other beverages, yogurts and puddings, and dietetic foods. The flavor profile of amaranth ranges from a full-bodied whole-grain taste to a slightly sweet, naturally nutty flavor, depending on the form and application it is used in.
The company grows its own proprietary amaranth plant varieties and works with growers to assure the highest quality possible.
--- PAGE BREAK ---
Processing New Whole-Grain Formulas
In addition to ingredient and technology solutions, processing equipment innovations can offer new opportunities for whole-grain foods as well. Evolum HT 53, a twin screw extruder from Clextral Inc., Tampa, Fla. (phone 813-854-4434, www.clextral.com), provides food processors and milling companies with a flexible mechanism to introduce whole grains into breakfast cereals, pasta products, snack foods, co-extruded products, flat breads, and other extruded products.
The extruder's special technology is designed to help manufacturers achieve improved performance from their extrusion processing lines, offering increased throughput and advanced temperature control. The company offers its expertise when incorporating whole grains into the formulation—existing products can be improved, advanced manufacturing technologies can be implemented, and new product lines can be created.
Clextral also makes available two full-service pilot plants to research, develop, and test new product ideas involving whole-grain formulas.
The Great Whiteout
No, I'm not talking about the Big Blizzard of '67.
Rather, as this article has shown, one strategy that food formulators are using to increase the consumption of whole grains is the development of flours that proximate the appearance of refined versions while providing the nutrition of whole wheat.
Interestingly, these efforts again illustrate how important appearance is in the development of a food product. I have to admit that I'm not quite sure why consumers are biased regarding the darker appearance of whole grains. Or, for that matter, to what degree that is really true. Perhaps they associate a certain taste or texture with the appearance. Or perhaps that's a misconception. In any case, based on the number of developments we've seen in this article, it's fair to say that manufacturers are interested in using whole-grain ingredients that provide the sensory properties of refined products.
This great whiteout is reflected in other strategies as well. As we have seen, blending of grains has become popular—the intent, of course, is to improve the appearance, texture, or taste of the product while getting consumers to eat more whole grains. Or perhaps lower levels of whole grains are being used as a way of building consumer tolerance to them (sounds a bit like you're equating whole grains with a flu shot). And, of course, applications—traditional and non-traditional—are being developed that contain whole-grain ingredients, but, because of processing or the use of other ingredients, don't look like they contain whole-grain ingredients.
--- PAGE BREAK ---
My favorite example, however, may be the black whole-grain flour that is used as a cocoa replacement. Although white and black are generally regarded as extremes, this development actually uses the same principles as the great whiteout approach. A whole-grain ingredient has been developed that imparts nutritional benefits but has changed its appearance to be more agreeable to consumers. And let's face it, what more agreeable appearance is there than chocolate?
Next month's Ingredients section provides post-show coverage of the IFT Annual Meeting & Food ExpoSM. Analysis of new ingredient developments, technology innovations, and prototype applications will be covered.
---
Up-Graining Foods in the Marketplace
According to sources such as the Whole Grains Council and the Mintel Global New Products Database, new product launches making a "whole grain" claim have grown sharply, rising from 154 launches in 2000 to 1,387 in 2006. These products come from a variety of different categories, including pasta, cereals, tortillas, breads, cookies, waffles, snacks, entrees, and many others.
For example, Uncle Ben's introduced several varieties of Ready Whole Grain Medley products, including Vegetable Harvest, Brown & Wild, and Santa Fe. And most recently, Uncle Ben's Infused® Rice Roasted Vegetable Pilaf with Whole Grains has been added. This blend of flavor-infused rice and colorful whole-wheat orzo and wheat berries is made with a proprietary process that locks seasonings into every grain. For on-trend recipe ideas and information on this foodservice rice product, visit www.masterfoodservices.com or call 800-432-2331.
The EarthGrains brand whole-grain bread line was recently relaunched by Sara Lee, Downer's Grove, Ill. Varieties include Natural Stone Ground Whole Wheat, Natural Wheat Berry with Honey, and Natural 7-Grain. The 100% whole-grain breads are said to provide sandwiches with a hearty texture and wholesome taste.
Whole-wheat gourmet tortillas in an organic version are a new addition to Tumaro's Gourmet Tortillas, a flavored tortilla brand. The USDA-certified organic tortillas from Tumaro's, Los Angeles, Calif. (phone 800-777- 6317, www.tumaros.com), contain organic whole flour, water, organic soybean, canola or safflower oil, sea salt, baking powder, lecithin, and organic rice bran extract. As discussed elsewhere in this article, ingredient companies are also making available tortilla prototypes made with their whole-grain ingredient products.
Snack foods may be another category where the time is especially right for whole-grain ingredients. For example, from Snyder's of Hanover comes a line of multi-grain snacks, including sunflower chips, tortilla chips, pretzels, and cheese snacks. The incorporation of whole-grains into these snacks provides an additional health dimension to an application where trans fats have already been removed.
School lunch programs are also taking advantage of the use of whole-grain products. For example, Whole Grain Chicken Nuggets, developed by Tyson Foodservice for such programs, is made with a whole-wheat flour that combines the nutritional benefits of whole grains with a taste and texture similar to traditional refined flours. The flour, Ultragrain from ConAgra Food Ingredients, is discussed further on page 63.
by Donald E. Pszczola,
Senior Associate Editor
[email protected]