Exhibit A, microwavable bacon. This product, ladies and gentlemen of the jury, is made with a smoke fl avor and a natural apple fl avor. Not applewood, mind you, but a genuine apple fl avor that can give your bacon a fruity, if not almost sour taste. This prototype, created by Mastertaste, Inc., Teterboro, N.J. (phone 201-373-1111, www.mastertaste.com), will be discussed in more detail later in these proceedings.
Exhibit B, a meatball. An ordinary meatball? No, far from it. This prototype, Glazed BBQ Meatballs from French's Flavor Ingredients, Springfi eld, Mo. (phone 417-837-1813, www.frenchflavoringingredients.com), features Cattlemen's Classic barbecue sauce, Worcestershire sauce, and honey, for an exciting fl avor experience that combines savory with some sweetness.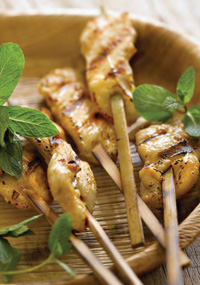 Exhibit C, a beef stick. It may look like an ordinary beef stick but bite into it and you taste pumpkin with spicy, aromatic notes. The prototype, appropriately named Autumn Harvest, was developed by Chr. Hansen, Inc., Mahwah, N.J. (phone 888-343-4680, www.chr-hansen.com), along with another distinctive sausage formulation, Chipotle Cheese.
And I have many other pieces of evidence I would like to enter into the record. In fact, my next exhibits all relate to international cuisines and the fl avor trends they are bringing to the "table," if I may be so bold to use that word. But judge for yourself.
Exhibit D, Moroccan Beef Brisket, slow-cooked with hints of apricots, red wine, spices, and vegetables. This dish, highlighted by Innova, a Griffi th Laboratories Co., Oak Brook, Ill. (phone 800-246-9223, www.innovaflavors.com), uses Natural Braised Beef Flavor, Natural Beef Stock Flavor, and Natural Burgundy Wine Flavor.
Exhibit E, also representing Mediterranean cuisine, is Pork Paninos from Griffi th Laboratories, Alsip, Ill. (phone 800-346-4743, www.griffithlaboratories.com). These mini pork-loin sandwiches are marinated in a zesty Italian Vesuvio broth.
Exhibit F, a version of Al Pastor Pork, a product marinated with a blend of spices and herbs and slowly cooked. This prototype, demonstrated by Vegetable Juices Inc., Bedford Park, Ill. (phone 708-924-9500, www.vegetablejuices.com), gets its kick from the company's Guajillo Pepper Puree, Ancho Pepper Puree, Garlic Juice, and Onion Juice. Also served up by the company was a version of barbacoa, the original Mexican barbecue utilizing moles and salsas. Barbacoa Beef featured Guajillo Pepper Puree and Ancho Pepper Puree.
Yes, this case speaks for itself. These items—and many others like them—were all highlighted at such recent events as Worldwide Food Expo and the IFT Chicago Section Suppliers Night and present a very clear picture of the directions that meat products are taking today.
--- PAGE BREAK ---
Now, you might expect to see bolder, more innovative fl avors in such areas as confections (see last month's Ingredients section, for example) or even snack foods. But the meat industry tends to be perceived as more conservative—with fl avors, food preparation, presentation, and other aspects frequently taking a more traditional approach. And yet the evidence presented here suggests that things may be changing. The meat industry is becoming more adventurous—more "hip"—to a variety of trends in today's marketplace, and this may possibly lead to a new generation of meat products. Different cuts for different folks can take on a whole new meaning in an age where there are so many different fl avors, textures, and colors to choose from.
According to our fi rst witness, Stefan Strehler, Senior Development Chef at Givaudan Flavors Corp., Cincinnati, Ohio (phone 513-948-8000, www.givaudan.com), there are several reasons for this transition. "As the consumer gets more adventurous and demands greater ethnic variety, the meat industry is responding by using more up-to-date marinades, rubs, and glazes," said Strehler. "And with ethnic infl uences, meats are also being prepared differently or are presented in a different format." He noted that Americans' love for grilling and barbecuing provides additional opportunities to introduce new and exciting fl avors to the marketplace.
Today, spice companies are making available a variety of seasonings that can help upscale a meat product, helping to differentiate it in the marketplace. In the 2007 October Ingredients section, we saw how Elite Spice, Inc., Jessup, Md. (phone 800-232-3531, www.elitespice.com), offered Mandarin Black Tea Rub for seasoning chicken. The rub, especially suitable for stir fry or kabob applications, consists of sea salt, spices, sugar, orange peel, dehydrated vegetables, black tea, sesame seed, paprika, and orange oil. Other products from this company portfolio include Zesty BBQ Meatloaf, Cuban Garlic Peppered Beef, Beef Chimichurri, Rattlesnake Beef BBQ, Balsamic Herb Steak Rub, Orange Jakarta Marinated Pork, Honey BBQ Pork Chops, Manic Mustard Tenderloin, Chipotle Carnitas, Tuscan Roasted Chicken, Thai Chicken with Cilantro Dipping Sauce, and Grilled Chicken Pot Pie.
At the recent David Michael 2007 Innovation Roadshow, Chef Julie Snarski, Manager of Culinary & Foodservice Development for David Michael & Co., Philadelphia, Pa. (phone 215-632-3100, www.dmflavors.com), created a familiar condiment in a more fl exible or convenient format. Salsa slices, similar to individually wrapped cheese slices, can easily add fl avor and texture to meat wraps and sandwiches without dripping or melting when microwaved. Since we're in the holiday season, imagine a turkey sandwich with salsa in a gel-like, sliceable form.
--- PAGE BREAK ---
If you recall, it was also Snarski who demonstrated at the 2007 IFT Food Expo how vanilla, as a crossover fl avor, can be used in savory applications to enhance natural sweetness, soften an acidic bite, and add a signature fl avor profi le. She combined vanilla extract with soy sauce, bourbon, brown sugar and chipotle fl avors to create Pork Meatballs in Bourbon Bar-B-Que Sauce.
The increasing use of innovative spices and fl avors is one approach that the meat industry is taking to meet consumer's needs in the marketplace. But there are several other ingredient developments that this sector can take advantage of, especially in reformulating products. This month's article will look at some of these developments and the approaches that meat formulators are adopting.
The Smokin' Word
Liquid smoke—natural aqueous condensates of wood smoke aged and fi ltered to removes tars and particulate matter—can provide a smoke fl avor, color, texture, and antimicrobial and antioxidant protection to meats and other foods. Since the 1970s when enhanced technology allowed it to be effi ciently mass produced, the smoke-based ingredient has been increasingly used as an alternative to the traditional smoking process and is available in aqueous, oil-based, and powder forms.
From a product development perspective, smoke products continue to evolve and expand their applications. New developments are helping to recreate or upscale these ingredients, allowing them to fi nd emerging uses that previously would have been unimagined or regarded as unmarketable. Several of these innovations were presented at the Worldwide Food Expo.
For example, bacon concepts created by Mastertaste, Inc., Teterboro, N.J. (phone 201-373-1111, www.mastertaste.com), combined liquid smoke technology with fl avors such as red apple and maple. These concepts demonstrated the company's new line of Artisan™ smoke products.
At the show, I had the opportunity to interview Mark van der Bleek, Mastertaste's Director of Research and Development, and sample bacon strips made with these different smoke fl avors. Zesti 164 Deluxe, designed to be added to the brine solution and injected, produces a mellow refi ned smoke fl avor that is suitable for use in pre-fried bacon. This brine-soluble product can be blended with a natural apple fl avor to create Red Delicious Apple Smoke 1098, which provided the bacon with a very distinctive taste profi le not usually associated with savory applications such as bacon. (I actually found the fl avor to be pleasantly sour, which added a new taste dimension to the bacon-eating experience.) Another natural fl avor, maple, was used to create Maple Smoke 1099, which provided the bacon with a more subtle, sweeter fl avor reminiscent of maple.
--- PAGE BREAK ---
Van der Bleek also demonstrated how topically applied smoke products can impart distinctive color to the bacon products. For example, Zesti Deli Black Smoke can be used to help blacken microwavable bacon, burgers, and other applications. It imparts a dark black color while providing a refi ned smoke fl avor. A second product, Zesti Deli Red Smoke, imparts a dark red smoke color to such applications as ham or bacon, provides a distinctive fl avor profi le, and is a suitable complement to the internal addition of Red Delicious Apple Smoke 1098.
In addition to its Artisan line, the company introduced its Campfi re™ Smoke Flavors. "These liquid smoke products are said to provide a fl avor that is reminiscent of food cooked on an open campfi re," said van der Bleek. Attendees were able to sample wieners made with the new smoke fl avors and compare them with those made with traditional smoke fl avors.
At the show, Red Arrow Products Co. LLC, Manitowoc, Wis. (phone 920-769-1100, www.redarrowusa.com), served up a menu that highlighted a variety of natural smoke fl avor innovations, including bacon prototypes. These included Sweet Applewood Smoked Microwavable Bacon with Natural Chipotle Flavor, Hickory Smoked Microwavable Bacon with Natural Jalapeño Flavor, Maple Smoked Microwavable Bacon with Natural Maple Type Flavor, and a retail bacon with a traditional smoke fl avor profi le.
Also on this menu was Applewood Smoked Bourbon Pork Loin featuring CharSol® Applewood 2502, an aqueous natural smoke fl avor that provides a high color and a sweet, ashy, smoke fl avor. The application was also made with Roastin'® 3124, a fl avor that lends the initial char and caramelized notes associated with the fl avor of a pork chop being broiled over high heat.
Other items on the menu included Grilled Chicken Sandwich with a Mesquite Smoked Honey Mustard Sauce (the chicken is made with Roastin'® 9073 NP, which provides a crackling skin fl avor profi le as if a whole chicken has been roasted brown and the skin is crispy, while the sauce contains an oil-based smoke fl avor that imparts an ashy, meaty impression); and Chef Carved Eye of Round, made with a distinctive hardwood smoked fl avor and Natural Prime Rib Beef Flavor WONF 6151, which imparts the fl avor of a juicy medium cut of prime rib.
Organic Grill Flavor® from Kraft Food Ingredients Corp., Memphis, Tenn. (phone 901-381-6500, www.kraftfoodingredients.com), delivers the charbroiled, savory, and smoky notes associated with cooking over charcoal but in an organic form. An extension to the Flavors of Cooking line, it is available in liquid or spray-dried forms, and can be used when formulating meats, broths, gravies, and other savory dishes. At Worldwide Food Expo, Kraft highlighted a prototype, Chicken Alfredo, made with the fl avor.
--- PAGE BREAK ---
Green Tea and Ham
Because of its potential health benefi ts, green tea has become a popular ingredient in dietary supplements and functional foods. And as the 2007 November Ingredients section noted, this ingredient is increasingly making a crossover from the nutraceutical sector into the mainstream, fi nding use in a diverse range of products, such as yogurt, confections, snack mixes, smoothies, chewing gum, and many others.
Green tea extract may be used also as an alternative antioxidant in meat applications. Denmark-based Danisco A/S (phone +45 89 43 50 00, www.danisco.com), recently launched its Guardian Green Tea Extracts as part of an extensive range of natural food protection solutions that includes such ingredients as rosemary extract, tocopherol extract, and antioxidant blends. The green tea extract is said to be particularly suitable for meat, poultry, and seafood products, which are highly susceptible to oxidation, resulting in a warmed over fl avor, discoloration, and protein degeneration.
According to the company, tests have shown that the green tea extract can delay oxidative rancidity and noticeably improve the fl avor of the product. The ingredient can typically be declared as "natural fl avor" or "green tea" on product labels, is easy to handle, and should be applied early in the production process. At Worldwide Food Expo, Danisco highlighted the functionality benefi ts of the ingredient in a hamburger.
Green tea extract may also be blended with other natural antioxidants, as recently demonstrated by Kemin Food Ingredients, Des Moines, Ia. (phone 866-253-9579, www.kemin.com). The company introduced Fortium® R10 Plus, a dry natural product that combines the functionality benefi ts of two extracts, rosemary and green tea. The synergistic blend, which is said to have a low fl avor profi le, was developed as a cost-effective solution for processed meats, seasoning blends, and other products to help protect against color and fl avor loss that can occur over time.
Ground pork, for example, is highly susceptible to the formation of off fl avors, off odors, and color changes. Loss of color is one of the factors that limit the shelf life of ground pork. When treated with the ingredient at 0.2%, refrigerated fresh ground pork reportedly maintained its desirable red color for a signifi cantly longer period of time compared to the untreated control. The redness value of the treated sample on day 10 was similar to the untreated control on day 4, and the redness value of the treated sample on day 14 was similar to the untreated control on day 8.
Plans are also underway by Kemin to formulate different concentrations and liquid versions of the new blend. In addition, the company will offer its technical expertise in working with customers to develop custom formulations as needed.
Processed meat manufacturers continue to look for natural ingredient alternatives to extend product shelf life. Green tea is only one of several possible developments being looked at. For example, Slovenia-based Vitiva (phone 386 3 1788 87 38, www.vitiva.eu) recently introduced a rosemary-based ingredient, SyneROX 4 for the protection of fresh meat from rancidity and undesirable organoleptic changes. In addition to extending the shelf life of fresh meat, the ingredient helps maintain freshness, original taste, and microbiological stability. Natural extracts in the formulation work synergistically to provide superior antioxidative properties. The product blends easily with minced meat, spices, salt, dry blends, and other ingredients.
--- PAGE BREAK ---
The Age of Meat Reform
With the increasing emphasis on international cuisines, restructured meat products can play an increasingly important role, fi nding use in fajitas, kabobs, stews, steaks, and many other applications. They can help replicate the appearance and taste perception of high-quality products; help modify texture; and be combined with exotic marinades and non-traditional fl avors, resulting in an upscale product. And perhaps, most important, they can help create new product opportunities in the marketplace. 
Take, for example, meatballs, a popular restructured item in many different ethnic dishes. According to AC Nielsen, retail sales of meatballs increased in 2006 and are expected to keep growing as consumers look for better-tasting, convenient meat products they can prepare at home. At the Worldwide Food Expo, Cargill, Wayzata, Minn. (phone 952-742-7575, www.cargill.com), developed meatballs (in sauce) made with ingredients that have excellent fat binding and water absorption capabilities. The prototype ensures a consistent taste, improved texture, and increased yields while helping manufacturers and retailers to manage their raw ingredient costs.
An enzyme with the ability to cross-link proteins, Activa® transglutaminase was developed by Ajinomoto Food Ingredients LLC, Chicago, Ill. (phone 773-714-1431, www.ajiusafood.com), to restructure muscle foods such as red meat, poultry, and seafood. It may have been this development that initially showed the wide range of opportunities that restructured meats could have in the marketplace. Restructured breast and thigh products, bacon-wrapped turkey medallions, restructured dry cooked items, improved co-extruded items, and cold-formed products were only some of the novel applications that benefi ted from this development.
According to the company, producing a coated restructured product can be a very diffi cult task, unless the coating step followed cooking. With this development, however, muscle chunks can be joined into loaves and allowed to react. Product can then be removed from the mold, rolled in spices, and cooked in the traditional way. Because the ingredient has the ability to cross-link and strengthen the structure of meat products, it may be used to increase the strength of the meat portion of products such as Cordon Bleu. It may even be able to help prevent the cook-out associated with the baking of these items. The enzyme was also effective for restructuring turkey breasts, tenders, or breast trim into steak-like items that are wrapped in bacon. In addition to the restructuring process, the adhesion qualities of the enzyme preparation keep the bacon attached to the product throughout the cooking process. Several preparations are available, depending on application.
Here are a few other examples of ingredients that can help "reform" a variety of meats:
• A range of stabilizer systems, Grindsted® Meatbinder from Danisco A/S, provides effi cient binding and reforming for meat and poultry products. Based on a natural extract of brown algae, the systems are suitable for burger and nugget applications using ground meat and medallion-type products where larger meat pieces are bound together and formed into the desired shape with a muscle-like structure.
--- PAGE BREAK ---
The stabilizer systems are easy to use with standard meat processing equipment. The required amount of water is fi rst added and mixed with the meat until absorbed. Then the stabilizer system is mixed into the meat until evenly distributed. Reportedly, high-yield, juicier meat products can be produced that have excellent cooking and freeze-thaw stability and reduced cooking loss.
At Worldwide Food Expo, the company showcased a restructured steak made with the stabilizer. Also, a prototype crispy breaded beef entrée that used the system was recently awarded fi rst place in the Danisco 2007 Knowledge Award Program. The entrée, Fiesta Braciole, was developed at Kansas State University, and demonstrated the possible opportunities for the ingredient in the formulation of new products.
• An alginate-based stabilizer, Protanal® ME 0554 from FMC BioPolymer, Philadelphia, Pa. (phone 800-526-3649, www.fmcbiopolymer.com), was featured in reformed meat products at Fi Europe 2007. The structuring agent provides heat stability so that restructured pieces retain their texture in cooked sausages and reformed steaks do not fall apart when cooked. Other benefi ts include good eating properties, uniform or novel shapes and sizes, and high mechanical strength to survive further processing. It is easy to use both in development and production, and no heating is required in the process.
• A new 4-page brochure from ISP Food Ingredients, Wayne, N.J. (phone 888-472-5446, www.ispcorp.com), provides a quick and easy guide to a two-component meat-binding system that consists of stabilizers. The system utilizes the interaction between a sodium alginate component (Textureze™ MT 200) and a source of soluble calcium ions (Textureze MT 230). Applied in sequence using standard meat processing equipment, these stabilizers help bind meat trimmings in either a raw or cooked state, producing a product with qualities similar to unbound meat.
The system reportedly can bind all types of lean meat and some varieties of fi sh. The fi nished meat products have cooking and frying losses similar to unbound meat and other processed meats, and may be distributed either raw and refrigerated or frozen. The brochure includes a starting formulation.
--- PAGE BREAK ---
Achieving Meat Safety
Not too long ago, the Topps Meat Co. went out of business after it recalled more than 21.7 million pounds of ground meat products, the second largest meat recall in U.S. history. Such stories only reinforce the catastrophic consequences that a contaminated product can have and why it is so critical to maintain meat safety.
New technologies and ingredient solutions are being developed that may help manufacturers enhance the safety of their meat products. For example, a new technology that simultaneously reduces juice purge in meat, poultry, and seafood by 3-4%, depresses microbial load, and inhibits the growth of Listeria monocytogenes has been recently introduced by Flavex Technologies, a division of The Arnhem Group, Cranford, N.J. (phone 908-709-4045, www.arnhemgroup.com). According to the company, the patent-pending development is believed to be the fi rst food technology to combine these critical capabilities.
A method of encapsulation for meat, poultry, and fi sh products, Flavex BioProtection™ Coating seals the food substrate in a clear protein fi lm. This capability extends shelf life and enhances food safety potential for both fresh and cooked products. Two challenge studies, conducted at Ohio State University, identifi ed the capability of these coatings to block the growth of L. monocytogenes and to reduce purge and prevent color deterioration in meats, poultry, and seafood.
At Worldwide Food Expo, Purac America, Lincolnshire, Ill. (phone 847-634-6330, www.purac.com), featured smokehouse ham, formulated with OptiForm Ultra, an antimicrobial blend of natural sodium or potassium lactate and sodium diacetate. The special balance of these ingredients is said to create a synergistic effect to control pathogens and extend shelf life, while processing technology gives the ingredient a clean fl avor that enables it to be used without masking agents or other additives.
MicroGard™ 730 from Danisco is a new antimicrobial fermentate blend specially designed to enhance safety and quality of refrigerated ready-to-eat meals and meat products, especially cooked sausages. It is composed of cultured dextrose and maltodextrin and is said to be particularly effective against Gram-positive spoilage bacteria such as lactic acid bacteria, as well as L. monocytogenes. The ingredient was demonstrated in hot dogs served at Worldwide Food Expo.
--- PAGE BREAK ---
Made from Meat
Meat-derived ingredients increasingly deliver very specifi c fl avor profi les based on the needs of the consumer. This creates a wide range of new opportunities in the marketplace.
Five new meat-based products, each with a distinctive fl avor profi le, were recently introduced by International Dehydrated Foods, Inc., Springfi eld, Mo. (phone 417-881-7820, www.idf.com). Products (and their profi les) included Frozen 32% Chicken Broth 3813 (fresh simmered chicken), Powdered Beef Broth 5402 (mild roasted), Powdered Beef Broth 5403 (intense roasted), Powdered Beef Fat & Broth 5760 (smooth savory), and Powered Beef Fat & Broth 5761 (creamy texture).
MinPro Natural Flavors from Summit Hill Flavors, Middlesex, N.J. (phone 732-805-0335, www.summithillflavors.com), are minimally processed from "natural" chicken, turkey, ham, bacon, and beef raw materials. These savory fl avors may be used in a variety of dry and liquid applications, including marinade and basting solutions, soups, broths, gravies, sauces, breadings and coatings, seasonings, and beef and poultry entrees. USDA recently approved these fl avors for use in meat and poultry products making the "natural" claim.
Arrowhead Specialty Meats, North Kansas City, Mo. (phone 816-889-9333, www.gamemeat.com), a purveyor of high-quality meats and specialty food products to the foodservice industry, has partnered with HeartBrand Beef of Texas, to add Japanese Akaushi Wagyu Beef to its list of gourmet meat offerings. HeartBrand is said to be the only company that has 100% Akaushi Wagyu beef from cattle raised in the United States. According to John Telge,Vice President of Sales and Marketing at Arrowhead, Wagyu beef ranks above USDA Prime in the category of marbling content and is emphasized for its tenderness and fl avor. In addition, the beef has an enviable health profi le that includes a special fatty acid composition.
Beefi ng Up Health
Meat formulators are using a variety of ingredient strategies to address health considerations in their sector. These ingredient developments offer potential solutions in such areas as fat replacement, sodium reduction, fortifi cation, and meat-protein alternatives. Finding the right approach is not always easy—the taste, texture, appearance, and functionality attributes of the fi nished product must not be compromised in the process. Here are a few examples of possible ingredients that may provide potential value when addressing these health considerations.
Retail sales of beef snacks continue to grow because of consumer demand for convenience and protein. However, beef snacks also contain high levels of salt, which can be problematic for consumers managing sodium intake. Cargill has responded by developing a prototype reduced-sodium beef stick that contains less sodium, but delivers the same taste and saltiness of regular beef sticks. The beef sticks are formulated with Salt-Wise™ sodium reduction system, which reportedly can reduce sodium levels by 25-50% in the product and deliver taste parity to salt in many applications.
--- PAGE BREAK ---
A citrus fi ber ingredient from FiberStar, Inc., Willmar, Minn. (phone 320-231-1829, www.fiberstar.net), has the ability to manage moisture and replace fat in a variety of meat products, while maintaining or improving taste, texture, and cost. The ingredient, Citri-Fi, recently received the Silver Award for innovation at Fi Europe 2007. (See sidebar on page 68.) In batters for deep-fried poultry products, it can be added at 1.25% overall percentage of batter as a cost-effective solution to reduce the amount of fat that is absorbed during frying. When used in a hot dog, it can provide 20% fewer calories, 30% fewer calories from fat, 27% less total fat, and 30% less saturated fat.
A new food emulsion system technology allowing meat processors to reduce the overall fat content of their products was introduced at Fi Europe 2007 by Dow Wolff Cellulosics (www.dowwolffcellulosics.com), a business unit of The Dow Chemical Co. By creating a mixture of Methocel™ food gums and oils such as canola or olive, this technology helps makers of frankfurters, burgers, and sausages replace partially hydrogenated oils, which are high in trans fats. With this system, formulators can replace solid fats with liquid oils with minimal impact on the product's structure, taste, and juiciness.
A recently launched line of reduced-fat breaded chicken products, Healthy Crossings™, uses a protein-based approach developed by Proteus Industries Inc., Gloucester, Mass. (phone 978-281-9545, www.proteusindustries.com). The poultry proteins work by forming a barrier around the coated product, partially preventing fat from entering the product during cooking. The barrier also assists in the binding of moisture in the fi nal product, thus improving the juiciness of the chicken. The new line of product from Comfort Creek Foods maintains the moisture and taste of fried chicken but with less than half the fat of comparable products and with less than 30% calories from fat. The product line, which includes popcorn chicken, boneless wings, fi lets, and tenders, has been approved by more than 50 school systems across the country.
An omega-3 fi sh oil from Hormel Foods Specialty Products Div., Austin, Minn. (phone 800-956-0399, www.hormelingredients.com), may be used to fortify hot dogs and other meat applications. The product, called Eterna, is produced by a technology that reportedly eliminates all fi shy odors and fl avors while providing the best possible oxidative stability. Omega 3 fatty acids may play a role in better heart and brain health.
TruBran® corn fi ber, developed by Grain Processing Corp., Muscatine, Ia. (phone 563-264-4265, www.grainprocessing.com), was featured in a corn dog at Worldwide Food Expo. Made from yellow corn, the golden brown fi ber ingredient contains a minimum of 75% total dietary fi ber, almost all of which is insoluble. It has been processed for added stability and can be easily incorporated into fi ber-fortifi ed foods.
Several prototypes shown at Worldwide Food Expo also refl ect that consumer demand for meat substitutes is growing. For example, ADM, Decatur, Ill. (phone 800-637-5842, www.admworld), highlighted a Club Wrap made with Pro-Fam® 981 soy protein isolate and SM soy protein concentrate. Also, Cargill developed a Chicken Breast and Soy Quesadilla Filling made with Prosante™ XCL soy, an alternative to traditional protein in beef, chicken, and fi sh products. The fi lling contains no saturated fat, cholesterol, or trans fat, and is an excellent source of fiber.
--- PAGE BREAK ---
Awaiting the Verdict
After all these exciting developments, I can see that there is a hush in the courtroom as we wait to see what's next. And we don't have to wait long either. Products appearing in the marketplace are already showing signs of the meat industry's more innovative approaches in trying to meet the needs of today's consumer. For example, Burger King Corp. has entered a license agreement with a snack food manufacturer, The Inventure Group, to develop a line of branded Burger King snacks including a chip fl avor that captures the fast food chain's fl ame-broiled fl avor.
IMC Licensing, in conjunction with Bridgefood Foods Corp., is developing a line of Sweet Baby Ray's barbecue-fl avored beef jerky. Tyson Foods Inc. has expanded its Refrigerated Heat 'N Eat Entrees with several new fl avors. Also Tyson recently launched its Any'tizers, designed for snack or meal occasions. These products include Buffalo Style Boneless Chicken Wyngs, Honey BBQ Boneless Chicken Wyngs, Cheddar & Jalapeño Chicken Bites, Homestyle Chicken Fries, and Ranch-Flavored Chicken Fries. And Perdue is unveiling a new fl avor, Bourbon Peppercorn, to its line of TenderReady® Chicken.
Well, ladies and gentlemen of the jury, that's my case. I call it "Bringing Home the Bacon" and it's certainly been an interesting one. The story of meat's exciting innovations is only beginning. Next month, we'll be looking at how breakfasts foods are evolving. This broad food category will certainly further stimulate new ingredient developments in meat products. And, of course, such progress will help meat manufacturers bring home the bacon, and do it in a variety of healthy, fl avorful, and innovative ways.
Next month's Ingredients section will look at new concepts in breakfast foods and the role that different ingredient developments have in this evolving category.
---
Meaty Developments at 2007 FI Europe
Future meat products may benefi t from developments that won the top awards for Best Innovation in Food Ingredients at FI Europe 2007. Each of the three winning developments, while not necessarily limited to meat applications, could have a signifi cant impact on meat formulating, addressing such challenges as food safety, fat replacement, and sodium reduction.
The Netherlands-based fi rm EBI Food Safety (phone +31 (0) 317 421 414, www.ebifoodsafety.com), earned the Gold award for its Listex product, a commercial bacteriophage that eliminates Listeria monocytogenes without affecting the other properties of the food. The product is said to be effective in a range of Listeria-susceptible products such as hams, hot dogs, cheese, fi sh, and many ready-to-eat products. Mark Offerhaus, CEO of the company, emphasized that the development is especially important when refl ecting on the fate of U.S.-based Topps Meat Co., which went out of business after it recalled more than 21.7 million pounds of ground beef products, the second-largest beef recall in U.S. history. "The consequences of a contaminated product reaching the market can be catastrophic," said Offerhaus. "Use of natural phages translates into risk reduction, valued by shareholders and consumers alike."
The U.S. company FiberStar received the Silver award for its range of natural citrus fi ber ingredients, Citri-Fi. The ingredients may be used in meat applications to deliver fat replacement, moisture management, water and oil binding, and thickening. Manufactured by a novel process using a previously discarded waste stream, the ingredient provides valuable functionality at low cost. See page 75 for more information about this ingredient.
The French fi rm Armor Proteines (phone +33 (0) 2 99 18 52 52, www.armor-proteines.com), earned the Bronze award for its Lactosalt Optitaste, a dairy mineral concentrate obtained through milk fractionation using specialized technology. The ingredient is a special salt substitute that combines the benefi ts of salt—good taste, clean label credentials, and ionic strength. It has no aftertaste and is process compatible in meat, soup, and other savory products. Use of the ingredient can help reduce sodium in a wide range of processed foods.
by Donald E. Pszczola,
Senior Associate Editor 
[email protected]